International Rugby Captains spill the tea and have close ice-shaves ahead of the HSBC Singapore Rugby Sevens 2023
by ActiveSG Circle, on April 7, 2023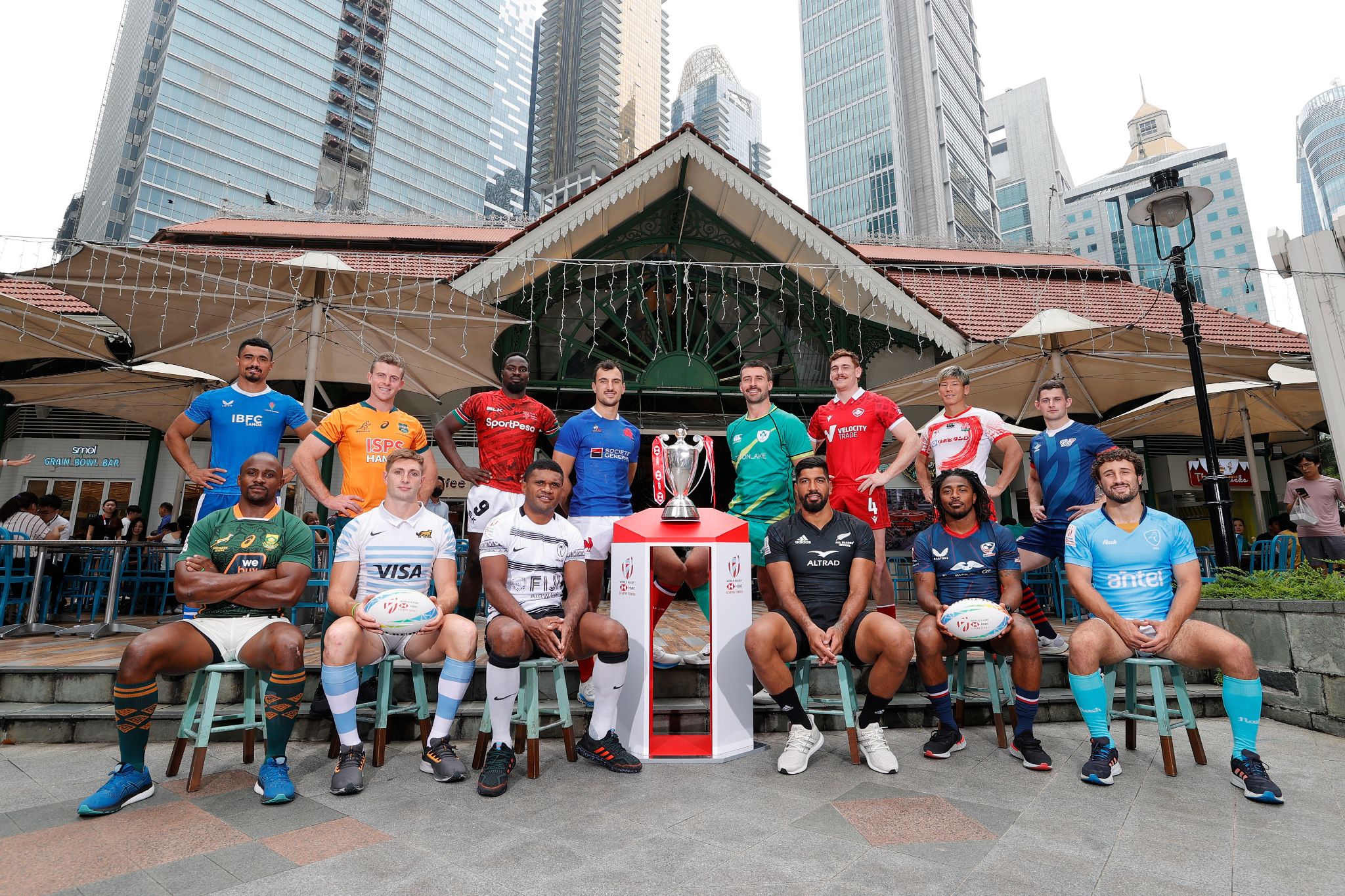 First row [L-R] Siviwe Soyizwapi (South Africa), Matias Osadczuk (Argentina), Tevita Daugunu (Fiji), Dylan Collier (New Zealand), Kevon Williams (USA), Diego Ardao (Uruguay). Second row [L-R] Vaa Apelu Maliko (Samoa), Nick Malouf (Australia), Nelson Oyoo (Kenya), Paulin Riva (France), Harry McNulty (Ireland), Phil Berna (Canada), Taisei Hayashi (Japan), Robbie Fergusson (Great Britain)
As Singapore gears up for the HSBC Singapore Rugby Sevens 2023, team captains gathered at historic Lau Pa Sat (Victorian era food complex) to try their hands at creating local favourites in celebration of, UNESCO recognised, Hawker Culture. From Teh Tarik (Pulled Tea) to Ice Kacang (Shaved Ice with syrup and condiments), the captains had a great time indulging in delicious treats and unwinding before intense preparation to dominate the pitch this 8 & 9 April inside the National Stadium at Singapore Sports Hub. While fans caught a glimpse of their favourite captains, all seven winners from the Ultimate Rugby Sevens Experience Contest got to interact with the captains in a once-in-a-lifetime opportunity.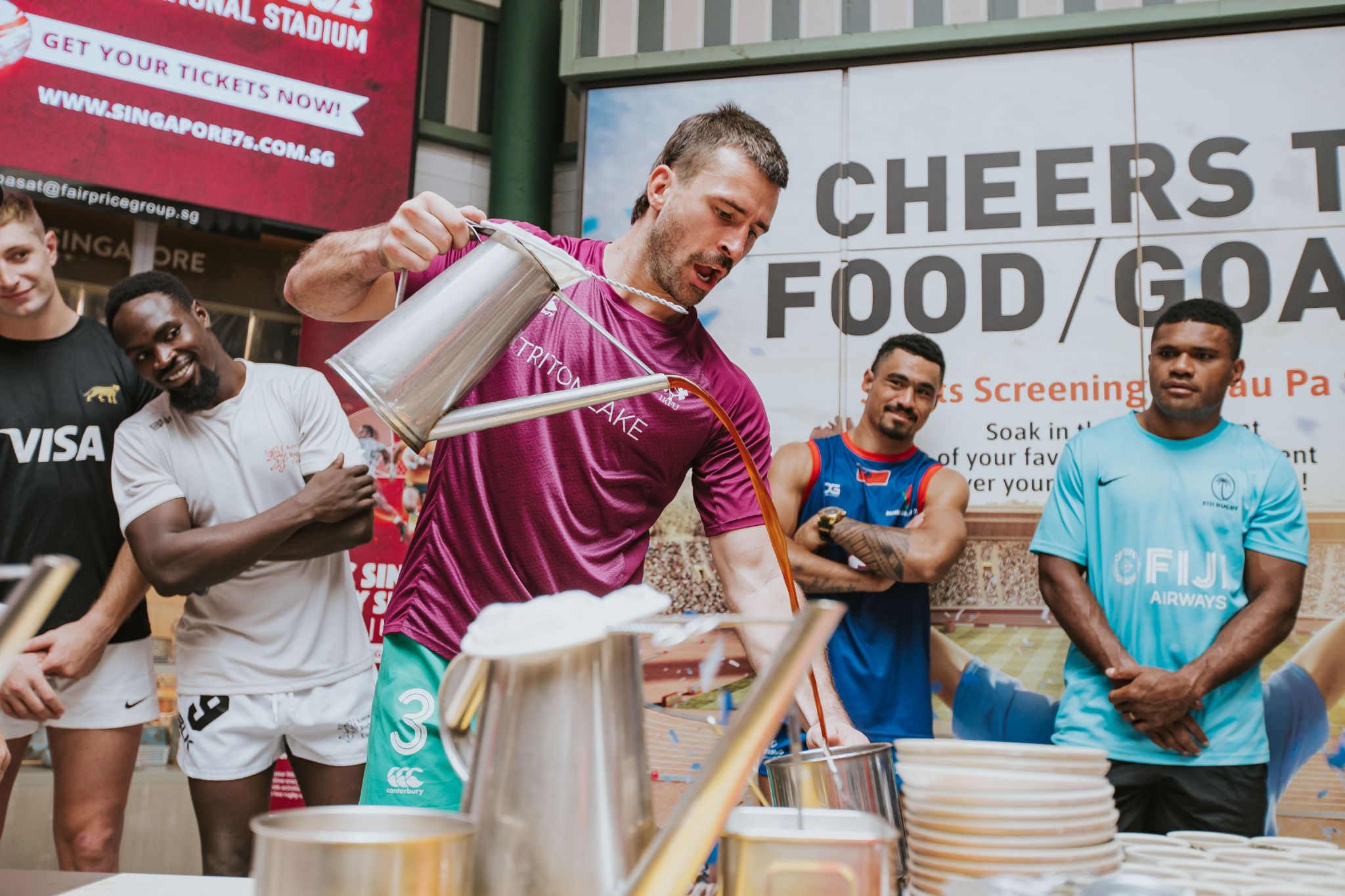 Siviwe Soyizwapi (South Africa) creating his very own Ice Kacang.
Such engagements are testimony to the increasing importance of building holistic sporting experiences for both fans and athletes alike. This topic was the main point of discussion at an empowering fireside chat about the evolution of sporting entertainment, held on Tuesday (4 April) evening, to kick off the Singapore Sevens proper. Representatives from World Rugby, Sport Singapore, Singapore Sports Hub, Singapore Rugby Union and Double Olympian, Argentina Captain, Gaston Revol took part in a discussion, sharing thoughts and suggestions on how sport and entertainment are intrinsically linked and how the Singapore Sevens is proof of that. Rugby Sevens Ambassadors Nathan Hirayama and Shiray Kaka were also part of the session sharing their tournament predictions and wishes for the sport.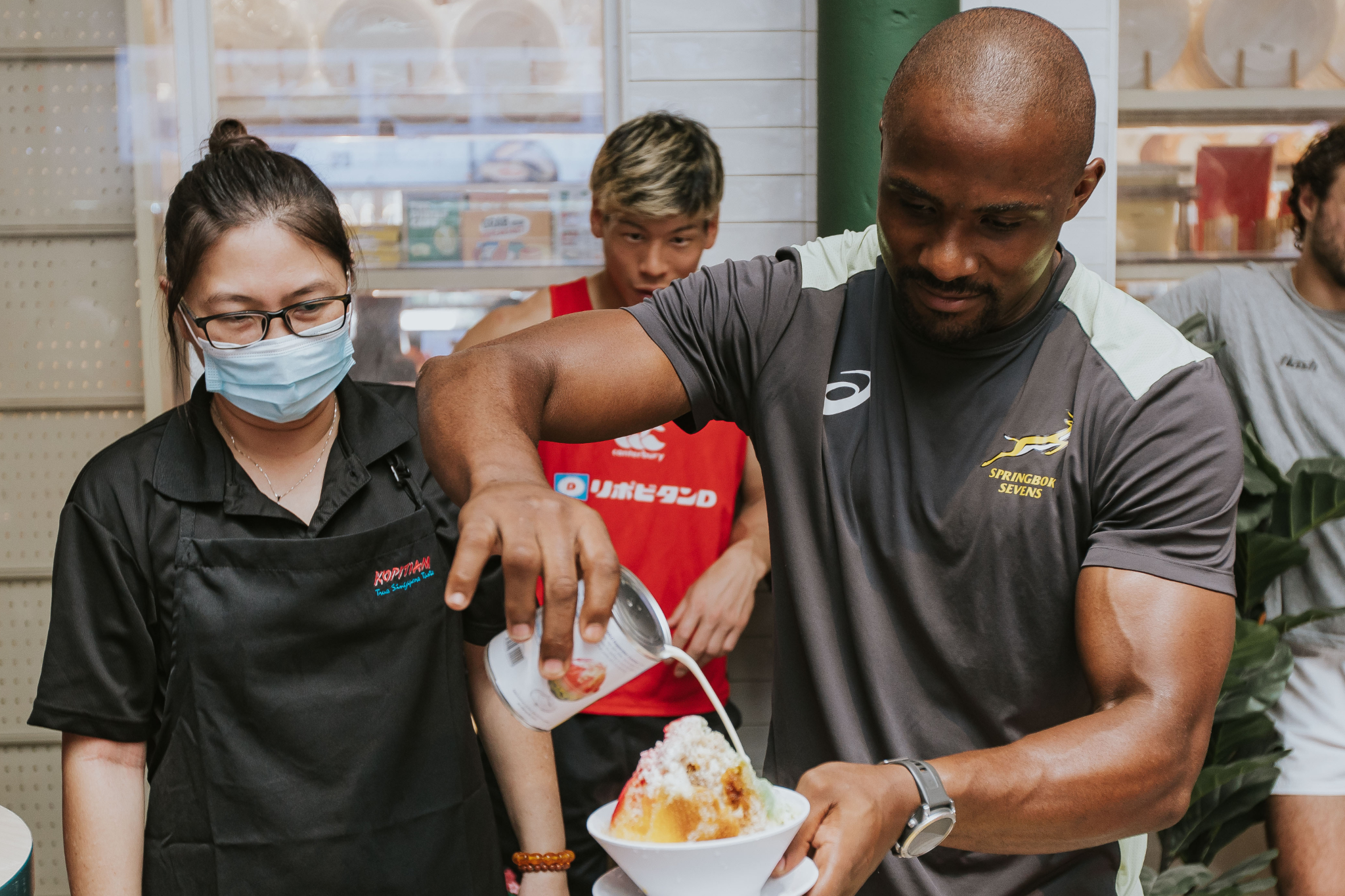 Harry McNulty (Ireland) tries his hand at "pulling" Teh Tarik.
Teams and fans are gearing up for a spectacle of a lifetime this Easter weekend as Argentina, Australia, Canada, Great Britain, Fiji, France, Hong Kong, Ireland, Japan, Kenya, New Zealand, Samoa, South Africa, Spain, Uruguay, and USA go head to head for the coveted trophy. All eyes are on Pool A, dubbed the Pool of Death, with Hong Kong Sevens winners New Zealand, 2019 champions South Africa, and heavyweight Australia within. With certainty of early elimination for one of these fan favourites, early matches just got way more exciting. Apart from exciting rugby action, fans can expect an exciting lineup of activities to delight every member of the family. Highlights include a family-friendly Roller-Disco Zone, food from the likes of The Travelling C.O.W. (Chef on Wheels) and Burnt Ends Bakery, live music from local pop musicians, and a chance to meet Rugby Legends such as South Africa's Tendai 'Beast' Mtawarira. Additionally, SportCares beneficiaries from Marymount Centre will be getting a bespoke premiere experience of the said fun zones. On tournament days, SportCares Wheelchair Rugby participants and Metta School students will join us at the National Stadium to watch the matches live.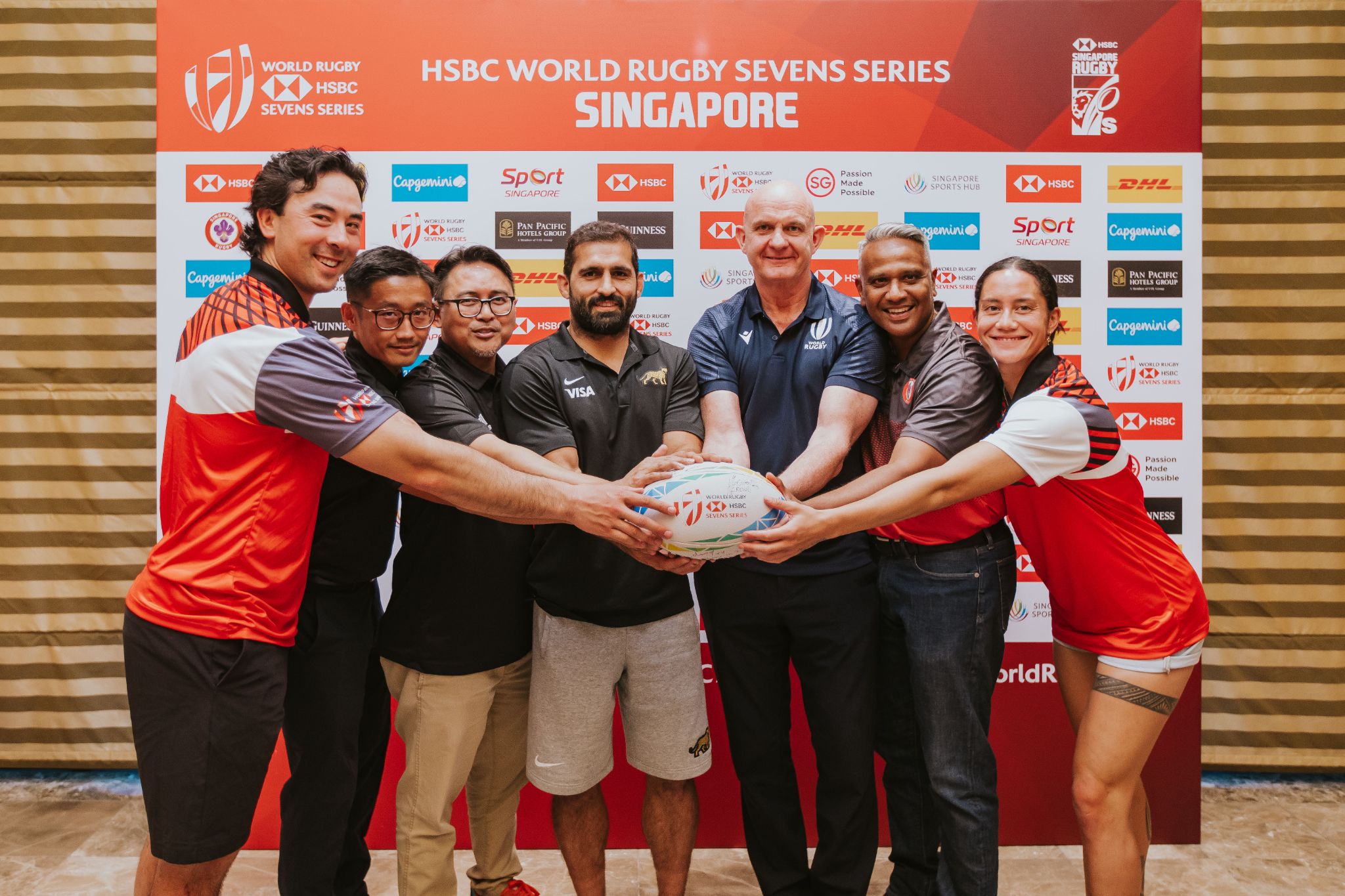 [L-R] Nathan Hirayama, Former Canadian Rugby Player, Tan Tah Jiun, Deputy Director, Industry Development, Technology & Innovation, Sport Singapore, Yazed Osman, Group Head, Events and Placemaking, Singapore Sports Hub, Gaston Revol, Argentina Captain, Douglas Langley, Series Director, HSBC World Rugby Sevens, George Danapal, Deputy President, Singapore Rugby Union and Shiray Kaka, New Zealand Rugby Player at the HSBC Singapore Rugby Sevens fireside chat and official launch on 4 April 2023.
Douglas Langley, HSBC World Rugby Sevens Series Director said "World Rugby is delighted to be back in Singapore for the 11th edition of the HSBC Rugby Sevens. The Singapore edition is very unique, with its family vibe, ardent fans and a sporting spectacle with a spot at the Paris 2024 Olympic Games at stake."
Yazed Osman, Group Head, Events & Placemaking, Singapore Sports Hub said "Singapore Sports Hub is excited to once again host the HSBC Singapore Rugby Sevens at our iconic National Stadium. This is the first major sporting event at the National Stadium in 2023 and the event emphasises our position as an elite sporting and entertainment infrastructure as we continue to attract the biggest acts and tournaments to Singapore. At the same time, it brings us great joy to be able to share the festivities with the community. We will be hosting SportCares beneficiaries from Marymount Centre for a bespoke premiere of the fun zones and welcoming SportCares Wheelchair Rugby participants and Metta School students to the National Stadium to catch rugby action live."
Get your tickets now https://go.gov.sg/rugby7stickets