Application for 2020 Singapore Olympic Foundation-Peter Lim Scholarship opens today
by Circle News, on January 1, 2020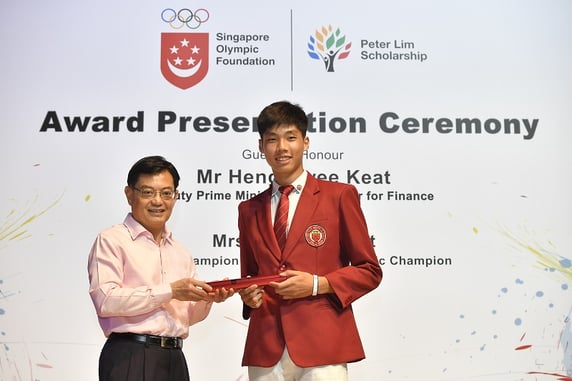 In 2019, 280 student-athletes received $781,000 in cash scholarships, including Kampton Kam (above). Photo: Sport Singapore
The Singapore Olympic Foundation (SOF) invites young athletes to apply for the Singapore Olympic Foundation-Peter Lim Scholarship. Interested applicants can now apply online via the SOF website at www.sof.sg before 31 January 2020, 4.00pm.
There are four categories which award varying cash amounts: Primary ($1,000), Secondary ($2,000), Junior College/Integrated Programme/Tertiary ($3,000) and under-18 High Performance ($5,000).
To be eligible, applicants have to meet a set of criteria such as scoring consistent results in relevant sports competitions. All categories except the under-18 High Performance award consider the household income of the recipients.
The SOF-PL Scholarship, now in its 10th edition, was launched in 2010 when Mr Lim donated $10 million to the SOF. In 2019, Mr Lim announced a continued commitment of $10 million to fund the scholarship until 2030. This donation remains the largest individual donation for a sports scholarship in Singapore.
So far, more than 2,600 scholarships amounting to over $7.2 million have been awarded to young athletes to pursue their sporting goals. Majority of the recipients are from financially challenged backgrounds and have demonstrated potential to excel in the sports they play.
In 2019, 280 student-athletes received $781,000 in cash scholarships which also saw a record high of 53 athletes in the under-18 High Performance category. Student-athletes who qualified for the under-18 High Performance category in 2019 included Kampton Kam (Athletics), Muhammad Hazim Bin Mohamad Yusli (Pencak Silat), Christie Chue (Swimming), Marsha Binte Shahrin (Sailing) and Koen Pang (Table Tennis).
Stay updated with the latest happenings via ActiveSG on Telegram here.
Recent Events & Programmes