ANC 2022 : Winning start for Team Singapore netballers and defending champions Sri Lanka!
by Circle Stories, on September 4, 2022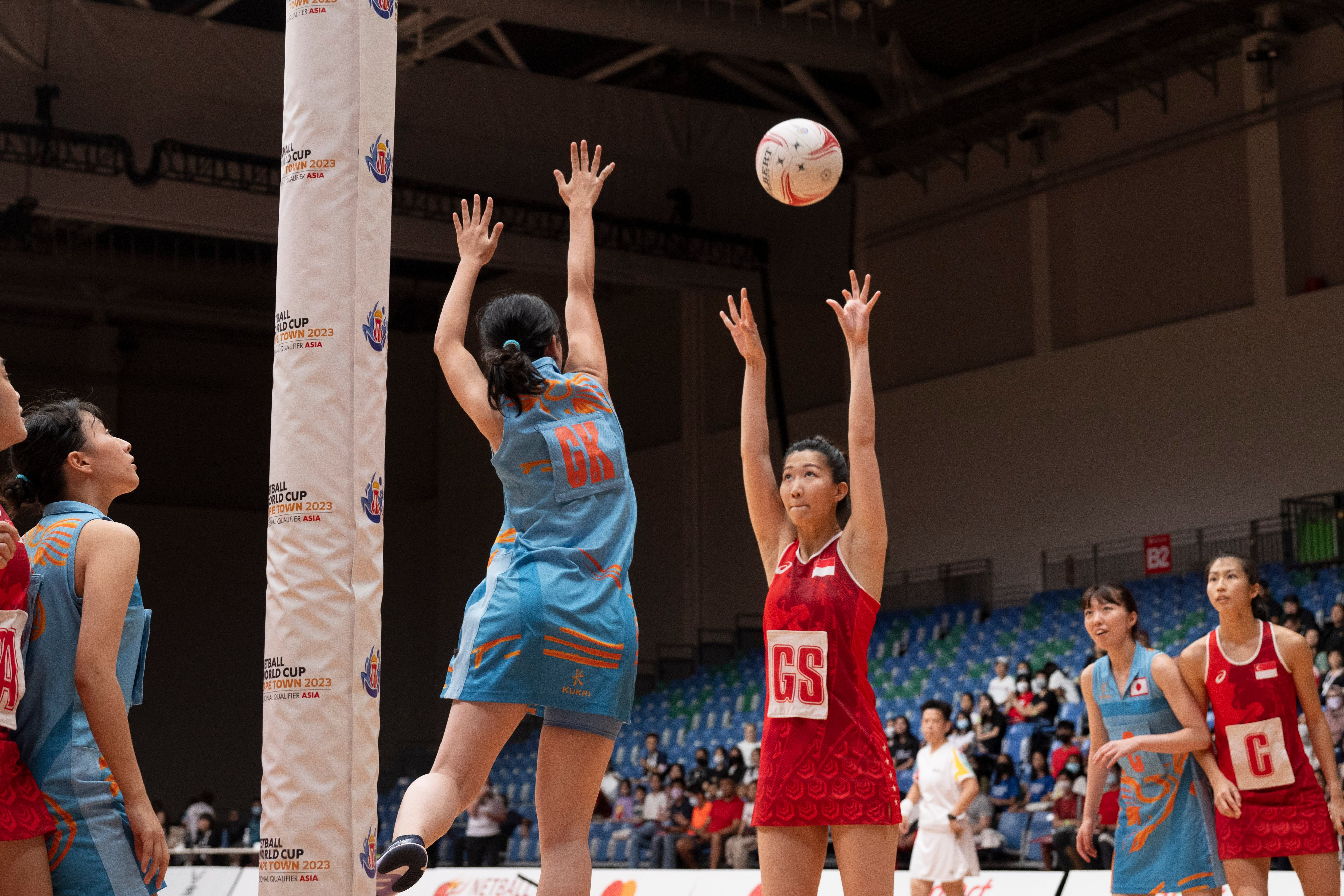 TeamSG's Charmaine Soh attempting to score against Japan. Photo Credit : Netball Singapore
3 September 2022 – The Asian Netball Championships 2022 kicked off on Saturday (3 September) with hosts Singapore and defending champions Sri Lanka winning their respective opening matches at the OCBC Arena. Singapore defeated Japan 103-3, while Sri Lanka beat India 102-14. Reigning SEA Games netball champions Malaysia, who last won the Asian Netball Championships in 2016, were also victorious on the first day with a 78-22 win over Brunei. The ANC 2022 is the first international netball competition since the 2019 SEA Games. Ms Indranee Rajah, Minister in the Prime Minister's Office, Second Minster for Finance and Second Minister for National Development, attended the event as Guest of Honour.
3-time Asian champions Singapore put up a dominant performance in the first match of the day to defeat a new-look Team Japan, whose members were uncapped entering the ANC 2022. It was also a special day for Singapore's Yew Shu Ning as she made her international debut. The hosts thrilled the home crowd as they surged to a 21-2 lead in the first quarter, with Japan's Yukino Yoshii and Lia Akagi scoring their side's first two goals at the OCBC Arena. Singapore, the 2018 runners-up, held steady despite a brief setback in the second quarter, when shooter Charmaine Soh took a tumble on court and was rested for the remainder of the match. With Lee Pei Shan coming on as shooter, the Singapore team maintained their intensity throughout and continued to hold their opponents off until the end.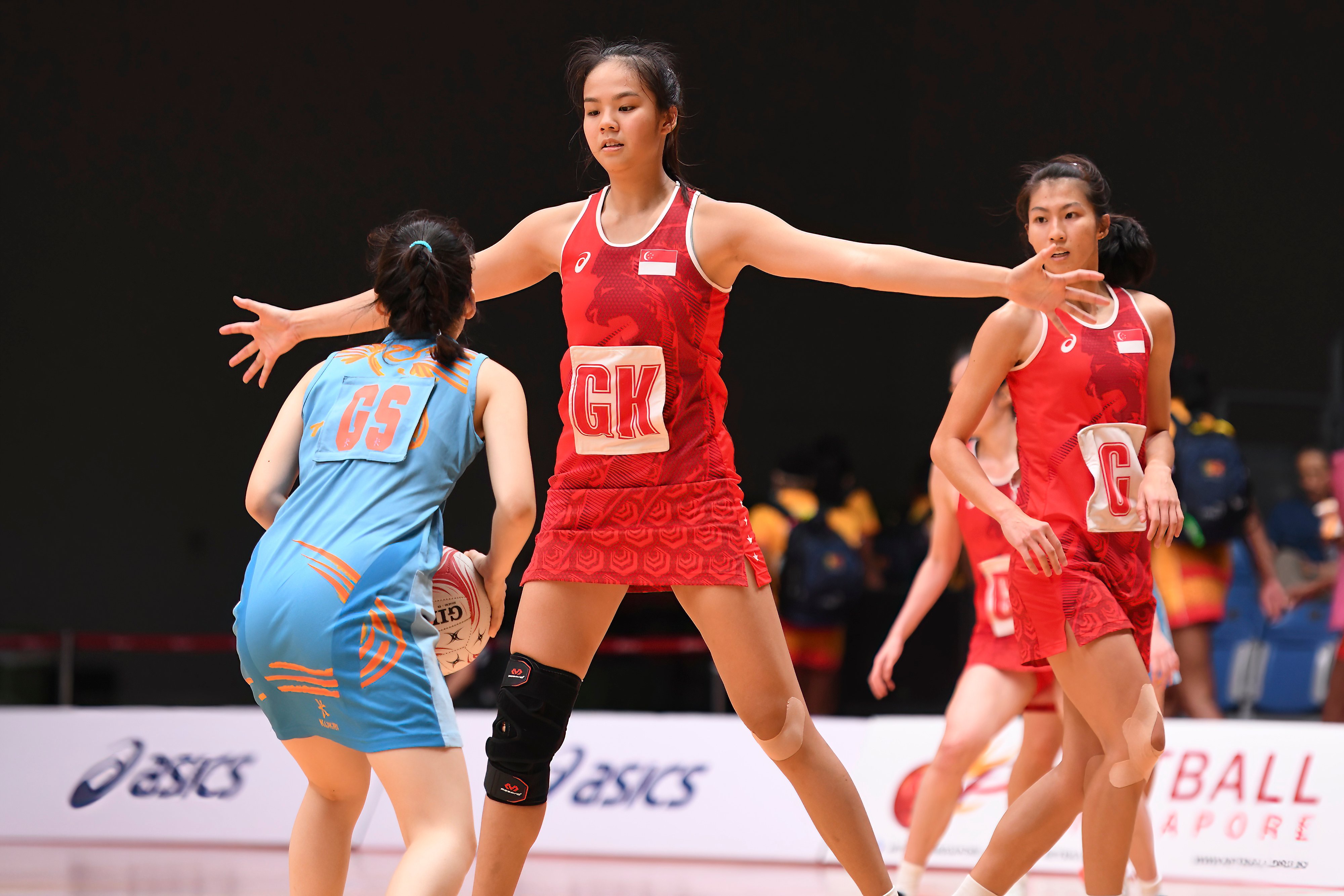 TeamSG Goalkeeper Jamie Lim attempts to block her Japanese opponent. Photo Credit : Netball Singapore
Singapore co-captain Khor Ting Fang, who was making her first appearance at a major competition, said: "Kudos to the Japanese team for playing very patiently – they played at their own pace and never gave up, and that's something we can take away from them. For me, there were definitely some nerves; I could already see people waving at me when I arrived, but at the same time it's also very exciting. I've been working for a long time to be able to step on court and play in front of the home crowd and my loved ones, so it's a very proud moment to be able to show them what I've been training for. We aim to do our best in every game, but there were some things from today that we want to work on and there's definitely room for improvement, so we'll try to do that for tomorrow's game.
Defending champions Sri Lanka sent a strong statement of intent with a resounding 102-14 victory over India. The five-time Asian champions led from start to finish, taking the first quarter 34-2 and extending their lead to 58-3 at half-time. They held on to their sizeable advantage, staying ahead 79-10 entering the final quarter and closed out the win with shooter Tharjini Sivalingam contributing 72 of her team's 102 goals.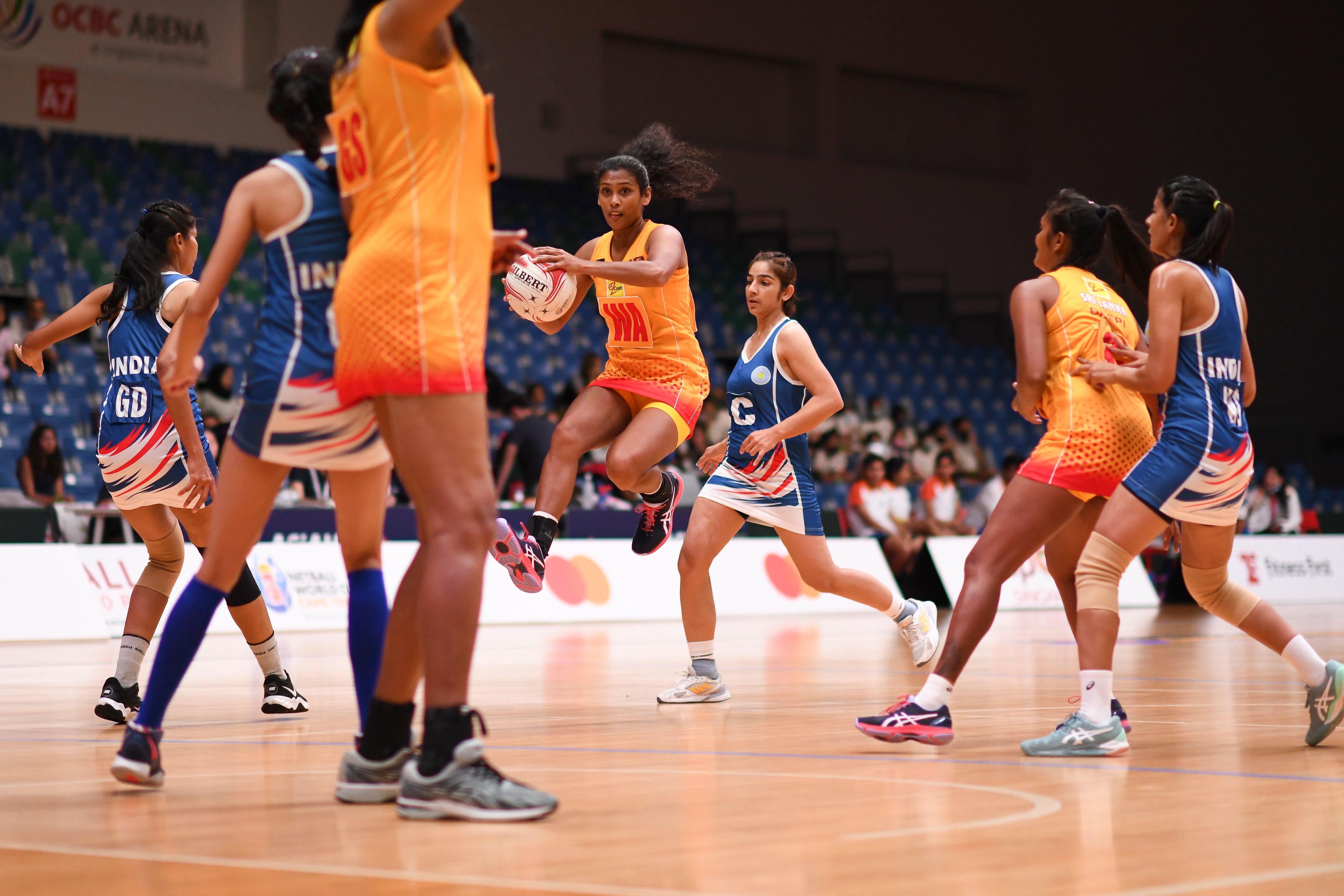 Sri Lanka on the attack against India. Photo Credit : Netball Singapore
Sri Lankan captain Gayanjali Amarawansa said: "As we planned, we played well. The team is really good and they gave me very good support on court today. We played our style and we didn't care too much about the score; we just focused on our game."
Sri Lanka's coach Hyacinth Wijesinghe was happy with the result, adding: "This is the first time the Sri Lanka team has come without any exposure to overseas tournaments of training, so we didn't know where we stood until we came here. We had two line-ups and both were good today."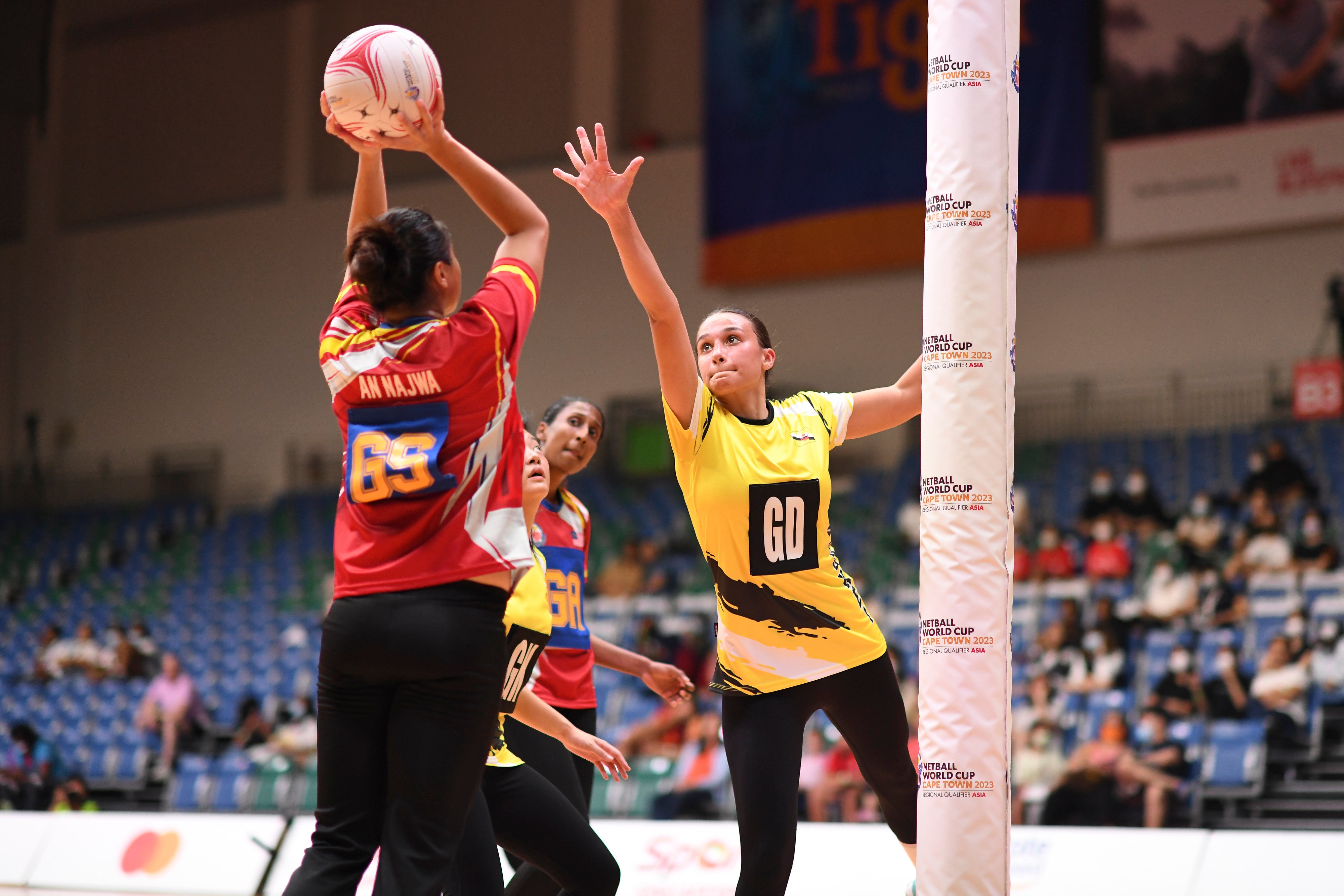 The Malaysians attempt to score against Brunei. Photo Credit : Netball Singapore
The final match of the day saw 2016 Asian champions Malaysia defeat Brunei 78-22, in a match that displayed the former's versatility and range of game strategies. Malaysia captain Nur Syafazliyana Mohd Ali said: "When we stepped out on court, we want to have a variety of styles of play and strategy. We followed our coach's instructions – when she says to follow Plan A, we'll do that; when she says to change plans, we do so immediately."
Malaysian coach Lisa Ann Behag explained: "We didn't want to just stay with the same thing, we wanted to keep switching it up. Our score was consistent every quarter; we could have just played one style and gone for 100 goals but it's more about us building for the games at the end of the week. If one of the teams is countering something we're doing, we know that we can go to (another game plan) because we've practised it."
The Asian Netball Championships 2022 is ongoing till 11 September at the OCBC Arena. The 11 teams in action at the biennial event are defending champions Sri Lanka, 2018 runner-up Singapore, Malaysia, Thailand, Brunei, Hong Kong, Chinese Taipei, Japan, India, the Philippines and Maldives. The top 2 finishers will attain automatic qualification to the 2023 Netball World Cup. The competition schedule and results are available here: https://www.netball.org.sg/event/asian-netball-championships-2022/.
Tickets can be purchased online via go.gov.sg/anc2022tickets, by phone, or by going to Ticketmaster's outlets at Singpost or The Star Performing Arts Centre Box Office. Concession prices are available for students in Ministry of Education schools, as well as children aged between 5 to 12.
You can also catch the live streaming to all Asian Netball Championships 2022 matches via the Netball Singapore Facebook page!