Team Sri Lanka defeats Malaysia in clash of the champions at ANC 2022!
by Circle Stories, on September 7, 2022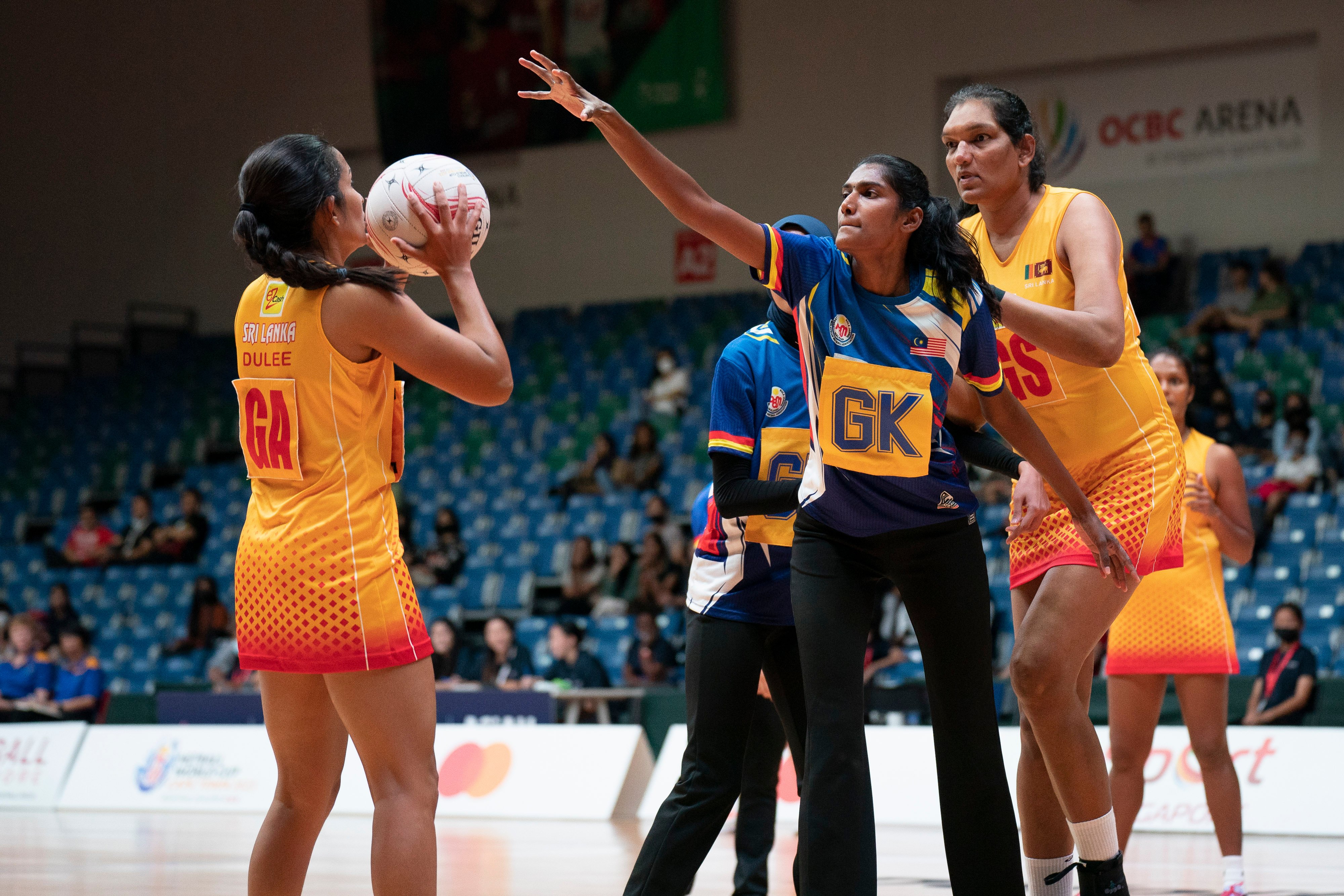 Sri Lanka vs Malaysia in Round 2 of ANC 2022. Photo Credit : Netball Singapore
6 September 2022 – Defending champions Sri Lanka edged out Malaysia 55-53 in Round 2 of the Asian Netball Championships on Tuesday (6 September) in a highly-anticipated clash where neither side could afford the slightest lapse. Hosts Singapore defeated Hong Kong 56-46 in their first group match of Round 2, while India and the Philippines also won their respective matches.
Round 2 continues tomorrow, 7 September. The results for 6 September are as follows :

Sri Lanka and 2016 champions Malaysia thrilled the crowd at the OCBC Arena with their enthralling display of speed and athleticism, as the latter came out firing to race to a 12-7 lead. The high tempo of the game remained throughout the first quarter, which concluded with Sri Lanka trailing by just two goals. They equalised in the second minute of the second quarter, and just seconds later scored another goal to lead for the first time in the match.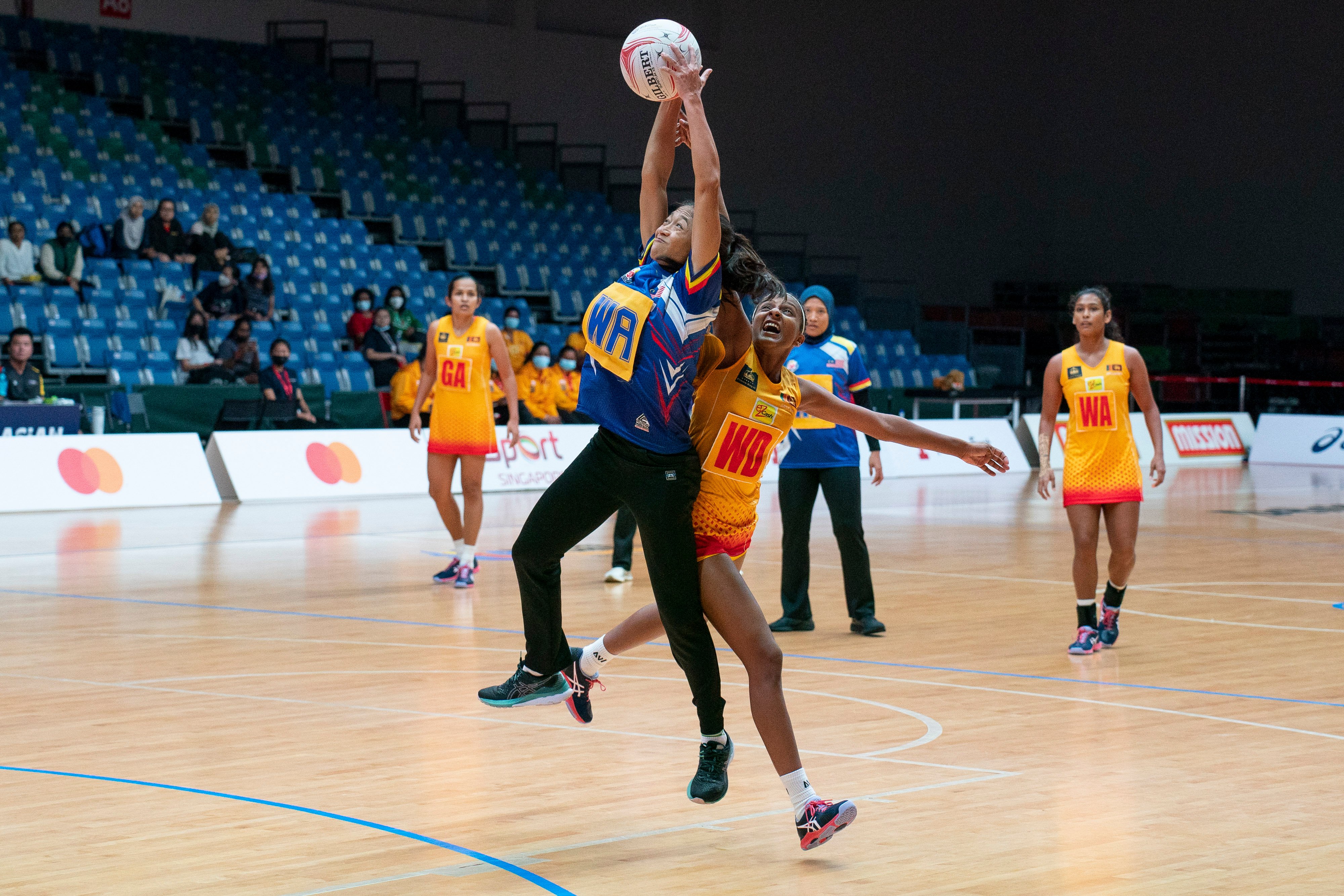 Sri Lanka vs Malaysia in Round 2 of ANC 2022. Photo Credit : Netball Singapore.
Both sides continued to press their opponents, with little separating the two. Sri Lanka capitalised on a missed attempt from Malaysia's goal attack Karishma Loganathan in the final minutes of the second quarter to extend their lead to 30-28, but botched a pass to their shooting circle to allow the Malaysians to take possession and draw level at 30-30 at the end of the quarter. The score remained close, and though Malaysia led briefly by one goal in the third quarter, Sri Lanka held steady to recover and hold a 45-38 advantage entering the final 15 minutes. But Malaysia gave an inspired performance nearing the end of the final quarter and were aided by some shaky passes from their opponents as they narrowed the score.
Though their comeback was stopped by the final whistle at 55-53, Malaysia coach Lisa Beehag was extremely pleased with her charges' performance. She said: "We managed to get many of the players out to get a feel of a top-quality match like today. It was a great match, a spectacle of a game of netball. Both teams were competing hard, there were some really lovely passes, good defence and it's probably the best match so far.
"We went off our game plan a little in the third quarter. We also tactically wanted to try something and it didn't quite come off, which is great for us to know now, as we tried a few things to see what will happen. So we will go back and look at the third quarter again – there were a few sloppy things that we did, and some of the players are used to playing a solo game which I've been trying to change, it is always interesting when you put them under pressure and that's when they will sneak back into that. We will definitely look back at the video, study those scenes and move on from here."
Sri Lanka vice-captain Dulangi Wannithilake was relieved her team prevailed in a challenging game, as she said: "Malaysia played a very tough game, and we made some silly mistakes in the last quarter. I'm happy we were able to win, we hope to correct our mistakes and improve our attacking and shooting so that we can play a better game in future. We're looking forward to facing Singapore and Hong Kong next, and we'll practise more and do our best to win those games."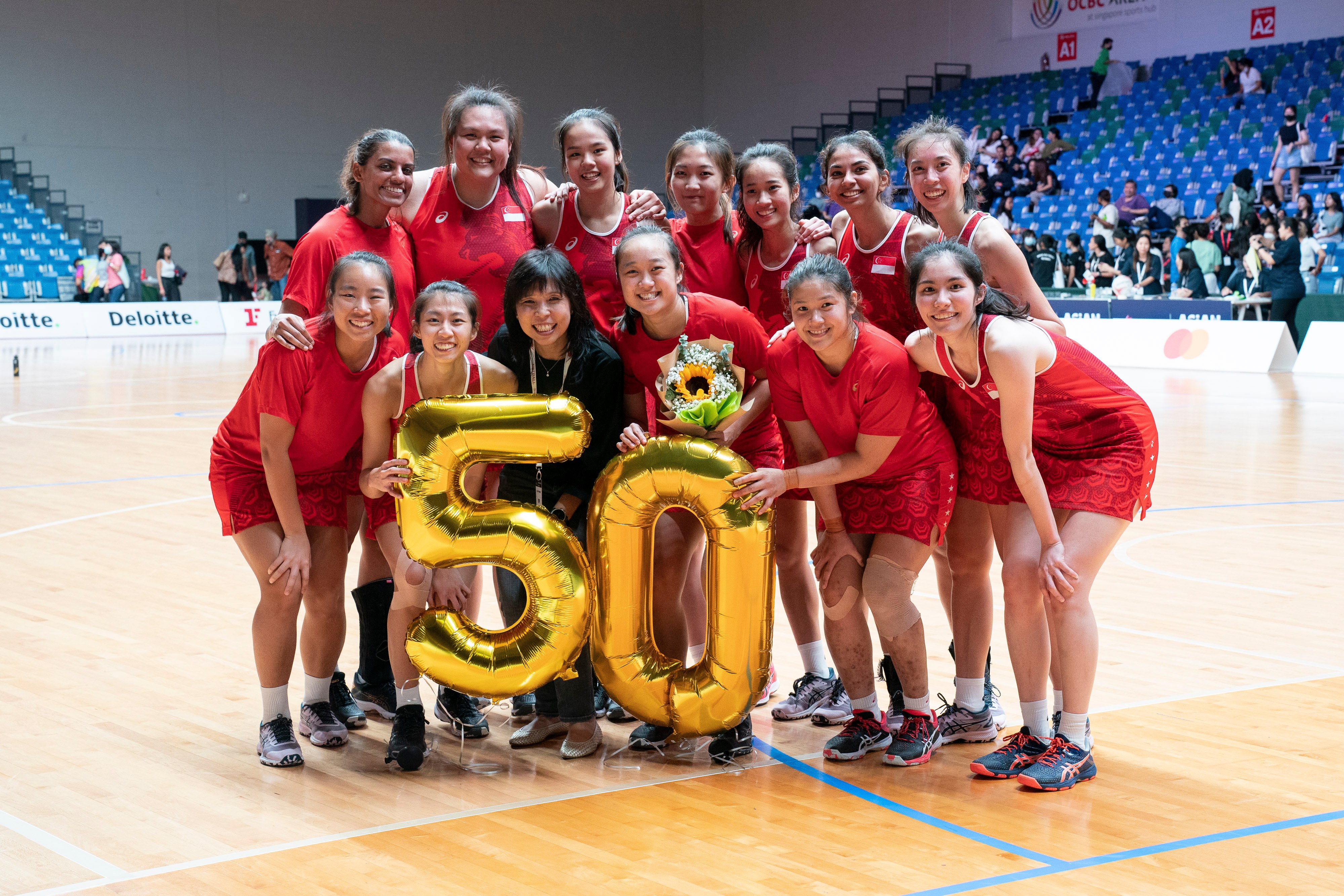 Singapore's co-captain Toh Kai Wei (with flower bouquet) celebrates her 50th international cap. Photo Credit : Netball Singapore
Singapore, the 3-time Asian champions, overcame nerves and persistent opponents to prevail in their opening Round 2 Match. After a shaky first half where Singapore kept Hong Kong behind by just two goals (13-11 and 26-24 at the end of the first and second quarters respectively), the hosts kept their composure and adjusted their approach. Singapore co-captain Toh Kai Wei, who earned her 50th international cap, said: "I'm very happy the team was able to come through with the win after such a close fight. It was a bit tough at half-time, there were a bit (of nerves and silly mistakes), and we were rushing too much. We were always on the go and trying to make a pass. We made some changes in the third quarter to try to slow things down, and make sure we have good control of the ball before making the next pass. For our next match (against Sri Lanka), if we come into the game like how we did in the second half, we should do well. We just have to be a bit more controlled with our passes and not be too nervous to start the game."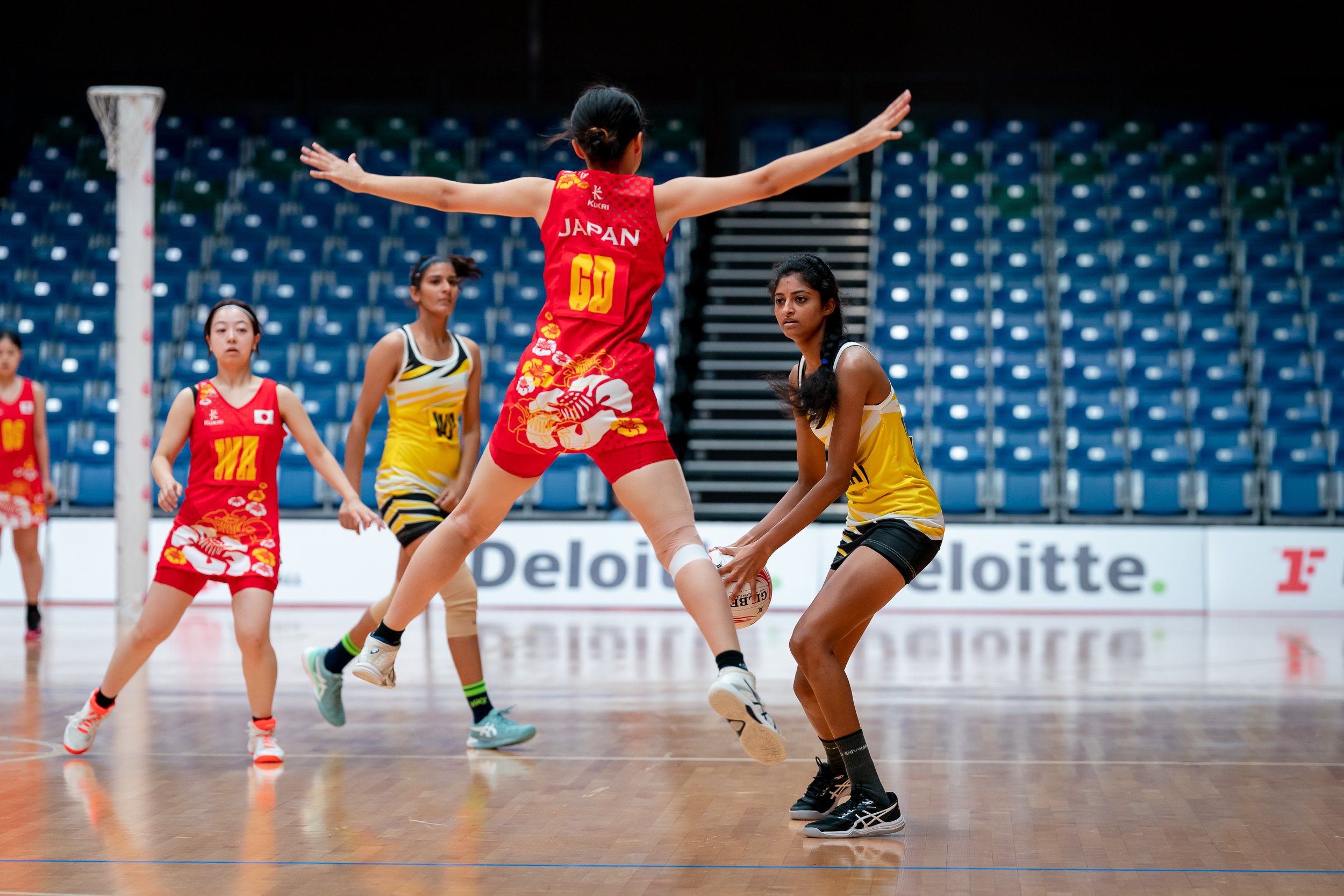 The Indians celebrate 1st win at ANC 2022. Photo Credit : Netball Singapore
In the first match of the day, India recorded their first win of the championships with a 79-14 win over Japan. India's captain and wing defence Sonam said: "I'm very excited and happy to have won our match today. Our team prepared well. We've been working hard over the last few months, and we're looking forward to the next game. I'm focusing on improving my own game, so that I can contribute to the team."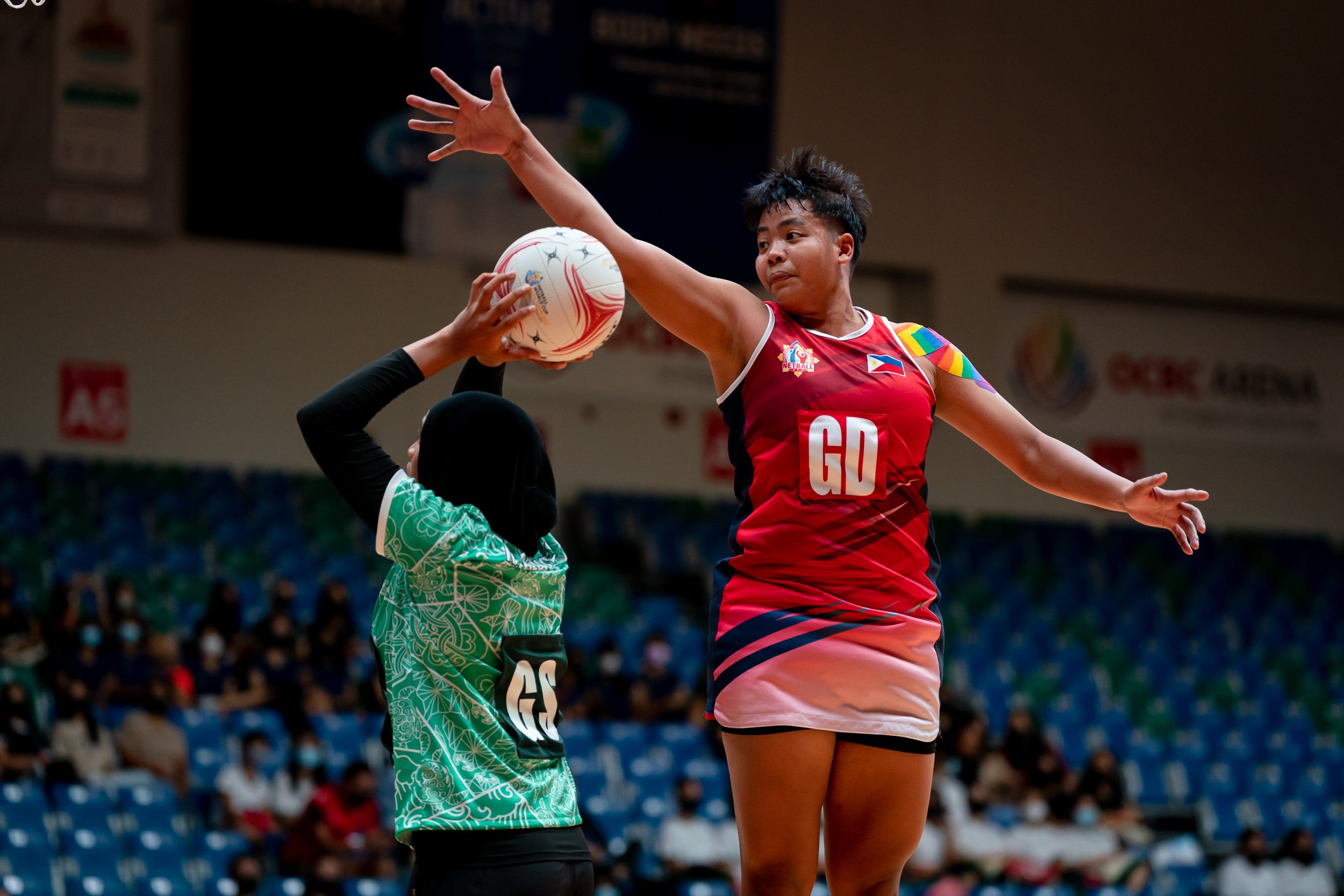 The Filipinas triumphed over Maldives in Round 2 of ANC 2022. Photo Credit : Netball Singapore
The Philippines also won their opening match of Round 2, beating Maldives 59-41 despite being outscored 13-18 in the last quarter. Philippines captain Lomogda Karen Domingo, competing in her second Asian Netball Championships, said: "I would like to thank the coaches and all the supporters of Team Philippines, I've learnt a lot from the last Asian Netball Championships and from this one so far. (Moving forward), we'll continue to follow instructions from our coaches. My shooting was a bit off (today), so I'll work on that and follow our game plan."
The match between Brunei and Thailand did not take place, as Thailand withdrew from the competition due to medical reasons.
The Asian Netball Championships 2022 is ongoing till 11 September at the OCBC Arena. The 11 teams in action at the biennial event are defending champions Sri Lanka, 2018 runner-up Singapore, Malaysia, Thailand, Brunei, Hong Kong, Chinese Taipei, Japan, India, the Philippines and Maldives. The top 2 finishers will attain automatic qualification to the 2023 Netball World Cup. The competition schedule and results are available here: https://www.netball.org.sg/event/asian-netball-championships-2022/.
Tickets can be purchased online via go.gov.sg/anc2022tickets, by phone, or by going to Ticketmaster's outlets at Singpost or The Star Performing Arts Centre Box Office. Concession prices are available for students in Ministry of Education schools, as well as children aged between 5 to 12.
You can also catch the live streaming to all Asian Netball Championships 2022 matches via Netball Singapore's Facebook page!
Fans in attendance at the OCBC Arena. Photo Credit : Netball Singapore