Au Revoir Mannarino as STO Top seed is taken down by Albot in QF!
by Circle Stories, on February 25, 2021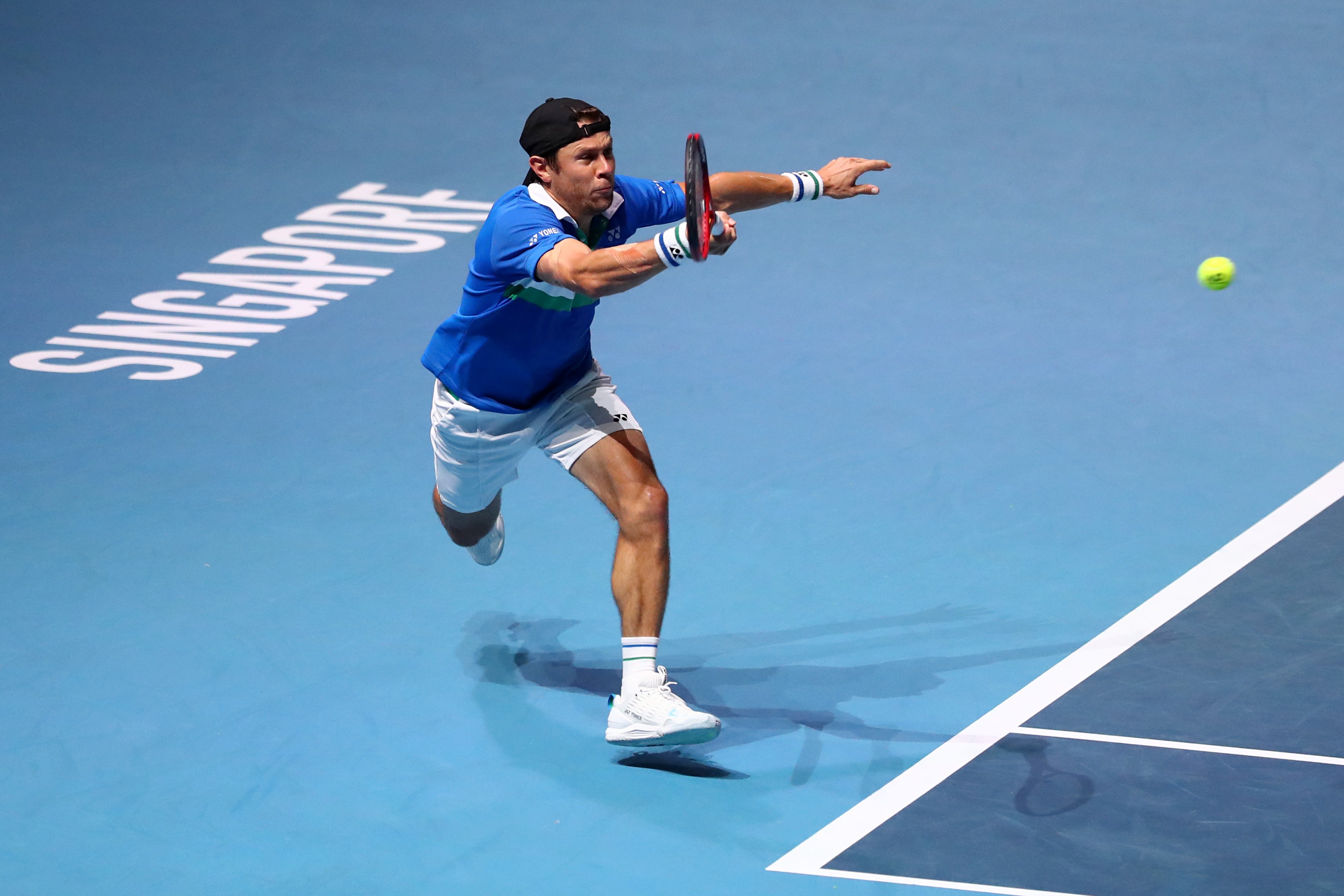 (Radu Albot)
By Lynelle Lim
Fighting for a spot in the semi-finals of the Singapore Tennis Open, the Centre Court at the OCBC Arena saw Radu Albot and top seed Adrian Mannarino start the match with impressive groundstrokes and intense rallies. That made it hard to tell whose game it was at 3-3 in the opening set. At 29 minutes and 3 service games each, we saw both players go the distance with three lengthy deuces. The first break point came about for Albot at 3-3 with an advantage to him on Mannarino's serve. But he failed to convert it, following a forehand unforced error down the line which went wide, as Albot was standing too far back at the baseline when he pulled the trigger.
Not long after, the 6th seed managed to manufacture another break point with a backhand winner that gave Mannarino no time to react at all. And on his second chance, the Moldovan broke the Frenchman's serve after a forehand unforced error from the top seed. Albot then went on to hold to love and wrapped up the first set 6-3 in 45 minutes.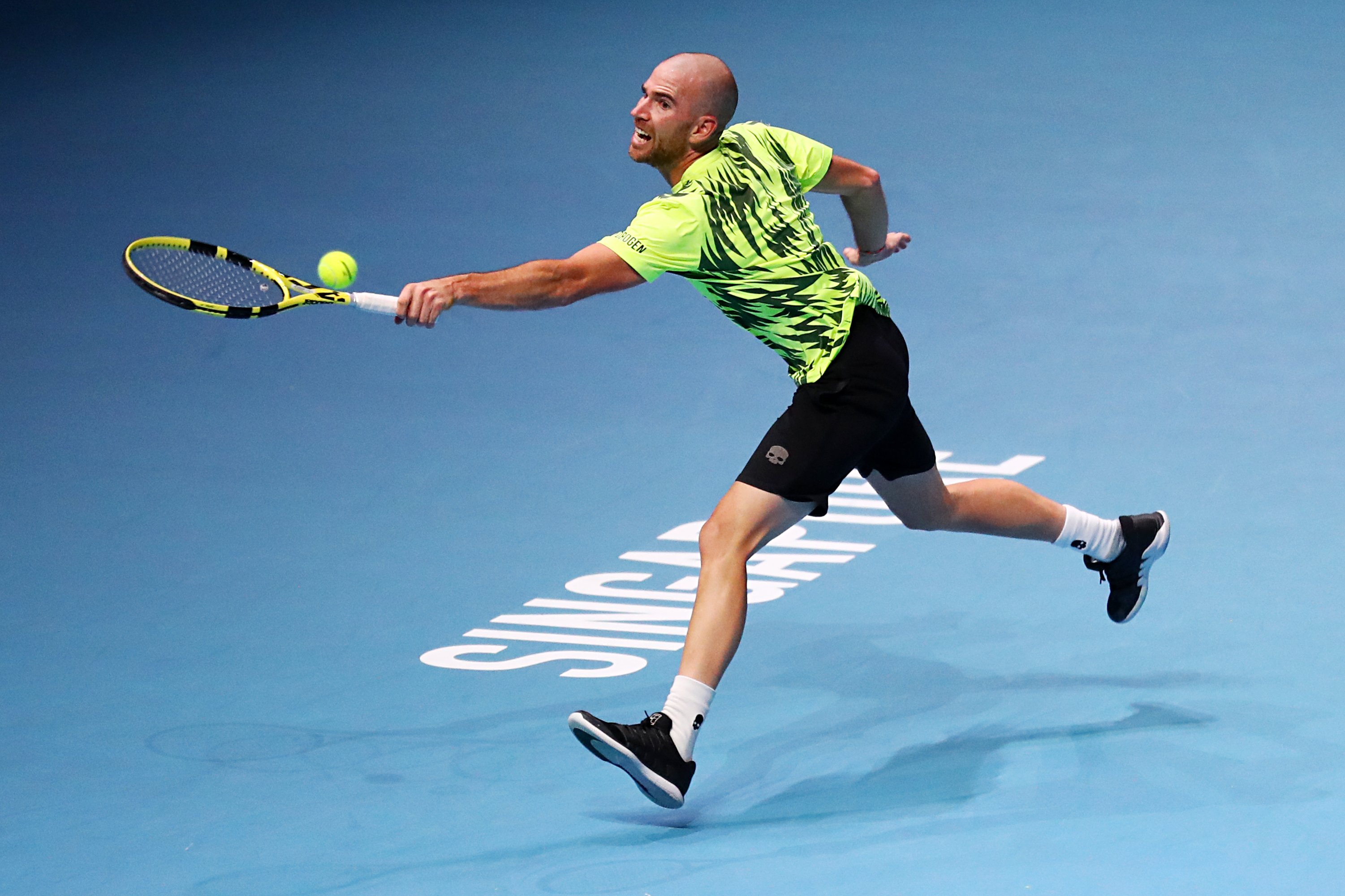 (Adrian Mannarino)
Riding into the 2nd set with momentum, the 6th seed used his forehand brilliantly and with the help of 2 double faults from his opponent, Albot broke the top seed's serve in the very first game. The 31 year old consolidated the break with a hold to love after a terrific point, where his quick feet helped him get to an almost unplayable dropshot thrown by Mannarino, who ended up giving a round of applause for the speedy Moldovan.
It looked to be a long way back for the Frenchman after a roar came from Albot (in the silent Arena), as he hit a spectacular forehand winner down the line and went up a double break up. The Moldovan remained focus to bag a big hold to take the huge lead at 4-0, after he saved a break point with an ace. A frustrated Mannarino looked to be flustered as he was not playing the game that he is familiar with, but proceeded to place himself on the scoreboard after winning his first game on serve in the set. The No 6 seed then went on to be one game away for a spot in the semi-final after a comfortable hold which got him to 5-1.
Mannarino kept his hopes alive by playing some crafty tennis to save four match points, before holding serve at 2-5. He was playing with much more freedom, got a break point, but failed to convert it after a wrong choice of shot. And that gave Albot an opportunity to hit a backhand crosscourt winner. He looked to be running out of gas after making another error on his 5th match point. And Mannarino capitalised to break Albot's serve. Within a short span of time, the match took a turn in the top seed's favour as he consolidated the break with another hold before finding himself trailing 4-5. Starting to get worried, Albot took it up a notch on his service game as he was determined to serve out the match. The 6th seed then hit 2 aces and an unreturned serve before he closed out the match 6-3 6-4, on his 6th match point.
Albot, who remained pretty solid throughout the entire match, was on fire and displayed textbook tennis while showcasing every tennis shot there is. It looked like everything Albot touched, went in and nothing could go wrong - the Moldovan just simply outplayed the top seed today. With the tennis the 6th seed played today, it definitely looks like he is a strong contender for the trophy on Sunday in the STO Finals. It is also a 6th ATP Tour semi-final spot for Albot who will next face the 4th seed, Alexander Bublik of Kazakhstan for a spot in the grand final.
(Edited by Raj Kumar)
Lynelle Lim is a full-time tennis player and part of the national Team Singapore setup. She's represented the Republic in various prestigious and renowned events such as the Federation Cup, WTA Future Stars, as well as the 2019 SEA Games. At the age of 13, she made the decision to take a route less familiar because she had an extremely strong desire to become a competitive tennis player. And today, Lynelle feels proud and fortunate to say that tennis has given her a great deal, and it's taught her so much more than she could ever imagine. Aged 20 and watching the game from a different perspective, she's looking forward to writing about the Singapore Tennis Open, featuring world class players from the Men's ATP Tour!
For live streams, schedules and more stories from the Singapore Tennis Open 2021, visit hub.tennis
For the latest Singapore Tennis Open updates on the go, follow us on Telegram
Related Events & Programmes