Badminton team excels, Shanti Pereira and Teong Tzen Wei also make impressions
by Circle Stories, on August 4, 2022
After their bronze medal in the mixed team event, Singapore's badminton team progressed smoothly in the singles and mixed doubles category, but there were also many causes of celebrations elsewhere.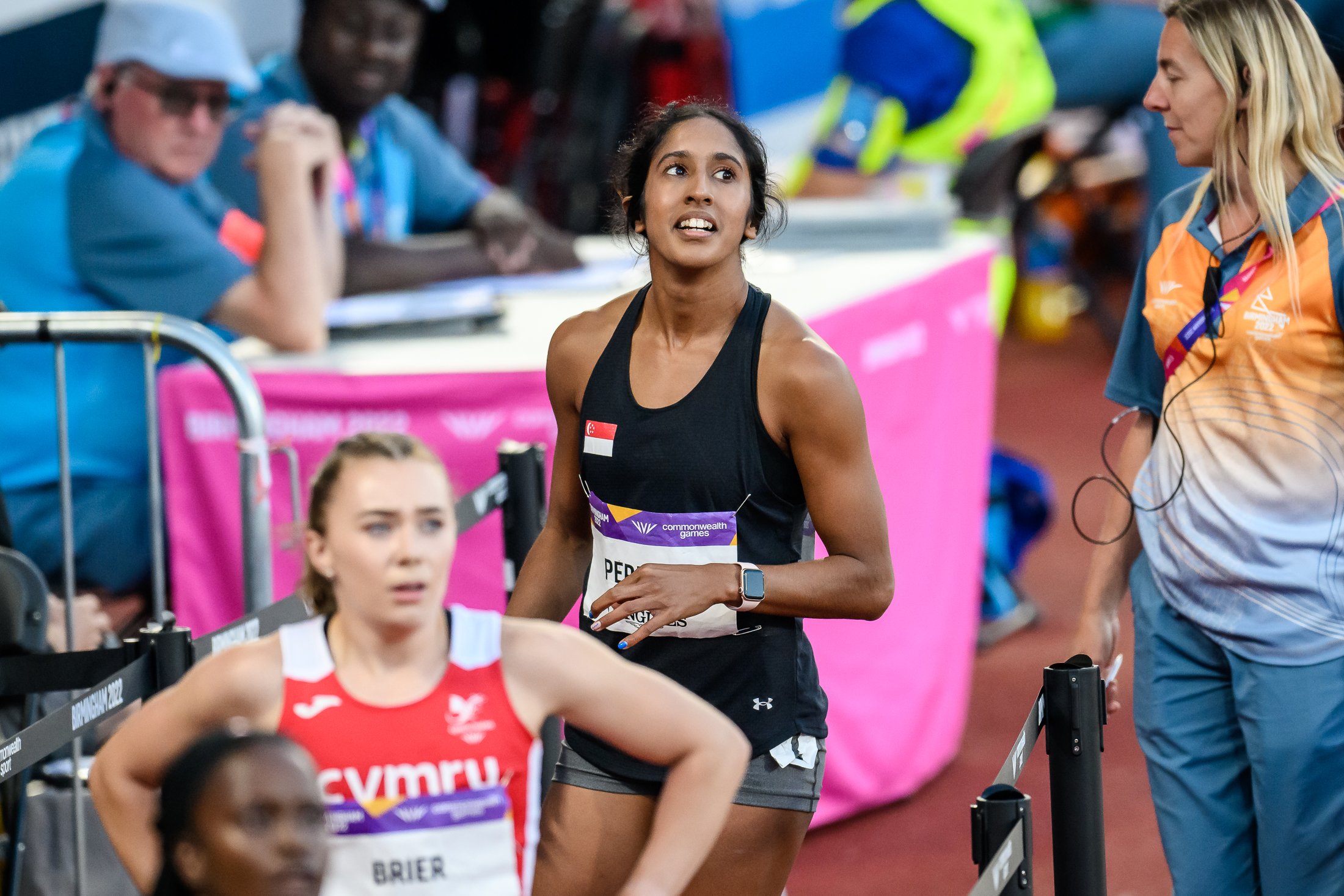 Shanti Pereira after finishing her run in the semi-finals of the Women's 100M. Photo Credit: Commonwealth Games Singapore/Andy Chua
Shanti Pereira's time of 11.57 seconds in the semi-finals of the Women's 100M sprint was not enough as she missed out on the Final.
But the 25-year old had broken the National Record in the previous round after clocking in a time of 11.48 seconds. In doing so, Shanti smashed the 3-year long record of 11.58 seconds and despite missing out on a medal, will be proud of her record-breaking attempts this year - That includes a time of 23.52 seconds in the SEA Games that saw her win the Women's 200M.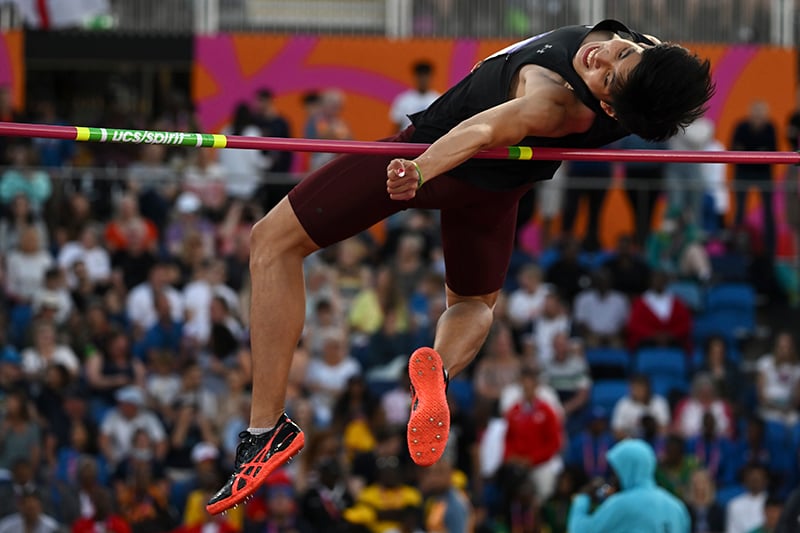 Kampton Kam competes during the men's high jump final athletics event at the Alexander Stadium, Birmingham. Photo Credit: Sport Singapore/FACTSTORY
Meanwhile, Kampton Kam managed a 2.10 metre in the High Jump final to place twelfth out of 13.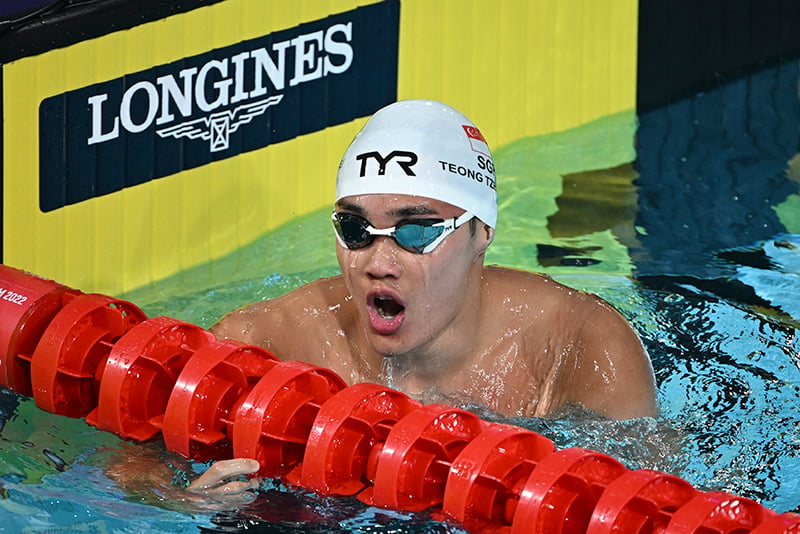 Teong Tzen Wei reacts after finishing his race in the Men's 50M Freestyle. Photo Credit: Sport Singapore/Oli Scarff
Over at the Sandwell Aquatics Centre, Teong Tzen Wei came just short of a podium finish after a time of 22.26 seconds in the 50M Freestyle, placing fifth overall.
It was an improvement from his heats (22.69 sec) and semifinal (22.36 sec) timings. There certainly is optimism on the back of Tzen Wei's performances as he ends the Games with 1 silver medal.
Shuttlers Progress With Ease
In badminton, Andy Kwek and Jin Yujia booked their place in the Round of 32 for the Mixed Doubles event in badminton after a 2-0 victory against Maldives. The duo were in control of the match from start to finish and vanquished opponents Rasheed Ajfan and Aminath Nabeeha 21-3, 21-12. Next up for them, the fifth-seeded Malaysian pairing Chan Peng Soon and Cheah Yee See.
The third-seeded Terry Hee and Jessica Tan received a bye in the opening round, and the husband-and-wife team will play Zambia today.
Over in the singles, SEA Games bronze medallist Nur Insyirah Khan had an easy path to the Round of 32 after defeating Jamaica's Katherine Wynter 21-7, 21-4. She will play Aminath Nabeeha next.
In other badminton matchups today, Yeo Jiamin takes on Cyprus' Eleni Christodoulou in the Women's Singles, Teh Jia Heng goes up against Pakistan's Murad Ali, while local favourite Loh Kean Yew plays Robert Summers from South Africa.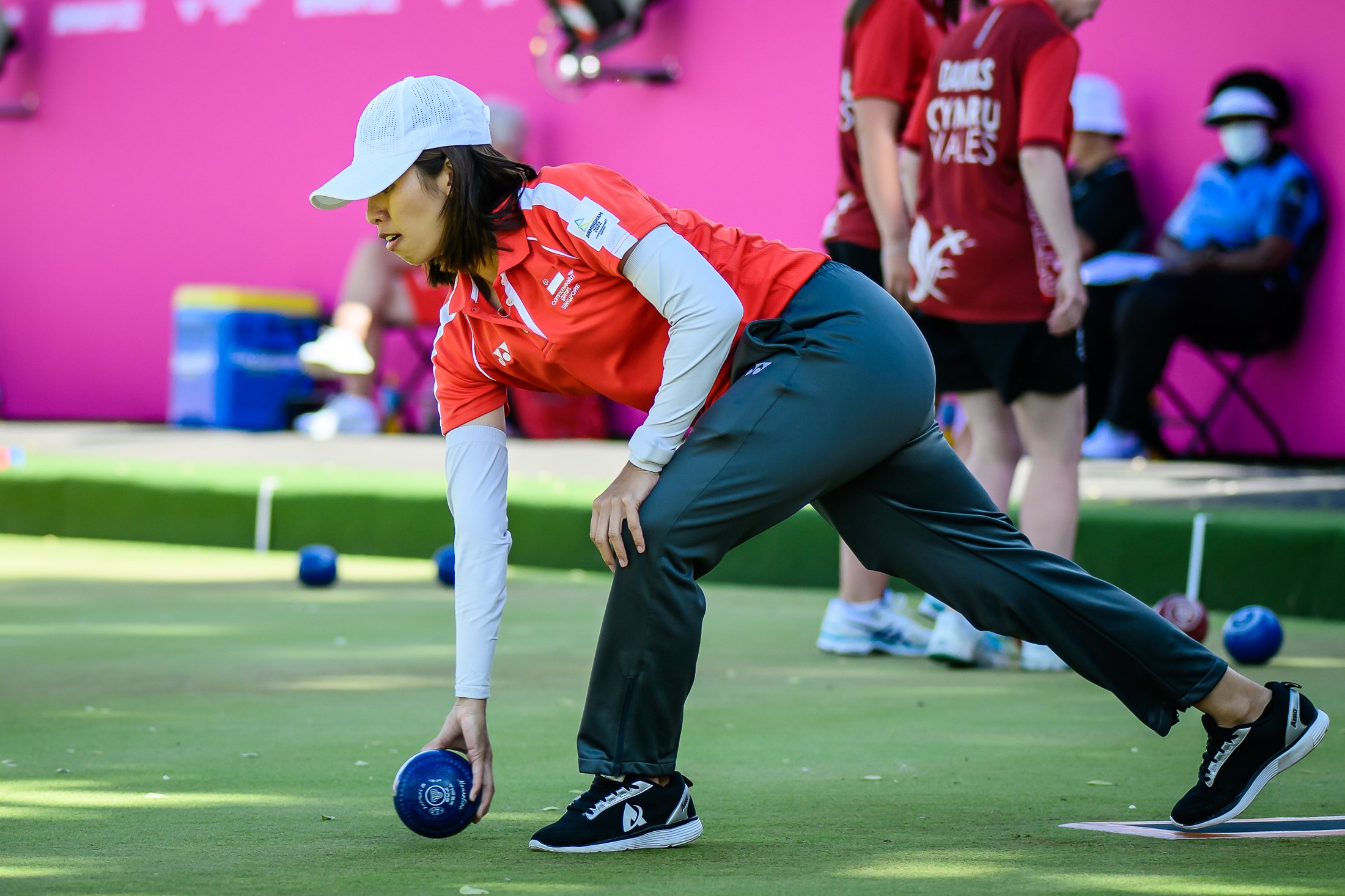 Shermeen Lim makes her move against South Africa in the Lawn Bowls Women's Triples event. Photo credit: Sport Singapore/Oli Scarff
The trio of Shermeen Lim, Goh Quee Kee and Lim Poh Eng had a mixed day in the Lawn Bowls event, first defeating South Africa narrowly 19-18 before falling to Northern Ireland 23-13.
Their fate in the next round will depend on the overall results of the competition.
The 22nd Commonwealth Games is held in Birmingham, England from 28 July 2022 to 8 August 2022. For the latest Team Singapore coverage and news, follow Team Singapore on their social media channels (Facebook, Instagram, TikTok) or visit the official Team Singapore website.