Bulgarian wildcard Andreev sends STO 7th seed Harris packing!
by Circle Stories, on February 21, 2021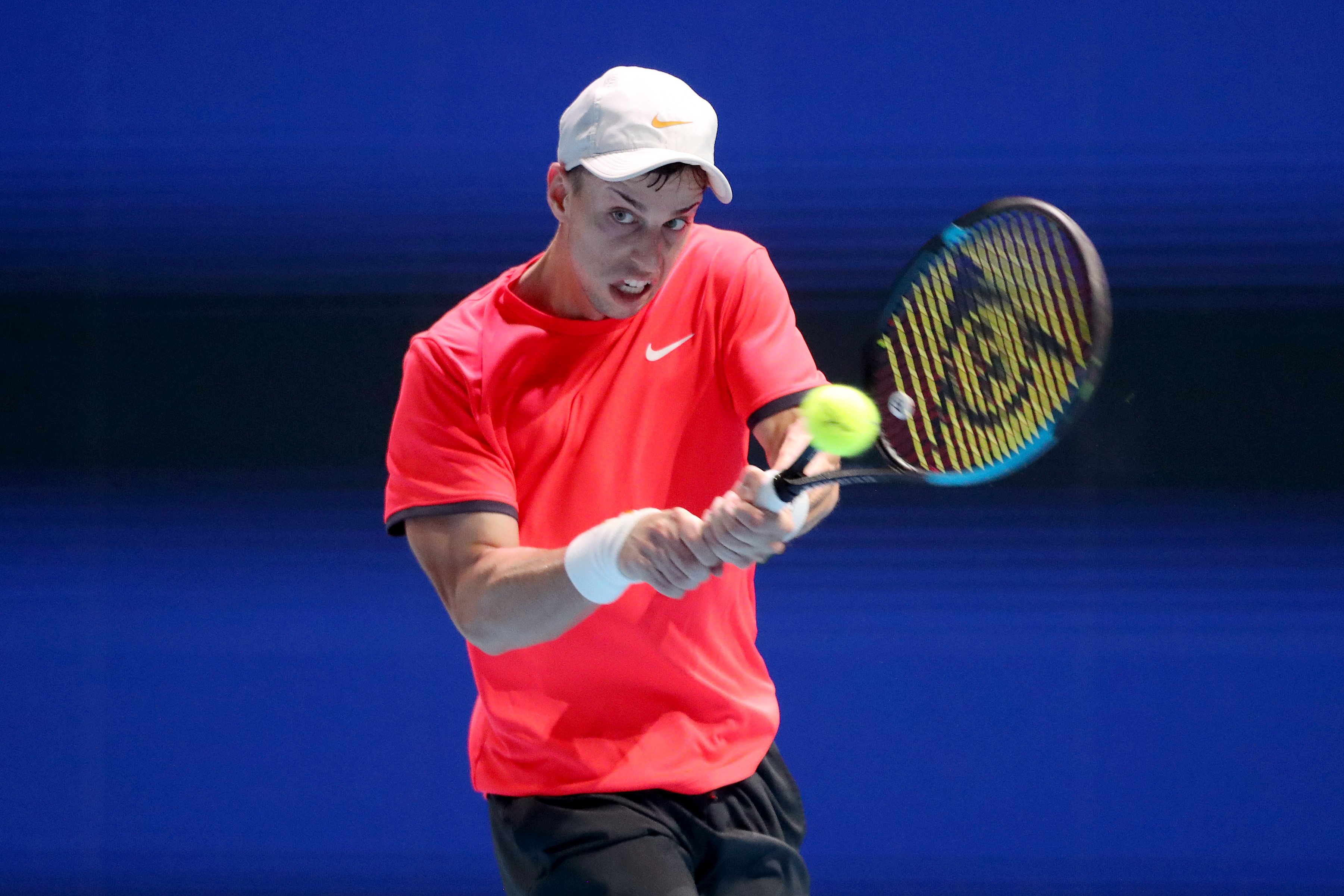 (Adrian Andreev)
By Lynelle Lim
Kicking things off on Day 1 of the main draw at the Singapore Tennis Open at the OCBC Arena, the centre court saw the 7th seed, Llyod Harris of South Africa ranked #82, take on wildcard Adrian Andreev of Bulgaria ranked #423. In the opening game of the 1st set, Harris showed his presence and started off strong with an ace. He then made 2 backhand unforced errors in a row and 2 forced errors which gave the Bulgarian a chance to get the early break of the match. The South African showed pure dominance by saving the break point with an ace and he served out the first game of the match with 3 aces in a row.
On his first service game, Andreev looked to be solid from the back of the court, but failed to convert his service game with a double fault after being 40-15 up. The South African proved that his serve was a huge problem for his opponent as he hit 5 aces in just 12 minutes and held his service game to love. The Bulgarian was able to cause problems for the 7th seed, but was not consistent enough to have the score in his favour. Being too overzealous, the 19-year-old got broken again and found his opponent serving for the set. Harris then closed the set at 6-1 with a forehand cross court in just 31 minutes. Harris had an amazing first serve points won percentage at 93%, while Andreev only won 50%. The South African showed that his serve was a weapon with 7 aces and 0 double faults.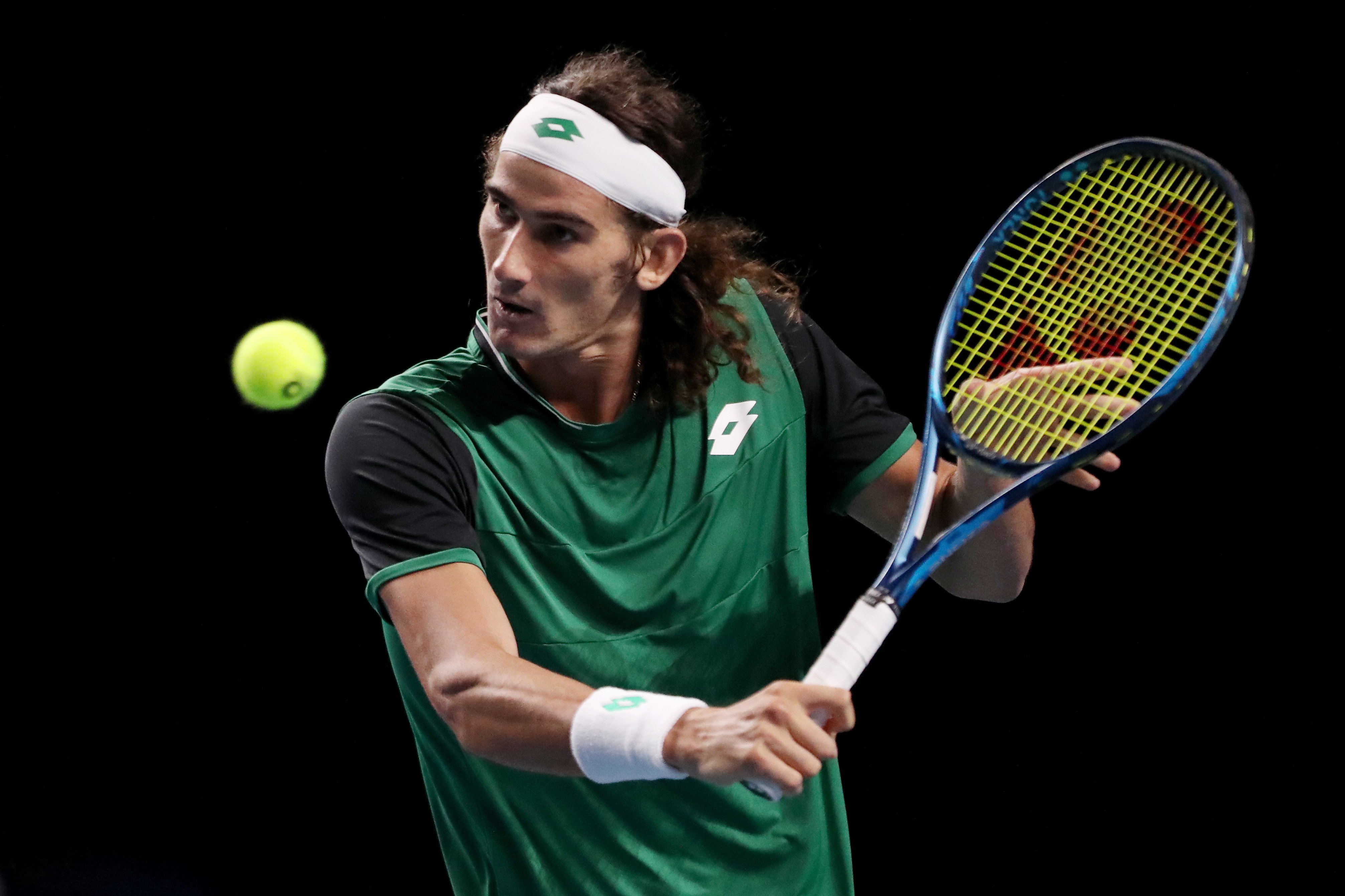 (Lloyd Harris)
Coming back from his toilet break, Andreev looked to be motivated and comfortably held his serve in the first game of the 2nd set. The Bulgarian carried his momentum into the next game where he got the early break. However, Harris didn't let Andreev have the advantage for long as he broke right back and held serve to level the match. At 3-3, Harris hustled and slid side to side for a point, but found his right ankle hurt as he landed awkwardly.
The physio was called in to treat the South African and had his right foot all taped up before resuming play again. Andreev then took advantage of his vulnerable opponent who looked to be in tremendous pain by throwing in dropshots and the Bulgarian served out the second set at 6-3.
With new balls in play for the 3rd set, Harris showed no signs of his injury as both players held serve and went toe to toe. Andreev saved four break points and levelled the match at 3-3 after six deuces. Harris looked to be frustrated as he found himself failing to convert his 9th breakpoint in just 2 games. The Bulgarian showed resilience and closed out his service game after eight lengthy deuces.
Both players looked to be struggling with the heavy indoor conditions, but it was Harris who looked to have ran out of gas first as he got broken after he hit 2 forehand unforced errors with sloppy footwork. At 5-4, Andreev found himself serving for the match and converted his second match point with a big first serve after 2 hours and 18 minutes. This is the biggest win of the Bulgarian's young career to-date and it is his 2nd ATP Tour win. The 19-year-old wildcard looks to keep his dream alive and for a spot in the quarterfinals, as he awaits Alexei Popyrin or Christopher Eubanks.
(Extra Trivia)
Standing at an elevated height of 193cm, is 24-year-old Lloyd Harris. And coming in as the underdog, is the 19-year-old Adrian Andreev as the Bulgarian stands at 180cm. It is the first meeting between these two young players. Harris' career high ranking was #72 which was attained in 2019 and he currently has 5 ATP Challenger titles under his belt, of which 3 are singles titles and the other 2 are doubles titles. Andreev had a career high ranking of 418 which was achieved earlier this year. The Bulgarian was an outstanding junior and had a junior career high ranking of #2. In 2018, Andreev won the US Open Junior title in Doubles. The 19-year-old became the second Bulgarian to have won the US Open after his idol, Grigor Dimitrov, who became the first Bulgarian to have won it in 2008 in singles.
(Written by Lynelle Lim and Edited by Raj Kumar)
Lynelle Lim is a full-time tennis player and part of the national Team Singapore setup. She's represented the Republic in various prestigious and renowned events such as the Federation Cup, WTA Future Stars, as well as the 2019 SEA Games. At the age of 13, she made the decision to take a route less familiar because she had an extremely strong desire to become a competitive tennis player. And today, Lynelle feels proud and fortunate to say that tennis has given her a great deal, and it's taught her so much more than she could ever imagine. Aged 20 and watching the game from a different perspective, she's looking forward to writing about the Singapore Tennis Open, featuring world class players from the Men's ATP Tour!
For live streams, schedules and more stories from the Singapore Tennis Open 2021, visit hub.tennis
For the latest Singapore Tennis Open updates on the go, follow us on Telegram
Related Events & Programmes