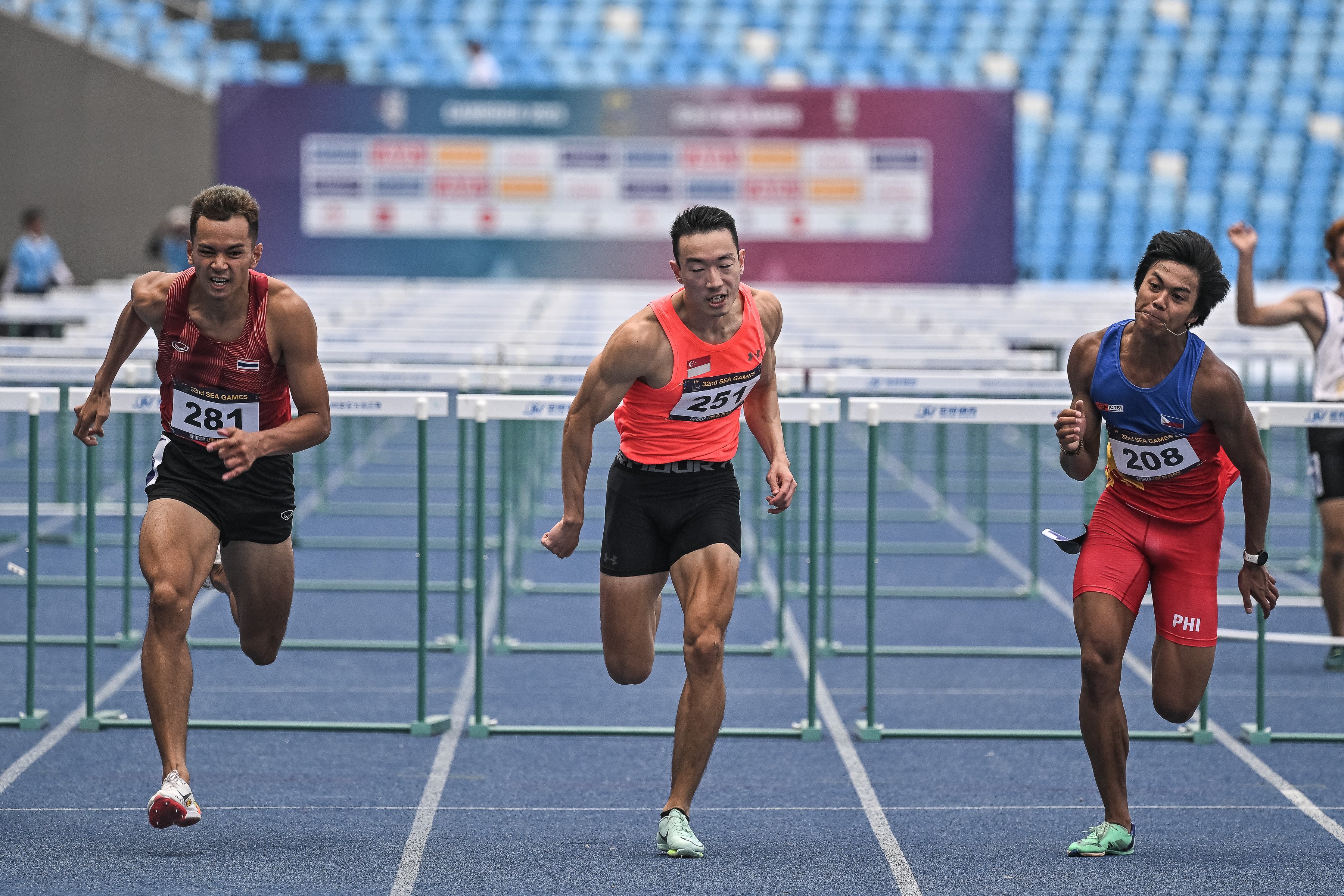 In the tightest of finishes, Ang Chen Xiang (centre) took joint gold alongside Thailand's Natthaphon Dansungnoen (left) in the 110m hurdles. Photo: SNOC/Lim Wei Xiang
By May Chen
For 56 years, Singapore has waited for a SEA Games gold in the 110m hurdles. For almost three hours, it looked as though Ang Chen Xiang would have to settle for silver again.
But what seemed to be the smallest of margins as minute as thousandths of a second turned out to be none at all when the Singaporean was awarded joint gold alongside Thailand's Natthaphon Dansungnoen.
Ang was initially awarded silver, but promoted to the top of the podium after a successful appeal by Singapore Athletics.
His speedy race in 13.831seconds at the Morodok Techo National Stadium on Wednesday (10 May) set a new national record and also ended a lengthy gold medal drought in this event. John Cristopher Cabang Tolentino of the Philippines took bronze in 13.855sec.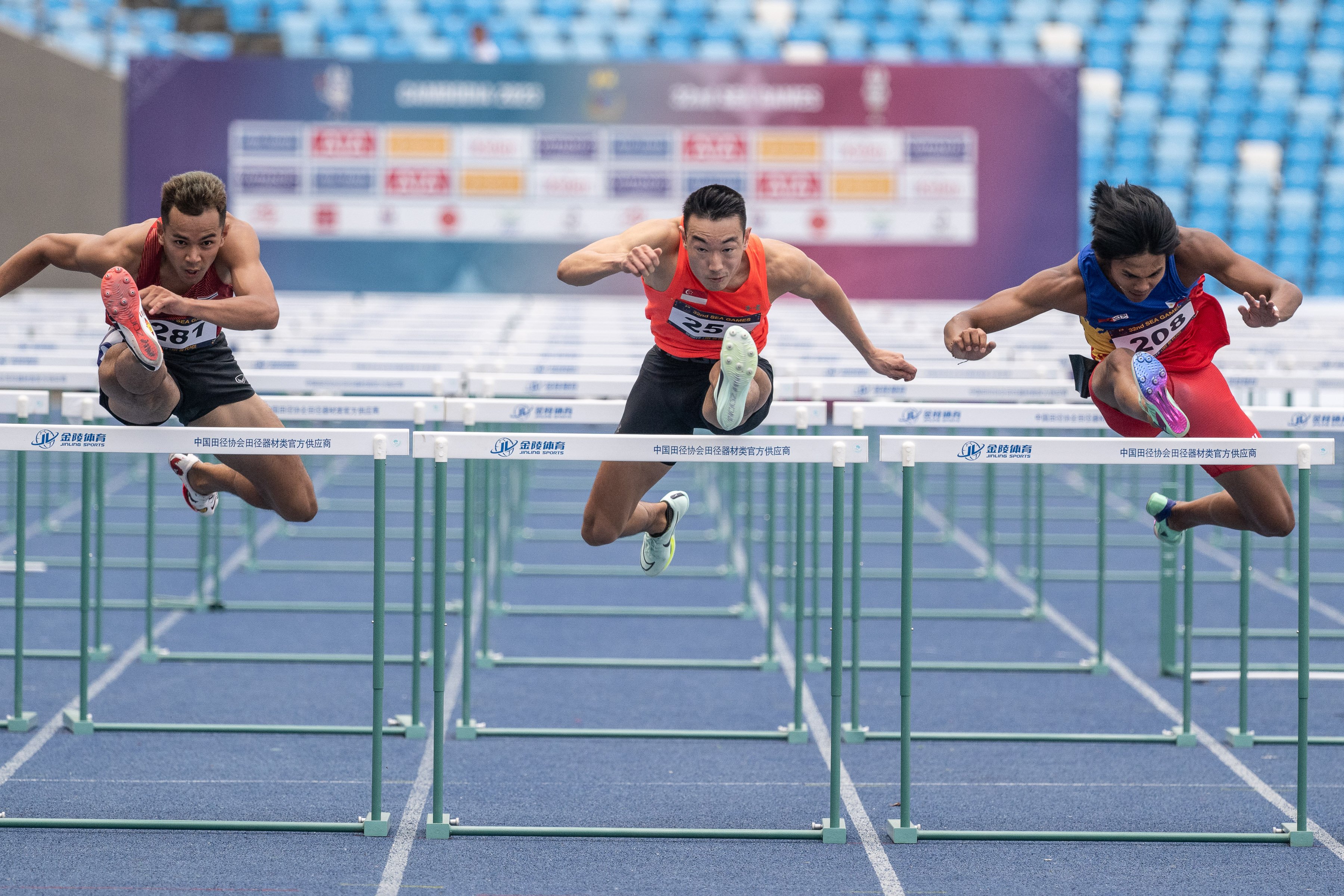 Ang Chen Xiang won a silver at the last Games in Hanoi, and has now broken the national record for the 12th time since 2015. Photo: SNOC/Lim Wei Xiang
Not since Osman Merican at the 1967 Games has Singapore claimed to be the best at the SEA Games in the 110m hurdles. Ang has been knocking on the doors, having won silver at his fourth SEA Games last year in Hanoi.
Through what felt like an excruciating wait to know the final results, Ang was all smiles, giving thumbs up and holding the Singapore flag high behind him.
For the 28-year-old, who has now broken the national record a 12th time since 2015, it was how he completed the race and his progress that mattered more than the colour of the medal.
"When I crossed the line, I knew it was down to the thousandths," he said. "I knew I was either first or second. To me, I knew it was a fast time. I knew the execution was great. I was already very happy. I'll take that.
"The public looks at the medals but for us athletes, it's really personal improvement that we treasure. I can't ask for more. To me, it's the time and improvements that serve as stepping stones to major Games. These are steps for us to take to improve. Competition sharpens us and gets us faster."
The time eclipses his previous mark of 13.89sec set just weeks ago at the Singapore Open Track and Field Championships.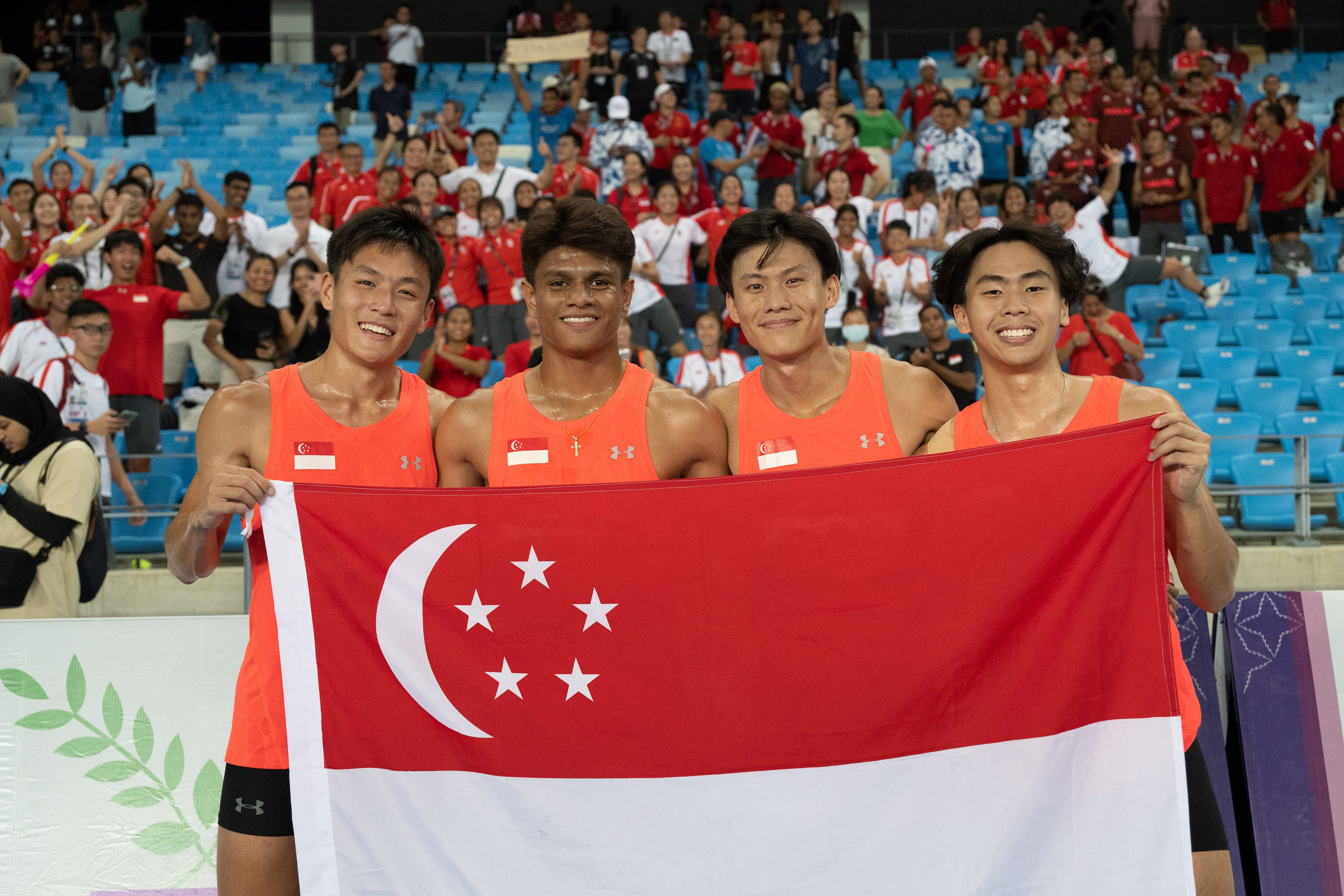 Singapore's men's 4x100m relay quartet won a bronze medal at the Morodok Techo National Stadium. Photo: SNOC/Lim Wei Xiang
Meanwhile, in the men's 4x100m relay, Mark Lee, Joshua Chua, Xander Ho and Marc Brian Louis clocked 39.36sec to win joint bronze.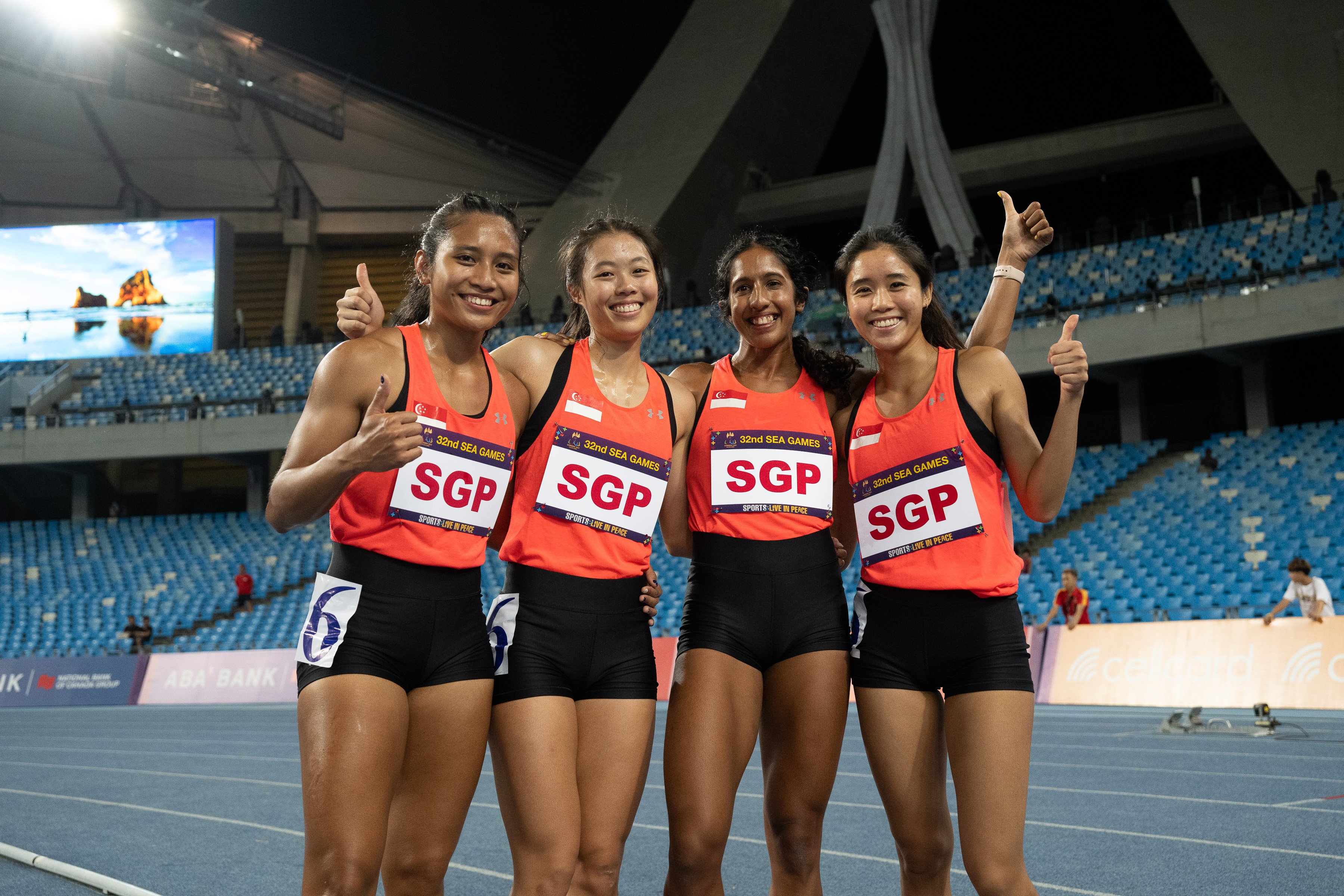 Singapore's women's 4x100m relay finished fourth. Photo: SNOC/Lim Wei Xiang
Shanti Pereira was also in action on Wednesday in the women's 4x100m relay. She teamed up with Elizabeth-Ann Tan, Enriquez Roxanne Rose Zulueta and Clara Goh to finish fourth with a time of 45.16sec.
The 32nd SEA Games are held in Cambodia from 5 to 17 May 2023. For the latest Team Singapore coverage and news, follow Team Singapore on their social media channels (Facebook, Instagram, TikTok) or visit the official Team Singapore website.