Cambodia 2023: Debut Games yields team bronze for paddler Rodrick Li
by ActiveSG Circle, on June 5, 2023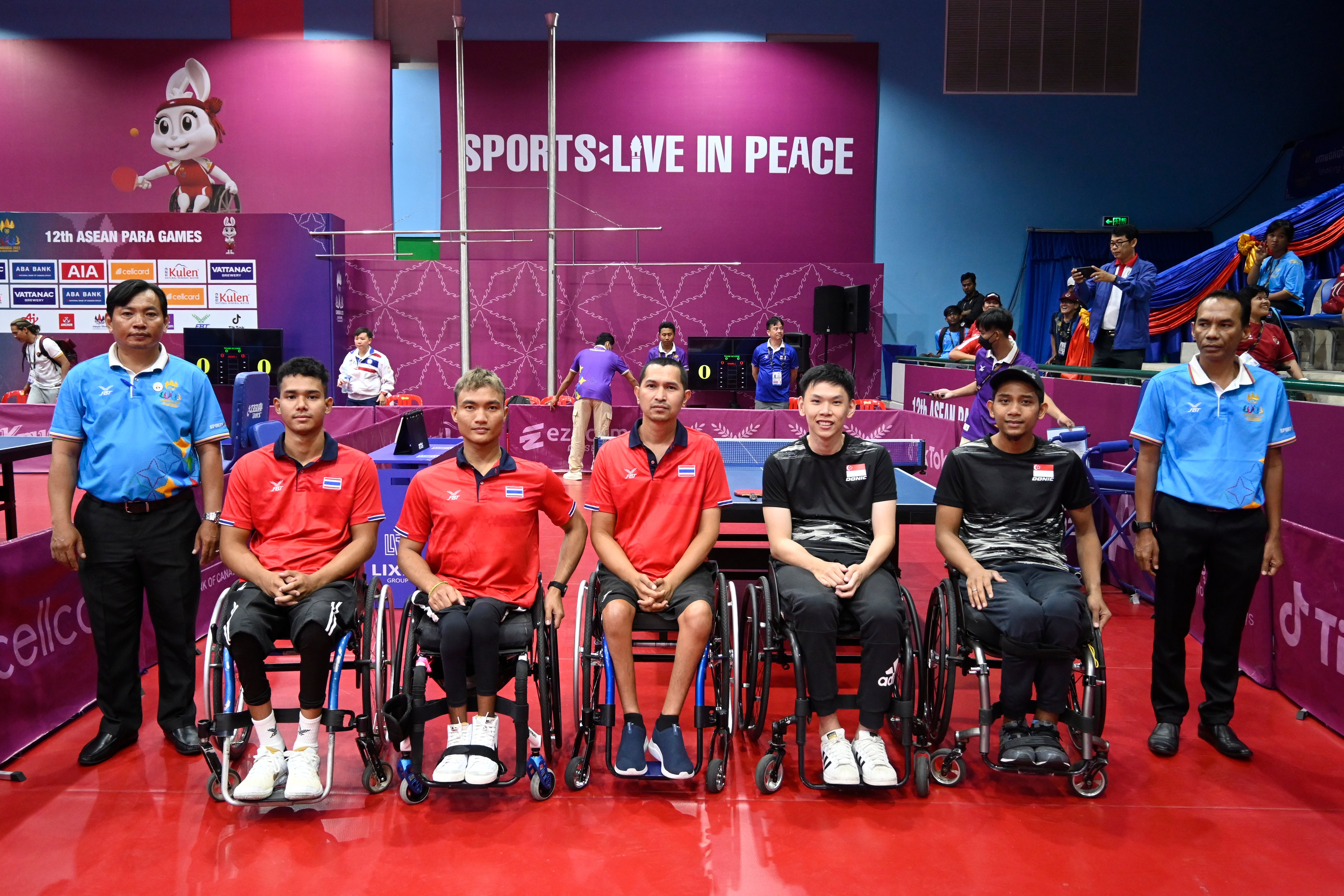 Singapore's para-table tennis players Rodrick Li (second athlete from right) and Muhammad Dinie Asyraf Huzaini took a bronze in the men's team TT 1-3 event. Photo: SportSG/Alfie Lee
By May Chen
Nerves and jitters are par for the course for any athlete competing at a major event. Even more so, when one is making a Games debut against some of the region's best.
For para-table tennis player Rodrick Li, there was also the additional uncertainty of adjusting to the various styles of his opponents across the table.
Still, the 25-year-old's trip to Cambodia will end with silverware, after he teamed up with Muhammad Dinie Asyraf Huzaini to win a joint bronze in the men's team TT 1-3 event.
The duo were beaten in their ties against Cambodia, Indonesia and Thailand, but managed to pull off a victory against the Philippines to finish fourth out of five teams.
In that tie, Li and Dinie earned a point in the doubles match, beating Darwin Labastida Salvacion and Manual Buena Repato 11-7, 9-11, 11-6, 13-11.
Dinie had earlier lost his singles tie against Salvacion 8-11, 11-13, 10-12.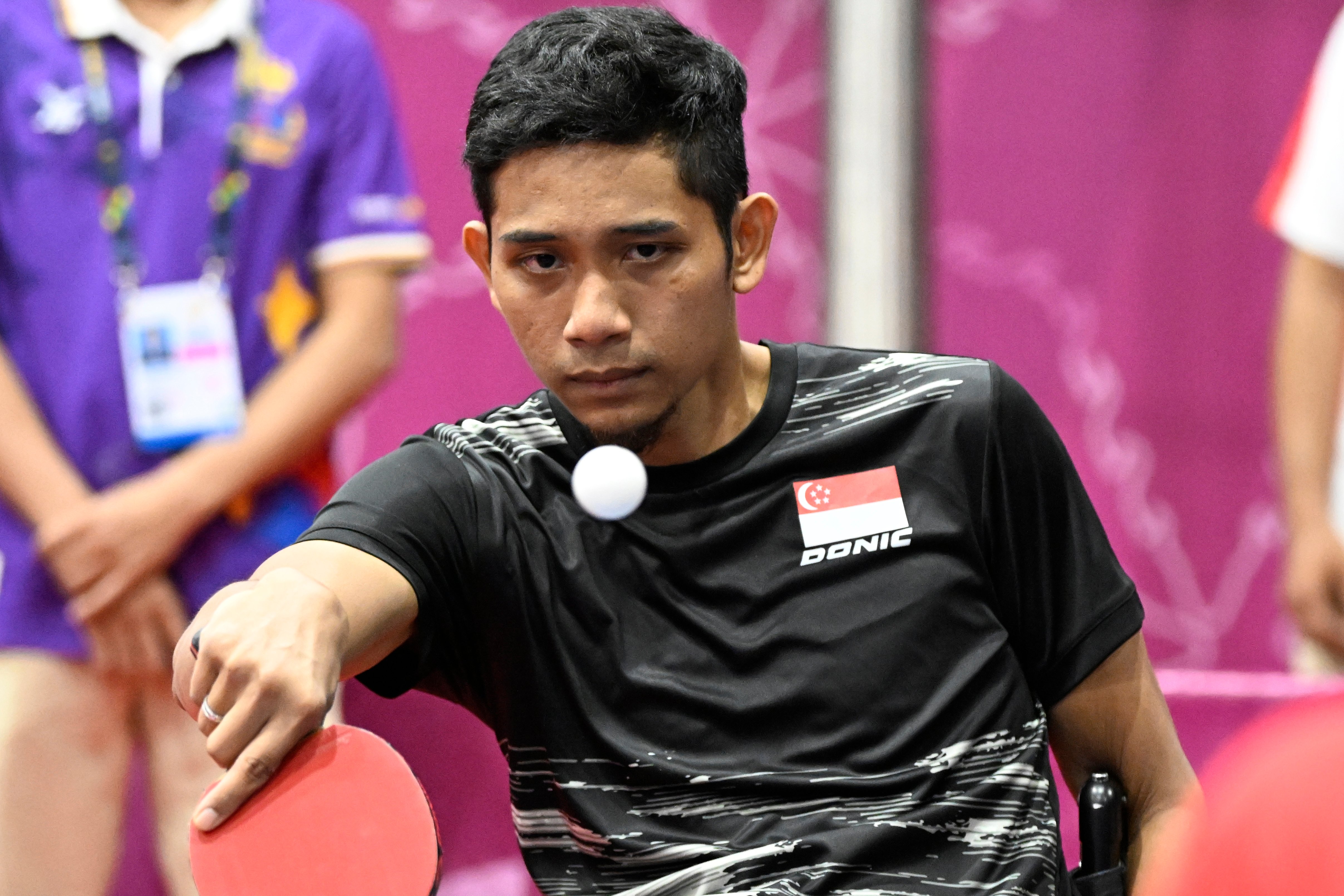 Muhammad Dinie Asyraf Huzaini in action on Monday in Phnom Penh. Photo: SportSG/Alfie Lee
Li earned the winning point for Singapore when he posted a 11-6, 9-11, 11-1, 11-4 victory against Repato.
Said Li: "Coming into my first Games, I do not have much experience adjusting my playing style to other players. It was also the first time I was meeting wheelchair players who were not my teammates.
"Gradually, I made improvements to my game after each match. There are takeaways from each game, (and) I will try to keep them in mind as I progress."
Said Dinie, 33: "I feel relieved and I learnt something new. I'm glad I scored some points and will do better for future games."
Despite full-time commitments outside of sport, the duo trained relentlessly before the Games – five times a week for two months leading up to Cambodia.
It was this ample preparation that Li said he took confidence from, even when down in matches.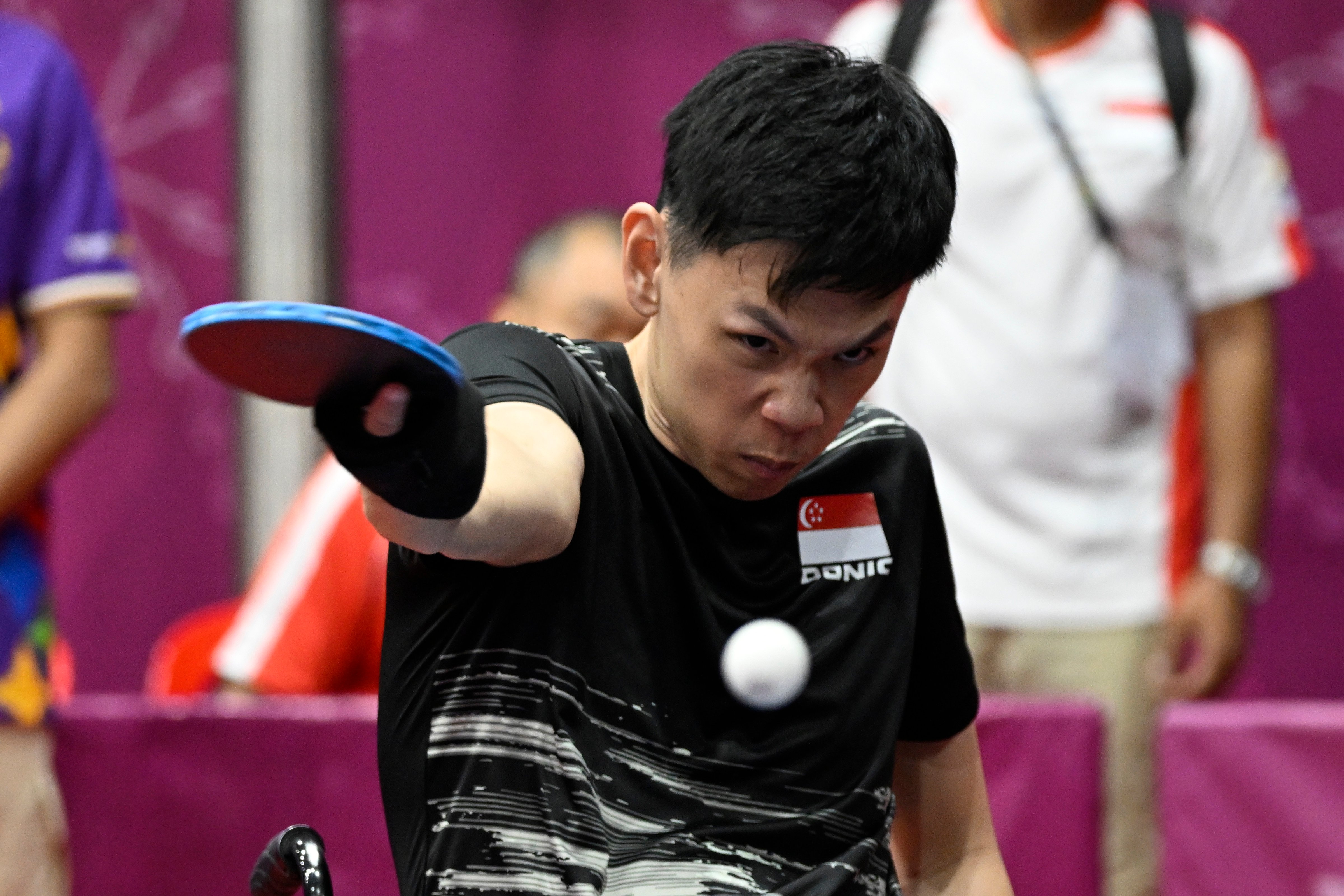 Rodrick Li, 25, is competing at his first APG. Photo: SportSG/Alfie Lee
He said: "We had various sparring volunteers who came to give us some variations to train with but nothing beats having such competitions where all the players are on wheelchairs. I will relish the opportunity here and take back the experience to improve our game."
Meanwhile, Team Singapore's para-swimmers put up a day of stellar performances in the pool, earning another gold medal and four silvers.
Colin Soon made it a second title and as many Games records in the men's 50m breaststroke, clocking 33.47 seconds for what was also a new national mark and personal best.
Wong Zhi Wei was second best in the same event, with a 33.76 seconds effort for a new personal best.
Toh Wei Soong continued to make the podium, winning silver in a new national record time of 1:18.23 in the men's 100m backstroke S7.
Darren Chan and Danielle Moi also won a silver each, in the men's 50m breaststroke SB14 and women's 50m butterfly S14 respectively.
The 12th Asean Para Games are held in Cambodia from 3 to 9 June 2023. For the latest Team Singapore coverage and news, follow Team Singapore on their social media channels (Facebook, Instagram, TikTok) or visit the official Team Singapore website.