Cambodia 2023: Fencing continues Gold run, adding three more medals
by ActiveSG Circle, on May 12, 2023
By Philip Goh
Hall B of the Chroy Changvar Convention Centre in Phnom Penh is fast becoming a good hunting ground for Team Singapore as the Republic's fencers continue to bring home the medals.
On the second day of the fencing programme, it was the turn for the men's individual sabre and women's individual foil athletes to be in action.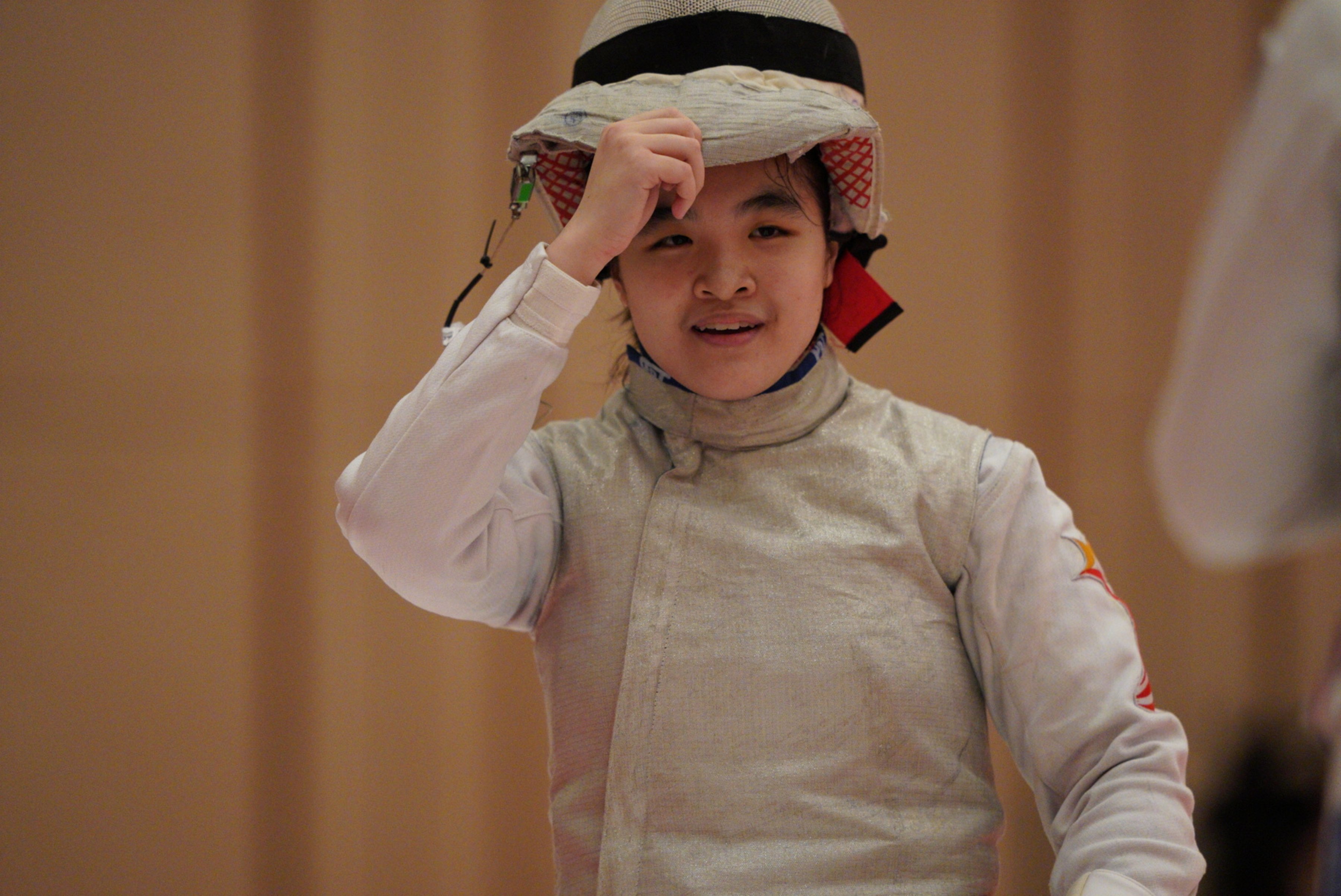 Maxine Wong is determined to go one step better than her last Games. Photo: SportSG/Bryan Foo
In the women's foil event, Maxine Wong and Cheung Kemei both won four out of five pool matches to advance straight into the quarter-finals.
There, 22-year-old Wong brushed aside Nguyen Thi Thu Phuong of Vietnam 15-6 to book her place in the final four, while Kemei beat Thailand's Shinnakerdchoke Chayanutphut 15-11 to advance.
Both girls tried to create another all-Singapore finals following that of the women's sabre event yesterday (11 May) but to no avail, as 17-year-old Kemei was stopped by defending champion Samantha Catantan of the Philippines 15-6.
Cheung Kemei picks up a second consecutive bronze medal. Photo: SportSG/Bryan Foo
But the match was not without drama as the Filipina Catantan took a tumble when 13-5 ahead and looked in considerable pain and was crying before resuming to complete the match.
Meanwhile, Wong defeated her Malaysian opponent, 17-year-old Surayya Rizzal 15-7 to set up a repeat of the Hanoi 2022 final, which Catantan had gotten the better of her.
However, it was not to be as the Filipina had to concede a walkover to Wong in the final, due to the knee injury she picked up during her semi-final bout against Kemei, denying Wong a re-match and handing Gold to the Singaporean.
Winning the gold in such a manner was bitter-sweet for Wong: "Of course I wanted to fence her in the final, and redeem myself from last year. I felt that I was in good form throughout the day and I was mentally and physically prepared to fence in the final.
"I was ready to keep up my intensity. It is unfortunate what happened to Samantha, nevertheless I am happy to win the gold."
As for who she would like to thank, Wong singled out her mother Bee Bee for being there for her all the time.
"From travelling with me to competitions, to supporting me emotionally, mentally and physically, this gold is as much hers as it is mine. I've been working very hard for the past few months, training hard, travelling for all the competitions while juggling school work as well."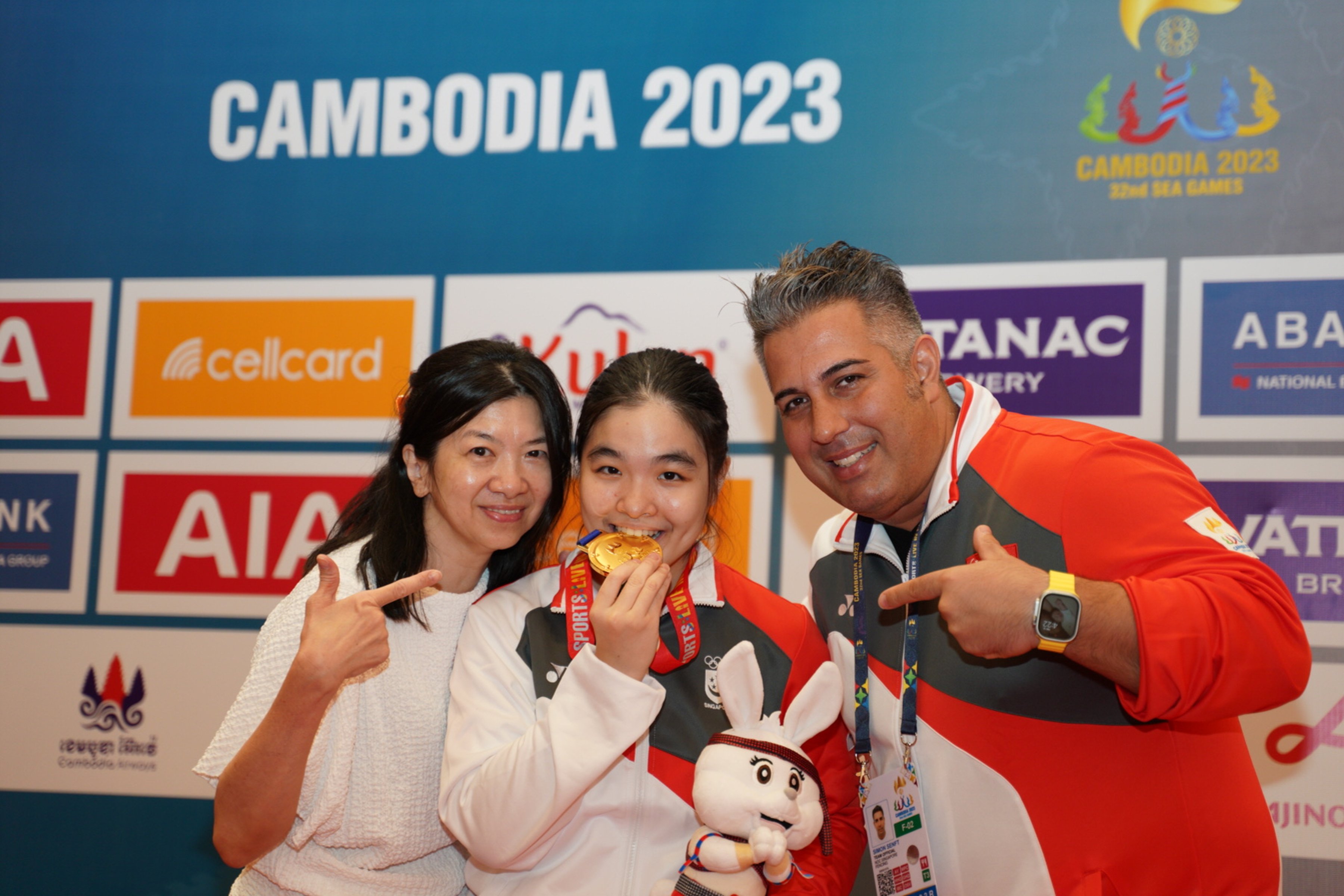 Maxine Wong with mom Bee Bee and coach Simon Senft. Photo: SportSG/Bryan Foo
In a curious twist of fate, her semi-final match featured the meeting of two disciples of Singapore fencing coach Viacheslav Bobok, Wong's former coach who now coaches the Malaysian Surayya.
Asked about that, Wong said, "It was like a normal competition bout for me since we fence each other in local competitions as well. As for coach Slava, we have moved on and we still say hello to each other. I have to thank my coach Simon (Senft) for his hard training and endless support and belief in me."
As for teenager Kemei, this is her second consecutive bronze medal in this event, and while she is happy with the medal, she was hoping for more and will train harder for her future competitions.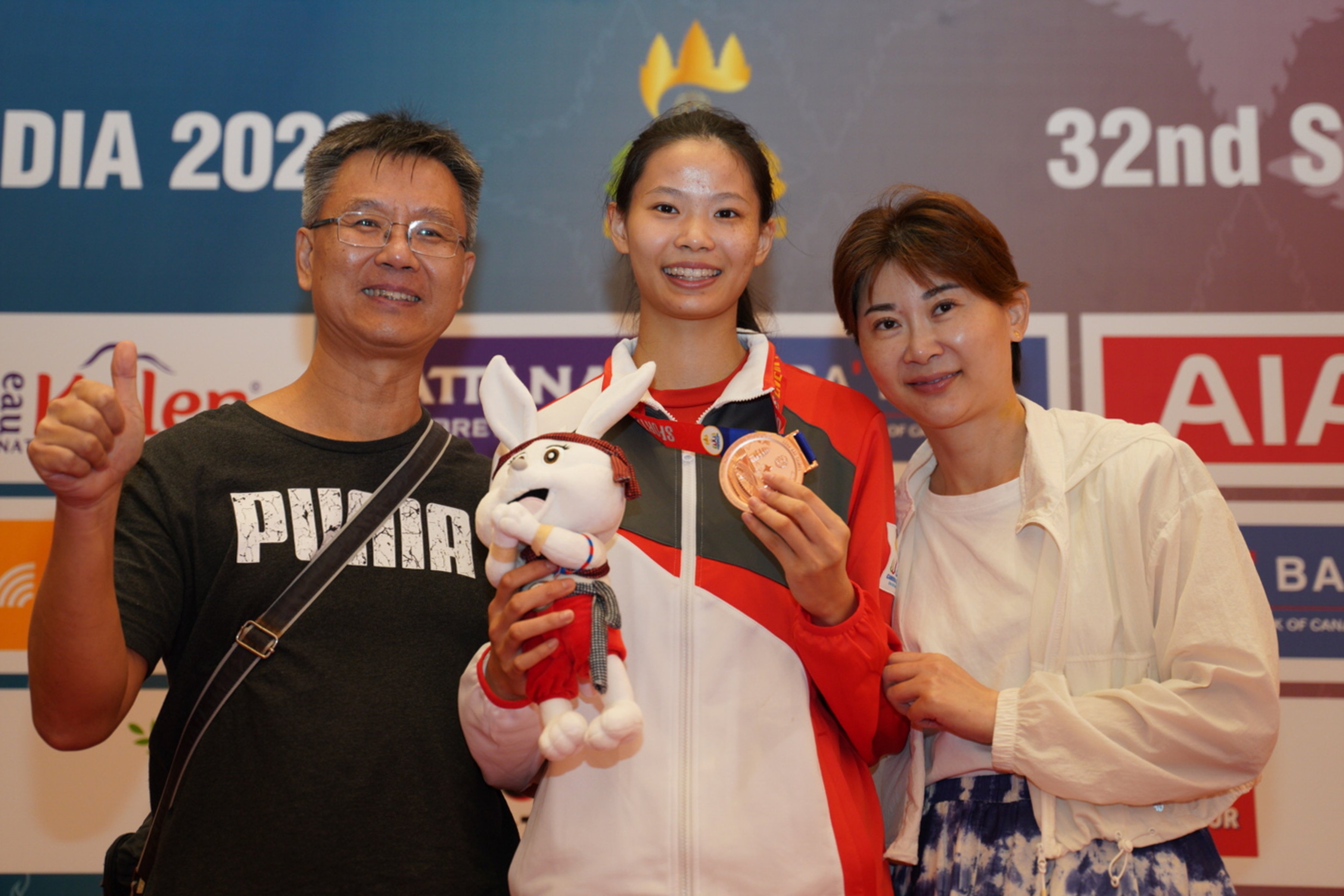 Kemei celebrates her medal with her parents. Photo: SportSG/Bryan Foo
Speaking about Catantan, Kemei says: "She's a strong opponent with very fast attacks, but I could have done better. I learn from this competition that I have to be more prepared and decisive with my actions."
The men's sabre competition saw both Dan Wei Zuo and Nicholas Loo advancing to the knock-out rounds after winning four out of five and two out of four pool bouts respectively. Nicholas then fell at the first hurdle, losing 15-10 to Brunei's Muhd Anaqi Danish bin Asahrin while Dan edged out Eunice Daniel Eugenio Villanueva 15-14 to earn himself a share of the bronze medal.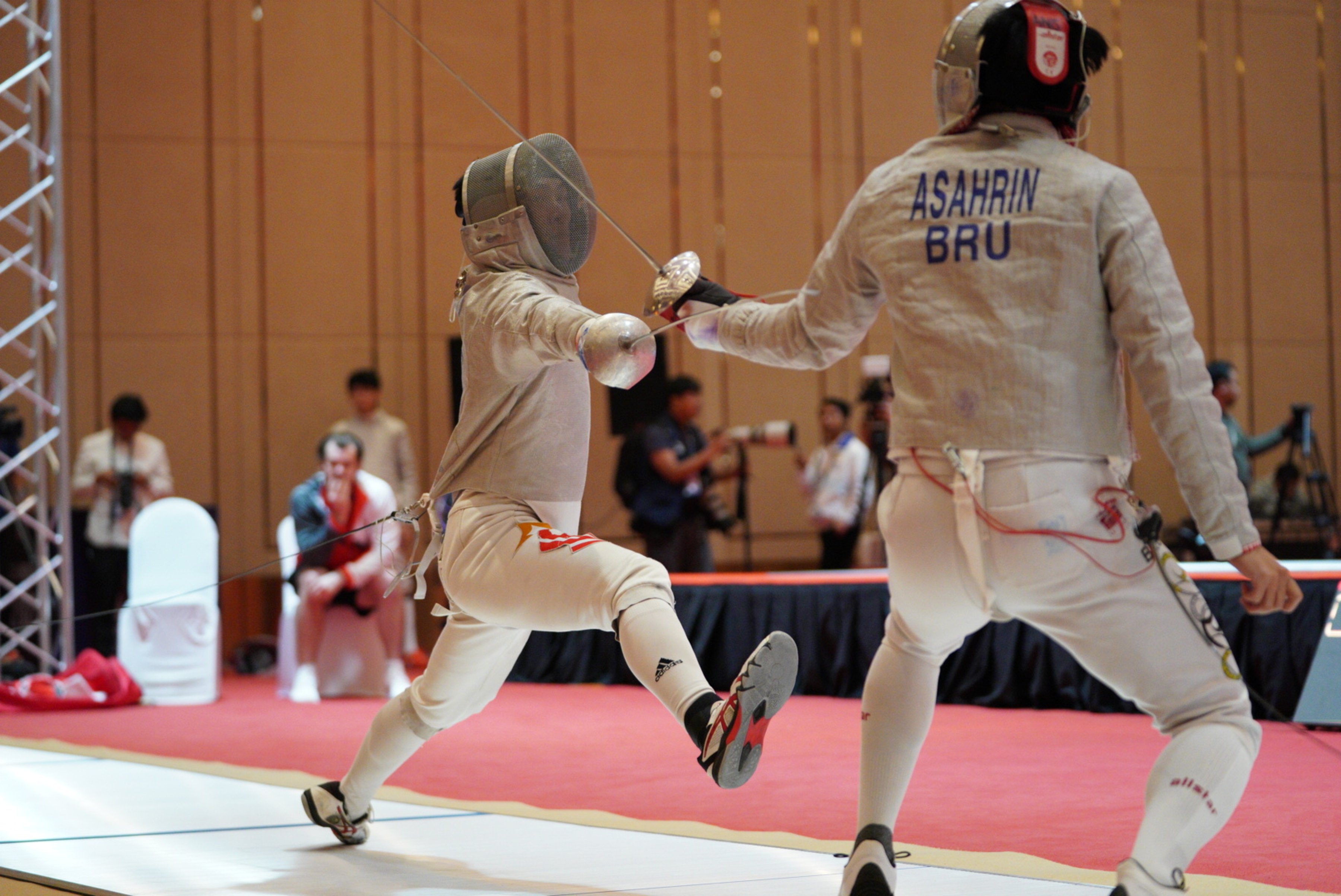 Nicholas Loo fell to Brunei's Muhd Anaqi Danish in the Round of 16. Photo: SportSG/Bryan Foo
But that was as far as he got as Dan was beaten 15-5 by Thailand's Voragun Srinualnad in the semi-finals, with the Thai going on to win gold.
Said Dan on the result: "I am happy because I'm able to keep my nerves in check and fence the way that I normally fence. However, I made mistakes which cost me the semi-final match, so I am kind of disappointed as I have trained hard for this event only to fall short. I will take this as a stepping stone and as a lesson learnt. I will continue to improve and pursue success in my fencing career."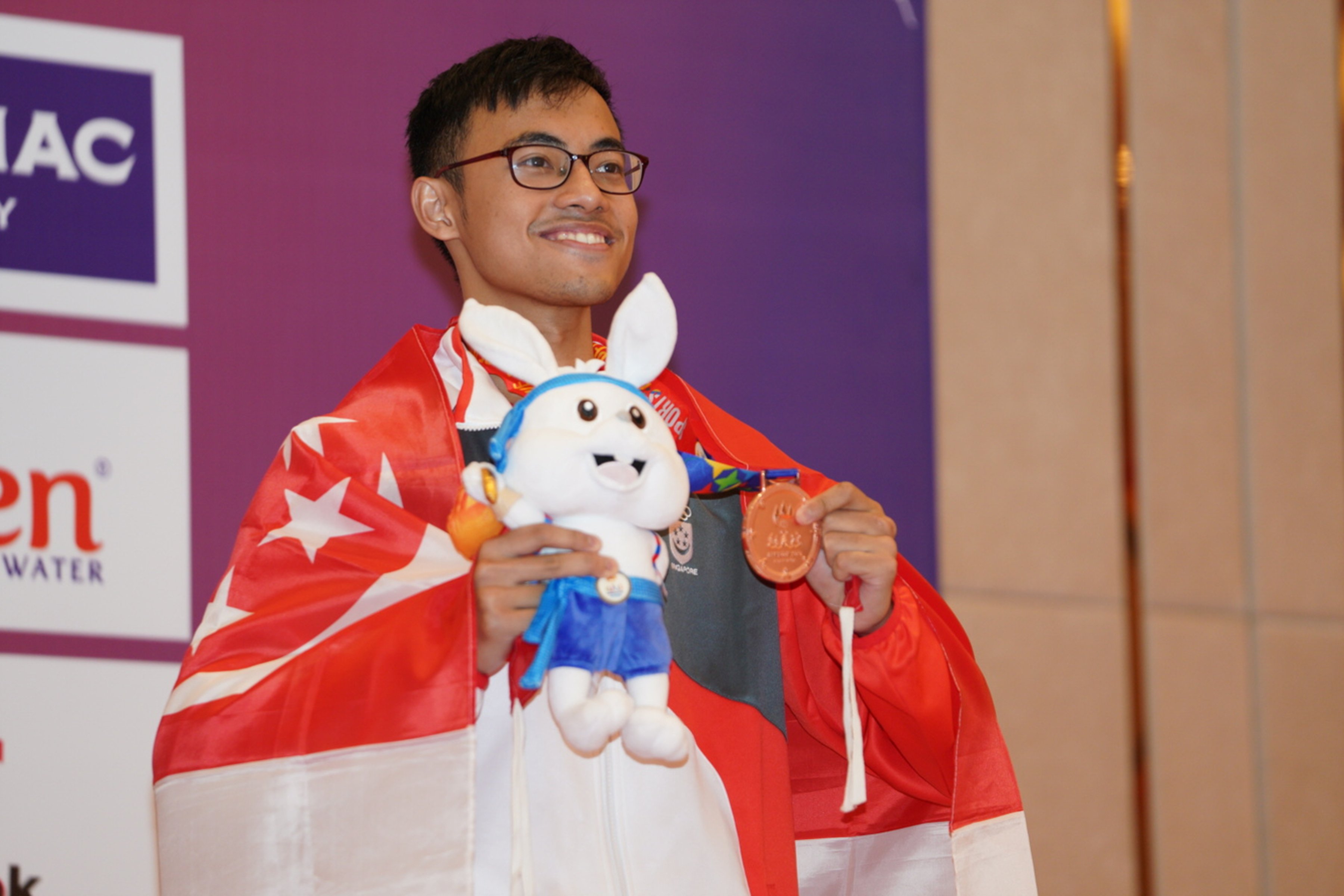 Dan Wei Zuo celebrates his bronze but aims for better results in the future. Photo: SportSG/Bryan Foo
After two days of competition, Fencing has secured seven medals including three gold medals, well on the way to matching the 15-medal haul from the previous Games.
Fencing continues tomorrow (13 May) with individual men's foil and women's epee competitions.
The 32nd SEA Games are held in Cambodia from 5 to 17 May 2023. For the latest Team Singapore coverage and news, follow Team Singapore on their social media channels (Facebook, Instagram, TikTok) or visit the official Team Singapore website.
Related Topics
Related Events & Programmes
Related Topics