By Philip Goh
To say that Fencing is a sport on the rise in Singapore is turning out to be quite the understatement. Apart from Singapore fencers making their mark on the Asian and World stage, the Republic has most certainly stamped itself as the leading Fencing nation in Southeast Asia, as evident by its medal haul at the biennial Southeast Asian Games.
Consider Kuala Lumpur 2017, when only individual medals were contested, Singapore walked away with 5 medals, including a third of the share of Gold won by Amita Berthier and Lau Ywen in the women's foil and sabre events.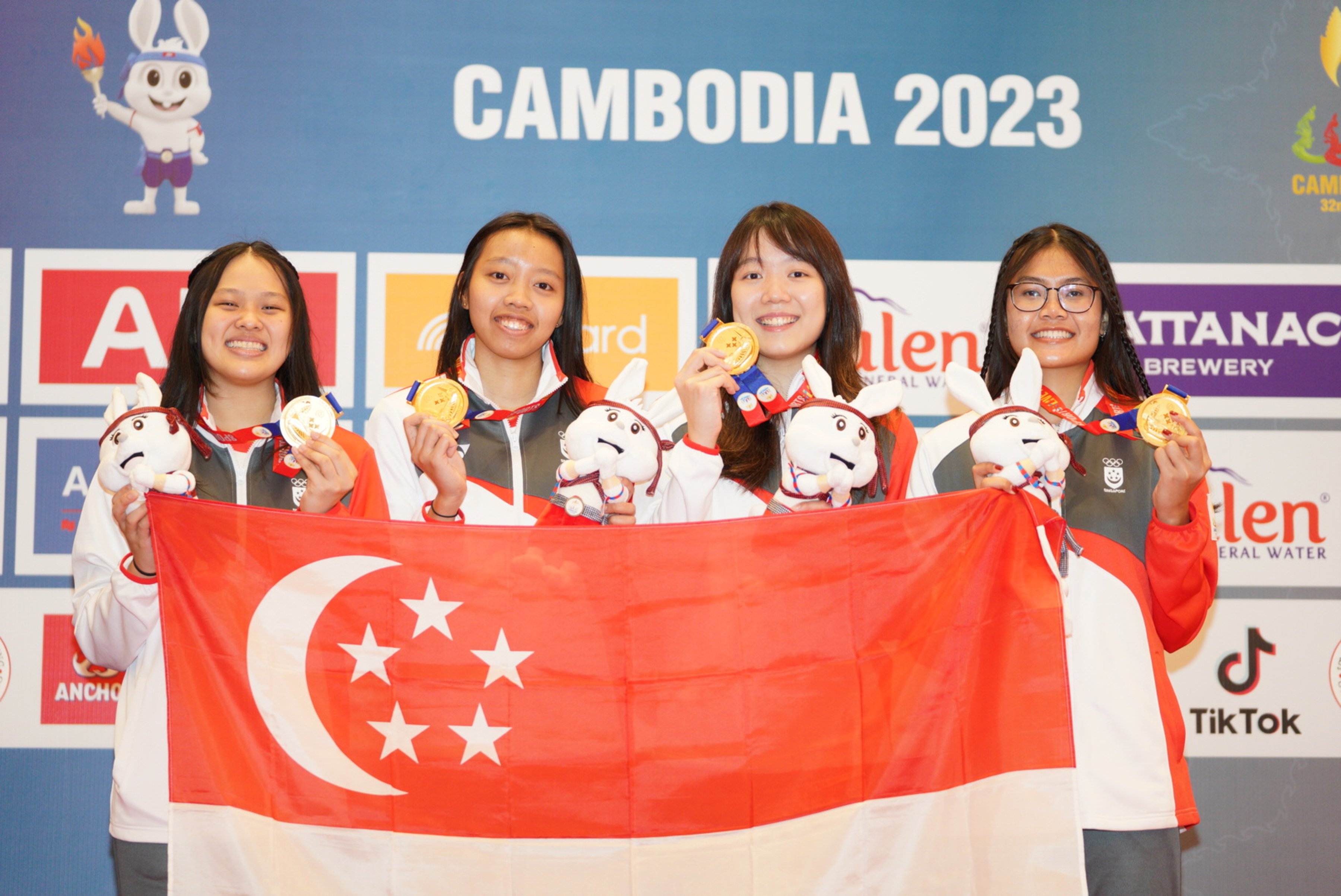 A seventh gold by the Women's Epee team means a new record has been set. Photo: SportSG/Bryan Foo
On to Manila 2019, when Singapore brought home 13 medals in total, including four gold medals. The improvement continued to Hanoi 2022, when the haul improved to 15 medals in total, including six gold medals.
Today in Cambodia, a new high has been set yet again, when the women's epee team duly delivered another gold, the seventh this Games for Team Singapore Fencing, while the men's foil team brought home a silver, making it a total of 16 medals, and more pleasingly, a 100 percent medalling record for every member of the Fencing team.
But Team Singapore did leave some on the piste – one might wonder how their performance didn't surpass the bronze in women's sabre and men's epee, while some of our silver medalists may be pondering their missed chance for gold.
But no matter, this was unequivocally a highly successful campaign for Team Singapore Fencing, and the focus now turns to transferring this success onto a bigger stage, what with the Asian Championships, World Championships and the Asian Games coming up over the next few months.
On the final day of Fencing action in Phnom Penh, the women's epee team earned direct passage into the semi-finals as top seeds and were guaranteed a bronze medal. But the ladies had their eyes on the biggest prize.
The men's foil team, seeded third, started their journey in the Round of 8 where they brushed aside Cambodia 45-12.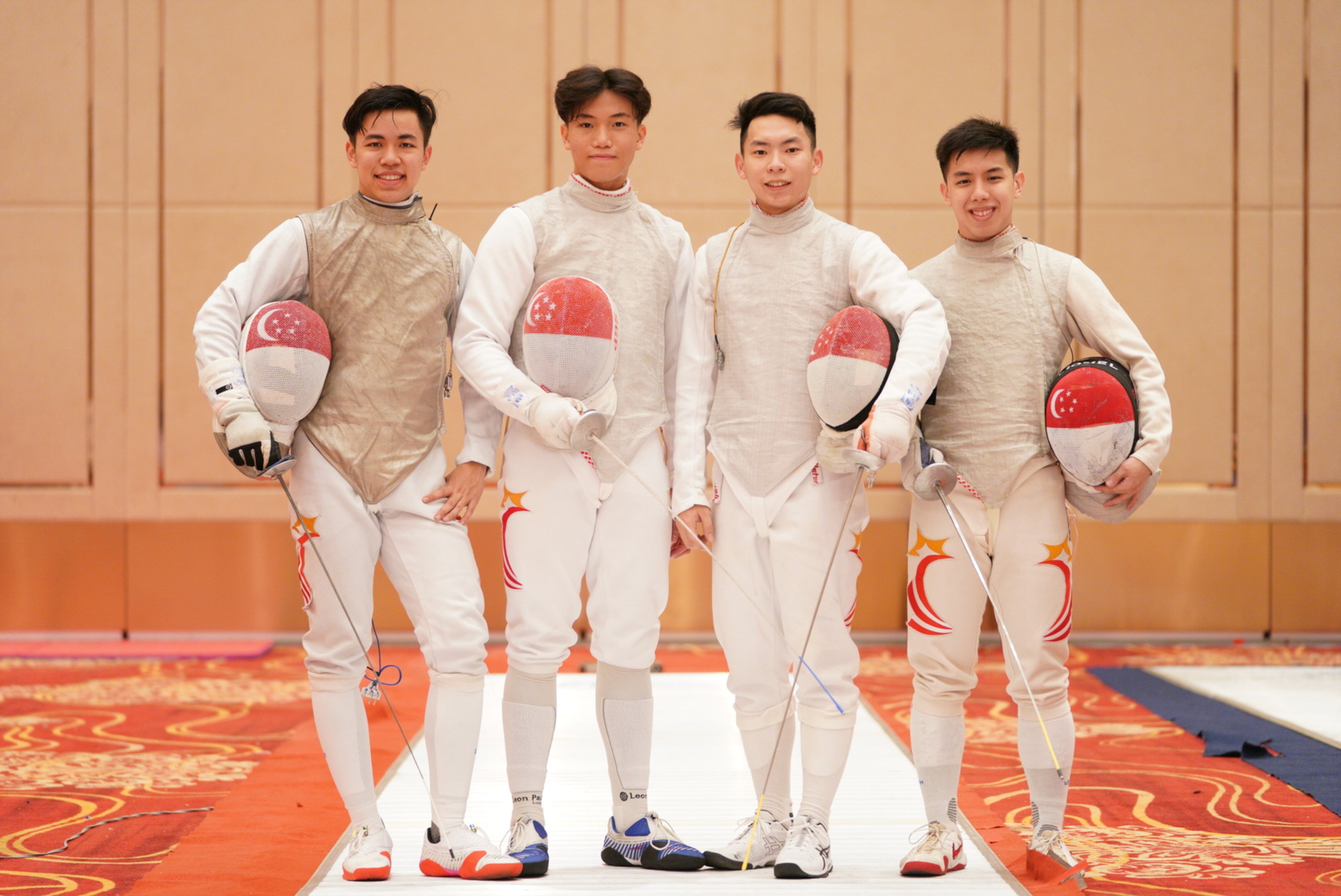 The men's foil team (from left) Samuel Robson, Zephaniah Kiew, Max Neo and Lionel Wee. Photo: SportSG/Bryan Foo
Facing up to the Philippines in the semi-finals, the team of Samuel Robson, Max Neo and Zephaniah Kiew and reserve Lionel Wee started cold and were 15-10 behind after three of the nine bouts before Zephaniah Kiew turned in an inspiring performance, scoring 10 points while blanking out his opponent. From then on, Singapore gained control, and although the Philippines managed to even the score at 35-35 after the 8th bout, individual gold medallist Samuel Robson powered Singapore home in the anchor leg.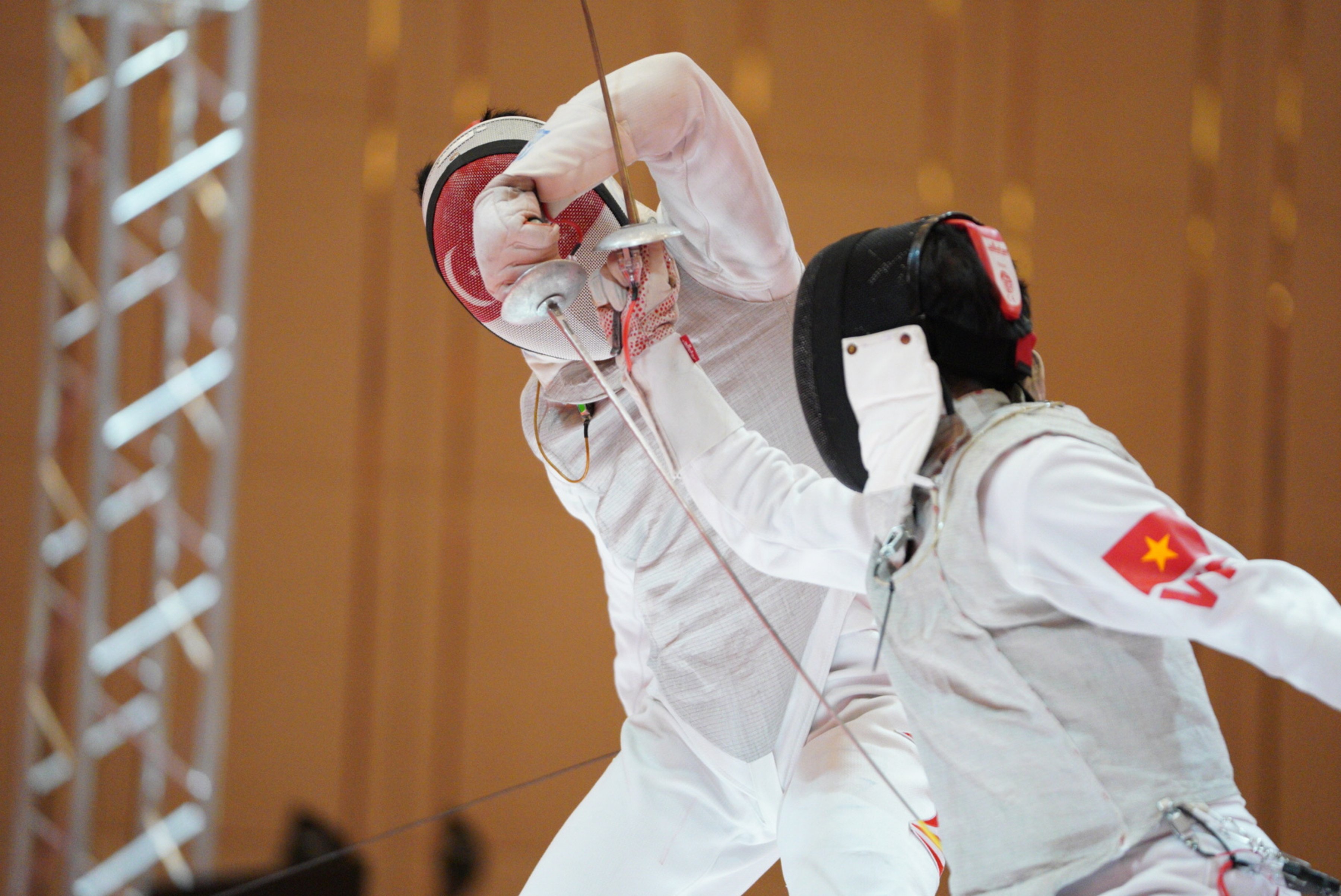 A close affair in the men's team foil final where Vietnam found the edge. Photo: SportSG/Bryan Foo
The final against Vietnam was a nip and tuck affair although Singapore managed to gain the upper hand and maintained their lead until the last two bouts when things unravelled, and Vietnam managed to get to the 45-point finish line with the combined prowess of Nguyen Van Hai and Nguyen Minh Quang.
Said Lionel: "It was a tough final for us and the Vietnam team really gave us a hard fight. I feel very happy with our performance today. Even though it is not the result we wanted, we did not give up and fought till the end.
"It was a great experience for me especially making my debut today. The atmosphere, hearing people cheer for the team and representing my country, it means a lot to me. There is room for improvement and we will come back stronger next time.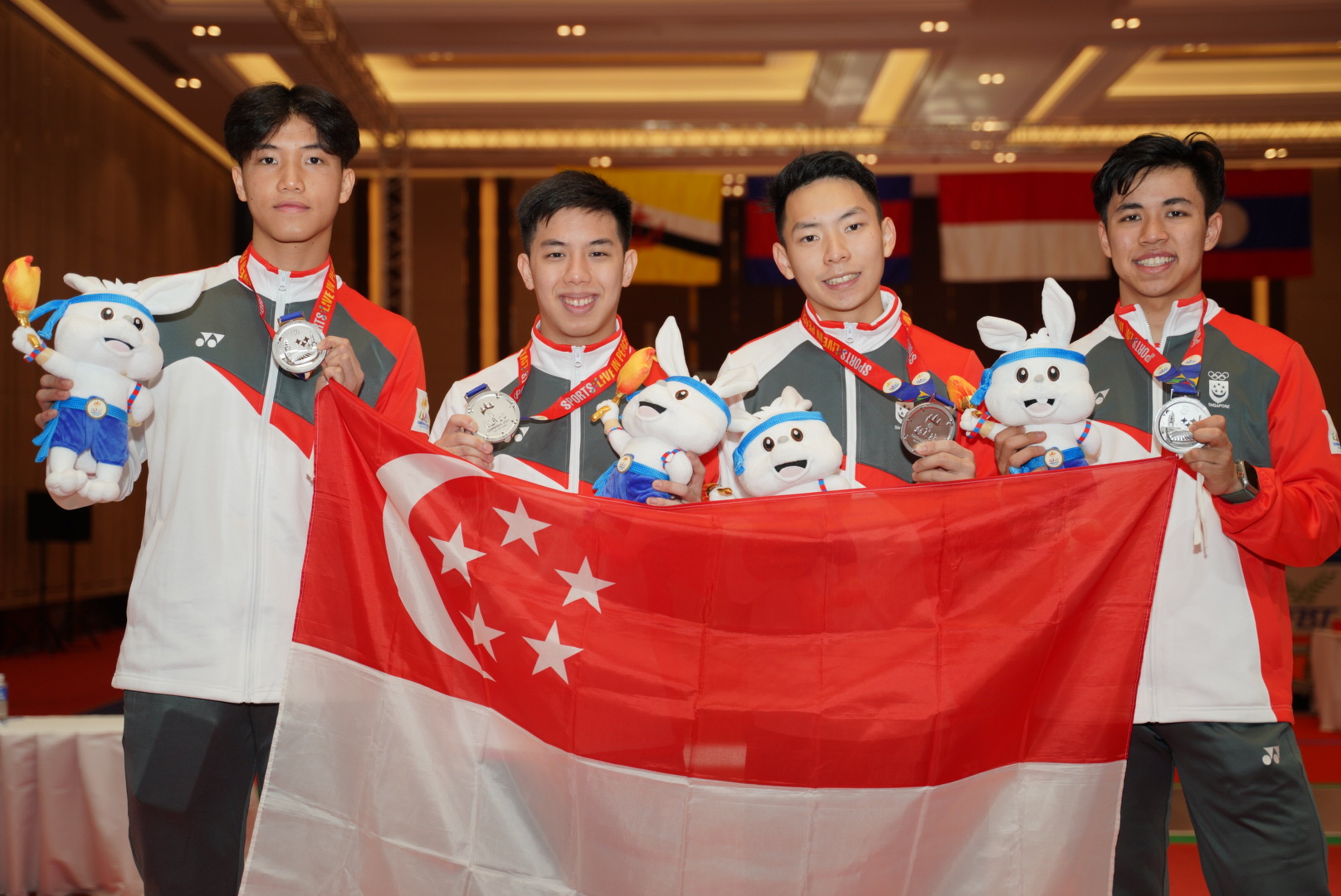 The men foilists will return with a Silver medal and a determination to do better next time. Photo: SportSG/Bryan Foo
Commented Zephaniah: "The final was definitely a tough match. Vietnam was on form today and I felt that we put up a good fight against them. There were some mistakes and we could have definitely fenced better but all in all our team managed to fight through and did not give up until the end."
The women's epee team boasted individual gold medallist Elle Koh and Olympian Kiria Tikanah Abdul Rahman, as well as Rebecca Ong and Filzah Hidayah Nor Anuar. Against Thailand in the semi-finals, the ladies always had the match under control and powered home to a 45-33 win.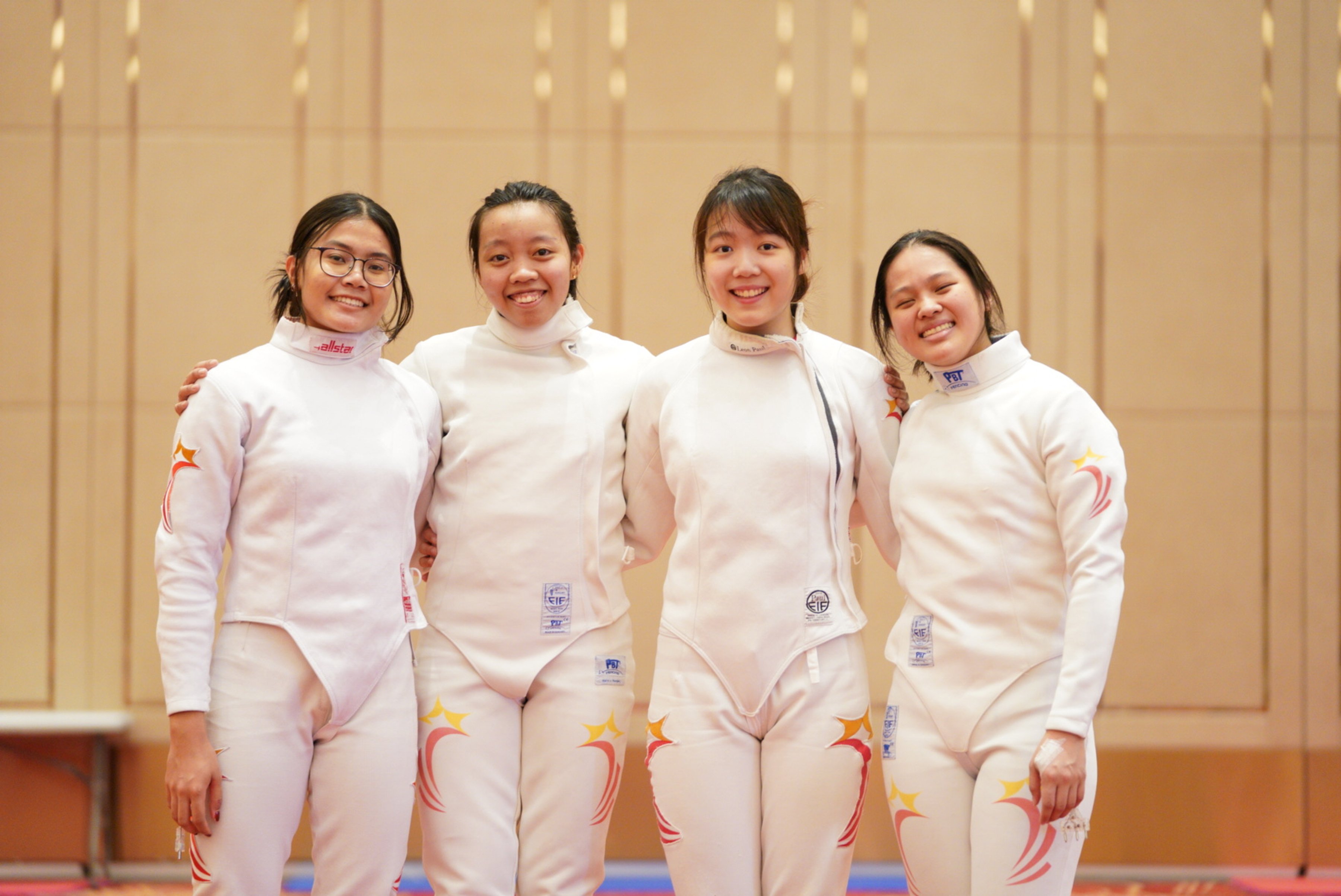 The women's epee team of (from left) Filzah Hidayah, Kiria Tikanah, Rebecca Ong and Elle Koh. Photo: SportSG/Bryan Foo
Philippines in the final proved an entirely different situation as the Filipinas kept the scoring low and eked out a slender lead all the way to bout number five when they led 16-15. Thereafter, Singapore took over and started putting distance between the teams. A 14-point anchor leg from Kiria saw the team home 45-37 to lock up the gold.
Commenting on the final, Kiria said: "The finals started off a bit shaky for us but we managed to keep it tight and slowly found our stride to get the lead.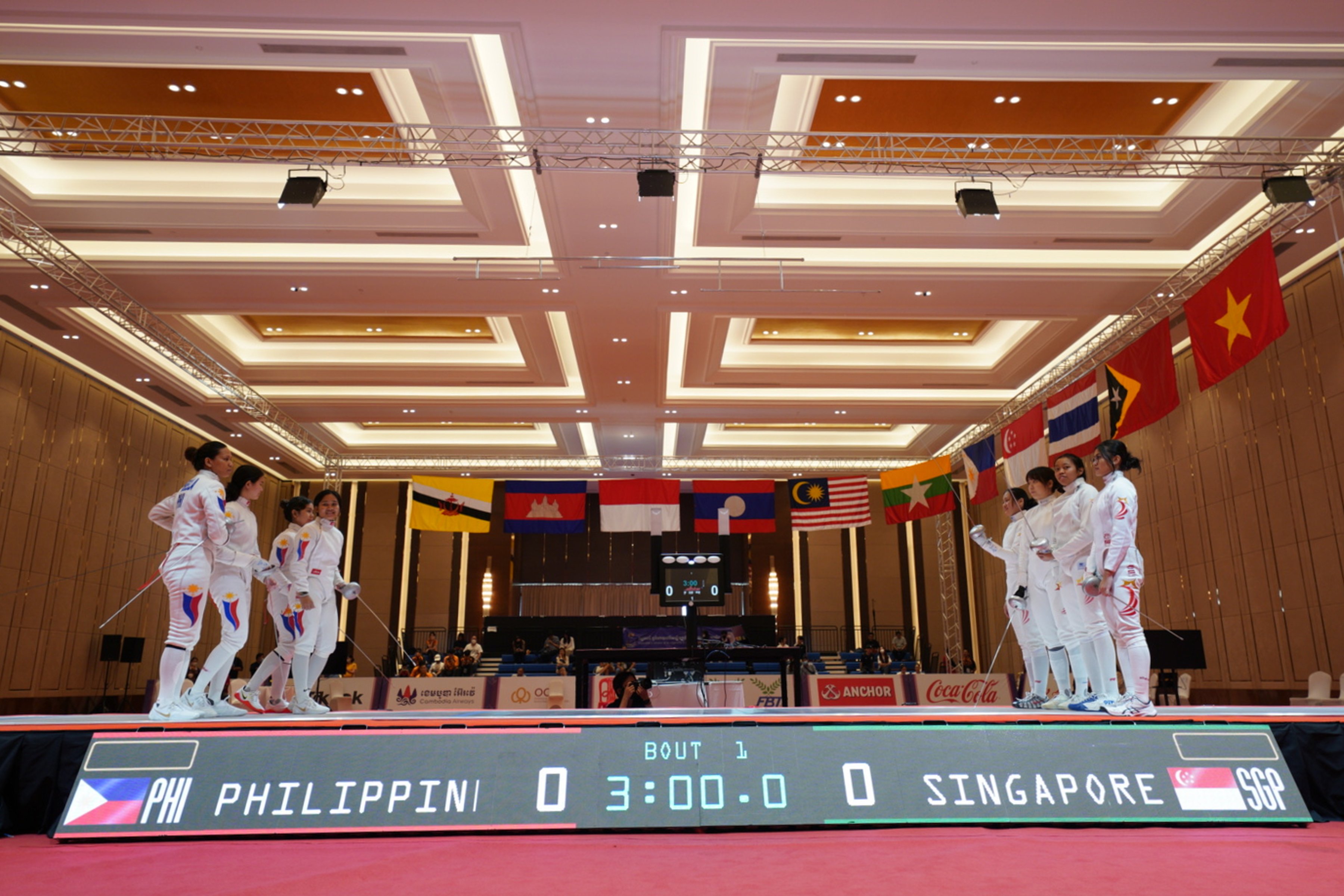 Ready to do battle on the show piste. Photo: SportSG/Bryan Foo
"I think we did a good job in trusting each other and all of us did a good job in slowly closing the deficit at the start.
"At the end we felt more confident and were able to fence as we normally would so I'm glad we ended it off on a good note.
"We knew it was going to be a close match so I'm proud of the team for fighting all the way from start to end."
Said debutante Filzah: "The support that my teammates gave me made me more confident and relaxed during my matches which really helped a lot. I feel really grateful for them."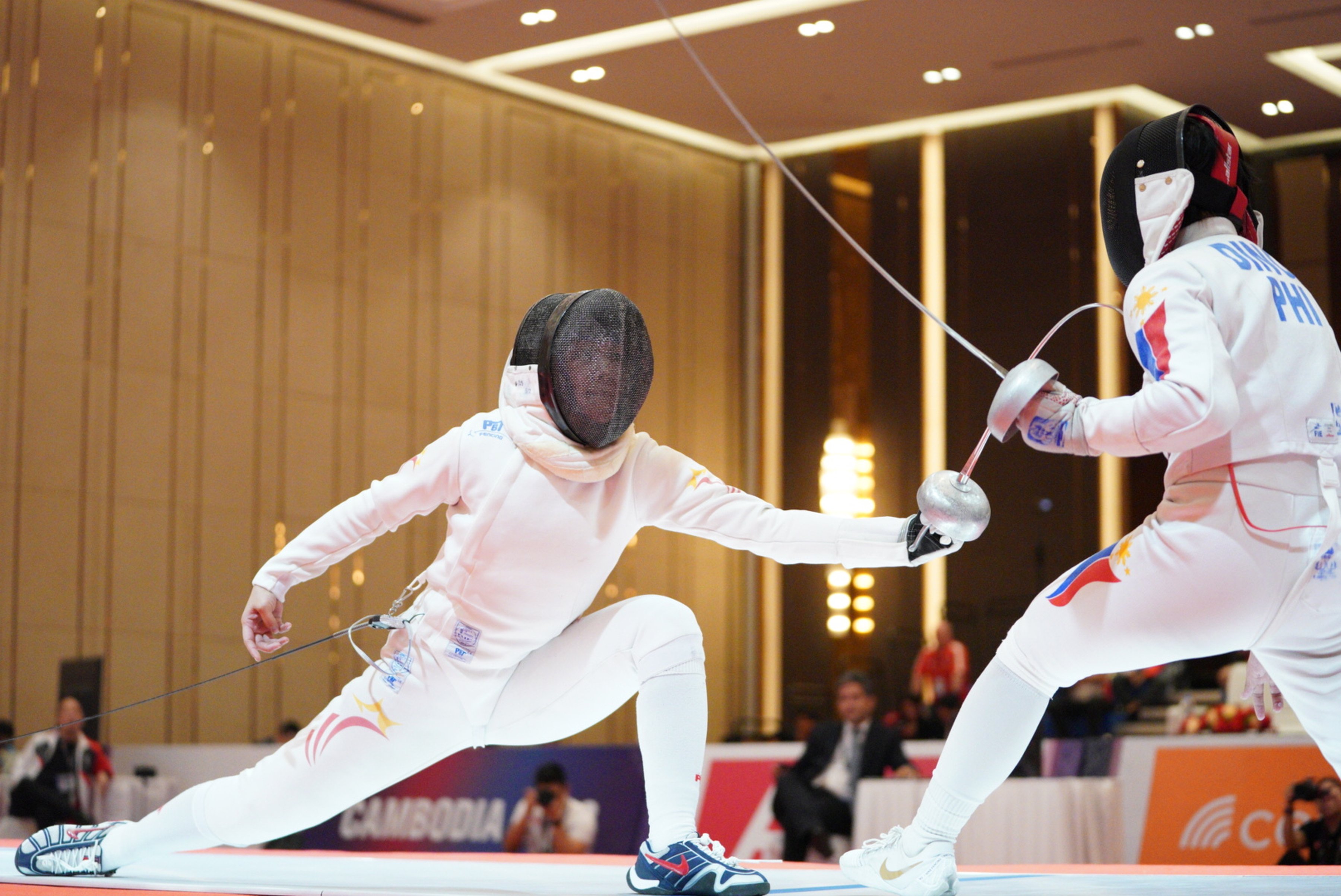 Always in control against the Philippines in the final. Photo: SportSG/Bryan Foo
Summing up the campaign, Fencing Singapore President Juliana Seow commented: "At the last SEA Games, we came back with 6 golds, 4 silvers and 5 bronzes. Within a year, we had surpassed our last results with a total of 7 golds, 3 silvers and 6 bronzes.
"We strongly believe that our team fought really hard in the last 6 days and everyone came home with a medal. The results show that our pipeline is strong as this SEA Games saw 11 debutants, nearly half the team, yet we continued to produce the best SEA Games results ever!
"None of this would have been possible without the hard work of all the coaches and fencers, and our village of parents, clubs and schools. A big shout out to the Singapore National Olympic Council and the Singapore Sport Institute for supporting and being there with us as we progress each day!"
Singapore emerged top nation in Fencing, winning 7 of the 12 gold medals on offer, followed by Vietnam with four gold medals, and one for Thailand.
The 32nd SEA Games are held in Cambodia from 5 to 17 May 2023. For the latest Team Singapore coverage and news, follow Team Singapore on their social media channels (Facebook, Instagram, TikTok) or visit the official Team Singapore website.
Related Topics
Related Events & Programmes
Related Topics