Cambodia 2023: Field hockey returns with silver and bronze medals
by ActiveSG Circle, on May 19, 2023
By Philip Goh
Singapore's field hockey teams left for Cambodia confident in their preparations and ready to defend their proud legacy in the sport, which has seen the women winning gold in 1993 although the men have never gotten further than silver, but cognisant that neighbours Malaysia remain their fiercest rivals.
What the women's team did not countenance with is the rapid improvement of a couple of other neighbours, namely Indonesia and Cambodia.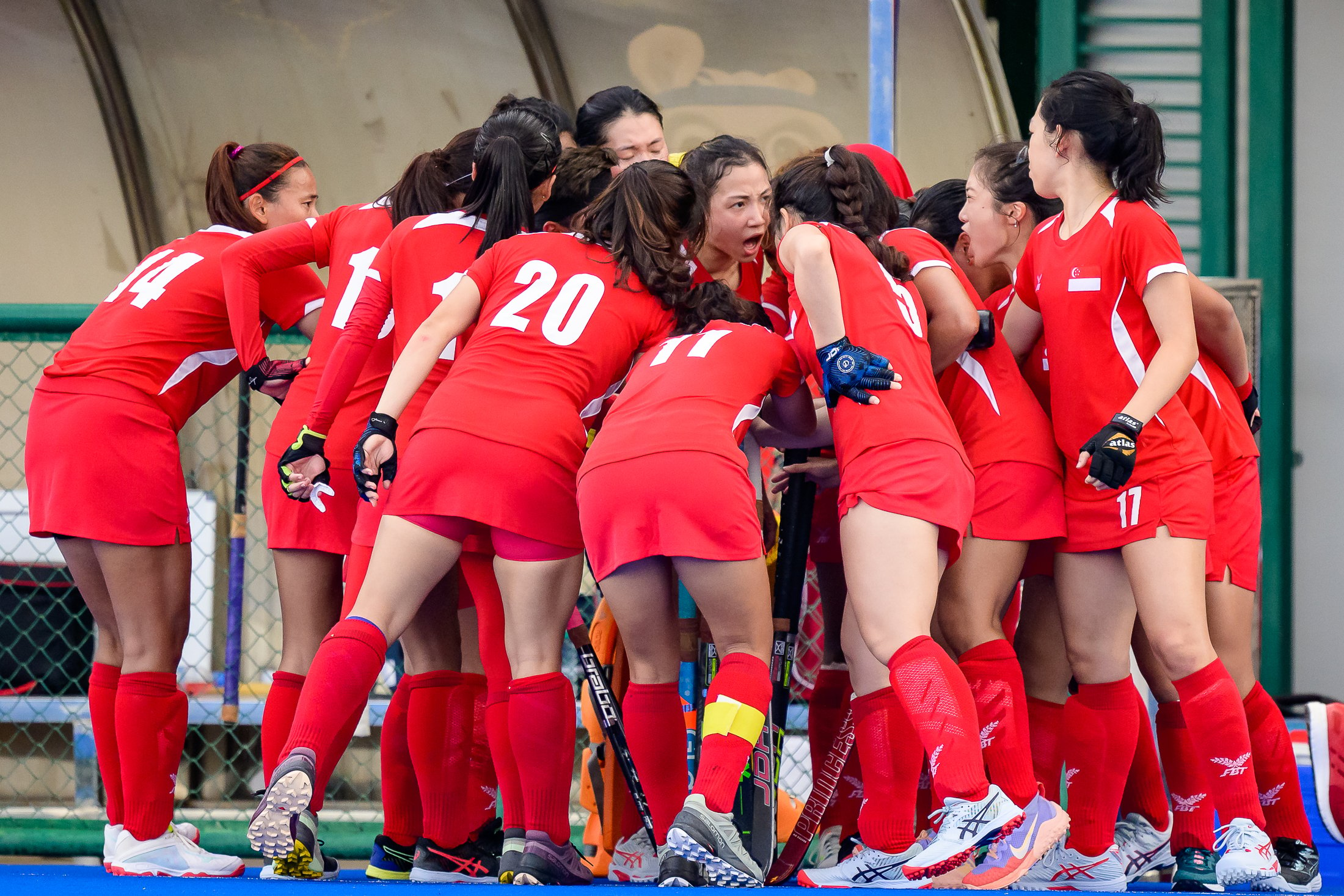 Singapore players being urged to stay focused in the game. Photo: SNOC/Andy Chua
And so it turned out that the women escaped with a 2-2 draw with Indonesia on their opening match on 9 May with Toh Li Min and Johana Hajaratih scoring in quick succession to cancel out Indonesia's opener from Nur Anisa, but conceding an equaliser to Novita Since.
Going up against Malaysia next was a tall order as the Malaysians are ranked a lot higher than Singapore - 19th to Singapore's 34th. The Republic eventually went down 1-4, with Jolene Ng scoring the consolation goal.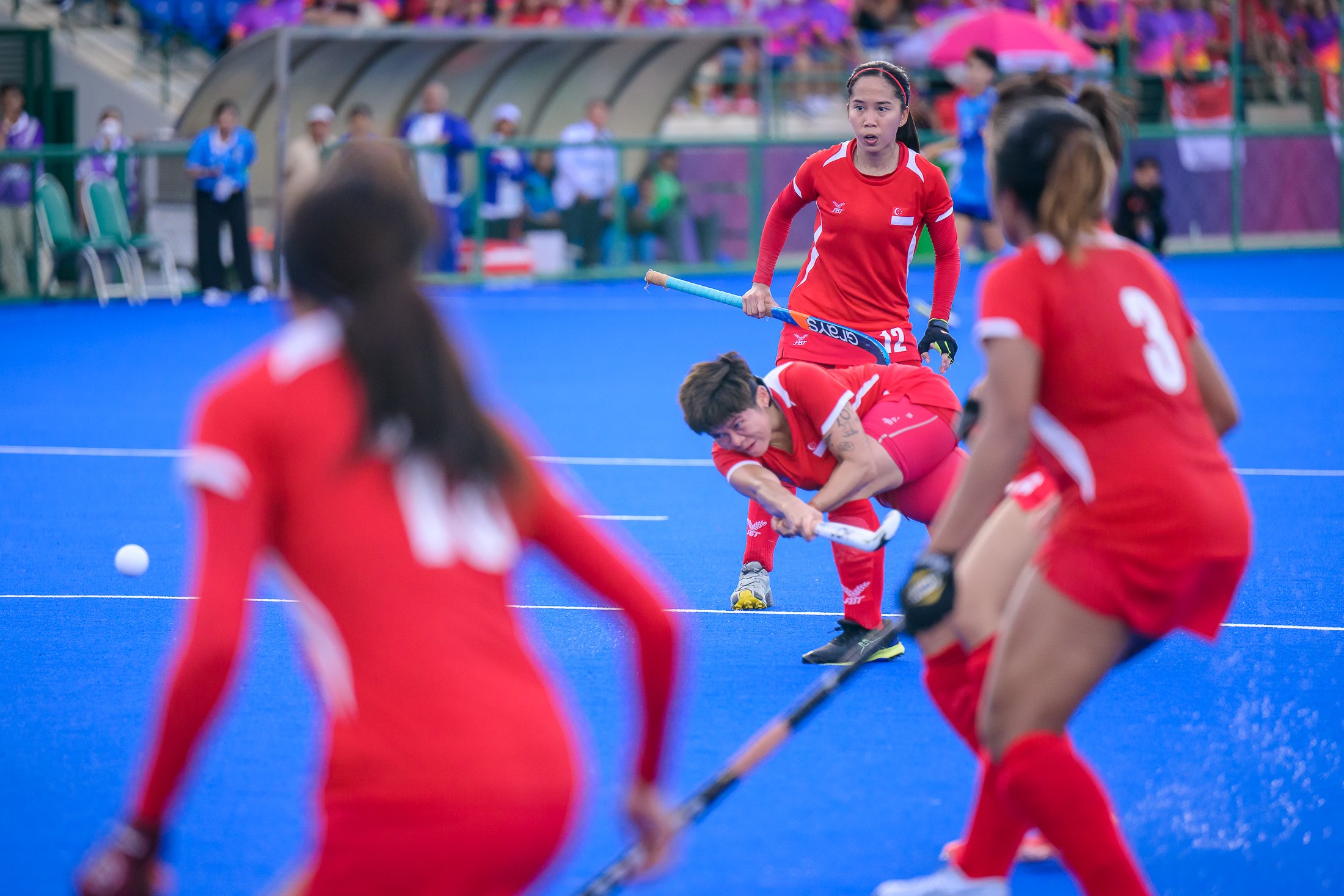 A well-struck penalty corner got Singapore on the scoreboard against Cambodia. Photo: SNOC/Andy Chua
Singapore needed to bounce back from the opening two results, but it turned out to be another fightback against Cambodia, as Johana Hajaratih and Toh Li Min scored to cancel out a 24th minute opener from Chakriya Eng, only to concede to Ta Mam to let slip all three points yet again.
It was left to the final match against Thailand when things finally went Singapore's way as the sole goal from Valerie Sim proved the difference between the two teams. That was not enough for Singapore to overtake Thailand on the final standings as the Thais qualified for the final on 6 points behind Malaysia's 12 points, while Singapore finished third on the table to share the bronze with Indonesia in fourth place.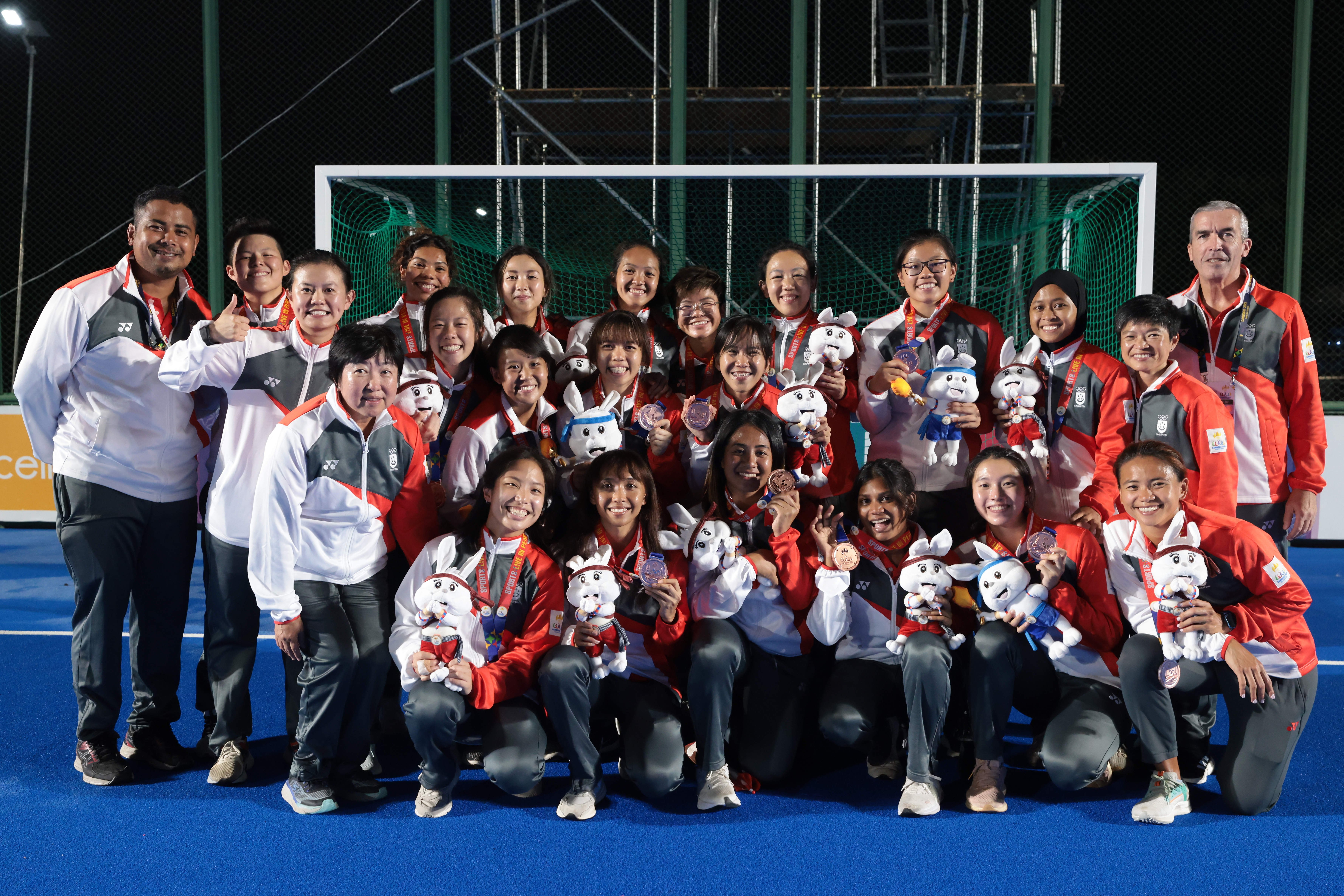 The women's hockey team celebrate their bronze medal achievement at the 32nd SEA Games. Photo: SportSG/Dawn Chua
The Women's Team Manager Tay Siu Hua commented: "The team fought hard in the match against Thailand, I'm very happy with the teamwork, improvements in communication, their execution and determination.
"Each of them played to their strengths, and rendered support to their team mates throughout the duration of the match. They definitely executed their passes accurately and strongly.
"Although we didn't perform as expected in the earlier matches against Malaysia and especially Indonesia and Cambodia, I'm glad we finally managed the win against Thailand, which is ranked higher than Singapore and a team that we usually lose to, albeit narrowly.
Reviewing the tournament, Tay felt the girls should have beaten Cambodia and Indonesia, "but our finishing was weak."
"I'm happy we ended up in 3rd place and won the joint bronze with Indonesia. We now prepare for the upcoming Asian Games."
The men knew only one mountain in their way heading into the five-team tournament. But it was also not an ideal start for them, as they were held to a 2-2 draw by Indonesia in their opening match, with Aulia Al Ardh scoring two second half goals to cancel out goals from Ashriq Zulkepli and Enrico Marican.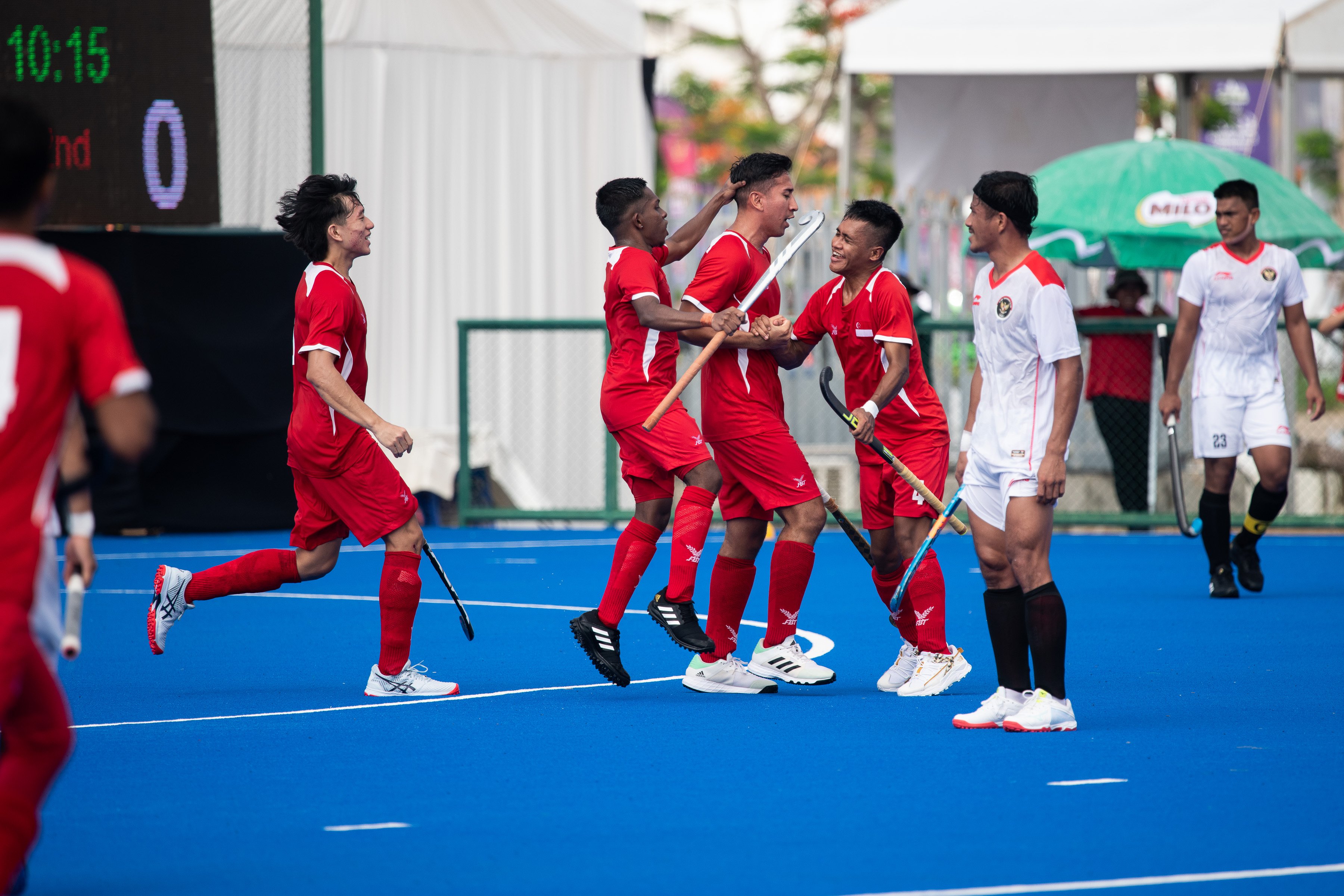 Singapore celebrates the goal by Enrico Marican (second person in red from right) in their first group stage match against Indonesia Photo: SNOC/Weixiang Lim
Next up was the toughest task against Malaysia, which Singapore came through in flying colours, losing 3-4 but with their heads high. Malaysia went ahead in the 14th minute from a penalty corner, tucked away by Amirul Azahar.
Singapore hit back from Silas Noor scoring a penalty corner of his own in the 36th minute, only for the Republic to concede another penalty corner goal, scored by Alfarico Liau six minutes later.
Singapore came storming back in the third quarter, hitting back with a field goal from Ramanan Thulasiram to make it 2-2. Barely were the celebrations over when Malaysia went ahead yet again, for a third time via a penalty corner, with Amirul bagging his second goal.
However Singapore refused to be defeated as Silas Noor netted his second goal, also from a penalty corner in the 52nd minute. In the end Malaysia had the final say when Najib Hassan fired home a field goal to seal victory for the Malaysians.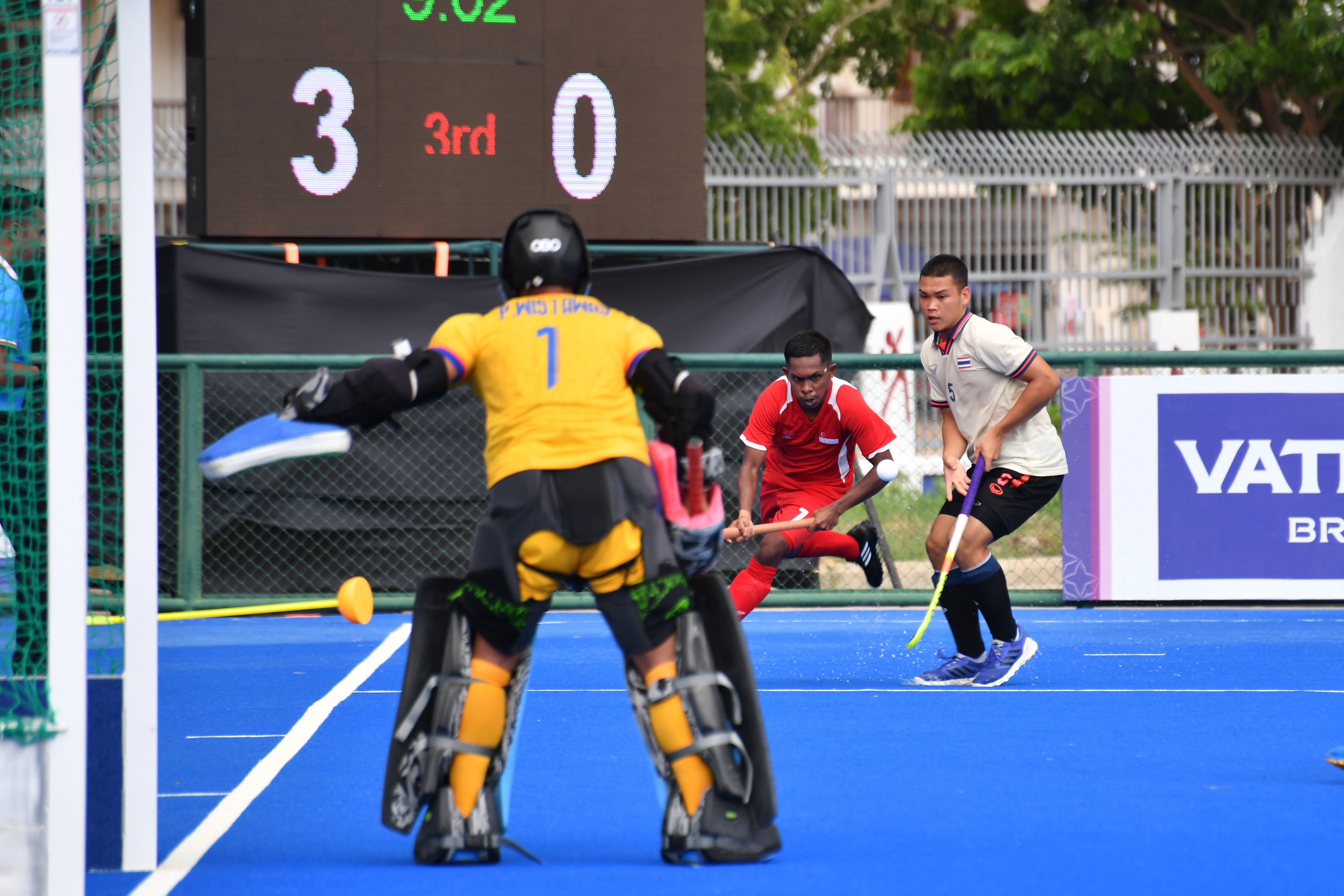 Singapore repeatedly attacked the Thai goal and closed the game with a 6-1 win. Photo: SportSG/Alfie Lim
Singapore bounced back from that defeat to beat Cambodia 4-1 with Ashriq Zulkepli and Kent Loo each scoring two goals, then hammering Thailand 6-1 with goals from five different players to end the round-robin in 2nd place, edging out Indonesia by goal difference and earning a gold medal showdown with Malaysia.
The gold medal match on the final day of the SEA Games proved underwhelming, with Singapore failing to replicate their impressive round-robin performance, losing 0-3 and settling yet again for the silver.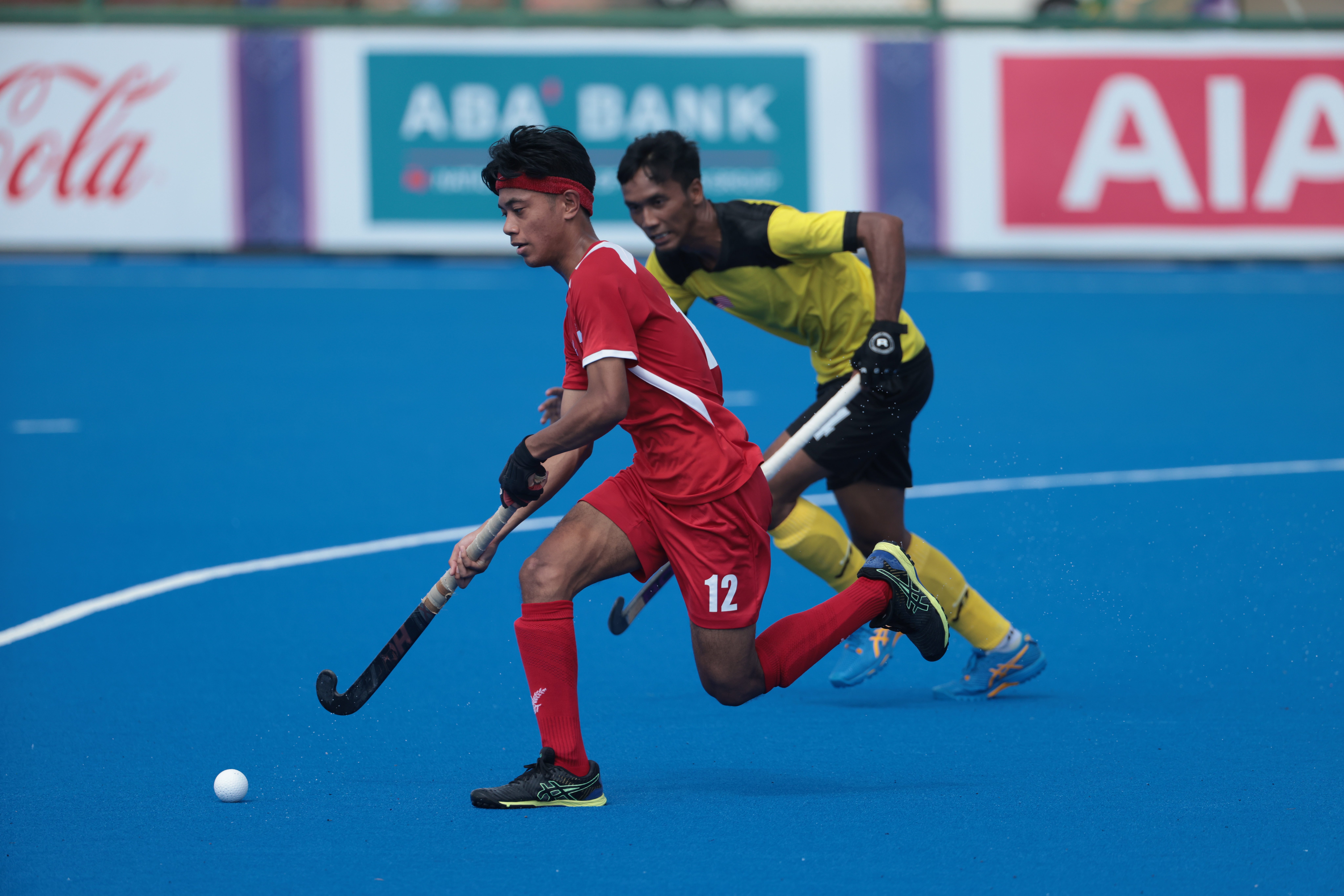 We're still a step behind Malaysia in hockey although the catch-up game is in progress. Photo: SportSG/Dawn Chua
Commenting on the overall campaign, Men's Team Manager Hazmi Mohamed Ibrahim said the team performed well and got better as the tournament progressed.
"I'm happy with the silver medal, our target has always been to reach the Finals which we achieved. The team played their hearts out in the finals but simply couldn't overcome Malaysia.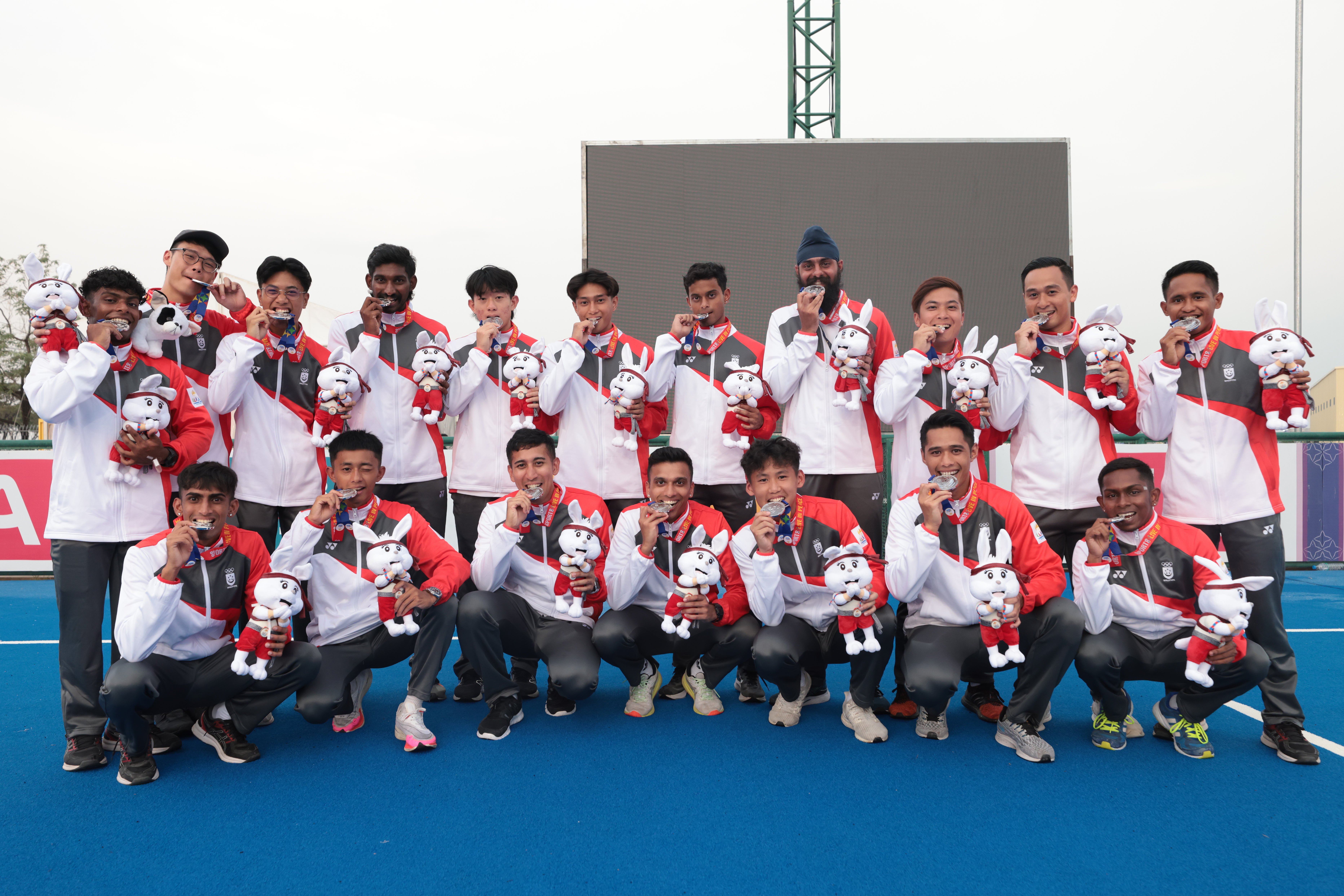 The men's hockey team celebrate their silver medal achievement at the 32nd SEA Games. Photo: SportSG/Dawn Chua
"The other teams such as Thailand and Indonesia are progressing very well and we should not stop working to improve our game.
"But to bridge the gap with Malaysia, we need to continue training hard and getting match practice will be crucial for us to try and up our level and get close to Malaysia."
The 32nd SEA Games are held in Cambodia from 5 to 17 May 2023. For the latest Team Singapore coverage and news, follow Team Singapore on their social media channels (Facebook, Instagram, TikTok) or visit the official Team Singapore website.
Related Topics
Related Events & Programmes
Related Topics