Cambodia 2023: Gilchrist settles for silver in second consecutive Games
by ActiveSG Circle, on May 9, 2023
Singapore's world champion Peter Gilchrist's quest to regain his English Billiards crown at the SEA Games fell short after he lost 3-0 to Myanmar's Pauk Sa, the same player who ended his 6-gold streak in Hanoi last year.
Having survived being on the brink last night (Monday 8 May) against Thailand's Praprut Chaithanasakun, when he came from 2-0 down to record a 3-2 win, Gilchrist can't be faulted for feeling a little optimistic that he could carry some of that comeback form into the match against Pauk Sa.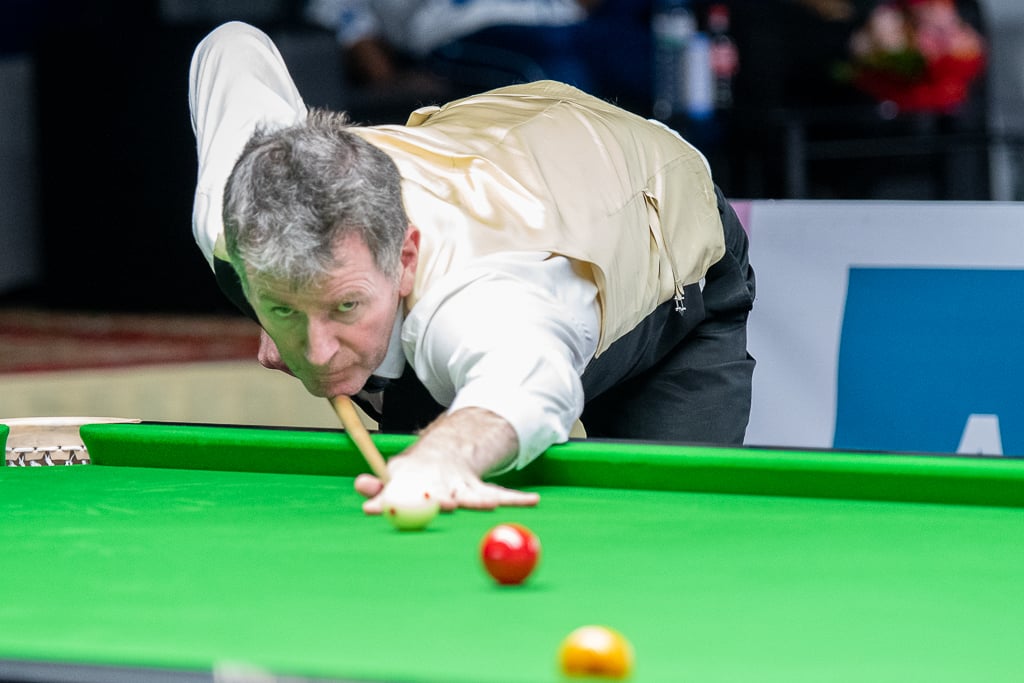 Gilchrist struggled to find fluency on a tough day at the office. Photo: SportSG/Flona Hakim
But it turned out to be a battle of attrition with Gilchrist failing to settle into any sort of rhythm and Pauk Sa stringing together the more meaningful breaks. After losing the first game 100-12, Gilchrist fought back with a 46-point break to lead the second but his failure to string 100-point breaks, something he regularly does in tournaments, meant Pauk Sa was able to pip him to the post to pull 2-0 ahead.
The third game was a close affair with Pauk Sa eventually pulling out a 50-point break to end Gilchrist's fight.
Speaking to SportSG, the 54-year-old lamented his luck.
"You get days like this when everything you do goes wrong," he said. "I didn't play well and it all became hard work. I really expect to play well but these things happen. In this shortened format, it's anybody's game and you really can't afford to miss or you'd be punished."
A master in the long game, where it is races-to-1,000 points instead of the SEA Games format of races-to-100 points, Gilchrist can look back at good fortune in the past when he was able to overcome adversity to win six gold medals in a row, and a seventh in 2015 in Singapore when there was a race-to-500 points event.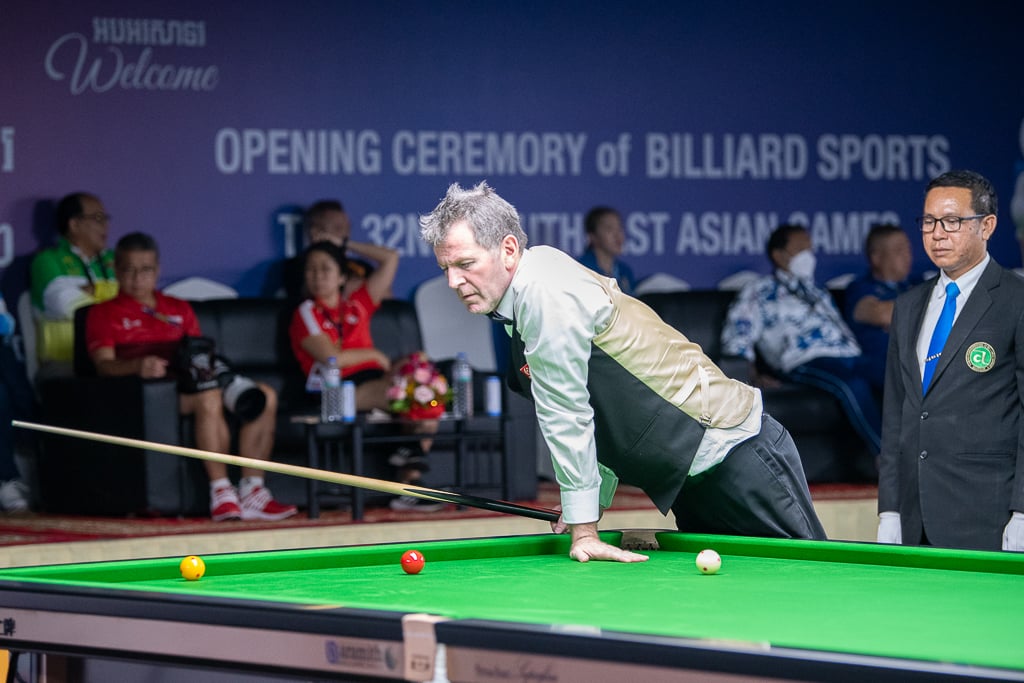 Gilchrist devising a way to make a huge run on a start-stop day. Photo: SportSG/Flona Hakim
"I had my share of good fortune in the past when there were at least two or three occasions when I should have lost and not gotten gold, but somehow had fortune on my side," he recalls.
"I'm certainly disappointed to not have won gold here in Cambodia but that's the way it is. Maybe when the Games come back to Singapore in 2029, we'll again have the race-to-500 game, which is a far better format for me."
Even considering by the time the 2029 Games roll around, Gilchrist will be 61. He said: "Here, Pauk Sa who beat me is 64, and Efren Reyes is still competing in the SEA Games at the age of 68. Compared to these chaps, I'm a young pup, really."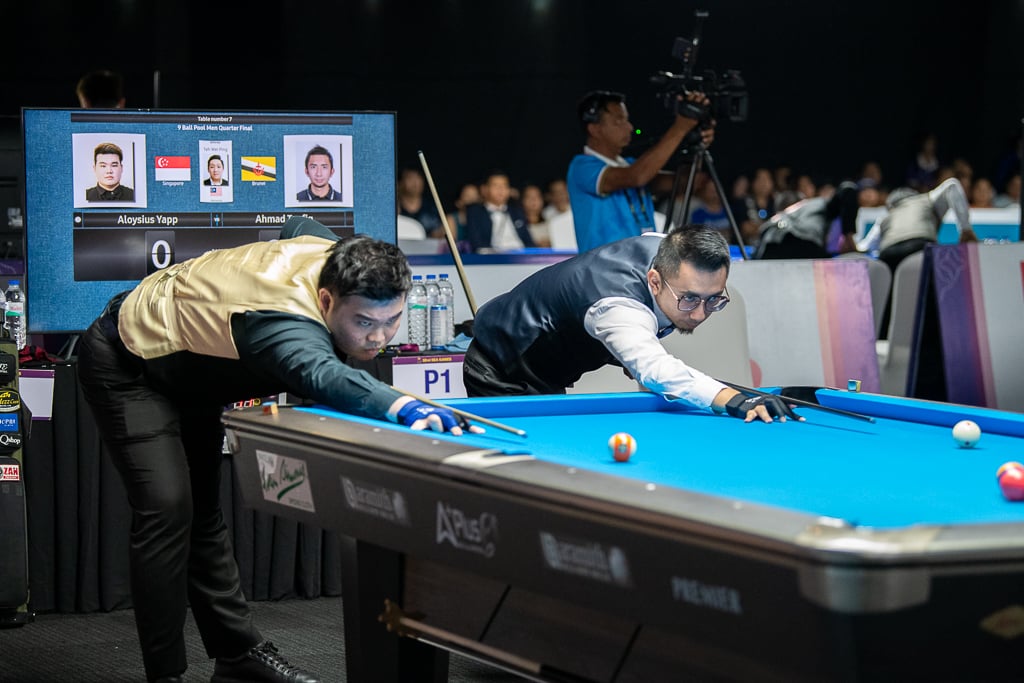 Yapp took his time to settle into the match with Brunei's Ahmad Taufiq. Photo: SportSG/Flona Hakim
Meanwhile in men's 9-ball pool, Singapore's Aloysius Yapp is through to meet Vietnam's Ta Van Linh in tomorrow's (10 May) semi-final.
That's after Yapp overcame Brunei's Ahmad Taufiq 9-6 in a tough quarter-final encounter.
Having met Ahmad Taufiq several times in the past, including at the 2015 SEA Games at home. Yapp is very aware of the player he's meeting and took his time to settle down.
Said Yapp: "I played really bad at the start , I had a couple of chances and couldn't convert. Definitely was feeling nervous as well but I managed to settle down halfway through the match. Although it was still a shaky performance for me, I am glad that I still managed to hold myself enough to cross the line."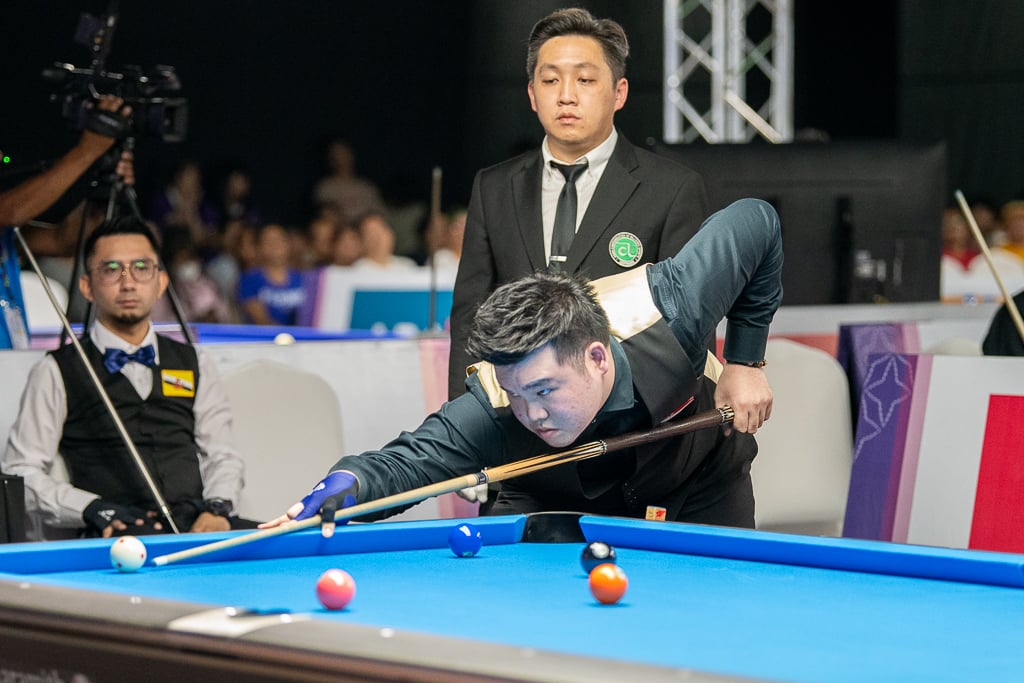 Yapp made hard work of beating Ahmad but has now secure himself at least a bronze medal. Photo: SportSG/Flona Hakim
As a former World number One, Yapp certainly had the better of the credentials, but that didn't quite translate to pressure at the table.
"I don't think the pressure came from me being a higher ranked player, rather the fact I'm wearing a Team Singapore shirt and playing for my country. I want to do my country proud, I want to repay the faith in those people who support me as well as my family," he said
Now through to the semis with a guaranteed Bronze medal in hand, he wants to convert that into Gold, and that journey begins Wednesday (10 May) with the match against Ta Van Linh.
"I feel relieved to have made it through to the final four but I know it's only going to get tougher, so I will make sure to fully prepare myself well for the challenges ahead," he concluded.
The 32nd SEA Games are held in Cambodia from 5 to 17 May 2023. For the latest Team Singapore coverage and news, follow Team Singapore on their social media channels (Facebook, Instagram, TikTok) or visit the official Team Singapore website.
Related Topics
Recent Events & Programmes
Related Topics