Cambodia 2023: Ju-jitsu athletes step forward with improved Games haul
by ActiveSG Circle, on May 7, 2023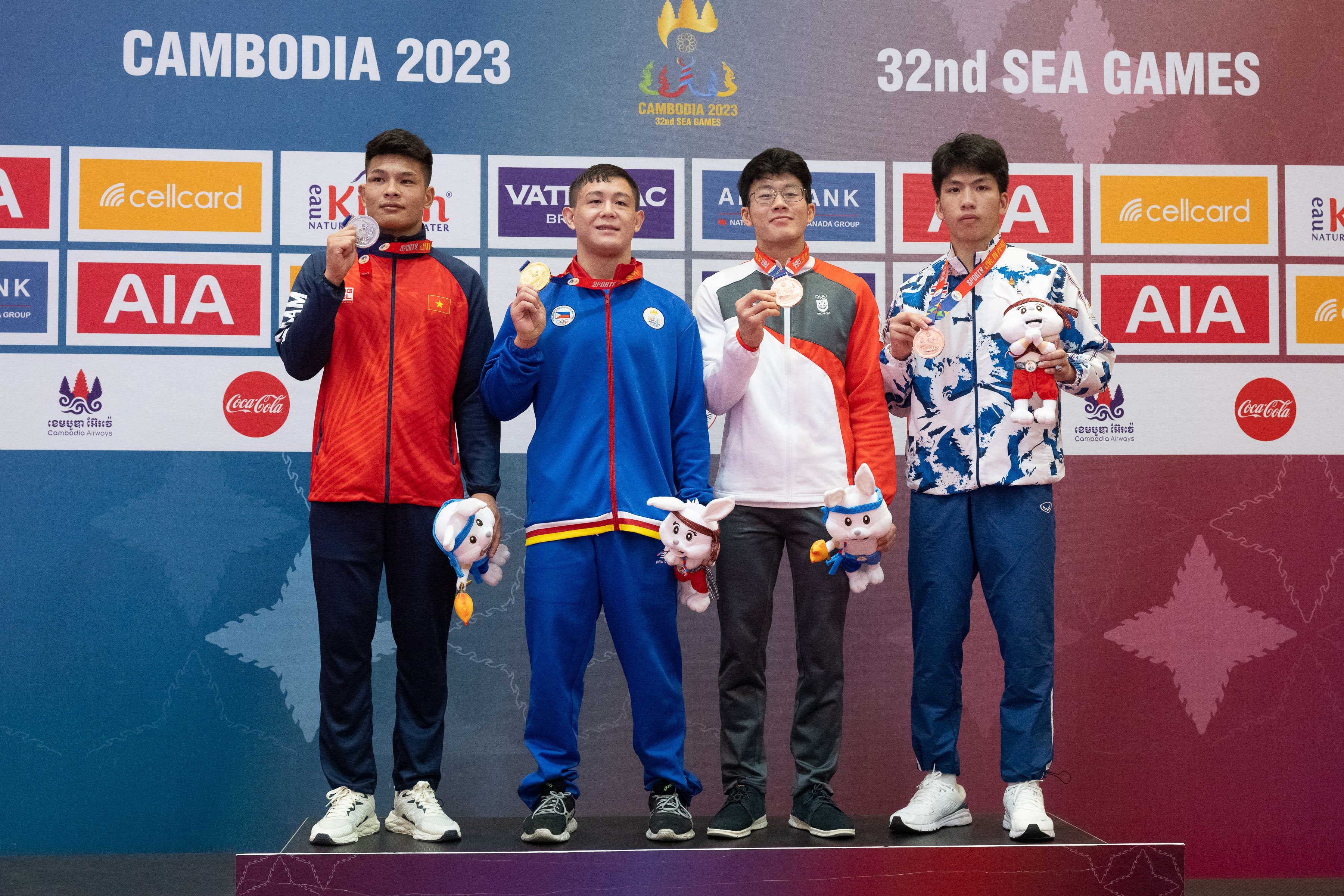 Singapore ju-jitsu exponent Noah Lim (second from right), despite dislocating a pinky just a week earlier, took a bronze in the Ne-Waza Nogi -69kg event. Photo: SNOC/Lim Wei Xiang
By May Chen
Through takedowns and throws, Team Singapore's ju-jitsu exponents tussled with the region's best for SEA Games honours at Phnom Penh's Chroy Changvar International Convention Center.
Their effort bore fruit in the form of one gold, one silver and two bronzes.
It is an improvement on their previous Games showing last year in Hanoi, when the team took home one gold, one silver and a bronze.
Noah Lim, who won Singapore's first gold medal in Cambodia a day earlier (Ne-Waza Gi -69kg), added another bronze to his collection on Sunday (May 7), this time in the Ne-Waza Nogi -69kg event.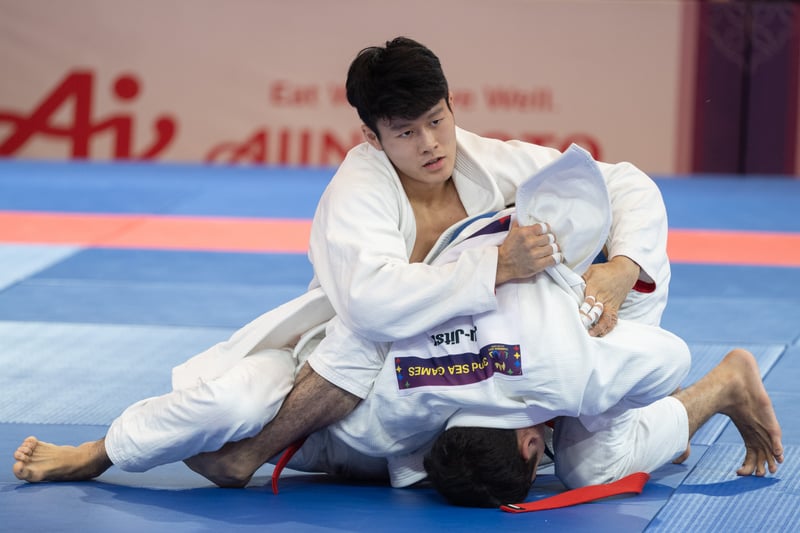 Noah Lim's gold in the Ne-Waza Gi -69kg event was his third straight SEA Games title. Photo: SNOC/Lim Wei Xiang
Finishing on the podium is an achievement, given Lim had dislocated his pinky just a week before travelling to Cambodia. Even more impressive, considering he does not usually train or compete in the Nogi event. Still, the 20-year-old could not help but feel a tinge of disappointment after falling short 2-9 in the semi-finals against Lim Marc Alexander Foronda of the Philippines.
He said: "To be honest, I was quite sad after losing the semi-finals because I had the lead, but I made a mistake. It's quite psychological because I felt my opponent was quite tired so I jumped in and he scored against me. It went downhill from there.
"But I'm very happy that I put myself out there. This is my first time taking part in a Nogi event at the SEA Games. There is quite a big difference between Gi and Nogi and there are still a lot of areas that I have to develop and train in. I want to keep improving and be ready for the next Games."
Lim's gold from a day earlier was also his third straight SEA Games title.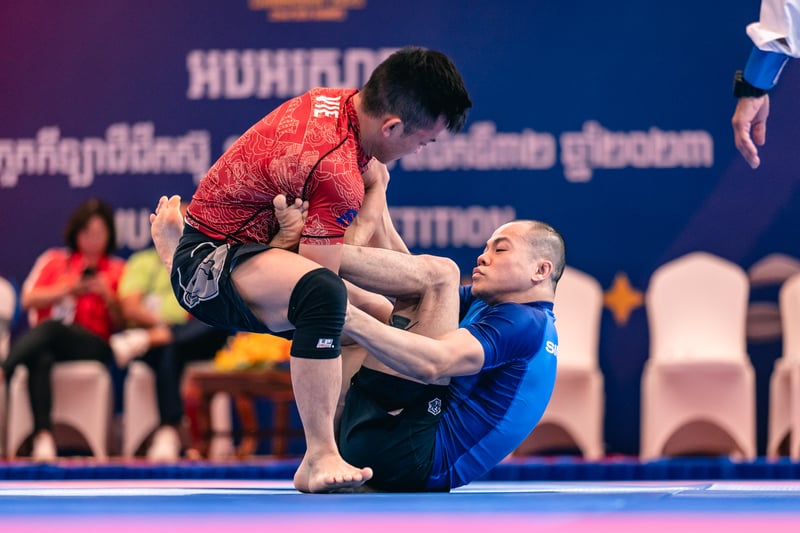 Tan Yong Siang finished joint first in his event, but ceded gold to Vietnam based on a head-to-head-record. Photo: SNOC/Eng Chin An
Meanwhile, Tan Yong Siang was also dealt the blow of falling just short of gold in the Ne-Waza Nogi -56kg. The 32-year-old finished joint first with Vietnam after the round-robin matches were completed, but lost out on first place to Dao Hong Son due to their head-to-head record and settled for silver.
Said Tan: "I'm definitely a bit disappointed. I came here wanting to win gold, and I know that I can, but it is what it is. At least I know I'm at the level where I can try again next time.
"I think I didn't feel super sharp for the first match (against Vietnam). After that, it got a little better."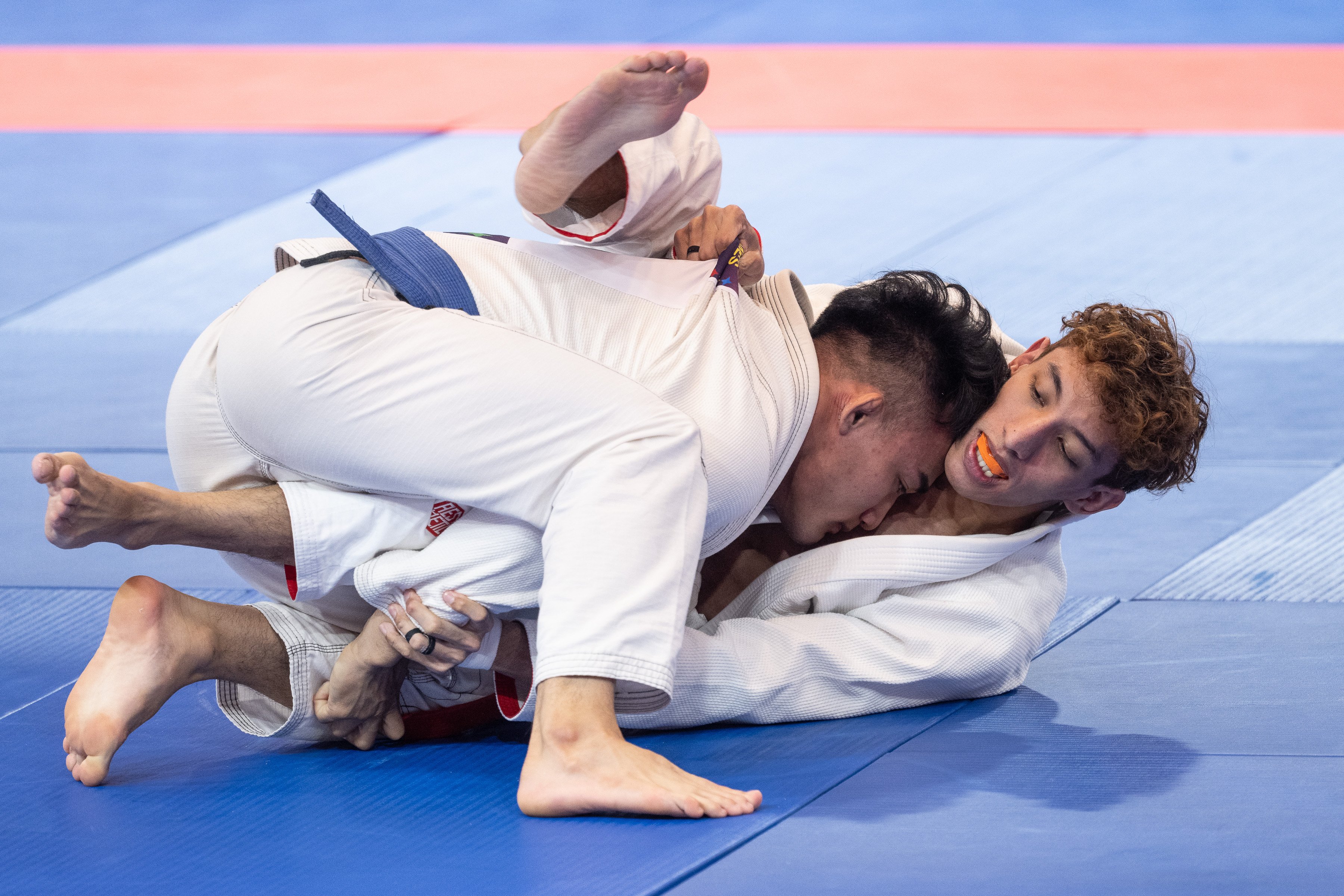 Amirul Syafiq Shah Eran in action in the men's Ne-Waza Gi -62kg event, which he won a bronze for. Photo: SNOC/Lim Wei Xiang
The ju-jitsu team's other medal came through Amirul Syafiq Shah Eran, who earned a bronze in the men's Ne-Waza Gi -62kg event on Saturday (May 6).
The 32nd SEA Games are held in Cambodia from 5 to 17 May 2023. For the latest Team Singapore coverage and news, follow Team Singapore on their social media channels (Facebook, Instagram, TikTok) or visit the official Team Singapore website.
Recent Events & Programmes