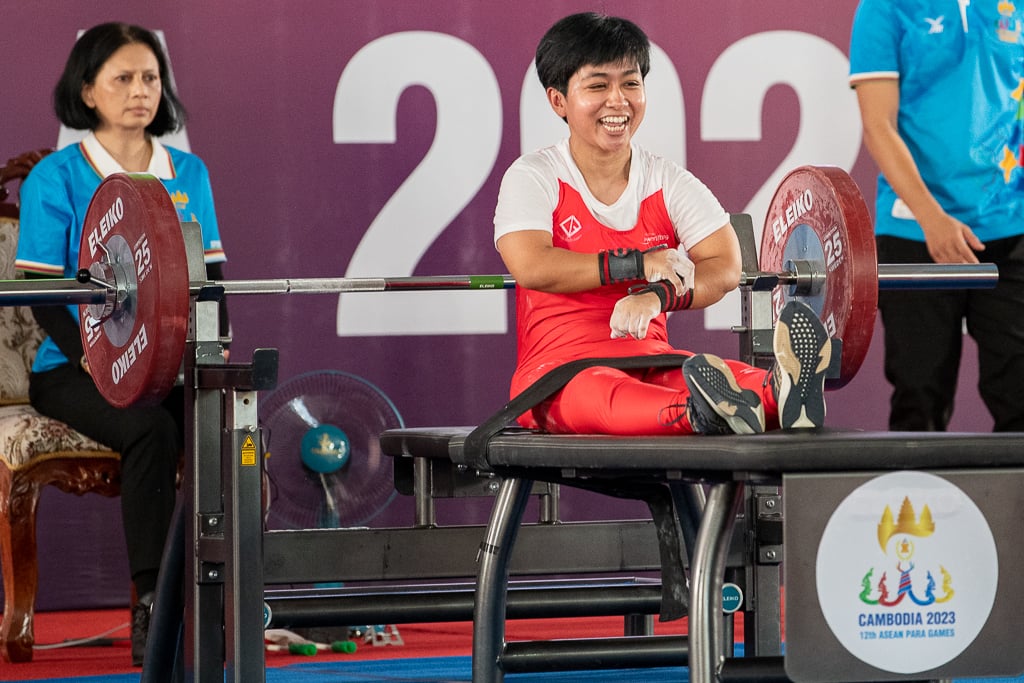 Nur Aini Mohamad Yasli has become Singapore's first female para-powerlifter to stand on the podium at the Asean Para Games. Photo: SportSG/Flona Hakim
By May Chen
Nur Aini Mohamad Yasli is a history maker in more ways than one.
When she competed at her first Asean Para Games in 2017, she was already Singapore's first woman to fly the flag in para-powerlifting.
She repeated that feat a year later at the 2018 Asian Para Games, then at the Tokyo Paralympics held in 2021.
So it is perhaps no surprise that she would, in two lifts, write her name into the history books at the 12th Asean Para Games in Cambodia.
The 31-year-old won Singapore's first-ever women's para-powerlifting medals at the APG, taking not one – but two medals.
She said: "We had a good plan coming to this Games and I'm happy we executed it.
"I'm pleased that I managed to successfully lift 80kg in a competition setting again. Despite missing my second attempt, I was able to mentally prepare myself again for the third attempt. My main takeaway is that I have to perform just like in training and maintain my optimal mental state regardless of the weight on the bar."
Her best lift of 80kg in the up to 50kg weight class put her behind Vietnam's Dang Thi Linh Phuong and Thailand's Kamolpan Kraratpet.
The trio finished in the same order for the total lift event, with Aini third with a total of 155kg.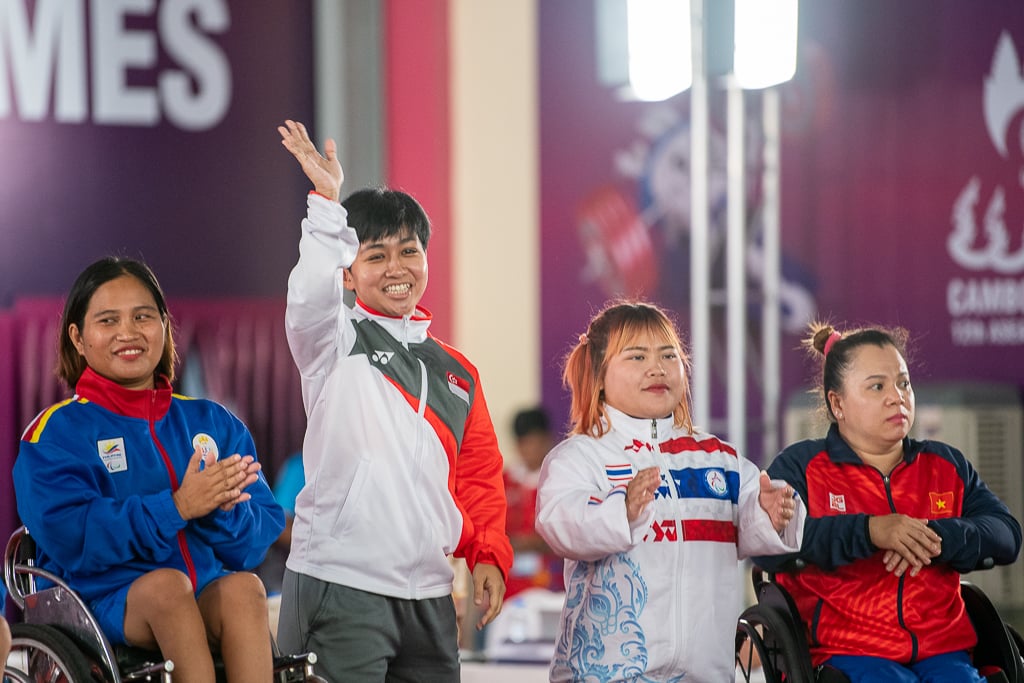 Singapore's Nur Aini finished behind competitors from Vietnam and Thailand in the women's up to 50kg weight class. Photo: SportSG/Flona Hakim
This was slightly unfamiliar territory for Aini, who was competing in this weight class at the APG for the first time. She was also in a lower weight class of up to 45kg at the Paralympic Games.
She said: "I feel so much better mentally and physically with the move up to 50kg. Compared to previously when I was in the 45kg (category), cutting weight was something I struggled with greatly and it affected my strength, mood and training. In the 50kg this time round, I am in a very good mood and very well prepared."
Team Singapore's first day of competition in Cambodia went swimmingly, both literally and figuratively.
Medals and records came through the pool, with para-swimmers claiming three golds, three silvers and three bronzes.
This included a Games record from Colin Soon in the men's 100m breaststroke SB13 (1:13.71), as well as Toh Wei Soong's Games record in the men's 100m freestyle S7 (1:04.97).
Tokyo Paralympian Sophie Soon joined younger brother Colin on the top of the podium when she won gold in the women's 100m breaststroke SB13 in 1:29.78.
In all, Singapore finished the day with three golds, three silvers and five bronzes.
The 12th Asean Para Games are held in Cambodia from 3 to 9 June 2023. For the latest Team Singapore coverage and news, follow Team Singapore on their social media channels (Facebook, Instagram, TikTok) or visit the official Team Singapore website.