Cambodia 2023: Paddlers hold nerve for table tennis men's doubles gold
by ActiveSG Circle, on May 14, 2023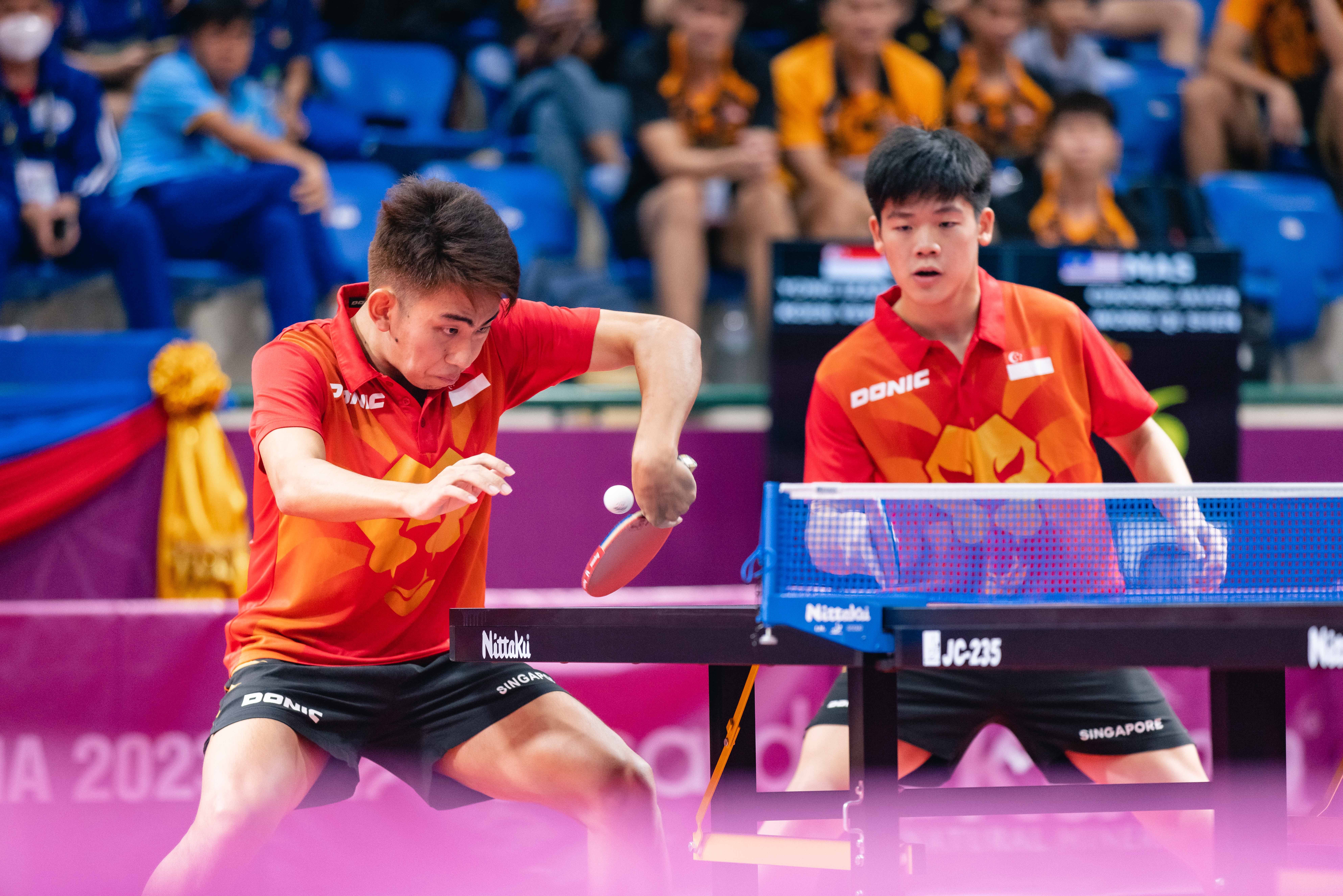 Koen Pang (left) and Izaac Quek bore the weight of expectation in the men's doubles final, and held their nerve to ensure the title would remain Singapore's. Photo: SNOC/Eng Chin An
By May Chen
Having seen their teammates falter in two finals before them, all eyes were on table tennis players Koen Pang and Izaac Quek to deliver in the men's doubles.
Even with the weight of delivering Singapore's lone table tennis doubles gold on them, the pair did not disappoint. They were rarely troubled as they beat Malaysia's Javen Choong and Wong Qi Shen 3-1 (11-3, 8-11, 11-8, 11-4) on Sunday (14 May) at the Morodok Techo National Stadium Table Tennis Hall for gold.
Both paddlers are now double gold medallists at these Games, having already been part of the quintet that took the men's team title earlier.
Said Pang: "Every match is a new beginning. Those two matches (the mixed doubles and women's doubles finals) were not easy to play, they were tough finals. It didn't give us more pressure, we just played to our abilities.
"We felt very confident throughout the match. We prepared a lot for this."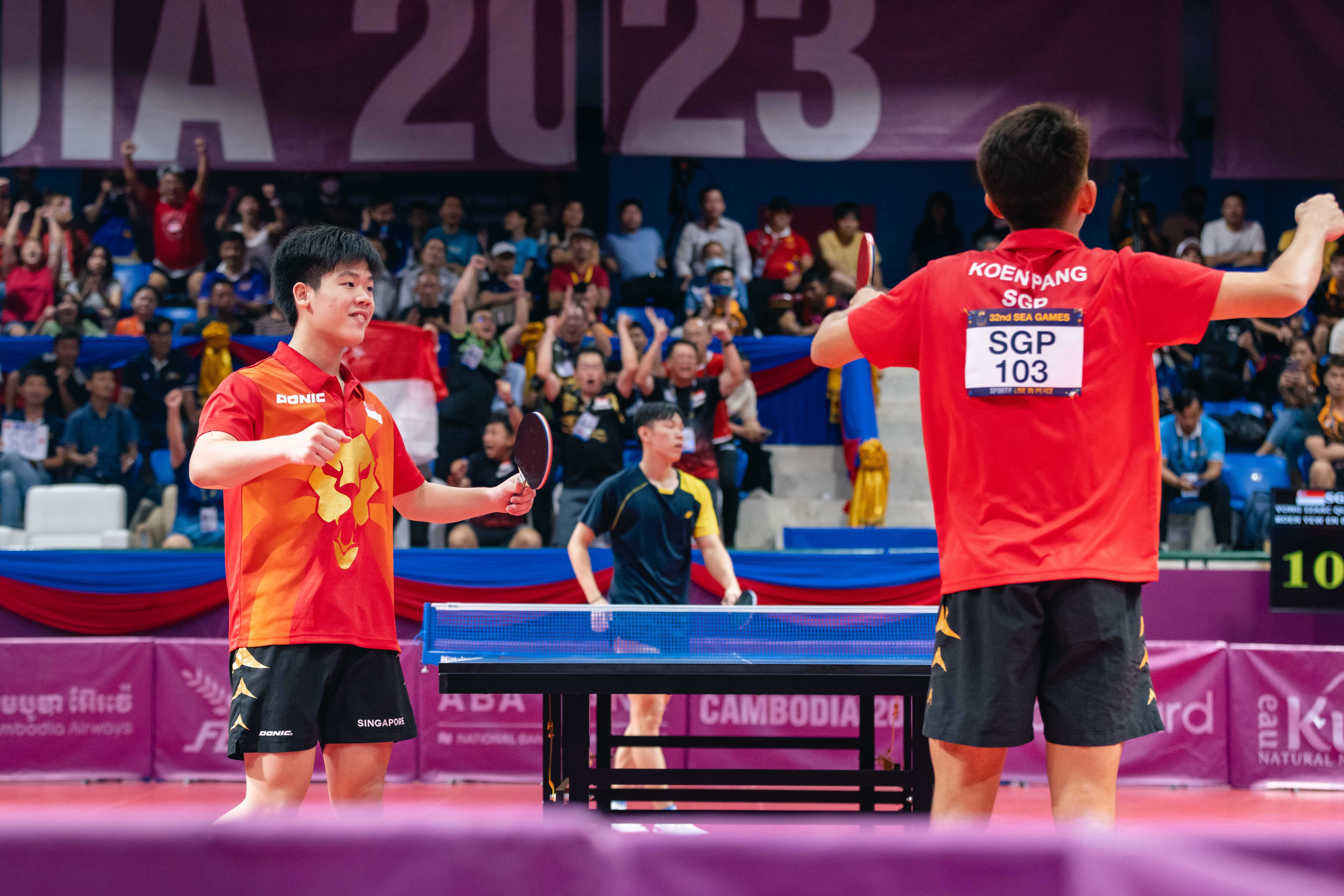 Izaac Quek (left) and Koen Pang celebrating after the winning point in the men's doubles final. Photo: SNOC/Eng Chin An
For the two, clinching the third game was crucial to taking the win.
Said Quek: "We were down in the third game but we had clear tactics. We just needed to stay calm and know that the points would come. Don't think about trailing, and just think positive.
In the mixed doubles, Singapore settled for silver after Clarence Chew and Zeng Jian were beaten 3-1 (13-11, 11-8, 8-11, 14-24) by Vietnam's Anh Hoang Dinh and Mai Ngoc Tran.
The duo had a promising start, racing to a comfortable margin of six game points in the opener, only to allow their opponents to come from behind to win that game. That set the tone for the rest of the match.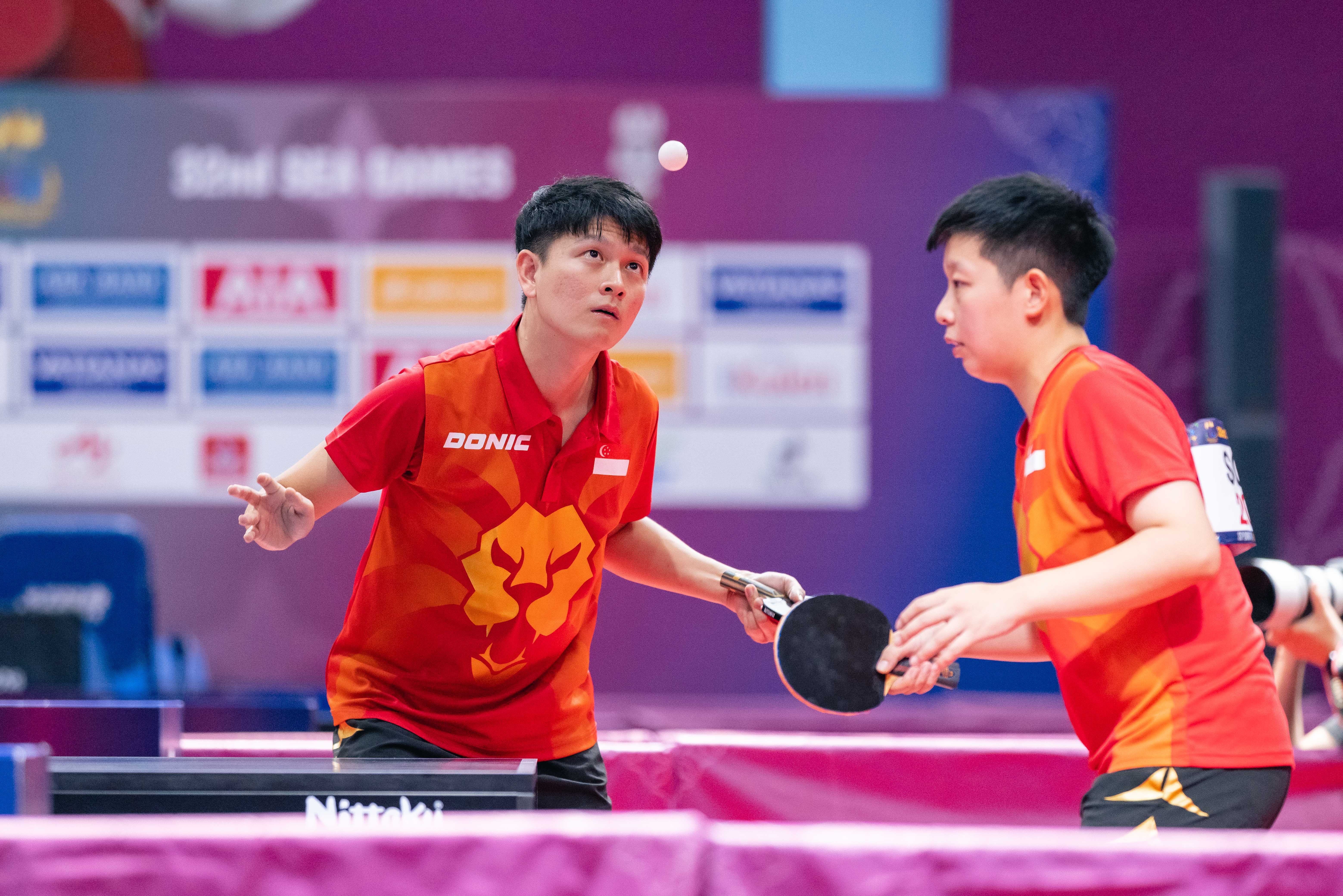 Clarence Chew serving in the mixed doubles final against Vietnam. Photo: SNOC/Eng Chin An
Said Chew: "Today was a tough loss. The loss of the first game was quite damaging and it gave them a lot of confidence. They could play more freely and that put us on the back foot. That was quite a big turning point for us."
Chew and Zeng were hoping to retain the gold for Singapore, after defending champions Koen pang and Wong Xin Ru were eliminated in the quarter-finals on Saturday.
Added Chew: "We had to try to find ways to come back and it wasn't quite enough. We're quite disappointed because we definitely wanted the gold medal."
Said Zeng: "Our opponents played very aggressively. We still have the singles event to follow and we must still give that our all."
In the women's doubles final, Zhou Jingyi and Wong Xin Ru could not find a way past defending champions Orawan Paranang and Suthasini Sawettabut of Thailand, losing 3-0 (11-4, 15-13, 11-7).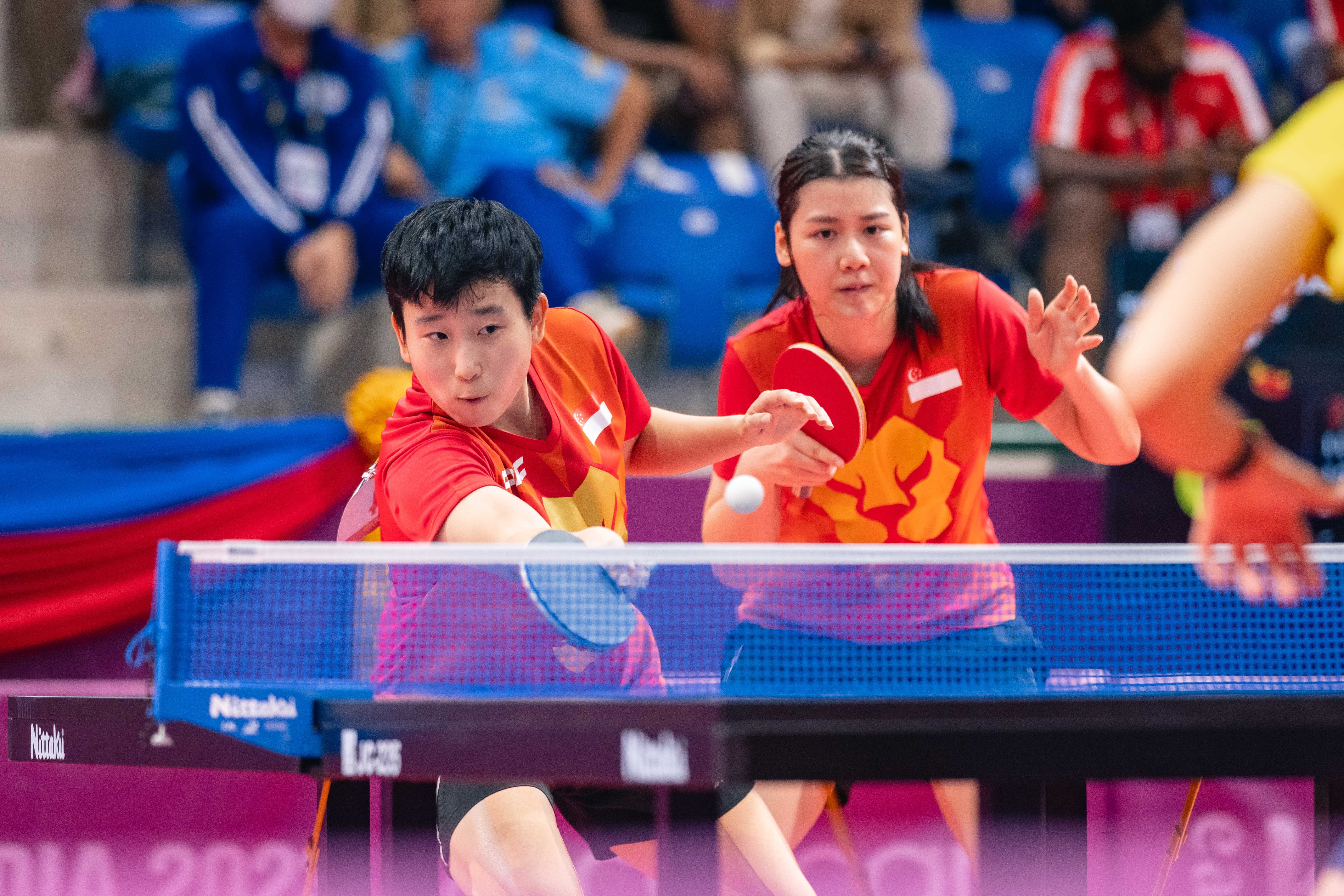 Zhou Jingyi (left) and Wong Xin Ru in action in the women's doubles final, where they fell short against their more experienced Thai opponents. Photo: SNOC/Eng Chin An
While Zhou and Wong are a relatively new partnership, they both have had a taste of the formidable pairing that is Paranang and Sawettabut.
Said Wong: "They're more experienced than us and we knew this was going to be a tough match. It's inevitable that you make a few mistakes during a match when you're trying to go for your shots and win. We just need to be more consistent so we can put more pressure on them and have a closer match the next time."
Zhou, meanwhile, rued not being able to capitalise in what was a tighter second game. She said: "There were some points where we had our chances. There's a bit of regret but it's fine, we will do better next time. We'll just take this in our stride and improve."
The paddlers continue their campaign on Monday in the singles event.
The 32nd SEA Games are held in Cambodia from 5 to 17 May 2023. For the latest Team Singapore coverage and news, follow Team Singapore on their social media channels (Facebook, Instagram, TikTok) or visit the official Team Singapore website.
Related Topics
Related Events & Programmes
Related Topics