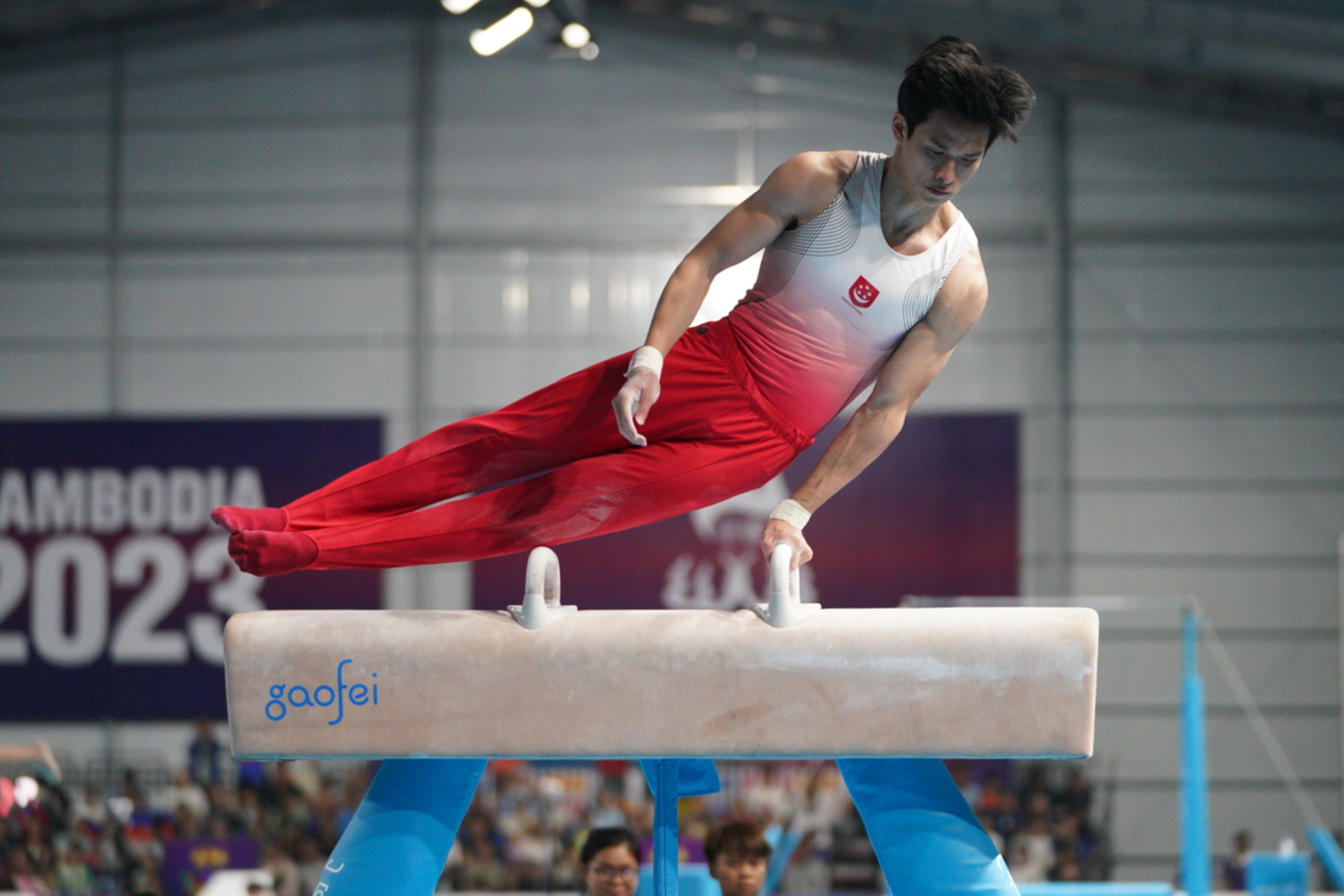 Kaeson Lim won a silver medal that was also Singapore's first pommel horse medal at the SEA Games since 2015. Photo: SportSG/Bryan Foo
By May Chen
Singapore's men's artistic gymnasts travelled to Cambodia knowing they had a tall order ahead of them.
While they harboured hopes of doing well at the SEA Games, the team was also carrying more than a few injuries.
So to wrap up their campaign with something to speak for – Kaeson Lim won a silver in the individual pommel horse – is laudable.
Even more so, considering that the last time a Singaporean stood on the podium in this event was eight years ago when the Games were held on home soil.
Said Lim: "I'm very proud of myself and the whole team. We had many challenges coming in, but we all managed to pull through this. No regrets."
Lim coped with a cyst on his wrist earlier in the year, something that meant pain when performing routines. At the Olympic Complex in Phnom Penh, he learnt to put unfavourable results behind him, especially after a less than ideal showing the day before during qualification.
Said the 22-year-old: "I made mistakes here and there, and I had to reset my mindset. Before my competition today, I looked through training videos and visualised my routine a lot of times.
"This definitely gives me much more confidence. It shows that my training efforts have been paying off."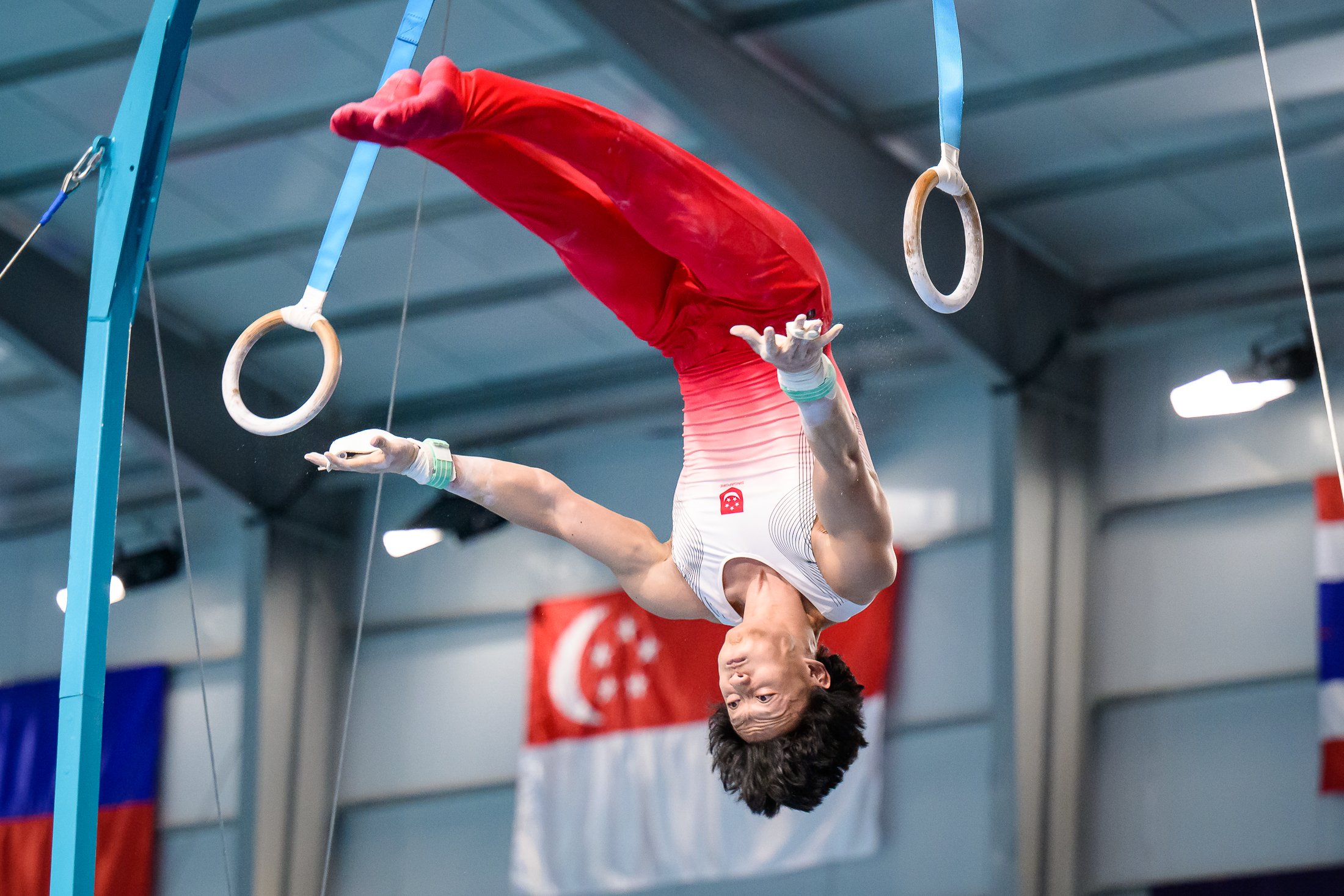 Zac Liew in action on the Still Rings. Photo: SNOC/Andy Chua
In the team event, Singapore fell just short of a podium position by finishing fourth – a creditable result considering there was little to no room for error for the squad.
While countries are allowed to field six gymnasts in the team event, only five can compete on each apparatus with the best four scores considered. In Singapore's case, injuries meant the team's scores relied essentially on four athletes.
Said Lim: "We only had four all-rounders. The pressure on us was quite big because none of us can fall or make mistakes in any events. We were all quite stressed about that. But we pushed on and throughout our training we kept to our game plan. It is what it is, and I'm very proud of the team."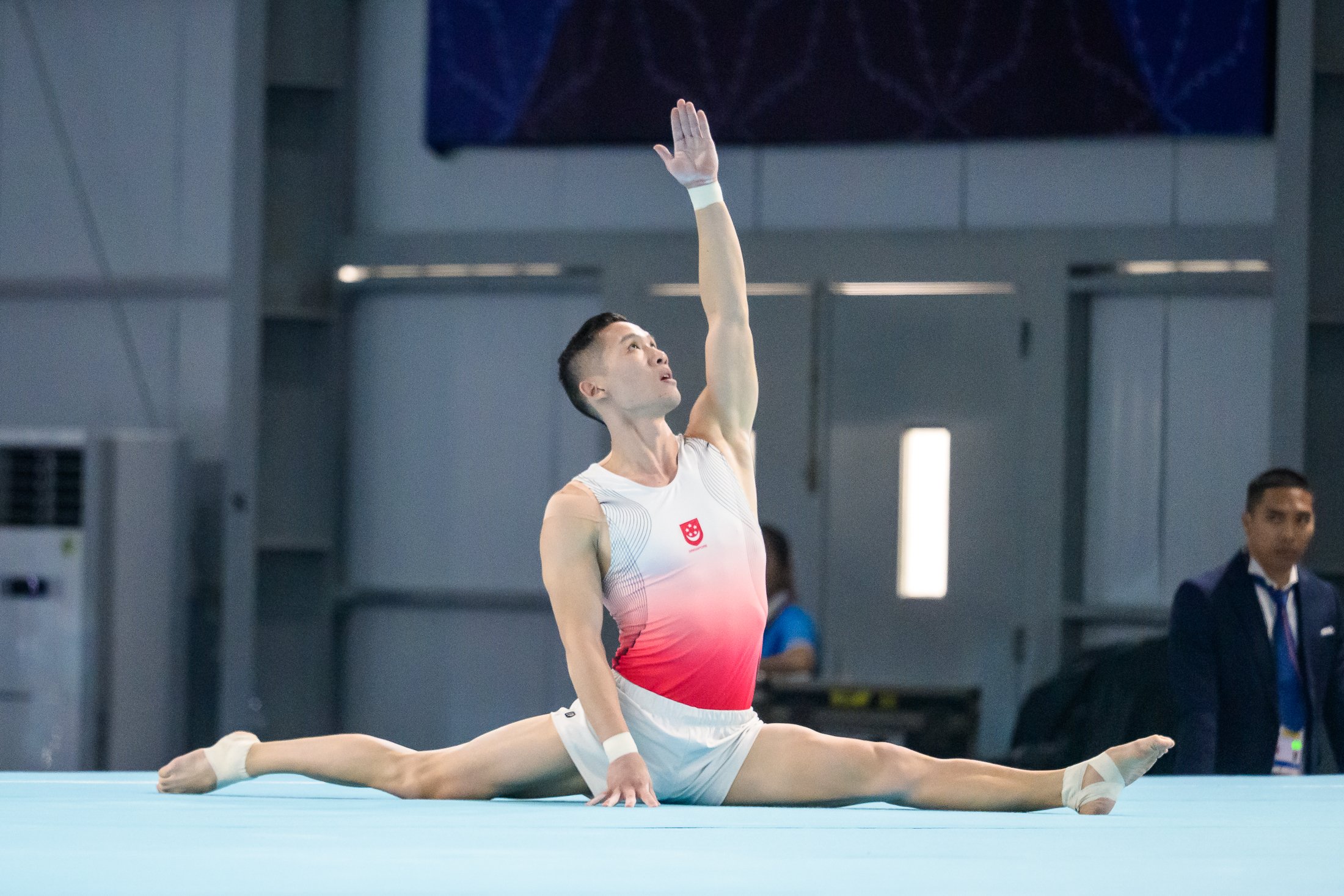 For captain Terry Tay, the SEA Games has been a gratifying experience seeing his teammates step up for each other. Photo: SNOC/Andy Chua
Team captain Terry Tay, who dislocated his shoulder just a fortnight ago, competed in only the floor exercise.
"Our team was very lean," he said. "The main learning point for all of us was to take each day as it comes and know that our best is enough. It was good to just see everyone in the team to always be learning, be on our toes, and have each other's backs."
He added that with the Asian Artistic Gymnastics Championships coming up in Singapore next month, this acted as a good stepping stone to an event that will be world-class.
"That will be another step to the Asian Games later in the year. It's taking one thing at a time, and rolling with whatever comes our way. This was a really good test of the human spirit for all of us. We pushed through and that will set the pace going forward."
The 32nd SEA Games are held in Cambodia from 5 to 17 May 2023. For the latest Team Singapore coverage and news, follow Team Singapore on their social media channels (Facebook, Instagram, TikTok) or visit the official Team Singapore website.
Related Topics
Related Events & Programmes
Related Topics