Cambodia 2023: Sprint queen Shanti makes history with sprint double
by ActiveSG Circle, on May 12, 2023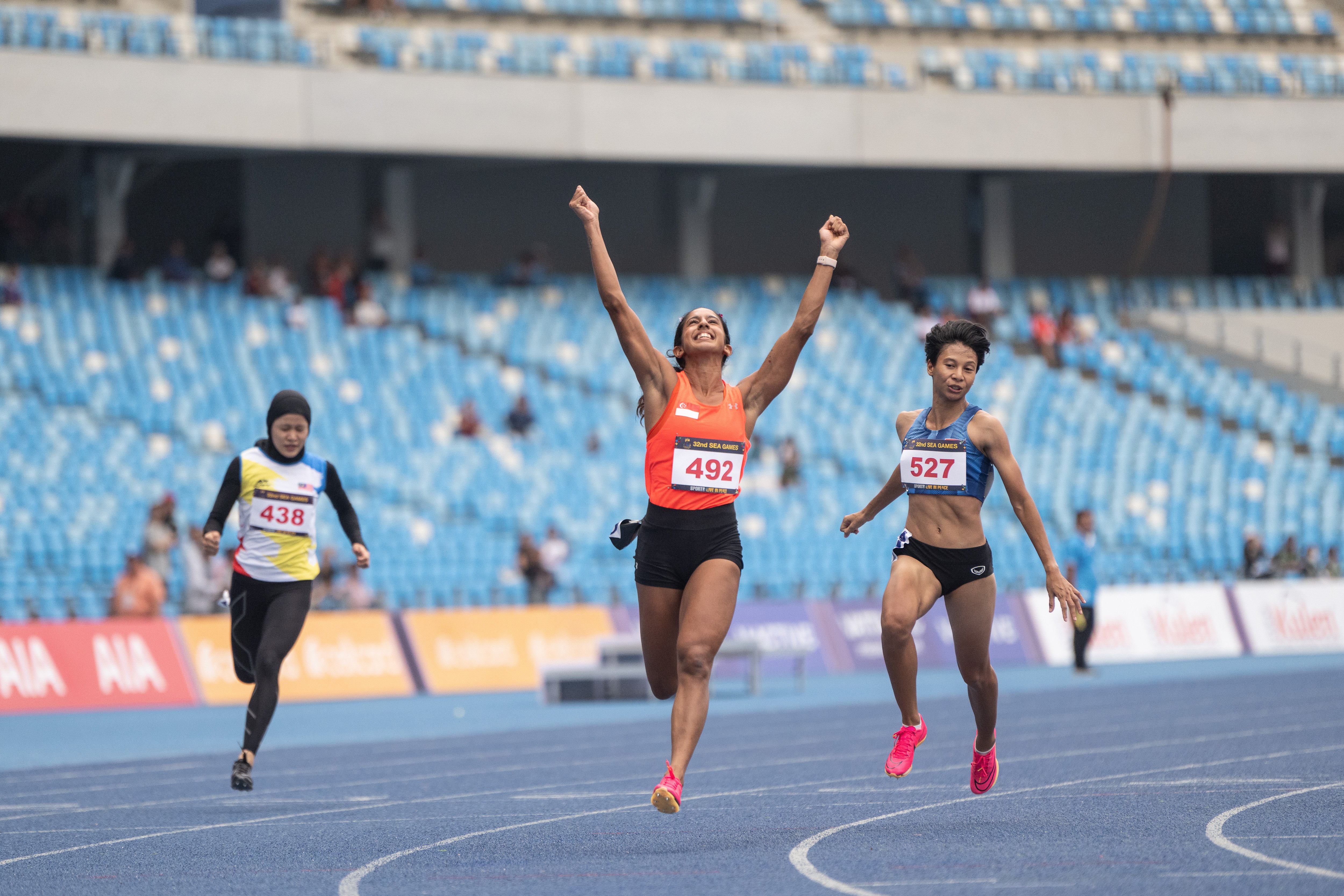 After two silvers and two bronzes in the 100m dash, Shanti Pereira now also has a SEA Games gold in the event. Photo: SNOC/Lim Wei Xiang
By May Chen
Over four SEA Games, Shanti Pereira has been knocking on the doors.
With speedy, powerful yet graceful strides, Singapore's sprint queen finally broke through that barrier on Friday (May 12) at the Morodok Techo National Stadium in Cambodia.
Her time of 11.41 seconds was more than sufficient for a convincing win in the women's 100m dash, coming ahead of Thailand's Supanich Poolkerd (11.58sec) and Vietnam's Thi Nhi Yen Tran (11.75sec).
It makes Pereira the first Singaporean woman to win both the 100m and 200m sprints at the same SEA Games, after she took the 200m title in a national record time of 22.69sec on Tuesday.
As the 26-year-old acknowledged after the race, completing the rare sprint double was on her mind.
She said: "I'm not going to lie. That was definitely something I thought about, but at the end of the day you never really know what's going to happen until the day itself at the finish line."
While the 200m is her pet event, Pereira is no stranger to the 100m at the SEA Games either. She won a bronze at the 2015 edition at home, before following up with a silver, a bronze and another silver over the next three Games.
But never before has she reigned supreme over 100m.
Given her red-hot form so far this season – she set a national best of 11.37 sec a little more than a month ago – all eyes were on her as the fastest women in Southeast Asia lined up on the starting blocks.
Shanti Pereira is the first Singaporean woman to win both the 100m and 200m events at the same SEA Games. Photo: SNOC/Eng Chin An
Said the 26-year-old: "The race execution wasn't as great as I wanted it to be, but I'm just glad that I didn't panic."
Running "free", she added, has been key.
"Just believing in myself, being confident… not caring about what other people are doing, or saying. It's all about you."
Teammate Elizabeth-Ann Tan, who also made the final, came in sixth with a time of 11.96s.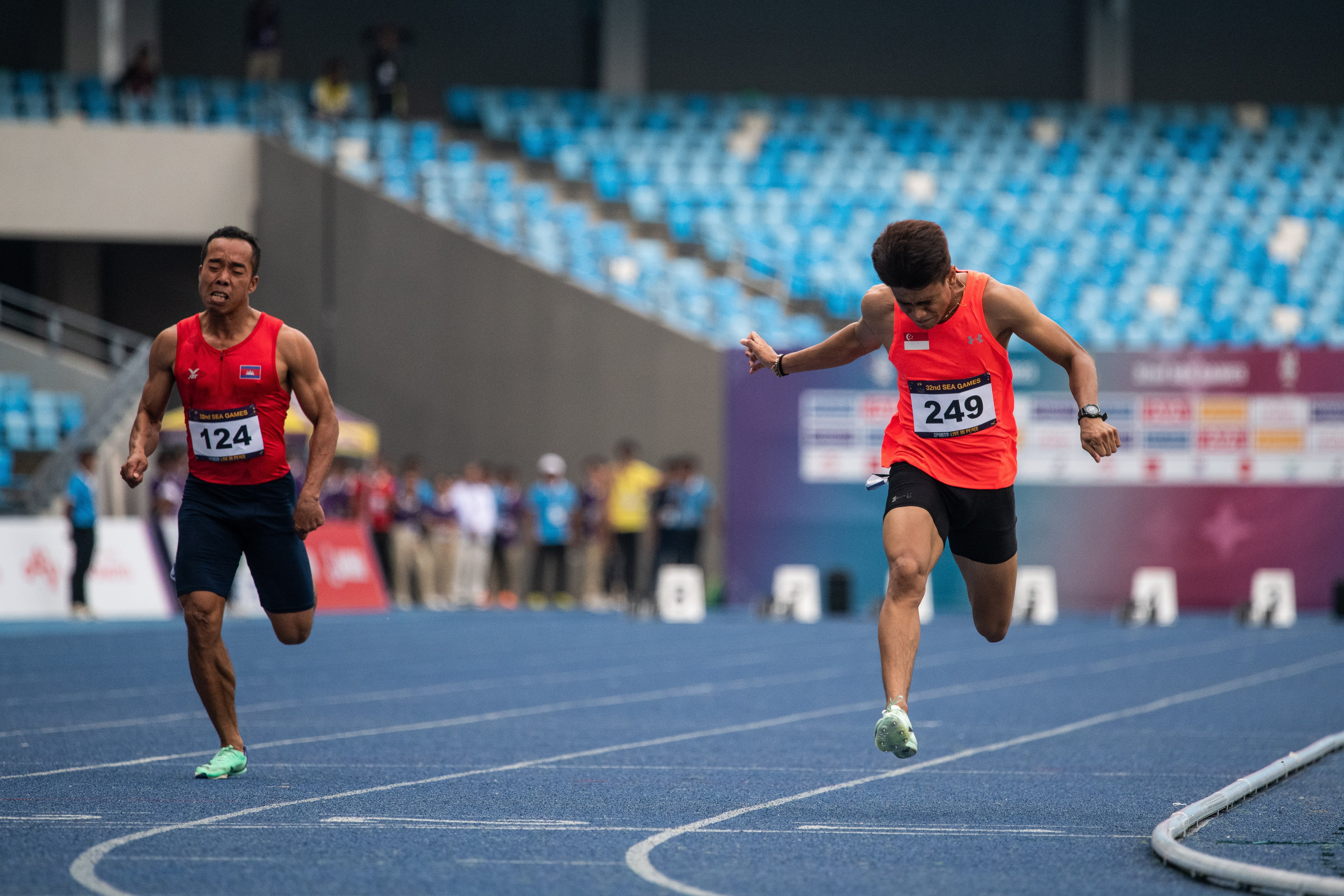 Marc Brian Louis stunned his 100m rivals from the outside lane when he took silver in 10.39 seconds, missing the National Record by just 0.02 seconds. Photo: SNOC/Lim Wei Xiang
In the men's 100m, Marc Brian Louis came just shy of another historic run. He clocked 10.39 seconds to finish two hundredths of a second behind Thailand's Soraoat Dapbang (10.37sec).
In the men's 4x400m relay, the team of Ng Chin Hui, Zubin Muncherji, Thiruben S/O Thana Rajan and Calvin Quek may not have finished on the podium, but did well to break a longstanding 50-year National Record with a time of 3:10.11 (pending ratification).
The athletics team have much to be proud of as they wrap up its campaign in Cambodia with three golds, two silvers and five bronzes, a laudable showing and the sport's best performance in track events since the 1975 edition.
The 32nd SEA Games are held in Cambodia from 5 to 17 May 2023. For the latest Team Singapore coverage and news, follow Team Singapore on their social media channels (Facebook, Instagram, TikTok) or visit the official Team Singapore website.