Cambodia 2023: Team Singapore Ushers in Golden Era in Singapore Sports with 1000th Gold Medal Milestone
by ActiveSG Circle, on May 17, 2023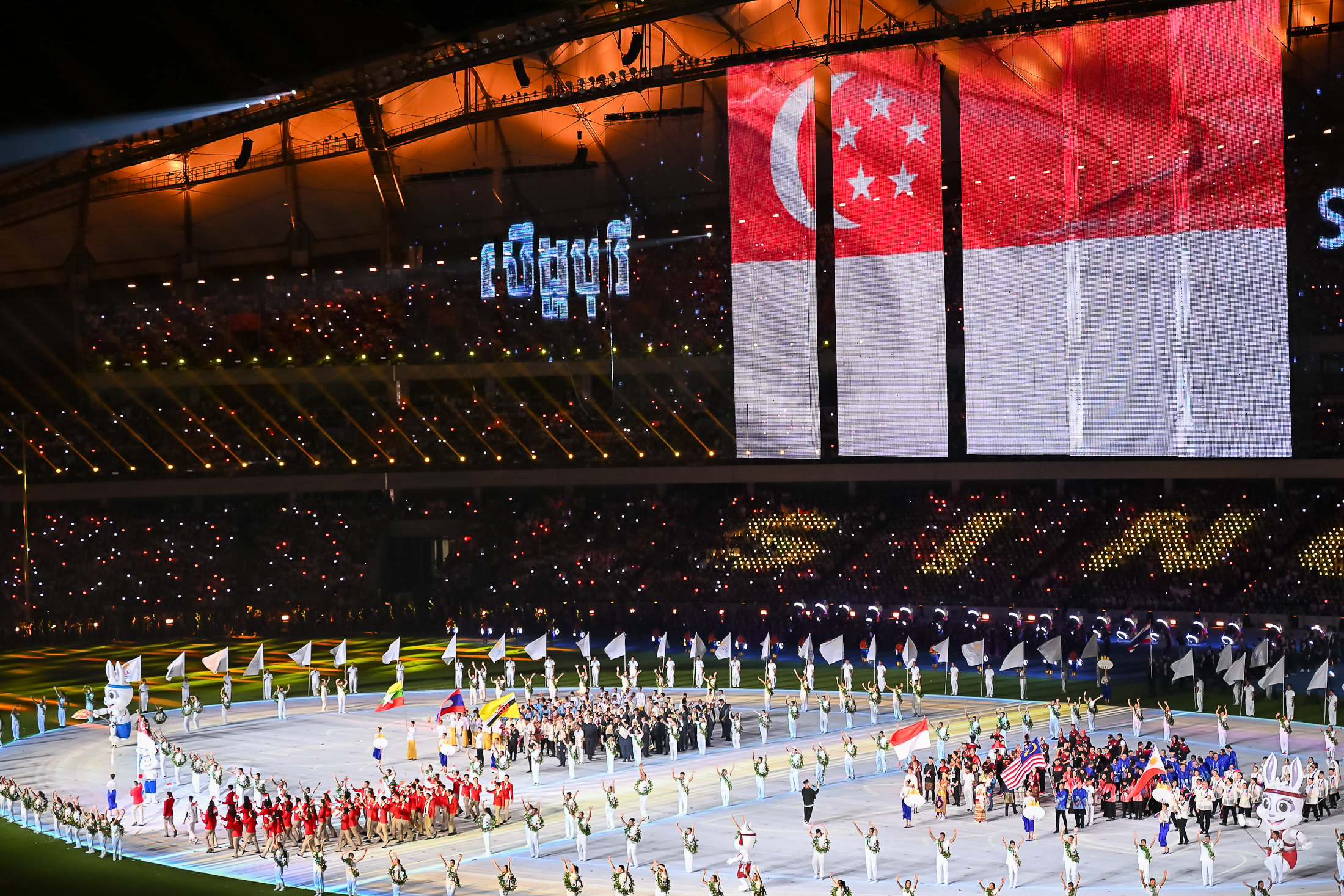 Photo Credit: SNOC, Andy Chua
Team Singapore will conclude their 18-day campaign today after a string of inspiring, gritty and spectacular performances at the Cambodia 2023 SEA Games. The contingent of 554* athletes in 30 sports which represented the Republic will bring home a haul of 51 gold, 43 silver, 64 bronze medals, 8 Games records, 17 national records and 40 personal best milestones.
The 32nd edition is Cambodia's first outing as host of the biennial Games and comes back to back after a postponed edition of the Games in 2022. Team Singapore's representation at these Games marks its third largest away contingent behind the 2019 (666 athletes in 48 sports) and 2017 (569 athletes in 35 sports) editions. The 554-strong contingent, with an average age of 24 years old, comprises 259 debutants who contributed 57 out of 158 medals. On the overall medal table, Singapore is currently in sixth place as Vietnam leads the ranking.
Dr Hing Siong Chen, chef de mission for Team Singapore at the Games who was supported by two assistant chefs de mission – Mr Lim Tong Hai and Ms Jasmine Yeong-Nathan, said, "It has been an awe-inspiring 18 days in Cambodia. Team Singapore did not only embrace the challenges and work as a team to make the best of the conditions here, they also stunned us with their impressive performances. We are thankful for Cambodia's warm hospitality and for taking care of Team Singapore at these Games, we would also like to thank the supporters and stakeholders behind the team for their unwavering support."
Bouquets, improved and noteworthy performances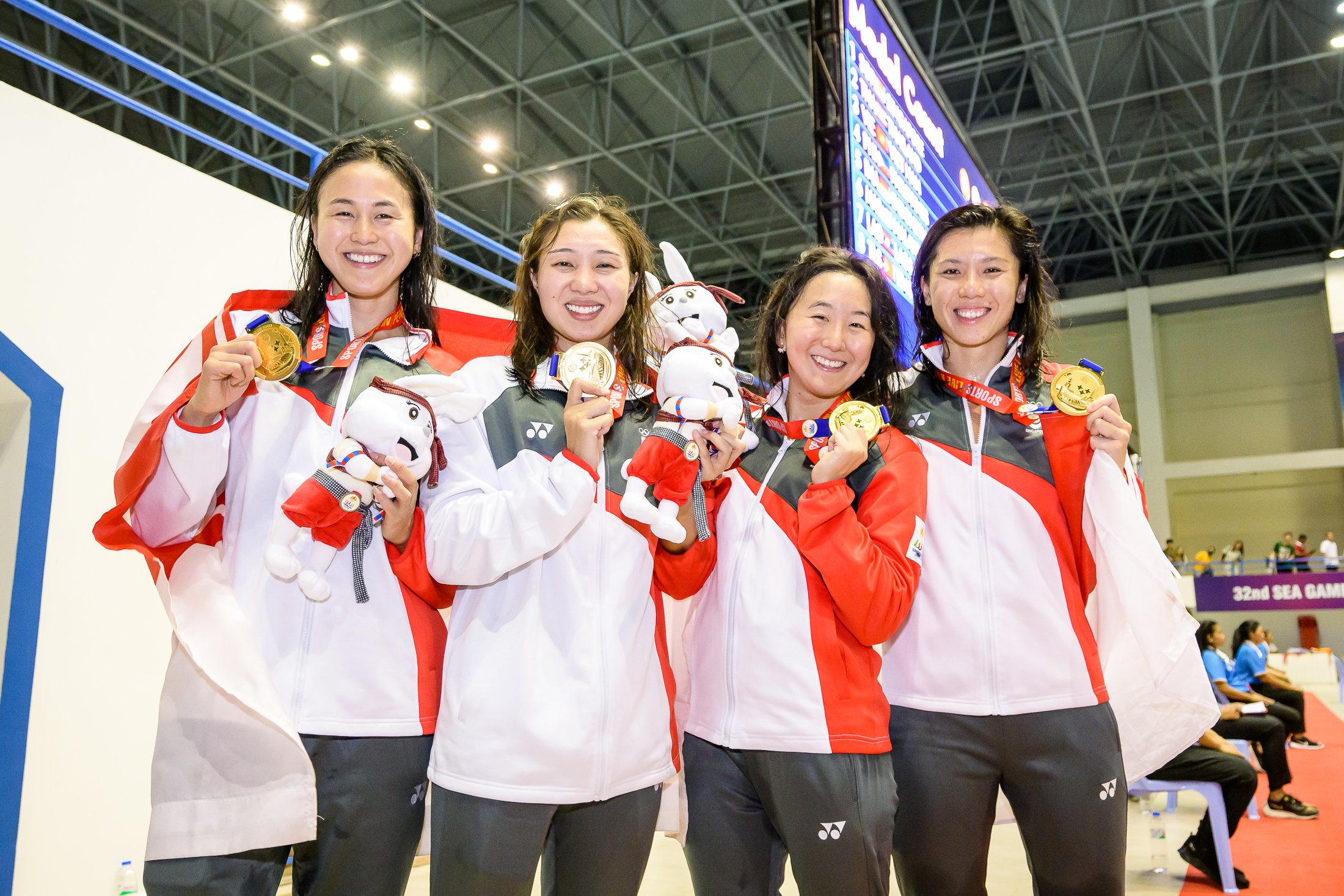 Photo Credit: SNOC, Andy Chua
Team Singapore swimmers continue their reign as the powerhouse in the region and recorded their best medal haul at the Games with a total of 47 medals (22 gold, 15 silver, 10 bronze), 7 meet records, 7 national records and 19 personal best timings. Nine-time SEA Games campaigner Quah Ting Wen celebrated a 60-medal milestone when she added 6 gold and 2 silver medals to her tally at these Games. Olympics bound Jonathan Tan secured a timing fast enough to earn himself a booth at the Paris 2024 Olympic Games, and became the first Singaporean to do so. His timing of 21.92s in the men's 50m freestyle event set a new meet record, national record and personal best.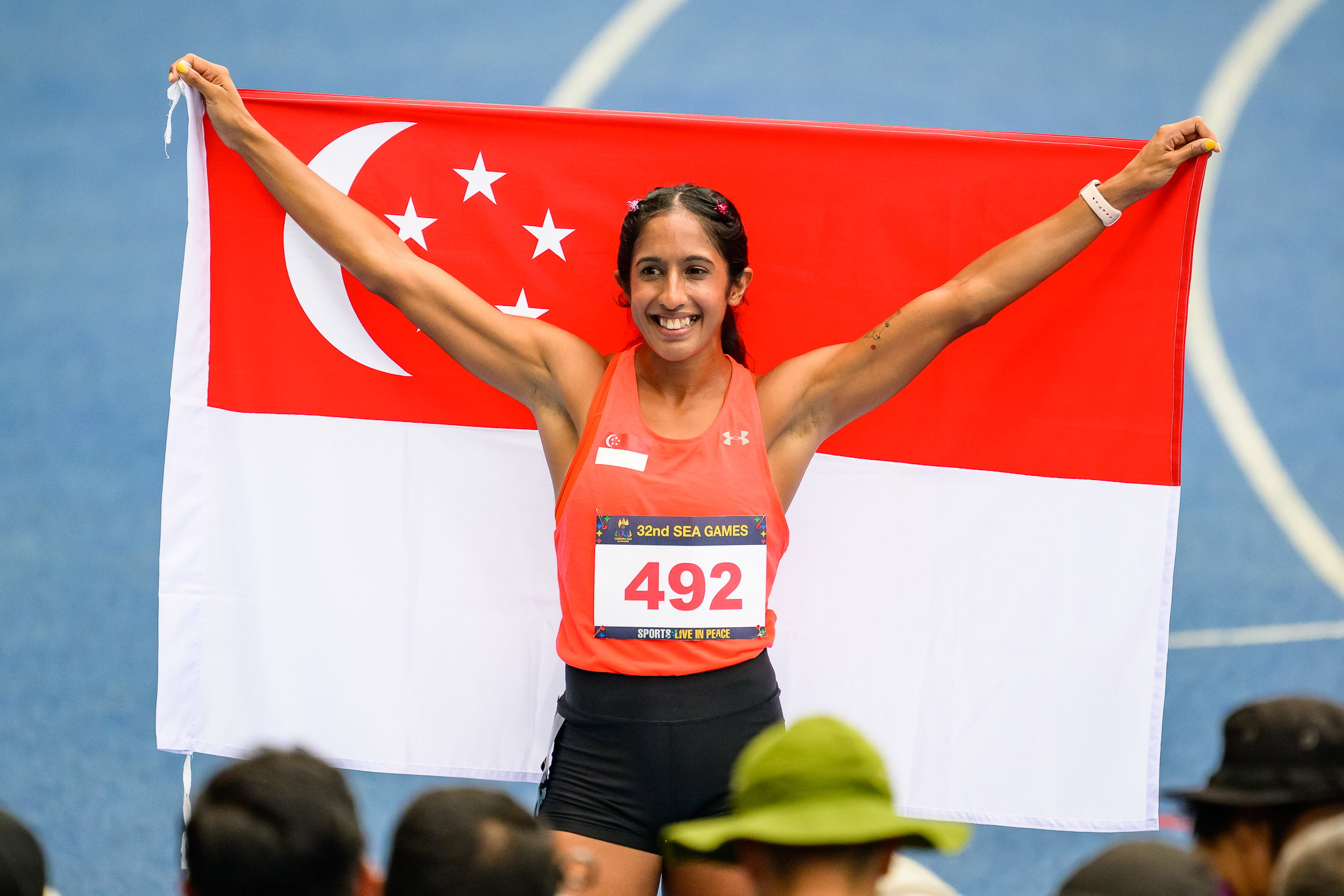 Photo Credit: SNOC, Andy Chua
Sprint queen Shanti Pereira made headlines when she became the first Singaporean woman to win both the 100m and 200m events at the same edition of the Games. She rewrote both the SEA Games and national records in the 200m event with a time of 22.69s. The other gold medal from athletics came from Ang Chen Xiang who claimed a first 100m hurdles title for Singapore in 56 years. In total, the 30-strong athletics team ended their Cambodia campaign with 3 gold, 2 silver and 5 bronze medals, 1 meet record, 6 national records, 13 personal best timings and 19 season best performances. This is the one of Singapore's best away performances in the sport.
Singapore's fencers improved on their Hanoi SEA Games outing to a best ever performance with 7 golds, 5 silvers and 5 bronzes and ended their campaign as top nation in the region for the second time running.
Photo Credit: SNOC, Andy Chua
In team sports, the men's water polo team dominated their field winning all six matches while the women's team retained their silver medal. Cricket did well with a medal in each colour in the men's Sixes (gold), T50 (silver) and T20 (bronze) events. The field hockey men's and women's teams both ended their campaign with a silver and a bronze respectively, and the floorball women's team maintained their reign in the region since 2015 with a gold medal while their men counterparts completed their games journey with a bronze.
Of the 30 sports Team Singapore competed in, 22 contributed to the medal tally with sports such as Badminton, Billiards, Boxing, Chess Xiangqi, Diving, Gymnastics, Floorball, Judo, Ju-jitsu, Sailing, Silat, Table Tennis, Taekwondo, Triathlon and Wushu which continue to show progress to match their regional peers. In Esports, Team Singapore won its first gold medal at the SEA Games in the Mixed Valorant (PC) Team event, and our wrestling team also took home their first gold at the Games in the men's freestyle 125kg event.
Looking beyond the 2023 SEA Games
"There have been some standout performances from Team Singapore at the Cambodia 2023 SEA Games which are positive indicators of our athletes' progress and preparation for the upcoming Asian Games and Olympic Games. There were some misses too, and we urge sports which did not meet their targets and expectations to review their performance and double their efforts in the development of their sport. It took us 64 years to win 1,000 gold medals and we hope this milestone will spur future generations of Singapore athletes to continue the winning streak and do better to achieve sporting glory for the nation," said Mr Chris Chan, Secretary-General of Singapore National Olympic Council.