Cambodia 2023: Wrestling delivers silver on opening day as Taekwondo and Judo add to medal count
by ActiveSG Circle, on May 14, 2023
By Philip Goh
It's looking like a good outing in Cambodia for Singapore's combat sports athletes with Taekwondo leading the way, picking up a total of one silver and four bronze medals so far with two more events to go.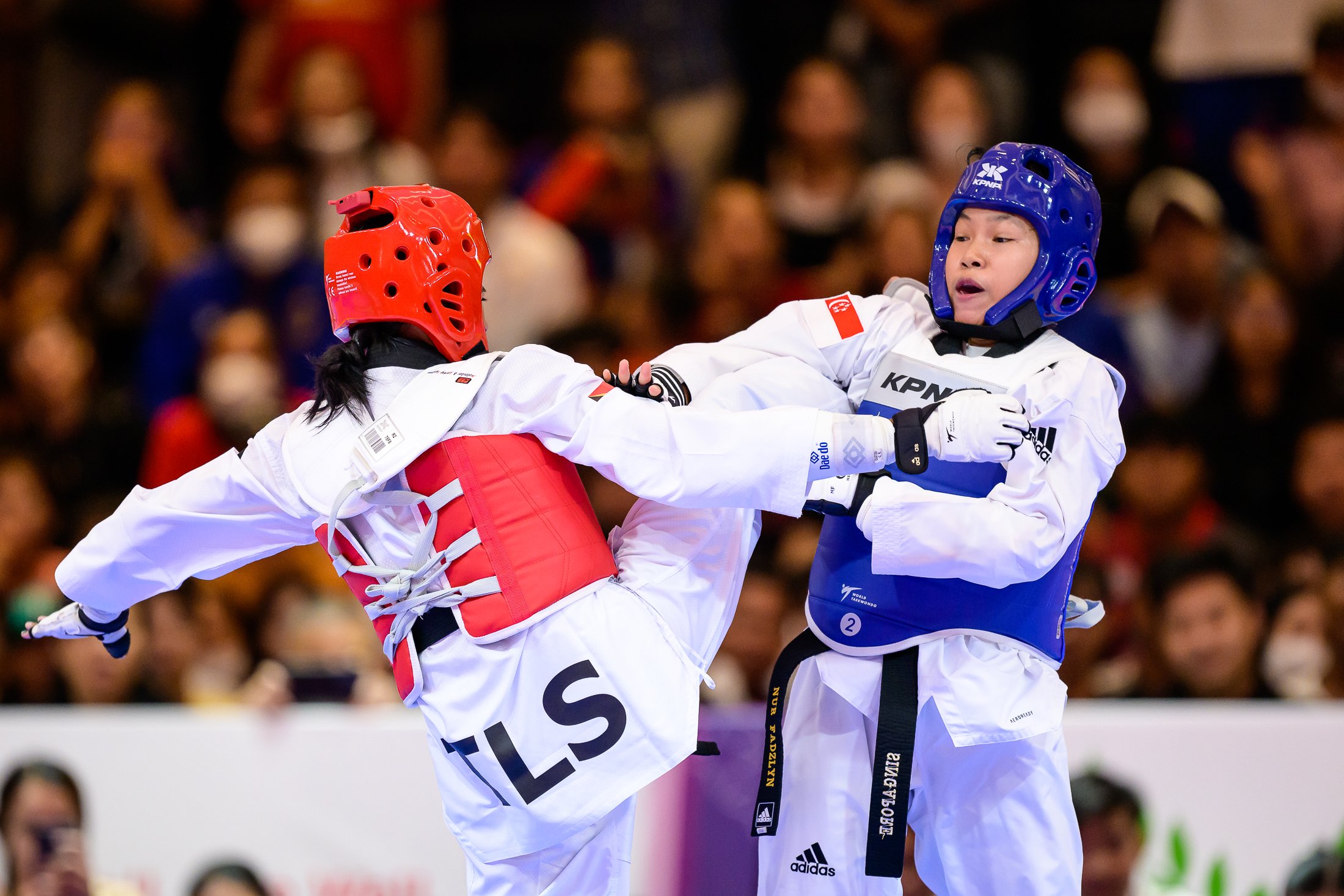 Tough match for Nur Fadzlyn against her opponent from Timor Leste. Photo: SNOC/Andy Chua
They include another bronze medal today from Nur Fadzlyn Mohd Zahruddin in the Women's Under 49kg Kyorugi event where she first beat Teresa Semoi Do Rego Cruz Lein of Timor Leste 2-1 to proceed into the semi-finals.
There she was comprehensively beaten by Thailand's reigning world champion Panipak Wongpattanakit 15-1, 22-1 to settle for bronze.
Singapore's other taekwondo exponent, Xavier Tan went up against Thailand's Jack Woody Mercer and was beaten 13-1, 11-1 over two bouts and did not advance to the semi-finals.
Xavier Tan drew a tough Thai opponent who got the better of him. Photo: SportSG/Bryan Foo
Team Manager Lai Han Seng says the results thus far is encouraging.
"The Singapore Taekwondo Federation has been working very hard these last few years and hopefully results from this SEA Games show our progress.
"As it is, we have already exceeded the combined tally of our last two SEA Games, which was one silver in 2019 and three bronzes in 2022.
"We would like to thank the Taekwondo fraternity, family and friends for their support, and SNOC and SportSG for their guidance and leadership, without which all these is not possible.
"The current team is still young and still have a good runway for the next few major games. We hope that we can continue to augment the team to make it bigger and stronger."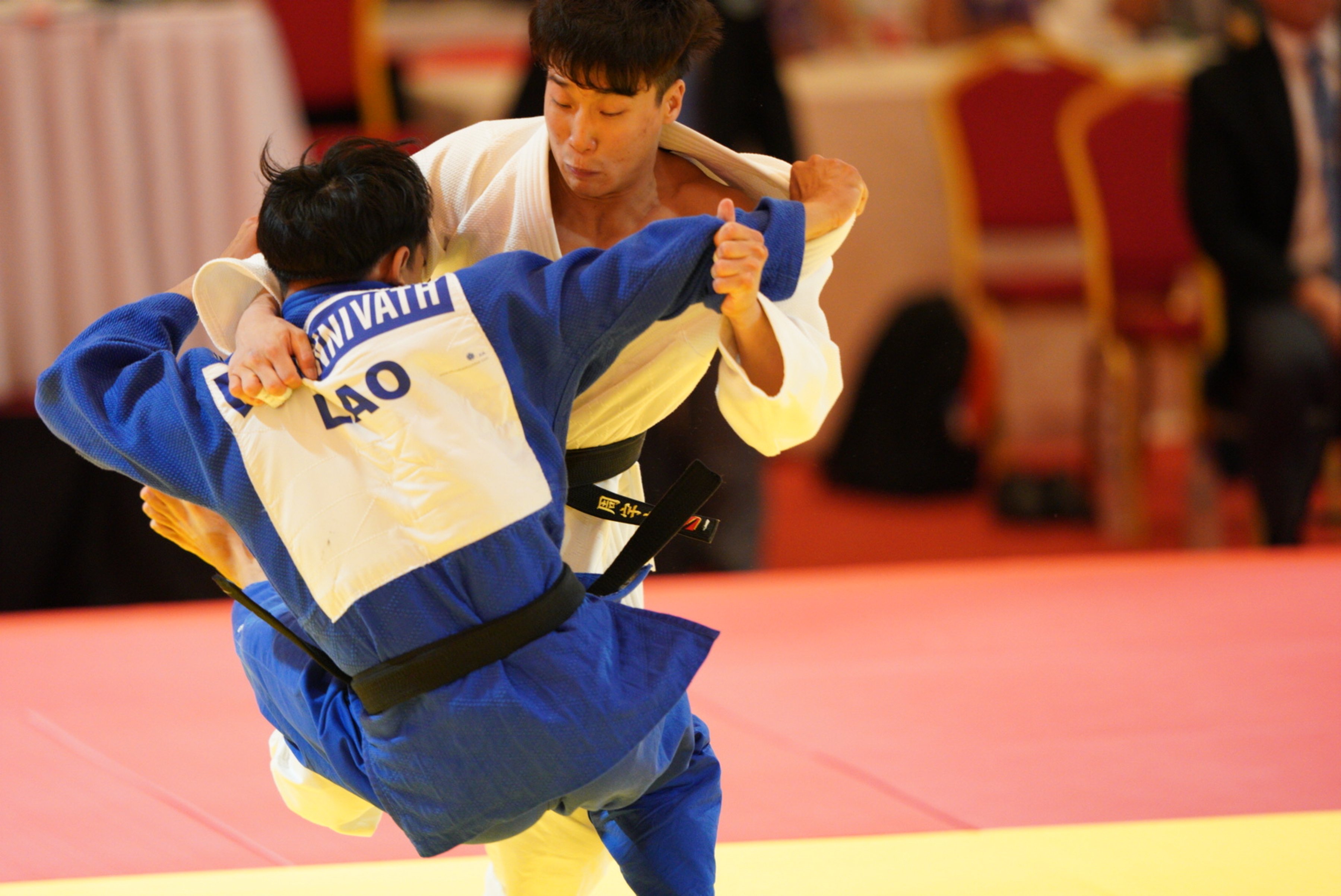 Zhou Yujie picked up a win against his Laos opponent. Photo: SportSG/Bryan Foo
On the opening day of Judo, Singapore fielded three athletes: Zhou Yujie for Men's U66kg, Tang Jingfang for Women's U57kg and Zhen Yuxuan for Women's U70kg.
Zhou managed to win a bronze medal, while Tang Jingfang and Zhen Yuxuan both placed 5th.
According to Team Manager Azfar Ali, it was a reasonable result, though not within their initial expectation.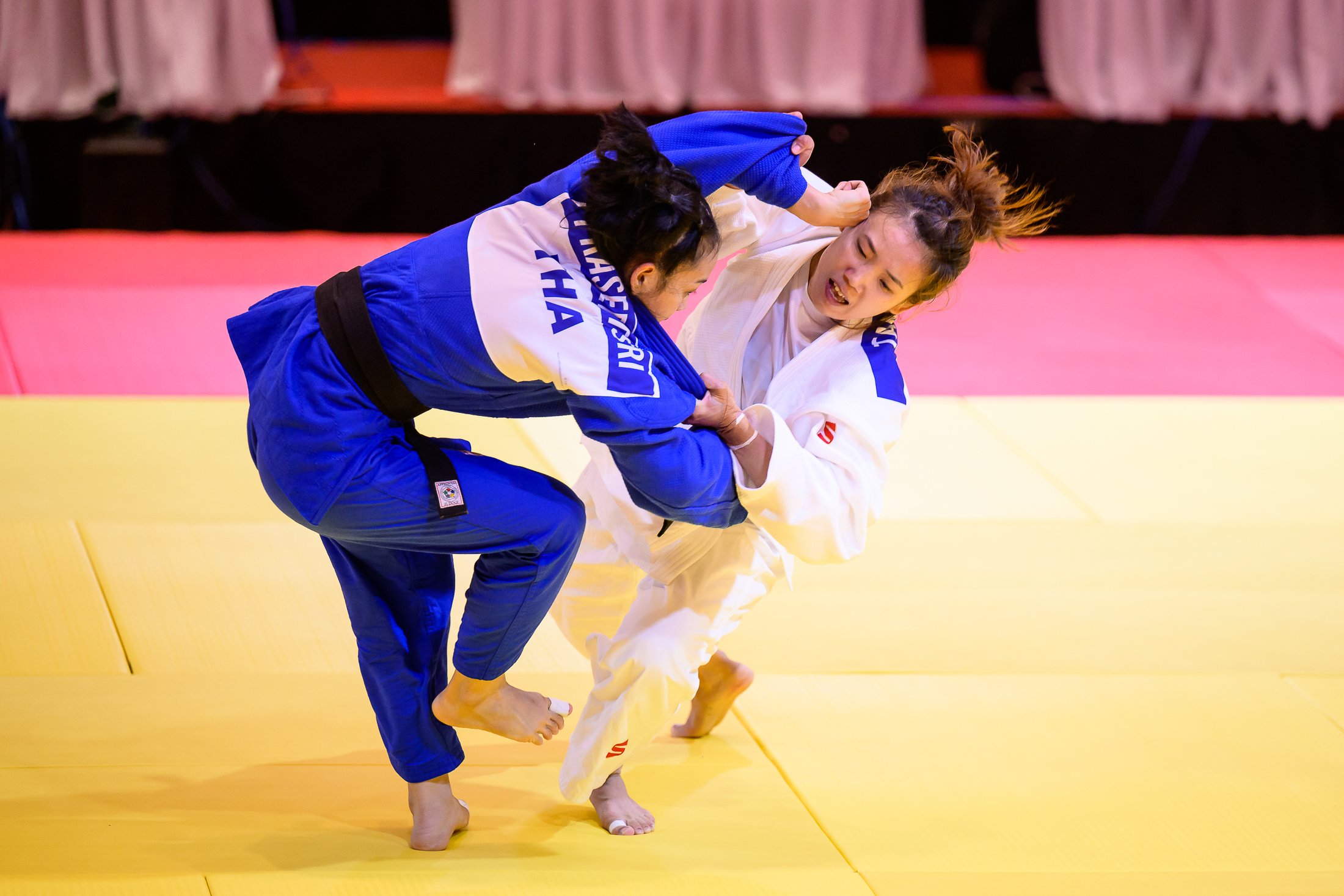 Tang Jingfang found the going tough on the mat in Phnom Penh. Photo: SNOC/Andy Chua
"Yujie and Yuxuan's categories had five participants each, so they played round robin. Jingfang's category had seven participants, so she fought in an elimination bracket," he explained.
Yuxuan was beaten by opponents from Malaysia, Cambodia, Myanmar and Thailand in her bouts, while Jingfang beat her Thai opponent but lost to opponents from Myanmar and Cambodia. In the repechage round, she fell to Cheng Dalin of Cambodia to finish in 5th spot.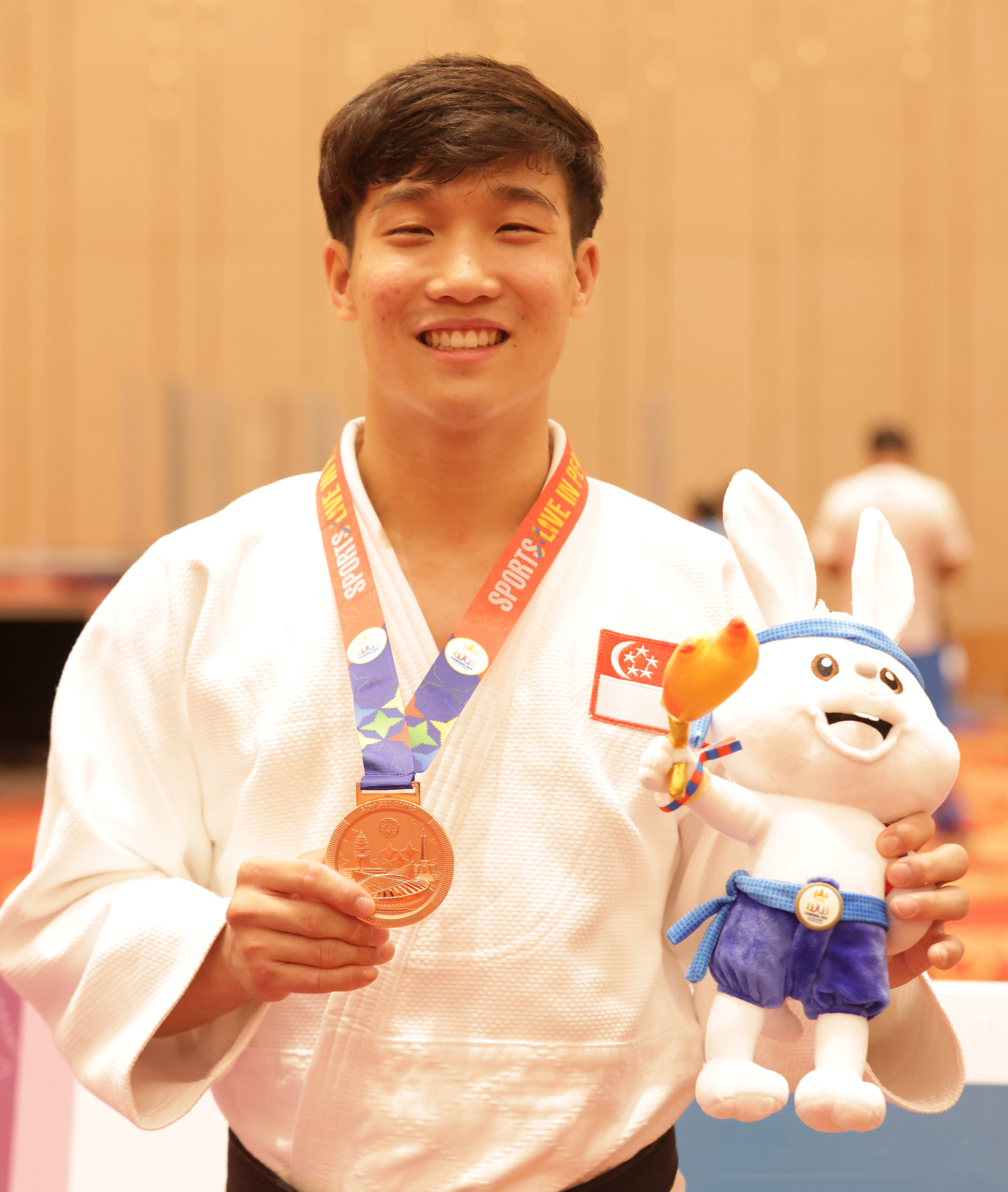 A welcome medal in Judo for Zhou Yujie. Photo: SportSG/Dawn Chua
As for Yujie, he beat his Laos opponent but lost to opponents from Indonesia, the Philippines and Cambodia, finishing joint third overall for a share of the Bronze medal.
Said Azfar: "I'm generally happy that we managed to medal, but was expecting at least 2 medals today. Our athletes fought really well and the competition this year was tough."
Over on the opening day of Wrestling, Singapore fielded four athletes in the Greco Roman events – in the Men's 60kg, 77kg, 82kg and 130kg.
In the men's 60kg event, Eddy Khidzer came away with a bronze medal with losses to opponents from Vietnam and Cambodia but a victory over Laos, finishing third.
Next up, in the 77kg event, Gadiel Raid Al-Qudrah Misso lost his four bouts to opponents from Thailand, Cambodia, Indonesia and Vietnam to finish fifth and out of the medals.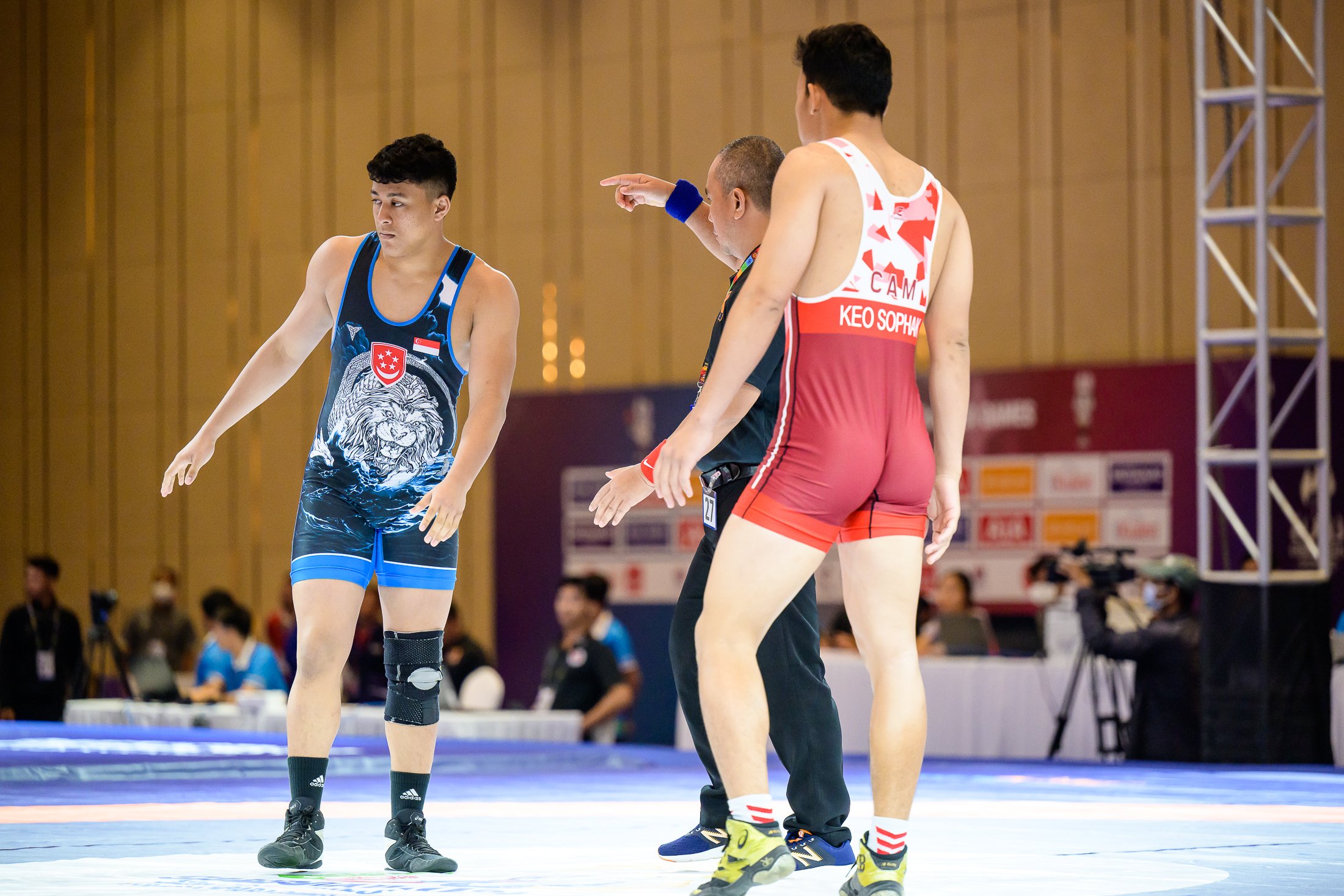 Aryan Azman got the better of Keo Sophak from host nation Cambodia to secure a silver medal. Photo: SNOC/Andy Chua
The best result came from Aryan Azman in the 82kg event, which saw him beating Cambodia's Keo Sophak by a fall, before losing to Jasoncasinto Balabal of the Philippines 8-0. That was good enough for a second-place finish and a silver medal.
In the 130kg event, Timothy Loh could not manage a win against opponents from Cambodia and Thailand, finishing in third position for the bronze.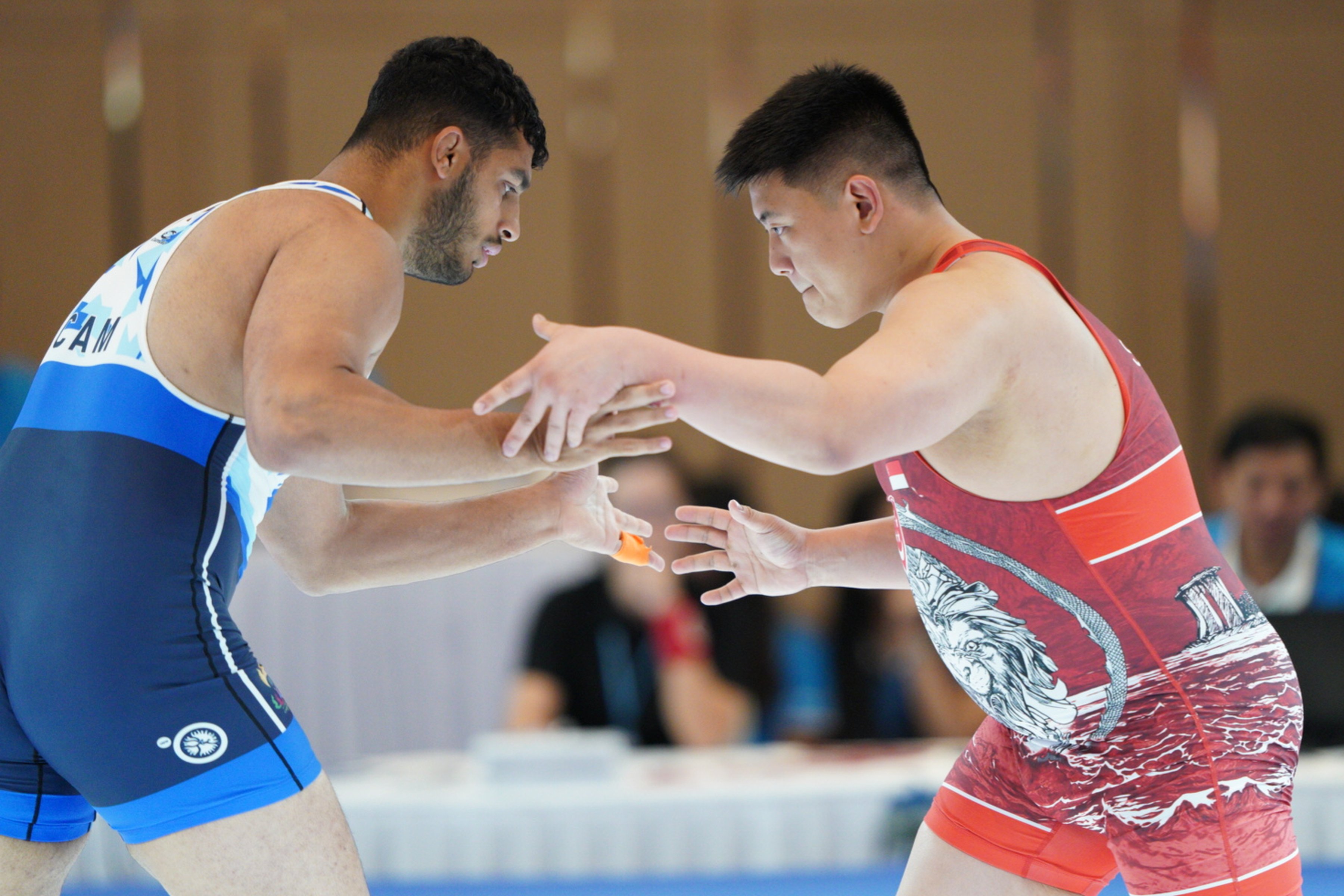 Wrestling is looking forward to more medals in the coming days. Photo: SportSG/Bryan Foo
Said Team Manager Gerard Keith Lim: "Naturally we are happy to contribute 1 silver and 2 bronze medals to the Team Singapore medal tally. Tomorrow is women's Wrestling, and we also hope to bring in some medals from our ladies.
"This is our go-for-broke year and we've invested in all three styles of wrestling – Greco-Roman, women's Wrestling and Freestyle.
"We are confident that the team will not let us down. We have talents in all 3 styles with committed coaches, fantastic administrative staff and of course wonderful stakeholders who believe in us."
The 32nd SEA Games are held in Cambodia from 5 to 17 May 2023. For the latest Team Singapore coverage and news, follow Team Singapore on their social media channels (Facebook, Instagram, TikTok) or visit the official Team Singapore website.
Related Topics
Related Events & Programmes
Related Topics