Cambodia 2023: Wrestling grasps their first gold, boosting the sport's fortunes
by ActiveSG Circle, on May 16, 2023
By Philip Goh
The final day of wrestling held plenty of promise for Team Singapore, confident that its athletes in this discipline will deliver medals. With six wrestlers from 61kg all the way to the heavyweight 125kg classes, it was going to be a busy day.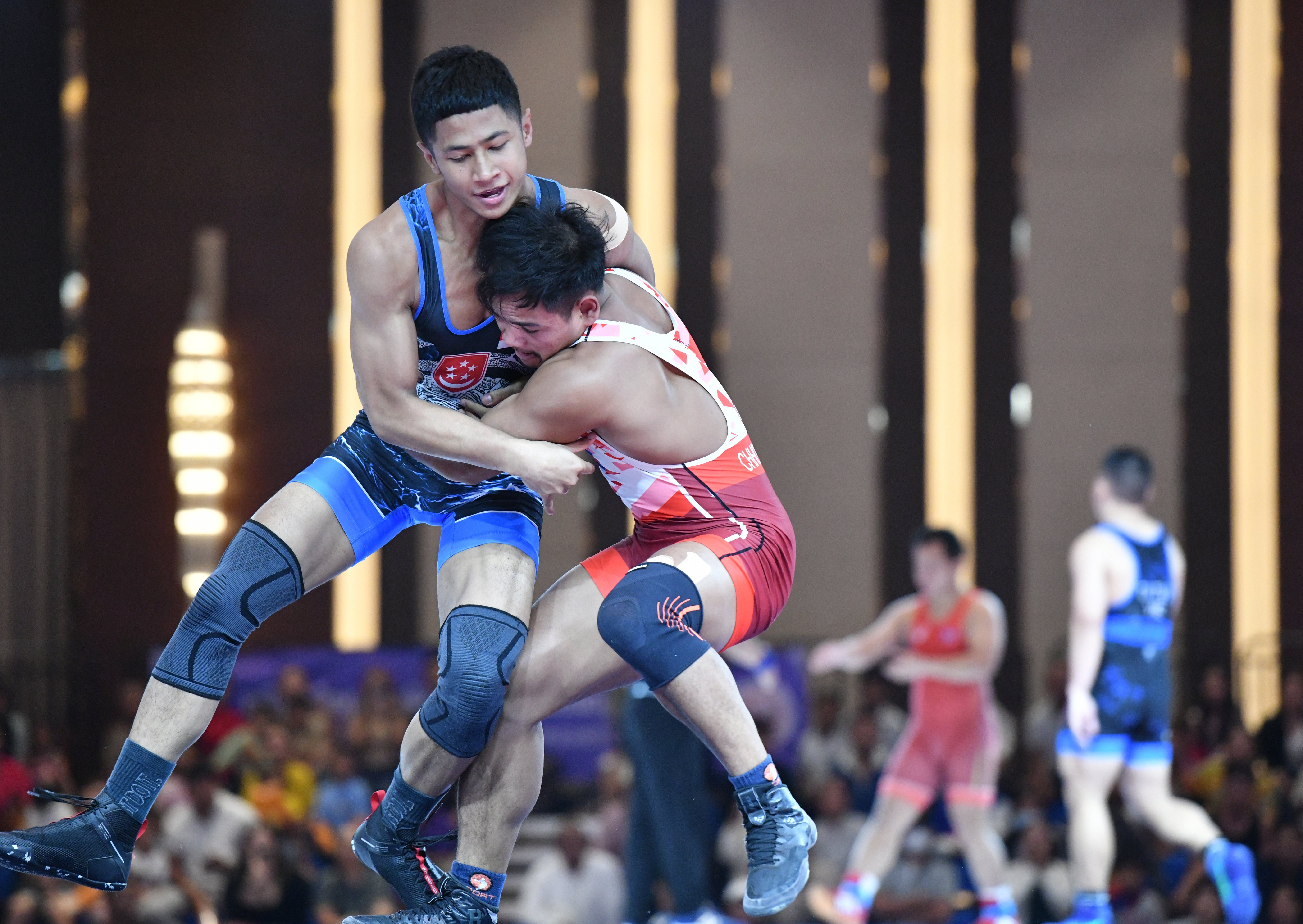 Singapore's Mohd Qayyum fought in the 70kg class. Photo: SNOC/Danny Toh
In the 61kg class, Eddy Khidzer had to settle for 5th spot after losses to opponents from Thailand and the Philippines, while in the 70kg class, Mohamed Qayyum also finished 5th after losses to opponents from Cambodia and Indonesia.
With a win against a Thai opponent and a loss to an Indonesian rival, Lim Zi Xyan took bronze in the 65kg category after beating his final opponent from the Philippines.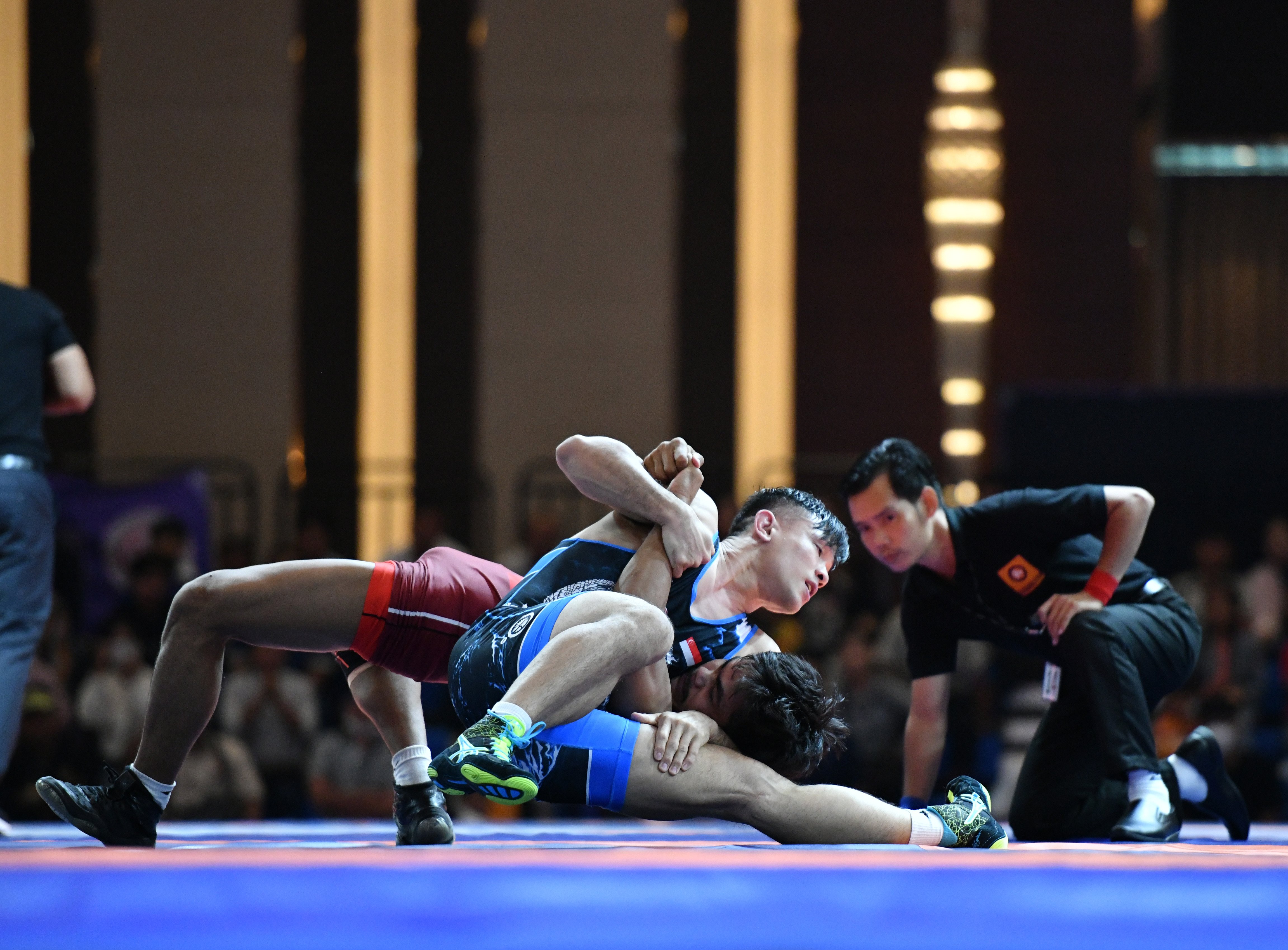 Gary Chow came away with a well-earned silver in the 79kg class. Photo: SNOC/Danny Toh
Another bronze came from Lou Hong Yeow in the 74kg class while Gary Chow took the silver in the 79kg class after beating Ol Saoheng of Cambodia but narrowly losing 15-13 to Randa Randesta of Indonesia.
Timothy Loh secured a welcomed gold in the topweight 125kg class. He first defeated Dorn Sao of Cambodia by a fall, then stomped on Lerdxai Khamtama of Laos 11-0 to capture Singapore's first wrestling gold.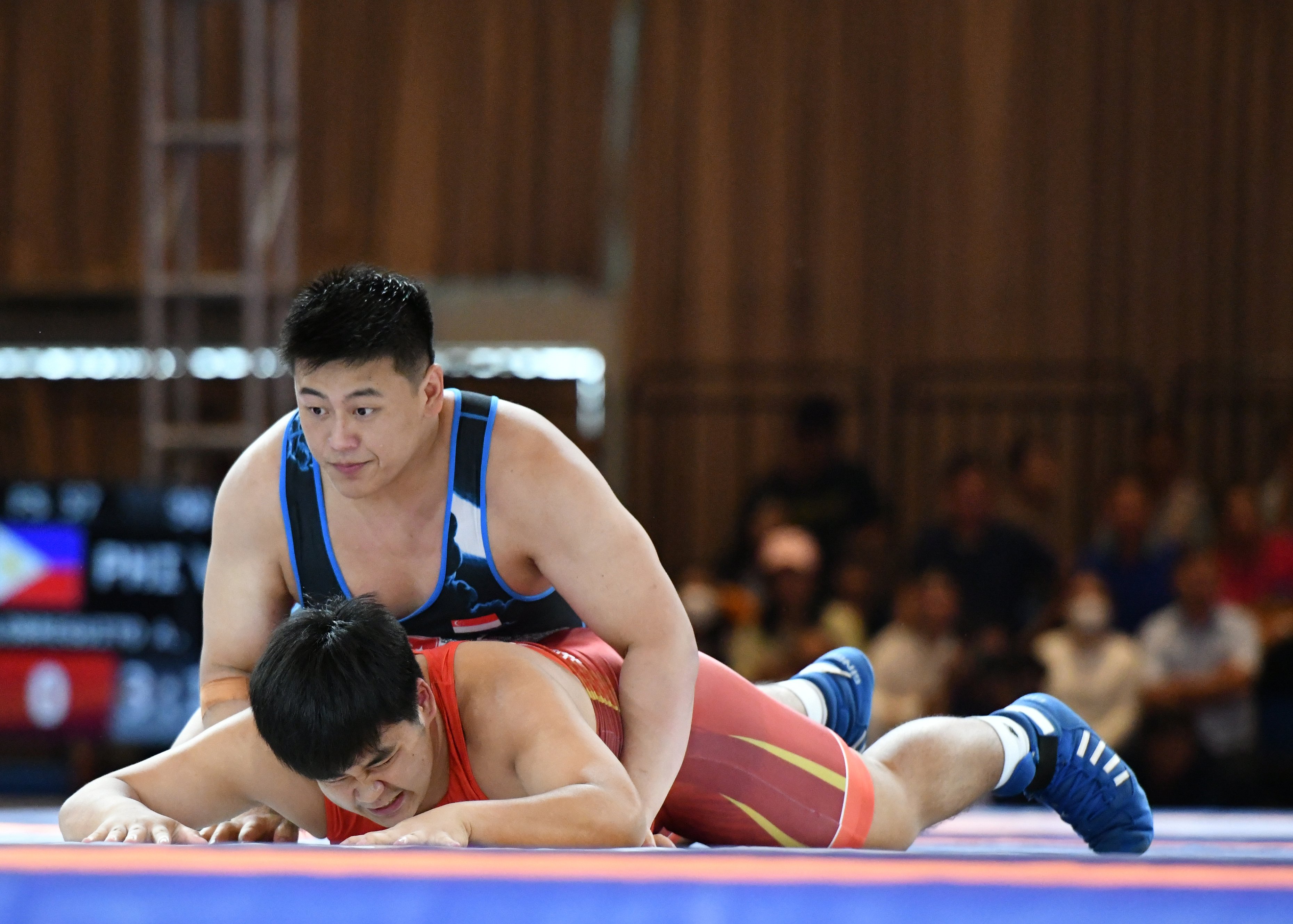 Timothy Loh was a force to be reckoned with in the 125kg class. Photo: SNOC/Danny Toh
Speaking to SportSG afterwards, Loh said intensive preparation began as early as a year ago, almost immediately after the 2022 Hanoi Games.
"We went for a 3-month training stint in Hungary, and competed in the Asian Championships in Kazakhstan," he explained.
"I also worked closely with our mental skills coach Hansen to get me in the right frame of mine for the Games."
As for his mindset through today's bouts?
"I went in with a very process-oriented mindset taking it one match at time. I was more focused on keeping level-headed throughout the competition," he said. "I was able to use my vast experience to the situations where I know I could score, and with the trust mindset I just went for it!"
And what does winning Singapore's first wrestling gold mean to him?
"This gold means a lot not only for me but also for the team behind me," he stressed. "They've supported me though all these years across the different sports. This is a huge boost for Singapore wrestling and provides a springboard to nurture future talents."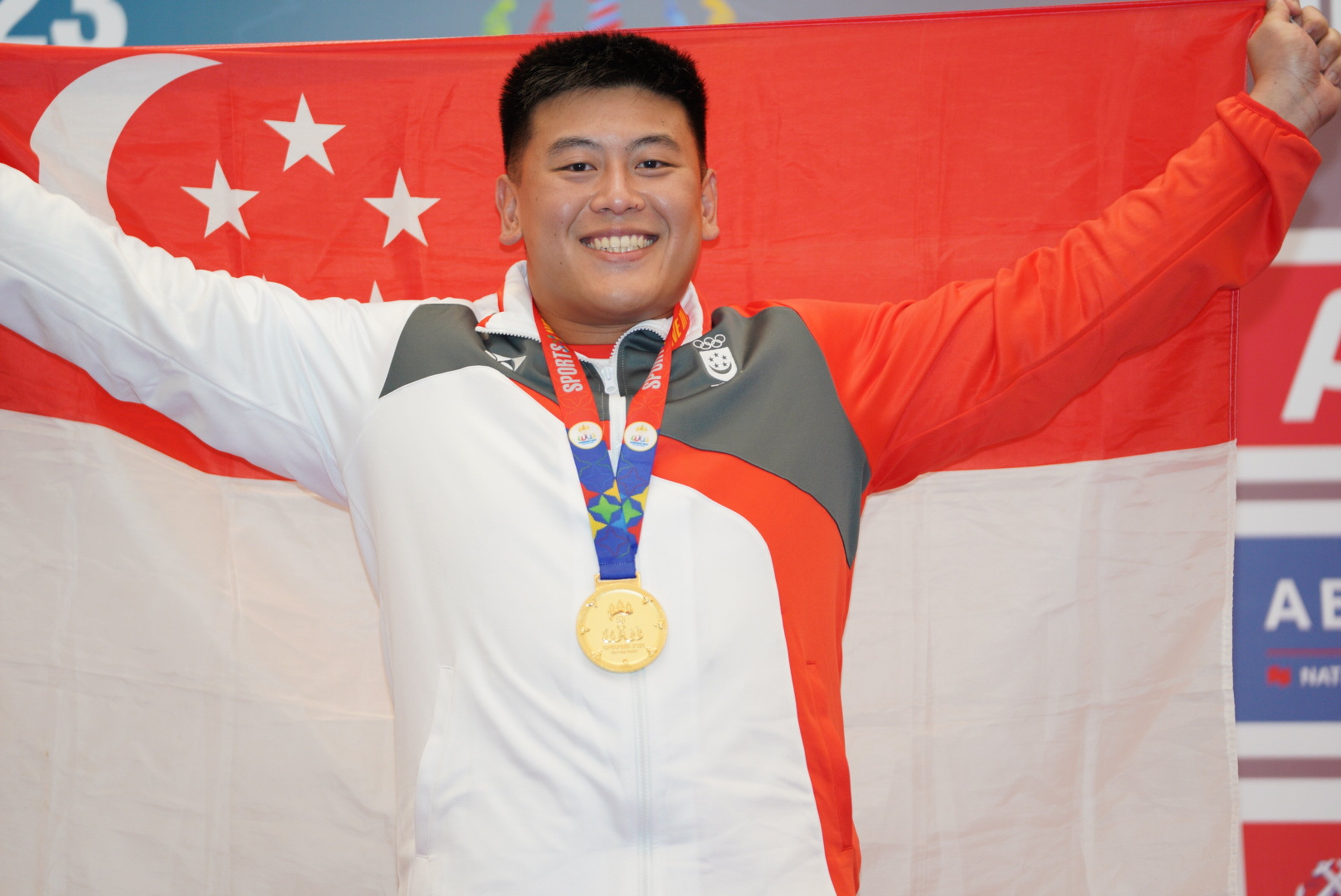 Timothy Loh finally earns an individual gold medal, having competed in different sports since the 2013 SEA Games. Photo: SportSG/Bryan Foo
Commenting on his team's 1 Gold, 3 Silver and 5 Bronze medal haul, President of the Wrestling Federation of Singapore, Bernard Chin said they had expected to achieve a number of finalists.
"Taking the Gold is always a celebratory moment because it validates our commitment to sporting excellence," said Chin.
"Teamwork is the key ingredient to this success - working closely with coaches, strategists and stakeholders, building a bond of trust and support from team members. Investments in overseas camps and competitions certainly accelerated their development curve."
Wrestling Federation of Singapore will be looking to ride on their achievements and develop more talent for the future. Photo: SportSG/Bryan Foo
And what can they bring forward from this SEA Games outing?
"We will continue to develop opportunities in Greco Roman, Women's Wrestling and Freestyle and also venture into Beach Wrestling, to provide more opportunities for our athletes to realise their dreams and become better versions of themselves," he concluded.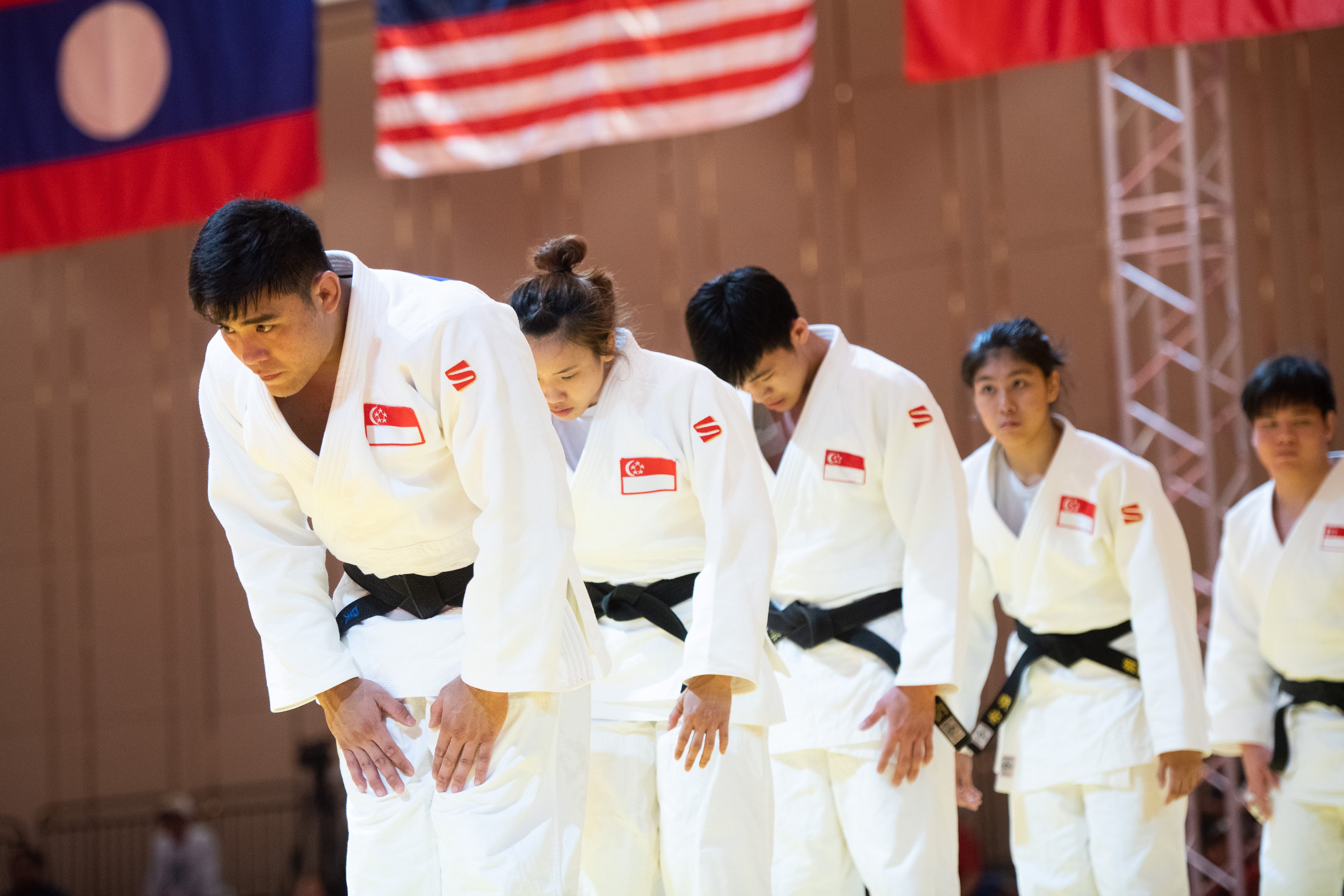 It was Mixed Team competition on the final day at Judo. Photo: SNOC/Danny Toh
Meanwhile, in Judo it was Mixed team event day where Singapore got themselves into bronze medal-winning position only to lose 4-0 to the Philippines to let slip the medal.
That was after the team had lost their opening bout 4-0 to eventual winners Vietnam before beating Malaysia 4-2 to get into the bronze medal match.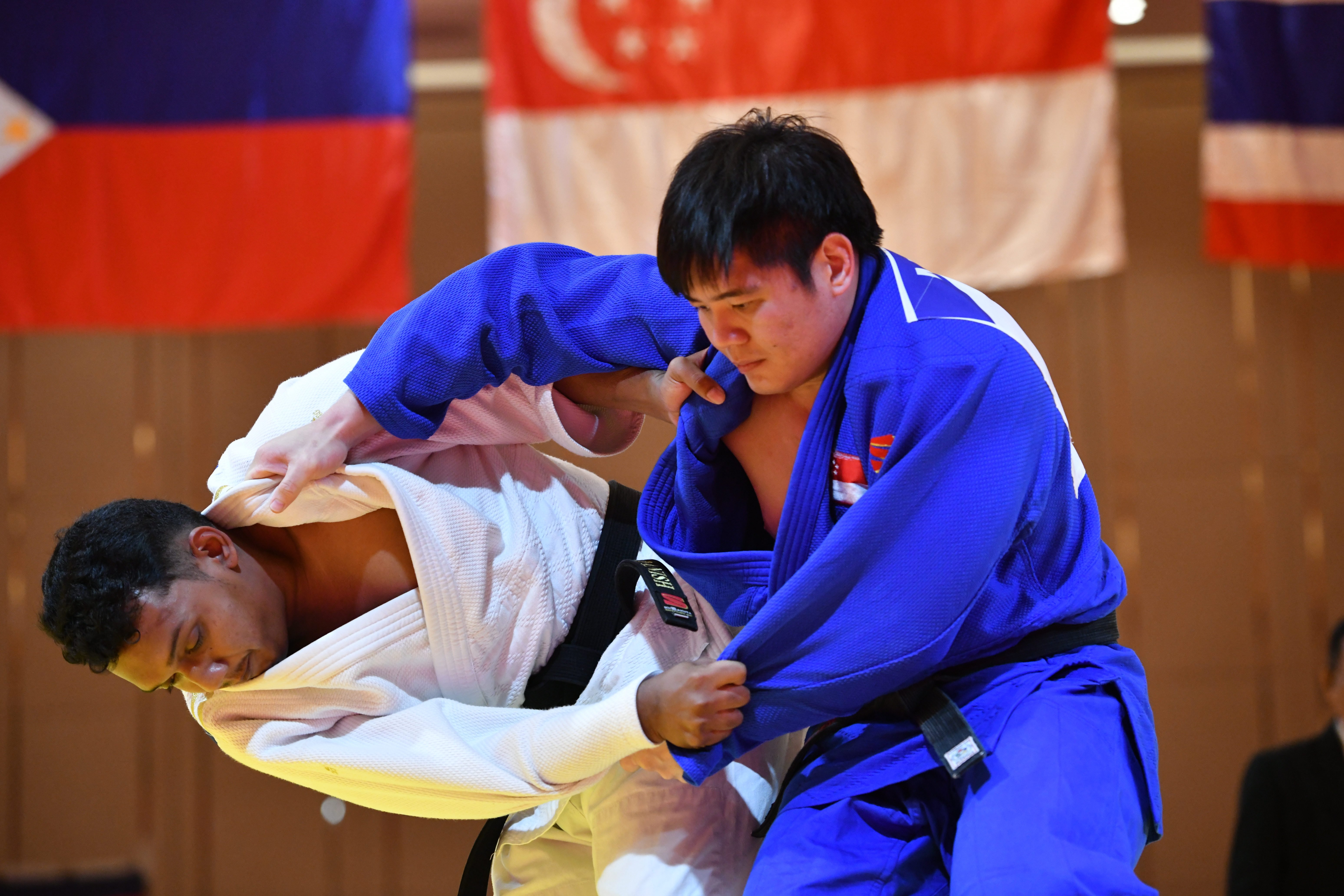 It's been a good outing in Cambodia for the judokas with majority of the team consisting of debutants. Photo: SNOC/Danny Toh
Judo Team Manager Azfar Ali sums up the SEA Games outing: "The entire campaign has been a fruitful one for the Judo team. Our team is composed of mostly debutants, but we managed to bring home 4 bronzes, which is within our expectations.
"While we had wanted to carry back at least one gold, our performance this SEA Games has made us optimistic for the future as this squad is a fairly young one.
"We look forward to developing our athletes onwards for SEA Games in 2025 and 2027."
The 32nd SEA Games were held in Cambodia from 5 to 17 May 2023. For the latest Team Singapore coverage and news, follow Team Singapore on their social media channels (Facebook, Instagram, TikTok) or visit the official Team Singapore website.
Related Topics
Related Events & Programmes
Related Topics