Cambodia 2023: Young badminton debutants win bronze in men's doubles
by ActiveSG Circle, on May 15, 2023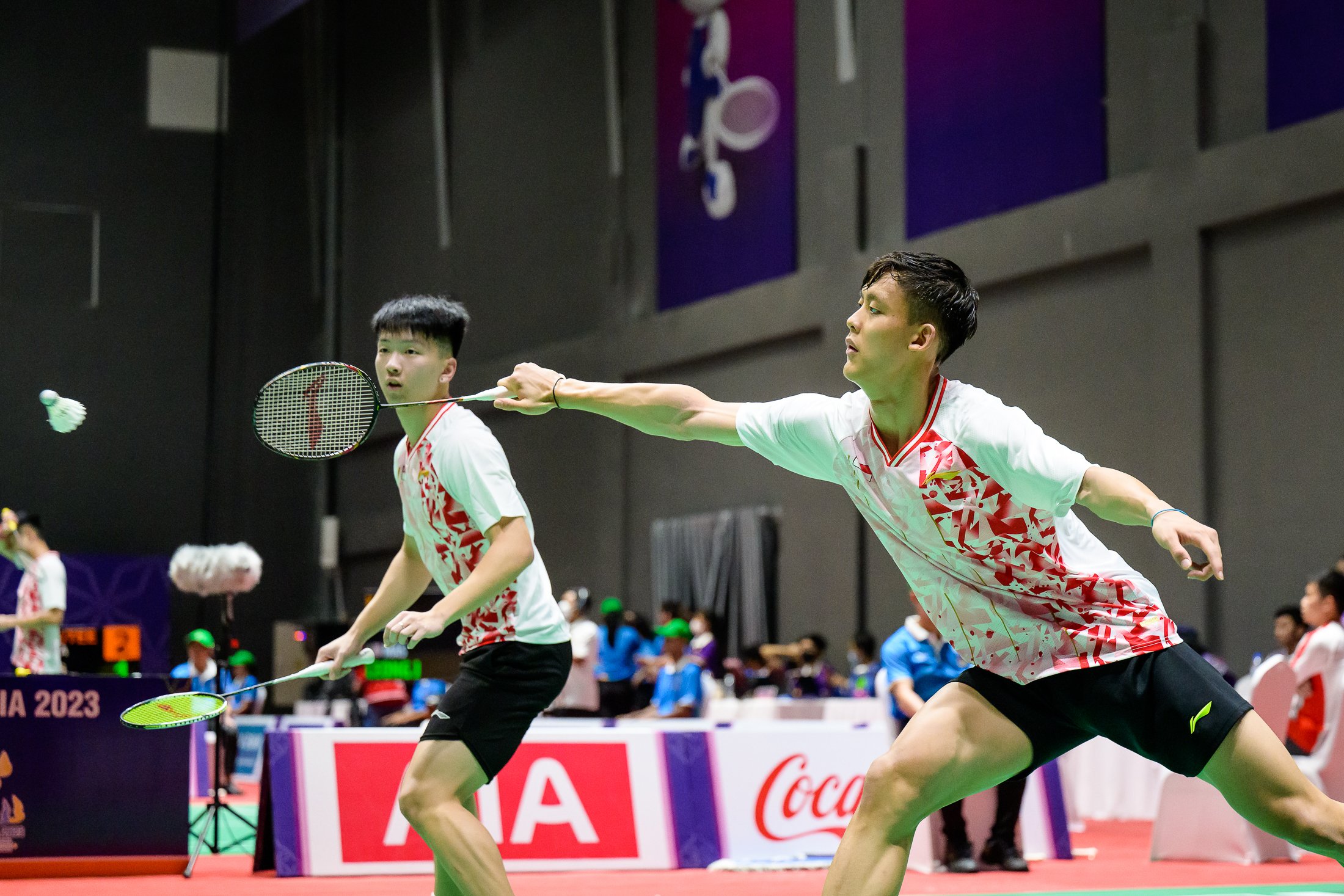 Nge Joo Jie (left) and Johann Prajogo, playing in their first season in the opens circuit, took a creditable bronze in the men's doubles. Photo: SNOC/Andy Chua
By May Chen
For Johann Prajogo and Nge Joo Jie, the transition from badminton's junior circuit to the open events has been a challenging one.
While they ended 2022 on a high, ranked as the world's No. 1 junior men's doubles pair, navigating the big leagues since the start of the year has been a steep learning curve.
So to mark their SEA Games debut with a bronze is a creditable achievement – one both shuttlers take heart in. The Singaporean duo were beaten 21-16, 21-19 in their semi-finals against Indonesia's Pramudya Kusumawardana and Yeremia Erich Yoche Yacob Rambitan.
Said Prajogo: "We're happy about this achievement on our debut. We took the opportunity given to us, enjoyed playing against top players, and I think we performed to our standard.
"It wasn't that nerve-racking for us because we're the underdogs. We didn't have much pressure going into the match today, We just enjoyed ourselves and managed to put pressure on our opponents."
In the match-up between a young world No. 155 pair and a world No. 33 partnership, the Singaporean often tested their more seasoned opponents.
Said Nge: "The transition to the opens has been quite tough for us. The jump is quite big. Every country has players whose shots are harder, more skillful, faster, with better physical abilities. When we first started playing the opens we were struggling from the first round.
"We got the chance to play against top players around the world this time, and we can really see the difference. We'll need to work on our overall game, the quality of our shots and our intensity and pace."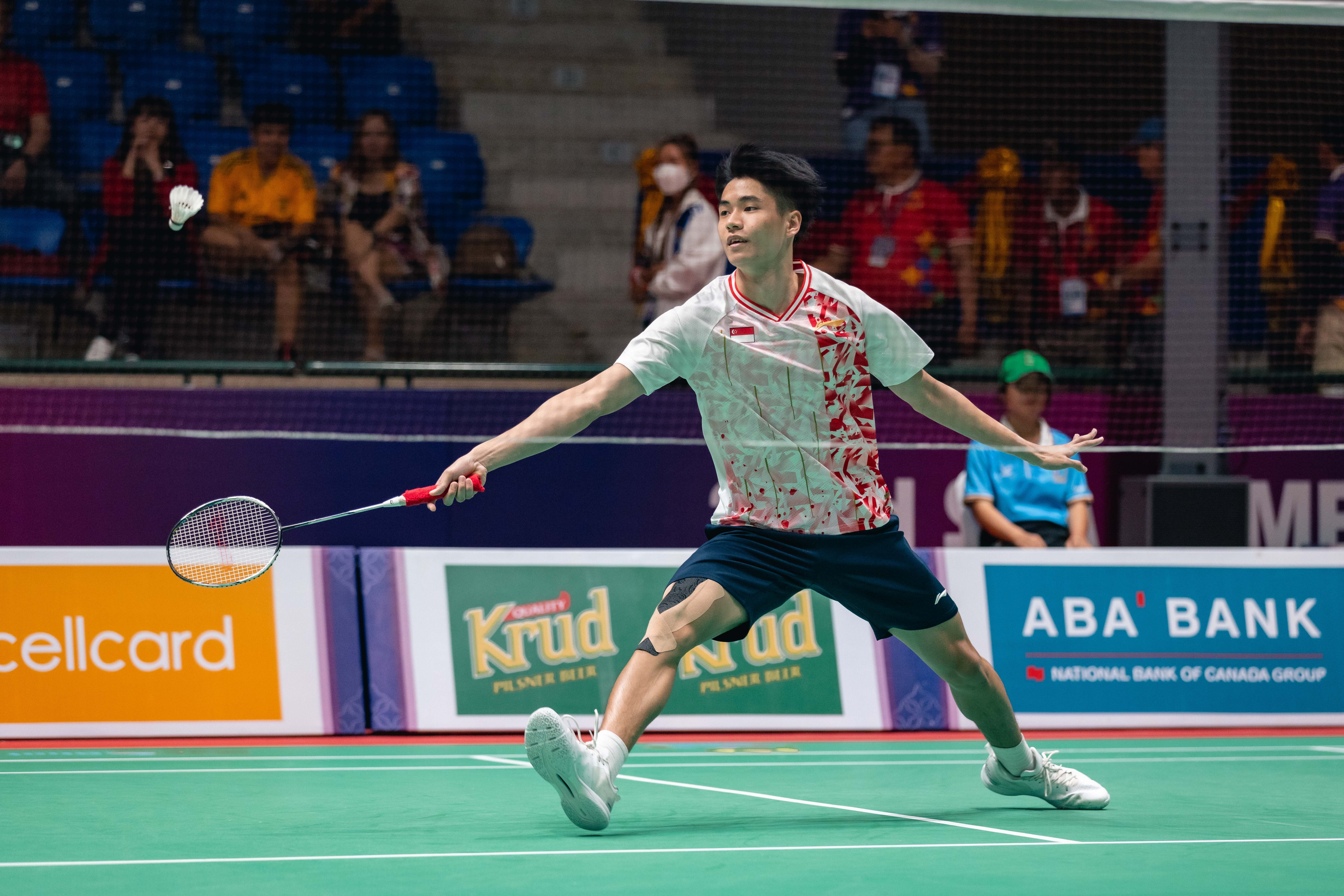 TeamSG shuttler Marcus Phil Lau in action in the men's singles event in Cambodia, making it to the round of 16. Photo: SNOC/Eng Chin An
Singapore's badminton hopes at the 32nd SEA Games were largely carried by its younger shuttlers. The team's more experienced players competed only in the team events, before flying to China to compete in the Sudirman Cup. The latter event is one of the tournaments in the qualification process for the Olympic Games next year.
Splitting the team up this way was a challenge, said Singapore Badminton Association Technical Director Martin Andrew. But it was a rare opportunity for the team's younger athletes to get a taste of the high-level competition that the SEA Games' badminton programme provides.
He said: "The players have got some good experience already but this opportunity at the SEA Games is valuable for them.
"There are a lot of additional pressures when you're part of a larger team. You hear of other teams winning medals and lots of them which is fantastic, but you also know that winning medals in your sport is hard and you want to contribute. They will feel the pressure, and we have to remember that players from Indonesia, Malaysia and Thailand are really strong.
"It's been valuable learning to play individual events at a major Games. This is a valuable experience for the next Games and will give them confidence."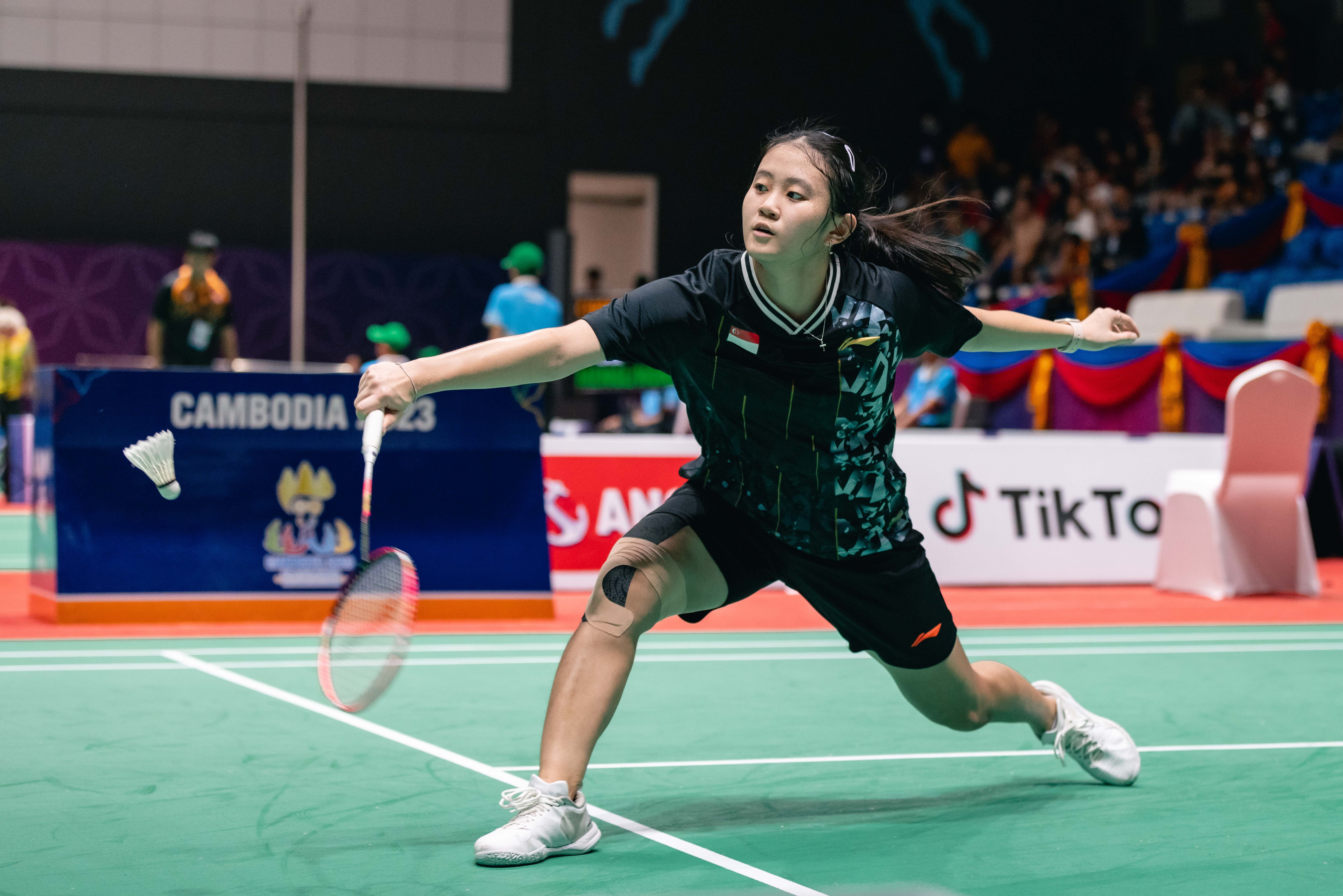 Megan Lee enjoyed a creditable run in the women's singles, making it to the last eight. Photo: SNOC/Eng Chin An
For Megan Lee, who at 17 is one of the youngest players in the squad, the competition at the Games has only whetted her appetite for more in the future.
She said: "This was a good stepping stone to bigger things. I saw some world-class players I probably wouldn't see at other international competitions. I could learn from them as well and know that if I want to do well I have to work towards this level of play.
"It was really a good opportunity for us younger ones to play with more experienced and better players so that we know where we stand."
The 32nd SEA Games are held in Cambodia from 5 to 17 May 2023. For the latest Team Singapore coverage and news, follow Team Singapore on their social media channels (Facebook, Instagram, TikTok) or visit the official Team Singapore website.
Related Topics
Related Events & Programmes
Related Topics