Cerretani & Shamasdin reach STO QF, with a masterclass performance
by Circle Stories, on February 23, 2021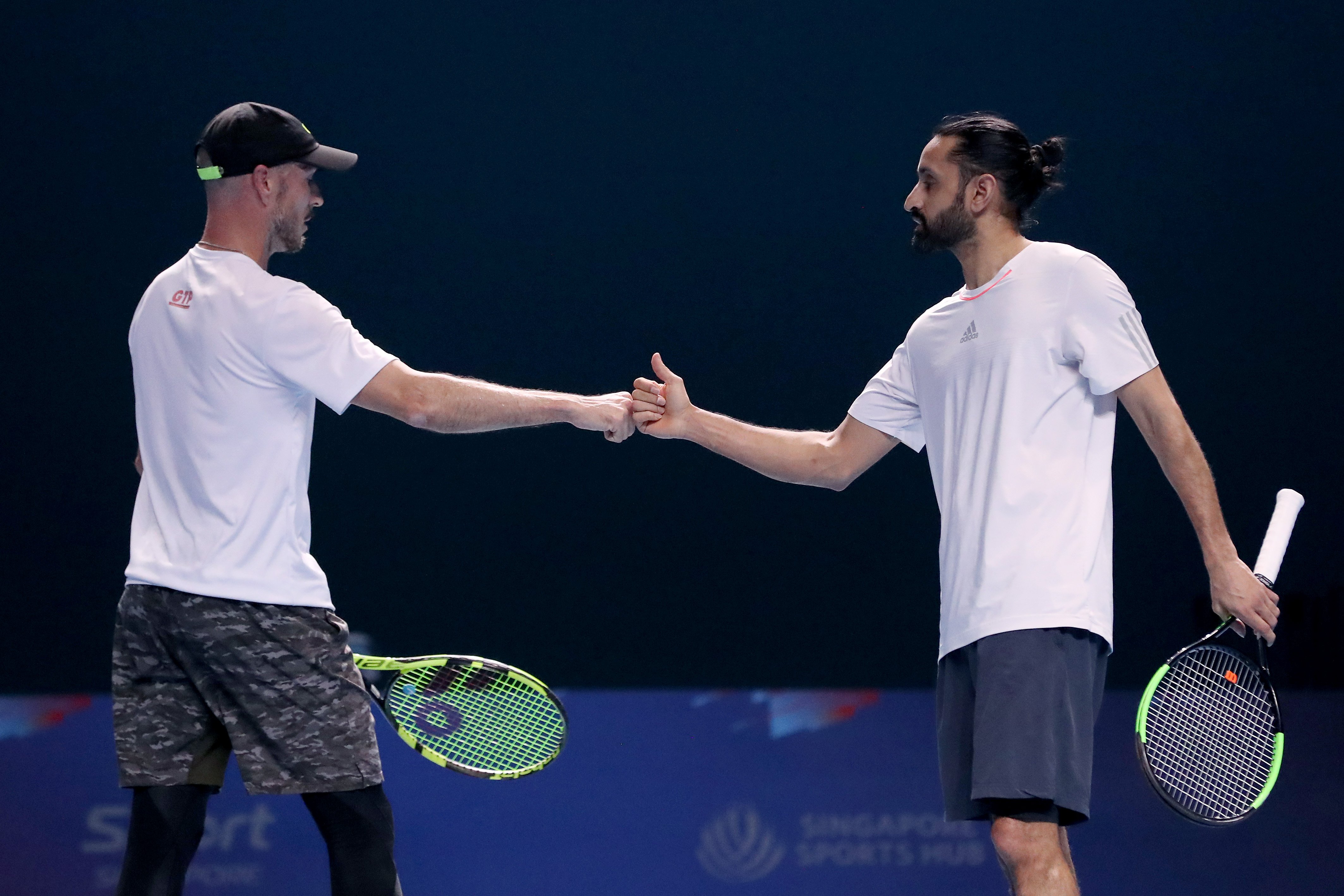 By Rehmat Nohal
Veteran doubles pair James Cerretani of the USA and Adil Shamasdin of Canada took on youngsters Alexander Bublik of Kazakhstan and Marc Polmans of Australia in a 1st round encounter at the Singapore Tennis Open. There was an average of 17 years difference between the veteran pair that specialize in doubles against the younger pair, and that experience gap was clear in the game. Bublik began serving to start the match, given he does have the stronger serve of the two. However, he got broken in the first game and the veteran pair consolidated their break to go up 2-0 early on in the first set.
At 1-3, Bublik was to serve again, seeking to hold this time. However, his serve was under pressure again, with aggressive play from the North American pair which set up double break points. The more experienced duo immediately took the opportunity to break to go up 4-1, giving the youngsters little room to get in the set. And following multiple unforced errors by Polmans and Bublik, coupled with an aggressive style of play from the veterans, the latter broke three times to grab the first set 6-1 in less than 20 minutes!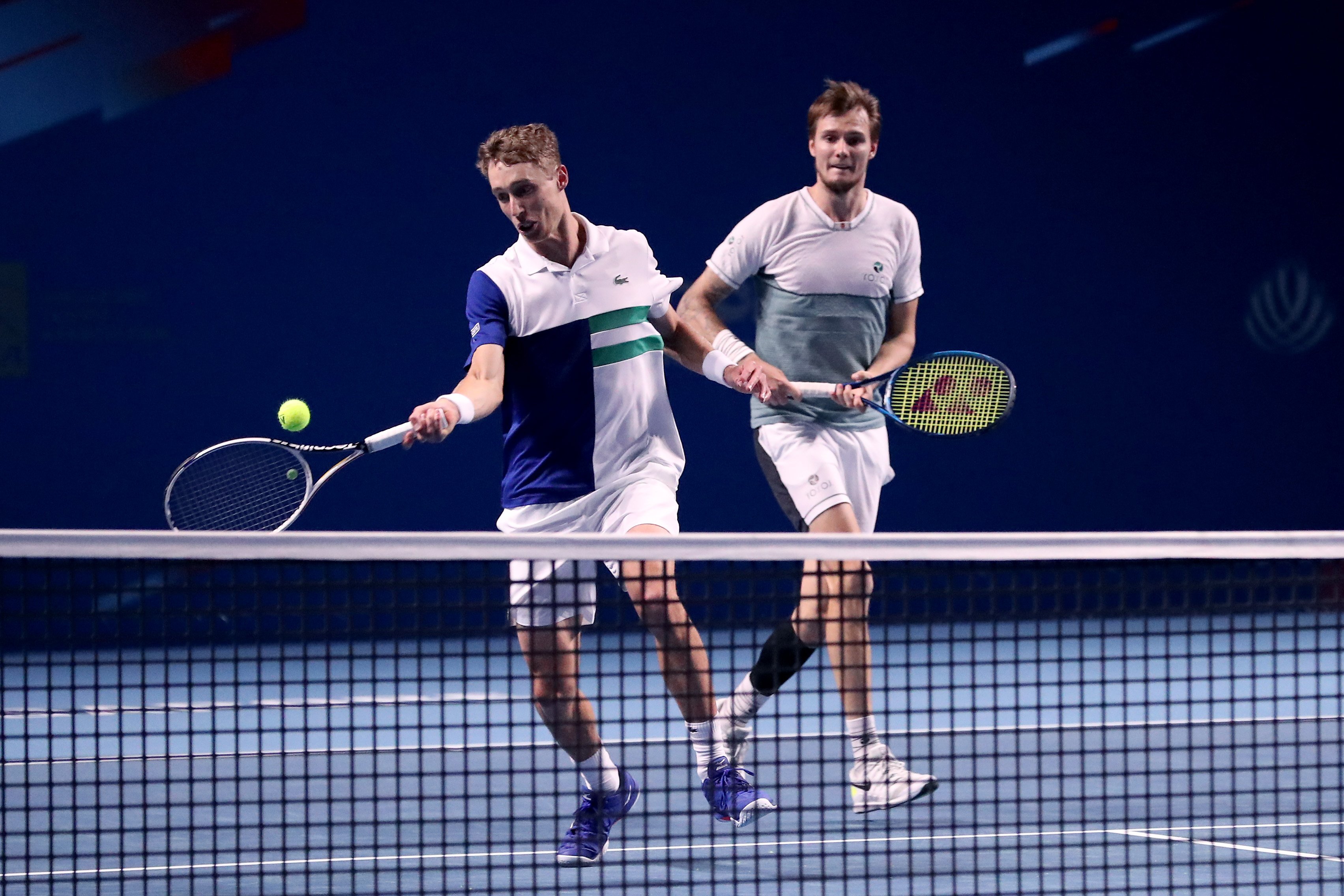 Cerretani and Shamasdin begin serve in the 2nd set, and the youngsters smash two winners off the veteran serve to break the first time in the match. First glimpse of a challenge from Bublik and Polmans. The Kazak begins serving for the pair again, and at 40-0, dishes out his famous underhand serve that slides out – which he chuckles at. And he followed up with a huge second serve to hold onto love, giving the younger pair an early 2-0 lead in the second set. With consecutive holds by both pairs, Bublik serves again at 3-2. And the duo are clearly having fun, exchanging smiles and working off each other's energy – a very different picture from the first set.
Undeterred though, Cerretani and Shamasdin step up to put pressure on the Bublik serve and managed to clinch a break point. And on break point, Bublik again hits an underhand serve and misses. He also hits a double fault to give away the serve, and the second set is levelled at 3-all. The match resumes with an outrageous rally with all four players scrambling across the court to keep the ball in play – and the doubles specialists win the point with a passing shot down the middle. Cerretani holds his serve and the pair go up 4-3, after being down 1-3.
Polmans' serve is subsequently put under pressure with a couple of unforced errors to hand the leading pair break points. The Australian shows his mettle and drive to stay in the game – and hits off two huge serves down the line for a crucial hold and brings the game to 4-all. The younger pair are still all smiles and enjoying themselves. With straight forward holds by the players, the set is at 5-6 on Polmans' serve once again. The North Americans took this opportunity to be aggressive at the net and struck volleys at angles, which were simply non-returnable by their opponents.
A smashing return from Canada's Shamasdin, brings up match point. And together with Cerretani, they immediately capitalized and took the match 6-1, 7-5. The experience from the doubles specialists was clearly visible in the game, as they outpowered and out volleyed the younger pair who typically play much more singles than doubles.
Cerretani and Shamsadin will play the winner of third seed British pair Luke Bambridge/Dominic Inglot and John Millman/Yannick Hanfmann in the last 8.
**In case you missed this exciting match, we've got you covered! Just click HERE to watch the full match (James Cerretani & Adil Shamasdin vs Alexander Bublik and Marc Polmans)
RESULTS - FEBRUARY 23, 2021
Men's Singles - First Round
[6] R. Albot (MDA) d [Q] J. Smith (AUS) 6-2 3-6 6-1
Y. Hanfmann (GER) d J. Duckworth (AUS) 6-2 6-4
[Q] A. Celikbilek (TUR) d [WC] S. Mochizuki (JPN) 6-0 6-4
Y. Uchiyama (JPN) d M. Polmans (AUS) 6-4 2-6 6-4
Men's Doubles - First Round
[1] S. Gille (BEL) / J. Vliegen (BEL) d E. King (USA) / H. Reese (USA) 7-6(3) 6-3
L. Martinez (VEN) / D. Vega Hernandez (ESP) d [2] R. Bopanna (IND) / B. McLachlan (JPN) 6-4 6-2
[WC] J. Cerretani (USA) / A. Shamasdin (CAN) d A. Bublik (KAZ) / M. Polmans (AUS) 6-1 7-5
R. Galloway (USA) / A. Lawson (USA) d T. Daniel (JPN) / J. Jung (TPE) 7-5 6-3
(Edited by Raj Kumar)
Rehmat Johal is a former national tennis player, having represented Singapore at the Fed Cup in 2011 and 2012. She held the number 1 women's open ranking in Singapore for almost 3 years between 2011 and 2013. She also dabbled in contact rugby - and was a member of the National Women's Sevens Squad, and previously represented Singapore at an u20 level. Rehmat graduated from the Singapore Management University and is currently working full time.
For live streams, schedules and more stories from the Singapore Tennis Open 2021, visit hub.tennis
For the latest Singapore Tennis Open updates on the go, follow us on Telegram
Related Events & Programmes