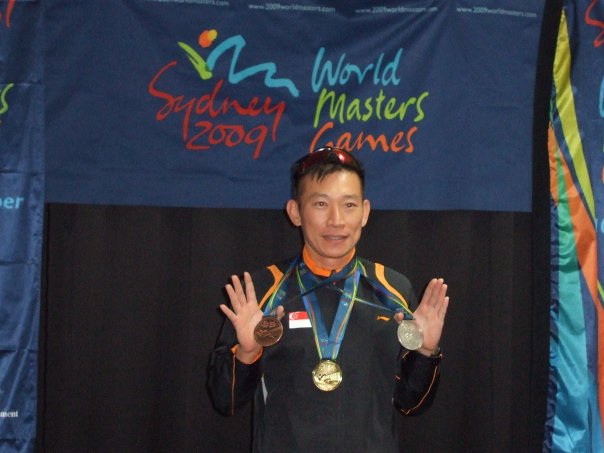 Learn more about veteran Dennis Lim and how mentality influences his way of teaching!
As part of a drive to spotlight Self Employed Persons in the local fitness industry, we asked some of them to share more about themselves, their fitness journey, and some tips that you can immediately benefit from.
Today's article features Dennis Lim, a NCAP Level 3 Combat Fitness Trainer with 16 years of experience in Badminton Education and Child Character Development.
In developing and promulgating his competitive playing abilities, skills and knowledge to demonstrate his passion for the Sport, Dennis succeeded three podium accomplishments while having participated in the Sydney World Masters Games 2009, Italy- Torino WMG 2013 and the Auckland NZ WMG 2017.
Catch him in action on Circle Watch here!
Why is fitness important to you?
Badminton is categorized as an open skill sport modulated by inhibitory control or the ability to respond appropriately prepotent of human performance in both aerobic and cognitive demands. Fitness will be a necessity in order to perform the game well.
Whether you would like your child to experience badminton or embark on a pathway to excel in it, the SBA Badminton Academy @ ActiveSG is the right place for you!
What's a goal you have for yourself that you want to accomplish?
My goal is to produce motivated athletes for all ages in promoting robust participative Sport and Child Character Development through the processes of evidence-based training.
What is one core aspect that you swear by when mentoring children?
Emotion is a state of mind which is so volatile that it changes within the seconds. Being able to control takes practice and sports is a starting platform that introduces anxiety, joy, fear, confidence, calmness, and many other states. It teaches the child to handle situations where there are put under stress and not to act based on whims and pressure.
Finish this sentence. On Sunday mornings, you can usually find me…
Having a nice cup of coffee with my wife as i recover from the hectic coaching sessions during the week!
Well said! Learning to manage one's emotions and energy goes a long way in optimizing performance. Don't miss out on industry experts' advice on energy management in ActiveHealth's latest series of webinars!
Related Articles:
Can we have another nugget of wisdom?
Of course! The belief that you are able to accomplish what others couldn't is an act of self believe. It may be closely tied to charisma and how one portrays their thoughts on a daily basis. It teaches humility and faith. As the saying goes, "His spirit never wavers in the face of adversity"!
Words to live by! Catch Dennis in action on Circle Watch today!
To receive the latest updates on the happenings in the Singapore sports scene, follow GetActive TV on Facebook and Instagram!