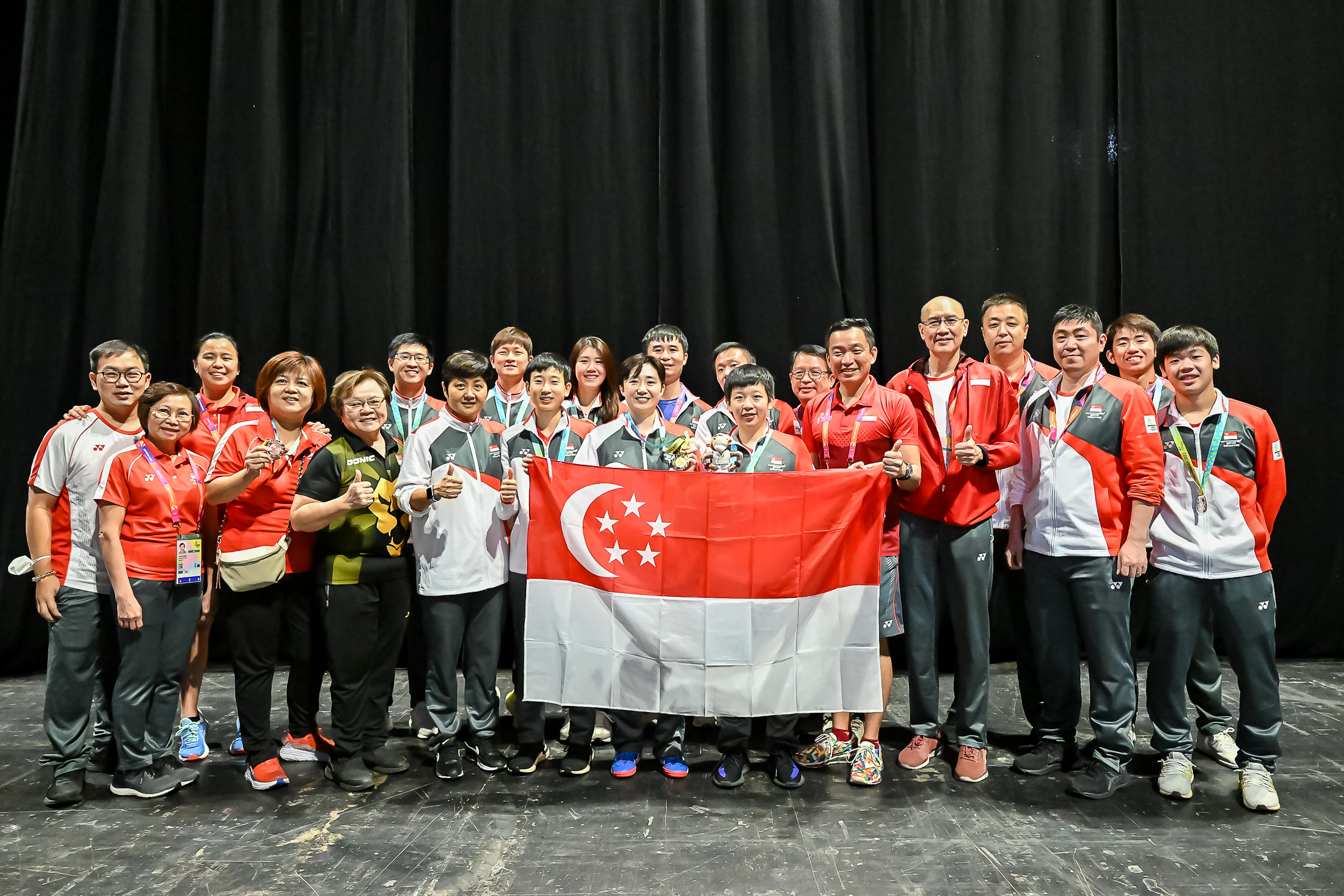 The table tennis contingent returns home with 3 golds, 2 silvers and 2 bronzes. Photo Credit: Commonwealth Games Singapore/Andy Chua
Domination
The women's table tennis team of Feng Tianwei, Zeng Jian, Wong Xin Ru and Zhou Jingyi have completed a clean sweep of the 2022 Commonwealth Games after taking gold in the Singles, Doubles and Team events.
On their last day of action, Tianwei and Zeng Jian would take on Australia's Lay Jian Fang and Jee Minhyung in the final of the Women's Doubles. In attendance were the men's team of Clarence Chew, Koen Pang, Ethan Poh and Izaac Quek - The quartet was in a celebratory mood after giving an excellent account of themselves with a silver in the Team event and a bronze in the Doubles.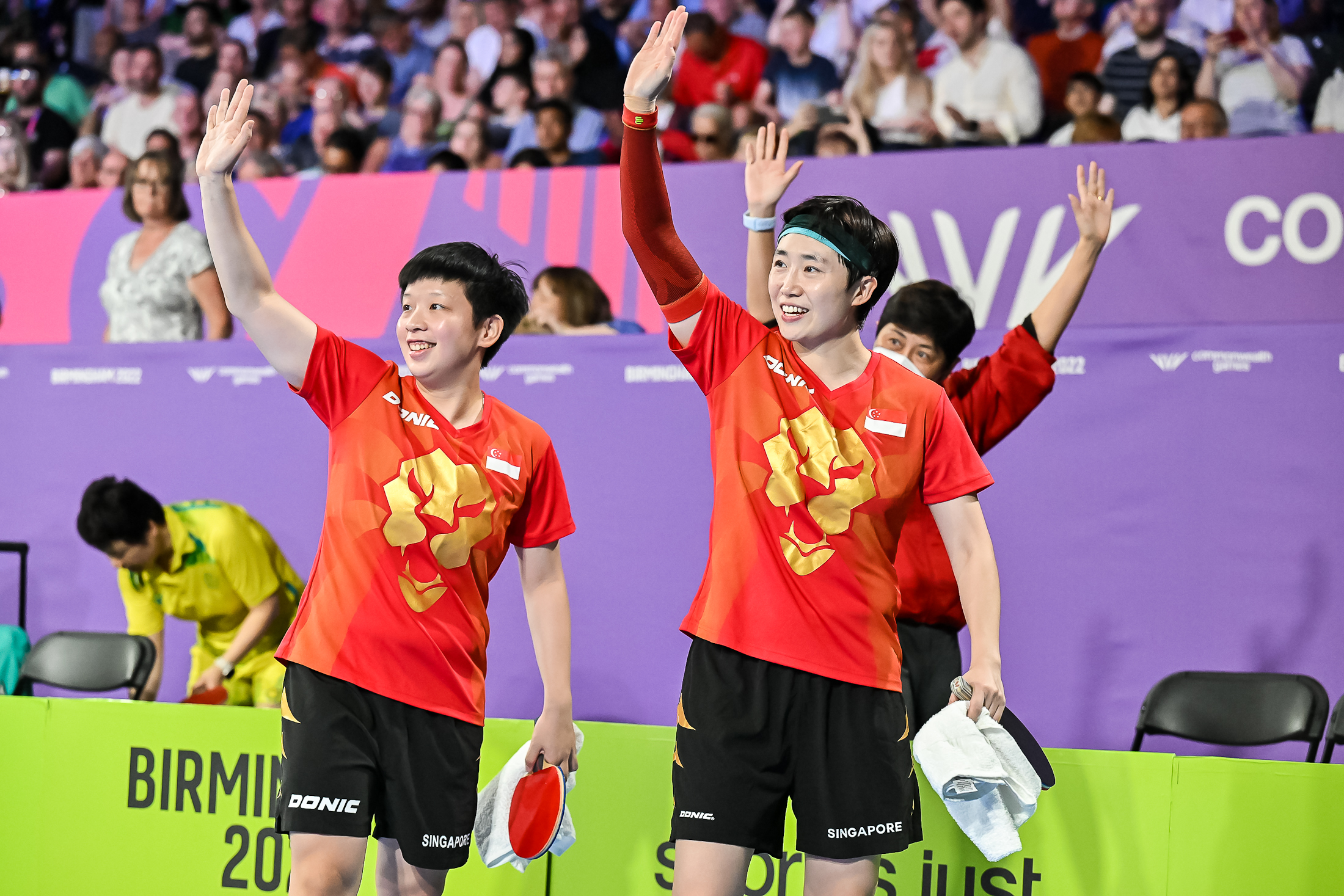 Zeng Jian and Feng Tianwei acknowledging the crowd after their victory in the Women's Doubles. Photo Credit: Commonwealth Games Singapore/Andy Chua
They were treated to a fine show as the Feng-Zeng express relentlessly charged to a four-minute 11-1 victory in the first game. The pair had been undeniable in the competition this year, both on their own and as a team, and they would eventually seal the affair 3-0 after a couple of 11-8 wins.
Tianwei ends the tournament with three gold medals, taking her collection of Commonwealth Games gold to nine. Her total medal tally also rose to 13 after tonight in Birmingham - She is now the most decorated table tennis athlete in the history of the Games.
Also the flagbearer at the closing ceremony, Tianwei would go on to be awarded the David Dixon Award.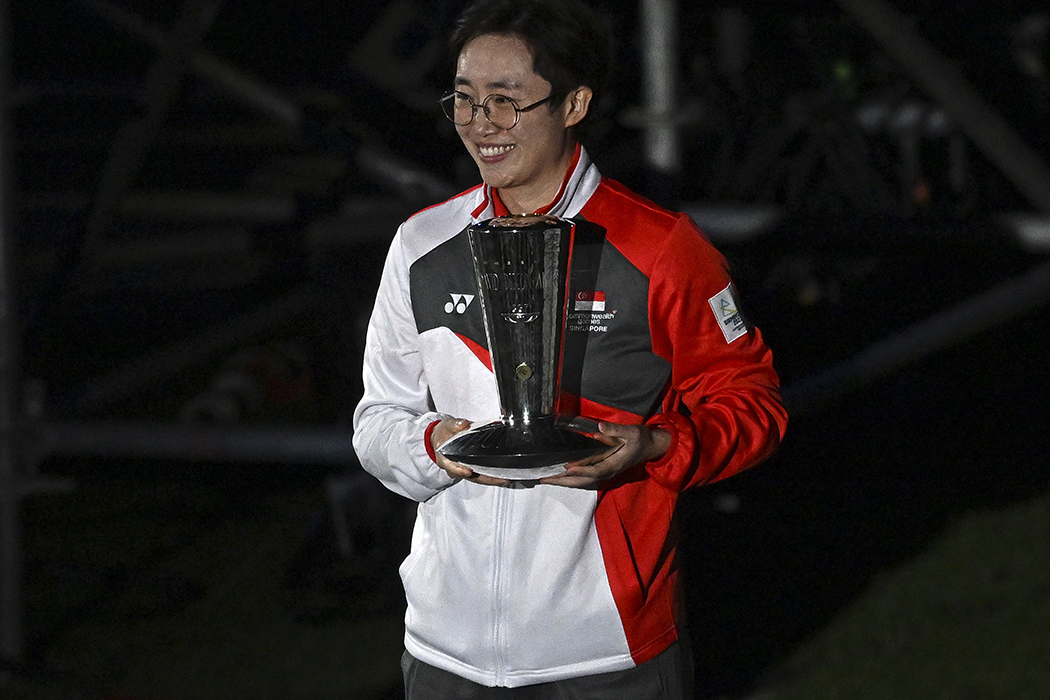 Feng Tianwei caps off the 2022 Commonwealth Games with the David Dixon award. Photo Credit: Sport Singapore/FACTSTORY
The award is given to the most outstanding athlete in each version of the Games and fittingly caps off Tianwei's fourth and most potent appearance, "When I competed in my first Commonwealth Games in 2010, I had the privilege to be the flagbearer at the opening ceremony. To be able to experience this again is an honour which means a lot to me. To receive the David Dixon award is a tremendous honour, one which I had never imagined in my wildest dream. I am very thankful to the Commonwealth Games Federation for this recognition."
Earlier on, Xin Ru and Jingyi missed the chance to take bronze after falling 3-1 to Charlotte Carey and Anna Hursey from Wales. The Singaporean pair were not easy opponents, making their adversaries work for a 16-14, 14-12, 9-11, 12-10 win.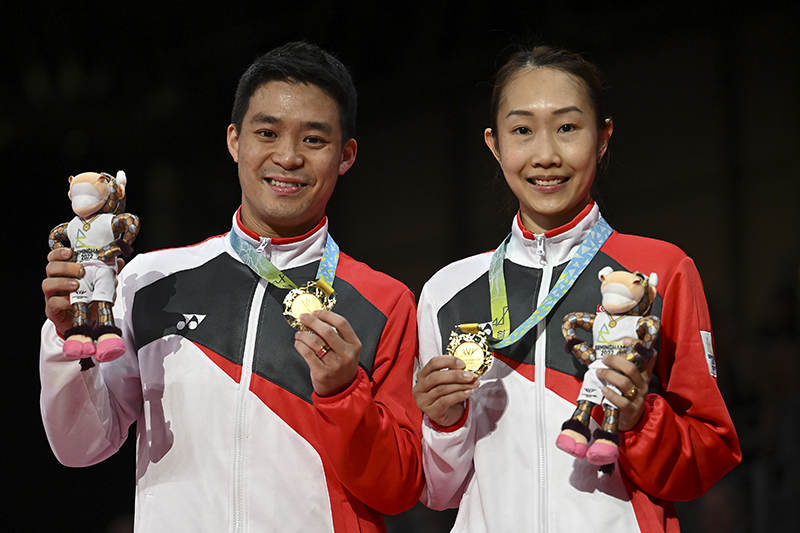 Badminton Mixed Doubles duo Terry Hee and Jessica Tan. Photo Credit: Commonwealth Games Singapore/Andy Chua
Long Awaited Gold
Jessica Tan Wei Han and Terry Hee have won Singapore's first badminton gold medal in 20 years after a dream run in the Mixed Doubles.
The couple caused a huge upset in the semi-finals after eliminating the top-seeded pair of Tan Kian Meng and Lai Pei Jing from Malaysia, but were still underdogs going into this encounter against England's Marcus Ellis and Lauren Smith.
It sure didn't seem that way in the first game as Jessica and Terry enjoyed a comfortable 21-16 win. The second game was more contentious as the lead switched hands six times before the husband-and-wife team completed a 2-0 victory with a 21-15 scoreline to clinch the gold medal.
Terry and Jessica have been competing together since 2014 and have a string of bronzes from the Southeast Asian Games, but they've both peaked together in Birmingham to add the only gold medal for Singapore outside of table tennis.
Medal Tally
Team Singapore has wrapped up a most fruitful Commonwealth Games and will return home with 4 gold, 4 silver and 4 bronze medals.
Gold:
Table Tennis - Women's Singles (Feng Tianwei)
Table Tennis - Women's Doubles (Feng Tianwei & Zeng Jian)
Table Tennis - Women's Team
Badminton - Mixed Doubles (Jessica Tan & Terry Hee)
Silver:
Swimming - Men's 50M Butterfly (Teong Tzen Wei)
Table Tennis - Women's Singles (Zeng Jian)
Table Tennis - Men's Team
Para Swimming - Men's 50M Freestyle S7 (Toh Wei Soong)
Bronze:
Badminton - Women's Singles (Yeo Jia Min)
Badminton - Mixed Team
Table Tennis - Mixed Doubles (Clarence Chew & Zeng Jian)
Table Tennis - Men's Doubles (Clarence Chew & Ethan Poh)

The 22nd Commonwealth Games is held in Birmingham, England from 28 July 2022 to 8 August 2022. For the latest Team Singapore coverage and news, follow Team Singapore on their social media channels (Facebook, Instagram, TikTok) or visit the official Team Singapore website.