Japan & Turkmenistan dominate qualification of FIBA 3x3 Asia Cup 2022, to make statements!
by Circle Stories, on July 6, 2022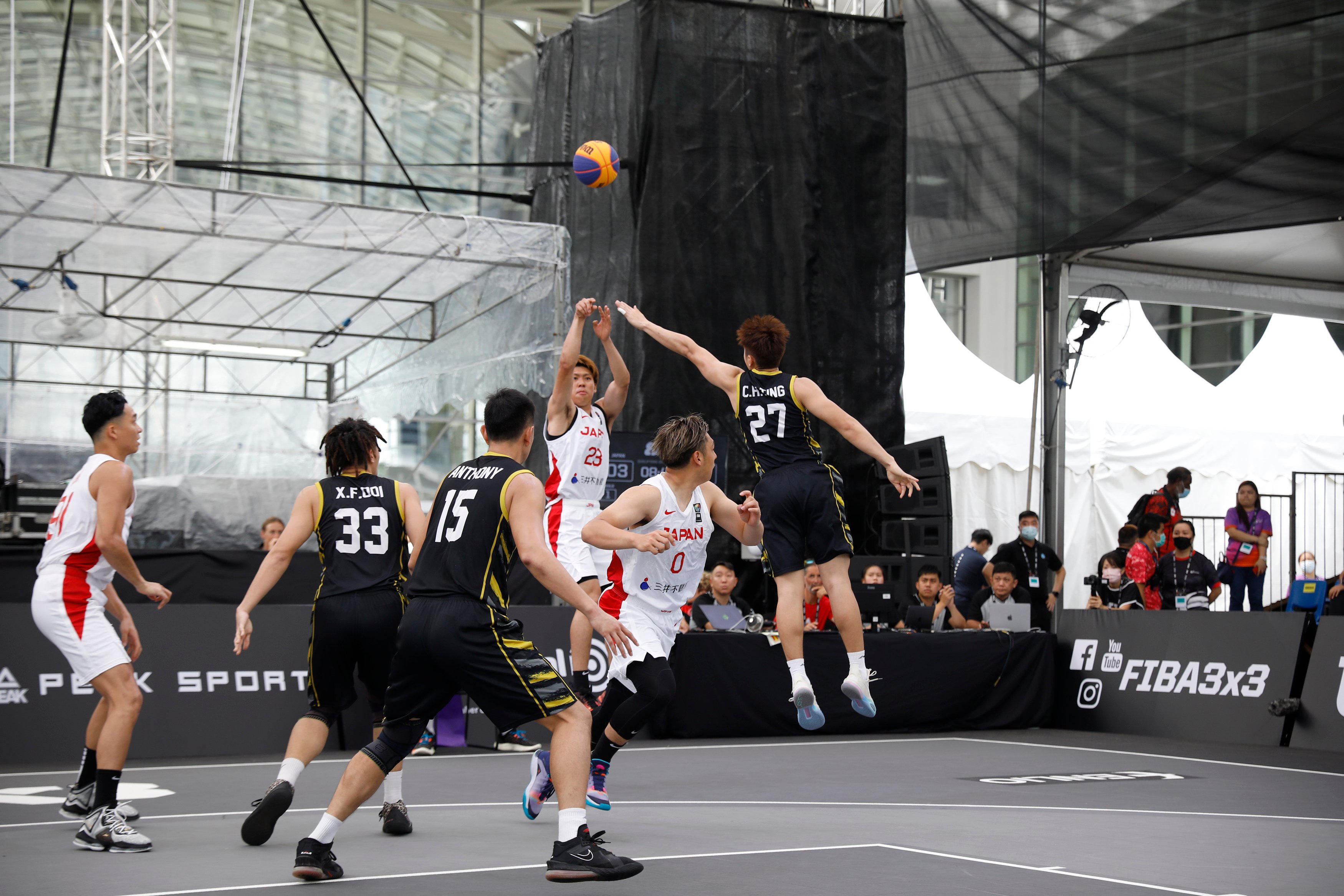 (Japan on the attack against Malaysia. Photo Credit : FIBA 3x3 Asia Cup 2022)
6 July 2022 – Japan men's and Turkmenistan women's teams stormed through to the main draw of the FIBA 3x3 Asia Cup 2022 after dominant performances in qualification on Day 1 in Singapore!
In the first Asian continental championship since 2019, No.2 seed Japan made a statement as they qualified for the 12-team main draw alongside Chinese Taipei, New Zealand, Qatar and Uzbekistan.
In the women's, Turkmenistan and Indonesia made it through as the fifth edition of the Asia Cup heated up in front of the world famous Marina Bay Sands.
The Teams
Japan are one of the favorites for the Asia Cup, but they had to get past qualification first. No sweat! They cruised past Malaysia and Iraq with crisp ball movement and sweet shooting to prove why Japan are an Asian power.
Ryuto Yasuoka was a flame thrower while magician Tomoya Ochiai pulled out the tricks to thrill the vocal fans. The standout in the women's was Turkmenistan, who made light work of a hectic schedule in the humid conditions to dominate Draw E with a trio of convincing victories.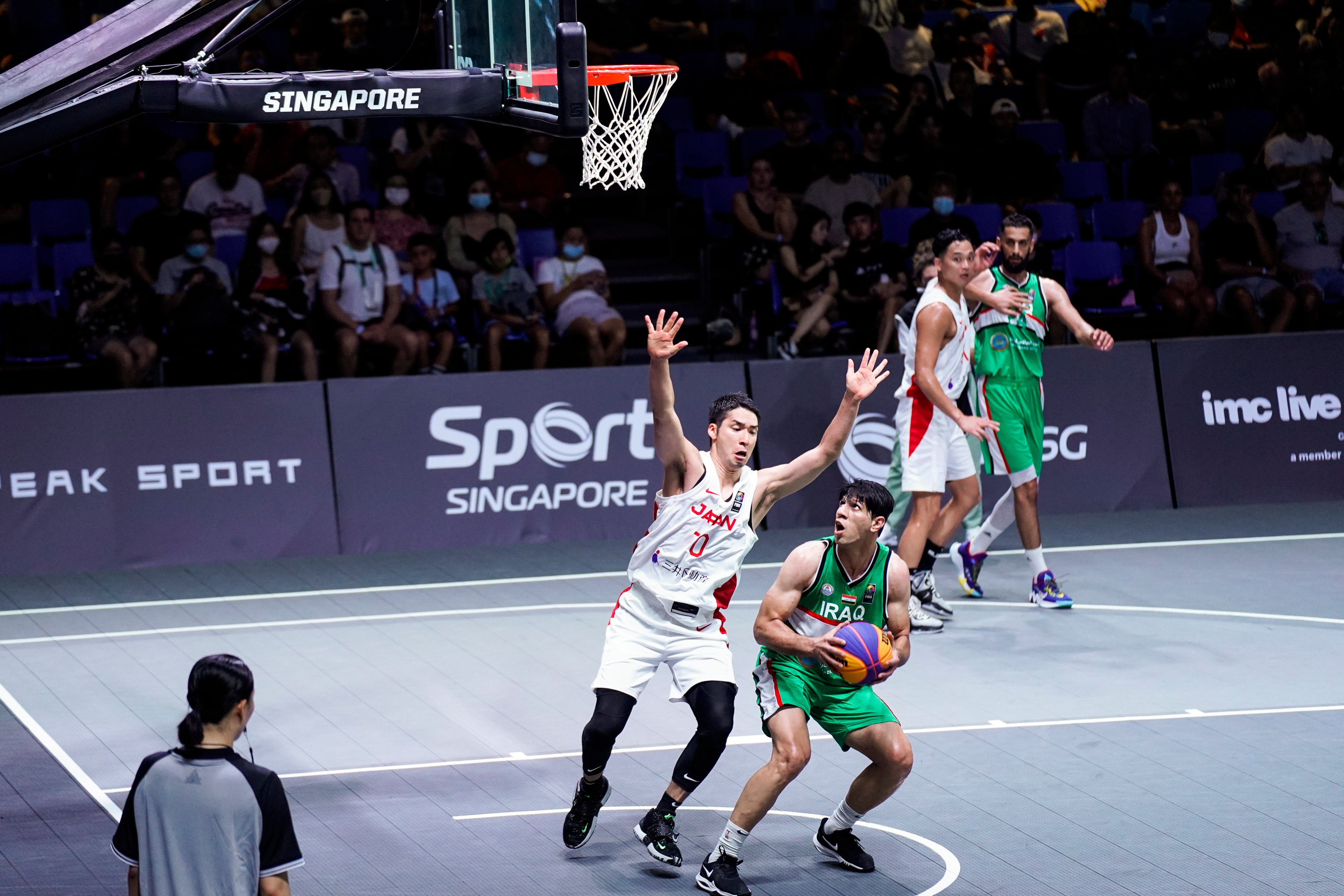 (The Iraqis attempting to score against Japan. Photo Credit : FIBA 3x3 Asia Cup 2022)
The 12th seed started with an impressive 21-14 victory over a speedy Guam before an easy win over Kazakhstan. Turkmenistan then only needed to beat Papua New Guinea to guarantee a spot but came out cold as they fell behind. But they quickly found the shooter's touch to issue an ominous warning as Turkmenistan sealed a spot in Pool D alongside Chinese Taipei and Sri Lanka. Ayna Gokova and Leyla Halilova made a deadly pair, as they lit up the half-court with a combined 51 points.
The Players
Yasuoka made it rain in Singapore with a lights out performance to finish with 18 points across two games.
The 27-year-old was feeling it with an insane array of jumpers as No.23 was the greatest on this day in a confidence boost, as Japan seek a first Asia Cup triumph.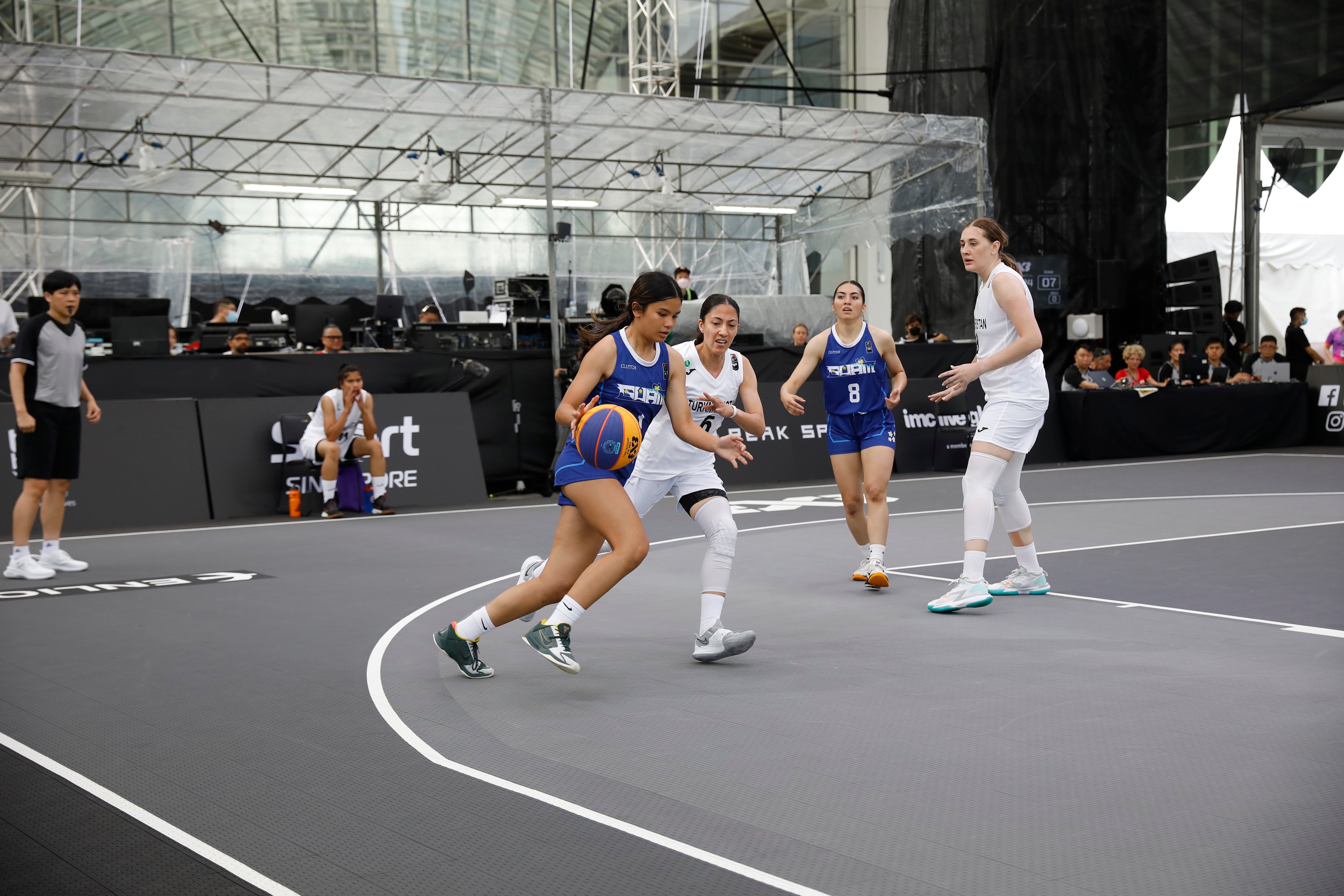 (Guam on the run against Turkmenistan. Photo Credit : FIBA 3x3 Asia Cup 2022)
In the women's, the towering 6ft. 3in (1.9m) Gokova was unstoppable with 31 points from 3 games. She was making a living in the paint and started her heroics with a huge 14 points over Guam to kick-start Turkmenistan's spectacular opening day.
The 29-year-old didn't let up in the subsequent games to provide buckets, whenever her team needed them and she also was the emotional leader to inspire mighty impressive Turkmenistan's day one charge.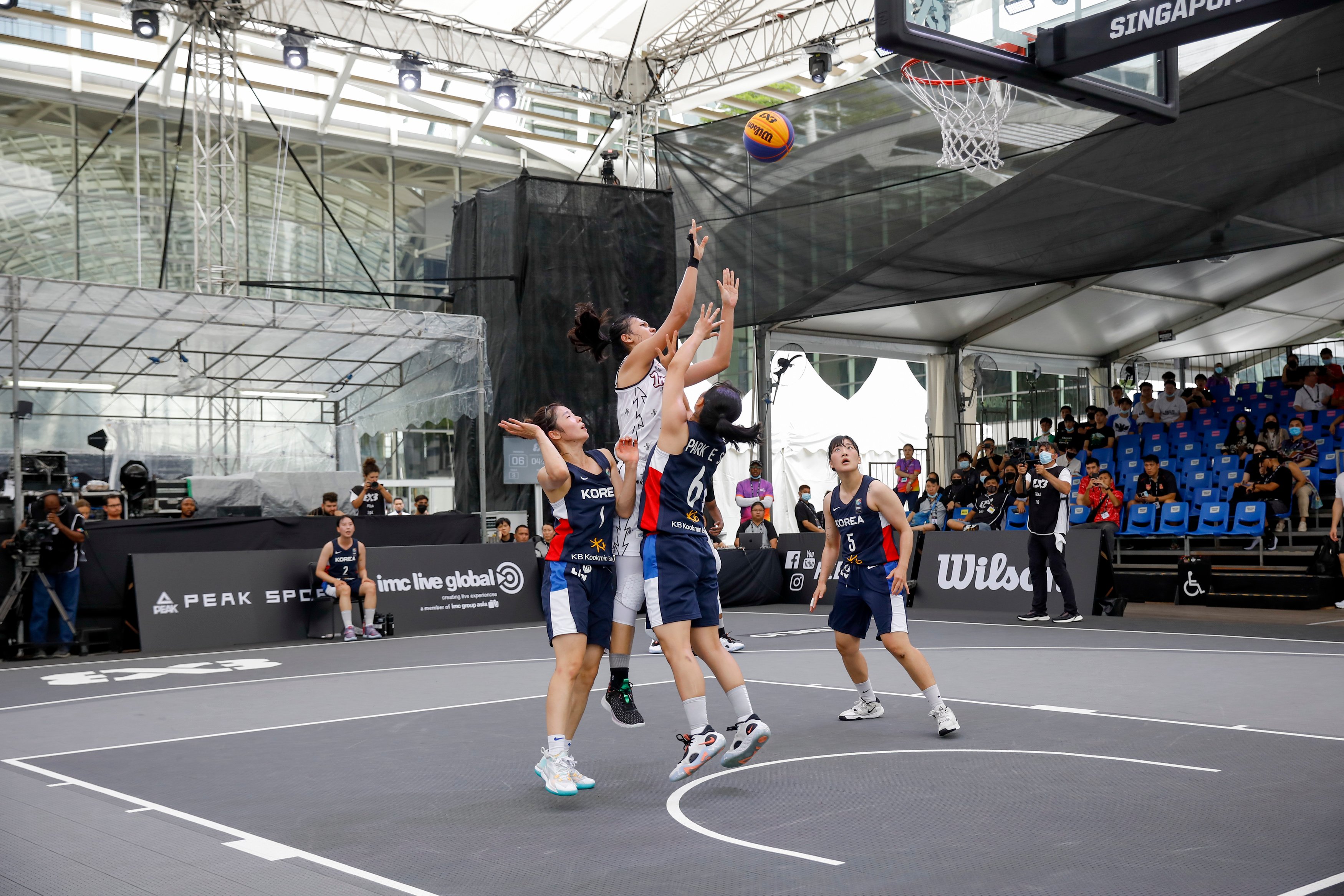 (The Korean Women's squad trying to prevent Indonesia from scoring. Photo Credit : FIBA 3x3 Asia Cup 2022)
The Comeback
Indonesia women's team couldn't buy a bucket as they failed to take advantage down low against the smaller Korea, whose speed led to open layups and they were also money from downtown.
Down 11-6 in the dying minutes, Indonesia were sparked by Dyah Lestari as they turned it around to score 9 straight points and book their ticket to the main draw.
The Thrillers
Draw B proved to be more tense than the final sequence of "Top Gun : Maverick" with every game going down to the wire. Fittingly, it came down to Chinese Taipei and Thailand for a berth into the main draw and these desperate teams didn't disappoint under the lights.
It was shot-for-shot, leaving fans out of breath and on the edge of their seats, but Chinese Taipei had the answers to prevail in a 20-18 thriller and keep their campaign in Singapore alive.
Last but not least, Uzbekistan made it through in remarkable fashion when Artur Ovanesov put the cape on with a 2 in the dying seconds to force OT.
But Ovanesov outdid himself when he hit the Maurice Lacroix buzzer beater to lift his team into the main draw and spark memorable celebrations.
DAY 2
Four men and three women teams will qualify for the main draw on Day 2, 7 July.
Men's
Draw C: Philippines, Indonesia, Jordan
Draw E: India, Turkmenistan, Palestinian Territory
Draw F: Iran, Korea, Kuwait
Draw H: Sri Lanka, China, Tonga
Women's
Draw A: Uzbekistan, Malaysia, Vietnam
Draw B: Thailand, Philippines, Jordan
Draw D: New Zealand, India, Palestinian Territory
Watch the FIBA 3x3 Asia Cup 2022 live on YouTube at https://www.youtube.com/c/FIBA3x3. Official event updates are available at https://www.fiba.basketball/3x3asiacup/2022.
The FIBA 3x3 Asia Cup 2022 is ongoing at the Marina Bay Sands Event Plaza till 10 July. The winners of the men's and women's competitions will secure their places at the FIBA 3x3 World Cup in 2023. Teams in action include defending champions Australia and hosts Singapore. The FIBA 3x3 Asia Cup 2022 will be the second time Singapore hosts an official FIBA 3x3 basketball competition. The first-ever FIBA 3x3 game was also played in Singapore, during the inaugural Youth Olympic Games in 2010. Since then, the game has grown in popularity and has been included in the rosters of several major multi-sport events, including the Tokyo 2020 Olympic Games.
Tickets are available from $5 at https://www.sistic.com.sg/events/fiba0722.
More information is also available at the FIBA 3x3 accounts on Facebook, Instagram, Sina Weibo, Tencent, TikTok, Twitter, Youku, YouTube and Twitch.