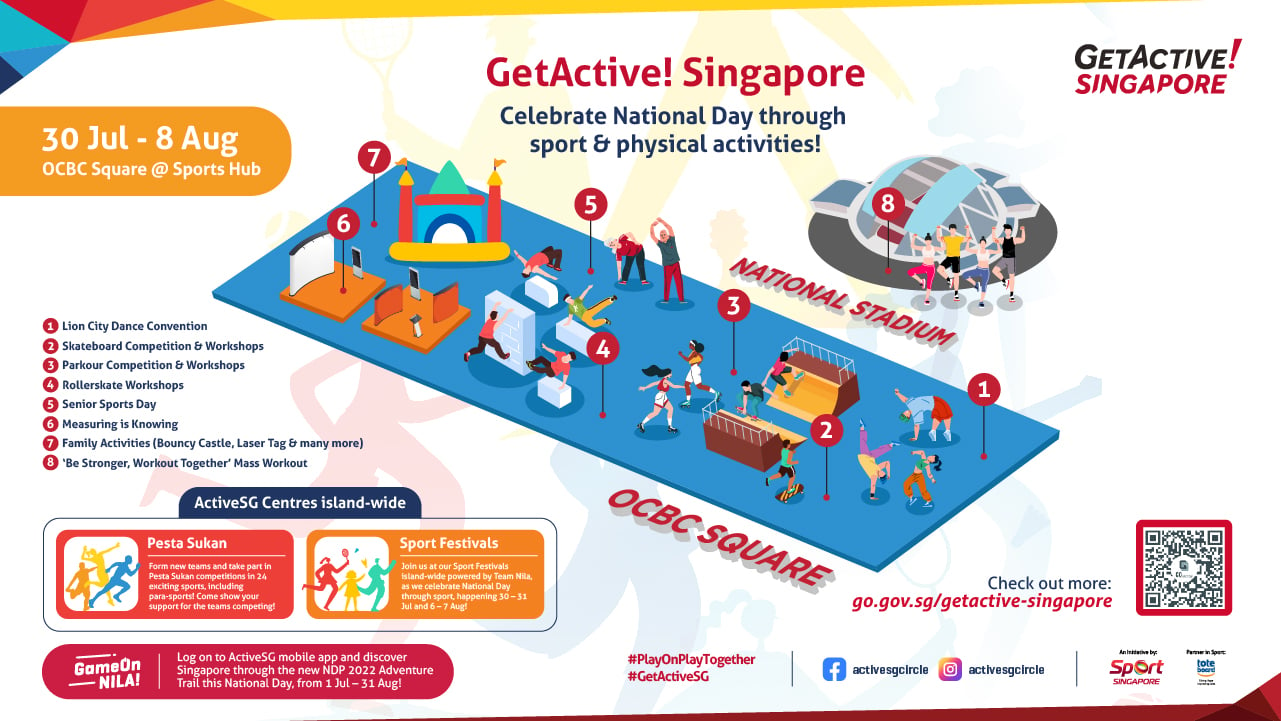 We are less than 8 days to the official launch of GetActive! Singapore 2022 (GASG), by Mr Edwin Tong (Minister for Culture, Community and Youth) at OCBC Square (30 July). This nation-wide initiative by Sport Singapore (SportSG) which first began in 2016, is an annual celebration organised in the final runup to the nation's birthday (National Day). And during the 30 July - 8 Aug GASG festival, Singaporeans can partake in a whole range of exciting physical activities across the island. It's all about encouraging everyone to get active, let's Play On, Play Together and to specially mark, our very 1st time since 2019, that Singaporeans can move away from the virtual setting to partaking in events in-person and on the ground.
With several activities ongoing across the 10-day GASG Festival, here are a few exciting options for you :
PESTA SUKAN 2022
Now till 7 Aug | ActiveSG Sport Centres island wide & Sports Hub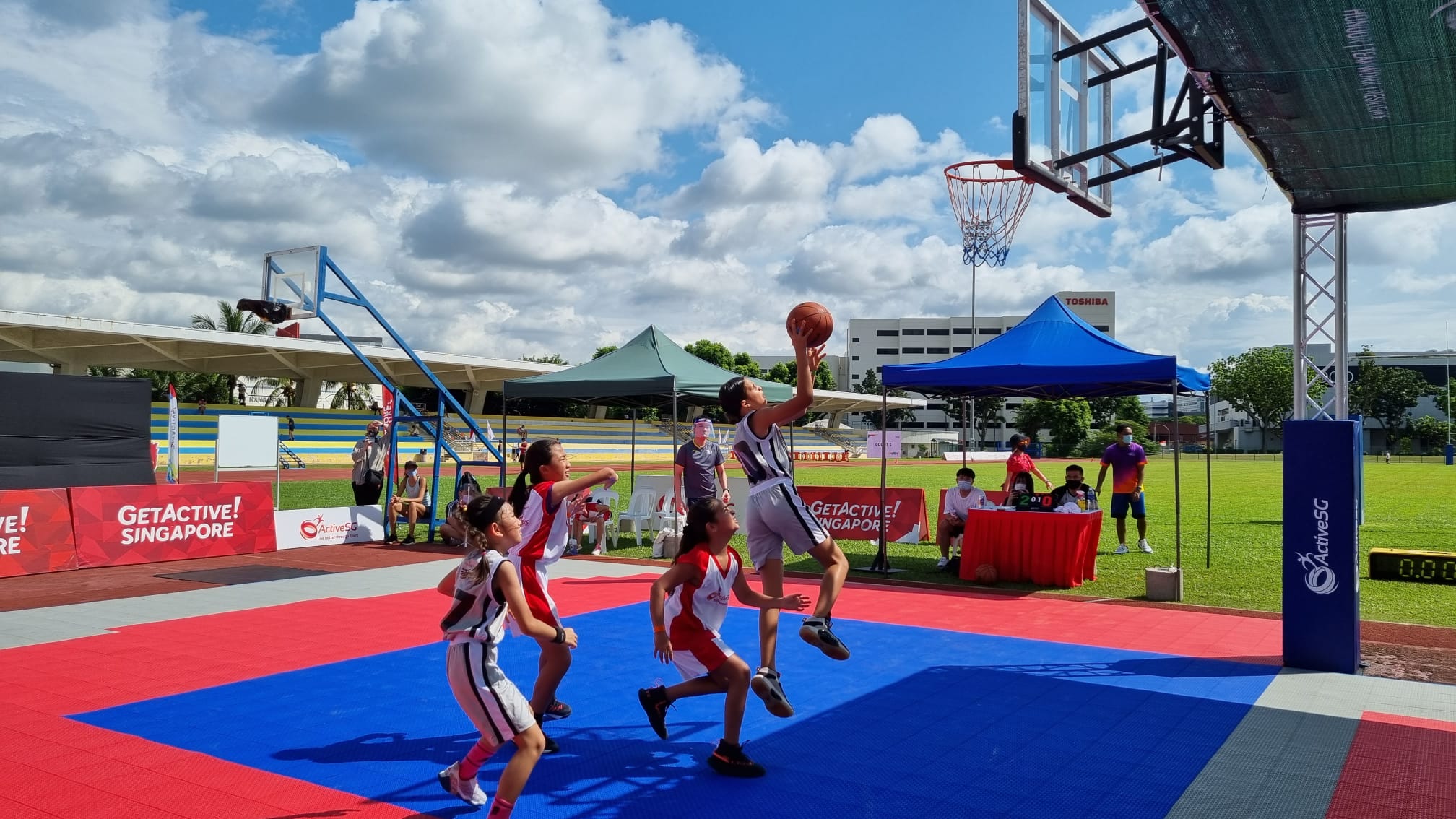 Photo Credit : Basketball, Pesta Sukan 2019
It's almost been 80 years since the very first Pesta Sukan (Malay for Sports Festival) took place in Singapore. Back in 1964, the festival's key objectives were to create greater interest and achievements in sport among the local athletes and to also promote racial harmony in the communities. Singapore was still with the Federation of Malaysia at the launch of the 1st Pesta Sukan tournament in December '64, which saw more than 2,000 athletes from across the country in competition.
Following Singapore's independence on 9 August 1965, Pesta Sukan became an annual feature at the National Day celebrations. And in the 1970s, the Festival was transformed to include mass participation events for the public such as dragon boat and cycling races respectively.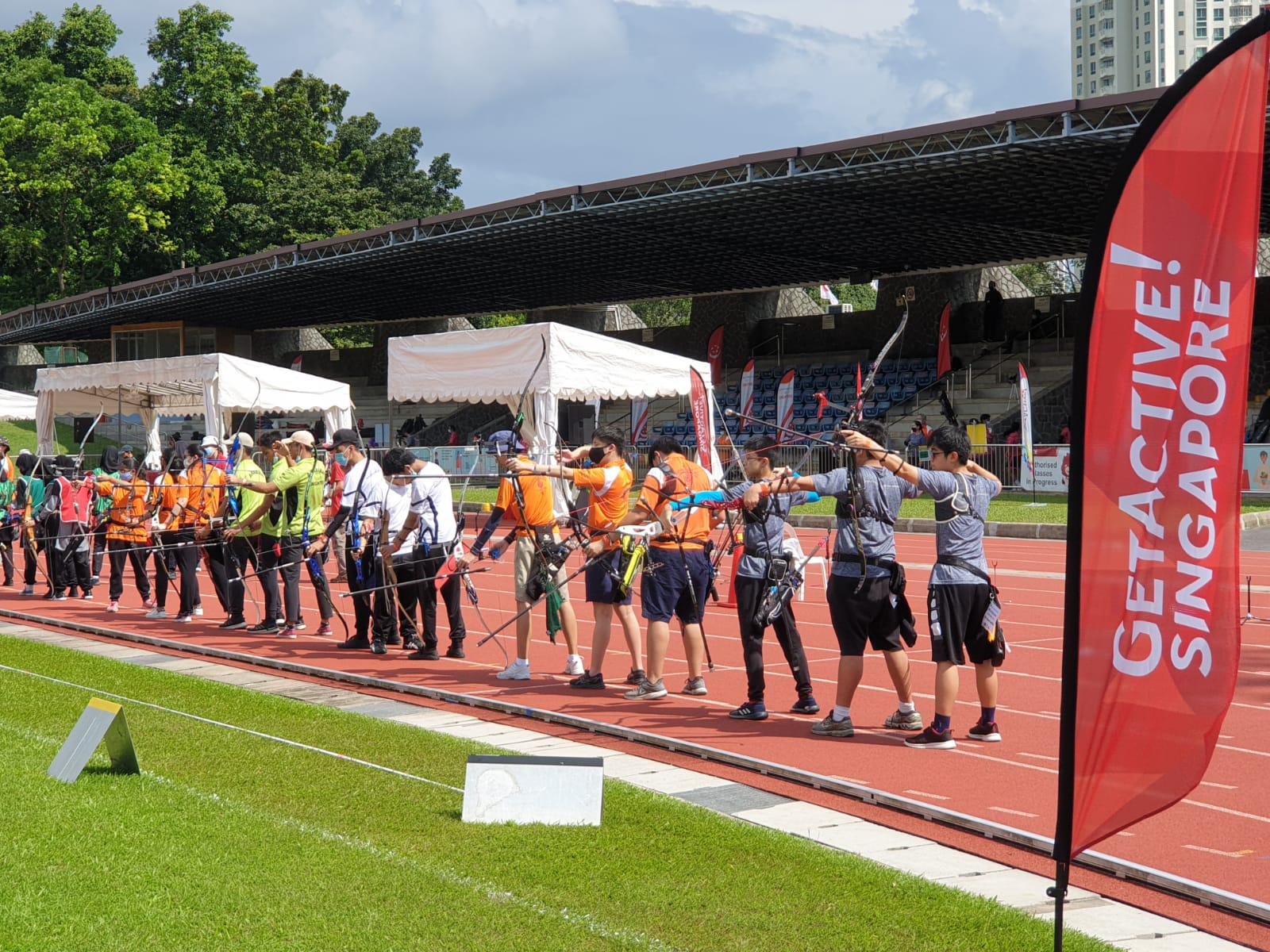 Photo Credit : Archery, Pesta Sukan 2019
In this year's edition of GASG, our budding community athletes are competing in Pesta Sukan (organised by ActiveSG) which has returned with 24 sporting disciplines, 13 para sports and 5 signature events, the largest multi-sports competition for Singaporeans coming out of the pandemic. The sport of pickleball was the 1st to get Pesta Sukan 2022 underway at Jurong West Sports Hall on 21 July.
With sporting disciplines like Hockey 5s, Beach Volleyball, Fencing, Canoeing, Vertical Challenge, Bowling, Petanque and several more, organisers of this year's Pesta Sukan are aiming to attract 23,000 participants! So feel free to go down to the various sporting venues islandwide and cheer on your fellow community residents! It's all about Semangat (Malay for Spirit), camaraderie and bonding with your neighbours as one voice and one goal! The current Pesta Sukan marks the full return to in-person competition at the venues. And it's mandatory for you to have fun and create some unforgettable memories!
GetActive! Sport Festivals powered by Team Nila
30 – 31 Jul, 6 – 7 Aug | ActiveSG Sport Centres island wide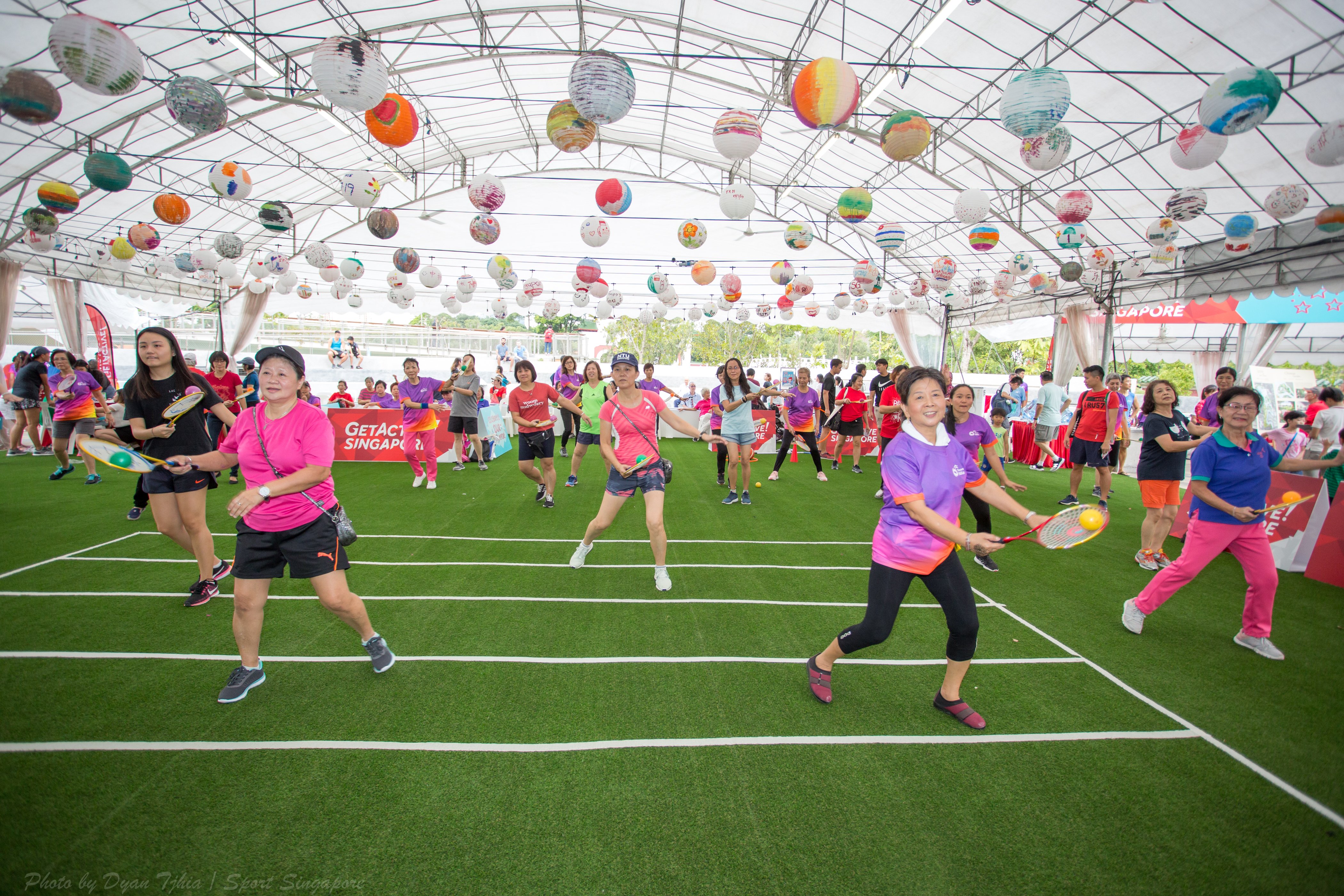 Photo Credit : GetActive! Singapore Sport Festivals 2019
Family friendly GetActive! Sports Festivals organised by Team Nila volunteers are taking place at 8 selected ActiveSG facilities and at Chinatown.
Christie Jane Pillay (Senior Executive, Volunteer Engagement & Partnership, Team Nila) said, "As part of this year's campaign, the GetActive! Singapore Sport Festivals, powered by Team Nila, are back with a bang to bring sport back to the community. Get ready for a 2-weekend long series of sport festivals around the island with an exciting line-up of sport activities that are suitable for all ages and abilities.
Expect fun under the sun and in the water where you can engage in team activities, family fun or experience a variety of sports that you may not have tried before! So come on out, #GetActive! with us and play a part! Together, let's celebrate National Day through Sport."
Meanwhile, Singapore Polytechnic undergrad Justin Ang is relishing the chance to be involved in the running of the Sport Festivals. Justin said, "My past experiences in planning and managing events are confined to school camps and internal school events. I am, thus, very excited to participate in the Sport Festivals powered by Team Nila as it provided me with insights on planning events on a large scale, at a national level and working with multiple stakeholders."
YouthCreates Urban Fiesta - Parkour for the People
6 – 7 Aug | 9am – 10pm | OCBC Square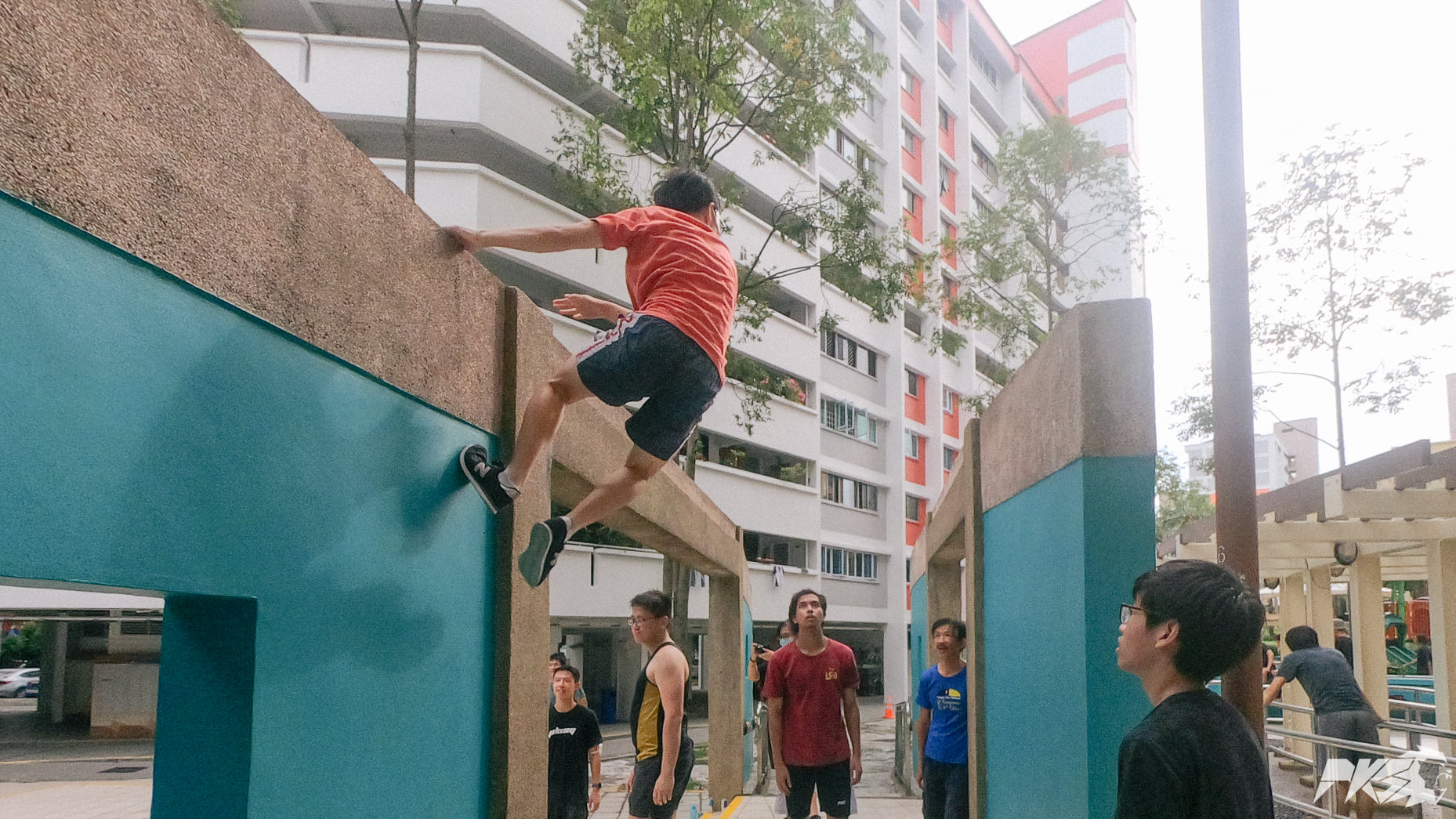 Parkour practitioners at an outdoor workshop in April 2022 in Hougang
Photo Credit : Parkour Singapore
At the Singapore Sports Hub, an extravaganza of dance and adrenaline sports will be on offer. Named YouthCreates Urban Fiesta, youths can join clinics, sport tryouts or compete at the OCBC Square choosing either skateboarding, parkour or roller skating.
You would have surely seen Parkour stunts in movies over the last decade. And if you know your movies well enough, it's easy to tell that global superstar Jackie Chan, certainly showcased several stunts in his earlier films from the 1980s, which showcased the origins of Parkour! Thus, if you're keen to have a taste of what it feels like to run, jump, fall, climb obstacles etc without sustaining any injuries, then do check out the Urban Fiesta!
Lauren Wong (Co-Lead, YouthCreates Urban Fiesta) said, "In conjunction with GetActive! Singapore 2022, Parkour Singapore, supported by the YouthCreates' Active Citizen Grant, will be hosting Parkour for the People. The free workshops, happening on the 4th & 5th of August, teach participants how to overcome obstacles safely in any environment.
Participants will be taken through the skills involved in rail balancing, jumping, landing, basic vaults and even wall hangs. The more advanced athletes have the rare opportunity to win cash prizes in the skills, speed and style competitions happening over the weekend of the 6th & 7th of August. And we're looking at more than 1,000 workshop participants and spectators overall."
For a sneak preview of some Parkour moves and techniques, do check out the video (above) from Parkour Singapore.
Lion City Dance Convention 2022
30 – 31 Jul, 6 – 7 Aug | 12pm – 10pm | OCBC Square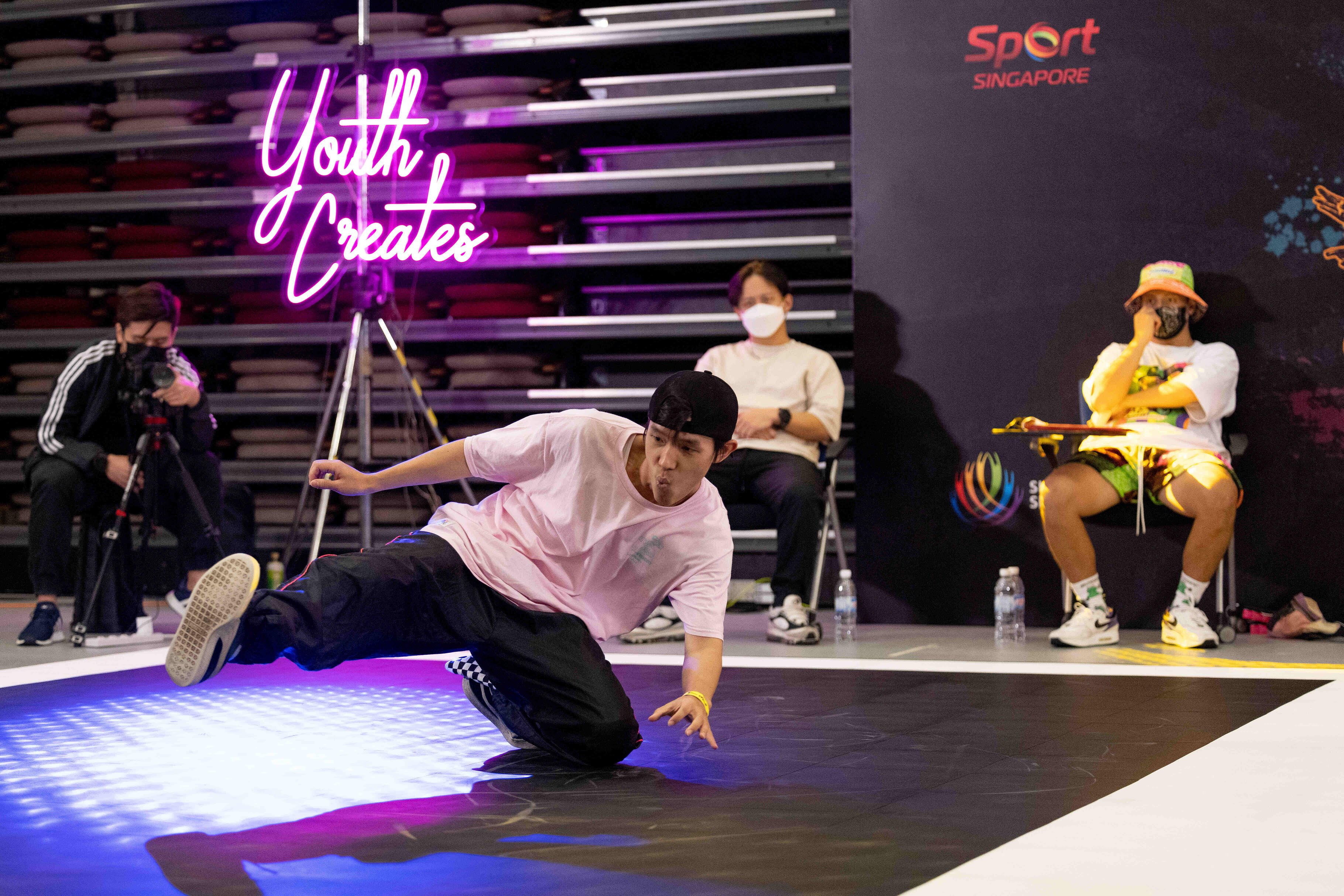 Photo Credit : Lion City Dance Convention 2022
Close to $20,000 in prize money is up for grabs in the 2nd annual edition of the Lion City Dance Convention (LCDC). The 2022 edition consists of street dance workshops, two dance battle events: a) 4 v 4 Breaking and 3 v 3 OpenStyles and Showcase Competition which will be held on 6 Aug. Dancers from all walks of life are welcome to participate. 5 distinguished judges from the dance fraternity will be invited to judge the finals event.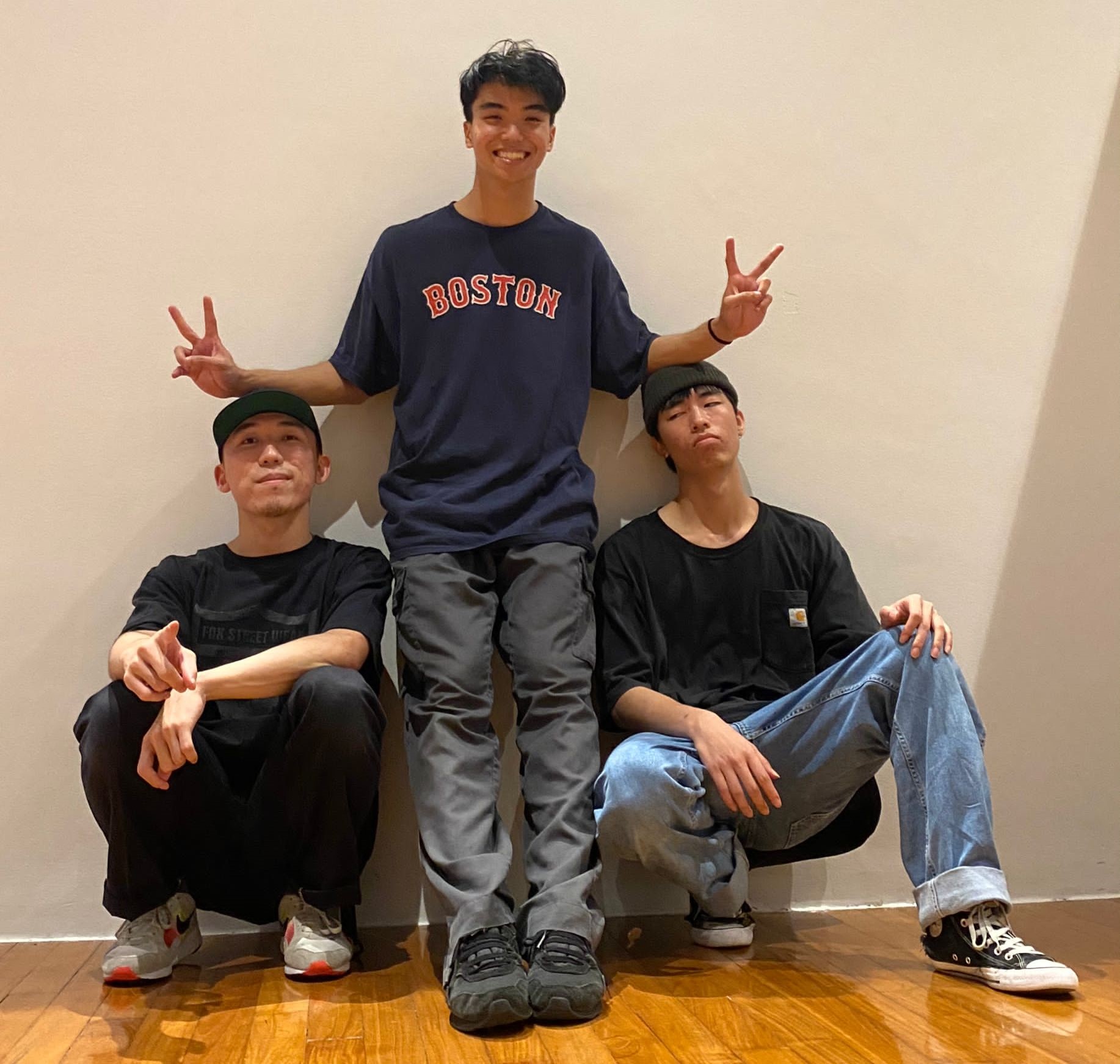 Photo Credit : "Untested" Dance Team
Zachary Ng, who's part of the "Untested" Dance Team said, "Our team is thrilled to be able to showcase our skills on the big stage once again, the nervousness and adrenaline is bound to kick in but we are all equally excited to compete once again! We have always been consistently training weekly and we hope to do our best! Winning would be a bonus for us!"


Mass Workout: Be Stronger, Workout Together
7 Aug | 5pm – 630pm| National Stadium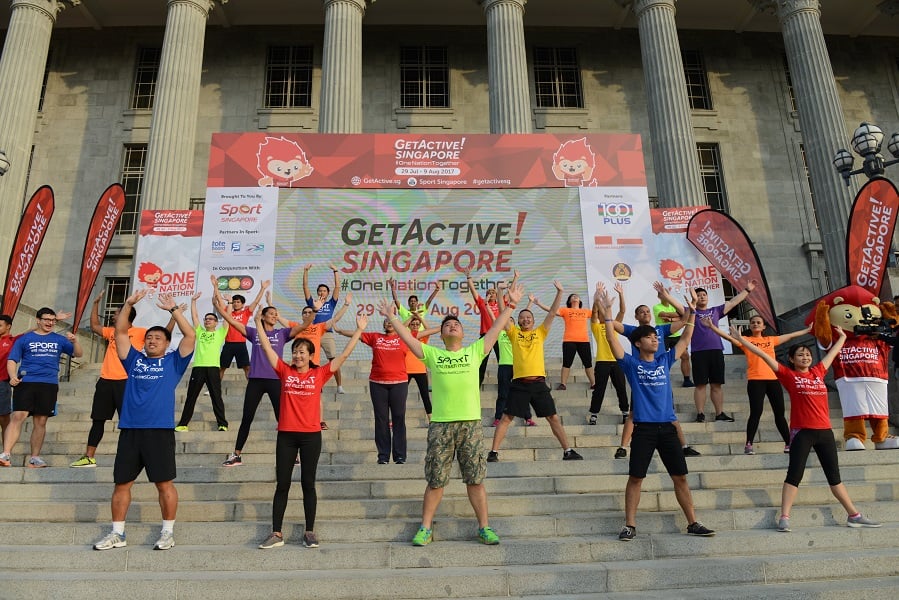 Photo Credit : Workout at GetActive! Singapore Launch 2017
Mass Workout: Be Stronger, Workout Together is a fun-filled and free-for-all 90-minute fitness workout, taking place on 7 Aug. It includes the GetActive! Workout: Dance of the Nation, Zumba®, Piloxing®, Fight Do® and KpopX® Fitness elements. To celebrate Singapore's 57th National Day, we envision to bring at least 5,700 participants from all walks of life to join in the workouts at our very own National Stadium. The success of this event will see us breaking the Singapore Book of Records
Roy Teo, Chief of Industry Development & Special Projects Group, Sport Singapore said, "Together with 60 instructors, we're looking forward to set new records in the Singapore Book of Records. And that's by bringing at least 5,700 participants working out together, as well as having cheers and energy levels resonate throughout the National Stadium. Participants will have the unique opportunity to experience various types of workout and meet other like-minded individuals to celebrate Singapore's 57th National Day through fitness."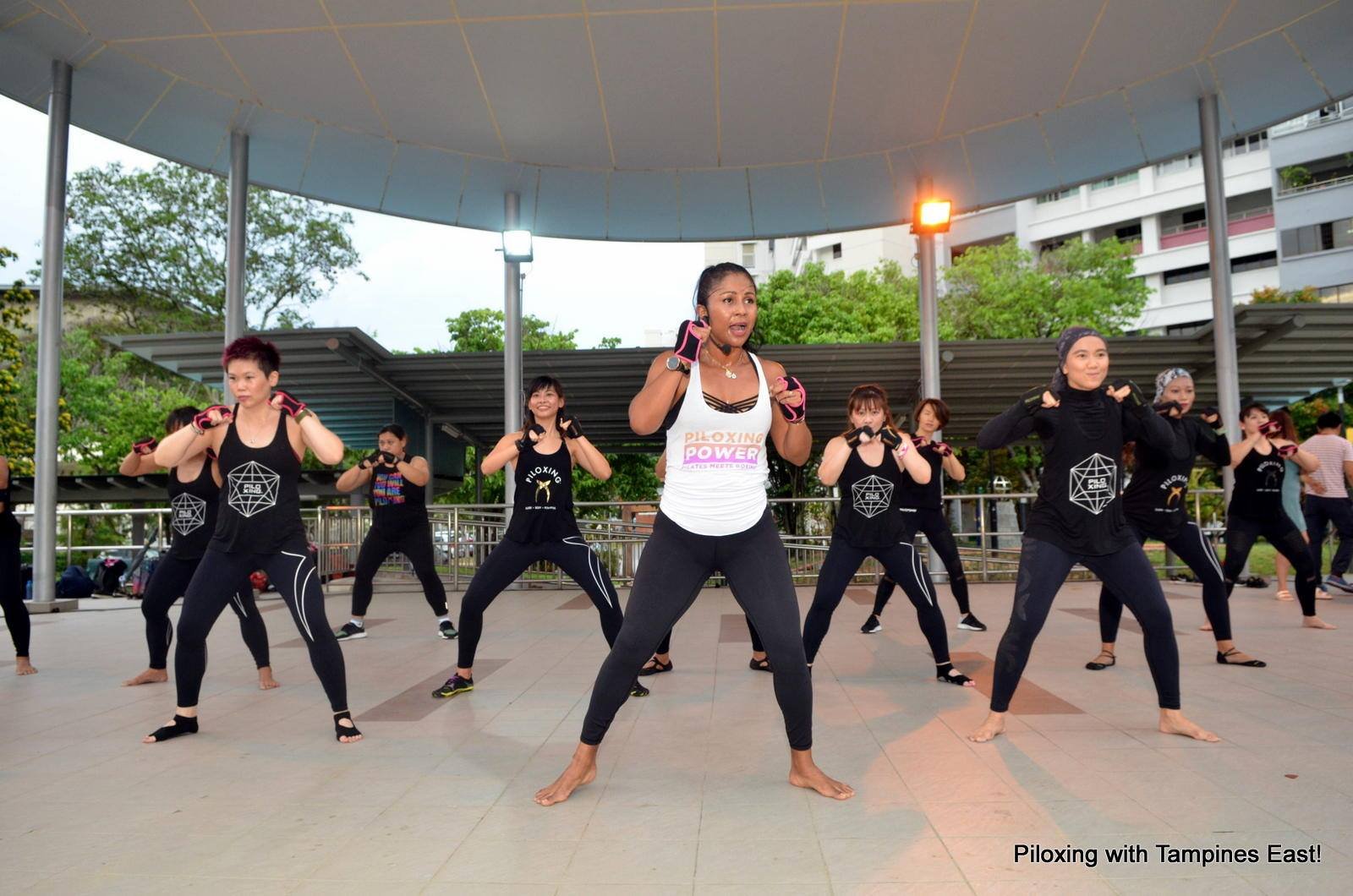 Photo Credit: Rasidah Caudal
"Let's feel the unity, the strength and love in all of us at the end of the workout! Together with the Piloxing Singapore team and the other amazing instructors from the other programs, we are looking forward to se you on the 7th of August! Lets get united and sweat it out!", said Rasidah Caudal, Senior Master Trainer, Piloxing®
Now if the aim of breaking a Singapore record (5,700 participants) is still isn't interesting enough for you, how about breaking a national record with Deputy Prime Minister Lawrence Wong, also partaking in the Mass Workout at the National Stadium. That right there, is history in the making, Folks!
So get yourselves down on a Sunday evening to the biggest sporting venue in the Lion City, shed a few kilos while doing a 90-minute Workout (at your own pace), make new friends and bond with your fellow Singaporeans over dance, music, exercise, take photos and tell your kids and grandkids, "I was there!"
SportSG is thrilled to organise the 7th edition of GetActive! Singapore. There will be events for everyone. After the last 2 online virtual editions in 2020-21, it's time for Singaporeans to get up, get out of their homes and get to the the various venues to "Get their Jam on!"