By Jeremiah Ong
The quartet of Nadine Nathan, Emma Yap, Kaitlyn Lim and Shandy Poh got their Asiad campaign underway during the afternoon qualification session at the Huanglong Sports Centre Gymnasium on Monday (Sep 25).
Off the back of a fifth-placed finish in June's Asian Artistic Gymnastics Championships held in Singapore, the team worked hard to replicate this feat on their first overseas competition of the year.
Despite an encouraging display, a few stumbles on the balance beam and uneven bars pegged them back to seventh with a combined total of 140.096.
Making her second appearance at the Asiad, Nathan said: "Returning five years later feels really amazing and the atmosphere and overall experience was just as wonderful."
The most senior gymnast in the team, Nathan, saw improvements from her 2018 showing on the balance beam and uneven bars, apparatus that her teammates struggled with, registering 12.600 and 11.733 respectively.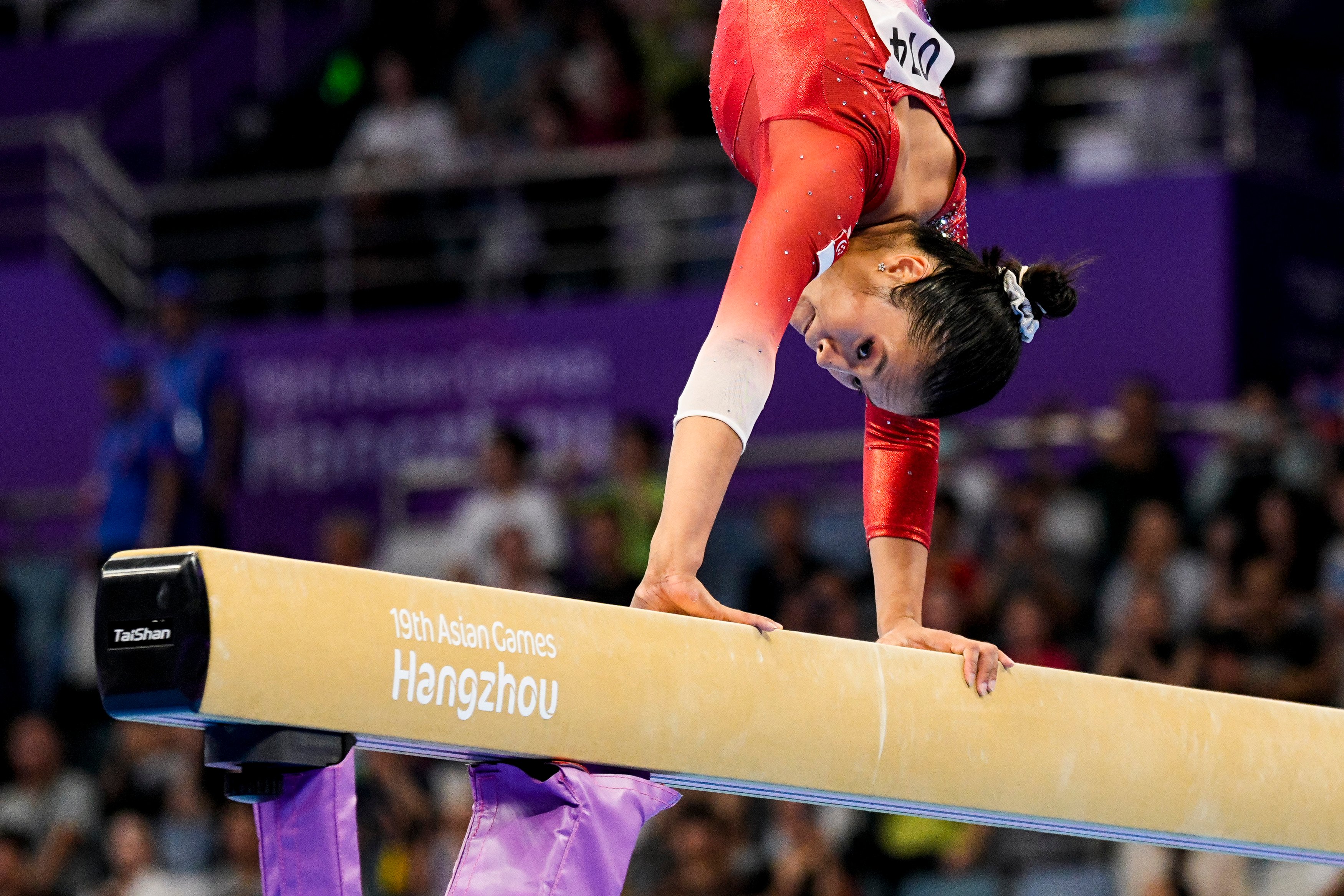 Nadine Nathan improved on her 2018 performance in Palembang in both the balance beam and uneven bars. (Photo: SNOC/ Kong Chong Yew)
The session took more than an hour to complete with four rotations on the different apparatus.
However, there will be no rest for the weary for the World Championships-bound duo, Nathan and Yap.
As soon as the event concluded, the 2021 SEA Games uneven bars bronze medallist Nathan and her teammate Yap were escorted off to the Hangzhou International Airport to catch their flight to Beijing.
They will then land in Amsterdam before taking a train southwards to Antwerp where this year's World Artistic Gymnastics Championships are held.
This means that despite finishing 15th in the individual all-around and qualifying for the final, Nathan would be unable to compete as she fulfils her duties at the world championships instead.
"I am both nervous and excited to be going to the World Championships in Antwerp, and I'm hoping that I can improve my performance during the competition. The Asian Games was a good competition (to have) before, to prepare us, since it was our first overseas competition this year, as well as finding the feeling of competing on a podium before we go to (the) world championships," she said.
Her companion in Antwerp, Yap, endured a stuttering start on the balance beam, falling off a few times for a 9.066.
However, as she took the stage in the floor exercise, audible roars of her name could be heard in the crowd and that gave her the encouragement she needed to string together a 12.233 on the floor and a 12.033 in the vault.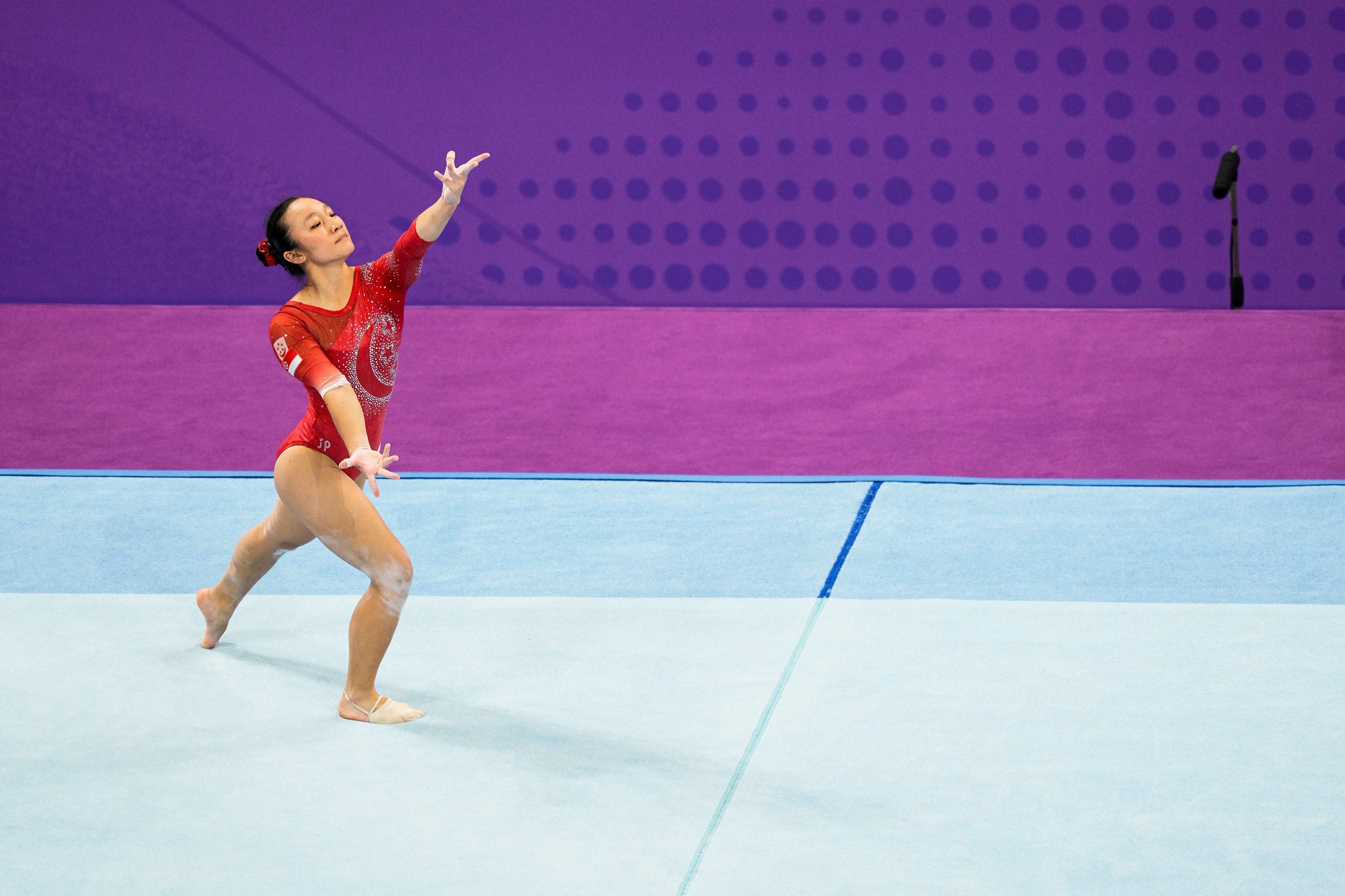 Emma Yap entertained an enthusiastic crowd with her routine in the floor exercise component. (Photo: SNOC/ Kong Chong Yew)
She credited her supporters, among them were male gymnast Terry Tay and ex-national diver Jonathan Chan, for the timely morale booster.
"It really helped to fire me up, especially since I did not have a great first event (balance beam). Those cheers meant a lot to me as it reminded me that no matter how I performed there were people supporting me and I wanted to do my best for them as well," the Anglo-Chinese Junior College student said.
Fellow debutant Lim, on the other hand, couldn't hide her smile after dismounting the beam with an impressive personal best of 12.466.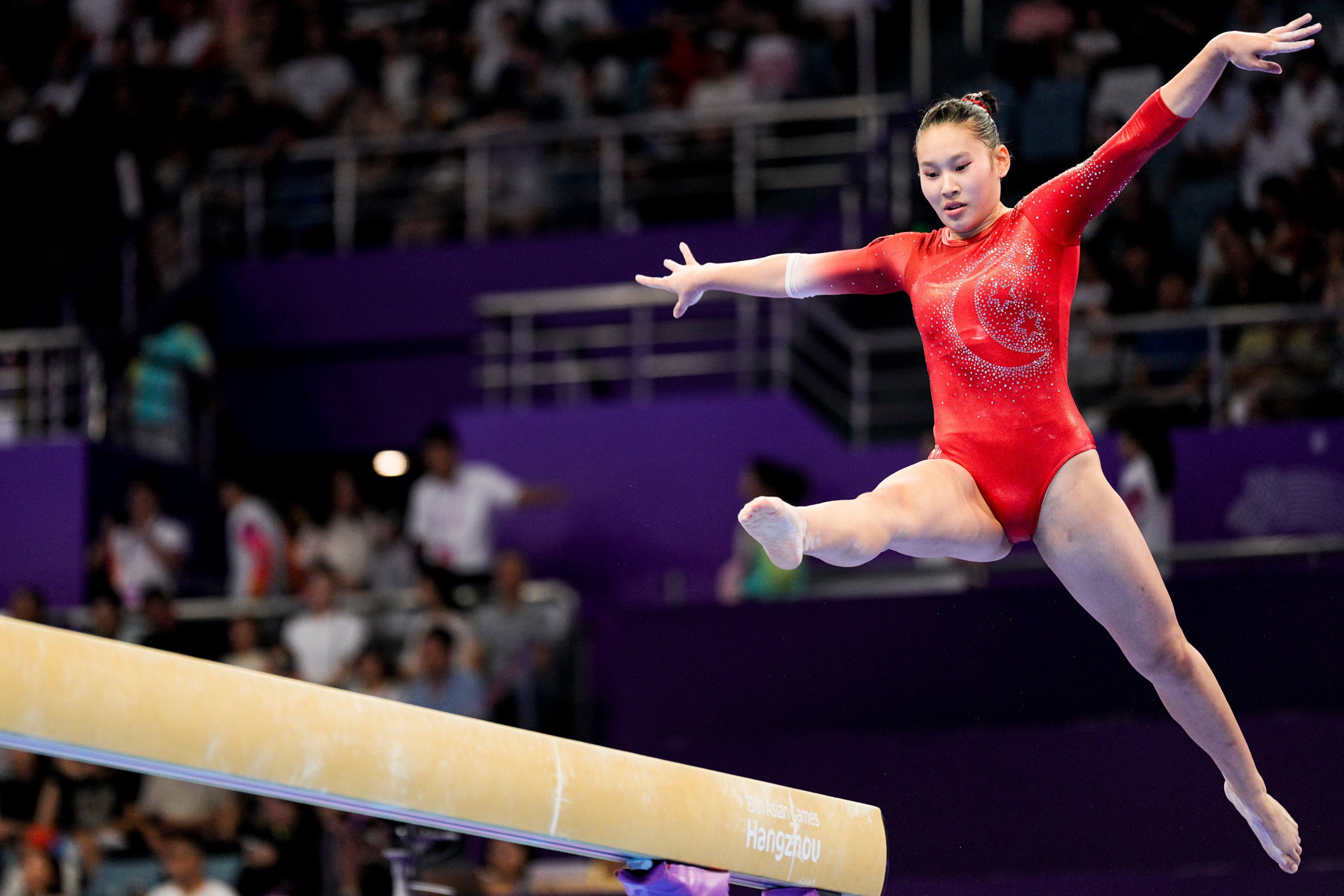 Kaitlyn Lim was rewarded for her efforts on the beam with a new personal best. (Photo: SNOC/ Kong Chong Yew)
"I was really happy that I was able to display a nice routine. It was really important to me and my coaches that I started off strong since I was the first in my team to begin the competition," the Eunoia Junior College student said.
As Yap makes her world championships debut next week, she is still in disbelief that she booked her ticket to Antwerp.
"I still have not wrapped my head around the fact that I managed to qualify for worlds, so I am a little nervous but also excited and thankful for the opportunity to be able to compete with, meet and learn from the world's best gymnasts," the Anglo-Chinese Junior College student said.
Having postponed her A-level examinations to participate in these major competitions, Yap can take heart in the lessons she brings along with her after a brief time in Hangzhou.
"Even though the experience was short, I still gained many lessons, a big one being how to accept disappointment, reflect on it and grow from it so hopefully I can apply this moving forward," Yap said.
In the men's competition, 2021 SEA Games floor exercise silver medallist Terry Tay finished 29th out of 40 in the same event with a score of 12.066. His score was not enough for him to progress to the finals on Thursday (Sep 28).
The 19th Asian Games are held in Hangzhou, China from 23 September to 8 October 2023. For the latest Team Singapore coverage and news, follow Team Singapore on their social media channels (Facebook, Instagram, TikTok) or visit the official Team Singapore website.