Hangzhou 2022: Breakthrough for Singapore sprinters as records fall, medal duck broken
by ActiveSG Circle, on September 30, 2023
By Jeremiah Ong
Sprint queen Shanti Pereira showed she was not running out of steam anytime soon as she carved out a piece of history for Singapore athletics at the Hangzhou Olympic Sports Centre Stadium on Saturday (Sept 30) night.
In her final century sprint of the season, the Asian Championships double sprint champion broke the tape in 11.27 seconds just behind home favourite Ge Manqi (11.23) to take home Asiad silver.
The medal was the first for the sport since the 1974 Games in Iran and the 19th overall at the continental competition.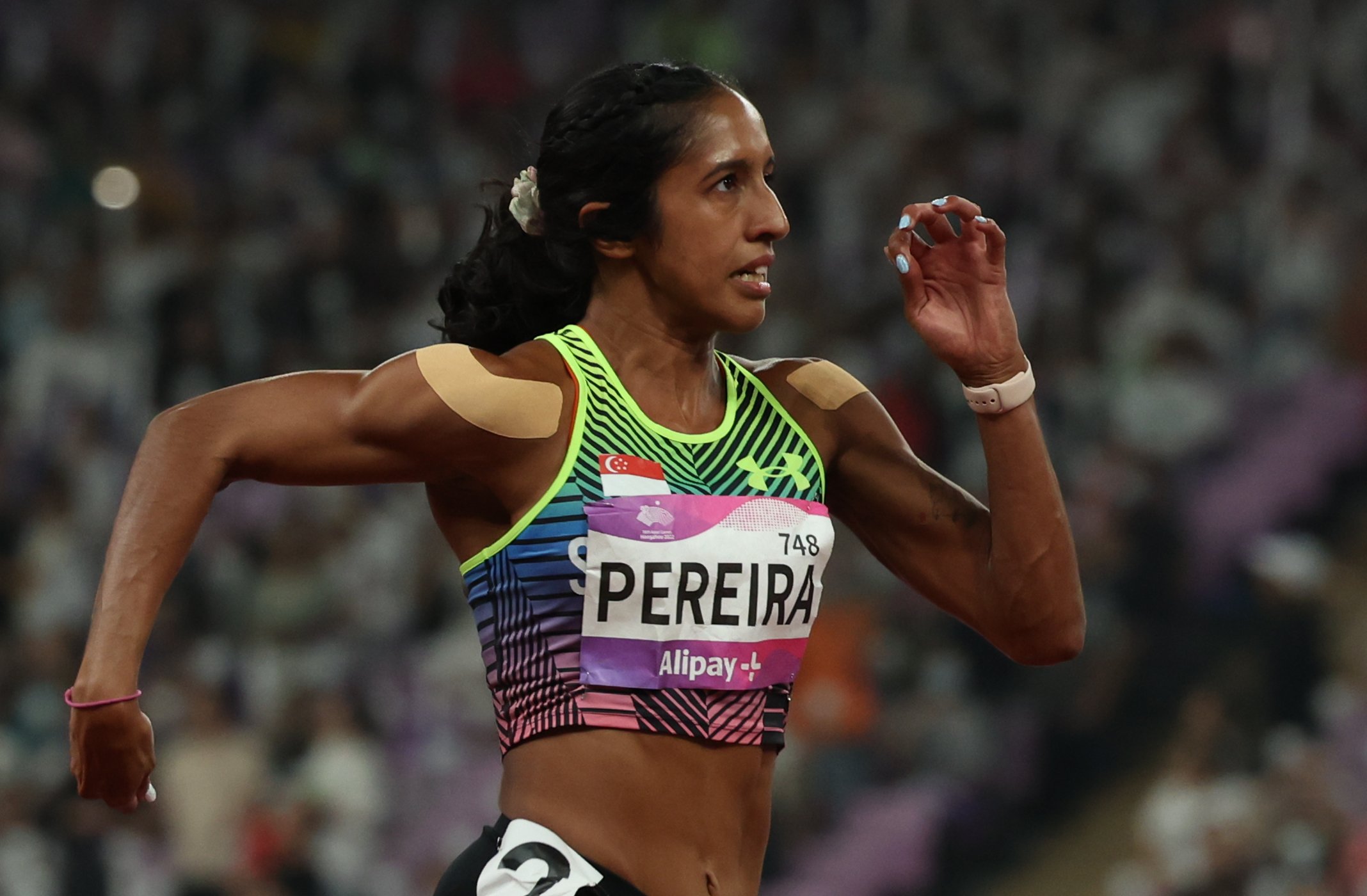 Pereira claimed a historic silver in the women's 100m final. (Photo: SportSG/ Jeremy Lee)
Speaking to reporters, Pereira had yet to register the historic feat.
On claiming the first Asiad medal in athletics in close to half a century, Pereira said: "Oh man, I didn't even know it was me. Thank you. I mean, it just feels incredible. I knew I had to give my absolute all today. I was up against really stiff competition. Some of them I ran with in Bangkok in July and they were just getting better throughout the season. So I knew I really had to give my 150,000% today."
Also close to half a century were the number of races Pereira ran this season – 49.
"I was just saying just now, I was thinking before coming to the stadium that I started out in March (with) my first race and now it's September and the last 100 of the season. Oh my god, this is crazy. It has just been an incredible journey and I really have all the people that's in my corner to thank," the 27-year-old said.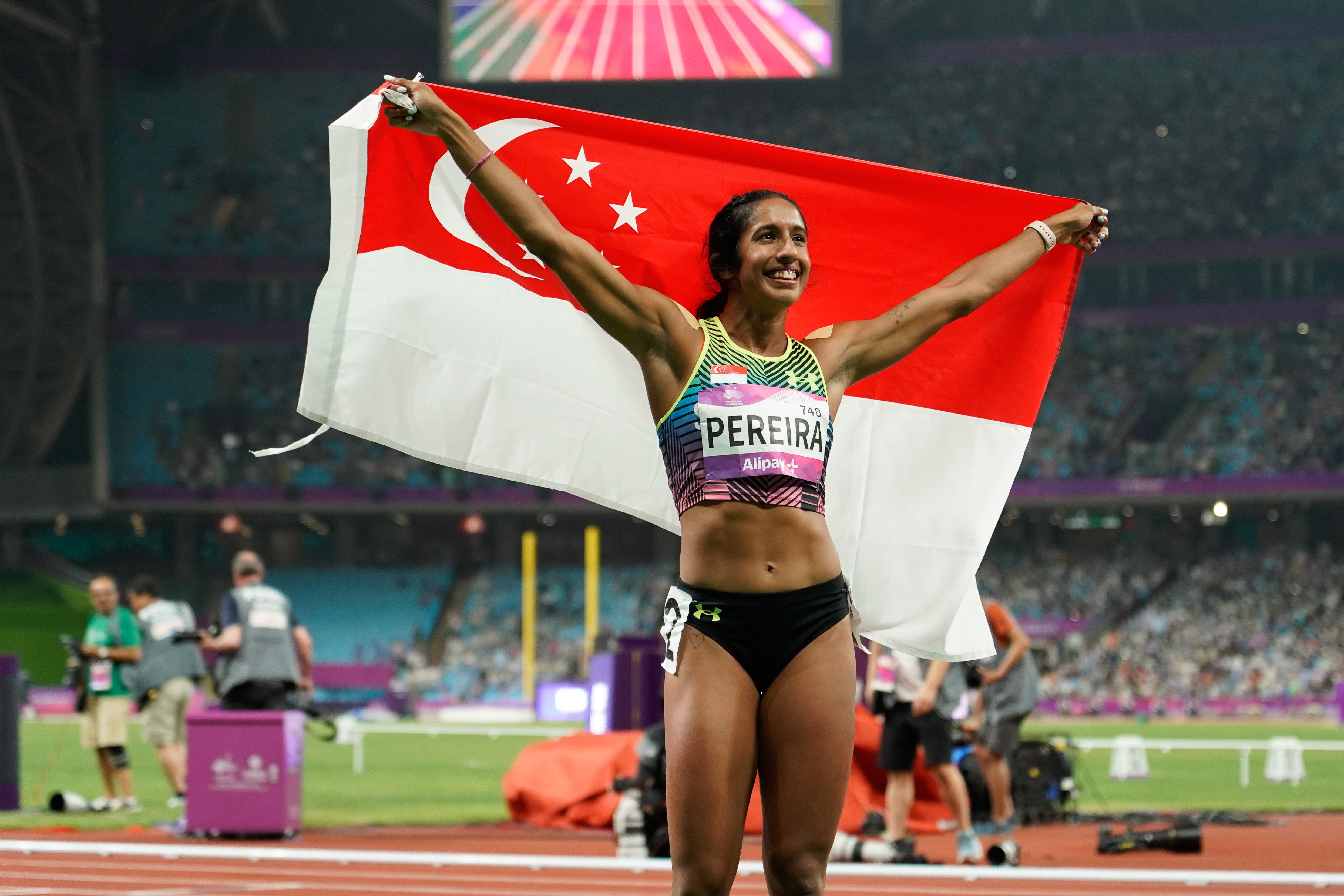 Pereira posing with the Singapore flag after completing the 100m final. (Photo: SportSG/ Weixiang Lim)
Coming into the Asiad, Pereira was the region's most in-form female sprinter with her season's best timing of 11.20s in the 100m and 22.57s in the 200m sitting at the top of the rankings.
She had also won the sprint doubles at the Cambodia SEA Games and Asian Championships in Bangkok.
But the weight of the accolades and expectations never once got to her.
"It has never really felt too much… I know I say (it) a lot of times, (but) I don't really see it as that, I see it more as like, just an opportunity, just embracing it, because I've never been in this position before, and like, who knows when I'm gonna get there again. And I really do mean it when I say that.
"Like I said, I'm incredibly blessed to be in this position to just have the opportunity to be here, and coming in the with the silver medal. I am not done. I still have another event so I'm really excited and super pumped," she said.
Pereira will return to the track tomorrow (Oct 1) morning for the women's 200m heats.
Hours earlier, in the men's 100m semifinal, SEA Games silver medallist Marc Louis' blistering run toppled the longstanding national record of 10.37sec.

Coming close to U.K. Shyam's mark in the heats on Friday (Sept 29) with a 10.38sec sprint, Marc built on that performance to shave a tenth of a second off at the second time of asking in Hangzhou.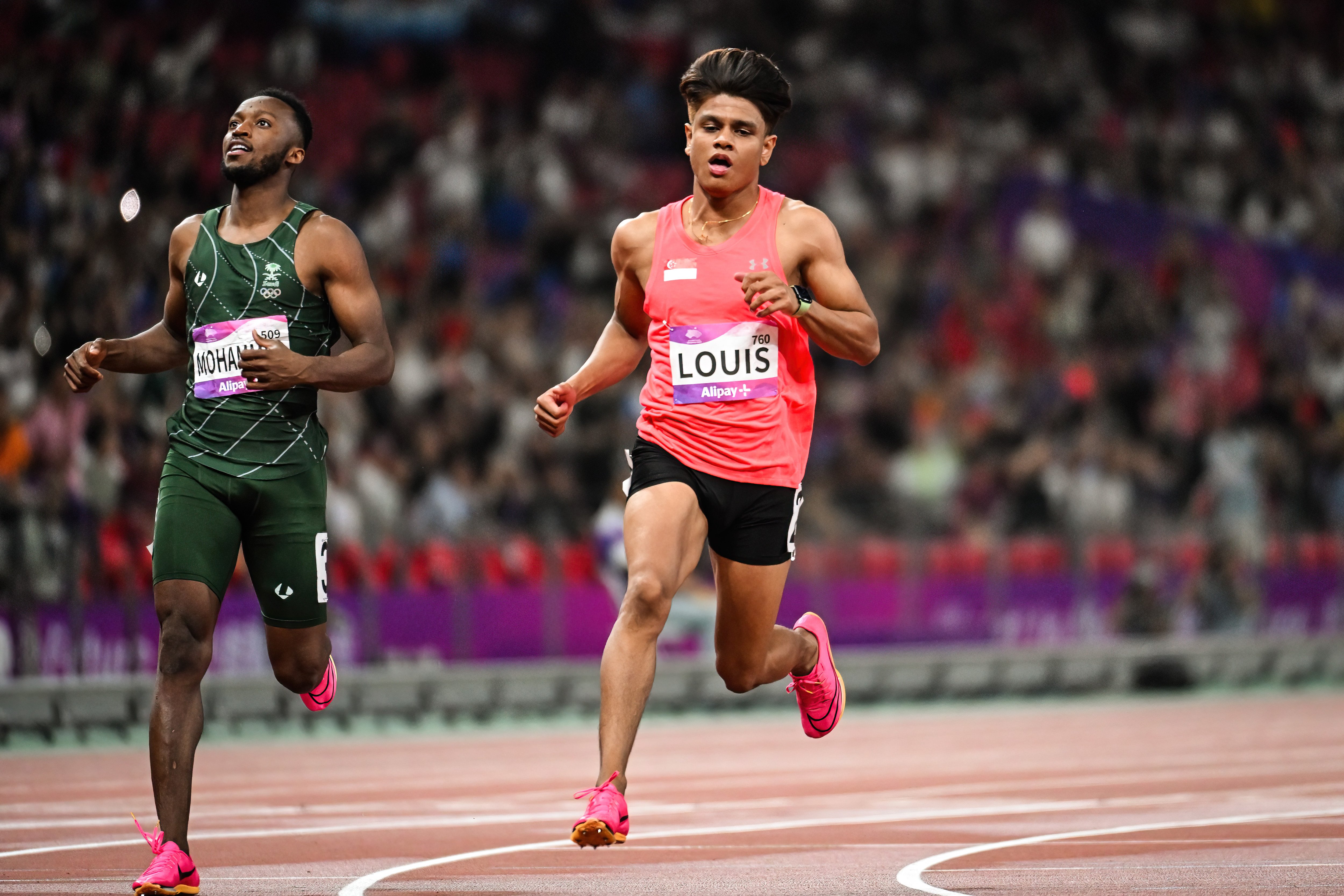 Marc broke the national record of 10.37 with a blistering run in the men's 100m semifinals. (Photo: SportSG/ Weixiang Lim)
After breaking the 22-year long record, Louis had to endure yet another wait for his record-breaking timing to show up on screen.
"I was standing there waiting for my time. I was like, oh? Then it stopped. I had to wait again and then I finally saw it's 10.27 and I was jumping around. I'm very very happy to finally break the national record. I've been waiting the whole year," the 21-year-old said.
"I think the goal was just to break (the record), no matter how much I broke it, it's still very good. I didn't expect to break it that much. I just executed my race perfectly and I'm very very happy. I'm speechless."
Still catching his breath, a beaming Marc told reporters that being able to relax helped with his landmark run.
"I asked my coach what to work on (after the heats) and then he just told me like I was a bit too tight at the end. I mean, (today) I was also a bit too tight still (towards) the end but I just remember to tell myself to relax a bit and I had a better start than yesterday," he said.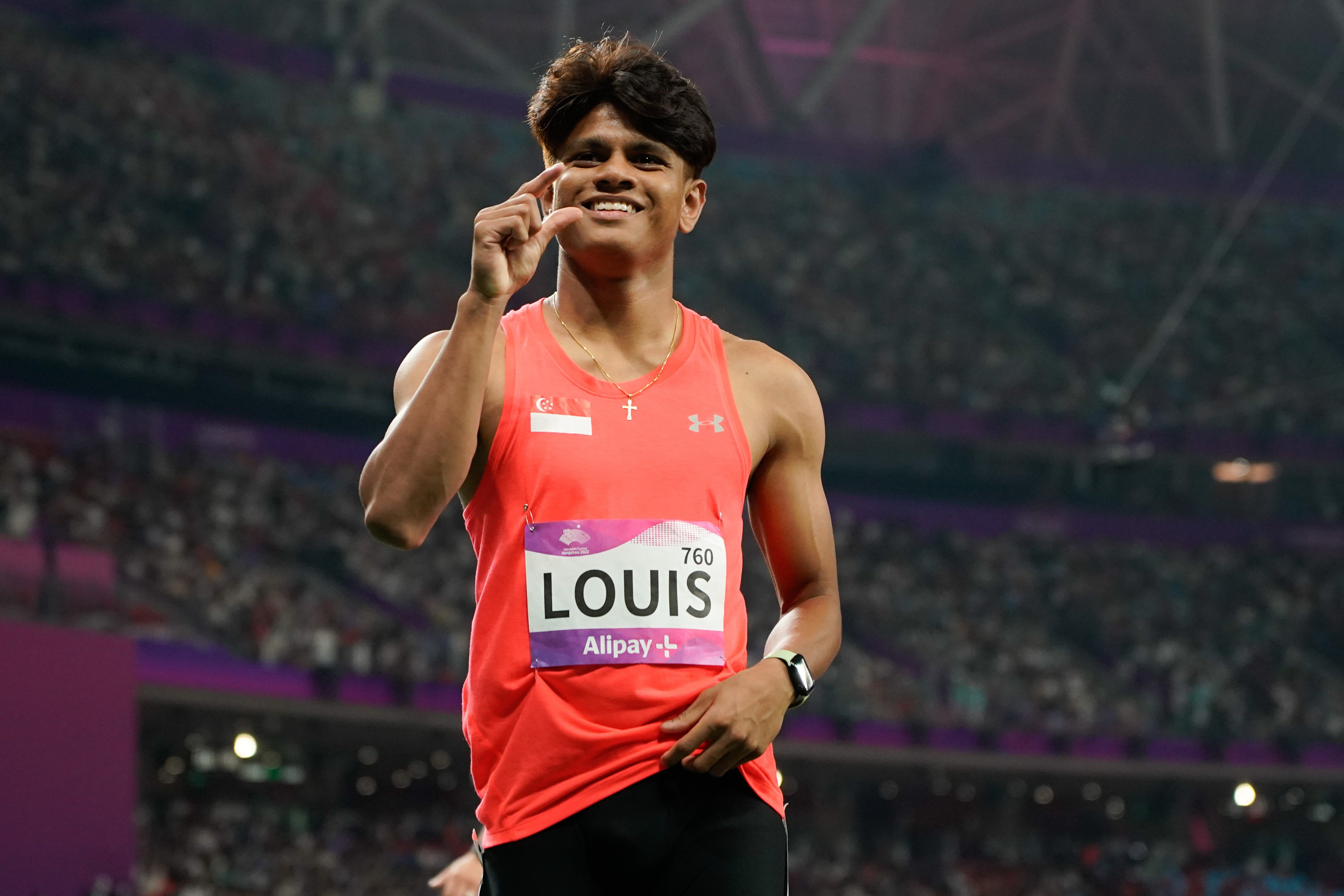 Marc finished 13th out of 24 and missed out on the final. (Photo: SportSG/ Weixiang Lim)

The 19th Asian Games are held in Hangzhou, China from 23 September to 8 October 2023. For the latest Team Singapore coverage and news, follow Team Singapore on their social media channels (Facebook, Instagram, TikTok) or visit the official Team Singapore website.