Hangzhou 2022: Charging Chen claims landmark Canoe Sprint Silver
by ActiveSG Circle, on October 3, 2023
By Patrick Johnston
Stephenie Chen was lauded by coaches and teammates after claiming Singapore's first ever Asian Games silver medal in canoe sprint following a blistering paddle in the women's K-1 (single kayak) 500 metre on Tuesday (Oct 3).

The 31-year-old, competing at her fourth Asian Games, flew out of the block to lead the race for 400 metres before eventually being caught by China's Li Dongyin at the Fuyang Water Sports Centre.
"It feels good," a beaming Chen told reporters. "I think it will take a while to sink in. I can't believe I actually challenged China that well.
"I don't generally look across the field when I race… I didn't know I was in front. I think it was a good race. I just watched it and I didn't know I was that far in front at the start.
"I race the best when I'm in front. The idea was just to push it out, get out there and scare the s*** out of everyone else. I think I did that! Towards the end, it was just, not hanging on for dear life, but, (maybe) a little bit," she smiled.
The silver medal, secured in a time of 2 minutes 0.74 seconds, eclipsed the bronze won by Singapore's Mervyn Toh in the men's K-1 200 metres in 2018 Jakarta.
Chen said she was wary of keeping her emotions in check at the start of the race, keen not to get too pumped up.
"I had the processes that I needed to work through. I got in the block and adjusted myself too much and had to get out the block and reset. I was just very aware of what I needed to do. Not too excited, not too zen."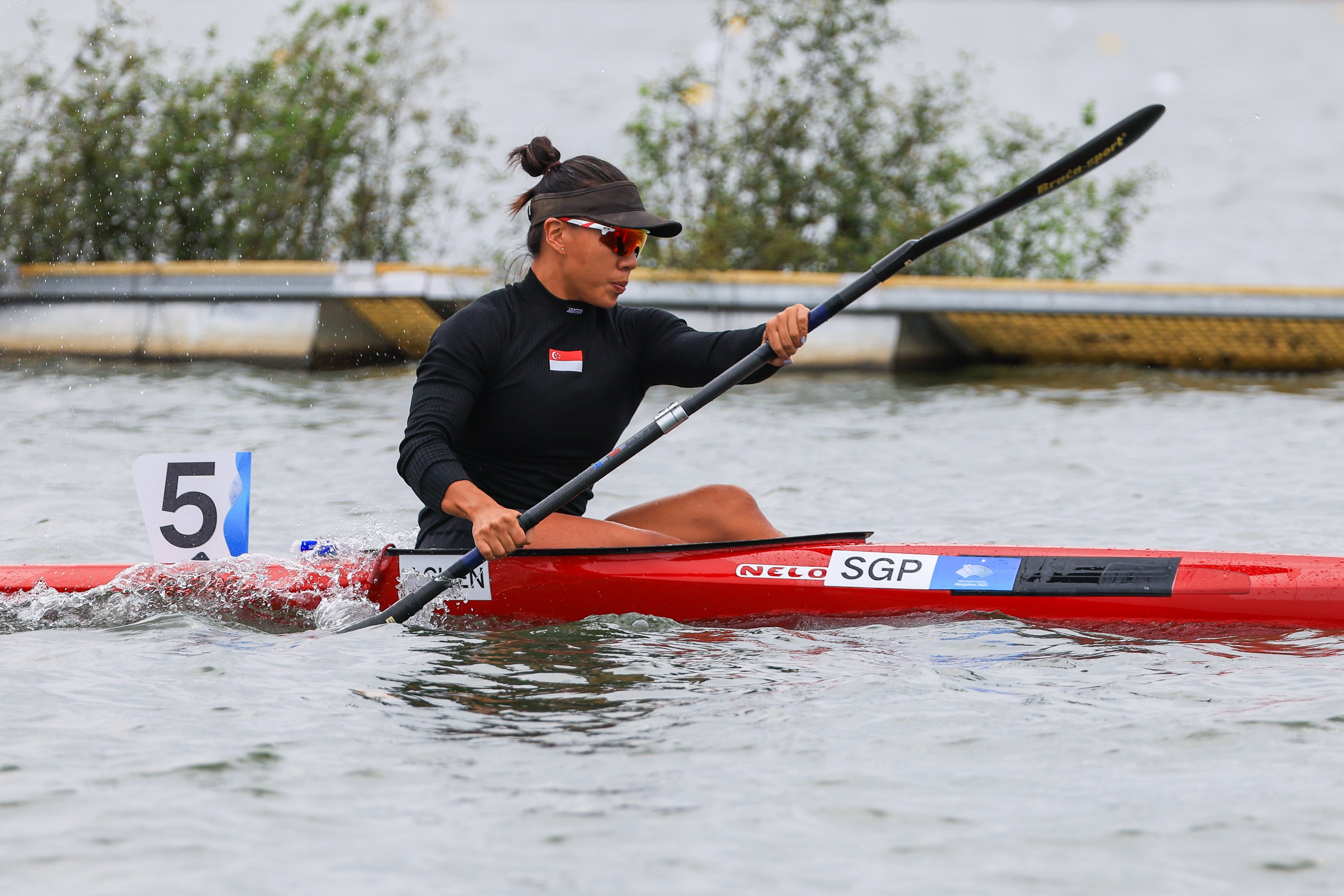 Singapore's Stephenie Chen paddles her boat in the qualifying heats of the Asian Games Women's K1 500m at the Fuyang Water Sports Centre. (Photo: Sport Singapore/Stanley Cheah)
A five-time SEA Games gold medallist, Chen said the Asian Games silver medal was just the latest leg of a journey that will - hopefully - take her to the Paris Olympics next year.
"This is kind of a stepping stone for me," she said. "I have always operated on steps to get me to where I want to go, and I'm just really glad I checked this box and can move on now."
Her coach, Dave Smith knows what it takes to compete at the highest levels of the sport having won Olympic gold in the men's K-4 1,000 metres at the 2012 Games in London. The duo have worked together for three years and the Australian said Chen's success was fully deserved.
"One of the nicest, kindest, most generous people you can come across," he said. "One of those athletes that are willing to give more of themselves than most. Commitment, dedication and sacrifice is second to none.
"Her attitude and attributes are better than I ever had. As her coach, it's a complete honour to be able to coach someone like her. This medal, nobody deserves it more."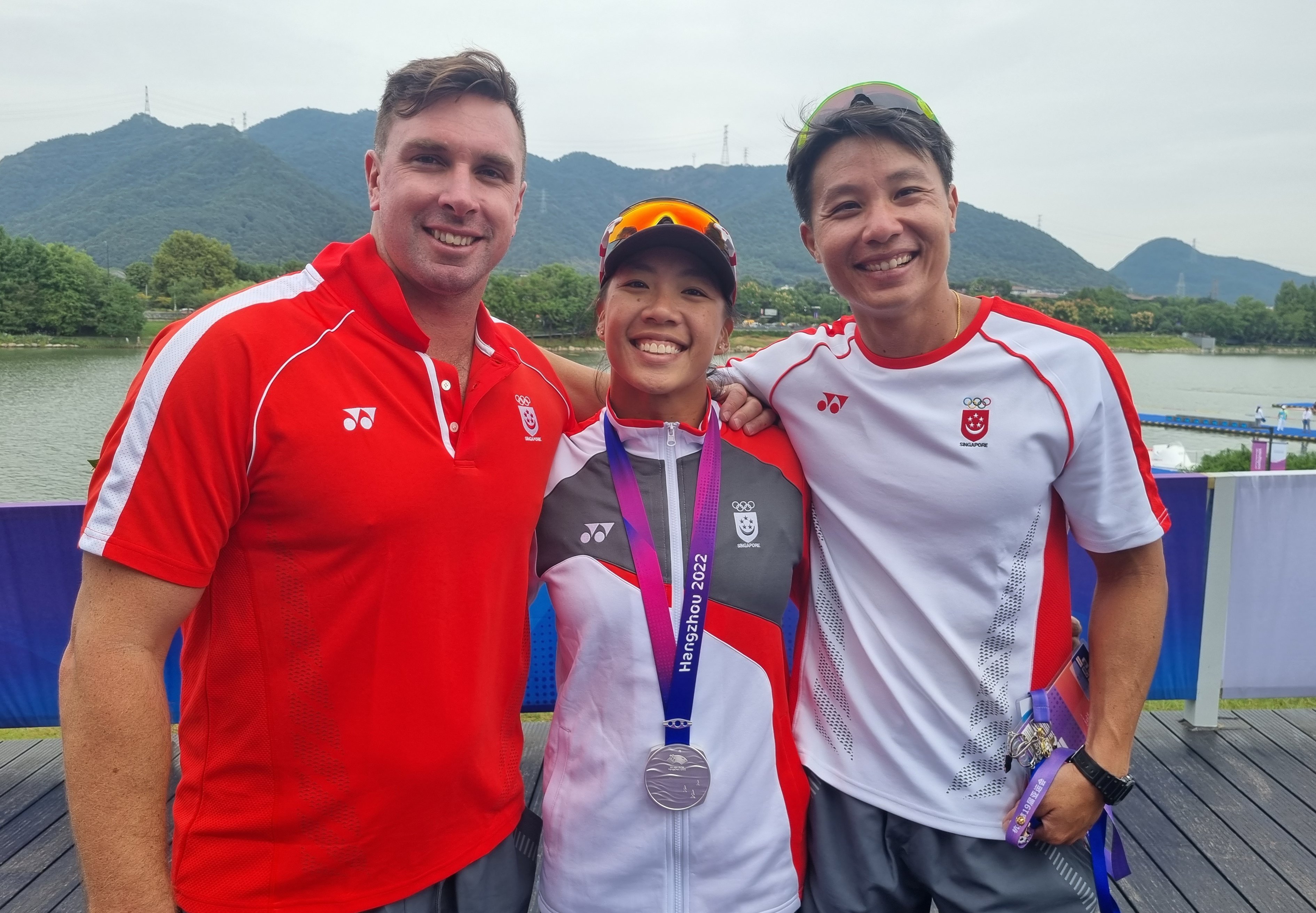 Singapore's Stephenie Chen poses with coaches Dave Smith (left) and Bill Lee (right) after winning the Asian Games women's K1 500m silver medal at the Fuyang Water Sports Centre. (Photo: SNOC)
Also cheering on Chen at the Fuyang Water Sports Centre were Singapore's men's 500m kayak four, who watched on ahead of finishing eighth in their own final.
"It is really exciting. We had goosebumps," said Kendrick Ang.
"You should have seen all our faces when she won the silver," added Sean Teo.
"Steph has been working very hard since her last Asian Games, we are really, really happy that she finally has this breakthrough and this sets the mark for many more young paddlers to come.
"She is very friendly and when we train together she always gives us advice. Her presence there makes the training mood very energetic and competitive."
Chen's competitive spirit is honed at home. Her sisters Abigail, Andrea and Sarah all represented Singapore in the sport and Stephenie was grateful for their support, along with that of her parents, even though she felt a bit sad to be the only one still competing.
"I think my family sacrificed more than me. I haven't been home for a while, I'm mostly training in Australia or racing. My family is very, very supportive. I know they don't come to races as much but I know they support me all the way. That's a nice feeling."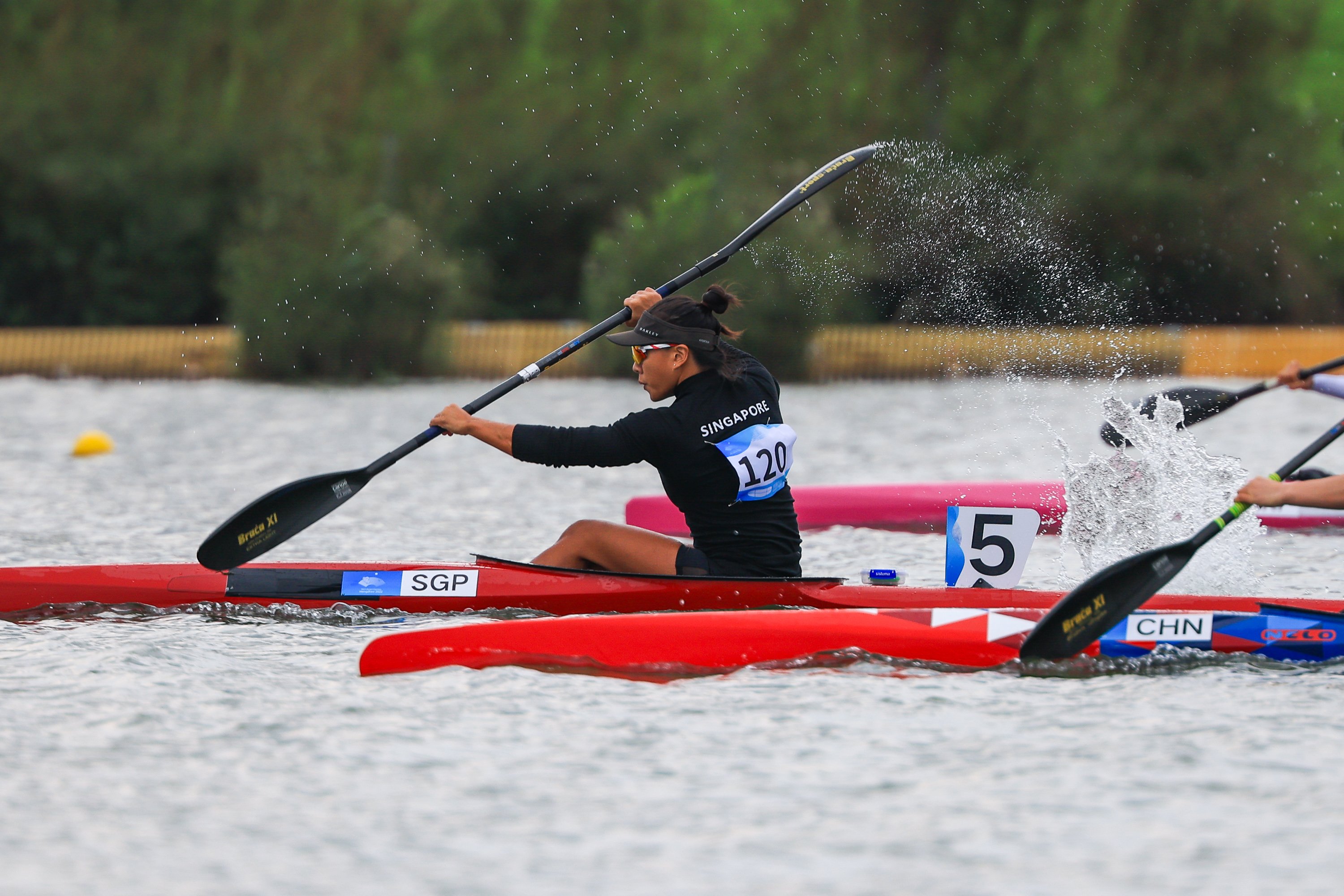 Singapore's Stephenie Chen paddles ahead of her Chinese rival during the qualifying heats of the Asian Games K1 500m at the Fuyang Water Sports Centre. (Photo: Sport Singapore/Stanley Cheah)
The 19th Asian Games are held in Hangzhou, China from 23 September to 8 October 2023. For the latest Team Singapore coverage and news, follow Team Singapore on their social media channels (Facebook, Instagram, TikTok) or visit the official Team Singapore website.