Hangzhou 2022: Danisha makes historic debut for Singapore boxing
by ActiveSG Circle, on September 27, 2023
By Jeremiah Ong
Games debutant Danisha Mathialagan put up a strong resistance across all three rounds in the women's 50kg round-of-16 bout but eventually fell to Uzbek opponent Sabina Bobokulova 0-5.
The first Singaporean boxer to qualify for Asian Games since 1976, Danisha was proud to be representing the country.
"It means a lot to me to show that Singapore boxing deserves opportunities like these to improve and grow. Coming here meant that I was given a chance to show that boxing is here to stay and grow in Singapore," the 26-year-old said.
Having contemplated retirement when this year's SEA Games did not have her weight class, boxing at the Asiad meant the world to Danisha.
"I am thankful that I have been given opportunities like this to grow further in this sport and also slowly try to put Singapore boxing on the map. It's honestly tough but I'm just glad I did not give up just yet," she said.
The bout started out as a tight affair, with 9-10 the unanimous score awarded by the five judges after the first round.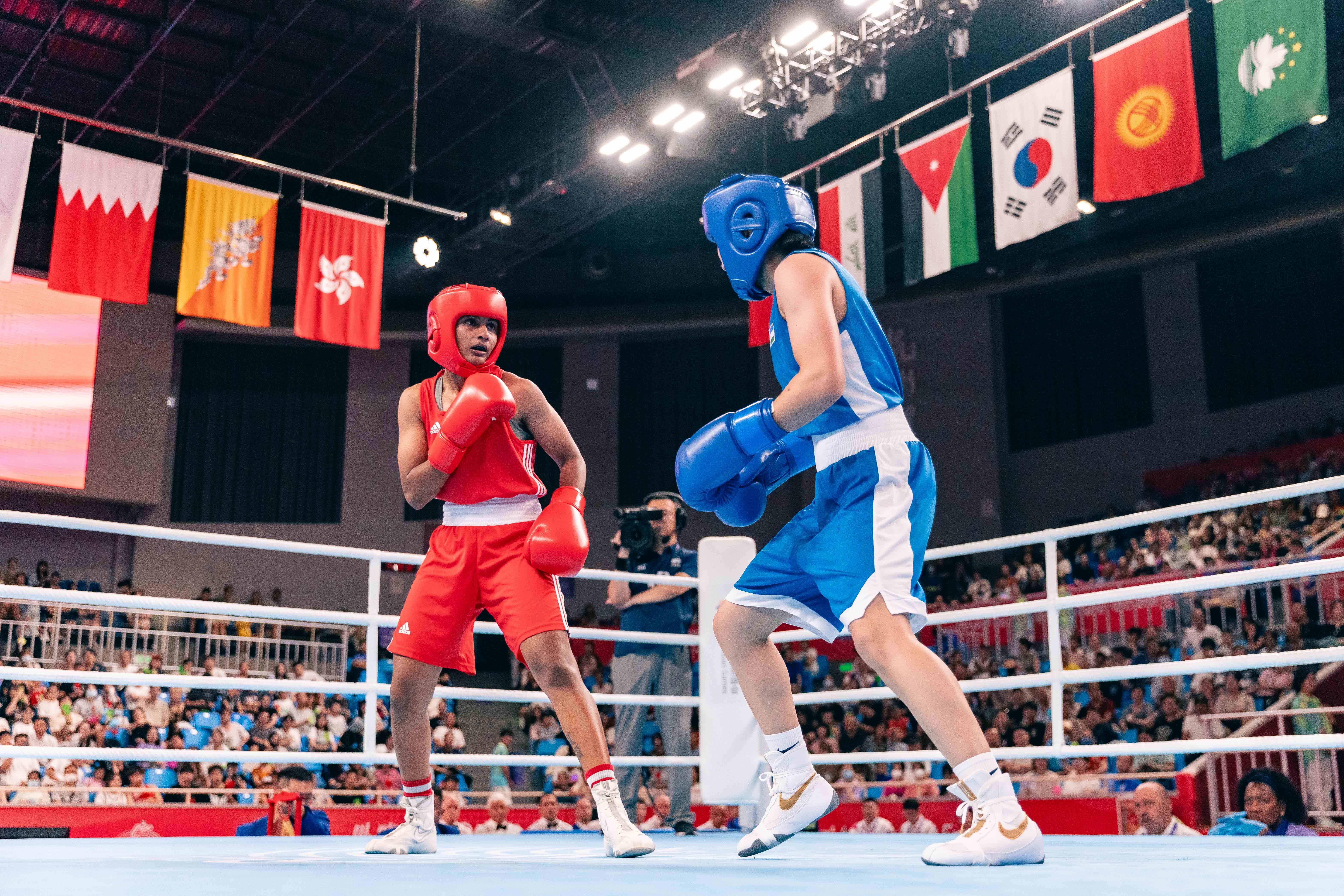 Danisha facing Uzbek Sabina Bobokulova in front of a capacity crowd at the Hangzhou Gymnasium (Photo: SNOC/Eng Chin An)
One point continued to separate the pair in the second round but Danisha's tenacity earned her a 10-9 by Croatian judge Naim Ramaj.
On the matchup, Danisha admitted initial nerves about sharing the ring with an Uzbek boxer but eased into the match in the second round.
"I think for me, it was a mental battle knowing I was going toe-to-toe against a strong country. I guess one way to improve is to get some mental training and also lots of high level sparring," she said.
Despite chasing for most of the game, Danisha never once hung her head and fought boldly till the gong sounded.
Still, the Legacy Women's Boxing Championship 2022/23 champion was appreciative of the experience to compete on the continental stage.
"Boxing in the Asian Games is one of the toughest events for boxing with lots of powerhouses. So, it's a good experience to observe how these world class athletes behave and take charge," she said.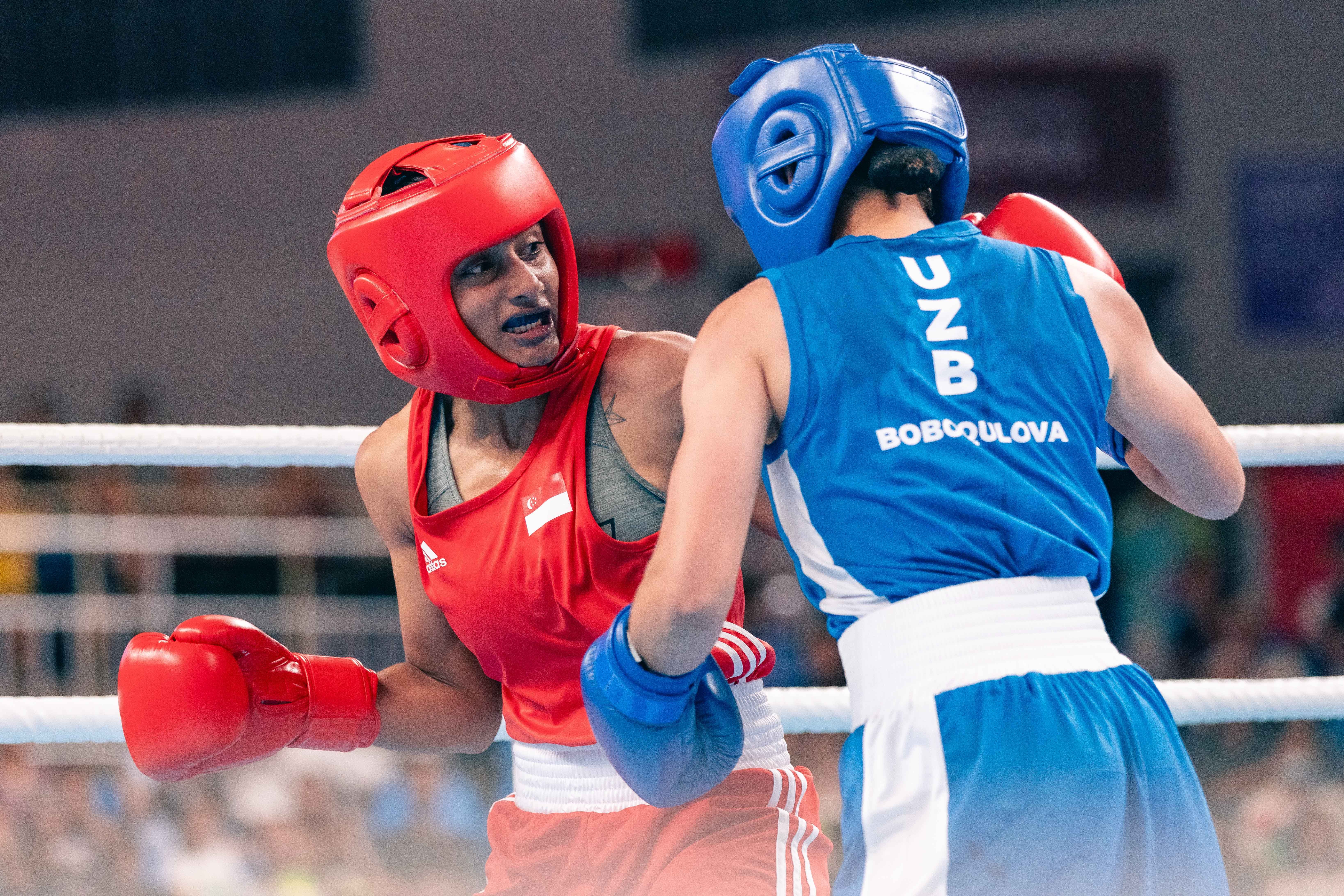 Danisha lands a left hook on her opponent. (Photo: SNOC/ Eng Chin An)
Women's boxing head coach Muhamad Ridhwan was on the sidelines offering advice and his shouts could be heard clearly from the spectators' stands throughout the nine minute-long fight.
"I was asking Danisha to take control and fight like her usual self. (Telling her) some strategies we worked on, pointing out some of the opponent's habits, hoping Danisha could take advantage of (it)," the three-time SEA Games bronze medallist said.
Despite the loss, Ridhwan still has full faith in Danisha's ability.
"I still believe we have the skills but I also know of the things or circumstances that can be against us and it might have affected Danisha a little bit more than I (would have) liked (it) to, so the whole time was more about getting her back in the zone.
"She has trained so much for this Asian Games moment, which also serves as a qualifying event for the Olympics. Unfortunately it did not go our way and I take full responsibility for it. I'm going to ask her to rest and spend time outside of boxing first," he added.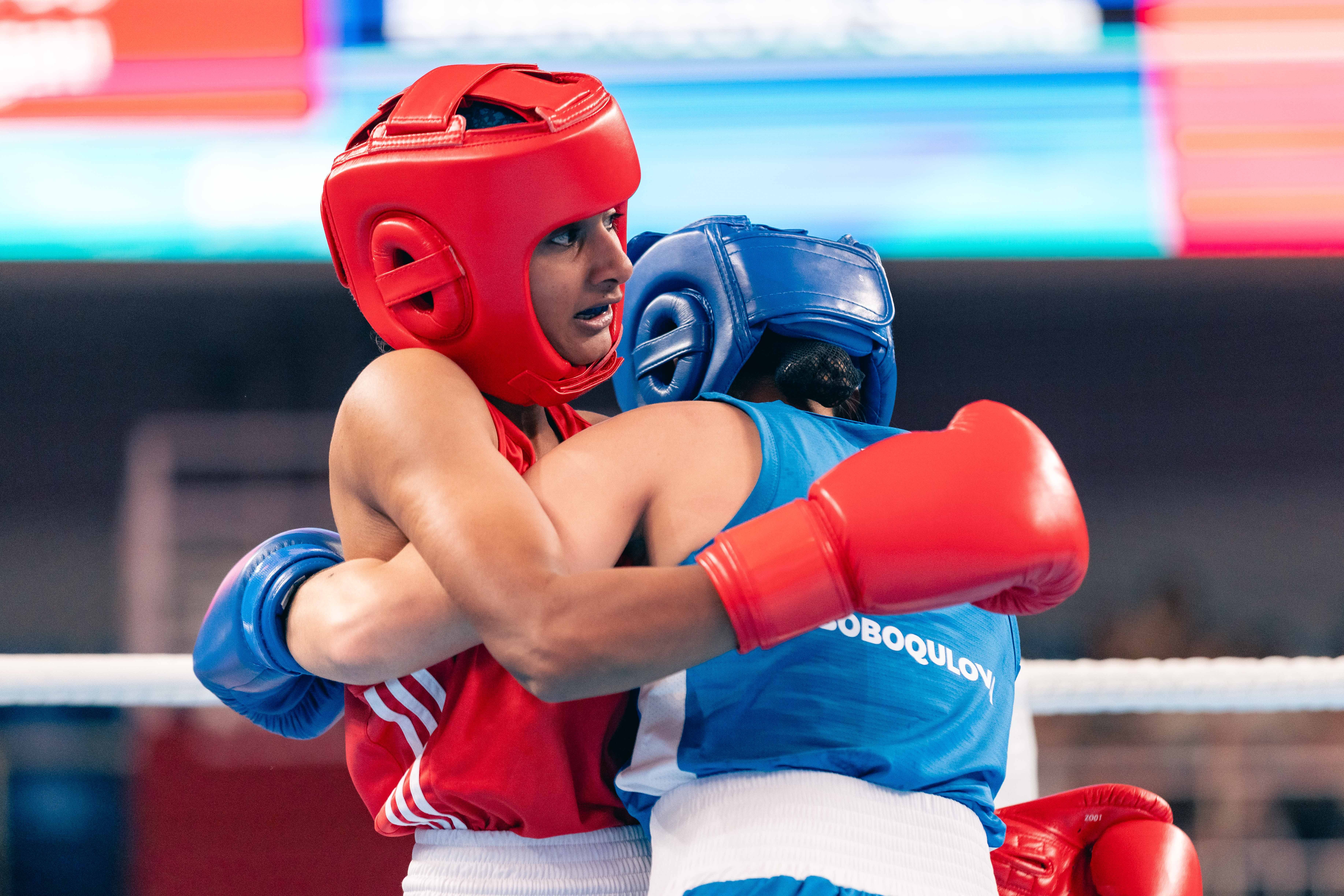 Danisha is aiming to qualify for Paris and will participate in qualifiers in Italy and Thailand next year. (Photo: SNOC/ Eng Chin An)
With two more Olympic qualifying events in Italy and Thailand looming ahead next year, Ridhwan is looking to regroup with his team to craft a plan for Danisha.
"I believe in her capabilities and she continues to grow with every fight, win or lose, and that to me is a mark of a good boxer."
The 19th Asian Games are held in Hangzhou, China from 23 September to 8 October 2023. For the latest Team Singapore coverage and news, follow Team Singapore on their social media channels (Facebook, Instagram, TikTok) or visit the official Team Singapore website.