Hangzhou 2022: Red letter day for Singapore sailors as they bag four medals
by ActiveSG Circle, on September 26, 2023
By Jeremiah Ong
Hangzhou's Ningbo Xiangshan Sailing Centre is looking to be a happy hunting ground for Team Singapore's sailors as they raked in two silvers and two bronzes on Tuesday (Sep 26) afternoon after six consecutive days of racing. This meant the team surpassed their 2018 total of one gold and a bronze across all events.

Making a long-awaited return to the Asiad was Justin Liu, who competed alongside his wife, Denise Lim, in the mixed Nacra 17 event where they clinched silver. Liu took gold in consecutive Games in 2006 and 2010 alongside Sherman Cheng in the men's 420 event. Meanwhile, Lim was making her debut at the Asiad.

To stand on the podium in Hangzhou was no easy journey for the pair.

Liu said: "We started our campaign ten years ago with the intention to compete at the 2014 Asian Games but we didn't qualify. The 2018 edition did not feature our category so to finally be able to come here and have the opportunity to race and come away with a medal has been amazing.

"The journey has been long. So many highs and lows, and there were many instances where we could have stopped due to injuries, work commitments, funding, etc. I'm really happy to be able to share this moment together with Denise," he added.
"I was one of the youngest when I was at my first Asian Games and now I'm one of the oldest."

Liu won successive Asiad golds in 2006 and 2010 in the men's 420 event while Lim is making her Asiad debut. (Photo: SportSG/ Jeremy Lee)
As for Lim, she was just thankful to be a part of these Games and to medal with her partner.
"We worked hard the past year and were lucky to have been given time off from work to sail and train," she said,
Having struck gold in China when they won the ISF (International Sailing Federation) World Cup in Qingdao eight years ago, Lim said the Hangzhou course was a different story.
"Racing in a new venue is challenging as we have to be adaptable to the conditions. Lots of things have changed since the Qingdao event in 2015, the Nacra boat was upgraded twice and the boat is now foiling upwind and downwind, making it a lot more physically demanding," she said.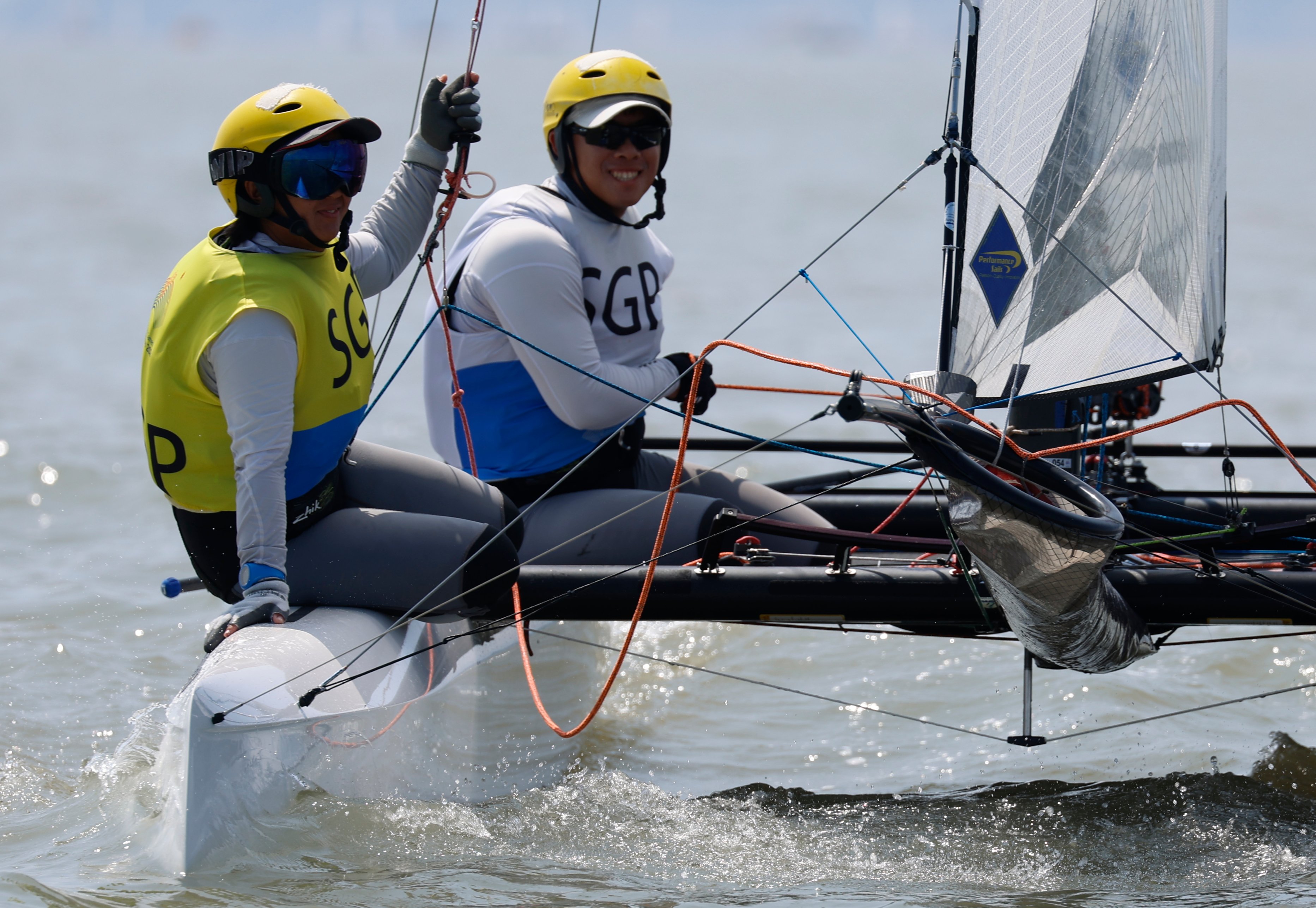 Married couple Lim and Liu came just shy of getting Team Singapore's first gold as Chinese pair Zhao and Wang edged them after the eighth race. (Photo: SportSG/ Jeremy Lee)
The Olympian pair experienced a mixed few days of competition as they yo-yoed between first and second place with home favourites Zhao Huancheng and Wang Saibo in the early stages. They eventually slipped out of top spot after the fourth day.
"We had both good days and also not so good days but that's part of racing. I'm proud of the team for constantly fighting and not giving up. We put in all the work to do well here and left everything out there so we can go away feeling satisfied that there's nothing more we could have done,' Lim said.
In the boys' ILCA 4, SEA Games gold medallist Isaac Goh took silver while debutant Keira Carlyle took bronze in the women's competition.
After five days and ten races, Carlyle sat right outside the medal places in fourth. The 17-year-old rallied to finish first in the 11th and final race on Tuesday, leapfrogging Korean teenager Seoul Jaekyoung to snag bronze with 28 net points, just two points separating the pair.
"I was trying not to stress out. I was trying to distract myself right before we launched so I was talking to (the) seniors, trying to think of a plan of what I could do," she said. "I'm just happy that it worked out."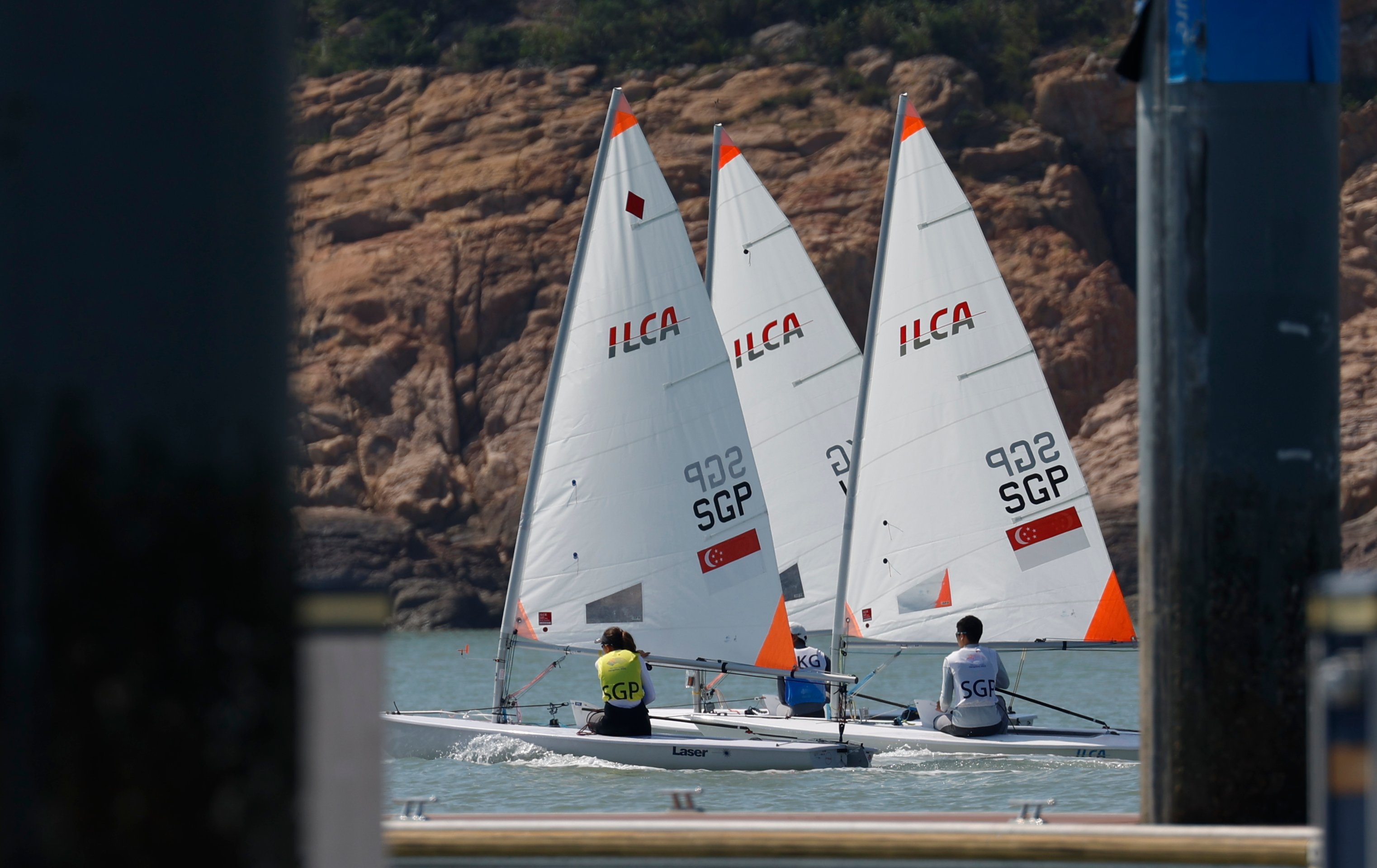 Teenage pair Goh and Carlyle both found the podium on their debut in the quadrennial continental competition. (Photo: SportSG/ Jeremy Lee)
Meanwhile, Goh displayed consistency as he kept a firm grip on second place throughout the competition, never once relinquishing his hold.
"My performance at this regatta has been pretty good, I feel like I've been competing at a high level," Goh said.
"It's just been me and the other guy (Weka Bhanubandh) at the top all the time, and we've been fighting each other. We had a good fight throughout."
Reigning Asian Games champions in the women's 49erFX event, Kimberly Lim and Cecilia Low, had locked in on second spot across the first ten races but eventually had to settle for bronze after two consecutive fourth-placed finishes in the eleventh and twelfth races.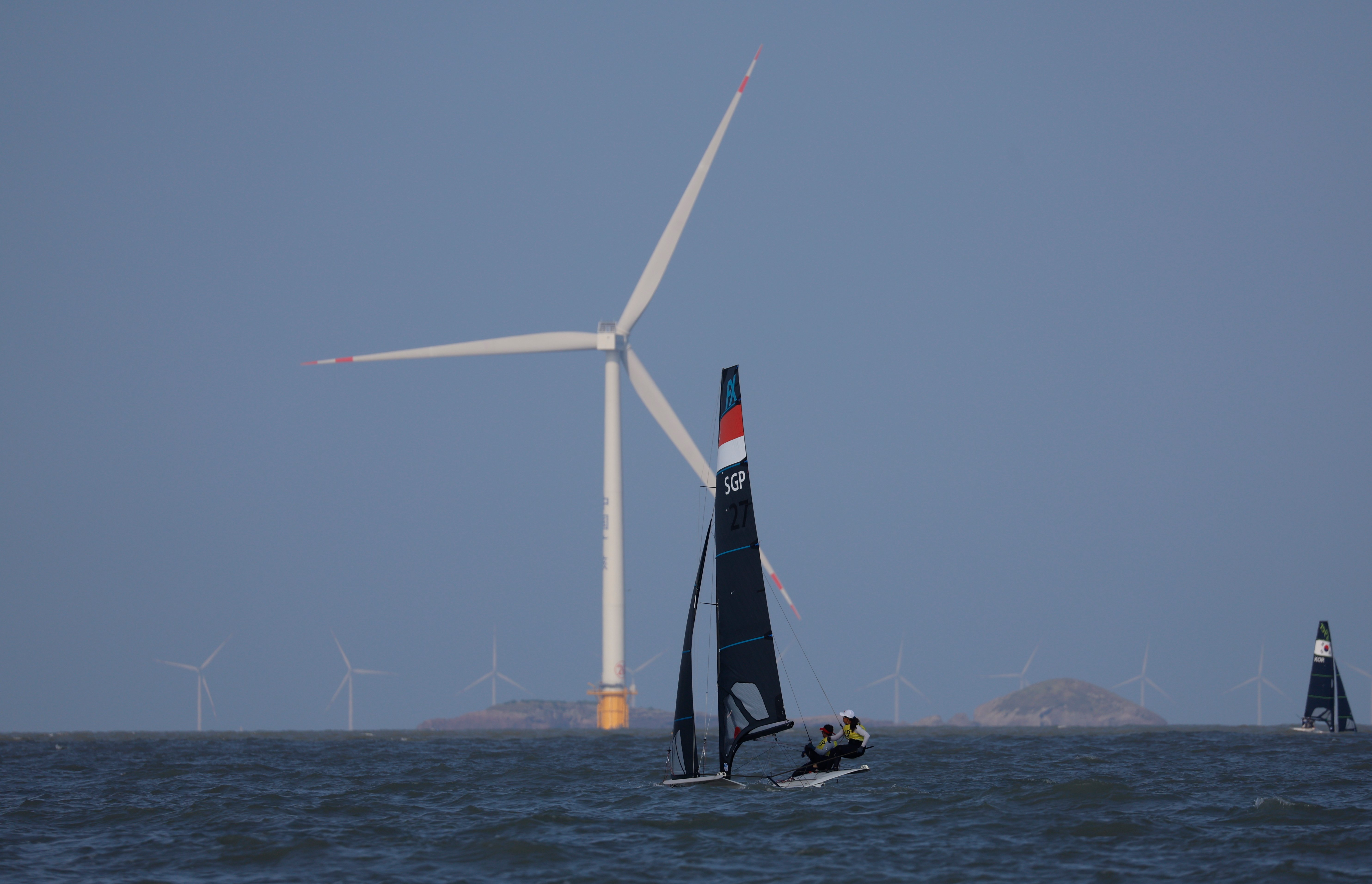 Lim and Low fought hard across 14 races to defend their title at the Ningbo Xiangshan Sailing Centre. (Photo: SportSG/ Jeremy Lee)
Low acknowledged some difficulty adapting to the weather conditions but was happy to take home learning points.
"The conditions were different, with opposite wind directions from when we were training one and a half weeks before the event. We had little knowledge about the venue with the addition of strong currents, which made it a bit more challenging."
"There were many new learnings and things that we were working on," she said.
The pair are already looking ahead to November's European Championships and are hoping to book their ticket to the 2024 Paris Olympics by the end of the year.

There is more yet to come for the sailors as they enter the last day of competition in the hunt for more silverware, with world champion kitefoiler Maximilian Maeder and Olympian Ryan Lo poised for the podium.
The 19th Asian Games are held in Hangzhou, China from 23 September to 8 October 2023. For the latest Team Singapore coverage and news, follow Team Singapore on their social media channels (Facebook, Instagram, TikTok) or visit the official Team Singapore website.
Related Topics
Recent Events & Programmes
Related Topics