By Patrick Johnston
Singapore's involvement in the Asian Games cricket tournament ended on the sidelines on Monday (Sept 2) as they watched Malaysia thrash Thailand to seal the only quarter-final spot from the three-team pool.
Singapore were making their Asian Games debut in the Twenty20 competition in Hangzhou, buoyed by winning gold earlier this year at the SEA Games six over event in Cambodia, where they also took bronzes in the 10 and 20 over tournaments.
The men began their campaign in Hangzhou against Malaysia on Thursday, winning the toss and opting to bowl first at the Zhejiang University of Technology Cricket Field.
However, Malaysia's batters were in fine form as they posted an impressive 160-8 from their twenty overs. Anish Paraam was the pick of the Singaporean bowlers, taking three wickets from his four overs for just 16 runs.
In reply, Singapore struggled to build partnerships and the loss of three quick wickets in the fifth over put the game out of reach. Janak Prakash offered some strong resistance, blasting two fine sixes in his innings of 26 not out before running out of partners as Singapore ended 87 all out.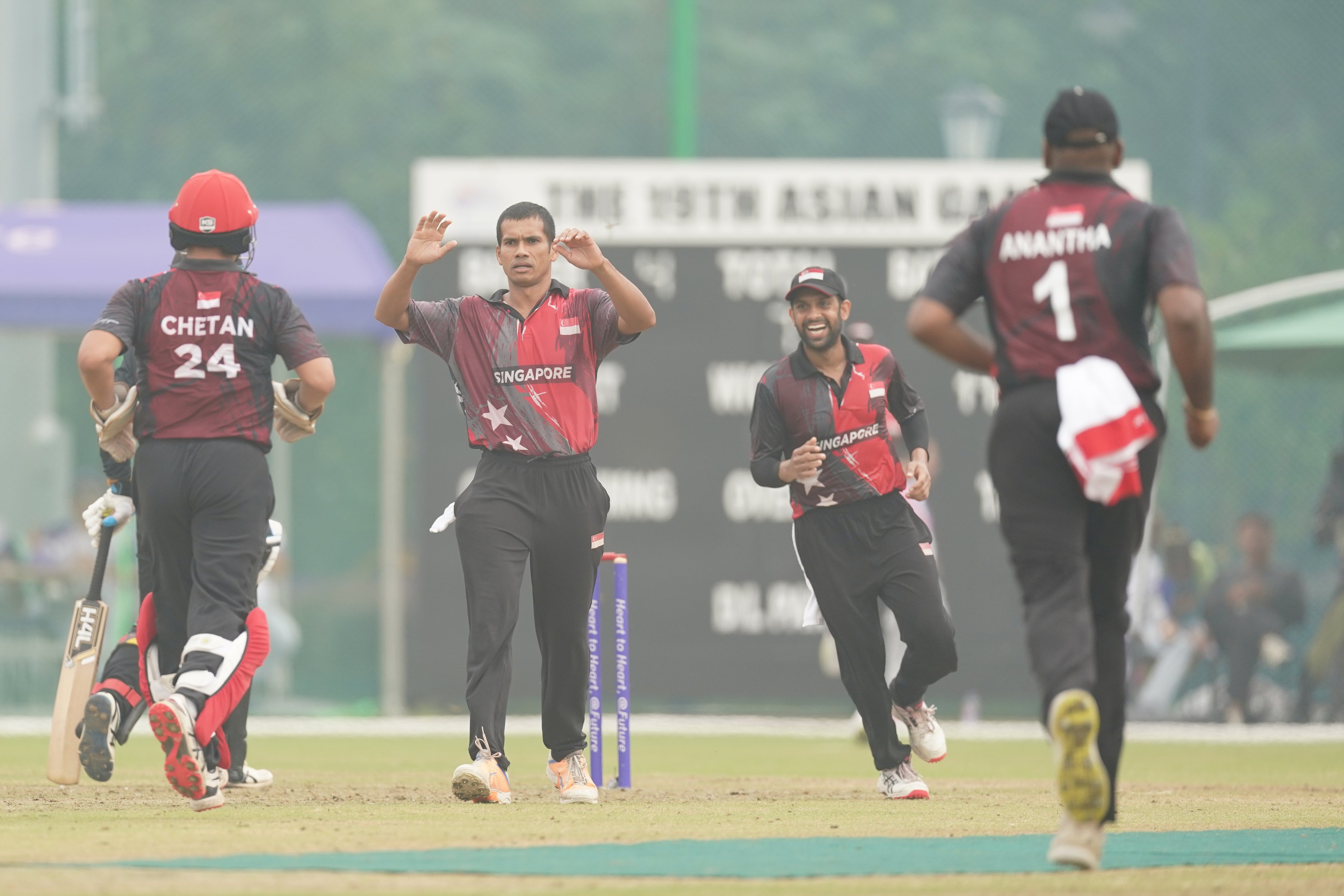 Singapore players rush to congratulate Anish Paraam (second from left) after he takes a Thai wicket during their Asian Games preliminary group C match at Zhejiang University of Technology Cricket Field. (Photo: Sport Singapore/Bryan Foo)
Unperturbed by the 73-run defeat, Singapore came out fighting in the next game against Thailand on Friday, winning the toss and opting to bat first as they ripped into the Thai bowlers.
Wicket-keeper Chetan Suryawanshi hit 53 from 36 balls as he and Prakash put on 50 for the fifth wicket to help Singapore post an imposing 152-8.
Slow left armer Aahan Gopinath Achar then made the most of a turning pitch to take an impressive four wickets at the loss of just eight runs as the Thais were skittled all out for 53.
"It felt good," Achar said. "My teammates were behind me and it was a wicket that suited my style of bowling. That definitely helped and we were able to bounce back from our performance (against Malaysia)"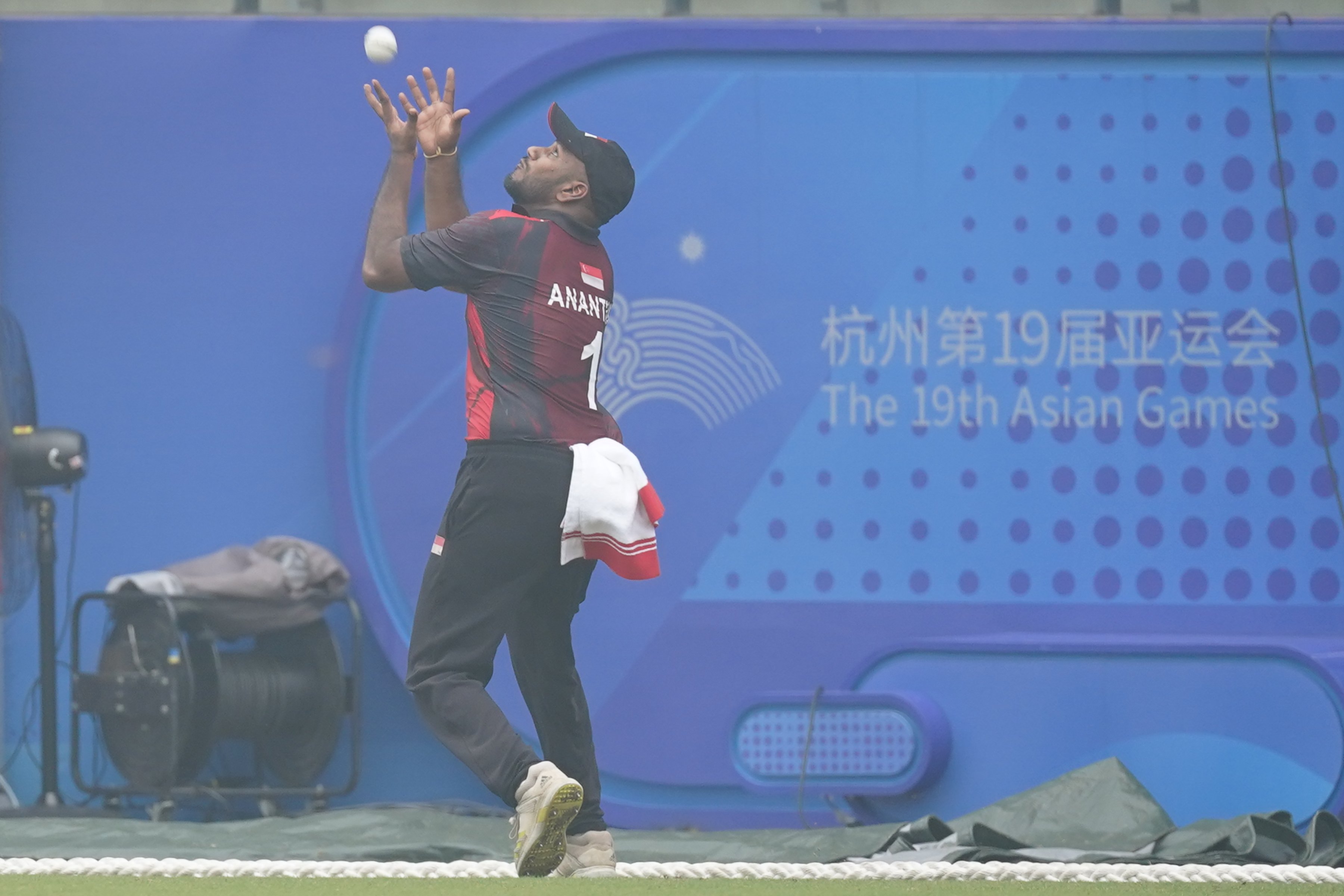 Singapore's Anantha Krishna reaches to take a catch on the boundary during the Asian Games preliminary group C match against Thailand at Zhejiang University of Technology Cricket Field. (Photo: Sport Singapore/Bryan Foo)
Spinner Anantha Krishna chipped in with two Thai wickets at the loss of only 11 runs.
"I'm very happy with the result," he said. "This is something we have been working on in the background for a long time and I'm just very happy and thankful to God that I have a pitch that I can use to express myself."
Krishna and Acha were full of praise for Suryawanshi's impressive innings that set the platform for the 99-run victory.
"It was absolutely critical," Achar said. "Chetan has been a phenomenal servant over the past two decades and for him to have that kind of innings at the Asian Games is just so important for us."
Suryawanshi had come to the crease with the team 47-3 after losing two quick wickets but he used his experience to overcome the tricky conditions.
"I think it was difficult to bat early on, it was a new wicket, a spinning track. We thought if we saved our wickets, then later on (in the innings) it would be easier," he said.
"Navin (Param) was batting with me and I told him, 'Let's take it until 14 overs with singles and doubles, and from there we can see how it goes."
Next up for the men is the ICC Men's T20 World Cup Asia Qualifier which starts later in October. The tournament, also featuring Nepal, Oman and Malaysia, is part of the qualification process for the 2024 ICC Men's T20 World Cup.
The 19th Asian Games are held in Hangzhou, China from 23 September to 8 October 2023. For the latest Team Singapore coverage and news, follow Team Singapore on their social media channels (Facebook, Instagram, TikTok) or visit the official Team Singapore website.
Related Topics
Recent Events & Programmes
Related Topics