Hangzhou 2022: Team Singapore's runners proud to compete at the Asiad
by ActiveSG Circle, on October 2, 2023
By Jeremiah Ong
Team Singapore's runners were back on the track for the third day (Oct 1) of athletics action, fully submerging themselves in both the electric atmosphere and the quality of competition present at the Hangzhou Olympic Sports Centre Stadium.
In the men's 200m heats, Mark Lee equalled his personal best after a 21.44s sprint put him in 16th, just on the cusp of a semifinal spot.
Come evening, Lee lined up on the starting blocks once more.
Competing in the second semifinals, he stood alongside the continent's top sprinters, like men's 100m silver medallist Puripol Boonson from Thailand and Asian Championships bronze medallist Koki Ueyama from Japan.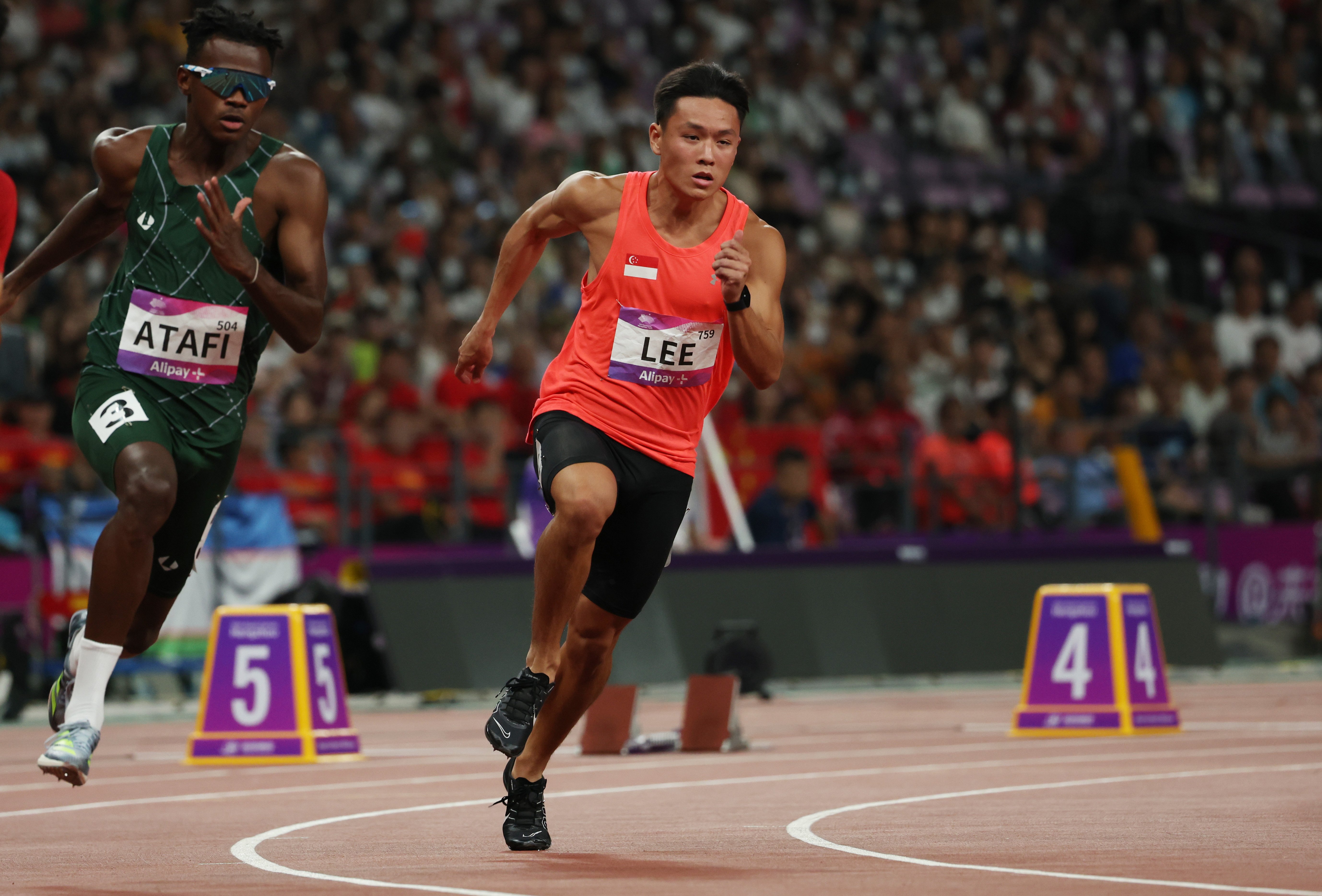 Lee running in the men's 200m semifinals where he finished 15th overall. (Photo: SportSG/ Jeremy Lee)
Completing his race in 21.61s to finish 15th overall, Lee could not hide his disappointment but was effusive in his gratitude for the opportunity to race against the region's best.
"Can't say I'm over the moon about (his performance), but you know I'm just very grateful, very blessed to even be here, be in this atmosphere, make the semis. I'm really against some world-class people and it's just a very humbling and very eye-opening experience for me so I'm very grateful for that," Lee said.
"It's been amazing, you know. I think this is by far the best meet I've ever been to. It's just the standards are so high, everything is so professional and it's just so...It's really like a dream come true."
With enlistment looming ahead, Lee is determined to make things work and is hungry for more.
"​​Yeah, I mean, we definitely move forward. It only makes me want it more, you know.
I'm gonna go back, work hard and use the disappointments that I faced this season to push me and motivate me even more," he said. "I'm confident that, you know, I won't let that affect my training too much. So, yeah, hopefully, I can just take it one step at a time. And hopefully, in a few years, I'll be achieving big things."
Unlike Lee, who was making his Asiad debut, long-distance runner Goh Chui Ling was making her return to the quadrennial event after nine years.
Competing in the women's 1500m final, Goh finished 12th out of 17 with a time of 4:29.62, an improvement of almost two seconds from her showing at the recent Asian Championships.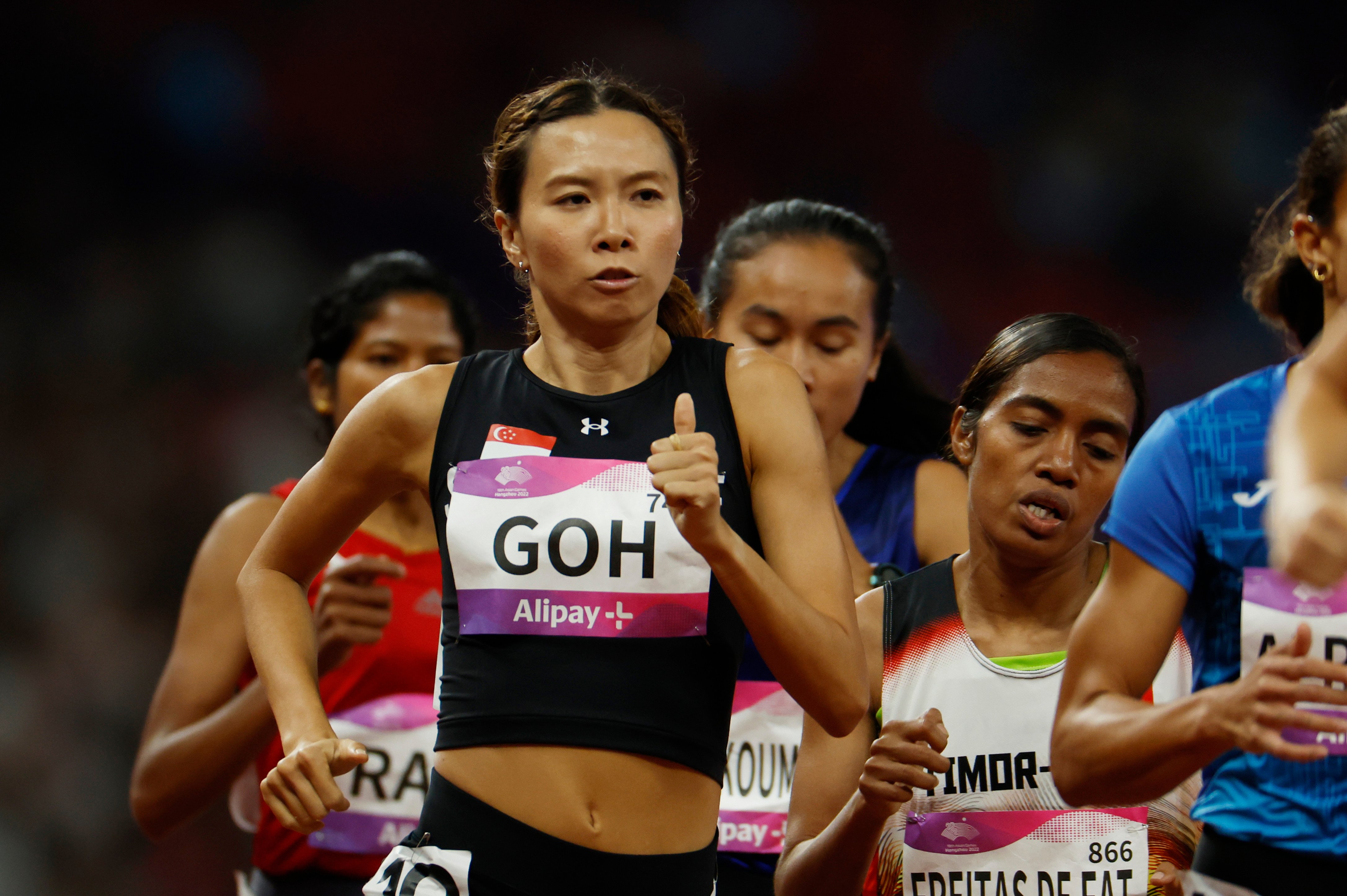 Goh running in the women's 1500m finals clocking a time of 4:29.62 to finish 12th out of 17. (Photo: SportSG/ Jeremy Lee)
Looking back to her Games debut in 2014, Goh said: "I was a kid when I first came. So when I was in Incheon, I was part of the 4x4 team, so we qualified by the relay. And I managed to run the individual because we were part of the relay team and I had the 400m timing to be in the squad."
"But I think I didn't feel like I belonged there because I was part of a team that qualified. So the team was deserving, not me. As an individual, I was only like one out of five or one out of six of the team that qualified. But this time coming in, I feel very grown up. I feel like I belong here, I feel like I qualify, I feel like I earn my spot here. So that's definitely a big feeling, a big difference in feeling, a bigger feeling in growth," she added.
The SEA Games double-bronze medallist is also set to feature in the 800m event and has her eyes locked on a place in the final.
Looking even further ahead, Goh hopes her career can go the distance, though she held back from making any promises.
"Well, I want to say that my sport allows me to go on for a bit. Not necessarily just to like mid-30s, but if I go up the distance, like (a) marathon, (I am) looking at definitely a longer lifespan of my career, a lot of athletes peak in the late 30s as well for the longer distances. So I'm looking forward to it.
"Like I was even looking forward to maybe also trying to qualify for the 10,000 meters for the next Asian Games. But see how that goes. If my years and my body permit me, I might go up the distance for the next Asian Games."
In the morning session, recently crowned Asiad silver medallist Shanti Pereira returned to the track for her pet event, the women's 200m, after claiming medal glory just 12 hours earlier.
She topped the 24-woman field with a 23.14s sprint to progress to the final on Monday (Oct 2) where all eyes will be on her as she guns for the top step of the podium.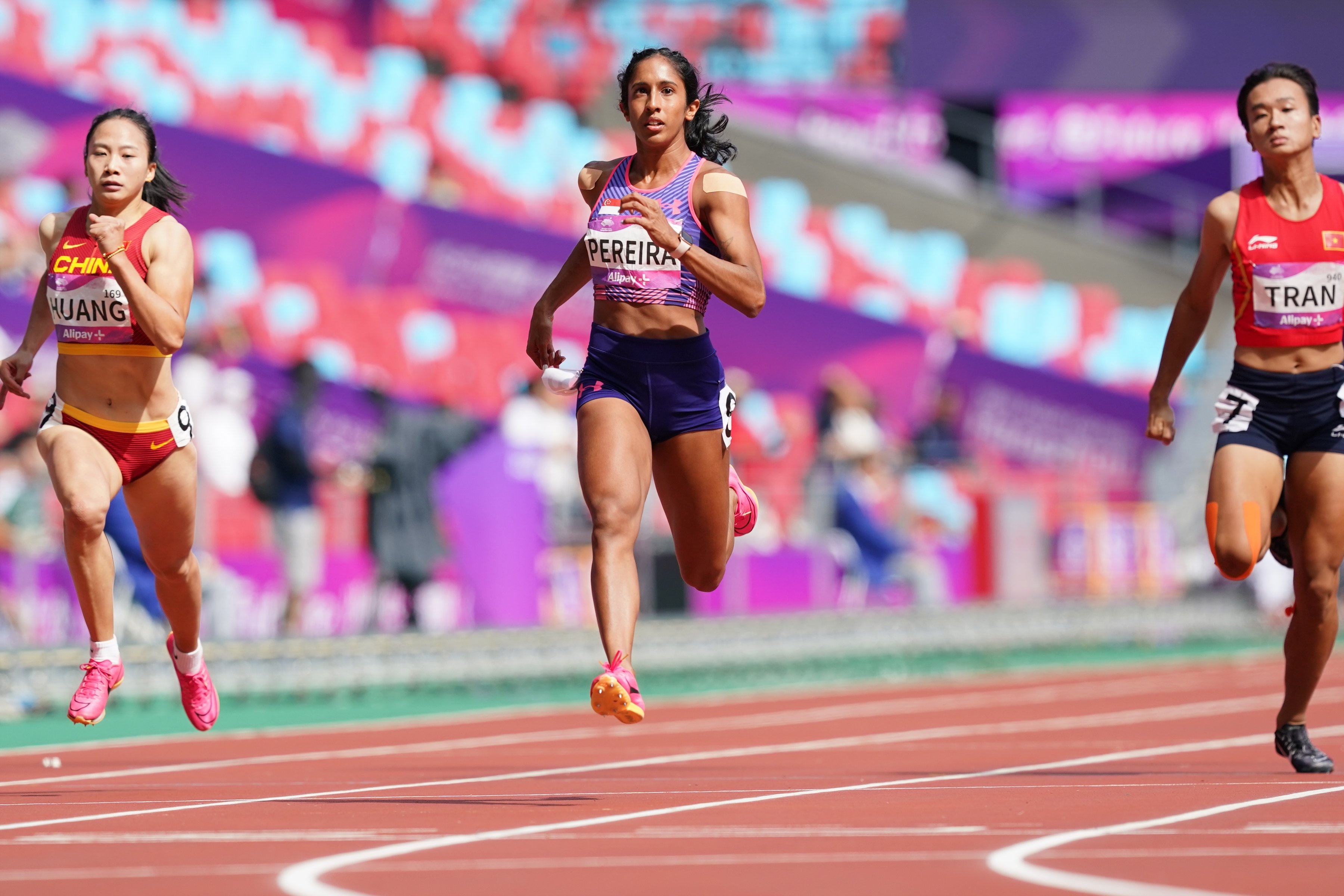 Pereira advanced to the 200m final as the fastest in qualifying. (Photo: SportSG/ Bryan Foo)
"Mentally I knew I just had to reset no matter what the result was yesterday and focus on today," she told reporters.
Compatriot Elizabeth-Ann Tan crossed the line in 24.84s, finishing 13th and did not secure a spot in the final.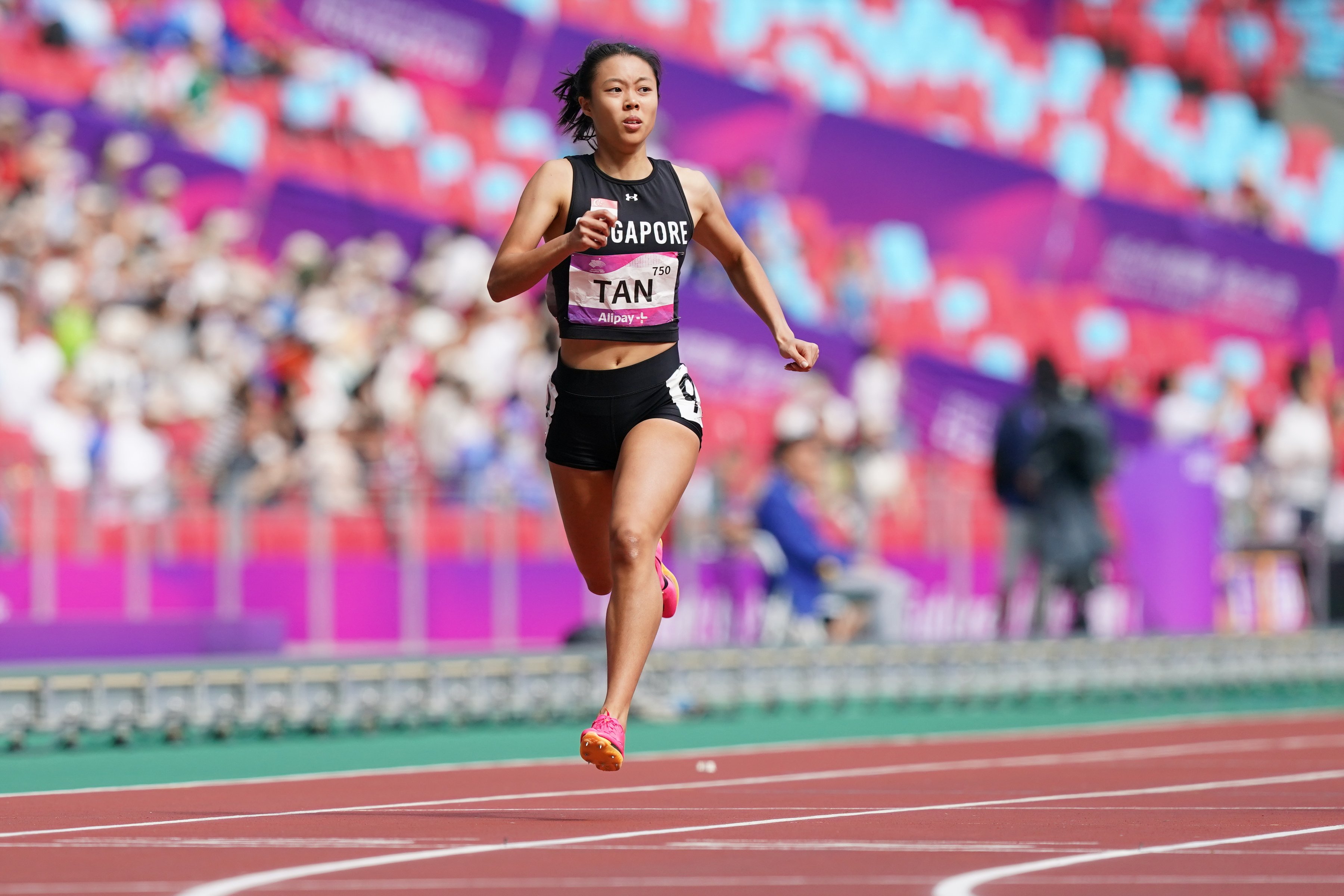 Tan missed out on the 200m final after coming in 13th. (Photo: SportSG/ Bryan Foo)
SEA Games gold medallist Ang Chen Xiang also competed in the morning's 110m hurdles heats and came seventh (13.90s) out of 14 to feature in the final on Monday (Oct 2).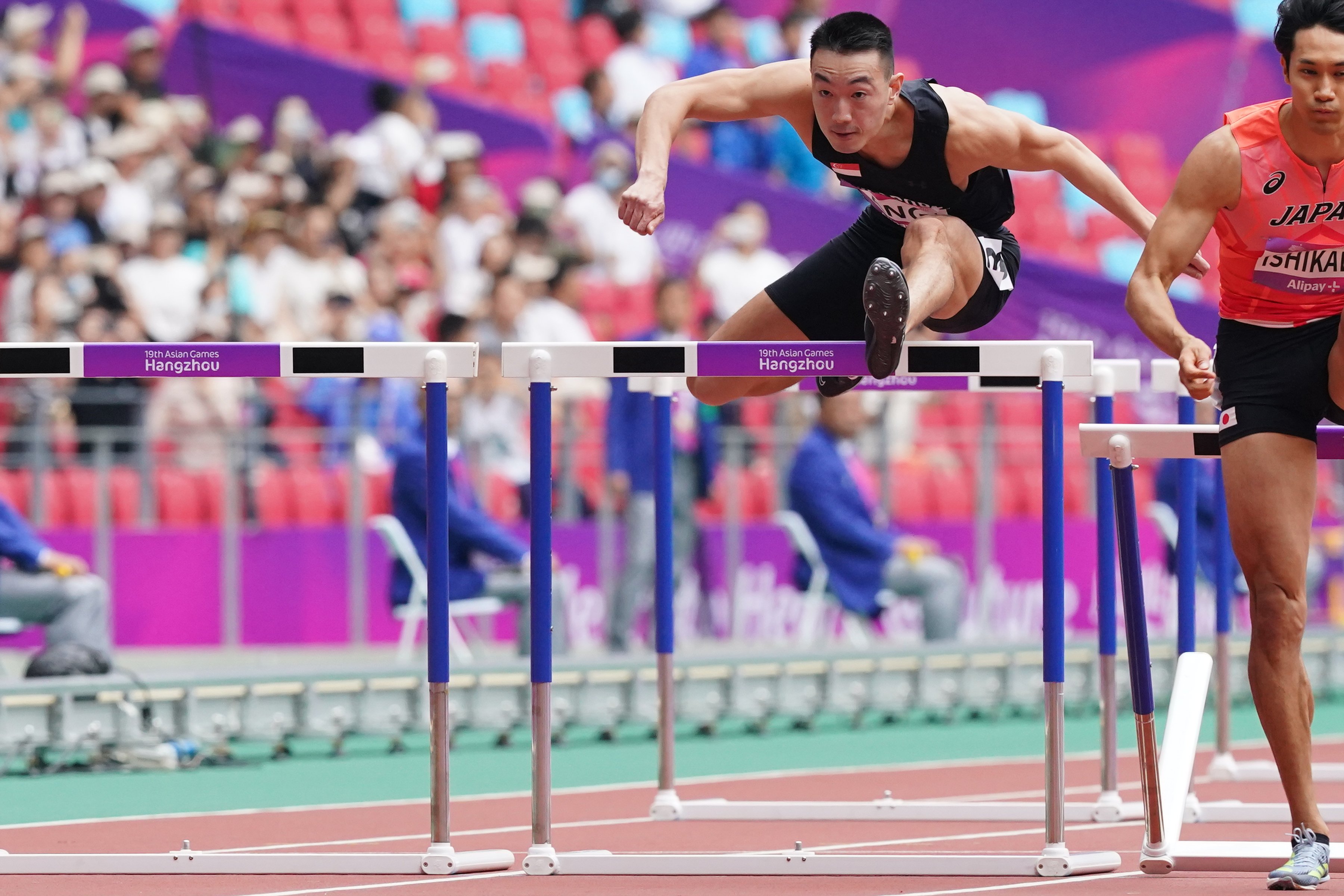 Ang, the national record holder in the 110m hurdles, advanced to the final after coming in seventh in the heats. (Photo: SportSG/ Bryan Foo)
The 19th Asian Games are held in Hangzhou, China from 23 September to 8 October 2023. For the latest Team Singapore coverage and news, follow Team Singapore on their social media channels (Facebook, Instagram, TikTok) or visit the official Team Singapore website.
Related Topics
Recent Events & Programmes
Related Topics