Hangzhou 2022: Well-organised Games and careful planning key to dream debut for mountain biker
by ActiveSG Circle, on September 25, 2023
By Jeremiah Ong
Team Singapore's sole mountain bike representative, Riyadh Hakim Lukman, hailed his "best performance ever" after competing in the men's individual cross-country final at the Chun'an Jieshou Sports Centre Mountain Bike Course on a steamy Monday afternoon (Sep 25).
The 135th-World ranked Riyadh hit an average speed of 13.413 km/h and an average heart rate of 185 through the scenic course, finishing ninth (1:54:04) out of 17 riders.
Hitting a max heart rate of 197 during his race, the 24-year-old said: "Honestly, that was the best performance I have ever done, the power and heart rate numbers show that it definitely was not an easy race.
"On a course that is much longer than usual standards, I think I managed it as best as I could."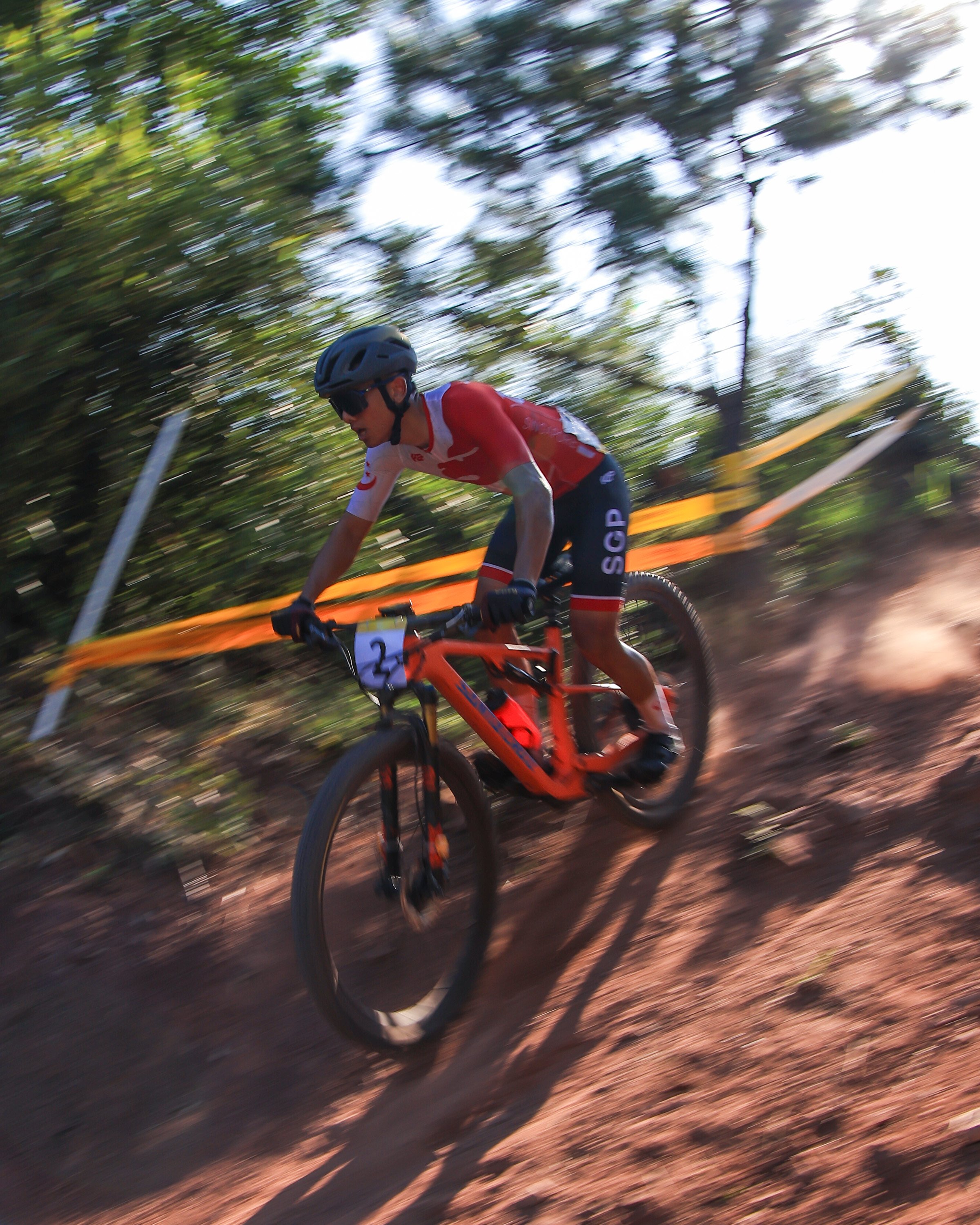 Riyadh racing along a 25.5km long circuit at the scenic Chun'an Jieshou Sports Centre Mountain Bike Course. (Photo: SportSG/ Stanley Cheah)
Racing on the picturesque course filled with lush greenery, hills and a lake view to boot, the 2019 Cross Country Eliminator Asian Champion was thrilled to finally make his Asiad debut.
"The scenery was really nice. We could see that we were racing by the lake at some parts and we also went through a part of what I think was a theme park," Riyadh said.
"Debuting at the Asian Games feels absolutely surreal. And to experience such a well-organised Games at my first Asian Games just makes it that extra special."
He also credited good preparation leading up to his race and proper heat management strategies as reasons for his performance.
"So many things went well, from the days before competition up to the final minutes before toeing the line," he added.
Other factors he cited include good sleep, sufficient food from the dining halls and help from volunteers to ensure schedules were met with exceptional precision.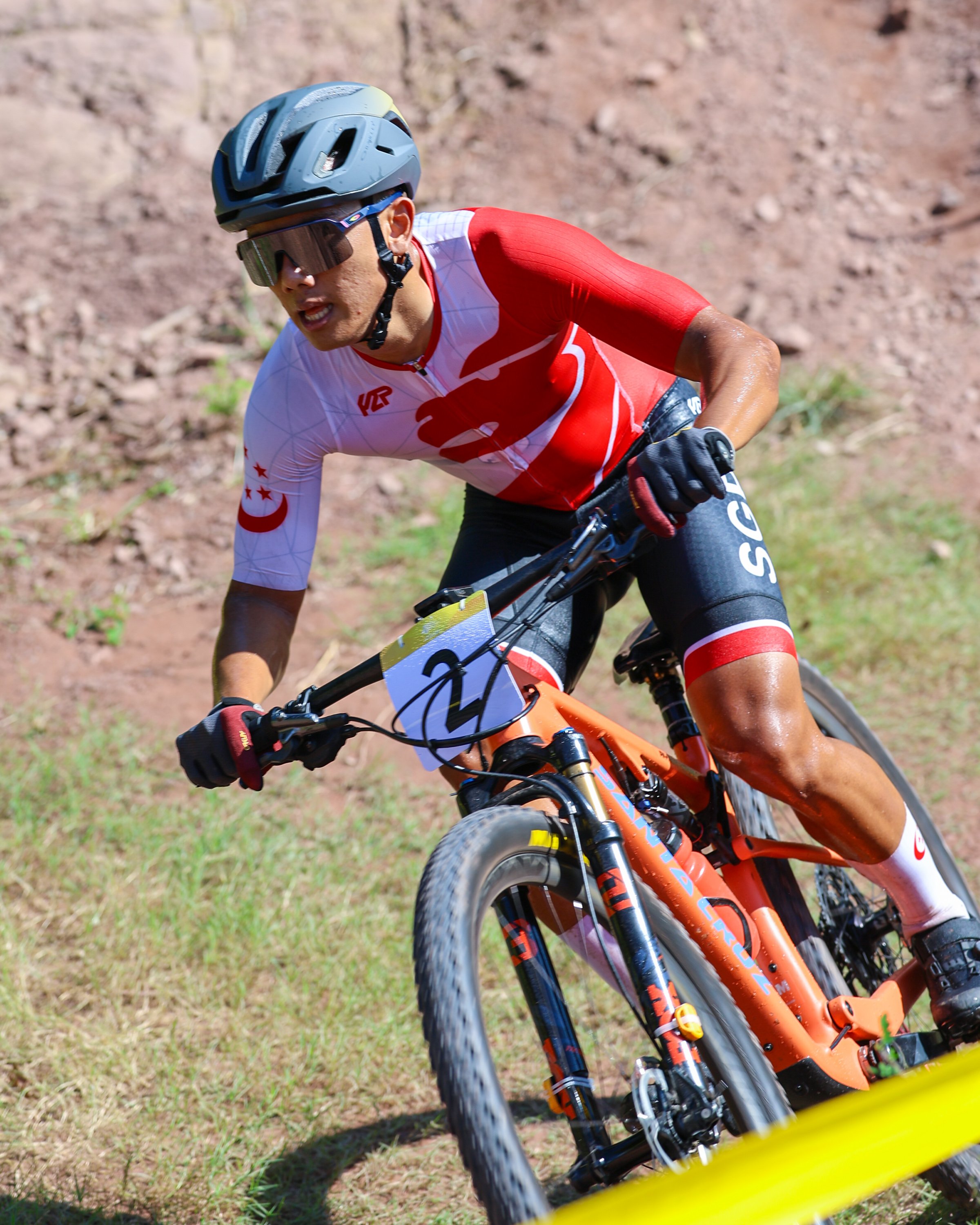 Riyadh traversing the hilly course. (Photo: SportSG/ Stanley Cheah)
Riyadh, who was in the first line of six racers, got off to a promising start on the 25.5km-long course firmly in third after the 800m start loop.
Things started to get tricky after the first lap as he slipped to seventh and then tenth on his second lap.
He recovered slightly to ninth in the third and maintained that pace to the finish line.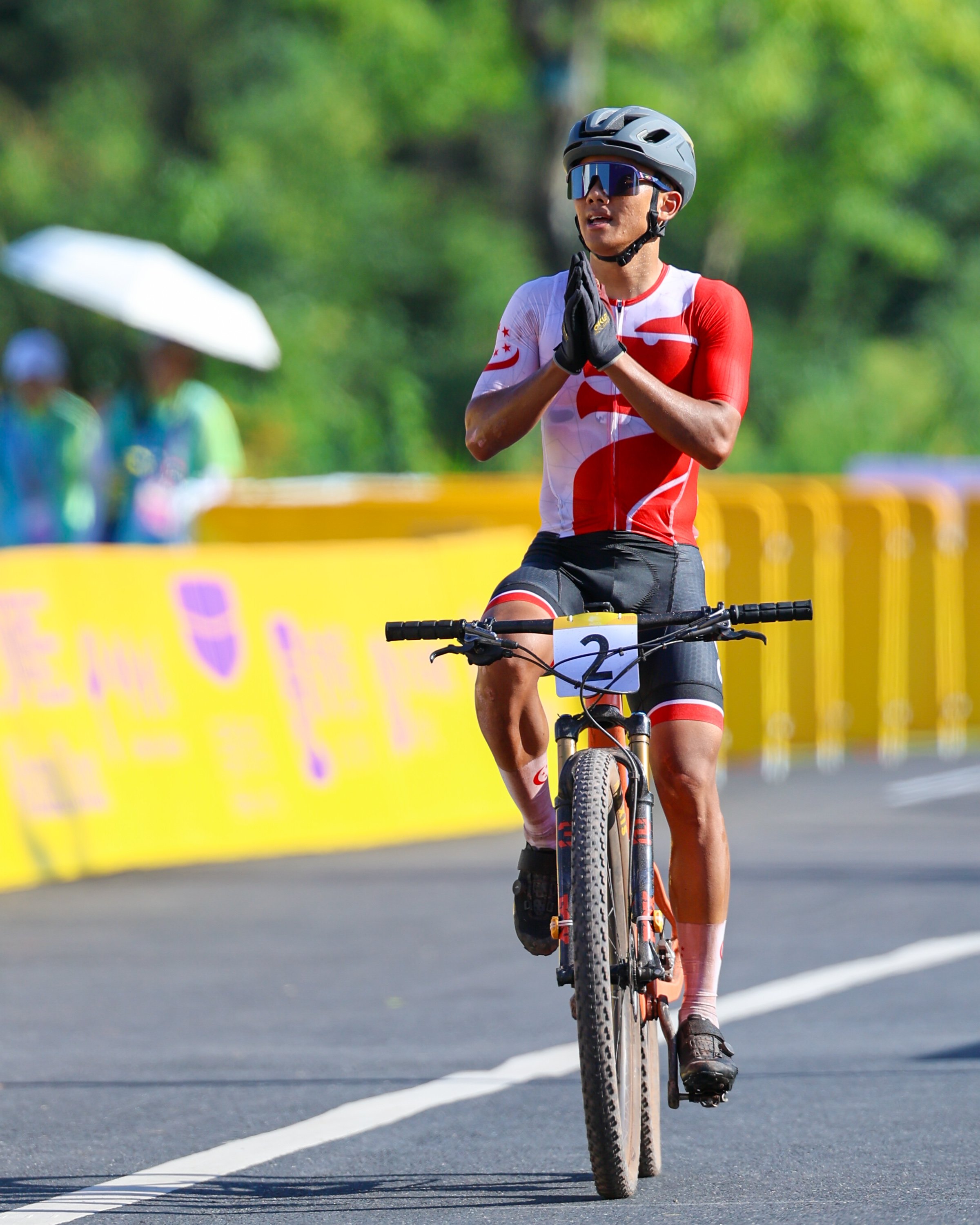 Riyadh finished in ninth on a sultry afternoon. (Photo: SportSG/ Stanley Cheah)
Post-race, Riyadh was buoyed by a belief that his race showed he was "bridging the gap to the stronger countries in Asia".
Speaking on his future participation in major Games, he said: "There is so much more I want to achieve in this sport. Always searching for ways to improve. As long as I have the support, I will do my best."
The full-time national biker is already setting his sights on the MTB Eliminator World Championships in Indonesia next month where he will race in the cross-country eliminator. A week later, he will head to India for the MTB Asian Continental Championships to compete in the cross-country eliminator and cross-country olympic events.
The 19th Asian Games are held in Hangzhou, China from 23 September to 8 October 2023. For the latest Team Singapore coverage and news, follow Team Singapore on their social media channels (Facebook, Instagram, TikTok) or visit the official Team Singapore website.