How Football brought Rafi Ali and his daughter Gianna Zahara closer
by ActiveSG Circle, on October 25, 2023
He won the Malaysia Cup and Malaysian League double with Singapore in 1994. He was also a key member of the first Lions team to be crowned Asean champions in 1998.
In an illustrious football career that spanned close to 20 years, Rafi Ali has practically won everything in both regional and domestic football.
But one of his most cherished football memories has nothing to do with the honours he has won or the goals he has scored.
For the former national playmaker, one of his proudest moments in the sport came when his daughter, Gianna Zahara, decided to also pursue the sport competitively.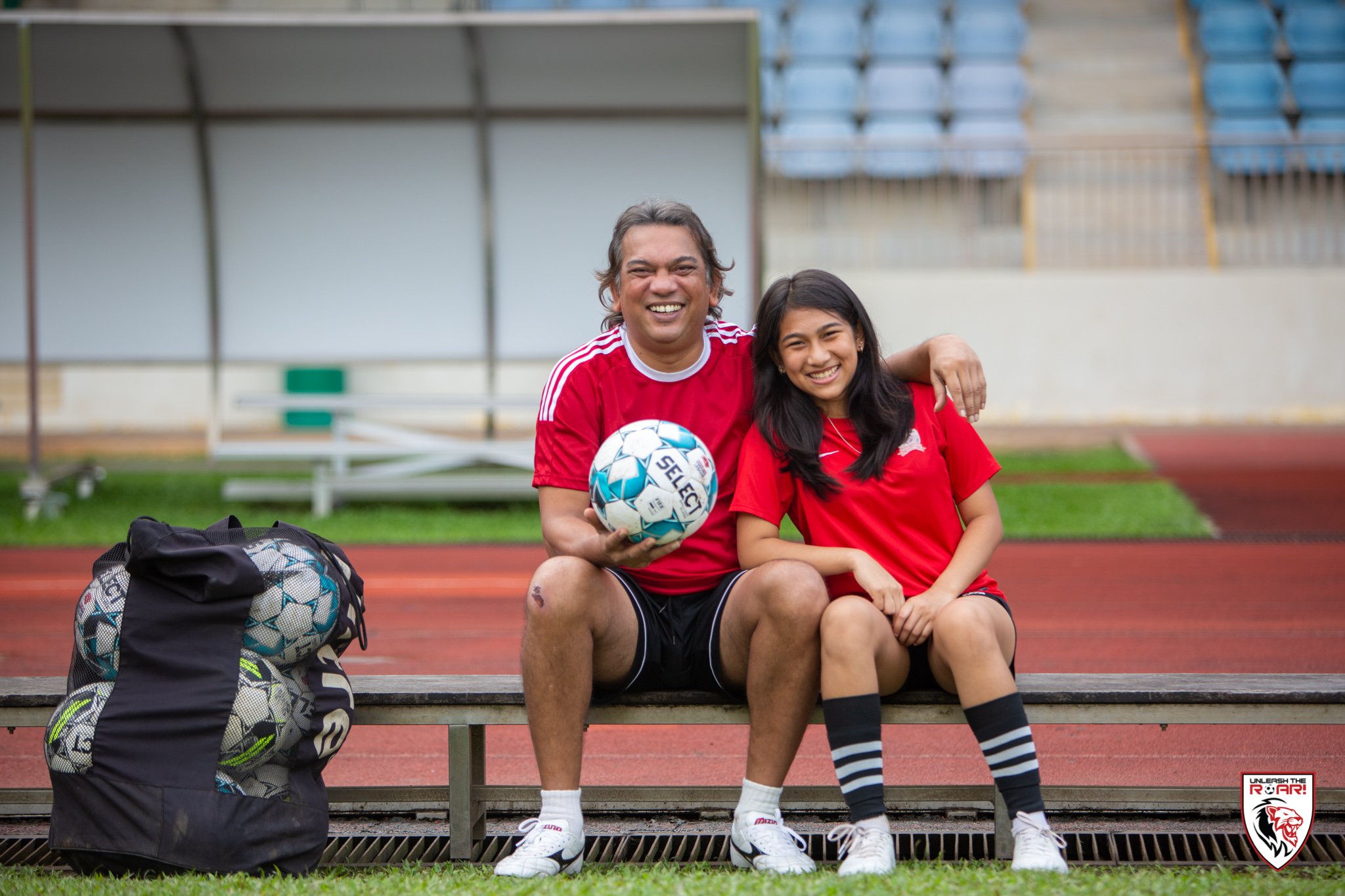 Former international Rafi Ali was an accomplished playmaker in his time. His daughter, Gianna, 15, hopes to also rule the midfield like her daddy did. Photo by Ng Chrong Meng
It was a pleasant surprise as Gianna, 15, had never really been interested in football, despite her dad being one of Singapore's more skillful footballers in the past few decades. But with football pedigree in her blood, she somehow gravitated to the football field.
"I never pushed the girls into football, even though being a footballer, it is always nice if your kids take after you," said Rafi, who has another daughter Aryanna, 17.
"But then in January last year, Gianna suddenly said, 'I want to play football'."
Said Gianna, a student at CHIJ Katong Convent: "I had always thought about football but never really went for it. I remember watching my dad play the Liverpool legends a few years ago at the National Stadium and thought that the whole atmosphere, with the crowd and the players, was very cool.
"I thought to myself that that is something I want to experience. So I think the match and watching how my dad is so passionate about football, made me decide to take up the sport."
Joked Rafi: "I told Gianna that if you're not good, don't tell people you're my daughter. But luckily, she has some potential lah!"
Gianna enrolled in the Darren Stewart Academy and from knowing very little about football, has blossomed into a promising young player who now trains with the Tanjong Pagar United FC's Women's Premier League team. She hopes to make the grade to join the team in the near future.
Said Rafi, who is now a head coach at the ActiveSG Football Academy and ambassador for the Unleash The Roar! national football project: "What impressed me the most is Gianna's maturity and clear determination to succeed on her own terms. She actually told me, 'Daddy, I want to do it by myself. I don't want you to do any favors for me.'
"To me, that's when I knew that she's pretty serious about the sport."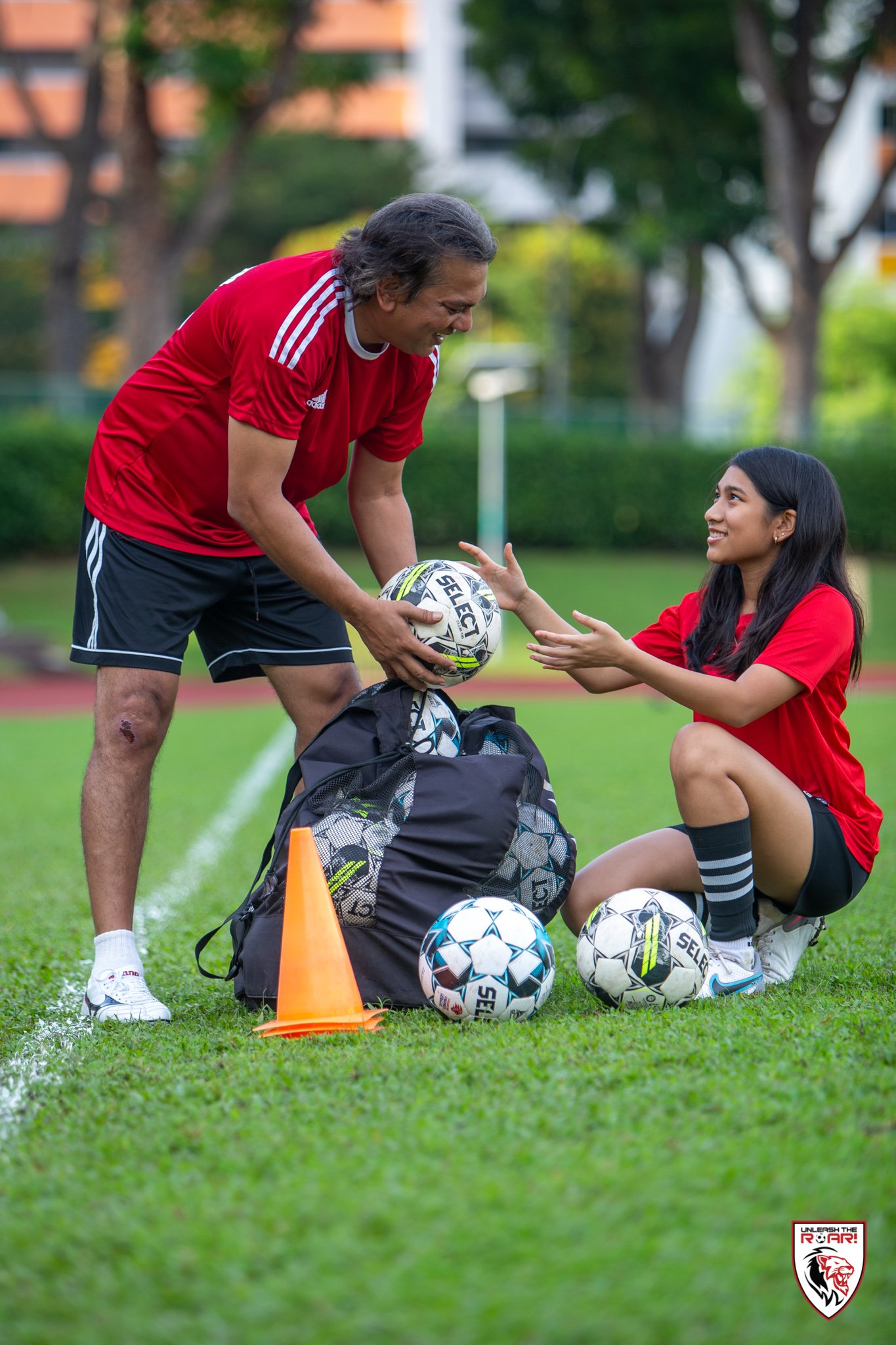 Despite her father being a well-known footballer, Gianna told Rafi that she didn't want him to do her any favours. She wants to achieve success on her own terms. Her discipline and determination to carve her own path in the football world are attributes that Rafi deeply admires. Photo by Ng Chrong Meng
Her newfound interest in the beautiful game also ignited a shared enthusiasm between them and has brought the family closer.
The bond between father and daughter has blossomed in the last couple of years. Both would spend hours talking about football and ways in which Gianna can improve her game. Rafi would put Gianna through ball mastery drills at home and they would also go to training together. Aryanna would at times also join them to watch football the Women's Premier League or the National Women's Team's matches.
Said Rafi: When she was very young, right at home, I did something with the ball. Step overs. So she was quiet, and she was just watching. But she then went out to the car porch and she took a video of herself. And she was able to do it by herself.
"But then she stepped on the ball and she fell, but thought nobody saw. So we were both laughing at each other, and we like, laughing about it. She's a joker and it's great that football can be both a passion and something we can have fun with."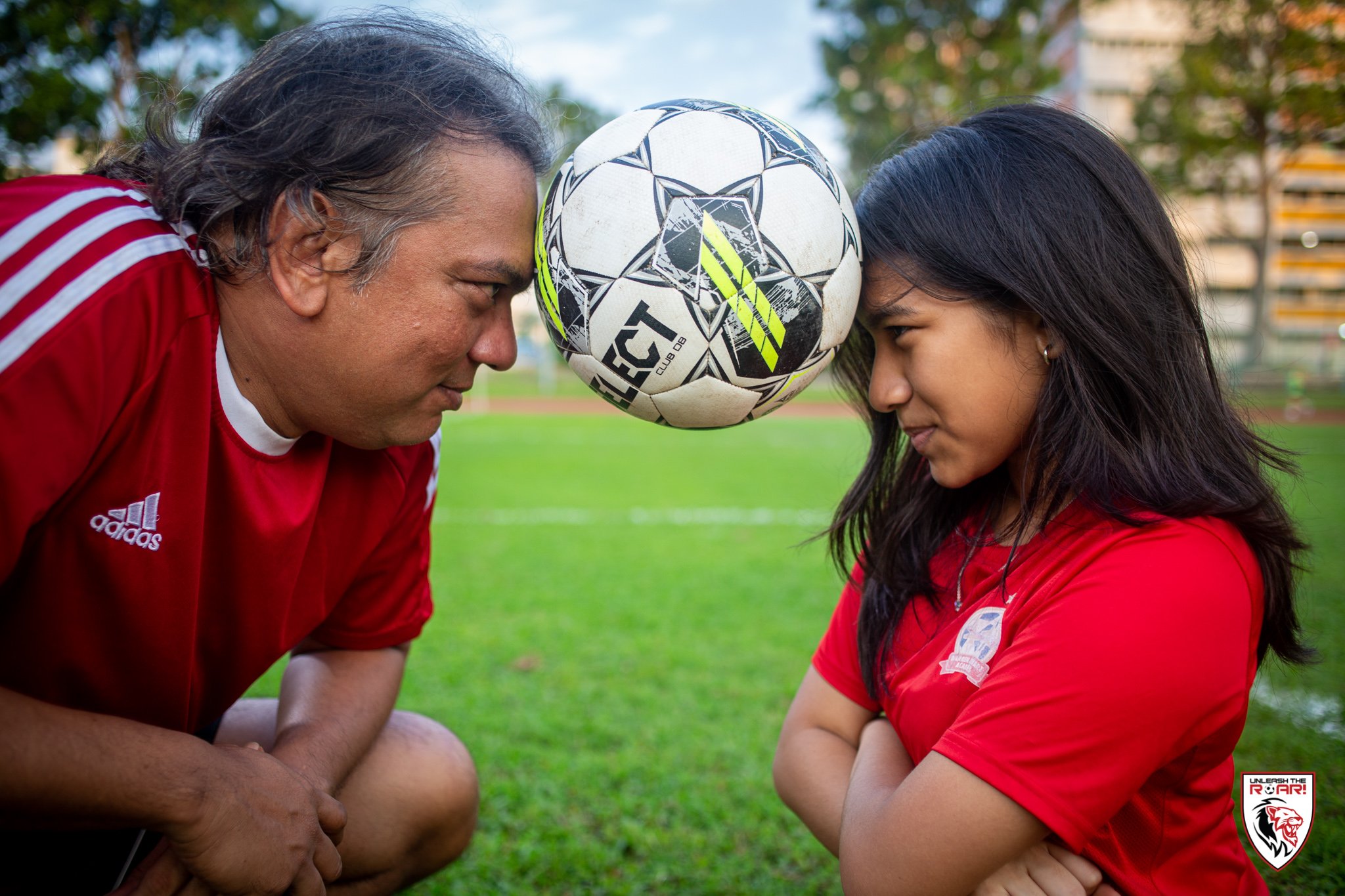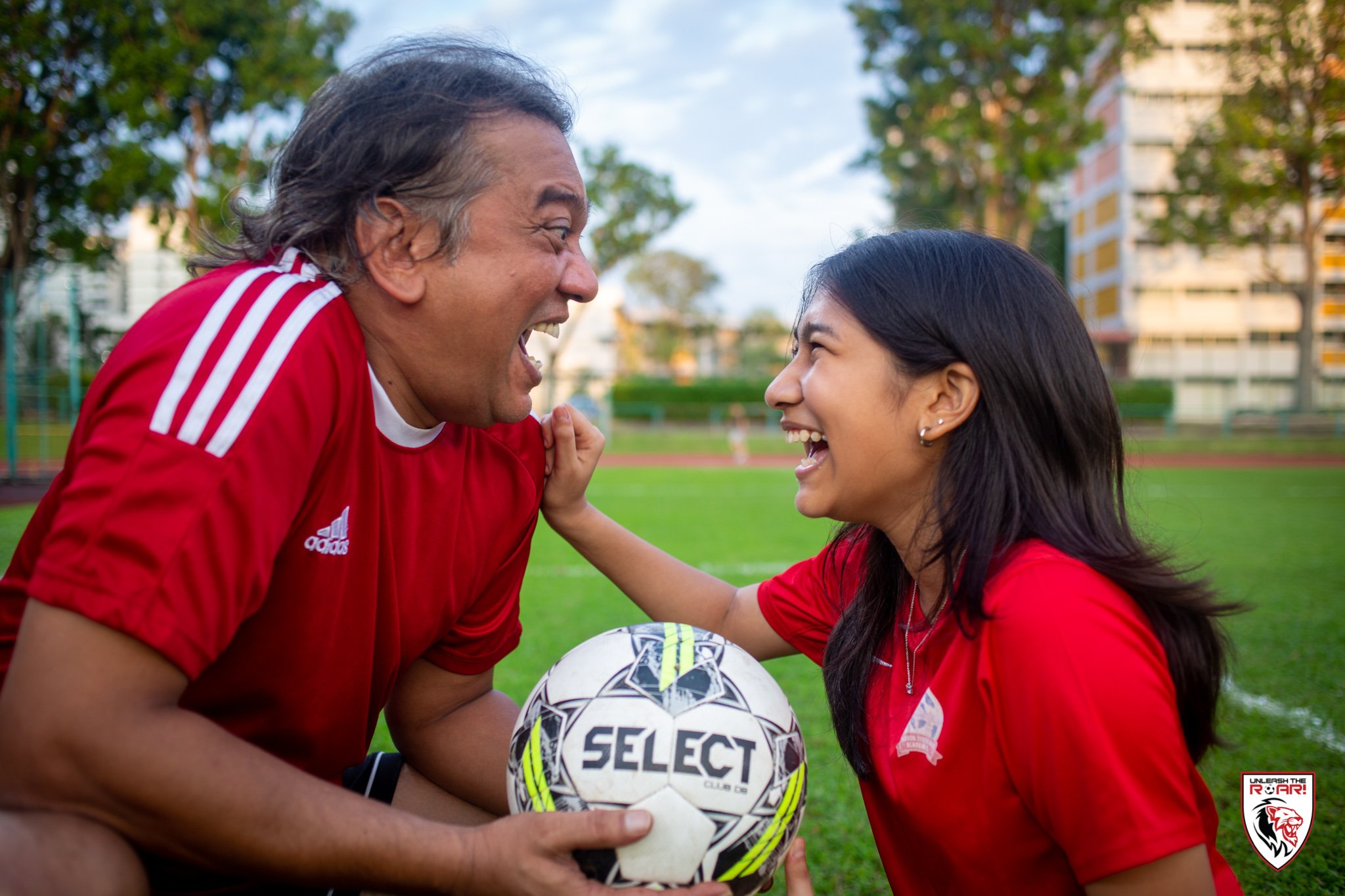 Through football, Rafi and Gianna share a special bond. Said Rafi: "It's great that football can be both a passion and something we can have fun with." Photos by Ng Chrong Meng
Rafi said that he has spent the last two years helping Gianna get her football foundation up to speed.
He said: "I will grill her on the basics because I think very important. Once you have the basic technique, then you start to open up your eyes and play. If you don't have the basic technique, most of the time you're looking at the ball thinking whether you can control the ball or cannot control the ball. So I told her that. I said your technique must be good. Ball control, passing, all must be good. So I told her to focus on that first."
One of the most significant qualities Gianna believes she inherited from her father is a good footballing brain. She has always been observant and quick to understand the game dynamics. While she may have started late, she strongly believes that her ability to grasp tactics and strategies quickly gives her an edge.
Said Gianna: "I like to play one-touch football and like to pass the ball around.
"Looking at my father and the player he was, I'm very inspired. I also like to watch him play because he knows how to imagine the game. So I like to watch how that happens. Before he even gets a ball, he would look around so he can read the game and plan his next move.
"I want to be like him and make it to the national team someday."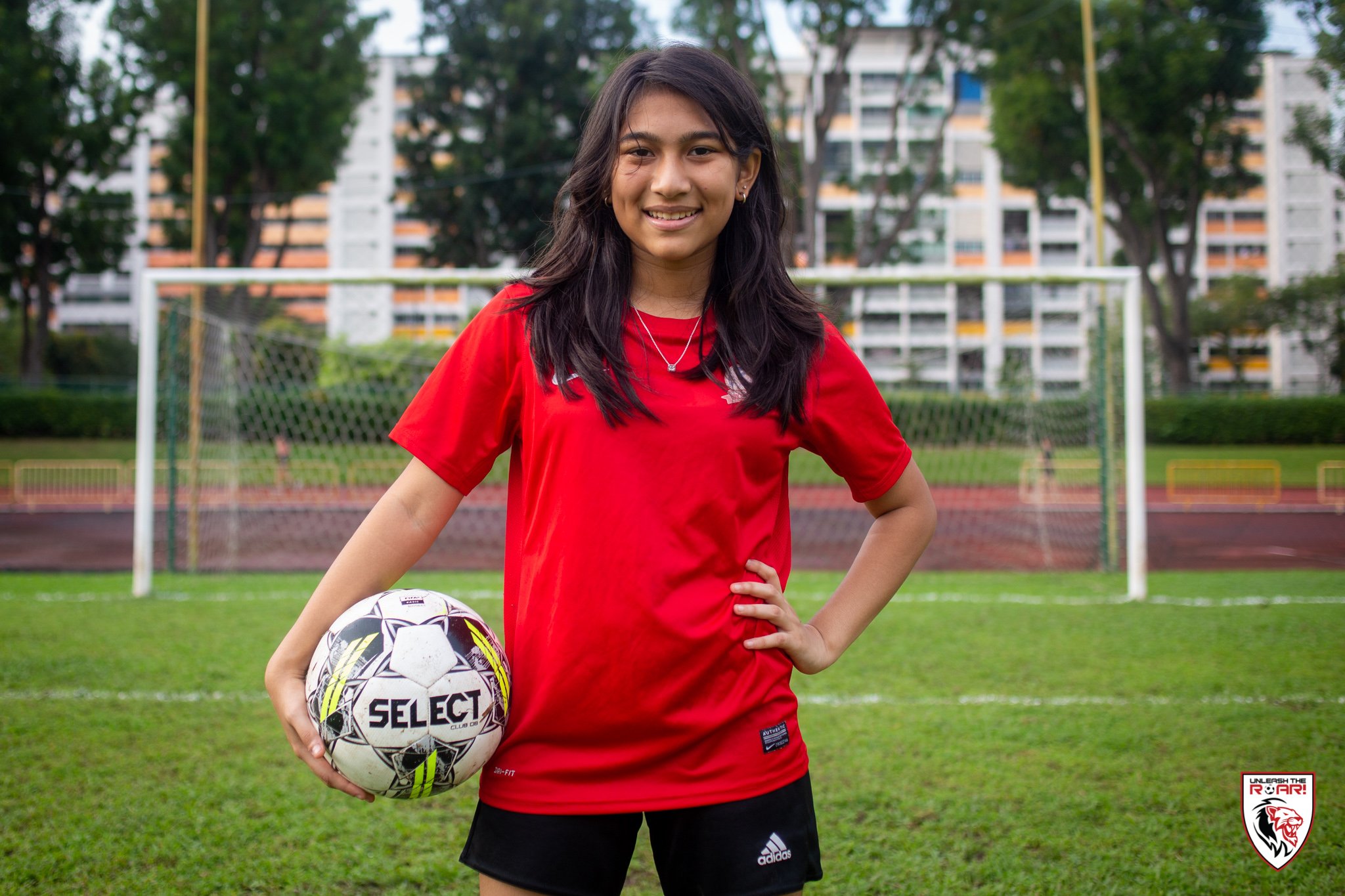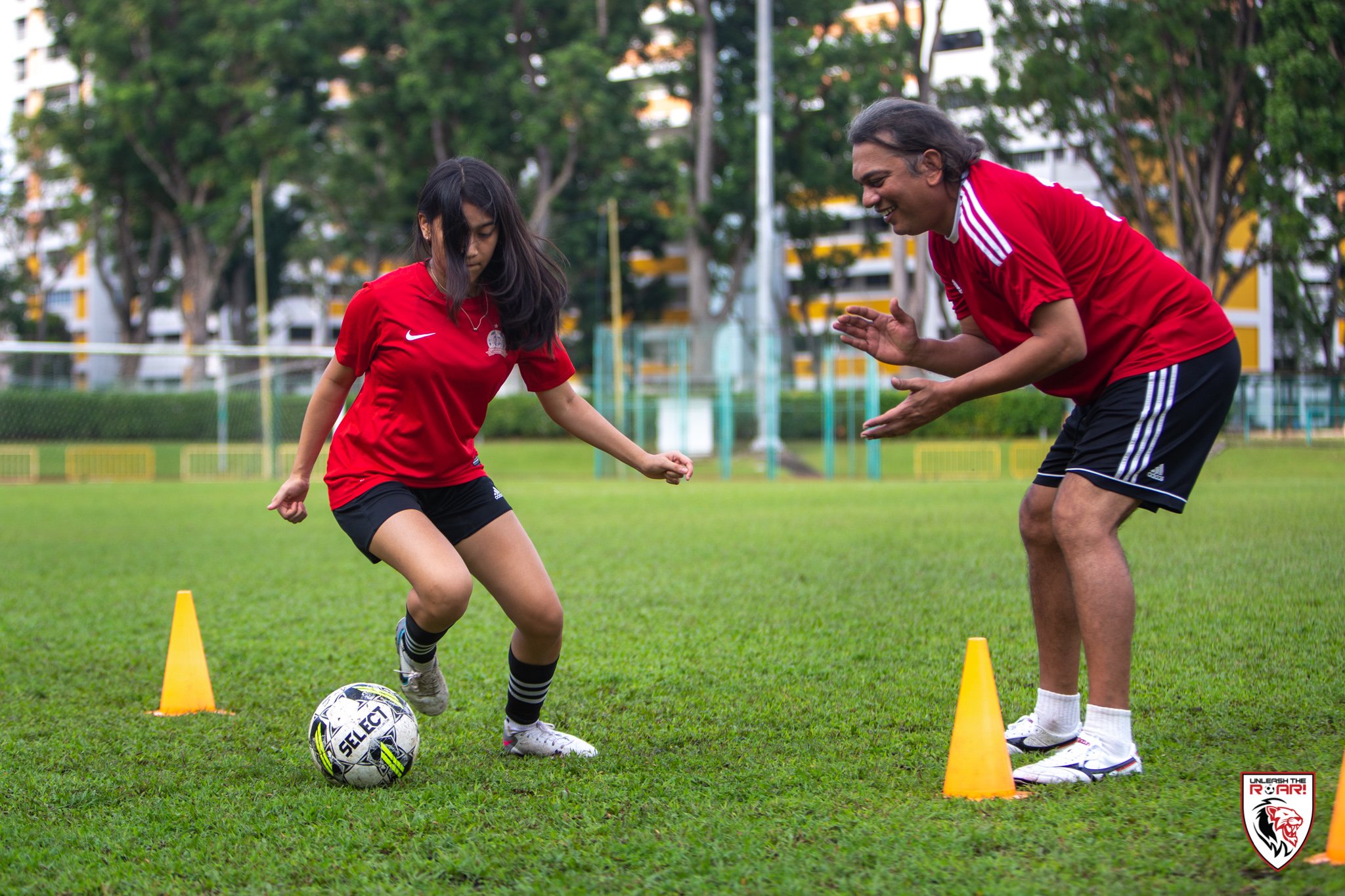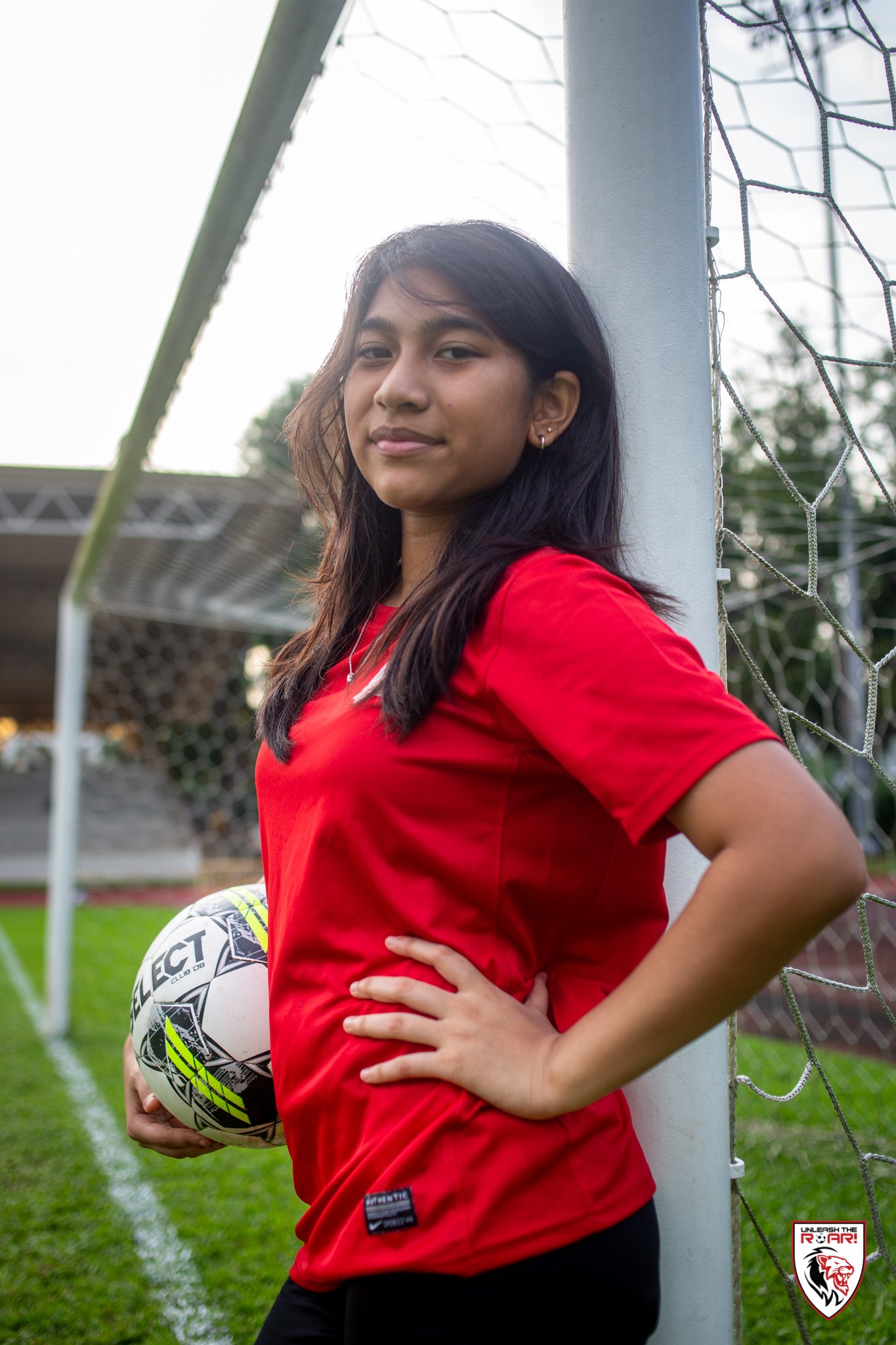 Gianna believes she inherited her father's footballing brain. She is observant and can read the game well, attributes she hopes to polish and hone to a level where she can be an asset to the national team. Photos by Ng Chrong Meng
Added Rafi: "I will support her on this journey. But it's also my role as a father to tell her that things can be very tough. But you need to just grind true and not give up.
"I told her, if you really want to play football, there's a lot of sacrifices that you have to make, be disciplined, everything. You must be willing to do that and then you can go further."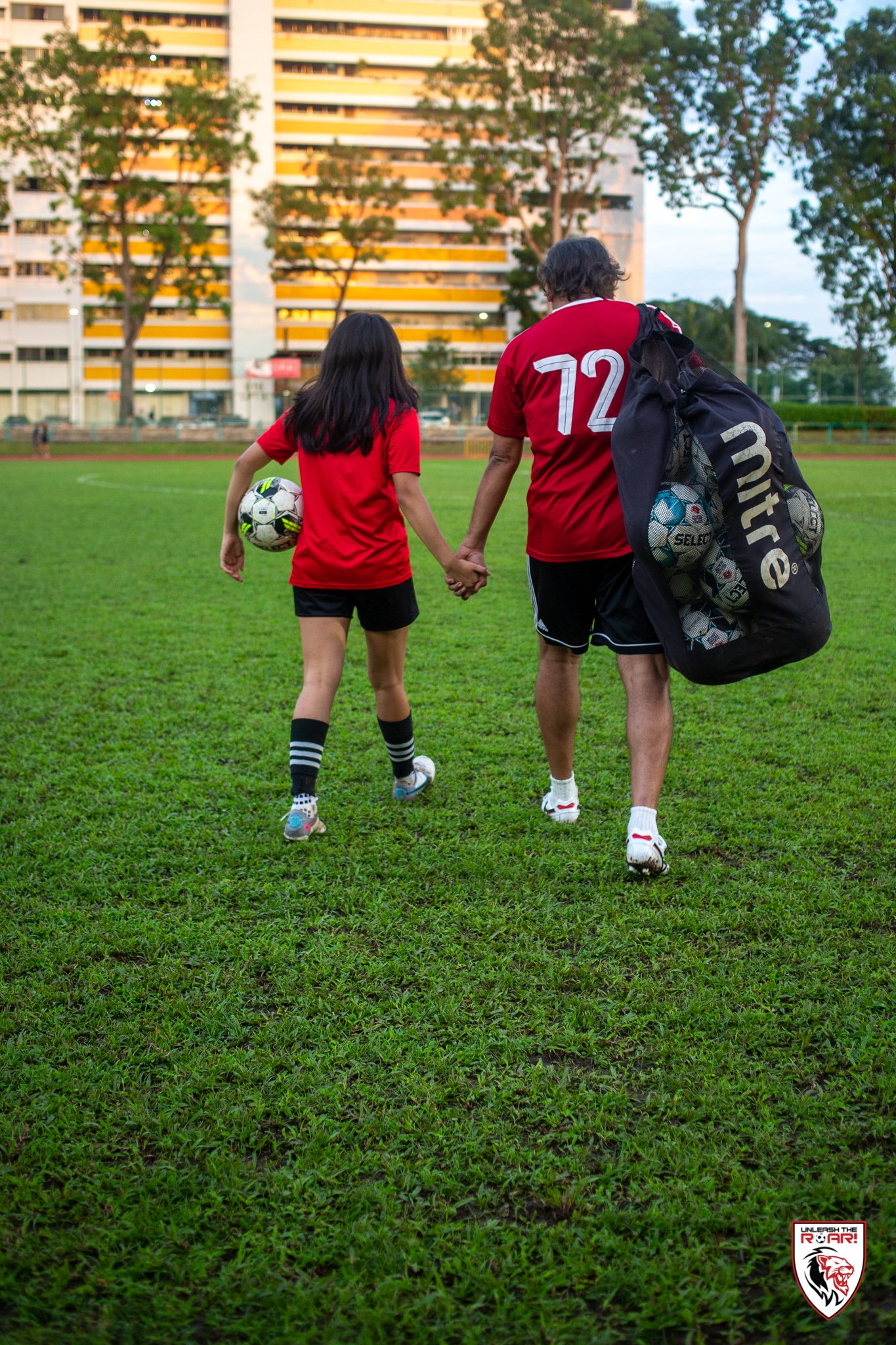 Said Gianna" "It's a journey I'm fully committed to. With the guidance and inspiration of my father, I'm determined to overcome challenges, continually improve, and pursue my dreams in the sport I've grown to love". Photo by Ng Chrong Meng.
The willingness to make sacrifices and building mental resilience is what Rafi believes the next generation of Singapore footballers need to improve on if Singapore football wants to compete with the best.
He said: "My personal opinion, kids today, they're very smart. But at the same time, they are also very sheltered and sometimes spoilt. So we need to educate them and tell them that nothing comes easy in life. And if you choose football, a sport where millions are fighting to make it, you must have the passion, you must have the desire, you must have the willingness to sacrifice a lot of things and fight to succeed.
"You need to overcome a lot of things, injuries, mental setbacks. You need to be mentally strong. So we need these boys and girls to be prepared for that. You see the best footballing nations in the world, they're all very tough. Even in countries like Vietnam, Thailand, Japan and South Korea, when it comes to sports, it's serious business.
"Singapore needs a mindset shift. If we truly want our football to succeed, players, coaches, parents all have to be willing to change and do things differently than how we've approached football.
"The approach to training, to the quality and repetition of training to the mental toughness we display in matches, we're all trying to change that now.
"And I hope for Gianna and players of her generation that they can pursue their dreams and one day bring Singapore football to new heights."
This article was written by Mas Hidayat and first published on Unleash The Roar!