In Memoriam : Former Chairman of Sport Singapore, Dr Tan Eng Liang
by ActiveSG Circle, on June 2, 2023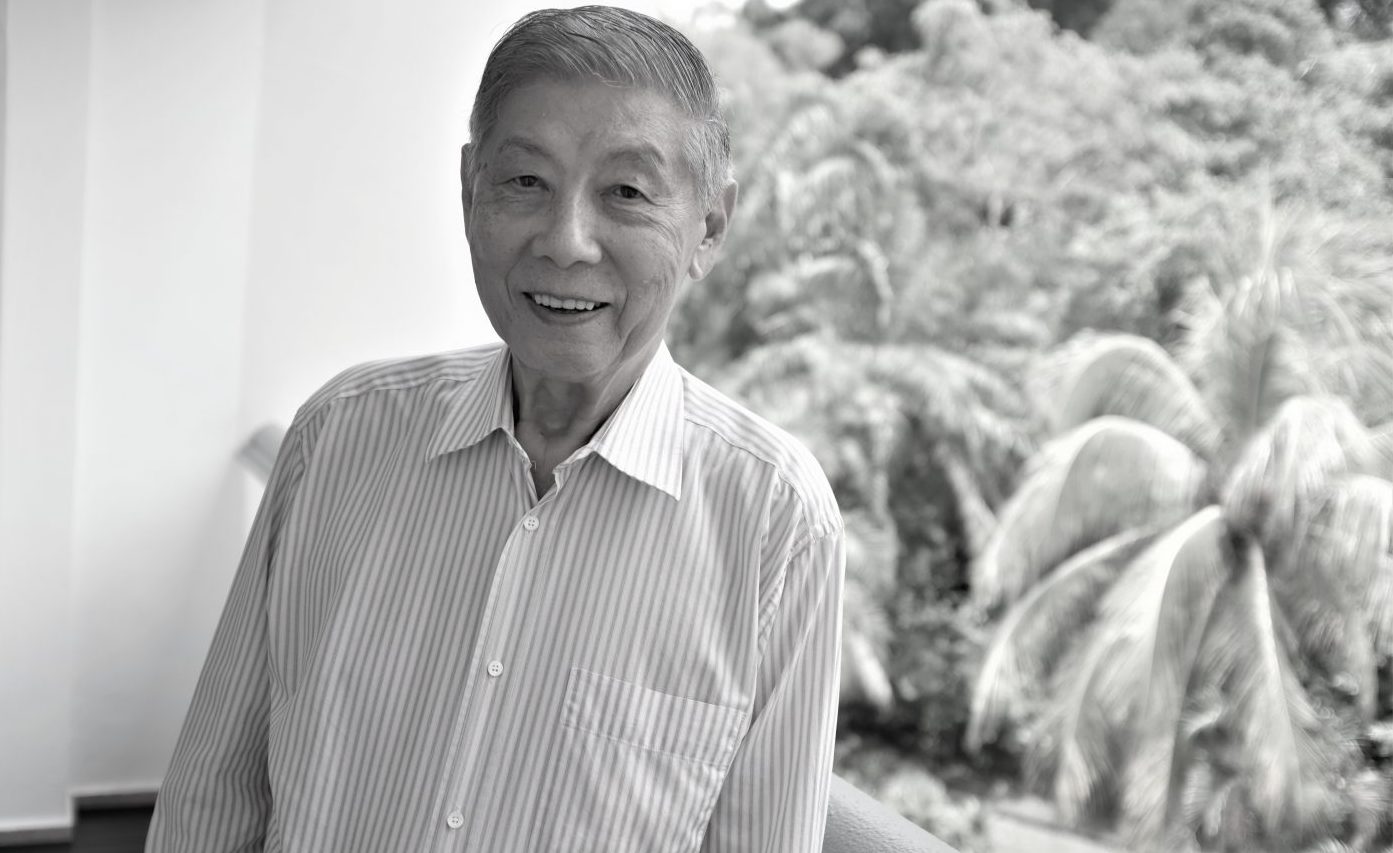 Former Team Singapore athlete and veteran sports administrator, Dr Tan Eng Liang. Photo Credit : Gemma Koh
Dr Tan Eng Liang (24 June 1937 – 28 May 2023)
The second Chairman of the Singapore Sports Council (SSC). He took over from Dr Beney Sen, who had resigned from the post.
Tan Eng Liang was 37 years of age when he took over the reins. Concurrently he was the Senior Minister of State for National Development from 1975-1978, and later for Finance from 1979-1980.
His tenure as Chairman was from 2 June 1975 – 30 September 1991 – a 16-year spell. Closely associated with Lau Teng Chuan, who was the Acting Chief Executive Director until 1977 and the Chief Executive Director until 1992. Together they were a committed team.
Tan Eng Liang added rigour to the organizational processes within the SSC. Meetings were closely monitored and minuted and access to the decision-making process restricted when necessary.
There was a slender foundation to build on at the SSC. The Council, under Tan Eng Liang's leadership, developed the policies first created after the inauguration of the SSC in 1973. The most immediate demands on the new Chairman's time were to direct the plans for Sports For All. The priorities were to shape and extend the Master Plan for Facilities to provide people with access to a suitable sporting environment. This was completed and announced in 1976. It was not enough to provide facilities though, there was a simultaneous need to produce coaches to demonstrate skills, motivate participation and train talented youngsters.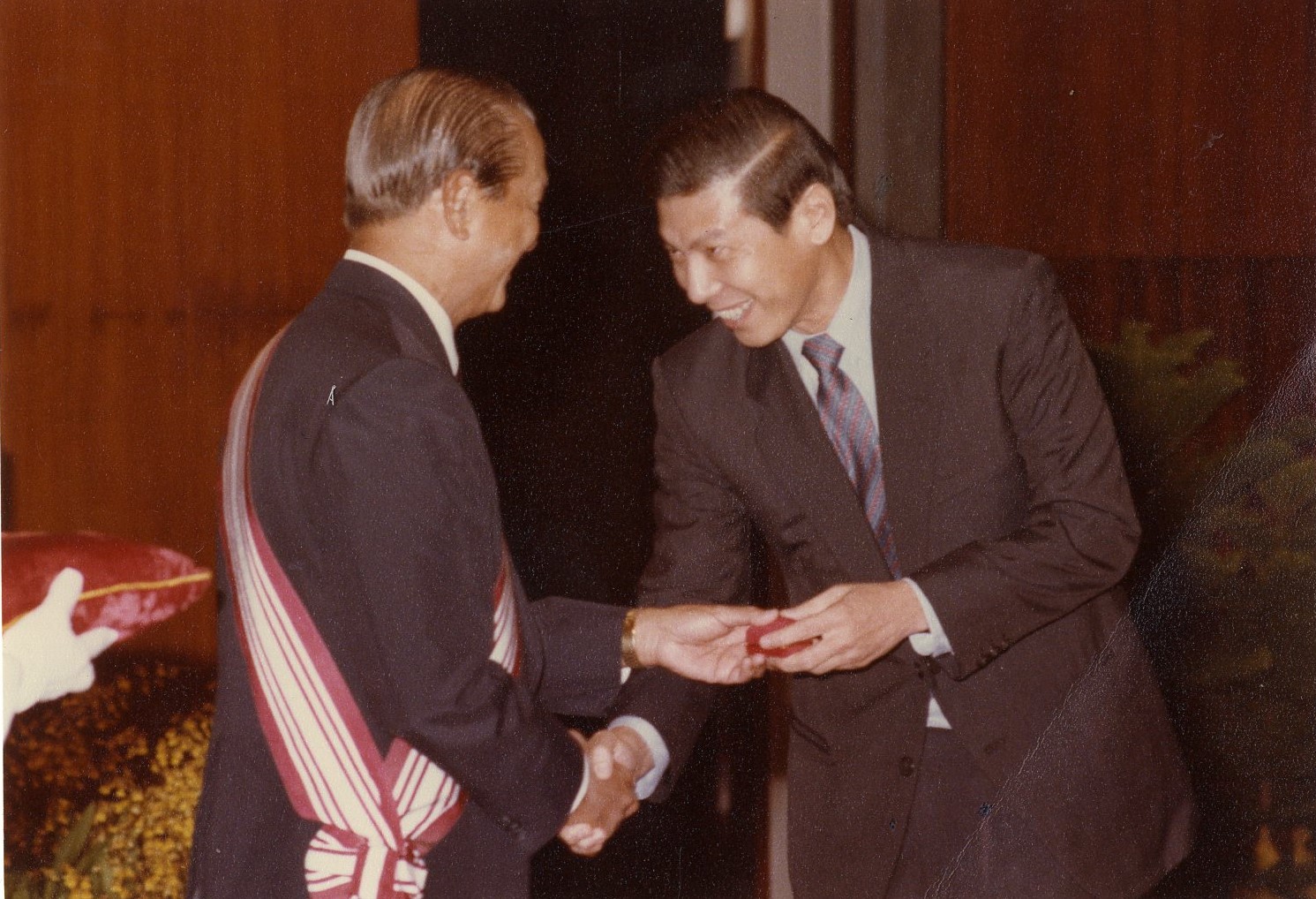 Dr Tan Eng Liang receives the Public Service Star from President Wee Kim Wee for his contribution to sport in 1985. Photo Credit : Sport Singapore
Dr Tan felt that the most important achievements in his 16-years tenure were the realization of different aspects of the Sports for All policy. One significant element in the background was the creation of an Information and Research Division in the SSC to provide up to date statistical information to aid the various planning threads.
During his first year as Chairman, there were many initiatives led by Tan Eng Liang. At the business level, the criteria for awarding subsidies to NSAs were established. At the community level, the idea of increasing active participation led to the organisation of mass events, such as the National Jog & National Walk. The Opening of the Katong Swimming Complex marked the start of an extensive programme to provide greater access to safe swimming for the population. As recognition of the need to create a balance between sporting success and fulfilling academic requirements, he ESSO Sports Scholars Awards were introduced to provide support and acknowledgement for young athletes.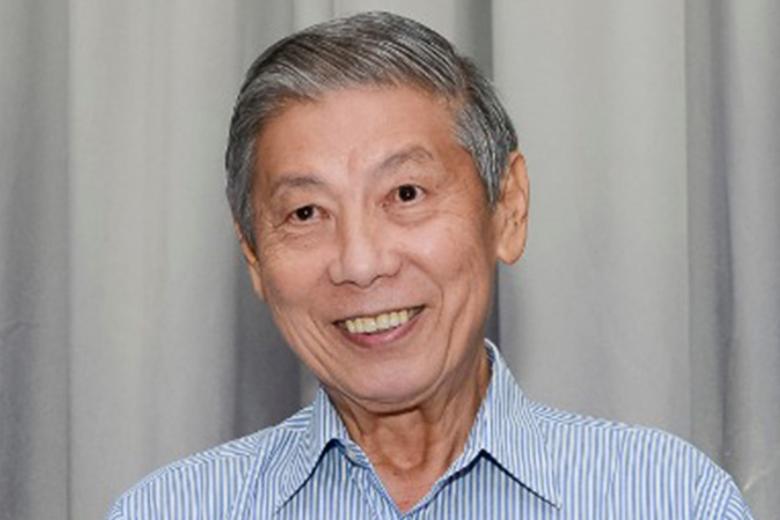 12-time Team Singapore Chef de mission, Dr Tan Eng Liang. Photo Credit : Singapore National Olympic Council
The following year the formation of Constituency Sports Clubs made the headlines together with the introduction of National Aerobic Fitness Award (NAFA) scheme. The major theme of increasing fitness among the general population was firmly established.
The National Heart Week in August 1976 did much to dispel some of the fallacies about exercise and physical fitness that persisted. In opening the programme, Tan Eng Liang made three observations about physical fitness:
First, he said that physical fitness should not be thought of as something only athletes should possess. It should be regarded as a way of life in which there is a healthy interrelationship between body, mind and spirit. Second, he made the point that physical fitness was a personal thing. Third, he advised that exercise should be continued throughout life or else physical fitness would be lost and health impaired.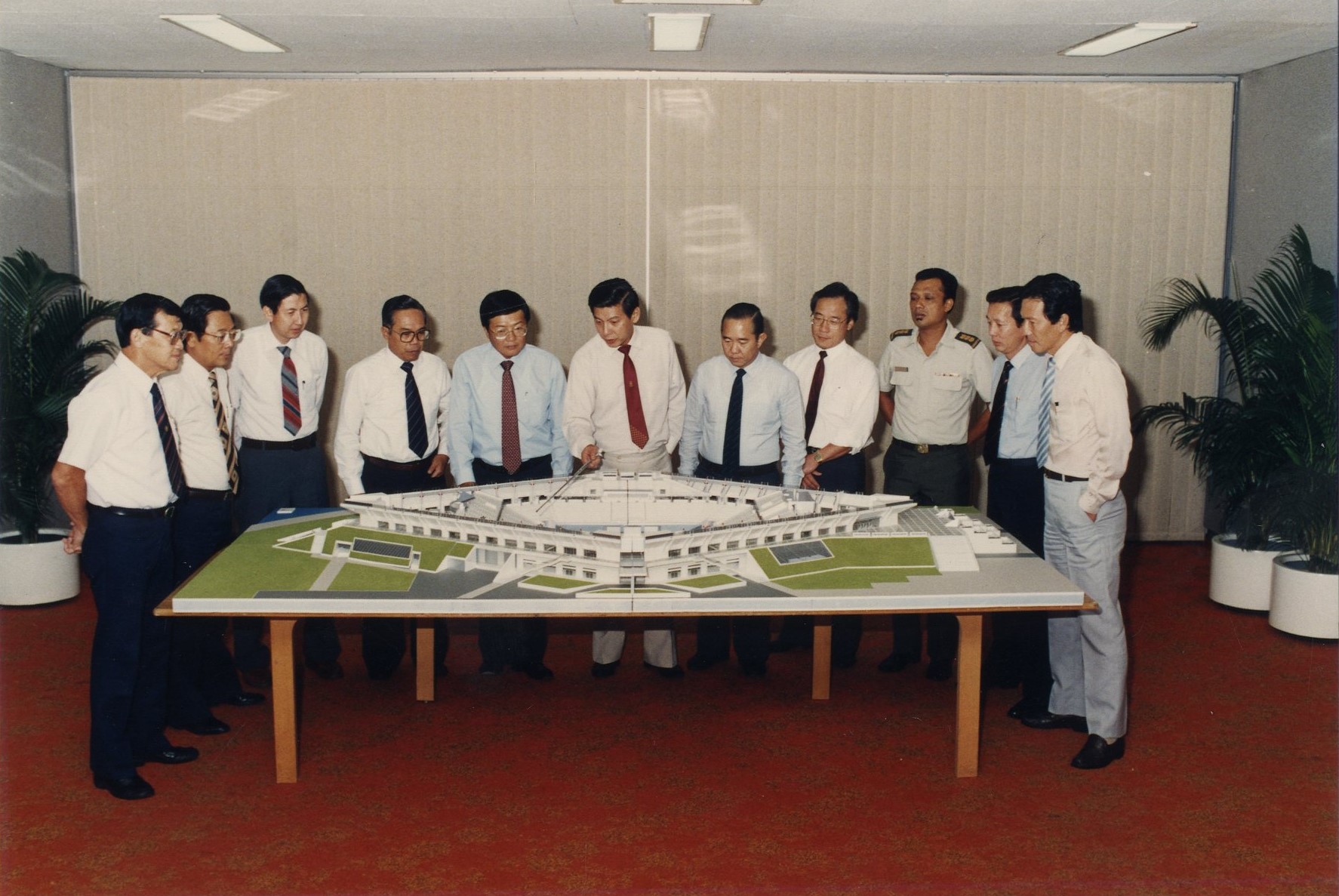 (From L to R, 6th person) SportSG Chairman Dr Tan Eng Liang, showing the plans for the new Singapore Indoor Stadium. Photo Credit : SportSG
Physical Education seminars became regular features on the calendar after 1976.
In 1977/1978, areas of interest were consolidated. A Fitness Park was constructed at MacRitchie Reservoir. The First National Swim attracted thousands of participants. A Sports Goods Trading Centre was created to make the provision of equipment more efficient. There was also encouragement given to business concerns to provide sponsorship for training schemes of popular sports.
C K Tang Volleyball Training Scheme

Shell Basketball Training Scheme

Hong Leong Water Polo Training Scheme

Cando & Jackson Tennis Training Scheme
In 1978/1979, the National Survival Swimming Award Scheme (NASSA) was introduced. The Sportsboy and Sportsgirl of the Year Awards added additional impetus to the concept of developing youth talent. Swimmers Marc Tay Tze-Hsin and Junie Sng Poh Leng were the first recipients. Dragon Boat Festival. Perhaps the most long-lasting plan to help sports promotion was the introduction of the first Census of Sports Facilities in Singapore.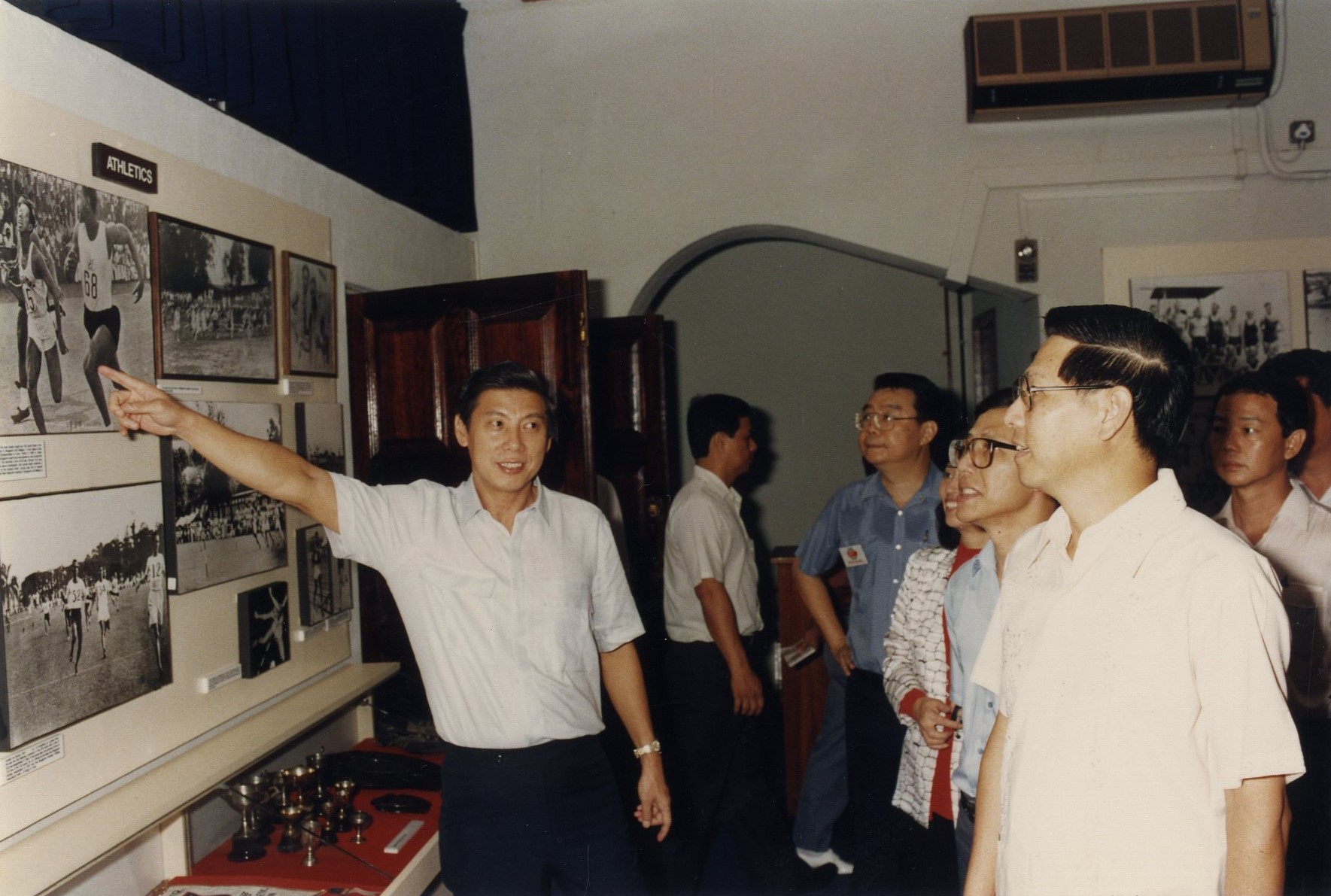 Chairman Dr Tan Eng Liang at the SSC Sports Museum, showing photos to President Ong Teng Cheong in 1983. Photo Credit : SportSG
New facilities appeared at regular intervals. In 1979/1980, the Opening of the Delta Sports Complex took place and a second Fitness Park was unveiled at East Coast Parkway. The SSC/Far Eastern Bank Netball Scheme was added to the list of supported activities.
1980/81
Opening of St Wilfrid Sports Complex
Electrolux Sailing School
SSC/SHA Hockey Training Scheme
1981/82
Esso University Sports Award
Opening of Bedok & Paya Lebar Swimming Complexes
Opening of Burghley Drive Squash & Tennis Centre
Opening of Bedok Stadium
SSC/Esso Boardsailing Scheme
SSC/Citizen Taijiquan Scheme Rhythmic Exercise Classes
The 1st phase of the Master Plan for Facilities was completed in 1982, the same year that the Sports Aid Fund was inaugurated.
The National Physical Fitness Award (NAPFA) introduced.
Phase 2 of the Master Plan for Facilities began in 1982
Opening of Bukit Merah Swimming Complex
Opening of Clementi Swimming Complex & Dover Road Sports – 1983/1984
Opening of the Ang Mo Kio Squash & Tennis Centre – 1984/85
Opening of Ang Mo Kio Stadium – 1984/1985
Opening of the Toa Payoh Sports Hall – 1984/1985
Opening of the Ang Mo Kio Stadium – 1985/1986
Opening of Ang Mo Kio Swimming Complex – 1985/1986
Opening of the Hougang Swimming Complex – 1987
Opening of Bedok Sports Hall – 1987
Opening of Bukit Batok Swimming Complex – 1988
Opening of Yishun Swimming Complex – 1988
Opening of Bukit Gombak Stadium & Woodlands Stadium – 1989/90
Opening of Woodlands Swimming Complex – 1989/90
Opening of Tampines Swimming Complex – 1989/90
Opening of Clementi Sports Hall – 1990/91
Opening of Tampines Training Hall – 1990/91
Official Opening of the Sports Museum – 1990/91
Singapore Indoor Stadium construction was approved in 1985 and completed in 1989.

Advisory Council on Sport & Recreation (ACSR) formed. Report in 1989.
This summary of plans and projects demonstrates the focal points guided by Tan Eng Liang during the first phase of his tenure.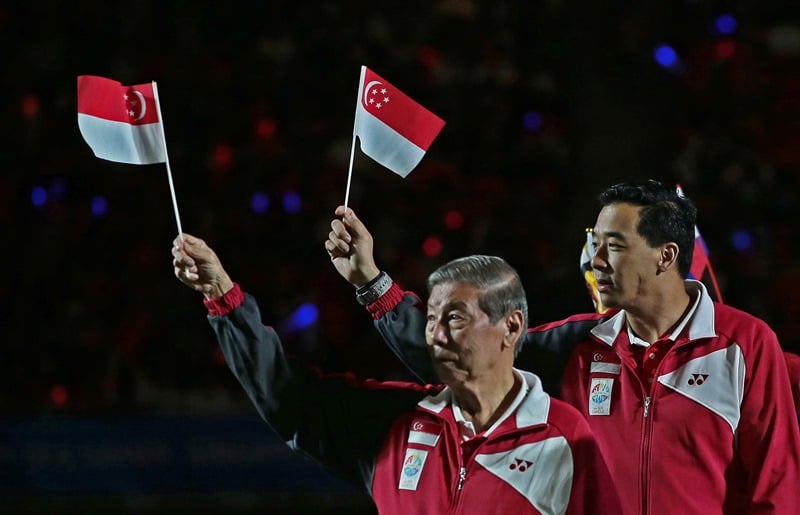 TeamSG's Chefs de Mission Dr Tan Eng Liang (L) and Nicholas Fang wave the national flag at the 2015 SEA Games Opening Ceremony at the Singapore Sports Hub. (Photo Credit: SportSG)
In addition to his role as Chairman of Sport Singapore, Dr Tan was appointed by Singapore's National Olympic Council (SNOC) to be the Chef de Mission (CDM) for our Team Singapore athletes. Starting from the 1984 Los Angeles Olympic Games, Dr Tan assumed the task of CDM for a total of 12 Major Games campaigns. Meanwhile, back in 2021, ActiveSG Circle spoke to Dr Tan regarding his days as a former national water polo player, as well as his leadership roles at SportSG and the SNOC.
Interview with Dr Tan Eng Liang in 2021. Video Credit : Sport Singapore
Following the recent passing of Dr Tan, the South East Asian Games Federation paid tribute to the veteran sports administrator. In a statement dated 29 May 2023, Dato' Seri Chaiyapak Siriwat, Chief Operating Officer of the Federation said, "Eng Liang's total commitment and in-depth experience, with highest integrity and always putting the athletes' interest and well-being as of paramount importance, brought innovative changes and balanced advancement of the Federation and the SEA Games. He rendered long-time exemplary and distinguished service to the community, particularly in sport, the Federation and the SEA Games, with great passion and unfailing dedication for decades, always in the best interest of athletes', all member-NOCs of the Federation, the Federation itself and the SEA Games."