LaLiga Plans to Continue Supporting Football Youth Development in Singapore
by ActiveSG Circle, on August 11, 2023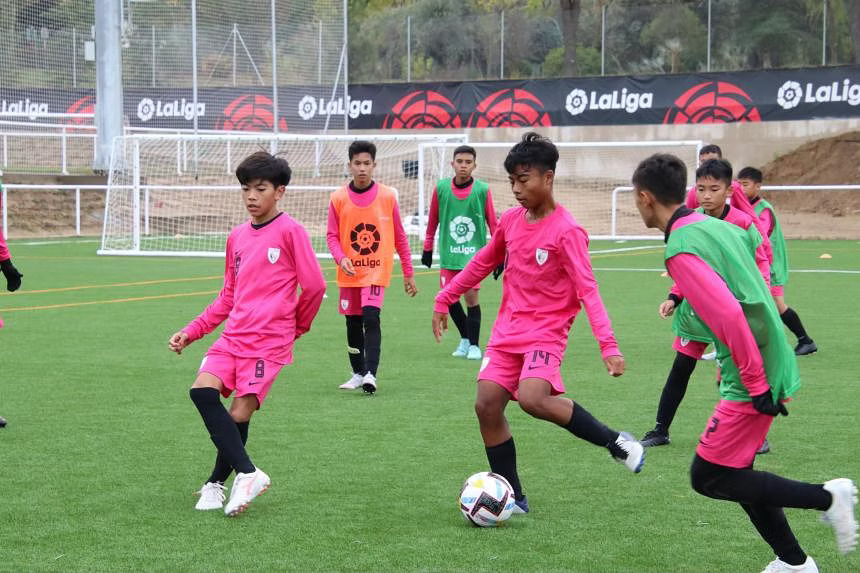 Singaporean youth players at a training camp in LaLiga's Madrid Academy in November 2022. Photo Credit : Ng Chrong Meng/Unleash The Roar!
It's been 6 years since the Spanish LaLiga decided to open an office in Singapore. Ranked as one of the top 3 professional football leagues in the world, LaLiga chose the Republic as their regional hub for Southeast Asia, Australia, Japan and South Korea.
Since establishing their office here in 2017, LaLiga's helped to support local football academies by bringing in youth teams from Spain to compete in tournaments. In addition, a group of 20 Singaporean teenage players were based in LaLiga's Madrid Academy in Spain, for a month-long training stint last November. And the world-class training facility looks set to welcome 3 teenage Singaporeans for the next few years, as part of a new overseas football scholarship, by national project, Unleash The Roar! (UTR!). This is part of an ongoing collaboration between LaLiga and UTR!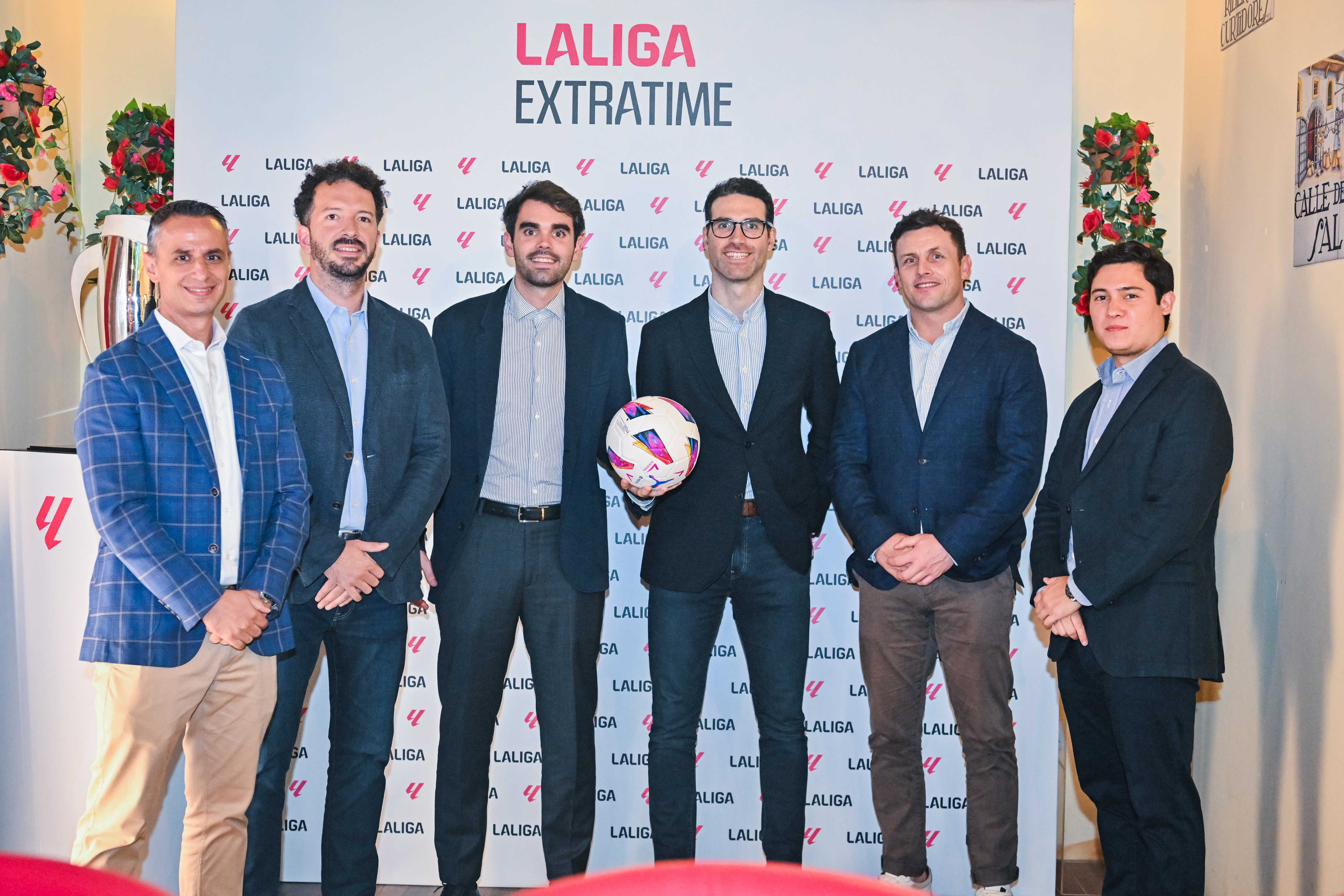 (1st from Left) Ivan Codina (Liga's Managing Director of SEA, Japan, S. Korea & Australia), together with LaLiga colleagues at their recent 6th Anniversary event in Singapore. Photo Credit : LaLigaSG
LaLiga recently celebrated their 6th anniversary in Singapore. And ActiveSG Circle spoke to Ivan Codina (Liga's Managing Director of SEA, Japan, S. Korea & Australia), to find out more of their prior achievements here and their future plans.
Q : Could you highlight 2 key achievements of LaLiga's involvement with football in Singapore, since your arrival in 2017?
Ivan : Participation in the UTR! Project : This goes in line with one of the pillars of our strategy. We are a friendly league that doesn't come to conquer the market, we come here to impact in the development of the Football Ecosystem. Our 2nd key achievement was the participation of Atletico Madrid in the 2018 International Champions Cup at the National Stadium. To bring our clubs to play in any market is one of our ultimate goals. This year, we don't have a club playing in Singapore, but stay tuned.
Q : Following the initial tieup with UTR! in 2021, what's next in the pipeline for youth football development in Singapore?
Ivan : The project keeps evolving and trying to serve the needs of the football grassroots in Singapore. Our aim is to continue supporting the UTR! project and to make an impact in the future of Singapore Football. We work this project through our Grassroots Team :
LaLiga Grassroots encompasses numerous projects that have been developed within the Sports Projects department since 2015. These include: LaLiga Football Schools, LaLiga Academies, LaLiga Academy Madrid, LaLiga Camps, LaLiga Training Stages, LaLiga Scouting, LaLiga Select, LaLiga Tryouts, etc. There are currently more than 650 projects developed by LaLiga Grassroots, from initiation to high performance, led by more than 900 of the best coaches in the world. More than 22,000 local coaches and more than 200,000 players and players, of different categories and levels, have been trained in this methodology in the different LaLiga centres in around 50 countries.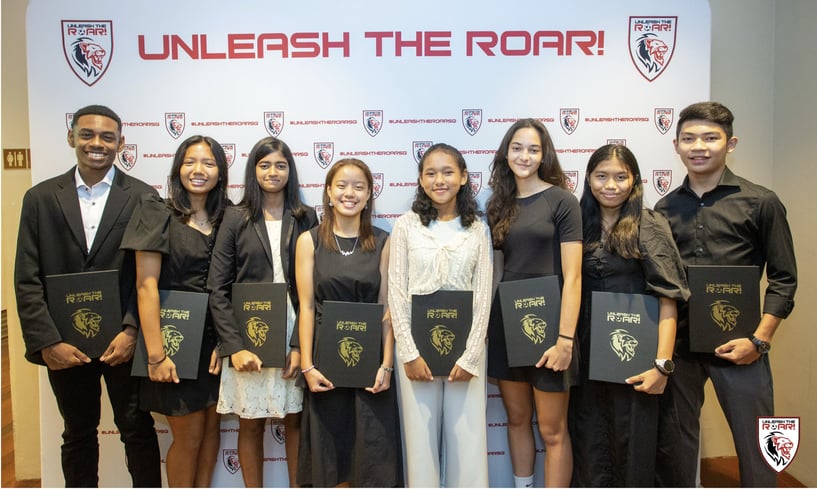 UTR! Scholarship recipients to be based in LaLiga's Madrid Academy are Uchenna Eziakor (1st from L), Seri Ayu Natasha Naszri (5th from Left) and Loo Kai Sheng (1st from R). Photo Credit : Ng Chrong Meng/Unleash The Roar!
Francisco Javier Hernández, Head of LaLiga's Academy in Madrid, sheds some light on the journey, which the 3 UTR! Scholarship recipients from Singapore, will get to experience. "They will get the closest experience to what professional football lifestyle is. They will have the opportunity to train with LaLiga coaches (UEFA Pro Licence) under LaLiga Methodology, practicing 6 times a week, and playing on a regular weekly basis against Spanish clubs from the Madrid region as well as some of LaLiga Clubs' Youth Academies around Spain. Our players will be travelling around the country throughout the year to play against some LaLiga Clubs' Academies and participate in different international tournaments.
Also, they get the chance to live, study and train in our state-of-art facility in Madrid, the ESC LaLiga & NBA, where they will live in an international environment with players from more than 40 different countries. They will find the perfect scenario to balance their academics with their athletics, being able to study under the American academic program or the International Baccalaureate Diploma," added Fransisco.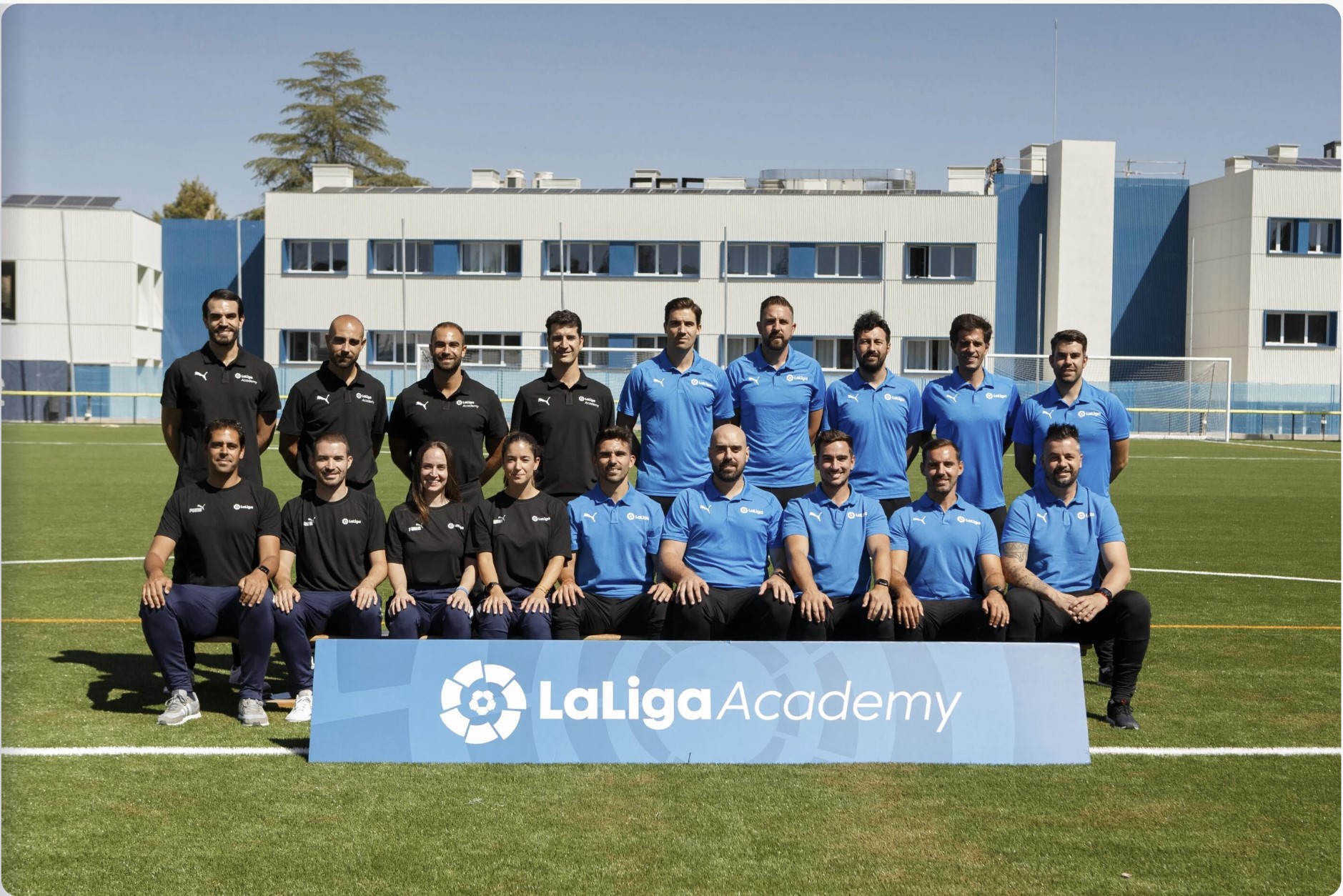 LaLiga Academy Coaches (UEFA Pro-Licence) at their Academy in Madrid. Photo Credit : laligagrassroots.com/en/academy
1 of LaLiga Madrid Academy's training pitches. Photo Credit : laligagrassroots.com/en/academy
Francisco Hernández also highlighted, "LaLiga Academy is a unique experience to grow personally and as a football player, constantly developing their skills, and working every day with a big group of professionals who help the players to achieve all their academic, football and personal goals.
There is no objective for them to reach professional football, the objective of the projects is formative. Very few players make it to professional football, but we have very positive experiences of development and projection of players with a very good level, so we can be proud of helping these players to reach their maximum potential. In fact, within the LaLiga methodology, one of the bases is the emphasis on the early detection of talent, and this is present in all our projects, where we create a context conducive to the development of players towards their full potential. It would be great news if in a few years we come across a case of a professional player who started their interest in football or training in one of the LaLiga Academy projects, although the aim is not to train professionals, but to turn them into the best players they can be."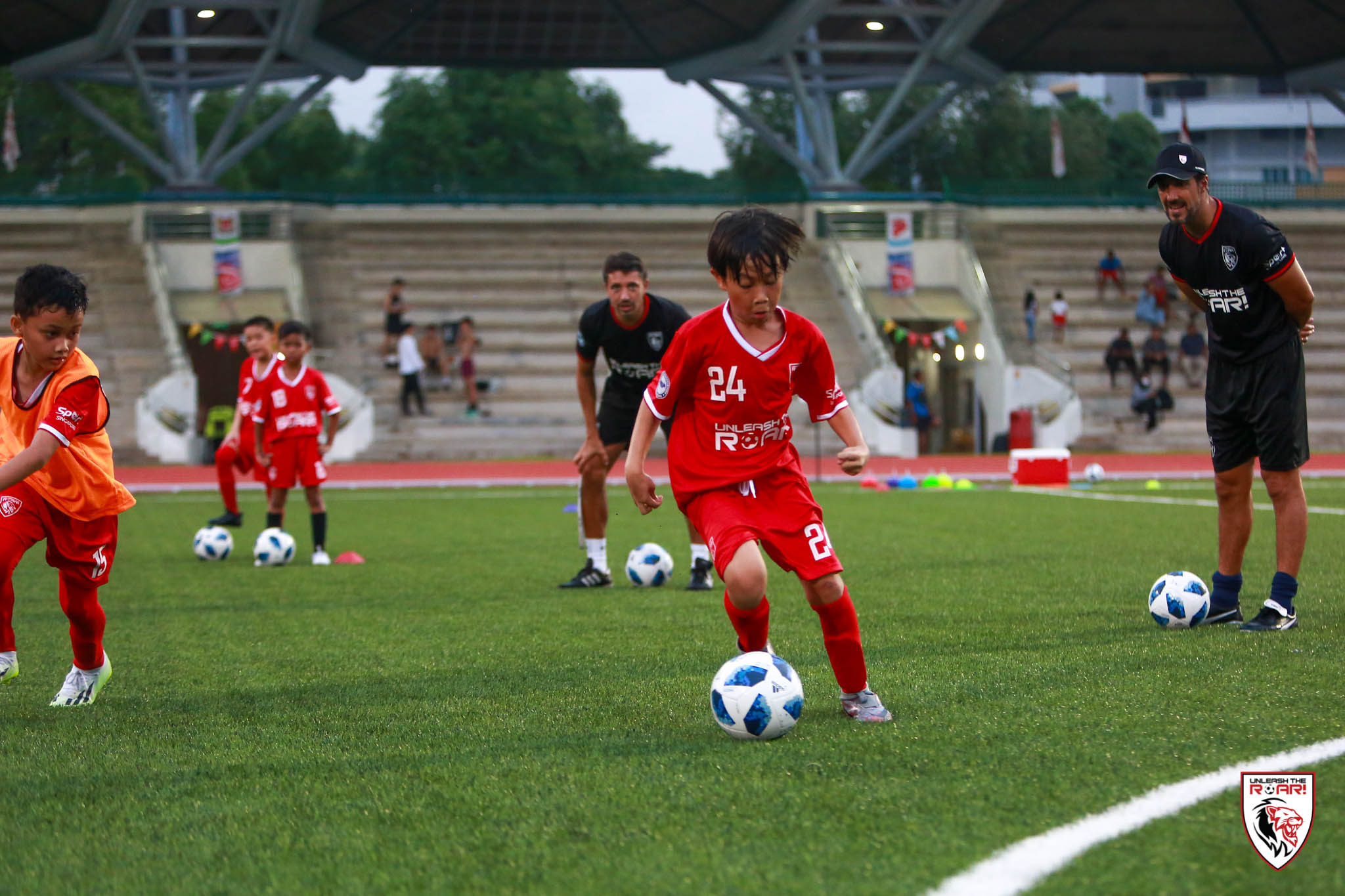 LaLiga Coaches who're currently with the UTR! national programme, overseeing a recent training session at the Serangoon Stadium, for the newly launched Junior Development Centre's under 8-9 age group. Photo Credit : Ng Chrong Meng/Unleash The Roar!
The LaLiga was the first overseas partner which came on board the UTR! project in 2021. And Ray Zhang (Division Head, Unleash The Roar!) is contented with the collaboration. "Since our launch in 2021, we've reached many milestones, including the latest announcement of the UTR! Overseas Scholarship award to 8 student-athletes. UTR! is committed to nurturing young talent, providing them with opportunities to progress through the age groups, and ultimately channeling a strong pipeline of skilled players to the senior national squads. Our School Football Academies (SFA) have progressed on, with the support of partners like LaLiga who provided experienced youth coaches, working alongside our local coaches to elevate the training intensity and playing quality of students. We will continue to push the boundaries of excellence of football in Singapore and will commit to making this a success."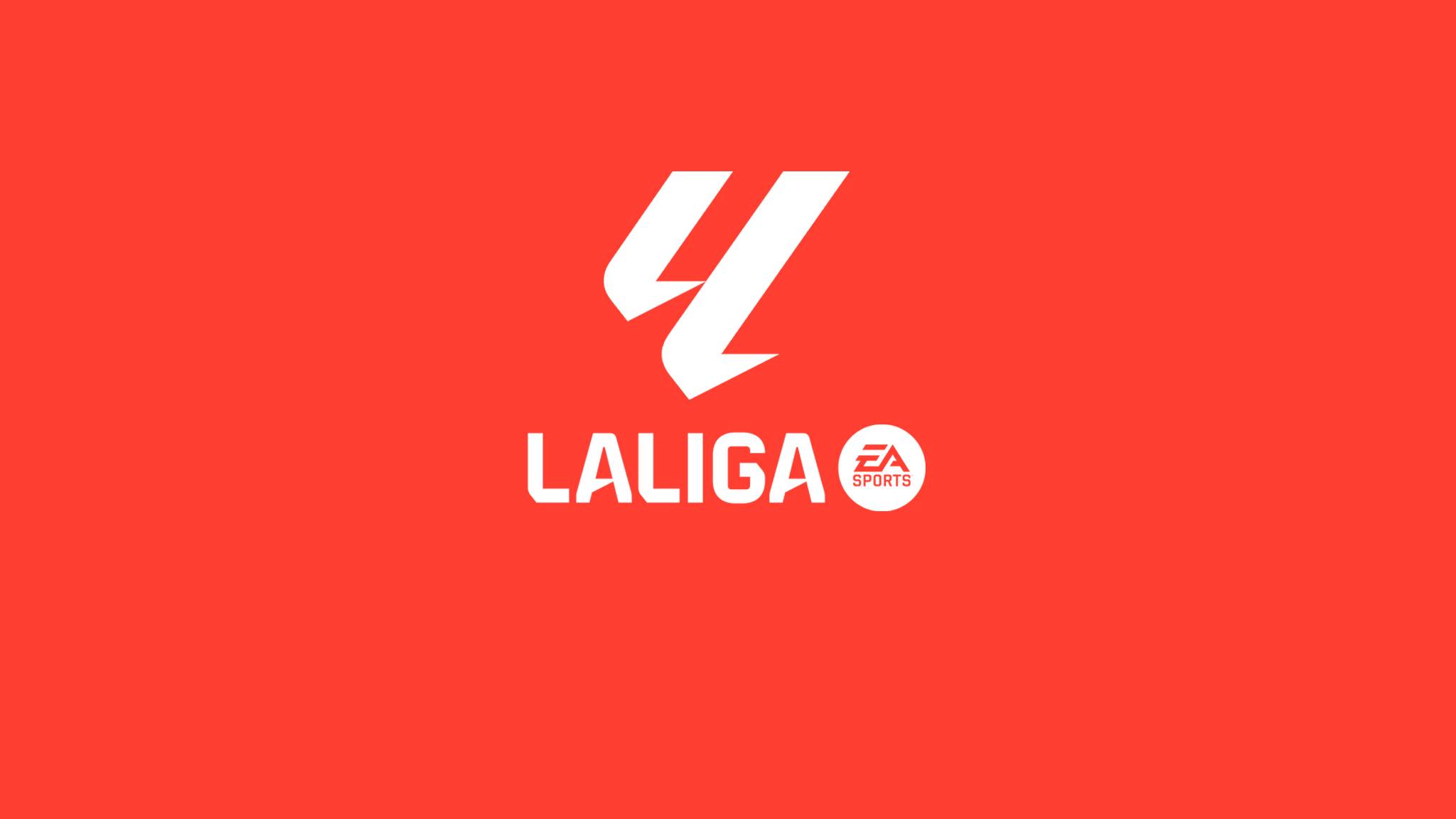 New LaLiga Logo, following the title sponsorship by EA Sports. Image Credit : LaLiga

The Spanish LaLiga, together with the English Premier League and the Italian Serie A are hailed as the top 3 professional football leagues in the world. And online gaming giants EA Sports are now the new title sponsors of the LaLiga. Ivan Codina explains more on how the new partnership will help football development globally.

Q : With the new LaLiga EA Sports tieup, what impact does this have on the global game?
Ivan : LaLiga and EA SPORTS are committed to grassroots initiatives to grow the game which will include increasing accessibility, upgrading facilities, and many more initiatives to truly immerse fans into the world of football. Our strategic alliance with EA Sports brings with it a disruptive way of viewing football, breaking down barriers between the physical and the digital, and creating a unique product that will reach a much wider audience.

F

ans will experience the benefit of close collaboration between the two organizations in terms of technology, gameplay enhancements and development, and real-world football highlights. LaLiga is the largest football ecosystem in the world

.

It

is

multi-target, since it reaches people of different ages and backgrounds; it is

multi-engagement, and can be interacted with in different ways and with different intensity; and it is

multicultural, thanks to its strong global presence.



Q : Can we expect more fan-interactions in Singapore with LaLiga stars or legends in the coming season?
Ivan : We are working on it, as we will be having on-ground Watching Parties of the main fixtures and we are aiming to have a Trophy Tour with a few LaLiga Ambassadors. Our idea is to work on building a LaLiga Community and increase year by year, our level of on-ground activities in the market.

To learn more about football, click here