Martinez & Hernandez took down 2nd seeds Bopanna & McLachlan in STO Rd of 16 !
by Circle Stories, on February 22, 2021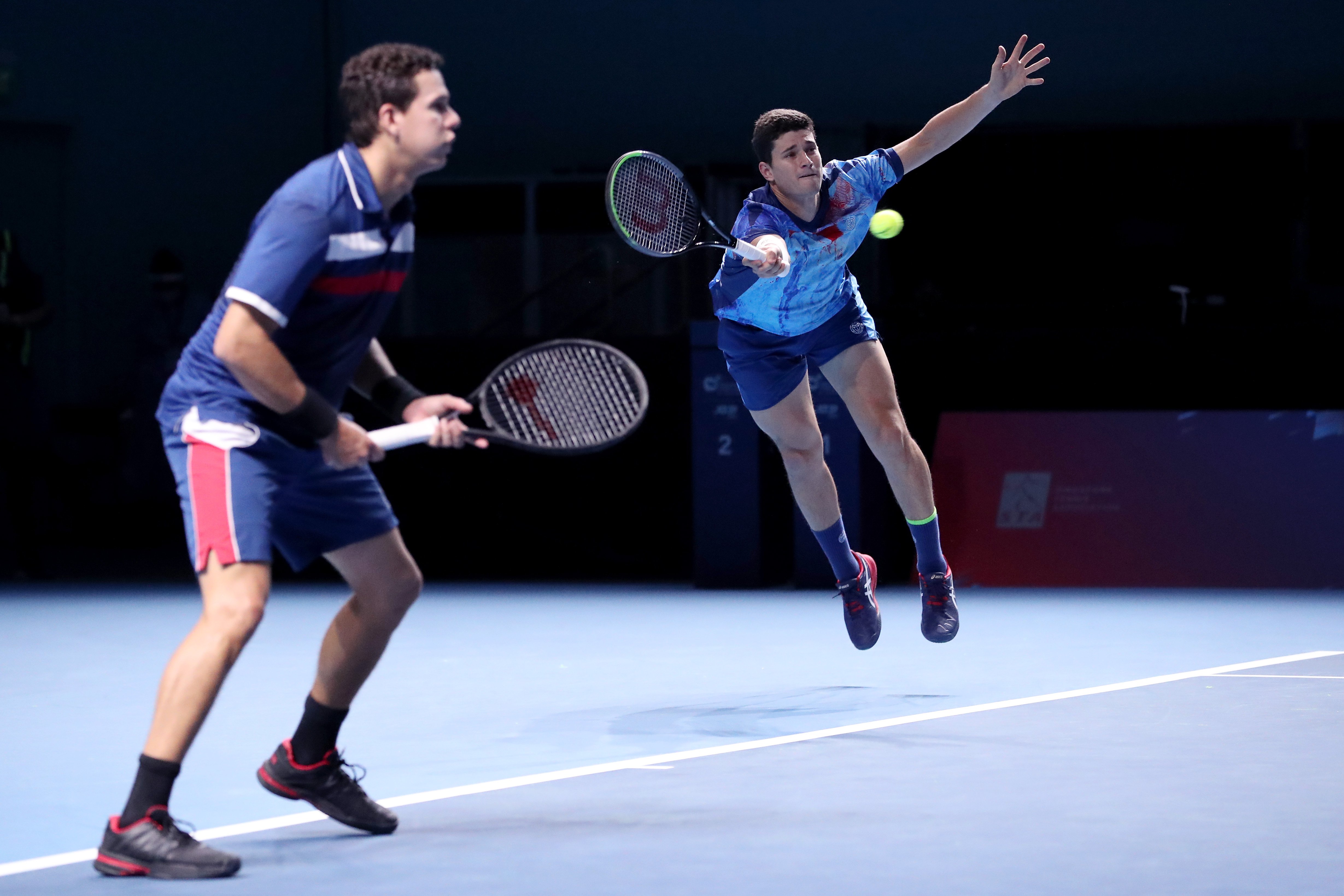 By Dillon Lim
On Day 2 of the Singapore Tennis Open, Luis David Martinez from Venezuela and David Vega Hernandez from Spain faced 2nd seeds, Rohan Bopanna from India and Ben McLachlan from Japan, in a Men's Doubles round of 16 clash.
At the OCBC Arena, both pairs started holding their serves with no trouble. However, the 2nd seeds faced a break point in the third game of the match at 1-1. But Bopanna hit two good serves to take the game. Shortly after at 2-2, the Venezuelan-Spaniard duo displayed some stunning return winners and good touch at the net to climb back from 15-40 to getting a break point opportunity at 40-40 (no ad scoring/sudden-death in Doubles format). And they broke when McLachlan netted his volley and lead 3-2.
The 2nd seeds showed their tenacity in the very next game with McLachlan clipping the line on a return to set up break point. But Martinez showed great composure and fired two big first serves at 200km/h and 203km/h respectively, to consolidate their break of serve. At 4-3, two rapid service games held to love from both sides put the Venezuelan up to the task of serving for the first set at 5-4. At 0-15, Martinez hit a second serve ace, but two missed volleys from Vega Hernandez gave the Indian-Japanese duo three break points. And Martinez pulled out two big serves again, this time back-to-back aces to bring the score to 40-40. With no ad scoring, the 2nd seeds had break point while the underdogs had set-point. McLachlan then missed an easy 2nd serve return that gave his opponents the first set 6-4.
In the very first game of the 2nd set, Martinez and Vega Hernandez capitalized on errors from McLachlan and got 4 break points. They broke at the first time of asking with a passing shot before quickly consolidating their break on the Vega Hernandez serve for a 2-0 lead. Bopanna followed with a love game on his serve and Martinez displayed some superb serving yet again with a love game himself and two aces to bring the score to 3-1, putting the 2nd seeds in big trouble.
The Venezuelan-Spaniard duo broke yet again on the McLachlan serve to lead 4-1 with two return winners and put themselves a step closer to the finish line. A solid serve hold by Vega Hernandez meant the underdogs were up a double break and one game from victory. Bopanna held serve despite being put on pressure by great tennis from his opponents at the baseline and at the net. Martinez served for the match at 5-2 and his partner finished the point at 30-15 with a great put away from the net to give themselves 3 match points. An unreturned serve by the Venezuelan cemented the victory for the underdogs in just under an hour. Final score once again is 6-4, 6-2.
Martinez and Vega Hernandez go on to the quarterfinals and face Sriram Balaji of India and Margaroli of Switzerland, who beat the Singaporean wildcard duo of Shaheed Alam and Roy Hobbs yesterday.
(Edited by Raj Kumar)
Dillon Lim is in his final year of university. He enjoys playing tennis and has been in love with the game since he was a kid. The 23 year old used to play competitively for Raffles Institution and was in the junior national training squad before leaving to study in the UK. And he still plays for his current university. Off the court, Dillon enjoys watching tennis matches and always keeps up with the very latest tournaments.
**In case you missed this exciting match, we've got you covered! Just click HERE to watch the full match (Luis David Martinez and David Vega Hernandez vs Rohan Bopanna and Ben McLachlan)
For live streams, schedules and more stories from the Singapore Tennis Open 2021, visit hub.tennis
For the latest Singapore Tennis Open updates on the go, follow us on Telegram
Related Events & Programmes