The first steps towards sporting greatness come from humble beginnings. They happen away from the camera flashbulbs and outside of the attention of the general public.
Before Shanti Pereira captured the attention and hearts of Singaporeans after her amazing 200-metres sprint gold medal triumph in the 2015 Southeast Asian Games on home soil, the glimpses of her sporting prowess were on display at the track and field events in the National School Games.
Following a recent amazing run of form where she shattered national records thrice in as many days in the Australian Open Track and Field Championships in Brisbane, we look back on how the now 26-year-old star runner took those steps to become Singapore's greatest track athlete in the 21st century.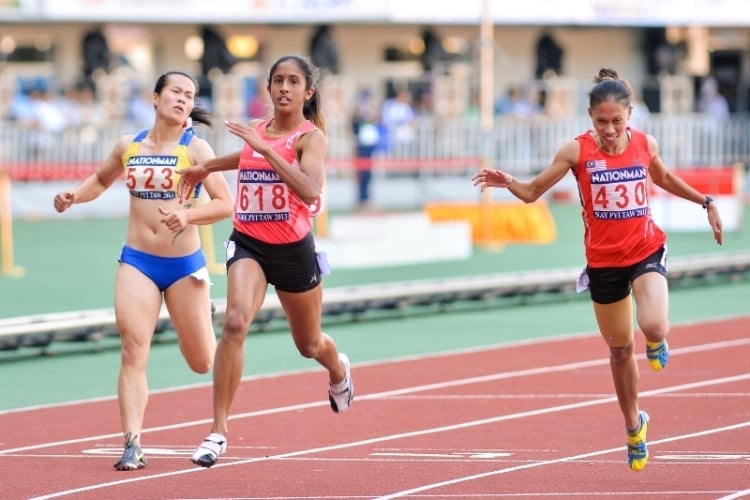 Shanti had her introduction to the sport at Primary Three when she witnessed her elder sister competing in a school race. Following in her sibling's footsteps, her natural talents on the track caught the attention of her first coach Lim Tiang Kee after she won the 100- and 400-metres race double in her primary school's annual sports day.
It was following her enrollment into the Singapore Sports School that she began to blossom in her athletics career in earnest.
As a bespectacled 12-year-old Secondary One student-athlete, she first caught mainstream attention when she anchored her Under-14 school relay team to glory in the 4 x 400 m event in the Thailand Sports School Games in Nakhon Si Thammarat on 10 August 2009.
Having clinched an individual 200 m sprint gold and 4 x 100 m relay success in the competition, she inspired a winning comeback after she fended off a spirited challenge from Nakhon Ratchasima in the first half of her leg before storming past the final Bangkok runner in the final 100 metres to clinch her third gold.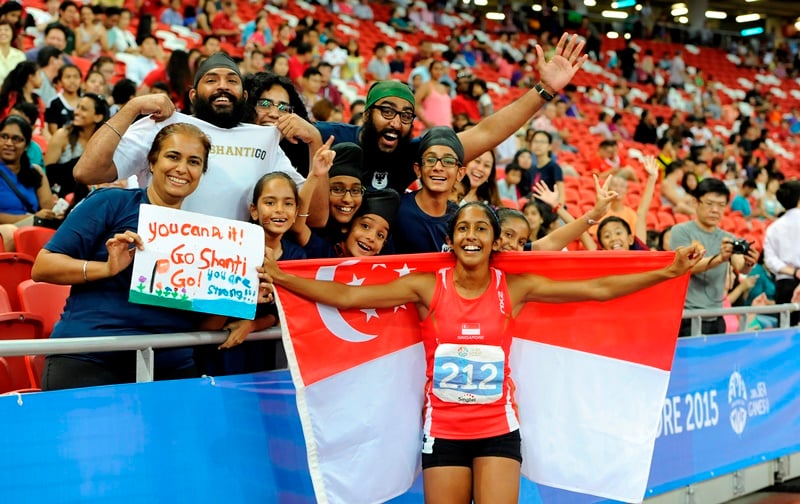 Winning was not the only thing Shanti would master on the track as she soon began to break various meet and national age-group records at the National School Games in the next two years.
On 14 April 2010, Sports School headed into the final day of the National Track and Field Championships trailing at fourth place behind traditional girls' powerhouses Cedar Girls Secondary by 27 points and needed a miracle to win the C Division team championship.
Cometh the moment, cometh the woman. Shanti became the undisputed star of the moment at Choa Chu Kang Stadium when she swept three golds that day and inspired her school to win the girls' overall team championship for the first time in three years by virtue of having more first-place finishes than their rivals.
In the 100m girls sprint, she finished first in the final and eclipsed the previous record meet of 12.83s by eight-millimetres of a second.
She combined with her Sports School teammates Eugenia Tan, Khalesa Ahmad Kabeer and Britanne Rei to win the 4 x 100m girls relay, running the third leg en route to breaking a historic sub-50 timing of 49.67s.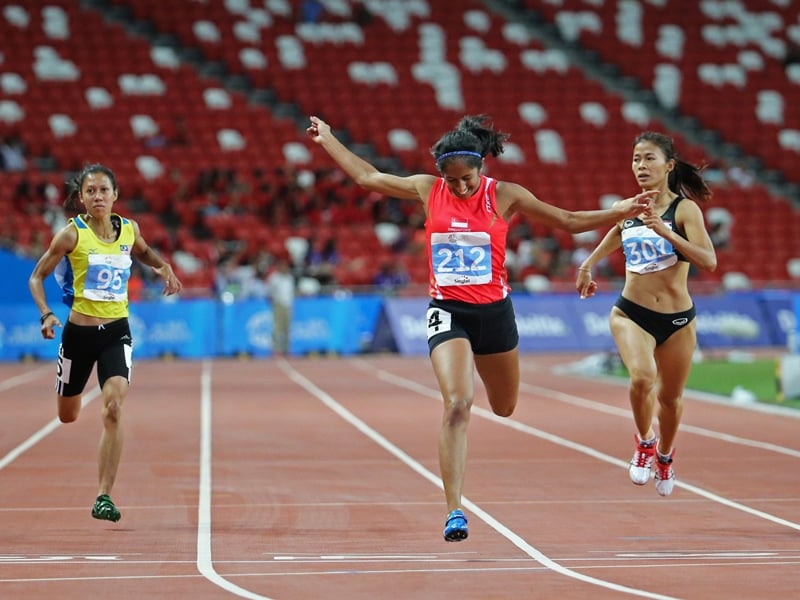 Photo credit: SINGSOC
With her winning sprints, she has joined the ranks of leading female school track stars of their respective generations as she followed in the footsteps of past adolescent track stars in Mona Kunalan, Lim Joo Lee and Nurulaini Ariffin.
Just over a year later, Shanti carried on where she left off at the same stadium when she moved up a division and cemented her greatness as the star student-athlete on the track with a quadruple of gold medals at the National School Games.
On 25 April 2011, she broke her National Under-15 200 m record when she breezed home first in the B Division girls final in that event, bettering her previous mark of 25.89s by two-tenths of a second.
Three days later, just as she had accomplished the previous year, she would reign supreme as she claimed her second four gold-medal feat for a second successive campaign. She once again finished first in the 100m sprint as she broke Nurulaini's 1995 record of 12.54s and helped Sports School to a relay double in the 4x100 and 4x400 events.
With her schools' legacy assured after a second season of successful sprinting, Shanti eventually turned her attention to international events. She became the first Singaporean athlete to reach the semi-finals of the IAAF World Youth Championships in Donetsk, Ukraine in 2013, becoming the first female sprinter to clock below 12 seconds in the 100m sprint.
The rest, as we know now, is history – and there is still plenty more to come from her. Another national sporting hero birthed forth from the tracks at local stadiums where generations of student-athletes dream of glory for their school and themselves.
With her recent national record-breaking feats, may her spirit of excellent inspire the present track stars of the future to push themselves physically on the track when it is their turn to shine at this year's National School Games track events.

Watch more here
Read more here
Tell us what you think here
Cheer on the school teams and student athletes here
national school games 2023