NEO GARDEN raises more than $500,000 for Singapore Swimming Assn & the Straits Times School Pocket Money Fund
by Circle Stories, on March 12, 2021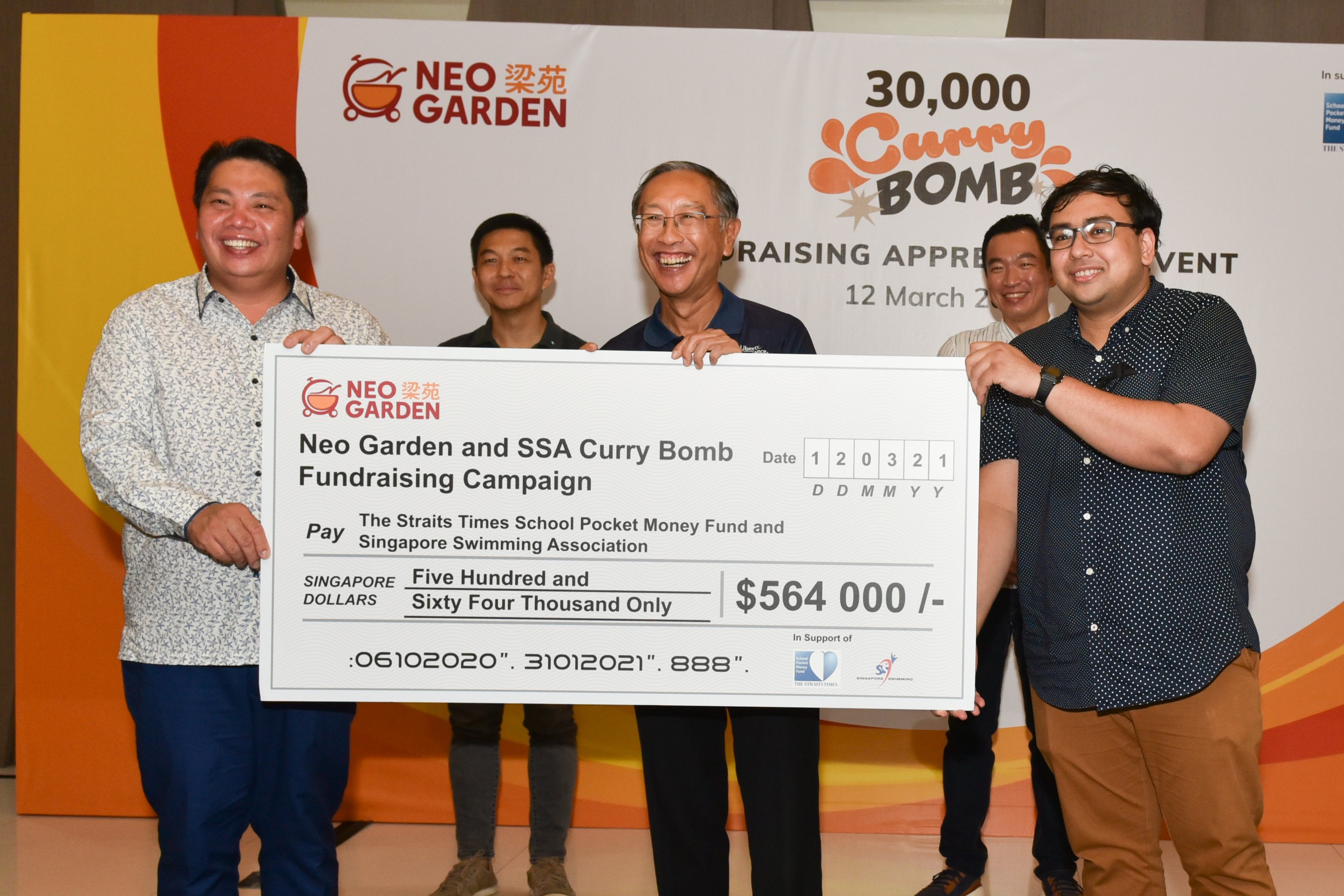 (Photo: Mr Neo Kah Kiat (left), Founder, Chairman and CEO of Neo Group presenting the cheque to Mr Lee Kok Choy (middle), President, Singapore Swimming Association and Mr Syed Zakir Hussain, Board Trustee, The Straits Times School Pocket Money Fund. Looking on are Mr Tan Chuan-Jin, Speaker of Parliament, and Mr Eric Chua, Parliamentary Secretary for Community, Culture and Youth & Social and Family Development)
12 MARCH 2021- The Neo Garden and Singapore Swimming Association (SSA)'s Curry Bomb fundraising drive saw 30,000 Curry Bombs sold to raise more than $500,000 in donation, with the monies going to The Straits Times School Pocket Money Fund (STSPMF) and the SSA's One Team Singapore Fund.
In an appreciation ceremony held today at Neo Garden's premises, Founder, Chairman and Chief Executive Officer of Neo Group, Mr Neo Kah Kiat, thanked all the donors who had contributed greatly to this event, as well as the volunteers who took part in the food distribution drives.
"I would like to thank everyone who contributed to make this fundraising drive a success. We are delighted that our Curry Bombs managed to put a smile on the faces and warmth the hearts and stomachs of many people during these trying times. Through this fundraising drive, it is heartening to see the caring nature of Singaporeans and that is something that I am proud to be a part of", said Mr Neo.
The appreciation ceremony was graced by Speaker of Parliament, Mr Tan Chuan-Jin and Mr Eric Chua, Parliamentary Secretary for Community, Culture and Youth and Social and Family Development. Both Mr Tan and Mr Chua were involved in the food distribution drives that the SSA athletes and volunteers conducted in November last year with Marine Parade Cluster and in January with SG Cares where more than 5000 Curry Bombs were distributed to the beneficiaries from the Marine Parade Cluster residents and the SG Cares Volunteer Centres and Community Partner networks.
This fundraising campaign was unique in itself, as it saw a non-for-profit organisation (SSA), raise funds for another charity – The Straits Times School Pocket Money Fund, bringing together the corporate, government, social and sports sectors together into one campaign.
Ms Tan Bee Heong, General Manager of STSPMF, said, "We are grateful to Neo Garden, Joseph Schooling and Singapore Swimming Association for this very meaningful project in support of low-income families. Through the donation by Neo Garden, we are able to continue working towards raising the much-needed funds for our students-in-need during this challenging time.
The donation to the Straits Times School Pocket Money Fund will help support more than 400 primary school students with school pocket money for a year.
Added SSA President Lee Kok Choy: "This fundraising effort would not have been possible without generous corporate and individual donors. I would like to thank them for wholeheartedly supporting this campaign. We look forward to their continued support as we continue to enhance our capabilities to become a world-class aquatics nation."
The funds raised for the SSA will be used to apply for 1 for 1 matching grants under the One Team Singapore Fund (OTSF) subject to the criteria spelled out by Sport Singapore and final approval after evaluation and will also help benefit coaches, athletes, clubs and the rest of the aquatics community who have been impacted by COVID-19.
(Media Release by Singapore Swimming Association)
Follow us on Telegram for more news and updates.