NSG B Div Boys' Tennis: Victoria Sch beats St Andrew's 5-0 to set up crunch clash with ACS(I)
by Circle Stories, on April 5, 2021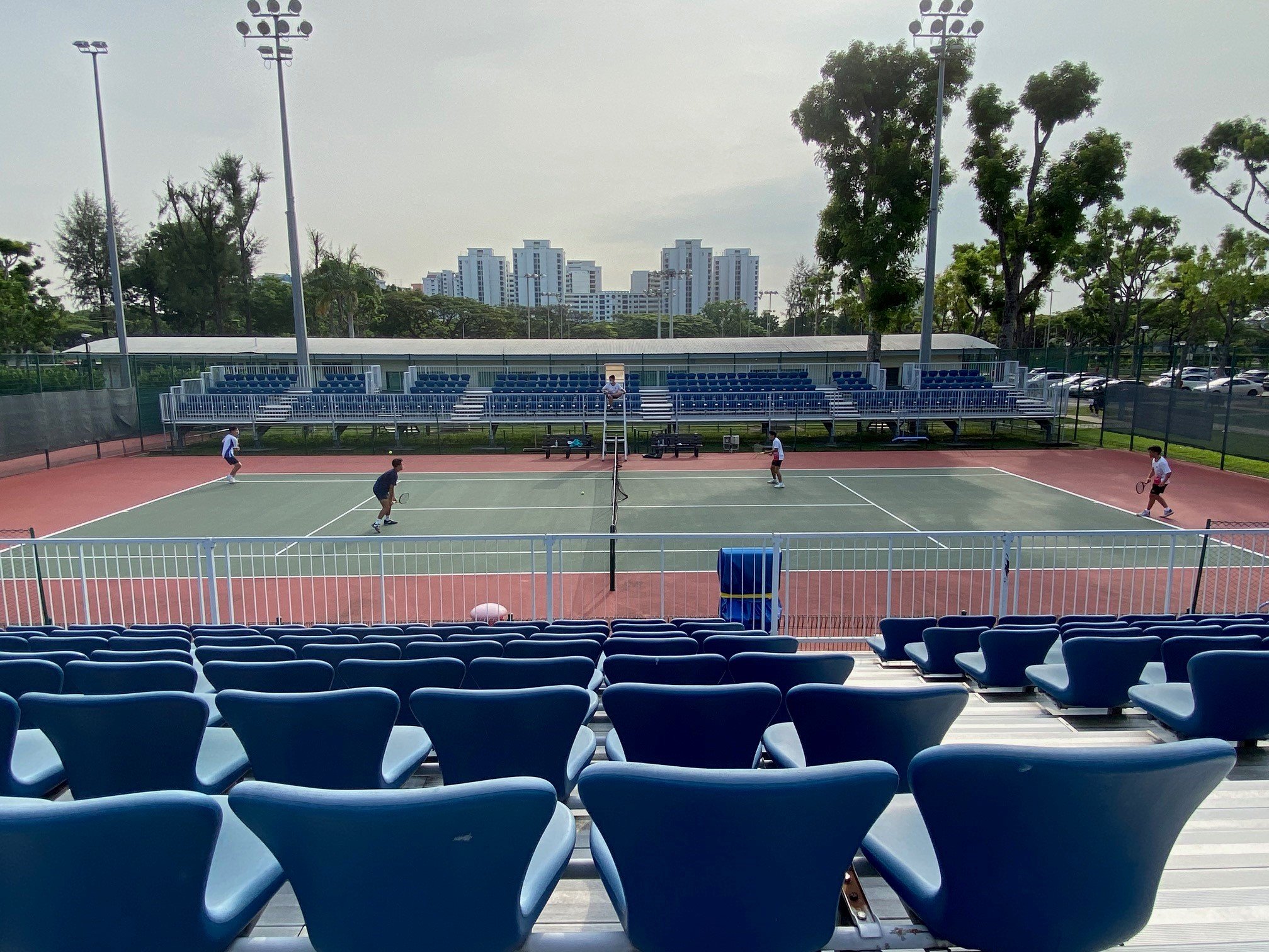 (NSG B Div Boys Tennis action @ Kallang Tennis Centre / Photo Credit : Chia Han Keong)
By Chia Han Keong
Victoria School made it two victories out of two in the National School Games (NSG) B Division boys' tennis competition. That's after defeating St Andrew's Secondary School 5-0 in its Group B preliminary-stage tie at the Kallang Squash and Tennis Centre on Monday (5 April)
The win will give the players plenty of confidence as they prepare for their toughest test yet, against Anglo-Chinese School (Independent) next Monday afternoon.
First singles player Jayden Ng spoke about how his team needs to improve the chemistry among its doubles pairings in order to do well against their next opponents. The Secondary 3 student added that his school's main objective for this competition is to try and reach the B Division semi-finals for the first time in six years.
(Jayden Ng, Victoria School / Video by Chia Han Keong)
Both schools were at the competition venue early on Monday morning, as NSG organisers housed them in tentages for safe distancing purposes. They provided their own umpires and ball-boys for the matches, which were played on Courts 10, 11 and 14 of the tennis centre.
When play began, it became evident that Victoria's singles players were streets ahead of their St Andrew's counterparts, and the singles matches quickly became one-sided affairs.
Jayden had little trouble in beating Darrell Ng 9-1 in the first singles tie on Court 10, while his teammate Cho Tjeng Kwok also breezed past his opponent Roy Tan 9-3 in the adjacent Court 11.
Following the completion of the first singles match on Court 10 was the third singles tie featuring Victoria's Reyes Ho against St Andrew's Michael Joshua Conn. It was also another one-sided affair, as Reyes thrashed Michael 9-0.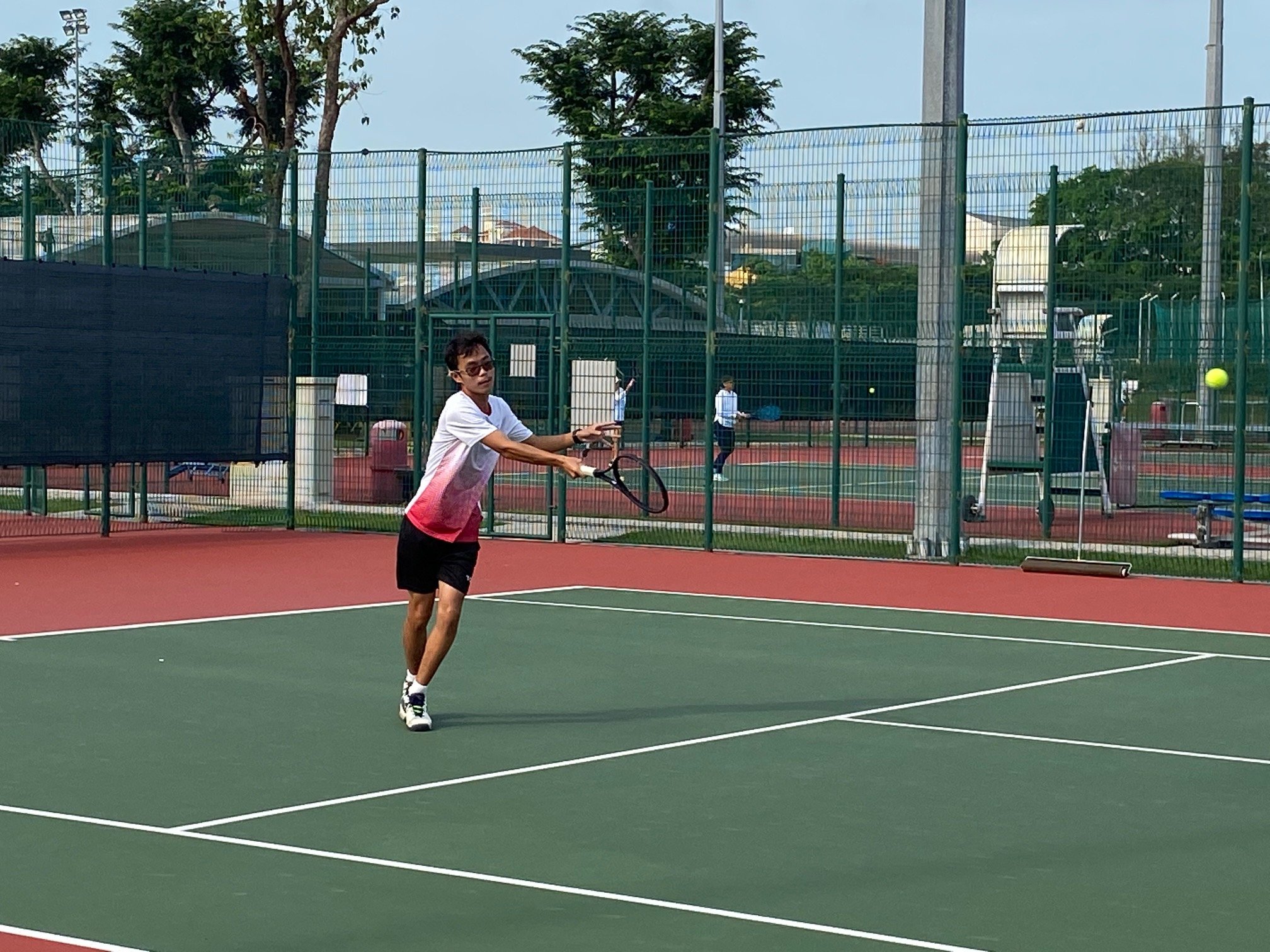 (Photo Credit of Reyes Ho - Chia Han Keong)
There was much more excitement over at the tennis centre's main Court 14, where the doubles ties were played. While the first doubles match was as one-sided as the singles matches -- with Victoria's Aiden Raphael Keh and Leonard Yew easily defeating St Andrew's Joshua Nathaniel Lim and Kenan Luke Chia 9-0 -- the second doubles match was easily the main highlight of the day.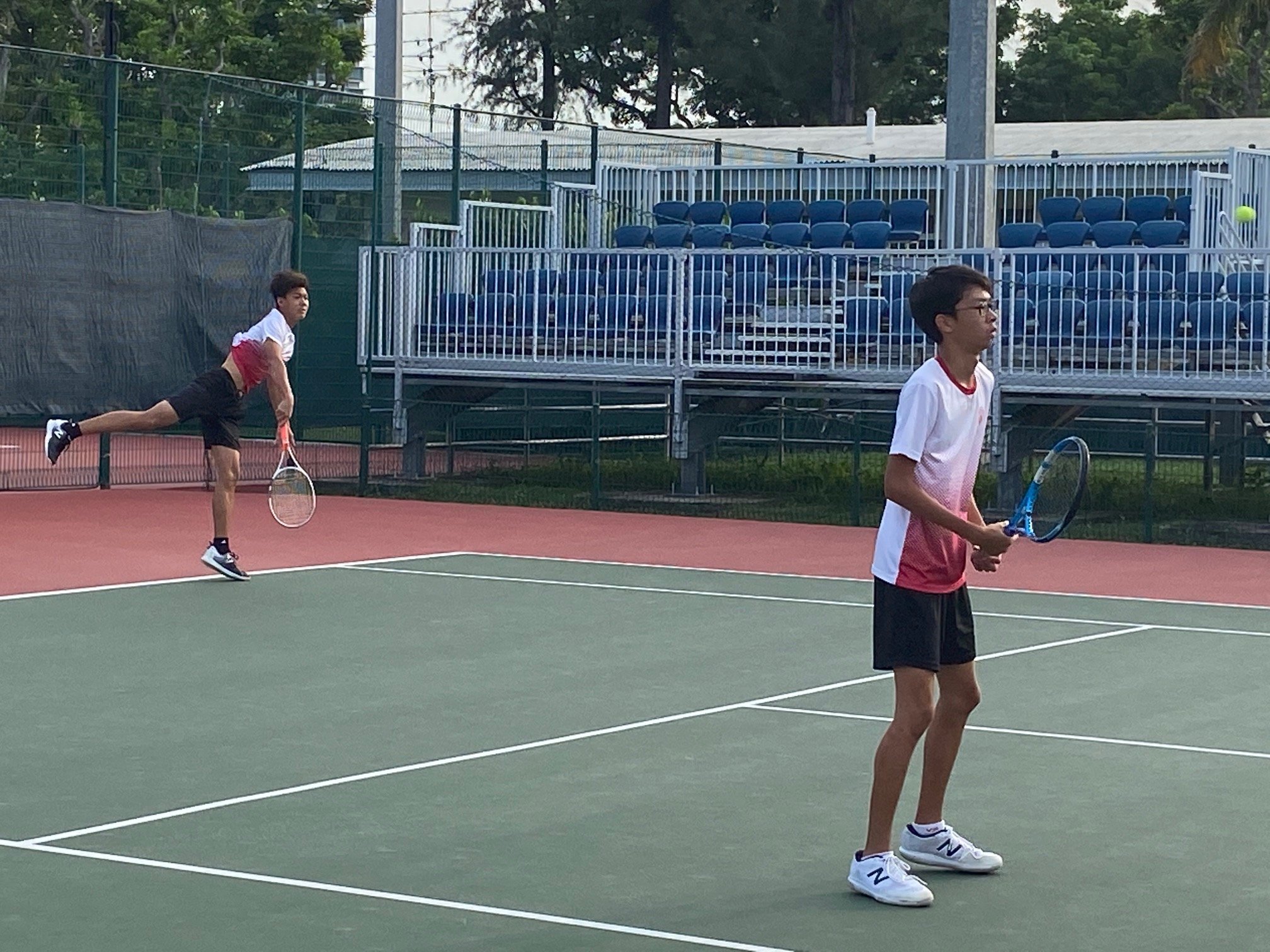 (Photo Credit of Victoria's Aiden Raphael Keh and Leonard Yew - Chia Han Keong)
Victoria's Matthew William Tan and Joshua Chan were locked in a tight tussle with St Andrew's Daniel Soon and Issac Delcarmen Ng, with both sides trading break points back and forth. With the designated tentages of both schools just outside of the court, their teammates began to cheer and applaud every point earned as the match reached a tie-break with the score tied at 8-8.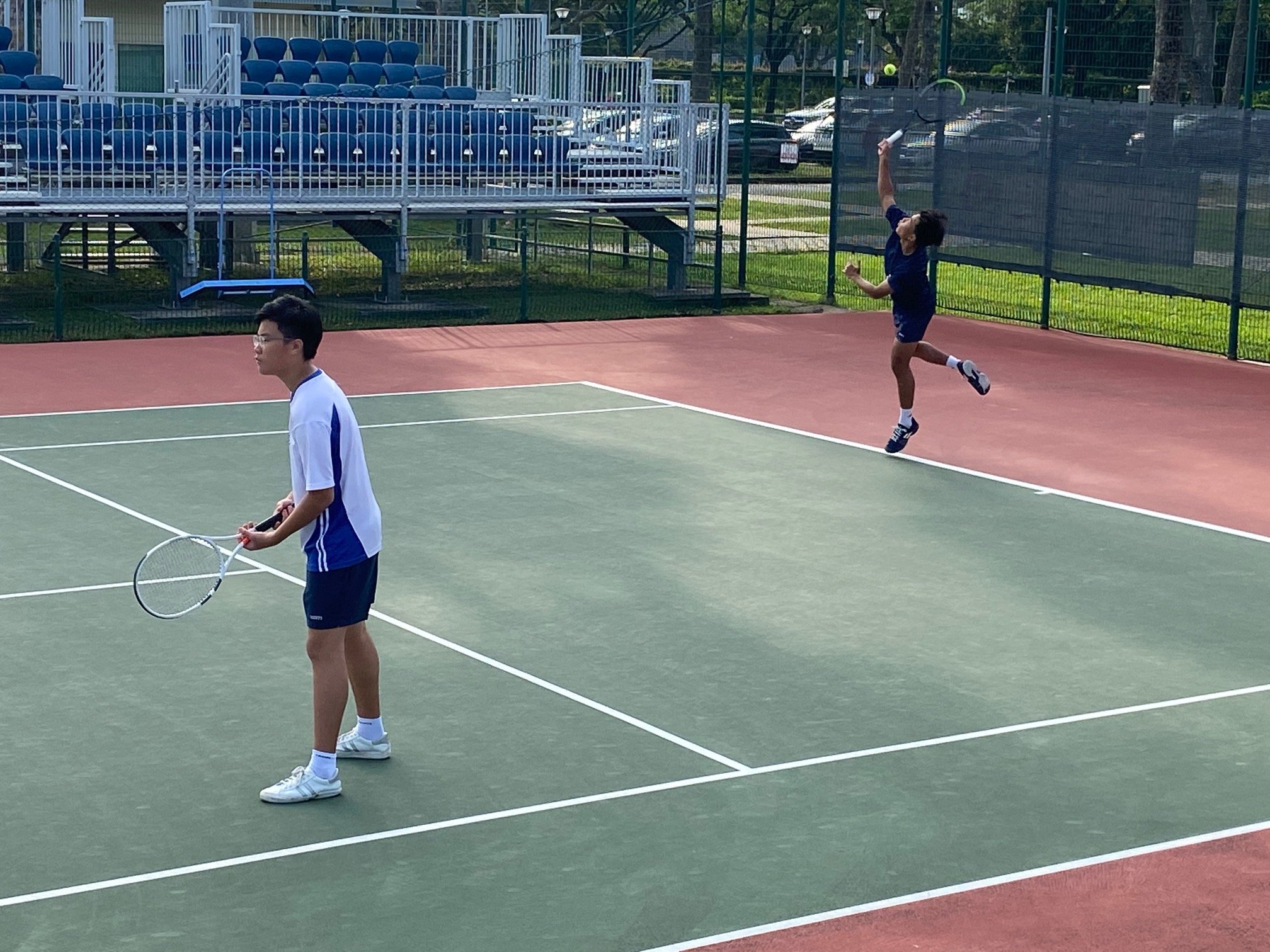 (Photo Credit of St Andrew's Daniel Soon and Issac Delcarmen Ng - Chia Han Keong
Even though they could only watch the match behind the semi-transparent court fences, the Victorians roared in delight as Matthew and Joshua clinched the winning point in the tie-breaker to earn the hard-fought 9-8 victory and complete the 5-0 sweep for VS.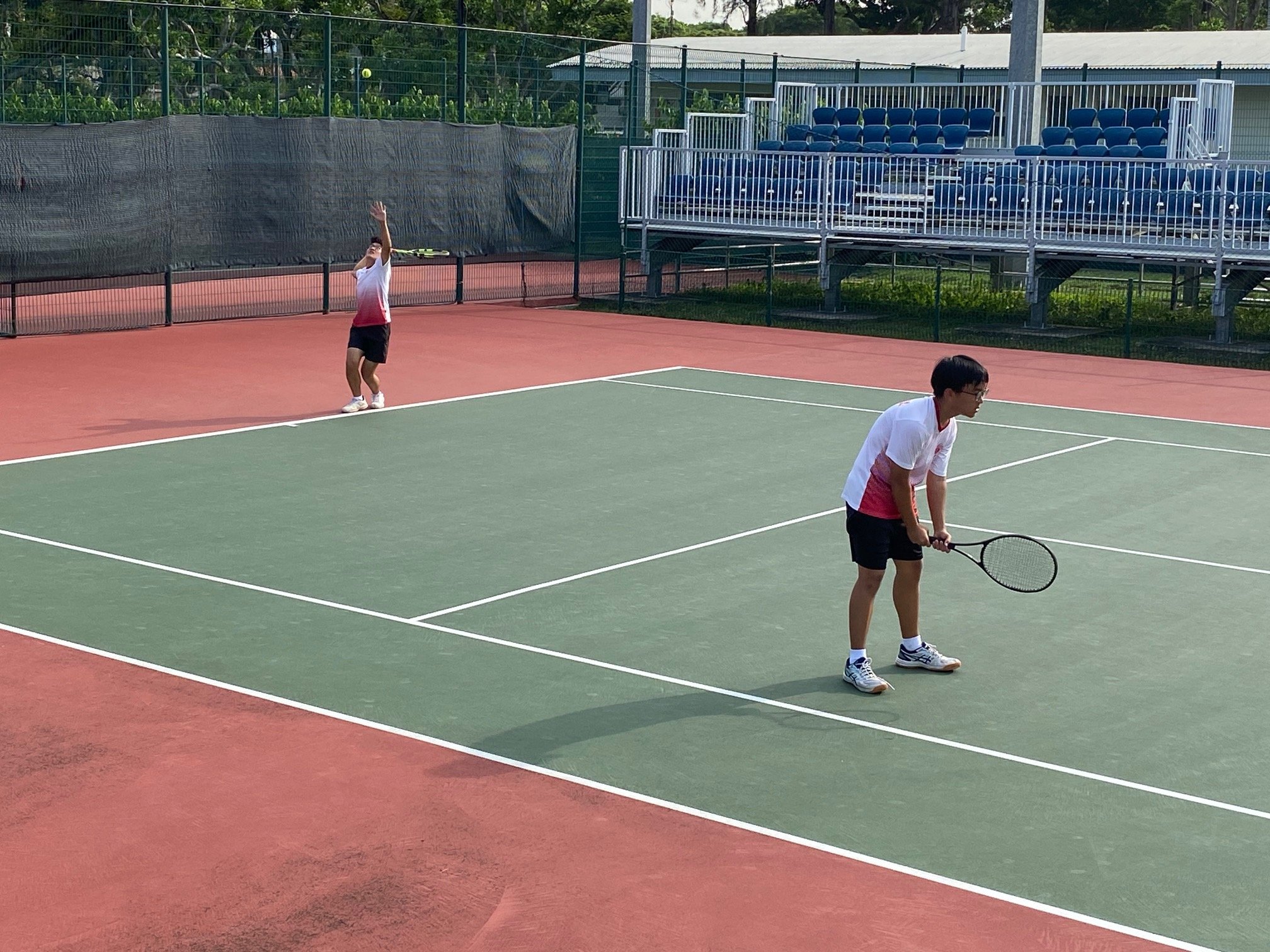 (Photo Credit of Victoria's Matthew William Tan and Joshua Chan - Chia Han Keong)
Besides Victoria, St Andrew's and Anglo-Chinese School (Independent), the other school teams in Group B are Anglo-Chinese School (Barker Road) and NUS High School. Victoria is expected to battle it out with the two Anglo-Chinese Schools for the top two spots to advance into the next round.
This year's NSG, which started on 29 March and ends on 27 May, features 12 sports across the secondary-school A and B divisions, as well as the primary-school Senior division.
The 12 sports currently being competed are badminton, bowling, golf, gymnastics, rope skipping, sepak takraw, shooting, table tennis, taekwondo (poomsae), tennis, 3v3 volleyball and wushu. It will see about 12,000 student-athletes competing.
Chia Han Keong is a freelance journalist who has covered both Singapore and international sports extensively for the past 18 years. He was the sports editor of bilingual tabloid My Paper, and has also worked for The Straits Times and Yahoo News Singapore. He has covered four SEA Games (2009, 2011, 2013, 2019), two Asian Games (2010, 2014) as well as the 2008 Beijing Summer Olympics. He counts himself as a massive Liverpool, LA Lakers and Rafael Nadal fan.
Related Events & Programmes