NSG Badminton: SJI Junior's shuttlers dominate ACS Primary in grand final to retain championship trophy!
by Circle Stories, on May 5, 2021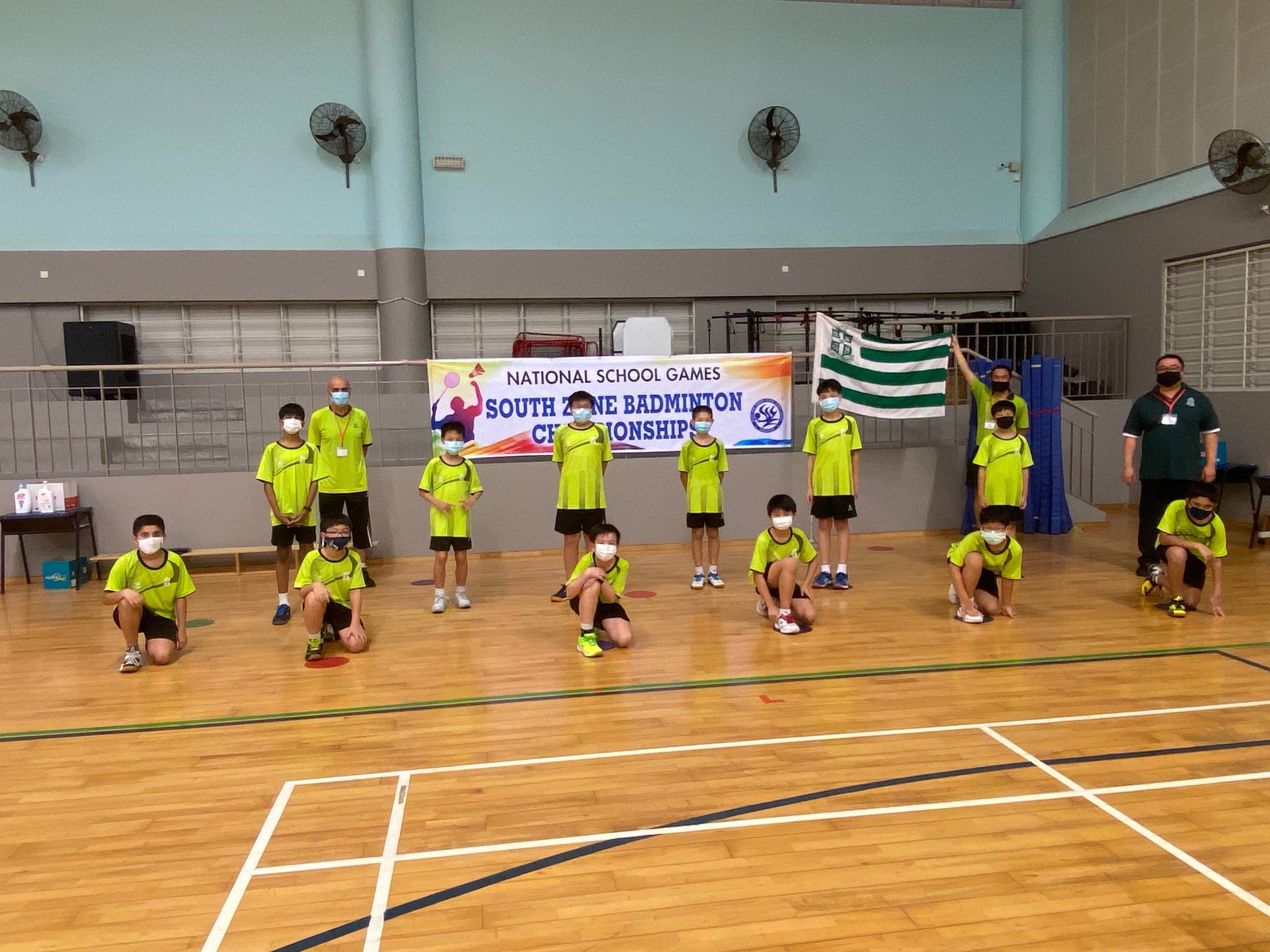 (Photo of St Joseph's Institution Junior by Chia Han Keong)
By Chia Han Keong
It was a performance that would make any sports coach proud -- a group of players putting in their best showings at the most important moments of their competition.
On Wednesday (5 May) at Hong Wen School, the two badminton coaches for St Joseph's Institution Junior (SJI Junior) must have felt they were on cloud nine when their young players put on a devastating show in the National School Games (NSG) South Zone Boys' badminton final.
(For the latest schedules on live streams, news updates and stories, do check out our official website, National School Games 2021)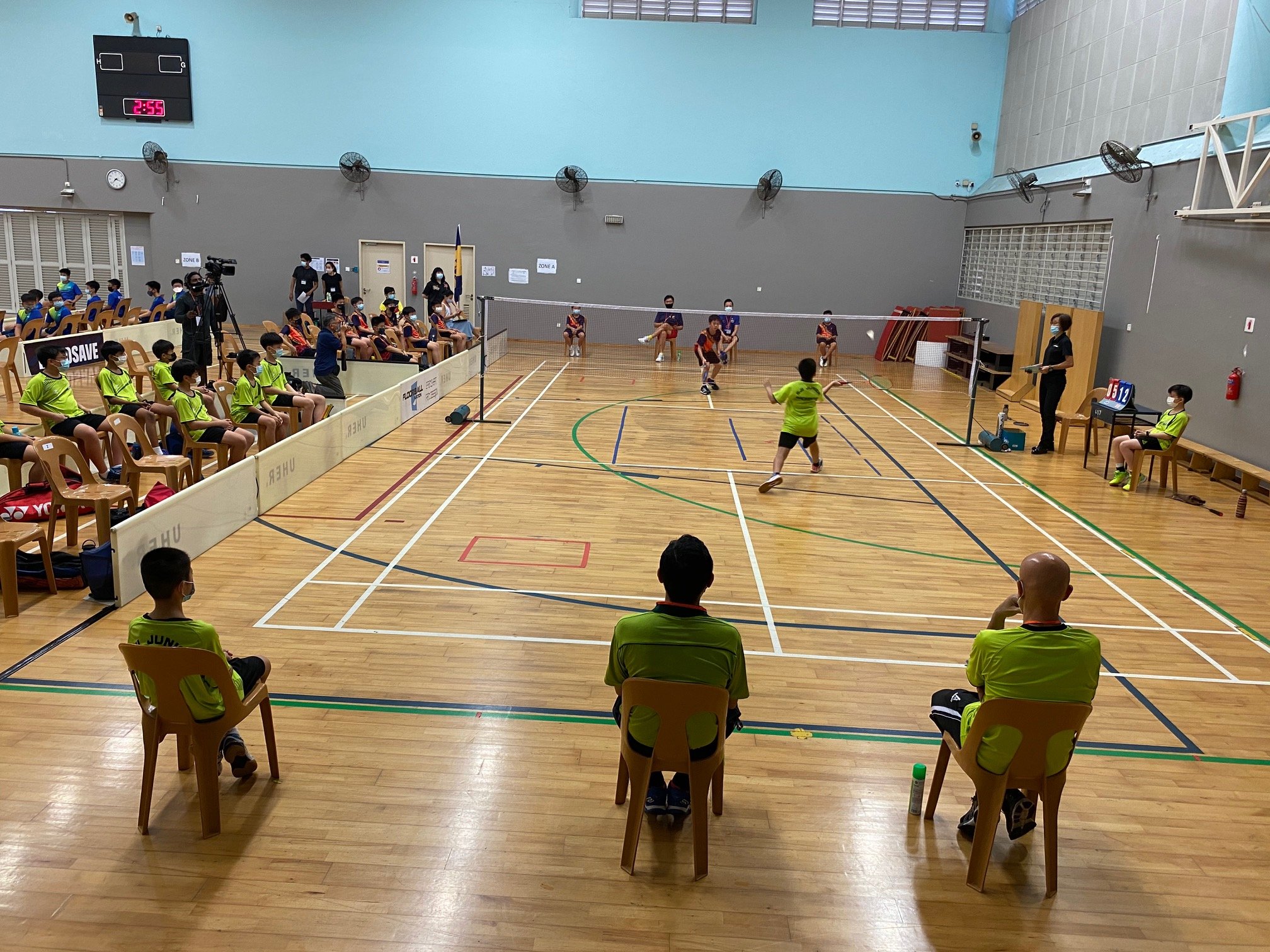 (Photo by Chia Han Keong)
Not only did they defeat Anglo-Chinese School (Primary) by a convincing 5-0 series scoreline, but they also won without dropping a single set - played 10, won 10! And most of the sets were not even close.
It was a scintillating display by the young shuttlers that left their opponents shell-shocked after the final, even though the ACS Primary students were still gracious enough to cheer SJI Junior's stellar efforts.
SJI Junior coaches Callistus Chan and Hamid Khan paid tribute to their boys putting in the hard work during the preparation leading up to the final, and having the right attitude throughout the NSG competition.
(Interview with SJI Junior coaches Callistus Chan and Hamid Khan by Chia Han Keong)
Both ACS Primary and SJI Junior had topped their respective groups in the preliminary stage, as well as in the quarter-final round-robin stage. And in the semis, the SJI Junior defeated Holy Innocents' Primary School 4-1, while ACS Primary narrowly edged out Fairfield Methodist School (Primary) 3-2.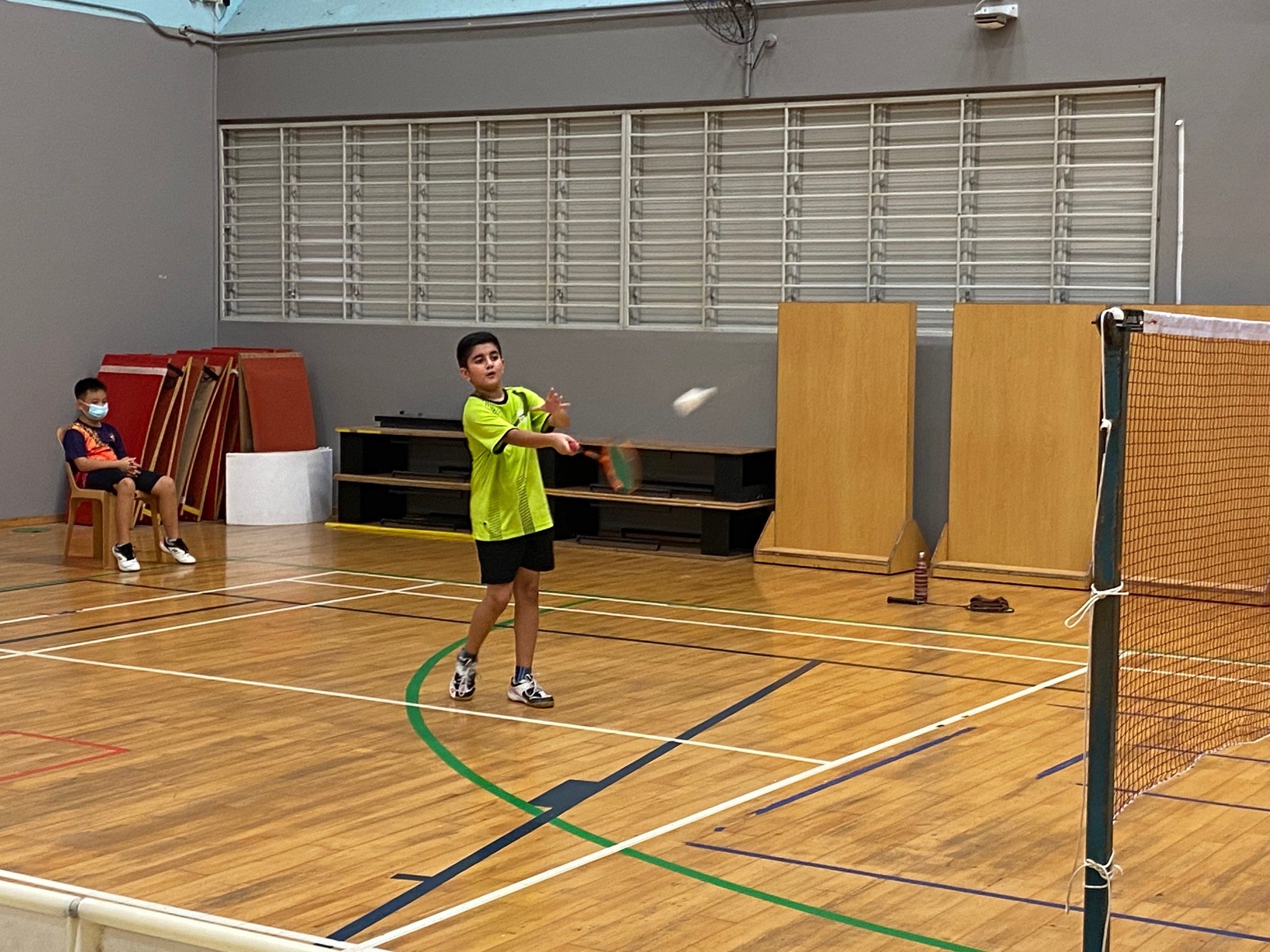 (Photo of SJI's Pranav Madhalik by Chia Han Keong)
So both schools arrived at the grand final with momentum and confidence, ready to compete for the coveted title. The first singles match featured SJI Junior's Pranav Madhailk against ACS Primary's Ying Tze Foong, and started much like any series-opening match - both players a little tentative and nervous as they traded points.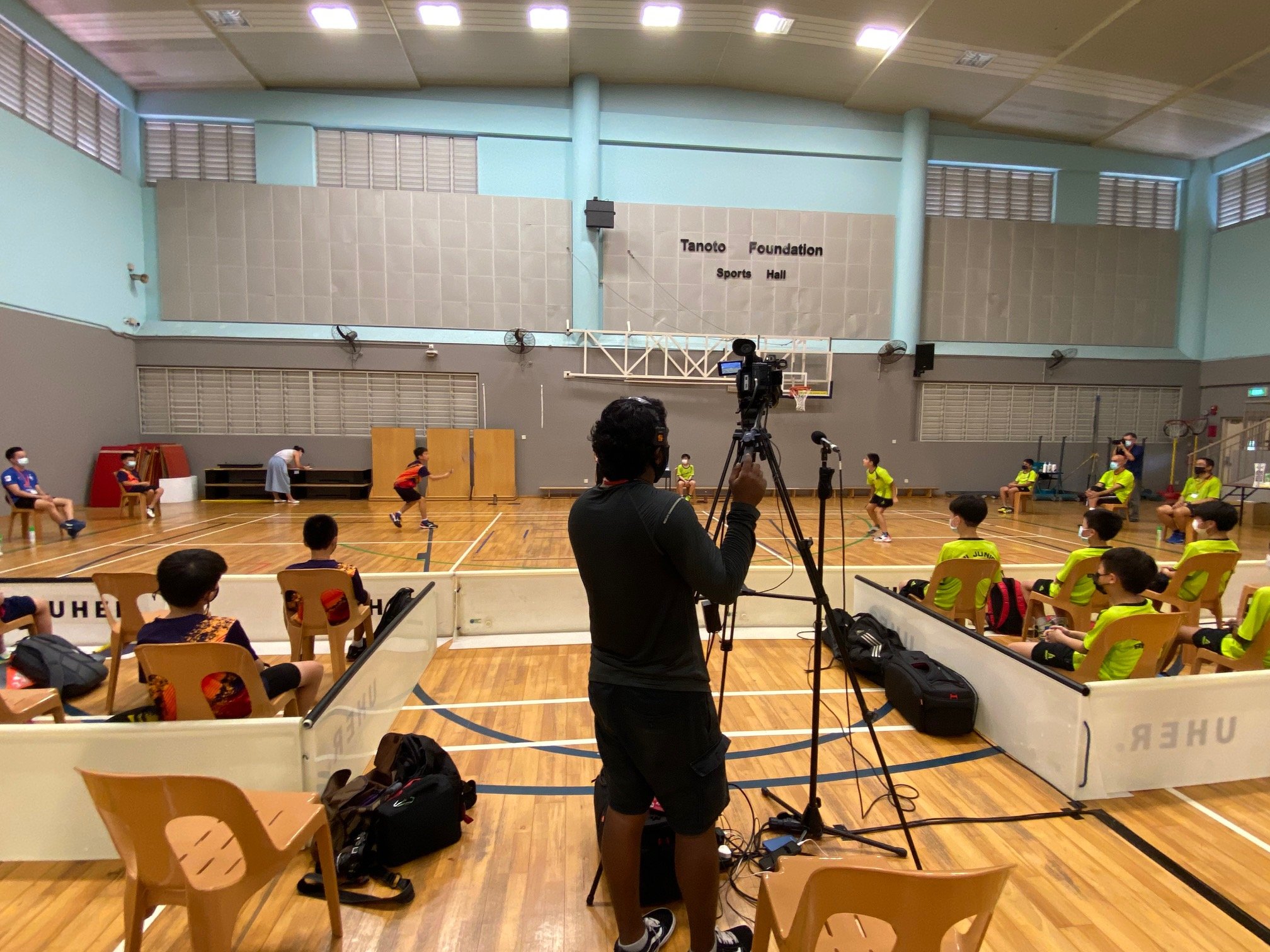 Then, all of a sudden, Pranav caught fire as he scored a slew of points with deft smashes and smartly-disguised shots. Tze Foong had no response to the onslaught as Pranav took the first set 21-10. The SJI Junior student maintained his hot streak in the second set, making great shots while scampering everywhere to retrieve his opponent's shots. It was a thoroughly dominant display as Pranav easily won the second set 21-7 to claim the first point of the final for SJI Junior.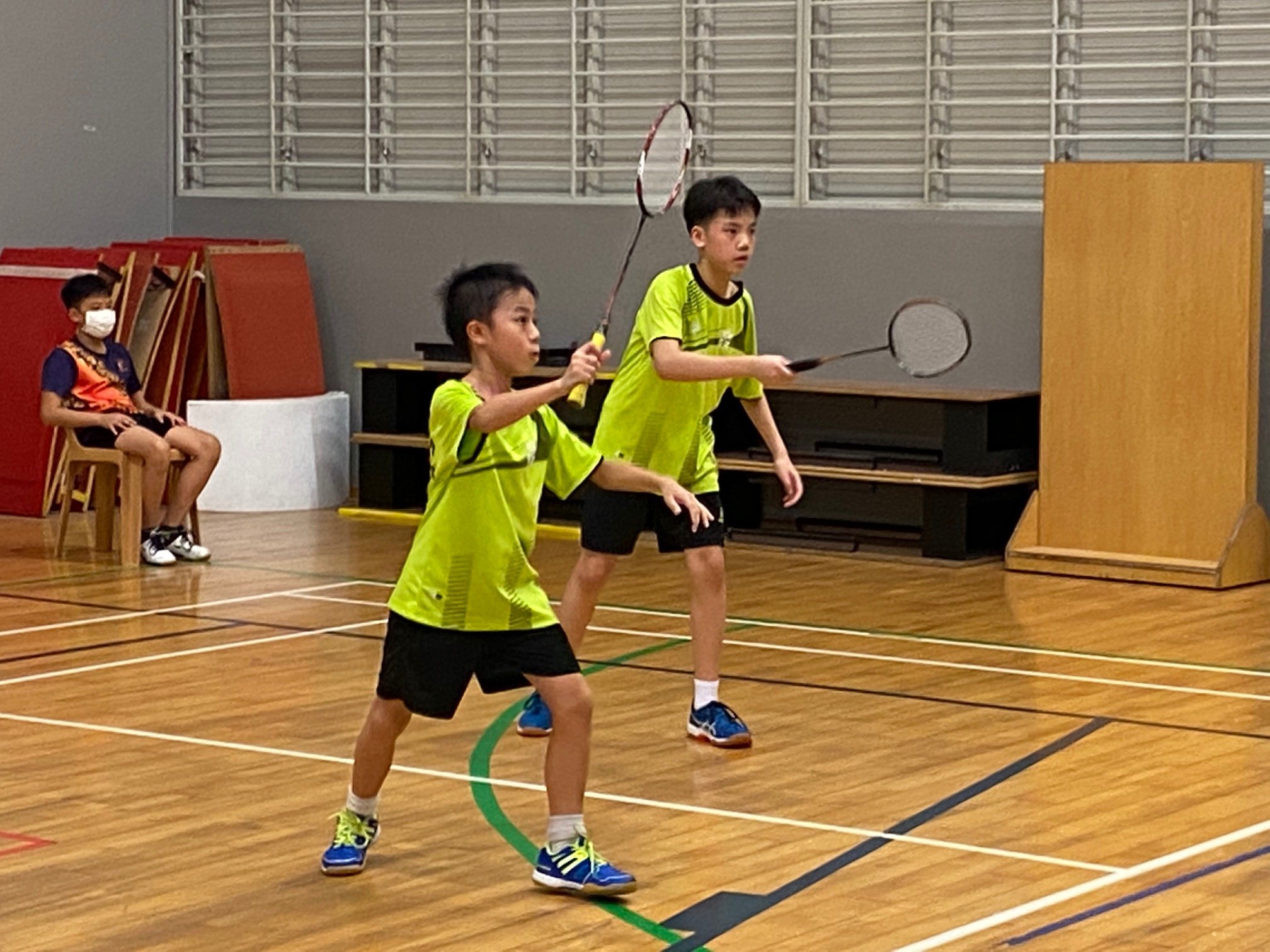 (Photo of SJI Junior's Francis Wong and Cody Chong by Chia Han Keong)
Next up was the first doubles tie featuring SJI Junior's Francis Wong and Cody Chong versus ACS Primary's Daryl Leong and James Tan. A win for ACS Primary, and they would have been right back in the final with the score tied at 1-1. But the Josephians had other plans, playing consistently and putting their opponents under pressure with pin-point smashes. The ACS Primary pair started committing numerous errors as Francis and Cody pulled ahead to take the first set 21-13.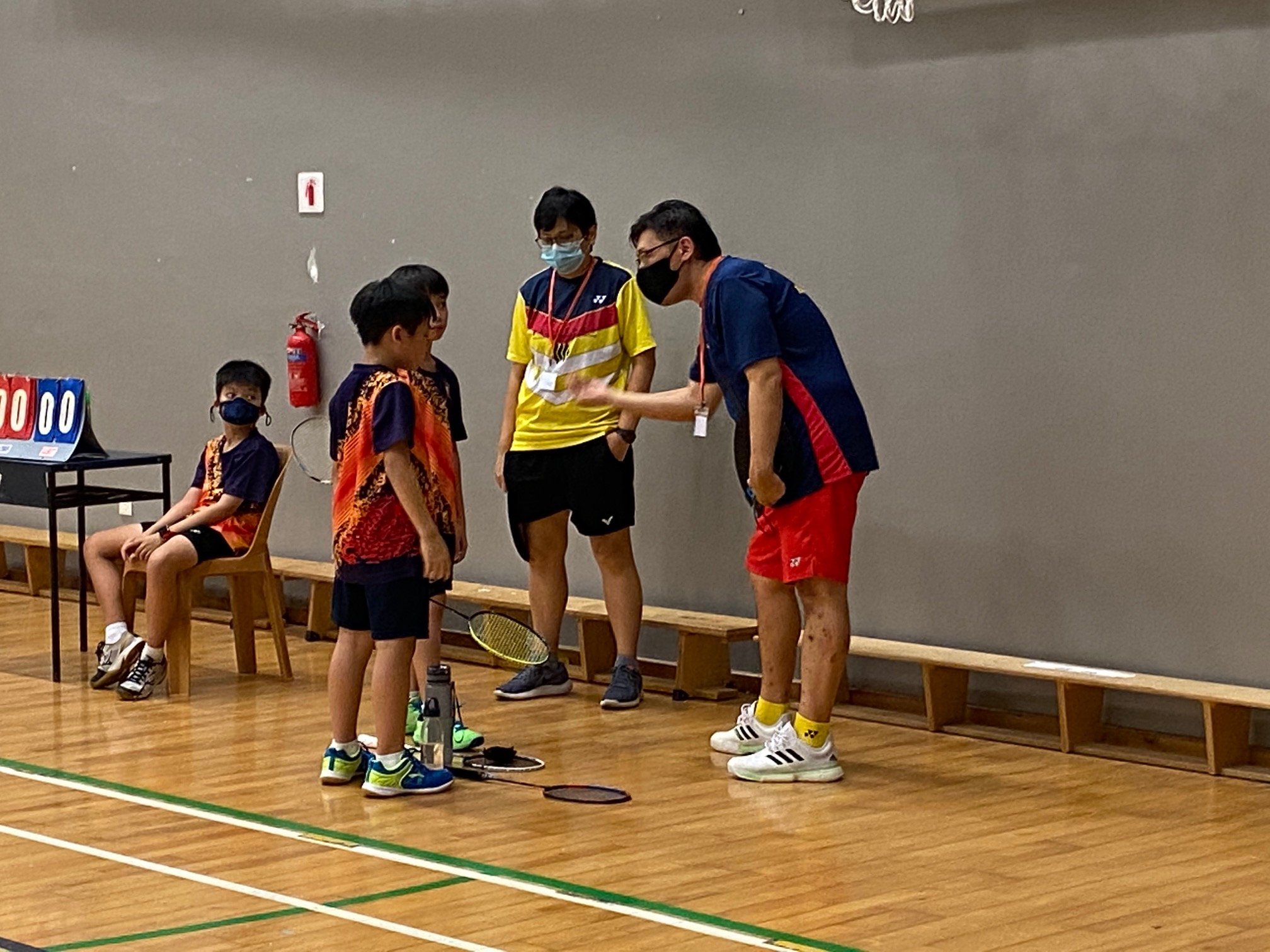 (Photo by Chia Han Keong)
Despite some stern words from their coach during the changeover, the ACS Primary duo were unable to cut down on their errors, and grew increasingly flustered as the match slipped away. In contrast, Francis and Cody were far more composed, and stamped their class in winning the second set again by 21-13.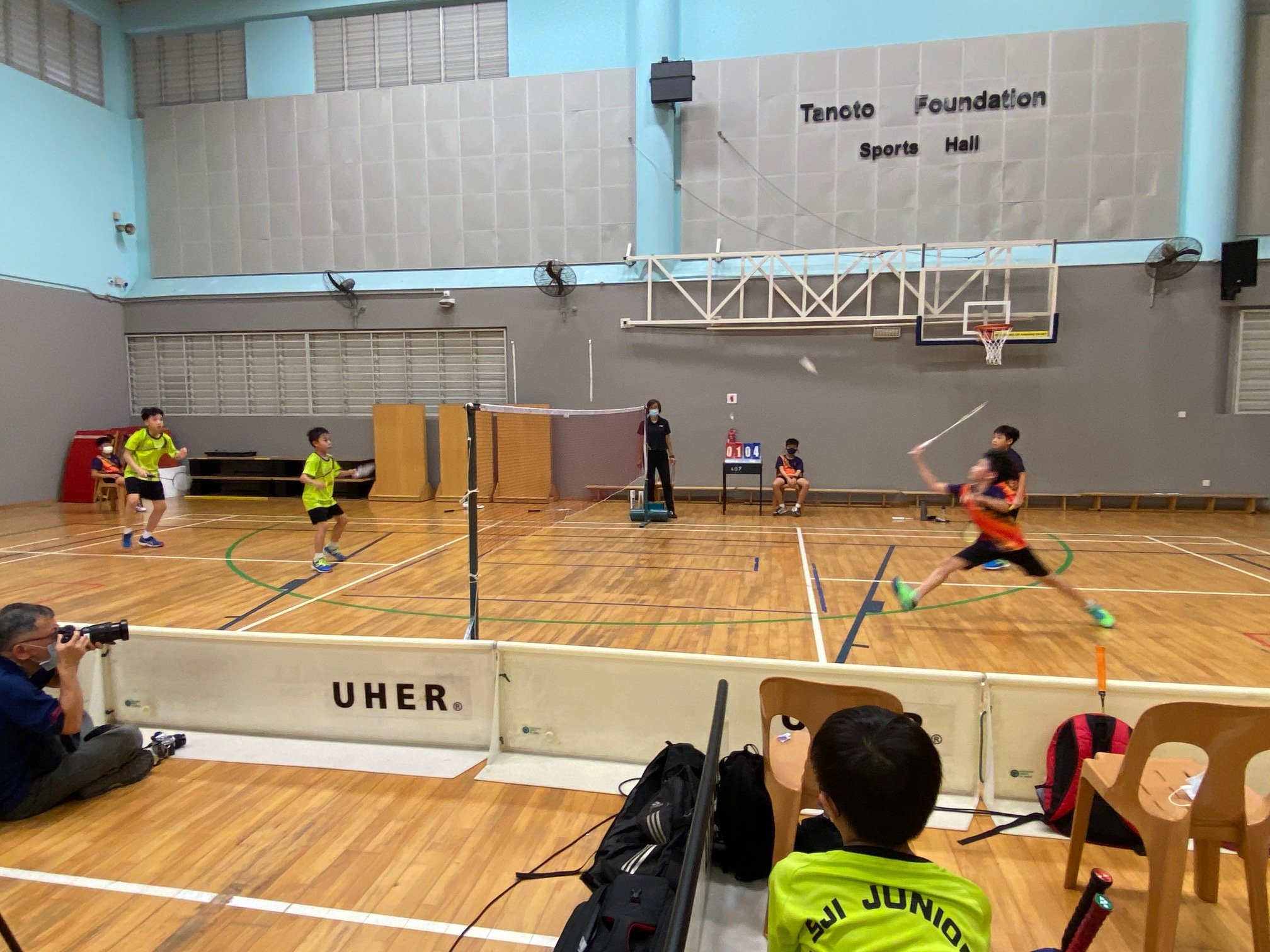 (Photo by Chia Han Keong)
Up 2-0 in the final and the SJI Junior team looked full of confidence heading in the second singles match. In contrast, the ACS Primary camp was filled with worried looks as they found themselves in an unenviable situation of having to win their next match to stave off defeat in the series.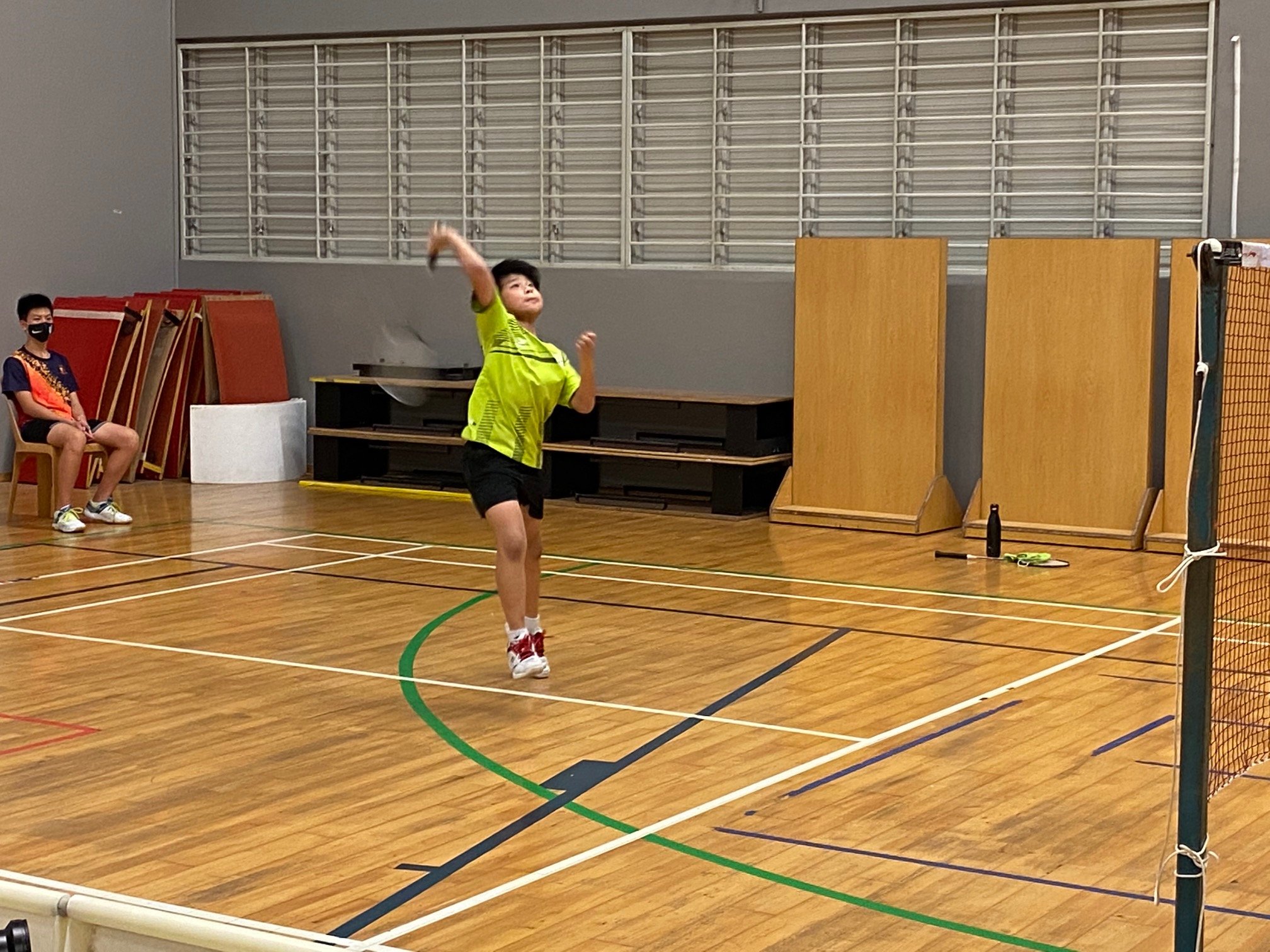 (Photo of SJI Junior's Luke Soh by Chia Han Keong)
Sure enough, when the 2nd singles match began, it was evident that SJI Junior's Luke Soh would dominate his opponent, Javier Tan. Whereas Luke was spraying his shots with accuracy and power, Javier struggled to cope with his opponent's aggressive game. Just like the previous two matches, it was a one-way traffic for SJI Junior as Luke swept to a 21-13, 21-11 win and sealed the South Zone title for his school.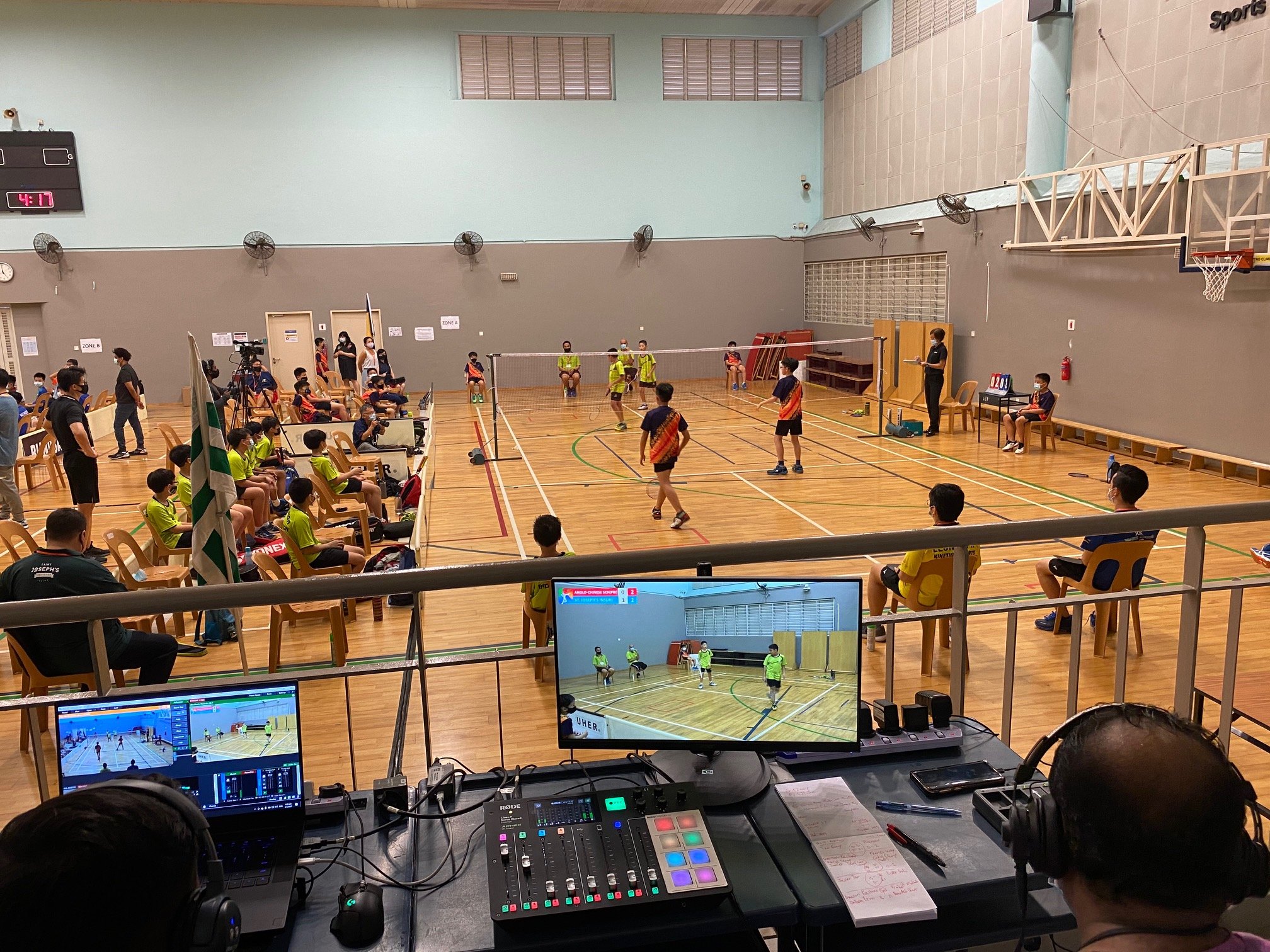 (Photo by Chia Han Keong)
Despite having the title won, there was no let-up in SJI Junior's brilliant team performance in the remaining two matches. The second doubles match was probably the closest tie in the final, but Prakrit Madhailk and Benedict Chen took care of the key points to beat Dawson Kastono Ahadi and Callum Yeow 21-16, 21-14.
In the third singles match, Keagan Luke Wong easily defeated Parsith Goh 21-7, 21-8 to seal the resounding 5-0 victory for SJI Junior. In 2019, the ACSians finished 2nd in the South Zone, while the Josephians were champions.
Chia Han Keong is a freelance journalist who has covered both Singapore and international sports extensively for the past 18 years. He was the sports editor of bilingual tabloid My Paper, and has also worked for The Straits Times and Yahoo News Singapore. He has covered four SEA Games (2009, 2011, 2013, 2019), two Asian Games (2010, 2014) as well as the 2008 Beijing Summer Olympics. He counts himself as a massive Liverpool, LA Lakers and Rafael Nadal fan.
Related Events & Programmes