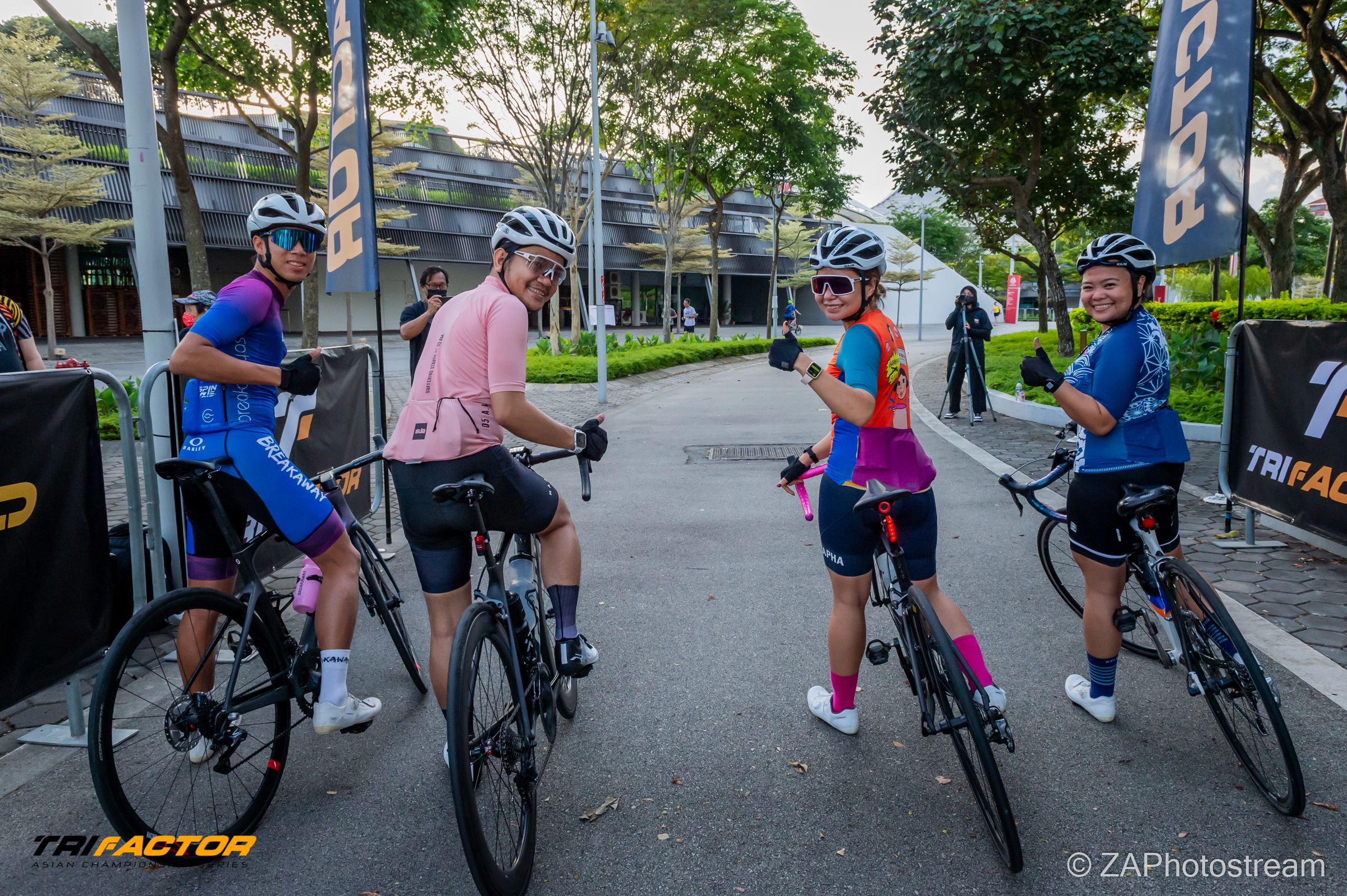 (Trifactor Bike Asia Finals. Photo Credit : Adventurers Pte Ltd)
In the recent Committee of Supply announcement in Parliament by Mr Edwin Tong (Minister for Culture, Community and Youth), the Blended Events Grant was mentioned as part of the $20 million Bring Sport Back plan. Said Mr Tong: "This (plan) is designed to reinvigorate Singapore sports, bring people back to play and enjoy sports together, and through sports, reconnect with one another."
The success of the Blended Initiative dates back to its origins in July 2020, just a few months following the emergence of Covid-19 in the Lion City. Due to the global pandemic, mass participation events in Singapore came to a grinding halt as interested individuals could no longer gather to train, compete and network. Event organisers, event management companies etc, were also forced to halt all plans, with several facing critical financial losses and strains in maintaining operational staff on their payrolls.
The complete shutdown of cinemas, arcades, leisure attractions, concerts, events, sports venues, gymnasiums, nightlife clubs etc, was an extremely trying time for both young and old. So to address the events industry demise and the absolute lack of options for Singaporeans for entertainment and exercise, Sport Singapore did a grant call in July 2020. This was to invite industry players to submit plans of taking an innovative blended approach, to create and deliver events in accordance to prevailing Safe Management Measures (SMM).
Funds totalling up to $500,000 was made available to provide grants to local industry players to engage participants in "phygital" event formats which combine both physical and virtual activations. The initiative was to also expand companies' reach beyond our borders to engage regional or global audiences by going phygital.
'Blended' became a crucial platform whereby interested parties could apply for the grant in order to use and embrace technology in their various events' organising operations. The financial assistance, was to invest in new and innovative technological tools, in order to pivot to a phygital format of staging an event for the masses. Meanwhile in mid-October 2020, Minister Tong announced the Sports Resilient Package (SRP), which will see $25 million pumped into the sports sector as it deals with the effects of the pandemic. This was to further complement the initial $25 million in relief measures to the sports sector, which was announced 5 months prior.
Following Minister Tong's announcement in Parliament- a new $3 million funding package was carved out (from the $25 million SRP), to help transform the industry through innovations and therefore the building of new capabilities to thrive in the 'new events normal' of rapidly increasing digitalization. This was officially announced by Sport Singapore at the end of October 2020, as the 2nd edition of the Blended Initiative.
SportSG's deputy chief executive Chiang Hock Woon said: "We want to see greater digitalisation in the industry and hope that 'Blended' will contribute in setting the pace for the transformation of the sporting industry, and encourage the development of innovative and fun ways for the community to play sport and stay active."
The initial Blended Initiative which had galvanized the local events industry to embrace the 'phygital' format as a core business offering, shifted deliberately to driving industry transformation through adoption of innovations. More than 2 mil had been awarded to our local events industry in order to catalyze and drive event innovations spanning key industry trends like fan engagement, data analysis and smart venue.
Fast forward to March 2022, the Blended Initiative has supported 40 events and is expected to engage approximately 150,000 participants. This bears a strong testimony that both local events industry and fellow Singaporeans have embraced technology and the 'phygital' or indeed the 'blended' way of consuming sport and participating in sports events.while continuing to remain safe during the ongoing pandemic. With the success following the October 2020 launch, SportSG has recently unveiled the 3rd edition of the Blended Initiative – 'Blended Events Grant-Bring Sport Back'.
More than $2.5 million has been set aside to fund mass participation events at up to $50,000 per award under the grant. Eligible businesses including event management companies and organisers, academies and clubs, as well as facility operators are welcome to submit their applications via ActiveSG Circle.
"The Blended Initiative from SportSG has challenged us to deliver hybrid formats of play that combine virtual and in-person participation. The grant has also enabled us to bring the unique Infinitus experience to a larger fanbase as we continuously seek to inspire and connect more locals as part of the growing fitness community," said Mr. Jeffrey Foo, CEO, Infinitus Productions.
"With this latest edition, we anticipate that more businesses will continue to push the envelope with creative proposals to uplift sporting events for Singaporeans. We will also be looking out for plans that proactively incorporate green and sustainable initiatives. Blended and hybrid event formats are here to stay and SportSG looks forward to the continued collaboration with organisations to pave the way for the sporting industry in this new normal," said Mr. Rostam Umar, Chief of Strategy Group, SportSG.
The Blended Events Grant is now open for applications until 18 April 2022. Sport businesses can find out more details about the eligibility criteria and submit applications at this link.