Play Inclusive - Singapore's biggest unified sports competition returns to Sports Hub after two years!
by ActiveSG Circle, on August 17, 2023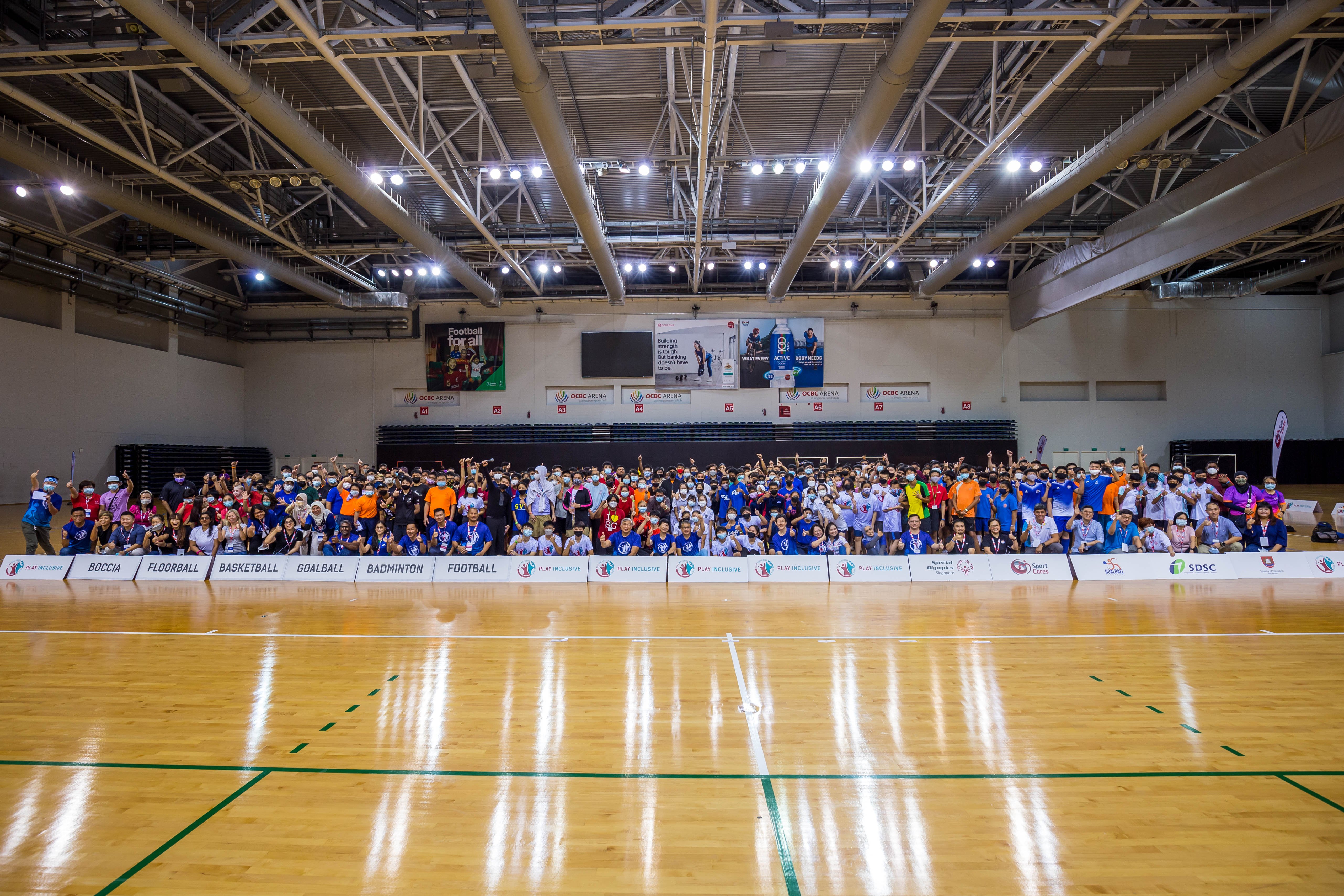 Opening Ceremony of Play Inclusive 2022. Photo Credit : Play Inclusive
27 August 2022 – Play Inclusive, Singapore's biggest unified sports competition, made its return to the OCBC Arena this morning after two virtual editions. The two-day event will see a total of 270 athletes with disabilities and special needs and 210 unified partners participating in six sports.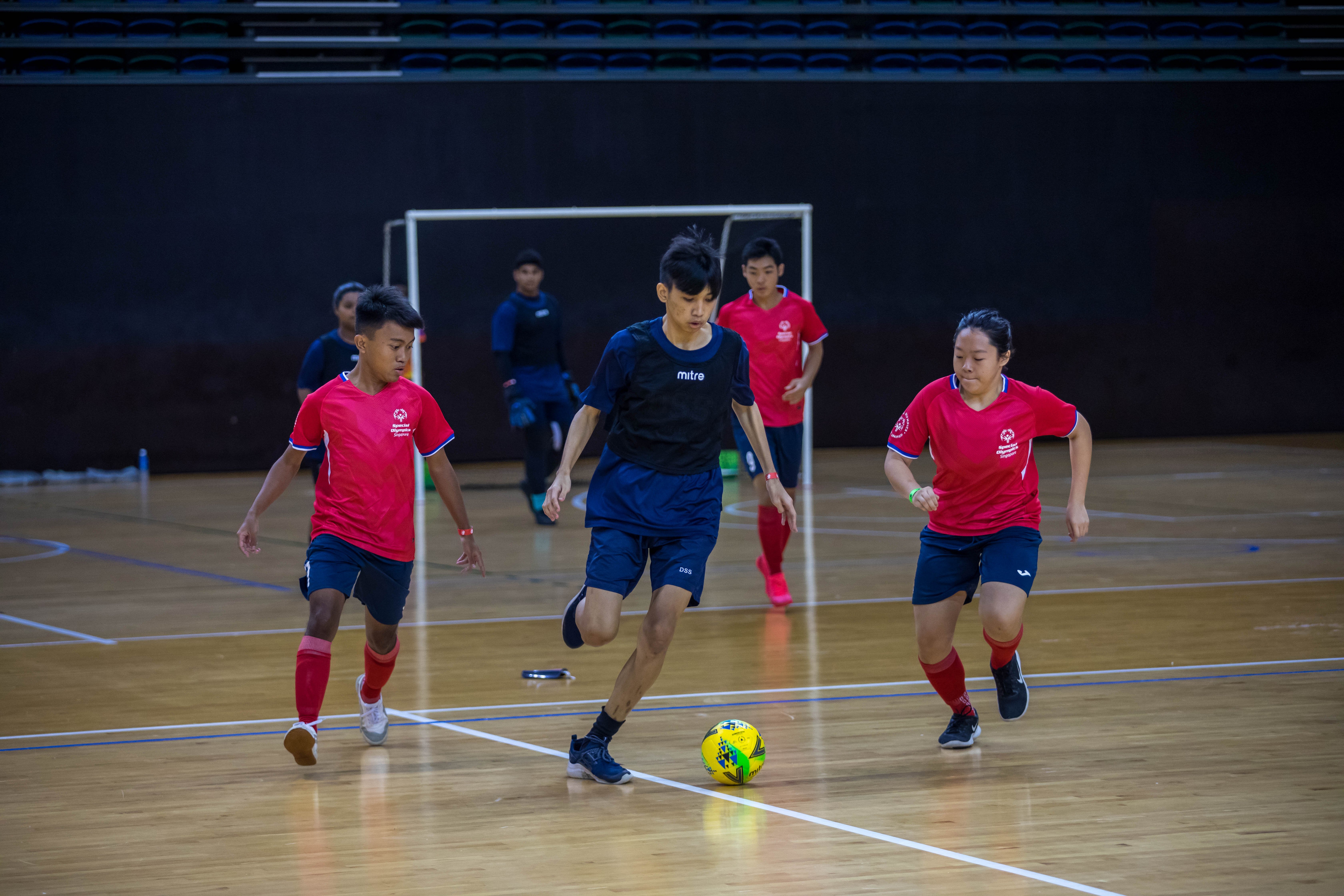 Athletes in 5-a-side football competition. Photo Credit : Play Inclusive
The first day of the two-day event kicked off with unified teams competing in doubles badminton, 5-a-side football, and goalball. Welcoming the participants back to the field of play after two years, Special Olympics Singapore president Dr Teo-Koh Sock Miang shared with the participants, "We are glad you have the opportunity to showcase the friendships that you have developed with your unified partners, training together over the past few weeks."
Referencing the Special Olympics Oath, she continued, "I'd like you to have fun, be brave in the attempt, and look after each other!"
Minister for Culture, Community & Youth and Second Minister for Law Mr Edwin Tong officially opened the event at this morning's Opening Ceremony alongside athlete Rachel Tan Li Fen, 18, from Delta Senior School, and unified partner Er Zhi Xuan Shanice, 18, from ITE College West, who led the recitation of the Athlete's Oath.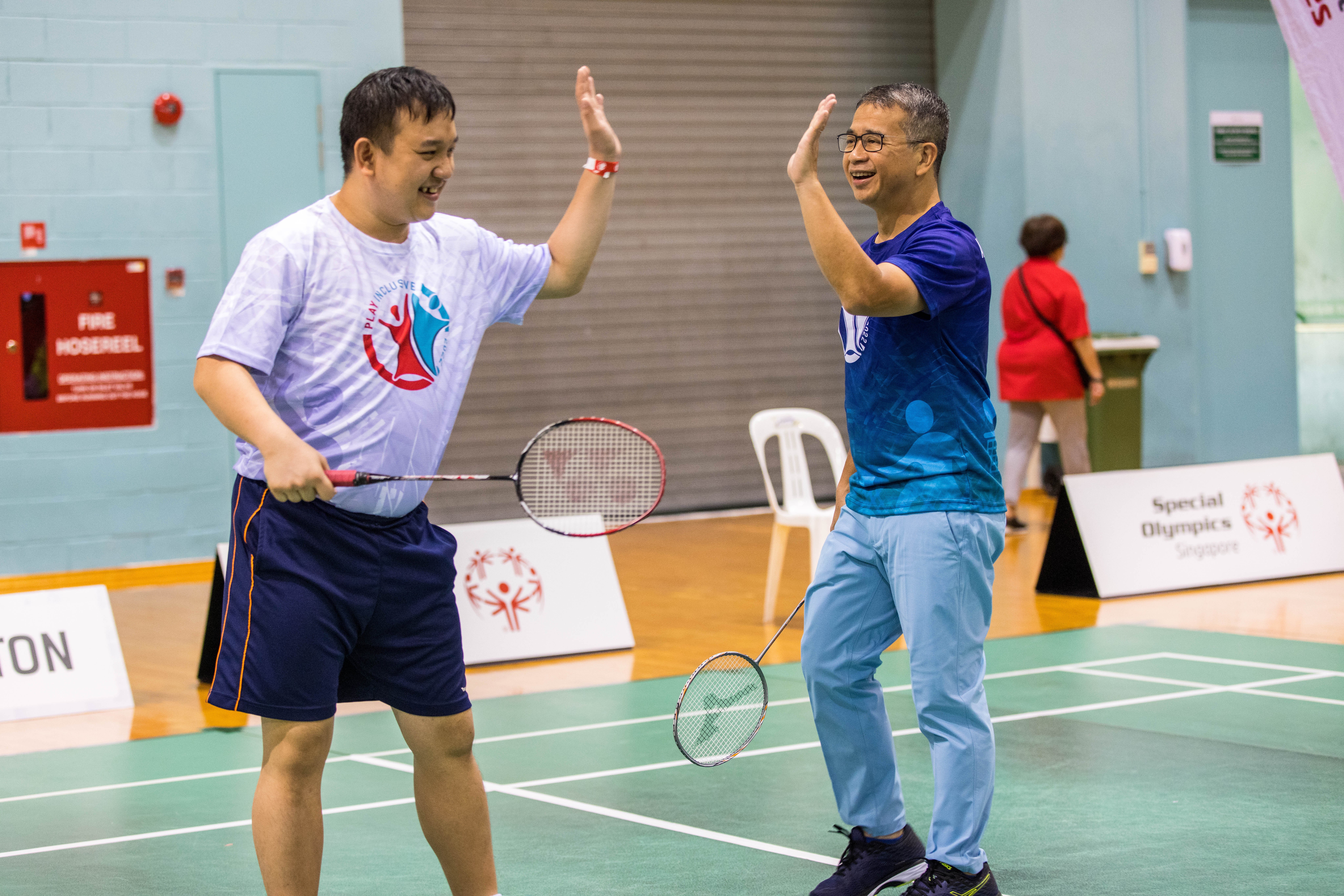 Minister for Culture, Community & Youth and Second Minister for Law Mr Edwin Tong, competes in doubles badminton with playing partner, Brenthan Tan. Photo Credit : Play Inclusive
Co-organised by Special Olympics Singapore, SportCares, Goalball Singapore and Singapore Disability Sports Council, the Play Inclusive competition is the culmination of an eight-week campaign to promote inclusion through shared sporting experiences between persons with and without disabilities. Athletes with disabilities and special needs, together with their unified partners (able-bodied participants) from mainstream schools have been training together since March 2022 in preparation for the competition.
The event, which is supported by the Ministry of Education, will also be graced by Dr Maliki Osman, Minister in Prime Minister's Office and Second Minister for Education & Foreign Affairs. Dr Maliki will be participating in a friendly badminton doubles match against a unified team later this afternoon.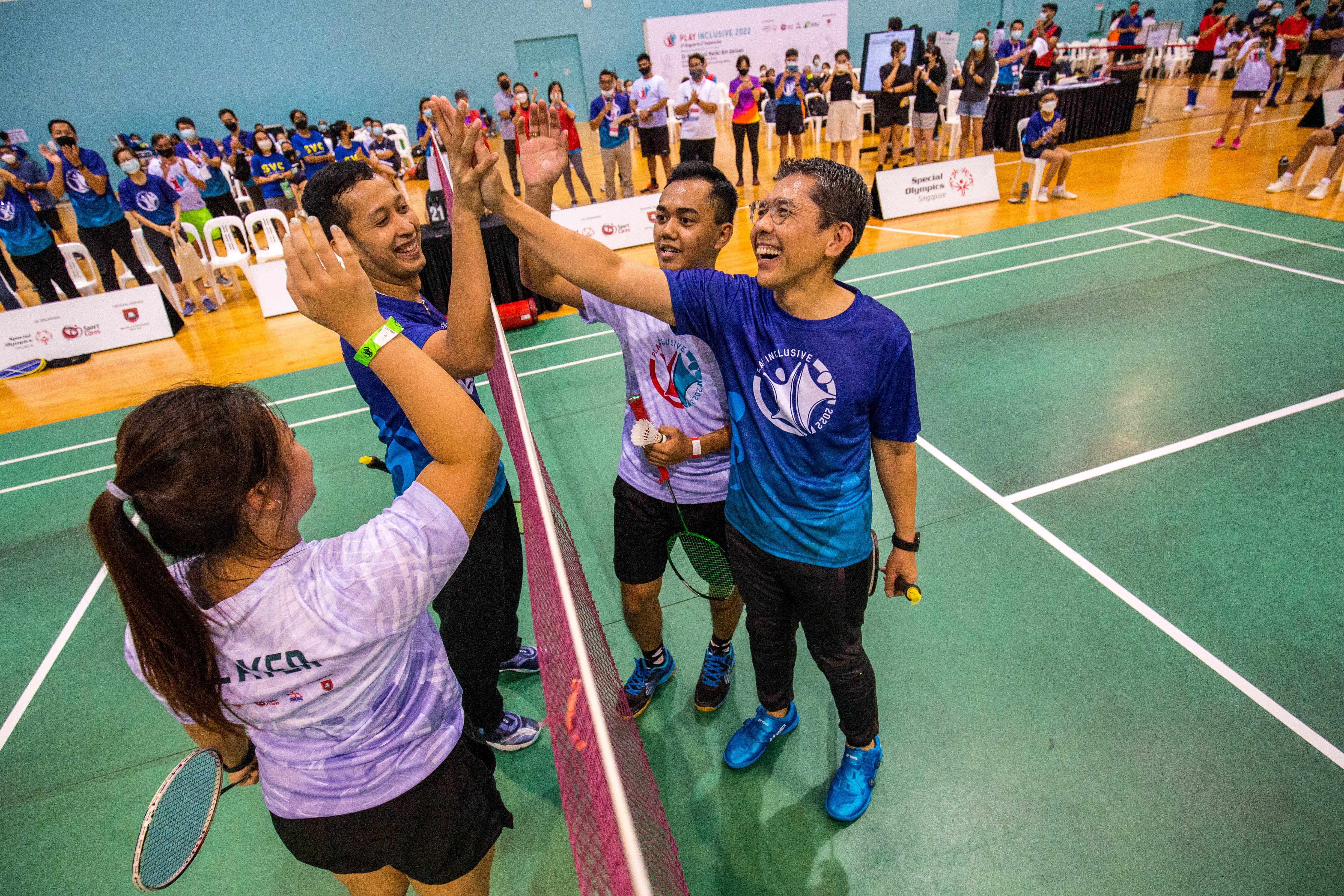 Dr Maliki with Special Olympics Singapore outreach athlete Muhd Haidil Bin Ismail, 21yrs, Unified Partner Ms. Faith Toh, volunteer with Special Olympics Singapore, 25yrs. Photo Credit : Play Inclusive
The event has seen the strong support from mainstream schools since its inception, with the experience encouraging students to return to the event even after its COVID-19 hiatus. "I first participated in Play Inclusive 2019 as a Unified Partner, and I am really glad to be back for Play Inclusive 2022 as the co-emcee! I have been volunteering with Special Olympics Singapore's badminton outreach for a few years, and I am glad to have made many new friends throughout this journey," said Temasek Polytechnic student Kelly Margaret Capuyan Misa, 17.
For others, the return of the physical competition format was also a chance to socialise and meet new people. APSN Delta Senior School student Afeef Bin Amrin, 17, shared, "This is my first time joining the Play Inclusive competition and I feel good. I really enjoyed our basketball training sessions with ITE West, and I also made new friends from our partner school!"
Sharing how Play Inclusive continues to grow and contribute to building inclusion in Singapore, Vinnce Wu, Special Olympics Singapore Executive Director, said, "Special Olympics Singapore seeks to create a better world by fostering the acceptance and inclusion of all people through the power of sports. Hence, we are proud to support the Play Inclusive initiative via one of Special Olympics' signature programme - 'Unified Sports'. We are pleased to have Goalball Singapore and Singapore Disability Sports Council at Play Inclusive 2022 and we look forward to forging new friendships and experiences for our athletes and unified partners from the Special Education and Mainstream schools."
The event will continue on 17 September with teams competing in 3-on-3 basketball, floorball, and boccia. This is the first time boccia will feature at the event.