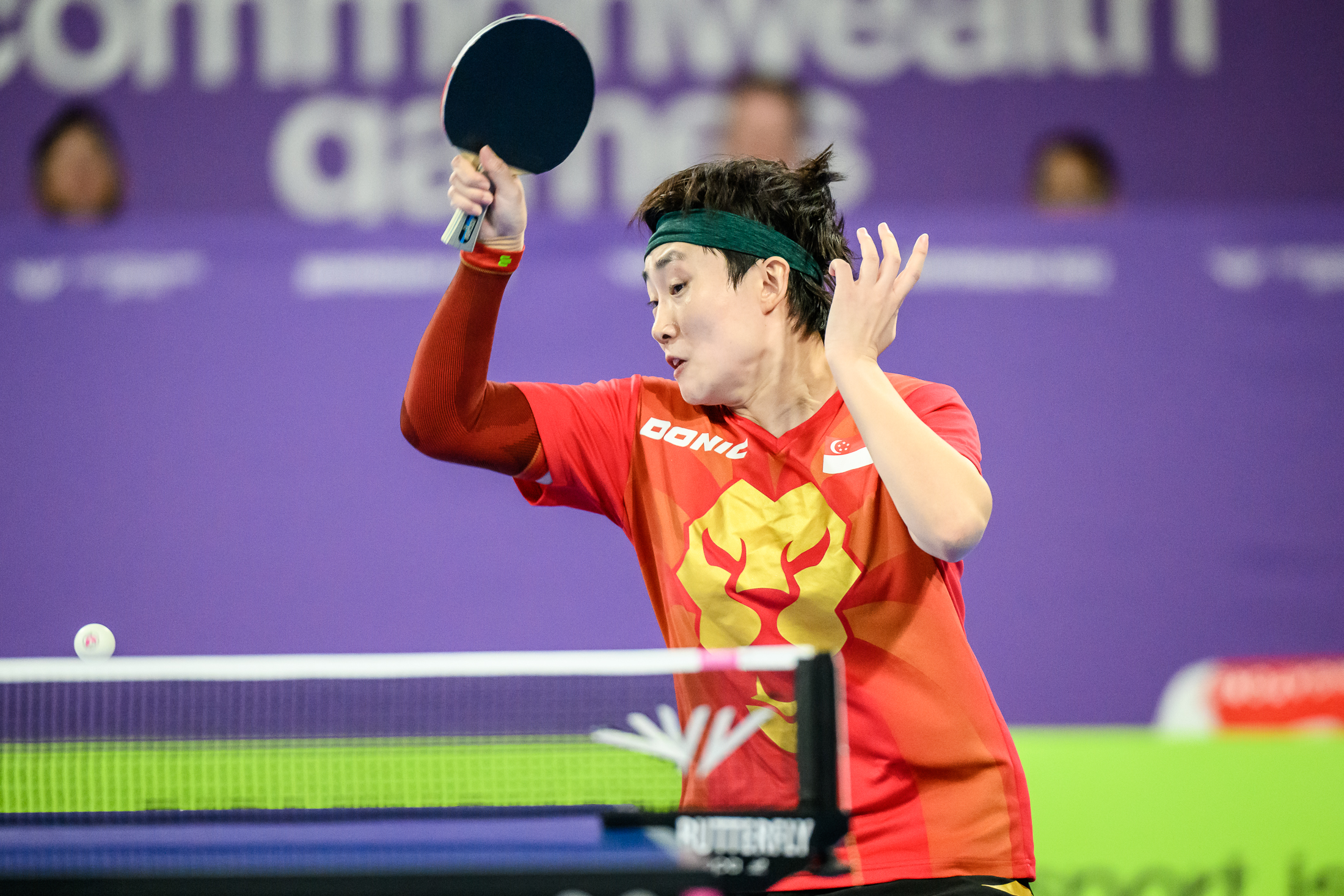 Feng Tianwei returning a ball to Zeng Jian in their Women's Singles final clash. Photo Credit: Commonwealth Games Singapore/Andy Chua
Feng Tianwei made her Commonwealth Games (CG) debut 12 years ago in Delhi and was an instant hit, winning golds in the Women's Singles and Women's Team event. Since then, the Friendly Games (the CG's colloquial name) has really been one of Tianwei's happier hunting grounds - she has ten medals (6 golds, 3 silvers and a bronze) from the three previous editions of the competition.
But her performance in Gold Coast 2018 stuck out like a sore thumb amidst that impressive medal tally. That year, Tianwei, Yu Mengyu (retired) and Zhou Yihan were denied gold by India in the final of the Women's Team competition. To make matters worse, Tianwei would be eliminated in the semis of the Women's Singles after another defeat to India. Talks of her retirement soon gathered steam on social media and in the news.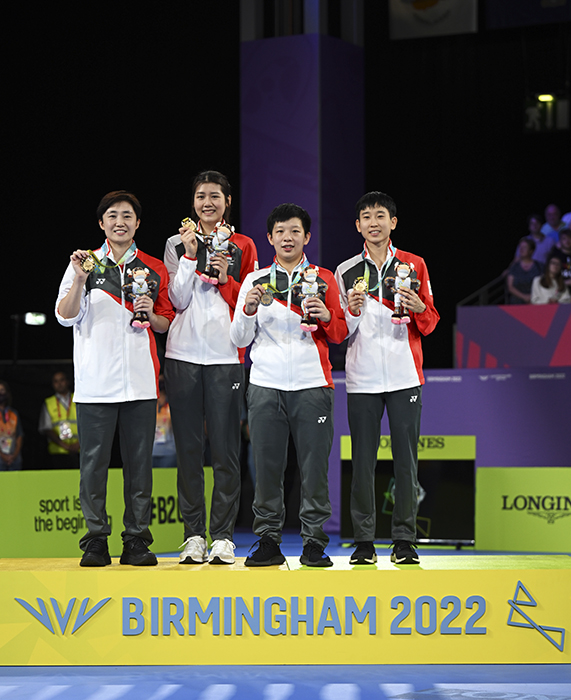 Feng Tianwei, Wong Xin Ru, Zeng Jian and Zhou Jingyi reclaim the team gold for Team Singapore after defeating Malaysia. Photo Credit: Sport Singapore/FACTSTORY
This year, the 35 year old, along with Wong Xin Ru, Zhou Jingyi and Zeng Jian, had already reclaimed the Women's Team gold, taken in style after a 3-0 beating of Malaysia.
World number 16 Tianwei was also in the final of the Singles event after edging India's Sreeja Akula 4-3, but she was going up against fellow Singaporean Zeng Jian.
Zeng Jian had only dropped three games en-route to the final, and it was testament to her ability that not a single one of those games were lost to tournament second seed Manika Batra when they met in the quarters (Batra was the player who defeated Tianwei in Gold Coast 2018).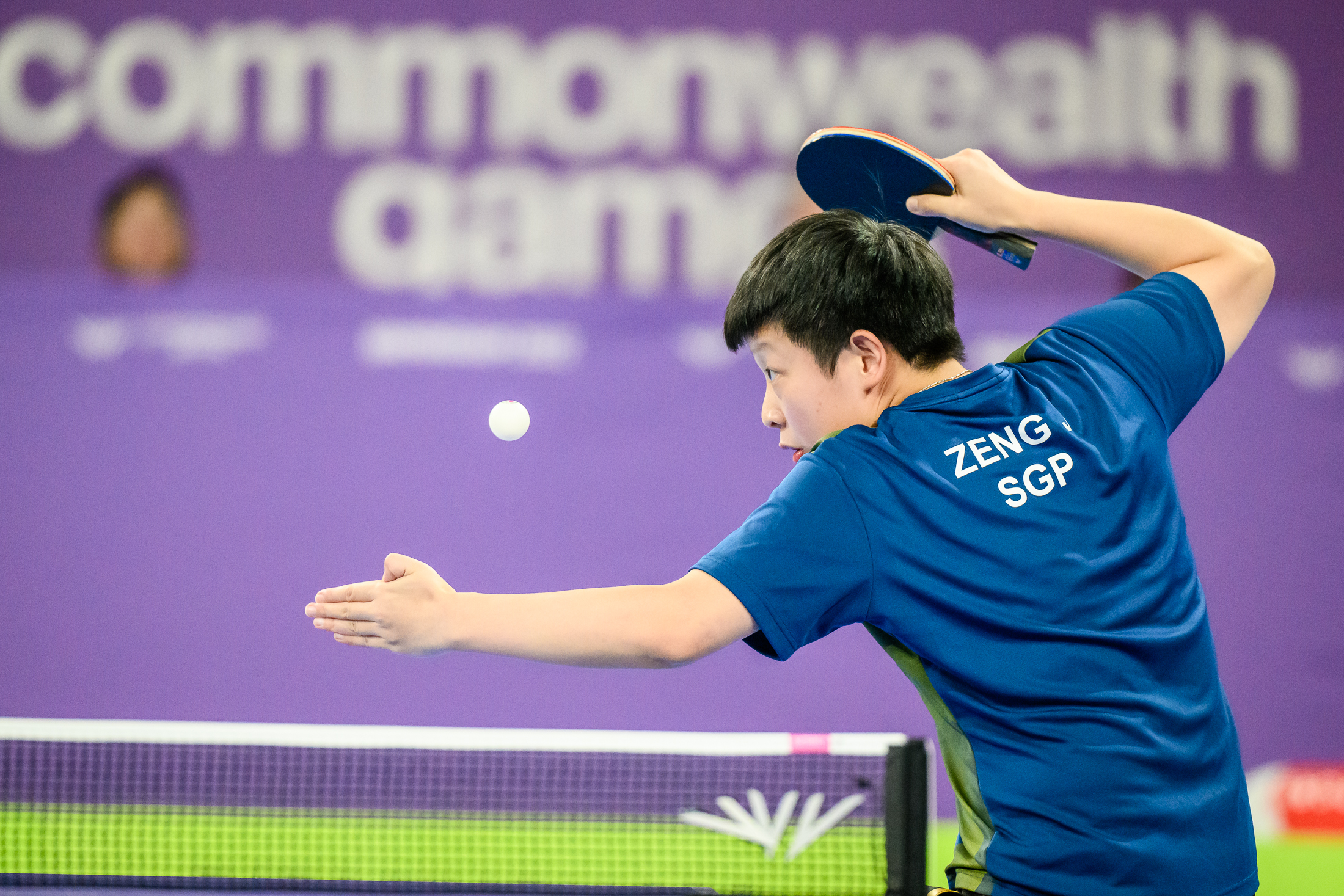 Zeng Jian racing to a quick lead against Feng Tianwei in the Singles final.Photo Credit: Commonwealth Games Singapore/Andy Chua
It seemed Zeng Jian was in better form heading into the ultimate match, and it showed as the fifth seed charged into a quick 3-0 lead. Tianwei was stunned; defeating Zeng Jian seemed like a mammoth task.
But she regained some composure to score an 11-4 reversal in game 4. In game 5, Zeng Jian's eagerness to close out the match was evident as she raced to a quick 4-1 lead. But a strategic timeout by top seed Tianwei at that point proved to be a shrewd move, and the Olympic finalist took advantage of Zeng Jian's disrupted momentum to romp to a 11-6 win.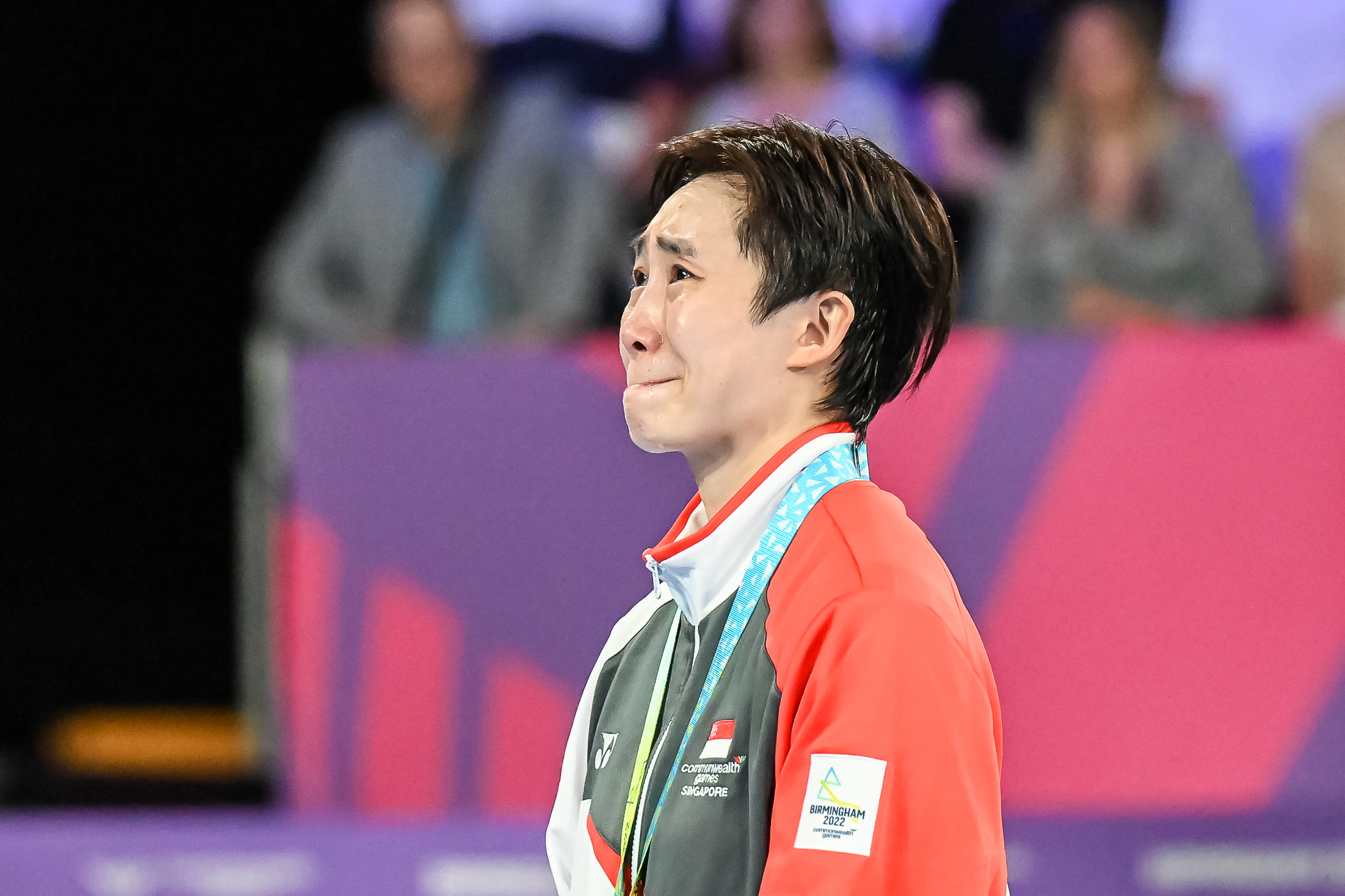 Feng Tianwei moved to tears after her gold medal in the Women's Singles. Photo Credit: Commonwealth Games Singapore/Andy Chua
From then on, Tianwei was unstoppable. The 2010 world champion played some brilliant table tennis to close out the last two games 11-8, 11-5, seizing the gold medal match 4-3.
She had just come back from a 3-0 deficit to reclaim her status as the queen of table tennis at the Commonwealth Games. It was also her 8th gold and 12th Commonwealth Games medal overall - The significance of this achievement must have hit her as the once-again champion sobbed uncontrollably when the National Anthem played. It was a moving moment from one of Singapore's best athletes ever.
Zeng Jian finishes second in the final of the Women's Singles. Photo Credit: Commonwealth Games Singapore/Andy Chua
For Zeng Jian, the positives far outweigh the negatives. After a four-medal haul at the Southeast Asian Games earlier this year, the world number 60 continues to prove her quality and was also the player who beat Ho Ying earlier in the Team event to confirm Singapore's gold.
Above these feats, Zeng Jian had pushed the Commonwealth Games' most bemedalled Table Tennis player, Tianwei, to her limit in one of the most intense clashes of the tournament.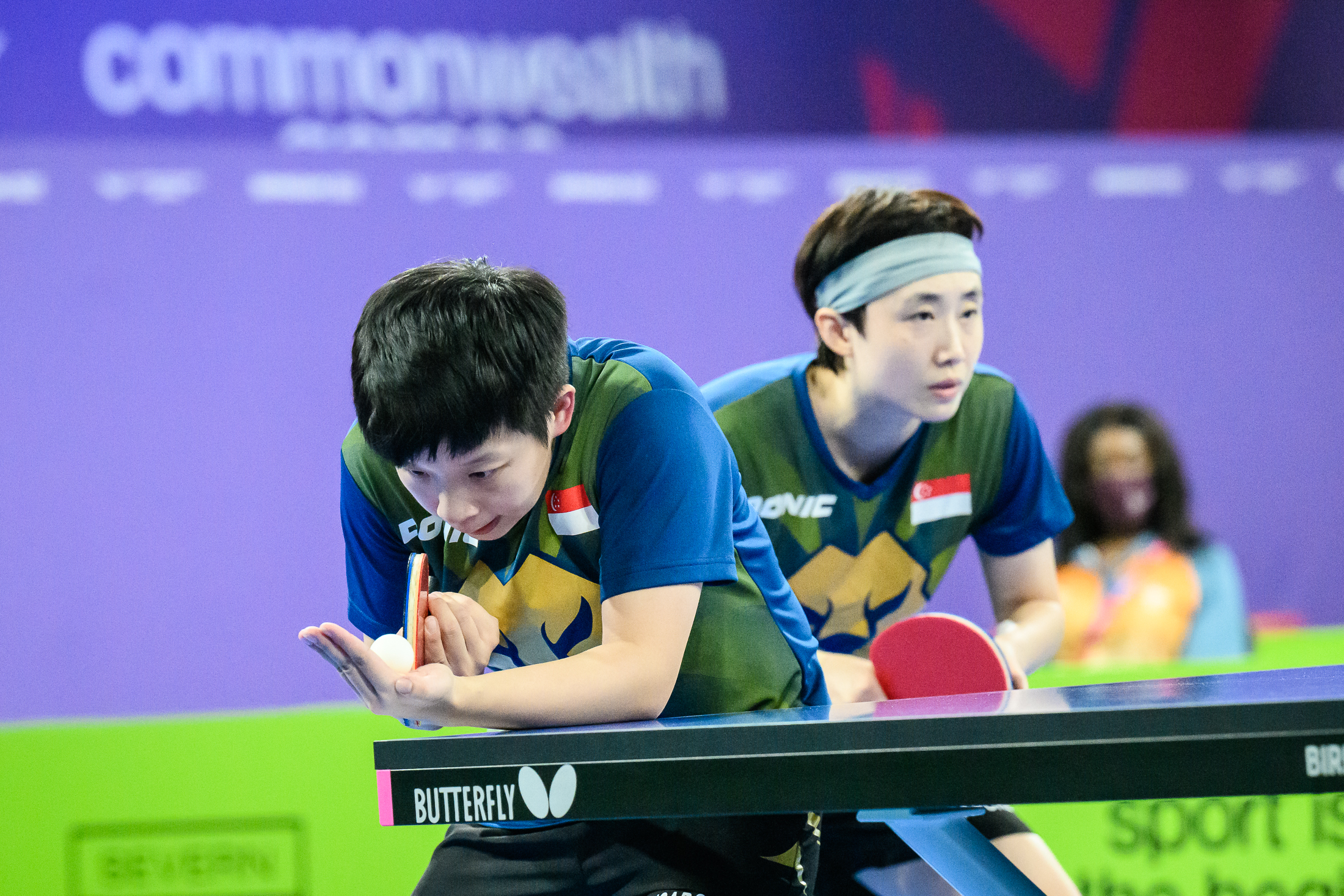 Feng Tianwei and Zeng Jian team up after their final clash to defeat Wales in the Women's Doubles. Photo Credit: Commonwealth Games Singapore/Andy Chua
The pair are of course not done yet in Birmingham. The Feng-Zeng partnership had only a couple of hours to recover before their semi-final clash in the Women's Doubles. Against Wales' Charlotte Carey and Anna Hursey, Tianwei and Zeng Jian went down 2-1 before coming back to seal the encounter 3-2 in 36 minutes.
They will play Australia's Jee Minhyung and Lay Jian Fang in the final of the tournament, with Team Singapore eagerly anticipating a clean sweep in Women's table tennis this year.
The other pairing of Wong Xin Ru and Zhou Jingyi will play Wales for the bronze medal.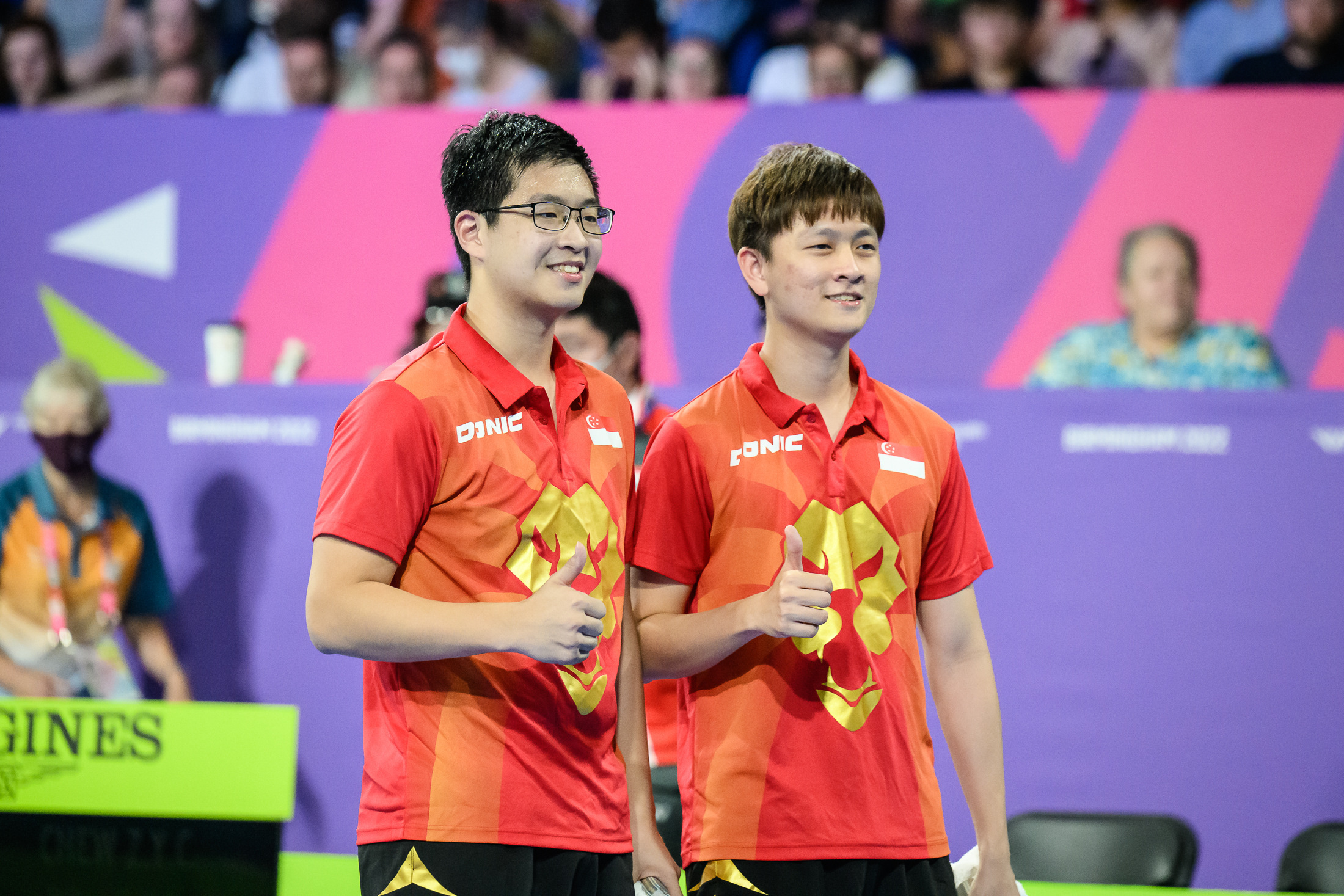 Ethan Poh and Clarence Chew take bronze in the Men's Doubles. Photo Credit: Commonwealth Games Singapore/Andy Chua
In the Men's Doubles, Clarence Chew and Ethan Poh have secured a bronze medal after defeating Australia's Nicholas Lum and Finn Luu 3-1.
That was Clarence's second bronze of the day after he teamed up with Zeng Jian, playing in her third match of the day, to defeat Nicholas Lum and Jee Minhyung 3-1 in the bronze medal match of the Mixed Doubles.
The 22nd Commonwealth Games is held in Birmingham, England from 28 July 2022 to 8 August 2022. For the latest Team Singapore coverage and news, follow Team Singapore on their social media channels (Facebook, Instagram, TikTok) or visit the official Team Singapore website.