Review of TeamSG's athletes at the recent Asian Youth Para Games, by Chef de mission, Theresa Goh!
by Circle Stories, on December 14, 2021
(CDM Theresa Goh in a Zoom interview with Raj Kumar on 11 Dec)
By Raj Kumar
On 6 Nov 2021, Singapore's National Paralympic Council (SNPC), announced the list of 13 athletes who'd been selected to represent the Republic at the Asian Youth Para Games (AYPG) in Bahrain. Due to the ongoing global pandemic, the SNPC was only informed in September, of the confirmed staging of the 4th edition of the quadrennial AYPG. Team Singapore's contingent of 13 athletes were slated to compete in 4 disciplines (from Dec 2-6) namely Boccia, Athletics, Swimming and Table Tennis.
The Contingent comprised the following teenage athletes :
Athletics:
Ahmad Nor Imran Bin Nor Azhar
Muhammad Nur Ariq Bin Yaakub
Maveric Lee
Siti Nurhayati Binte Ali Aksar Khan
Boccia:
Aloysius Gan
Yan Jia Yi
Swimming:
Jeremiah Liauw
Robby Yeo
Kate Tan
Janelle Tong
Colin Soon
Darren Chan
Table Tennis:
Caleb Lee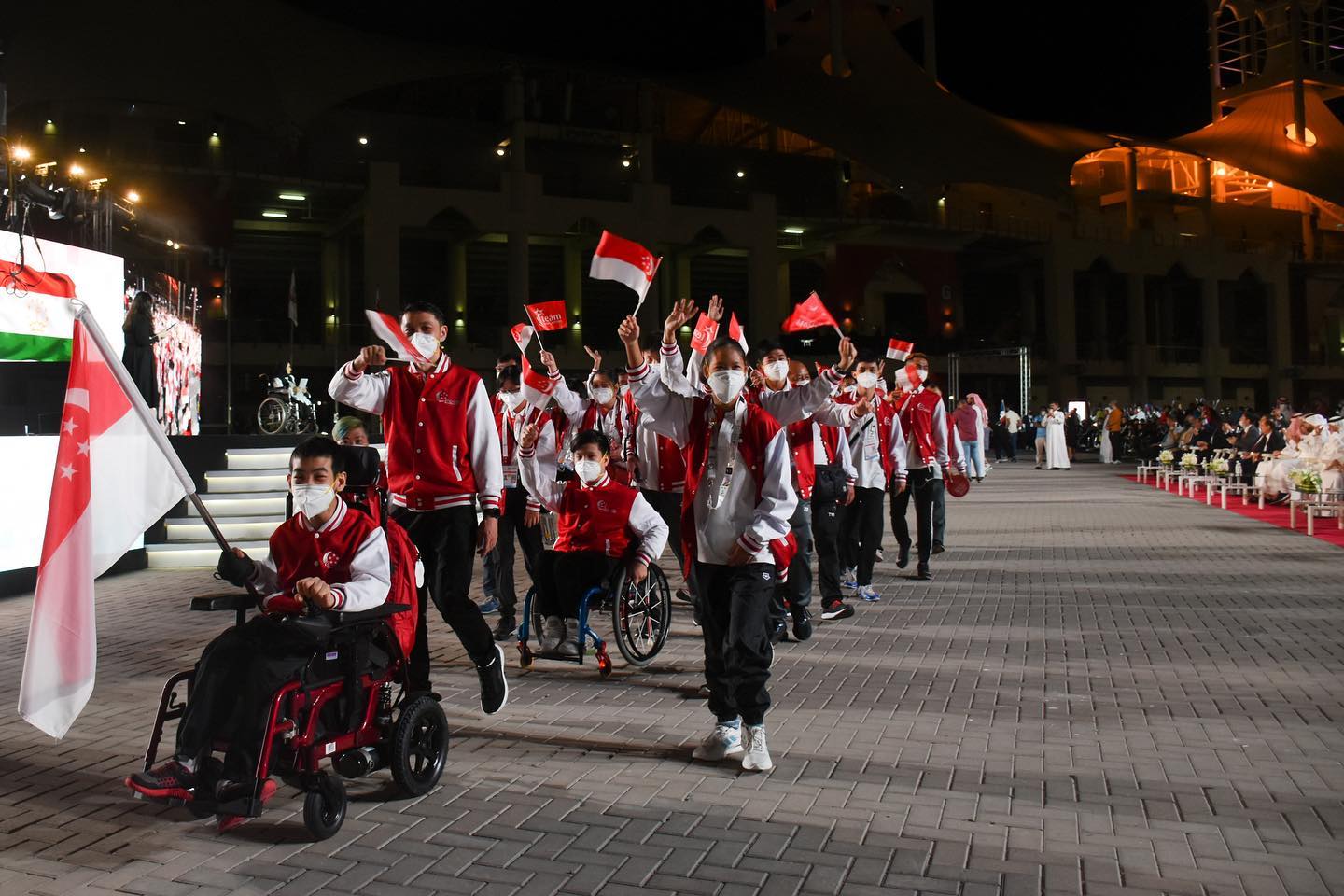 (TeamSG at the Opening Ceremony of the Bahrain Games. Photo Credit : Singapore National Paralympic Council)
Boccia athlete Aloysius Gan was Singapore's flag bearer at the Bahrain Games Opening Ceremony (2 Dec), while 4-time Paralympian and Paralympic bronze medallist Theresa Goh, as the Chef de Mission.
Back in 2017, TeamSG sent 31 athletes to compete and they bagged a haul of 18 medals including 5 Gold!!
Over at the Bahrain Games though and despite an extremely short time period to train and prep, Team Singapore's athletes rose to the occasion and delivered 5 Gold, 3 Silver and 2 Bronze medals - their 2nd best showing at the AYPG!
Upon the Contingent's return to Singapore, 34 year old Theresa Goh spoke exclusively to Circle News (Sport Singapore), while serving her SHN at a local hotel. Theresa hailed TeamSG's performances and paid tribute to the support staff, parents, coaches etc, who helped make the Games, a truly wonderful and historic campaign. Catch her Review of TeamSG's campaign in the interview below. (ALL Photos featured in the Zoom Interview, are courtesy of the Singapore National Paralympic Council)
(CDM Theresa Goh in a Zoom interview with Raj Kumar on 11 Dec)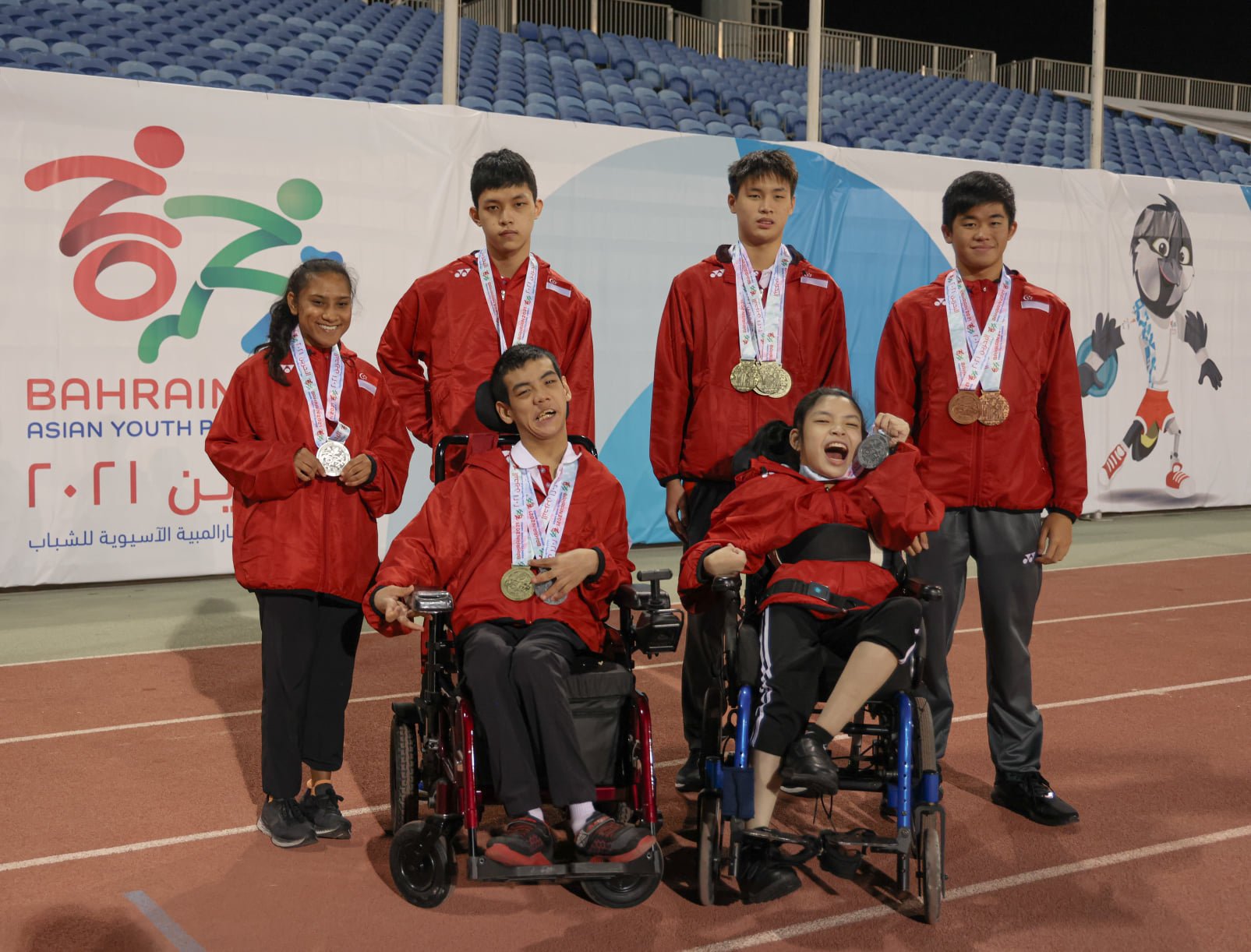 (TeamSG's Medal-winning athletes at the AYPG. Photo Credit : SNPC
From L to R (Top Row) : Siti Nurhayati, Caleb Lee, Colin Soon and Darren Chan. (Front Row) : Aloysius Gan and Yan Jia Yi
Other TeamSG Athletes in action at the Bahrain Games :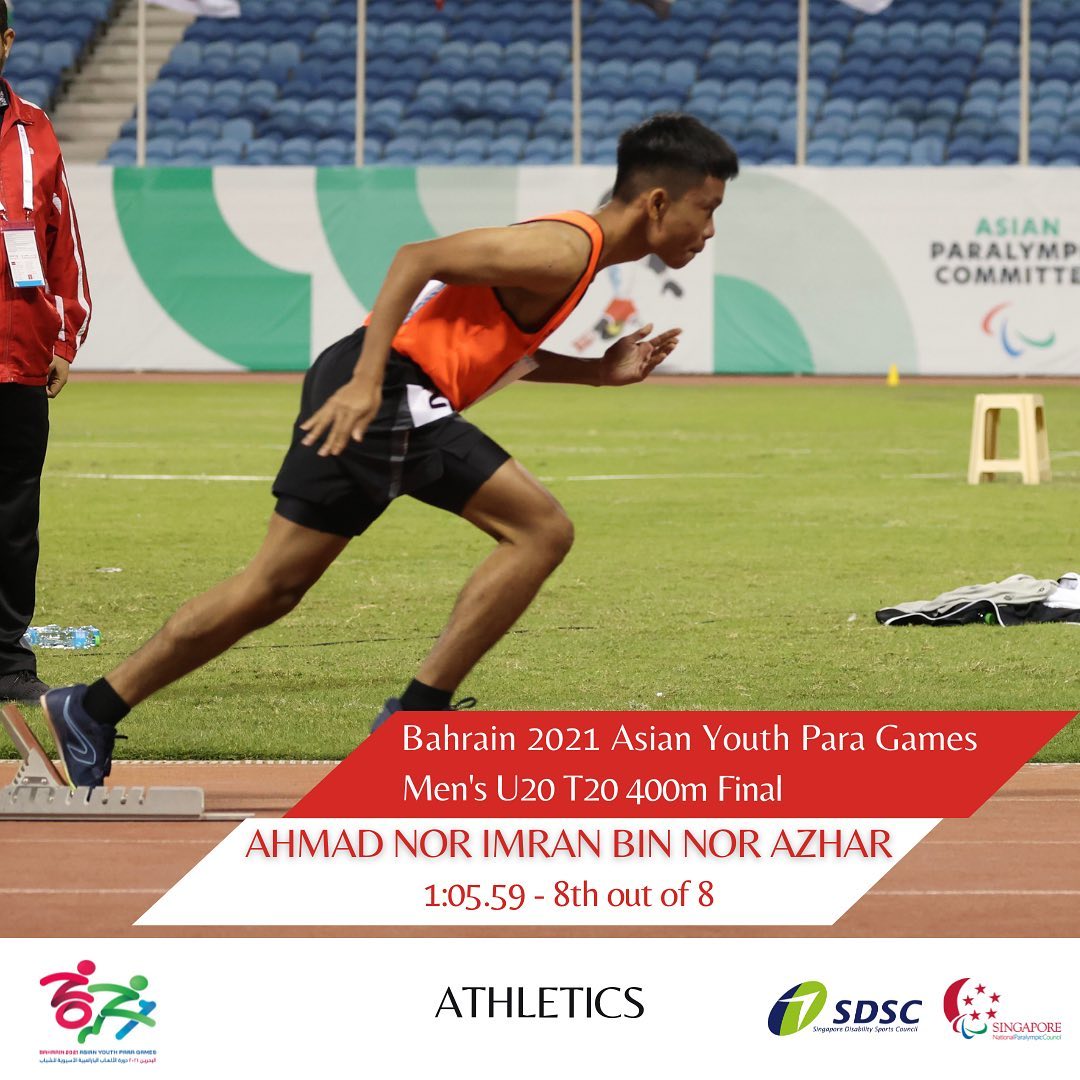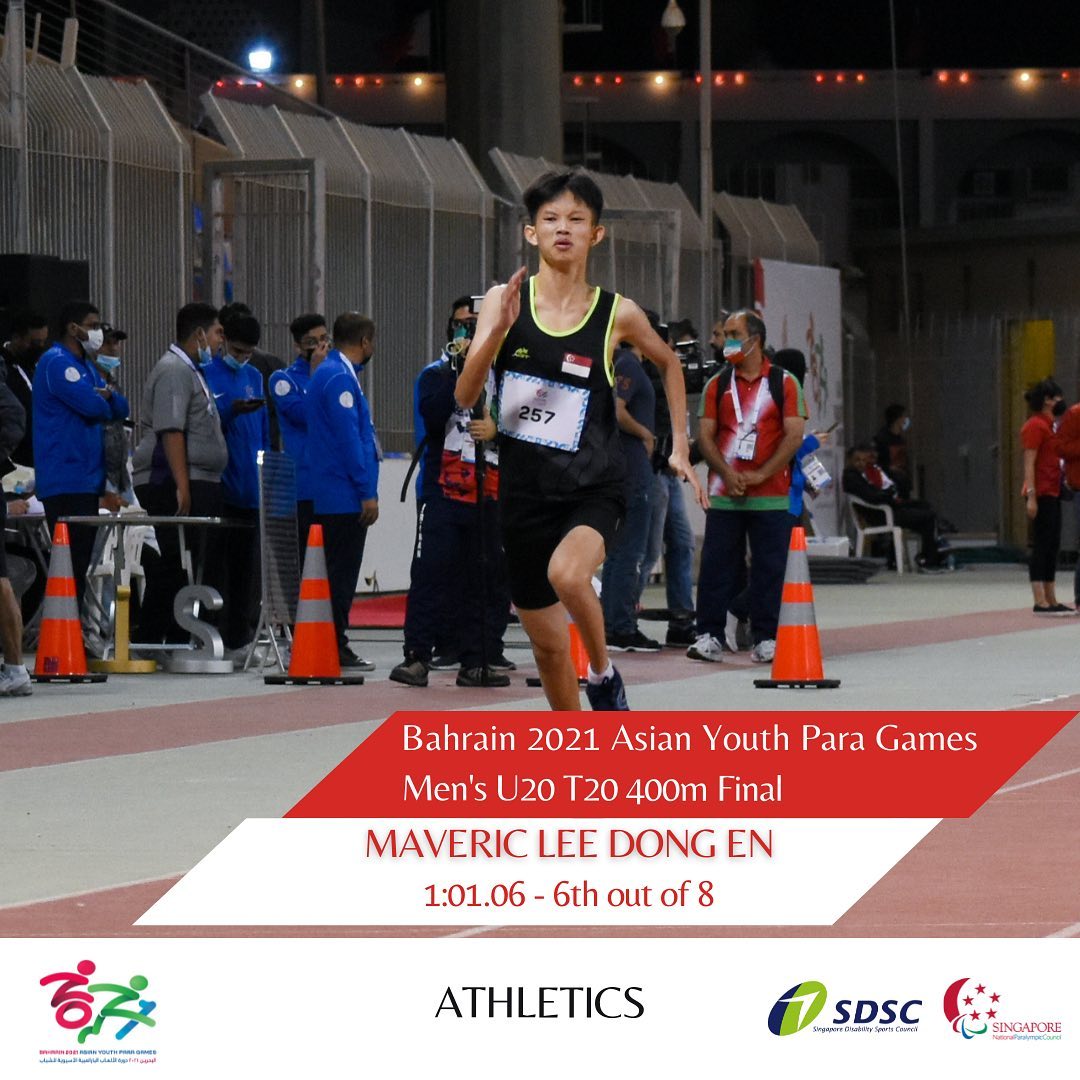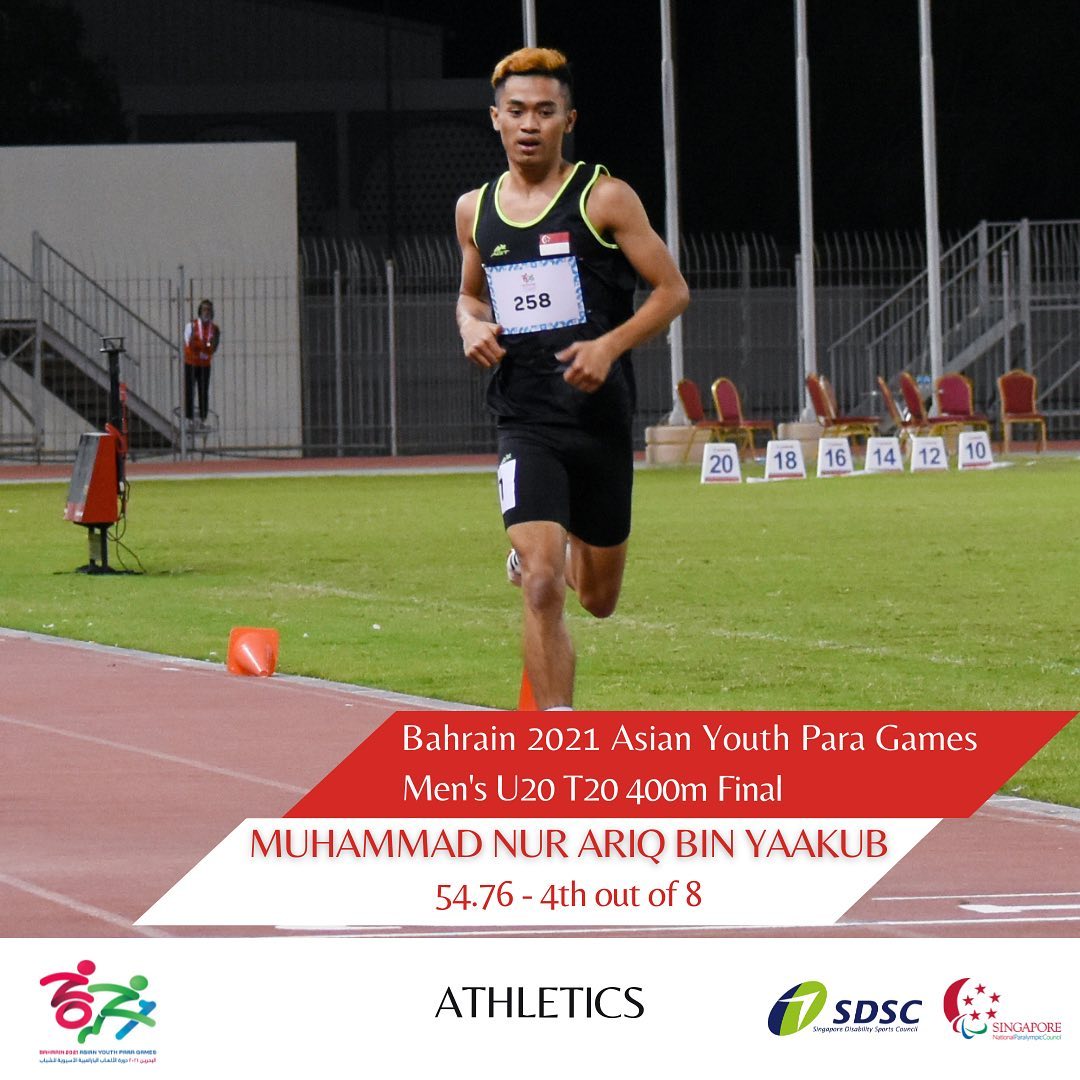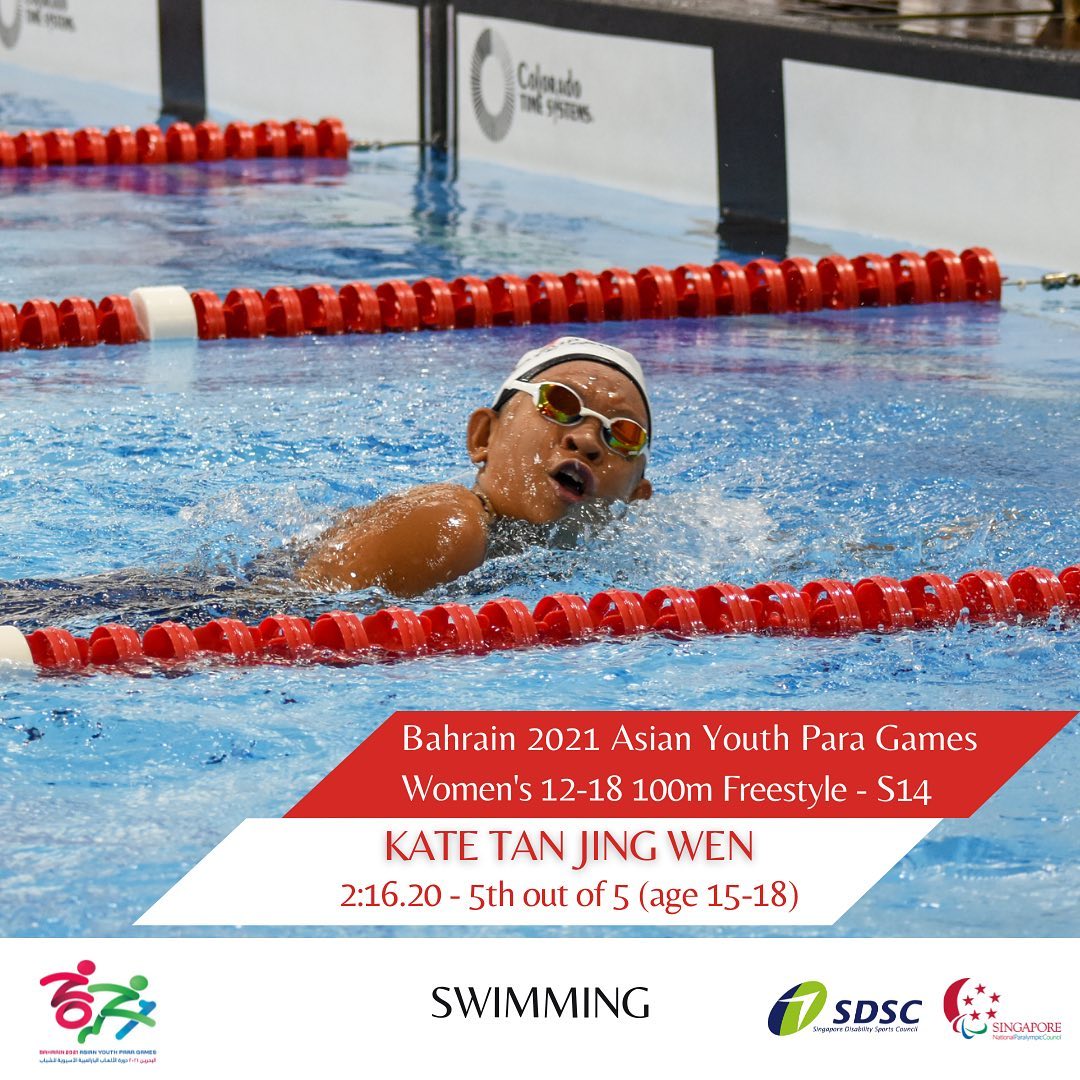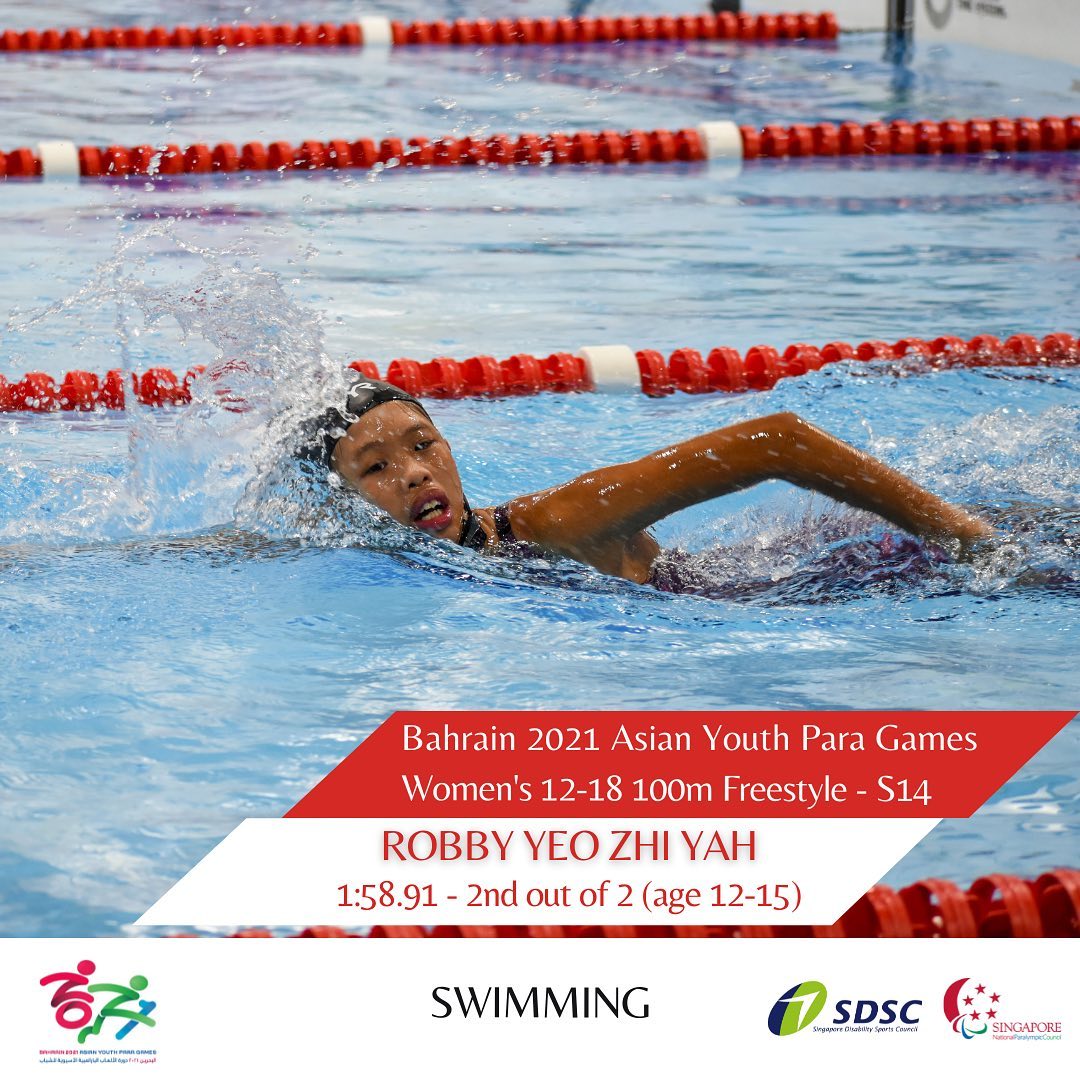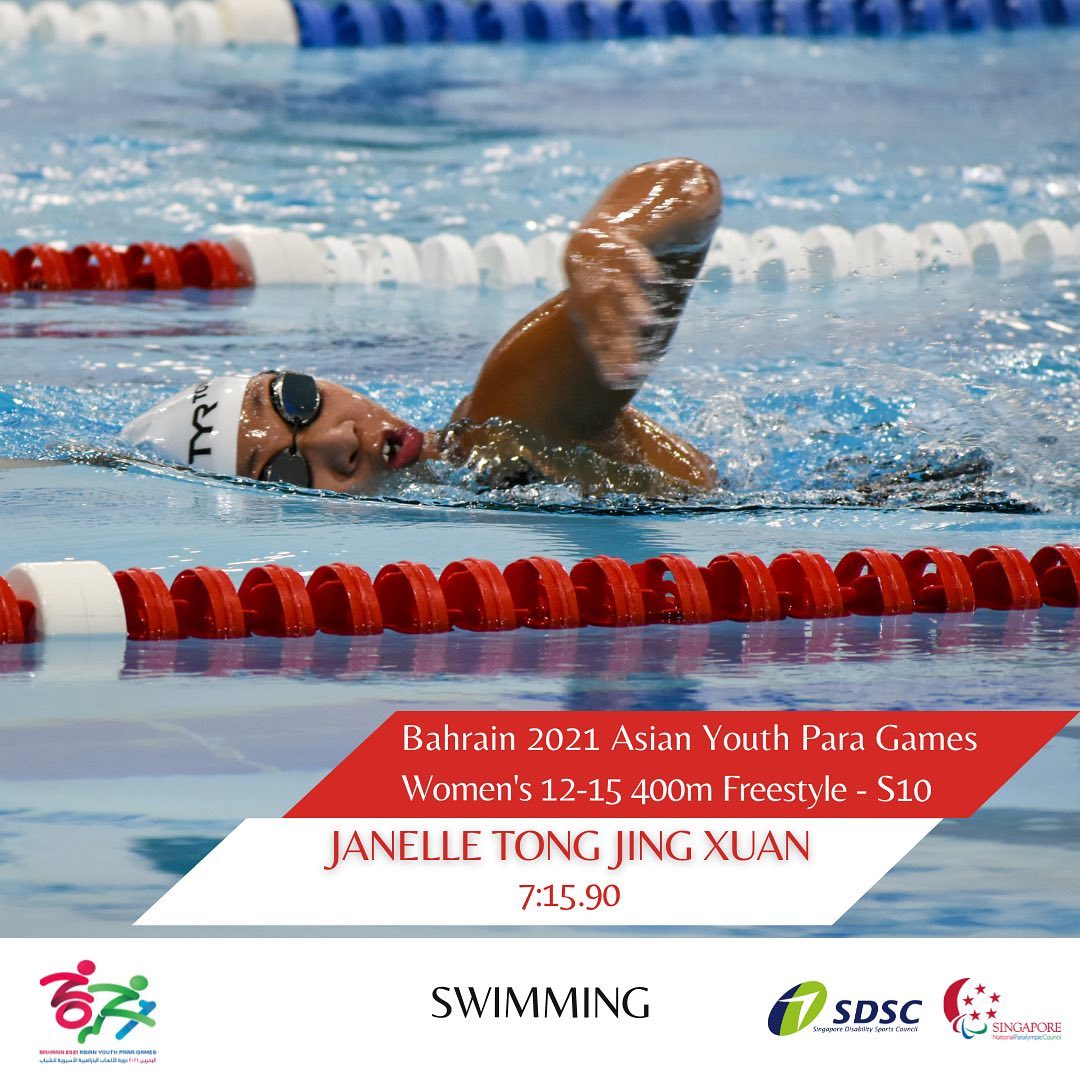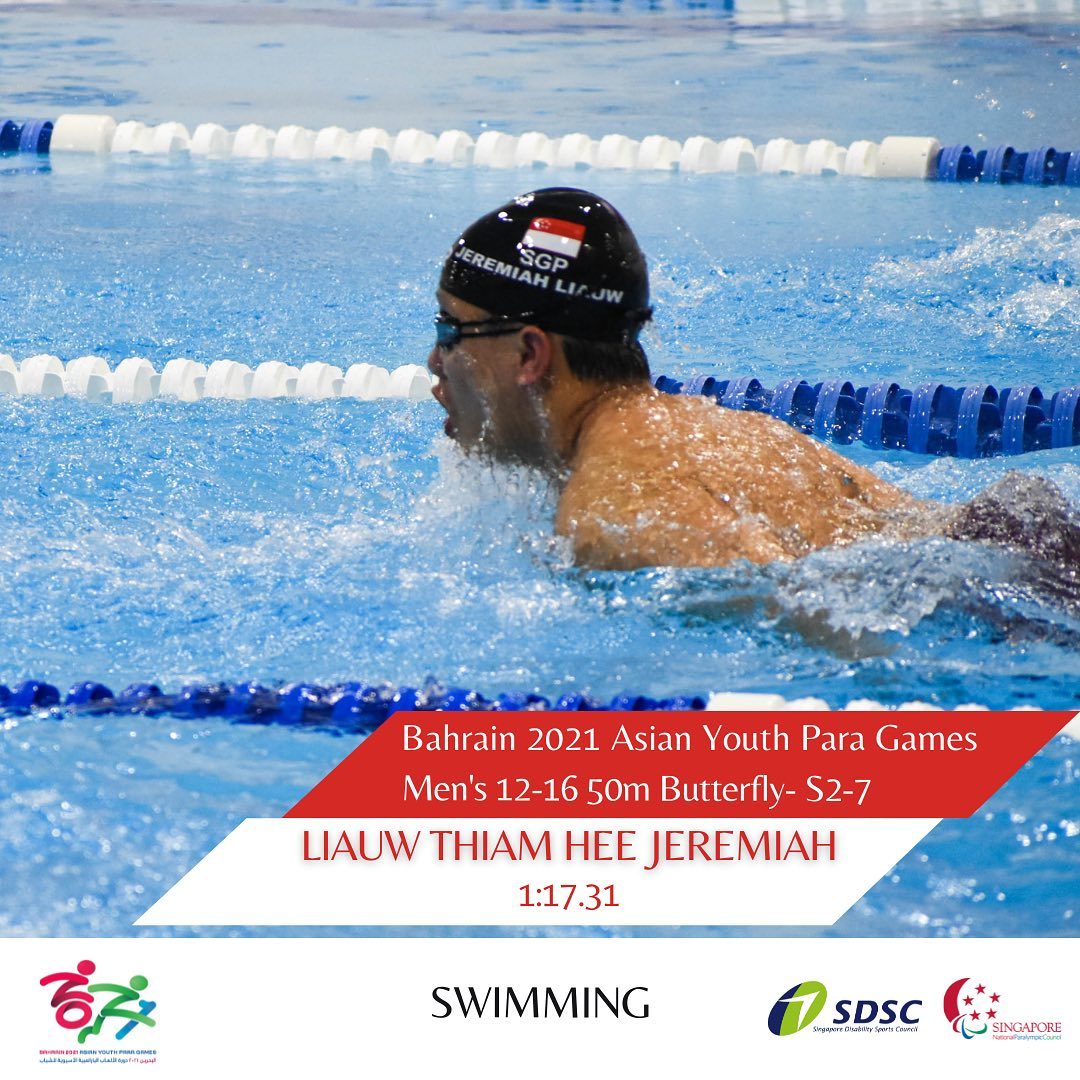 (All Photos Credit : Singapore National Paralympic Council)
Mr Edwin Tong (Minister of Culture, Community and Youth) in a Facebook post, said :
What an outstanding performance from 16-year-old Colin Soon, who has come up top in all of his four swim events. That's 4 Golds, 3 personal best timings & national records!
Our other debutants also faired very well - Boccia player Aloysius Gan and team mate Yan Jia Yi, paddler Caleb Lee, and swimmer Darren Chan have medalled at their first AYPG. Meanwhile, runner Siti Nurhayati Binte Ali Aksar Khan clinched a silver with a much quicker timing than she did in her first Dubai 2017 AYPG outing.
I'm proud of our para-athletes and hope that the results and competition experience will boost our athletes' confidence and encourage them to dream big. The sporting world stage is truly theirs to own," said Mr Tong.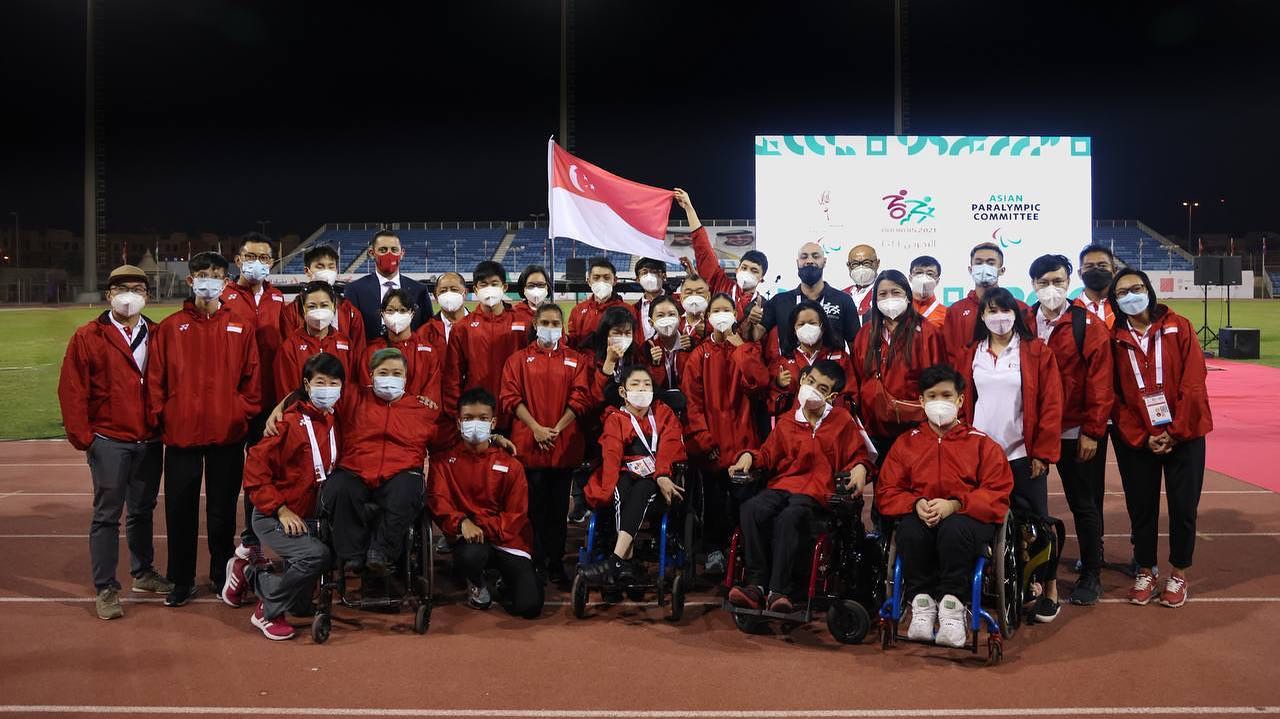 (Team Singapore's athletes, officials and parents in Bahrain. Photo Credit : SNPC)
Raj Kumar's been in Singapore's sports reporting and broadcasting scene since 1997. He was the former Sports Editor and Presenter on Power 98FM (SAFRA Radio) and 938LIVE (Mediacorp Radio). Over the years, he travelled to report on Team Singapore at the 2008 Beijing Olympics and 2012 London Olympiad, including 4 SEA Games cities. As a familiar voice and face on Radio, TV and online sports, he has produced and hosted more than 650 talkshows and programmes.