Rhythmic Gymnastics receives massive Boost in Singapore with Inaugural International event!
by Circle, on February 10, 2023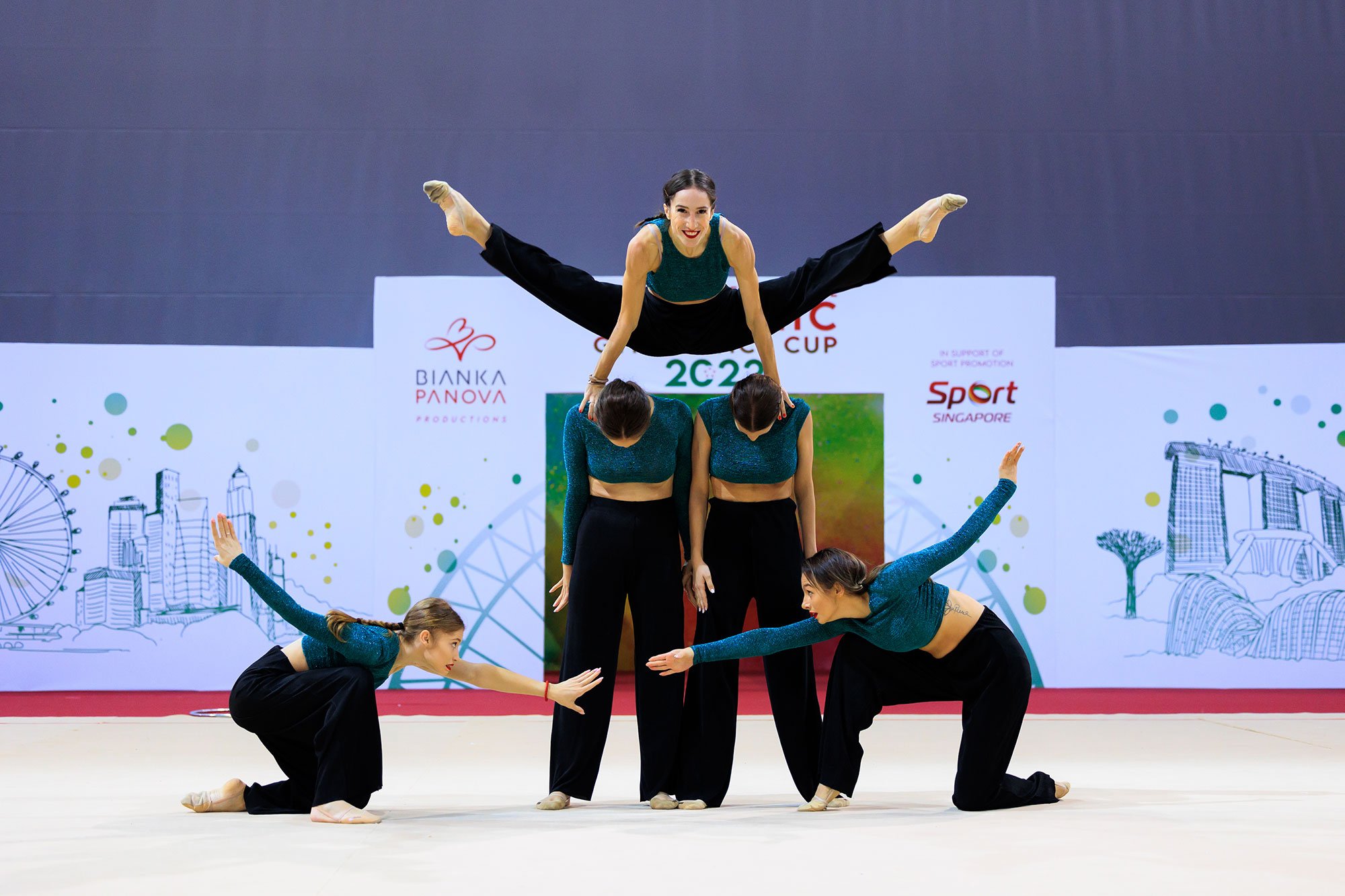 The 2020 Tokyo Olympic Champions for rhythmic gymnastics, The Diamonds, showcase their mesmerizing golden routine for the SIRGC audience. Photo Credit : Bianka Panova Academy
December 2022 marked a significant milestone in the evolution of the sport of gymnastics in Singapore. From December 16 to 18, the first-ever Singapore International Rhythmic Gymnastics Cup (SIRGC) kicked off at the OCBC Arena. The SIRGC is a partnership between Sport Singapore and the Bianka Panova Academy - a sports and arts organization managed by Olympian and 9-time world champion, Bianka Panova.

For the very 1st time, the Republic's Rhythmic Gymnasts were able to perform at an international event in front of local fans and enthusiasts. And as the largest Rhythmic Gymnastics (RG) event in the Lion City showcasing more than a hundred athletes, the 3-day festival also welcomed gymnasts from 13 different participating nations. With the reigning RG Olympic gold medallists from Bulgaria also present here, Singaporean clubs and gymnasts had an exciting opportunity to take part in a MasterClass organised by the Tokyo 2020 champions.
Following the success of last month's event at the OCBC Arena, the SIRGC looks set to become an annual exciting feature at the Singapore Sports Hub. Meanwhile, here's a collection of memorable event photos from the Bianka Panova Academy and Team Nila Content Producers.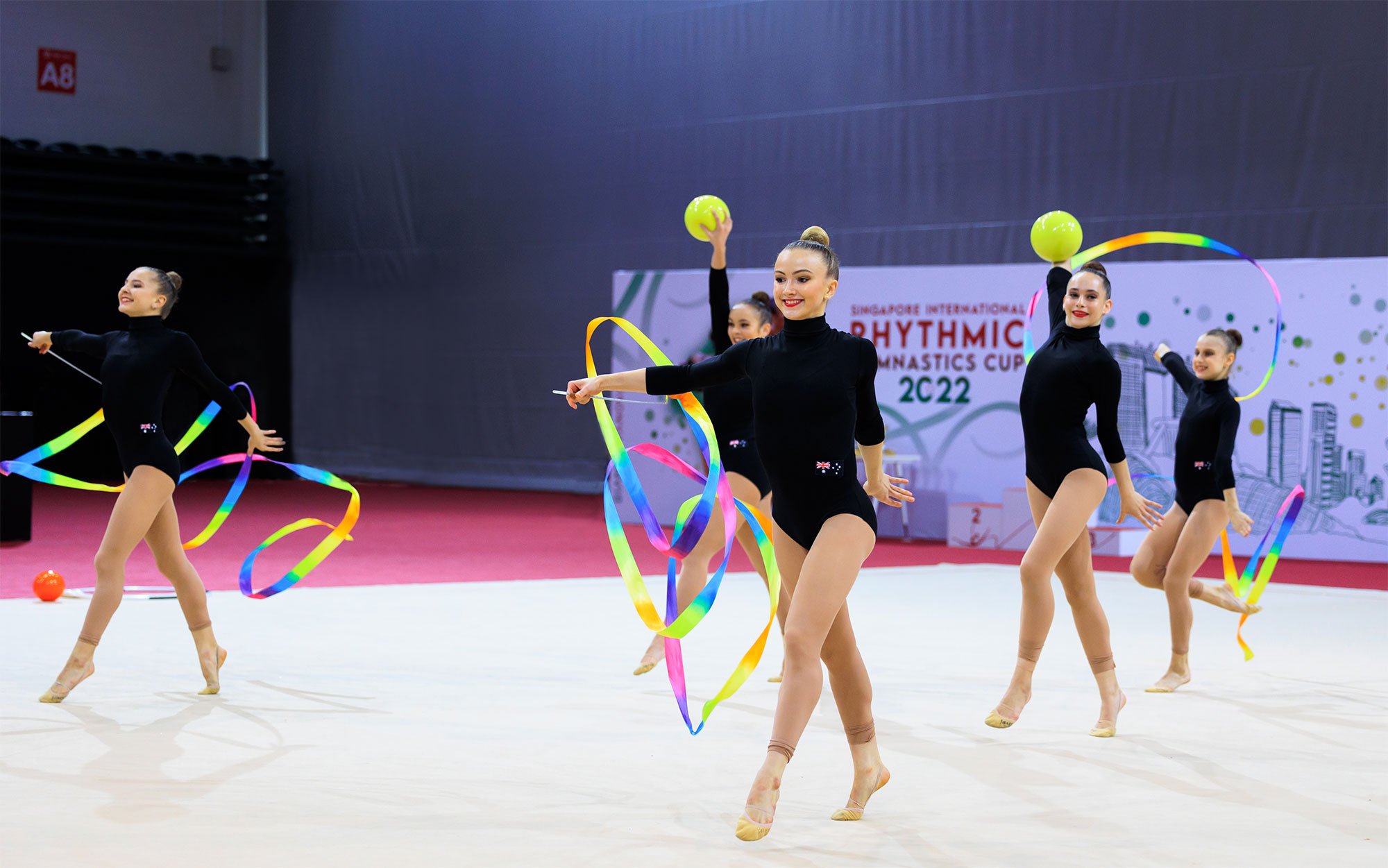 Aspire Gymnastics Australia presents their group routine performance at the Closing Ceremonies of the SIRGC. Photo Credit : Aspire Gymnastics Australia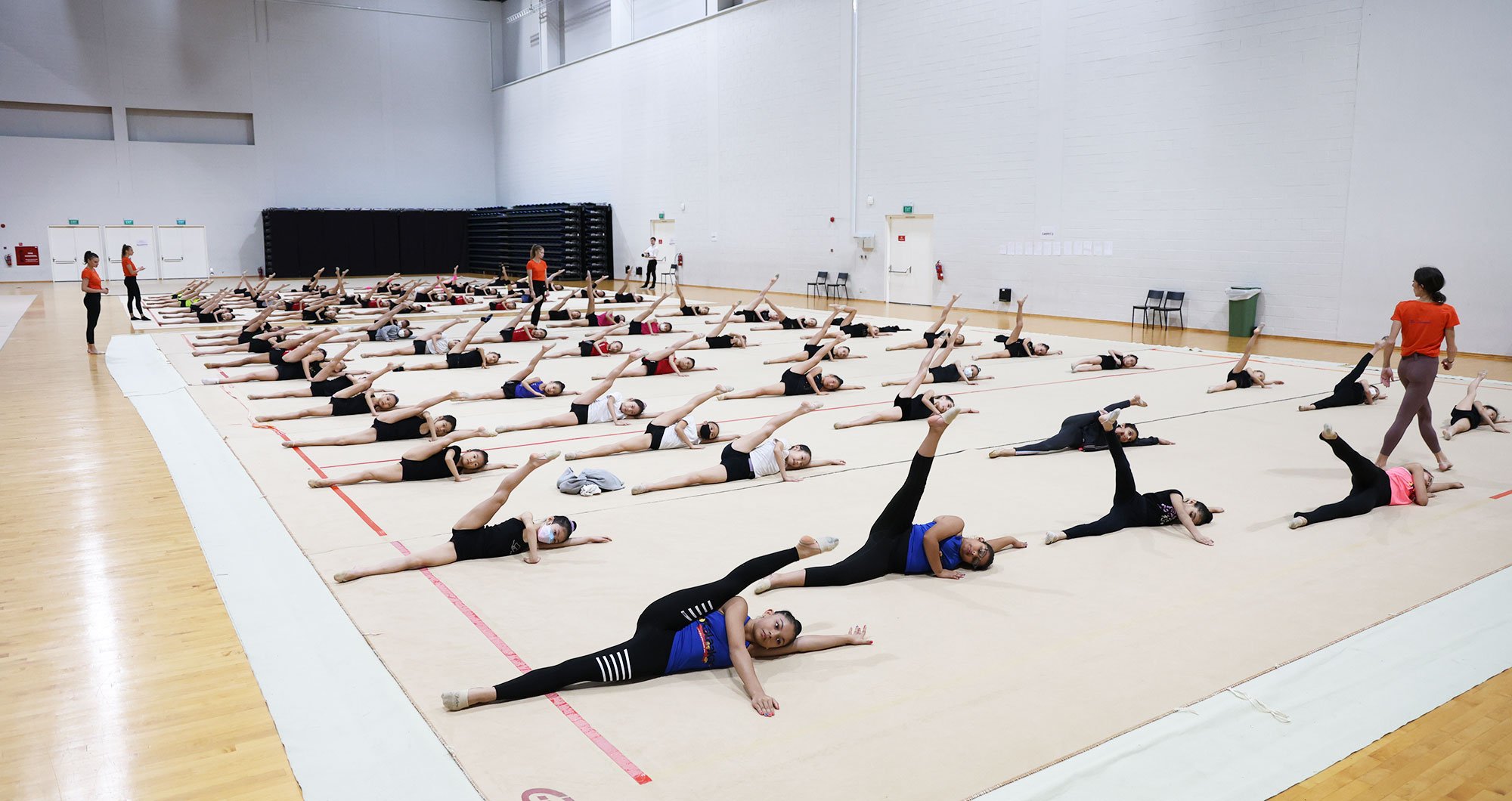 The 2020 Tokyo Olympic Champions from Bulgaria, known as the Diamonds, training local and international gymnasts aged 12 years and under at the SIRGC. Photo Credit : Team Nila Content Producer, Nick Ngaw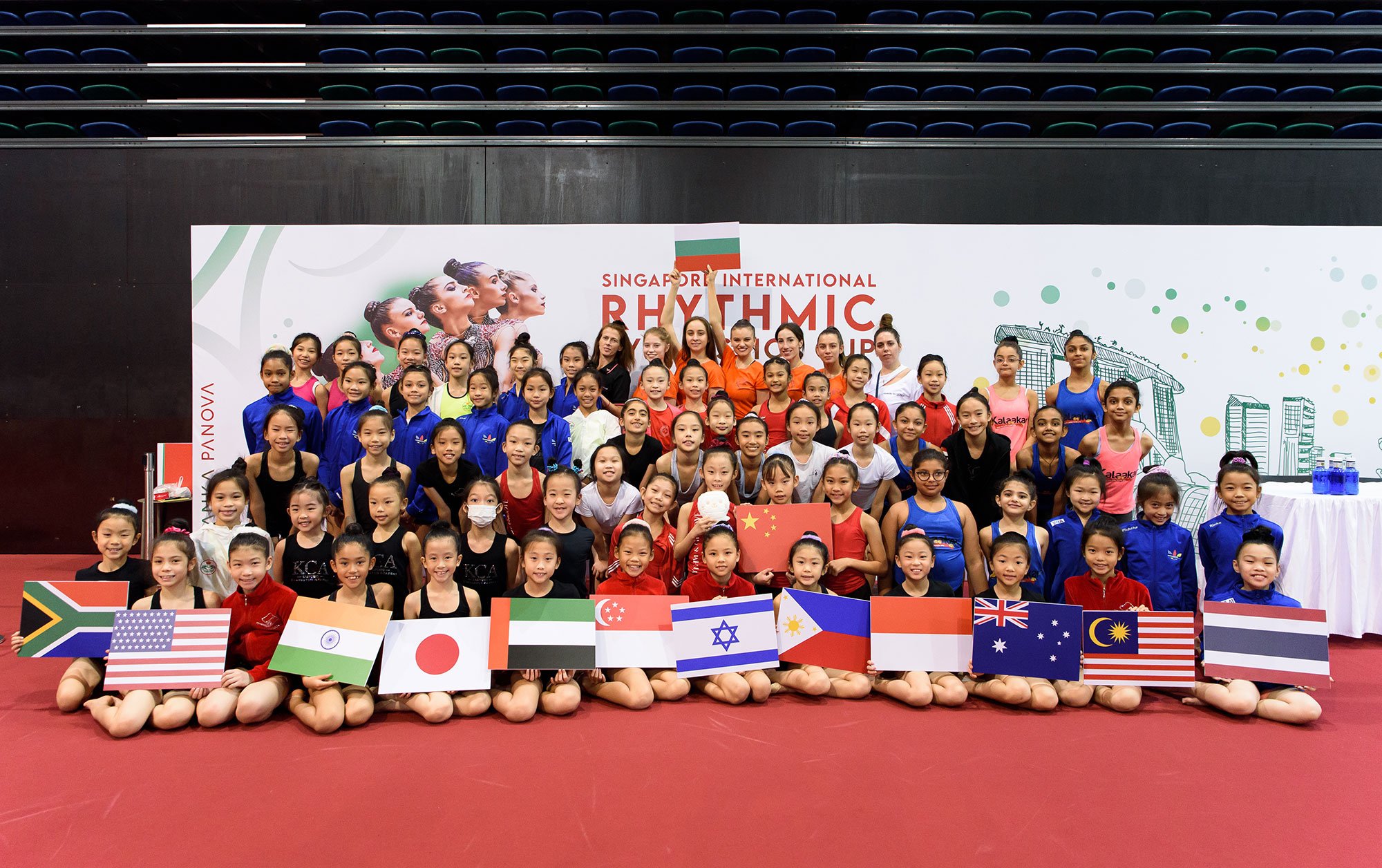 SIRGC delegations from 13 nations pose with the 2020 Olympic Champions (also known as the Diamonds,) Bianka Panova (Olympian and 9 time World Champion,) and Daniela Michaely (founder of the Bianka Panova Academy in Singapore.). Photo Credit : Bianka Panova Academy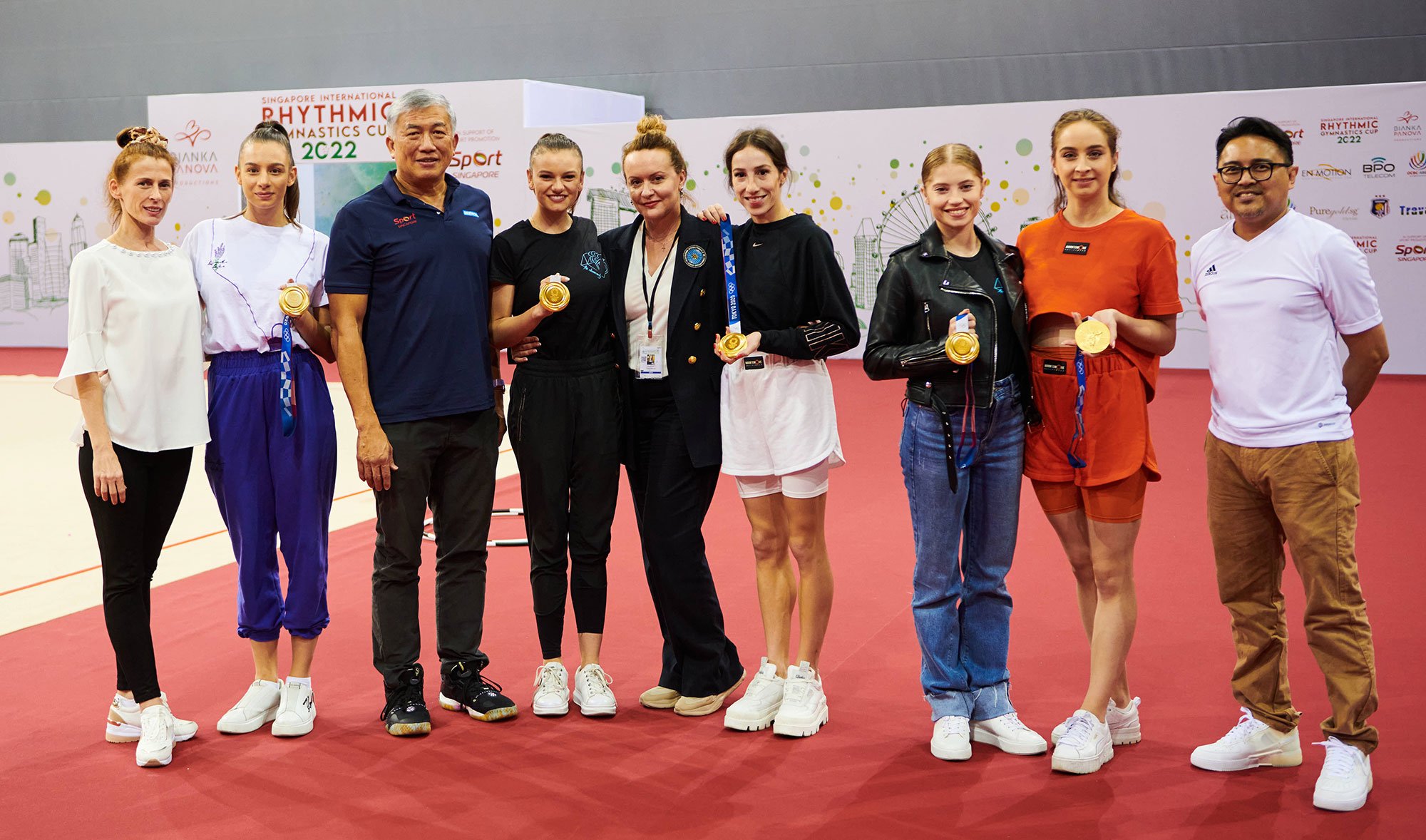 Pictured here at the Opening Ceremonies of the SIRGC are Ms. Bianka Panova organizer of the SIRGC, Mr. Lim Teck Yin CEO of Sport Singapore, the 2020 Olympic Champions with their gold medals, Mdm. Filipa Filipova the FIG Head Judge, and Mr. Yazed Osman Group Head of Singapore SportsHub. Photo Credit : Singapore Gymnastics Association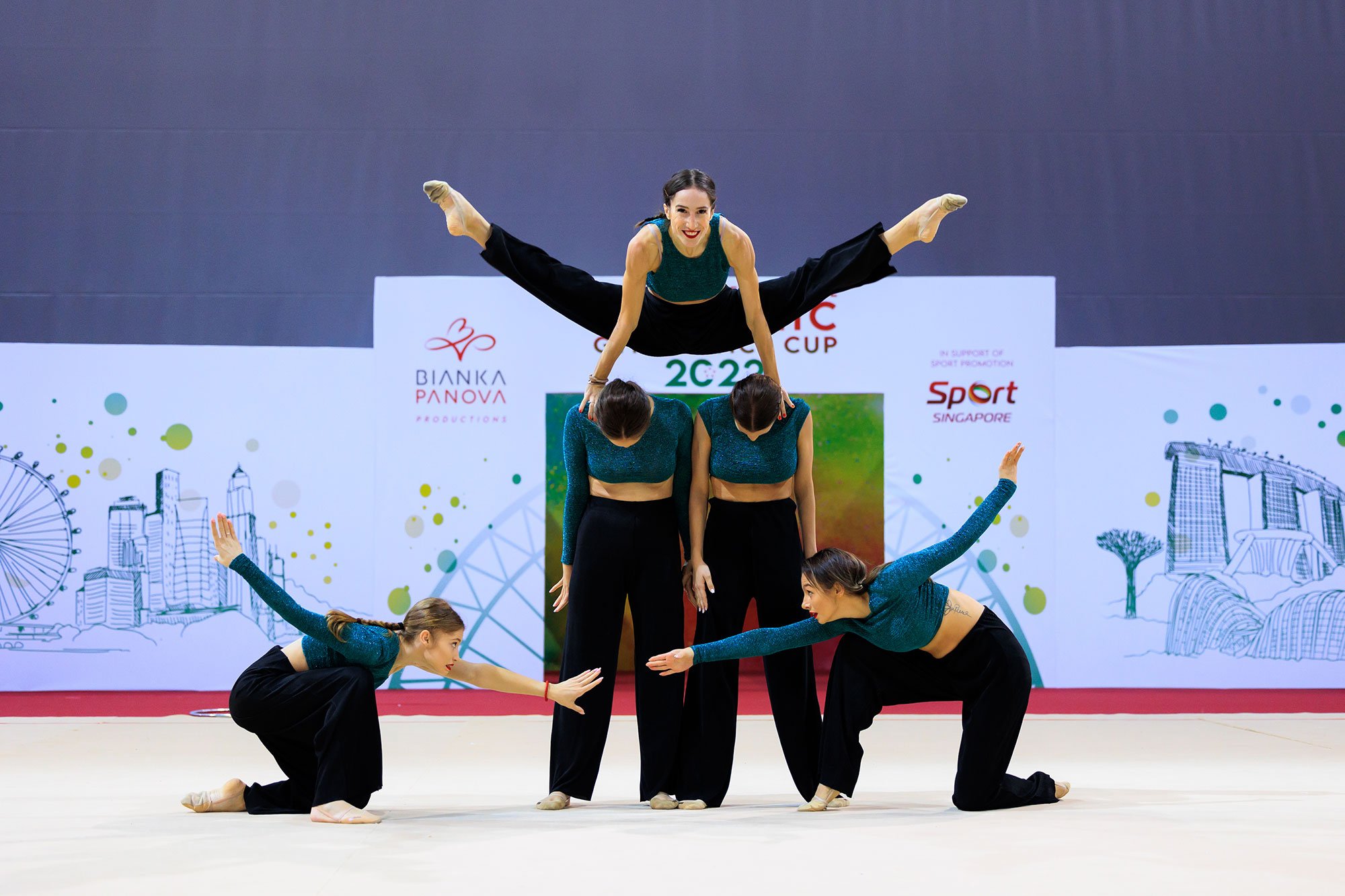 The 2020 Tokyo Olympic Champions for rhythmic gymnastics, The Diamonds, showcase their mesmerizing golden routine for the SIRGC audience. Photo Credit : Bianka Panova Academy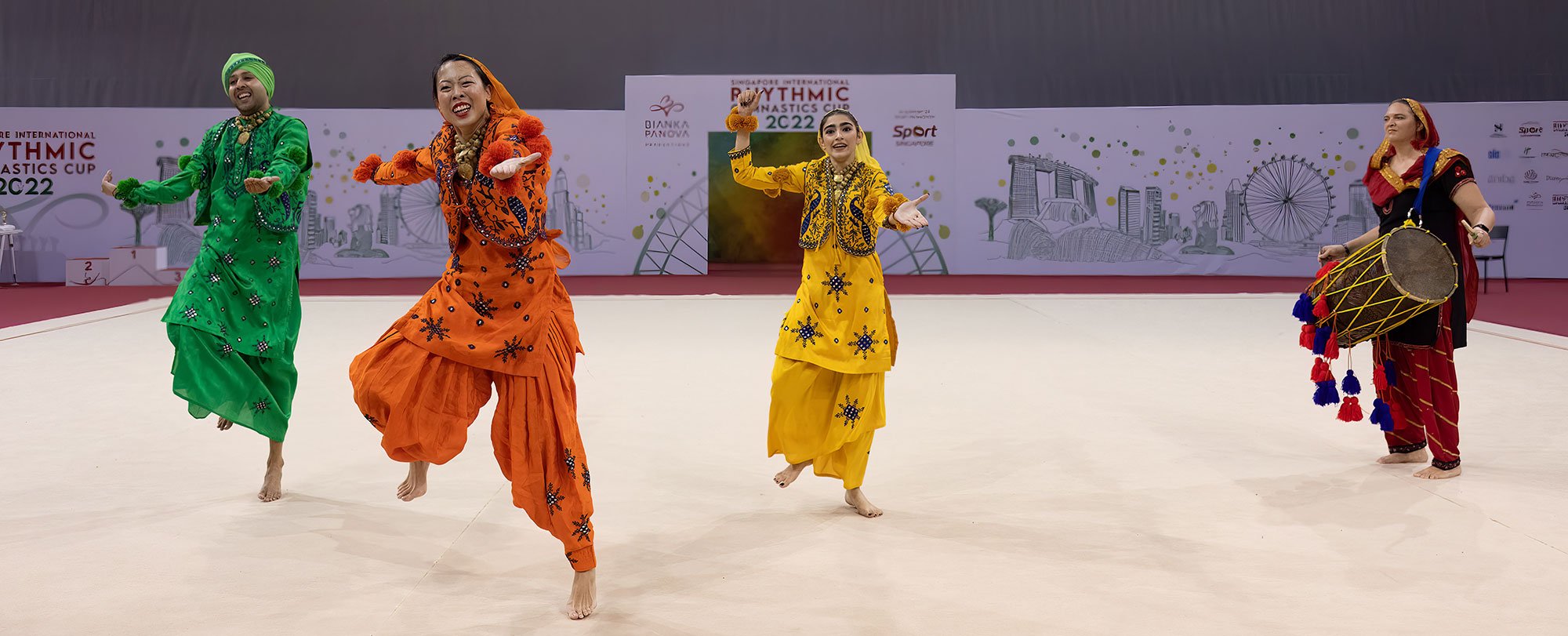 Shere Punjab Bhangra showcasing their cultural performance to local and international spectators at the SIRGC. Photo Credit : Team Nila Content Producer, Ken Chia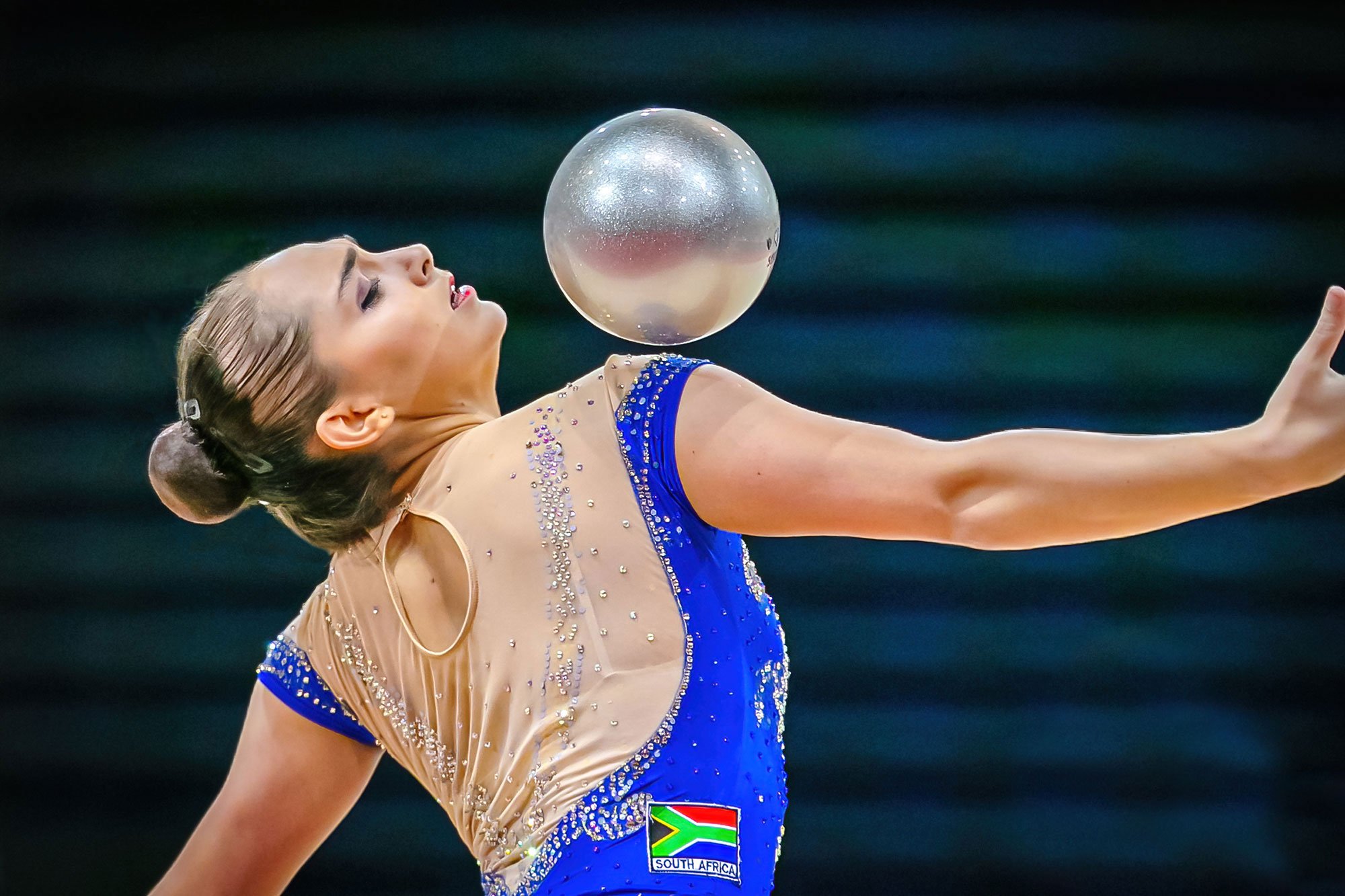 Rhythmic gymnasts include artistic expression to create a unique performance as shown by Stephanie Dimitrova from the Republic of South Africa. Photo Credit : Team Nila Content Producer, Abdul Rahman
Team Singapore Gymnast Maeve Teo performing her Clubs routine for the audiences of SIRGC. Photo Credit : Singapore Gymnastics Association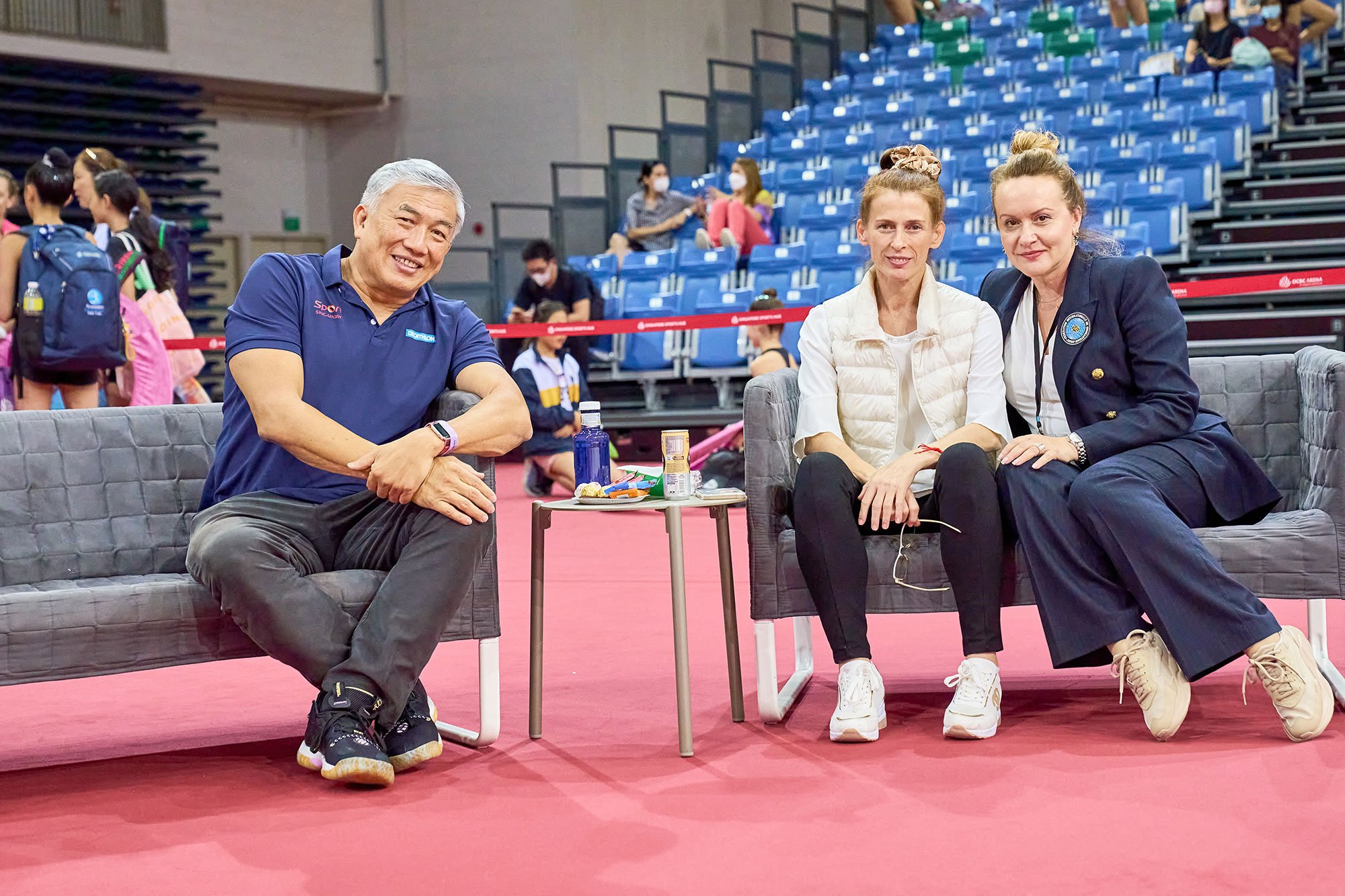 CEO of Sport Singapore Mr. Lim Teck Yin, seated with Olympian and 9-time World Champion Bianka Panova, and FIG Brevet 1 Judge Mdm. Filipa Filipova. Photo Credit : Team Nila Content Producer, Eric Koh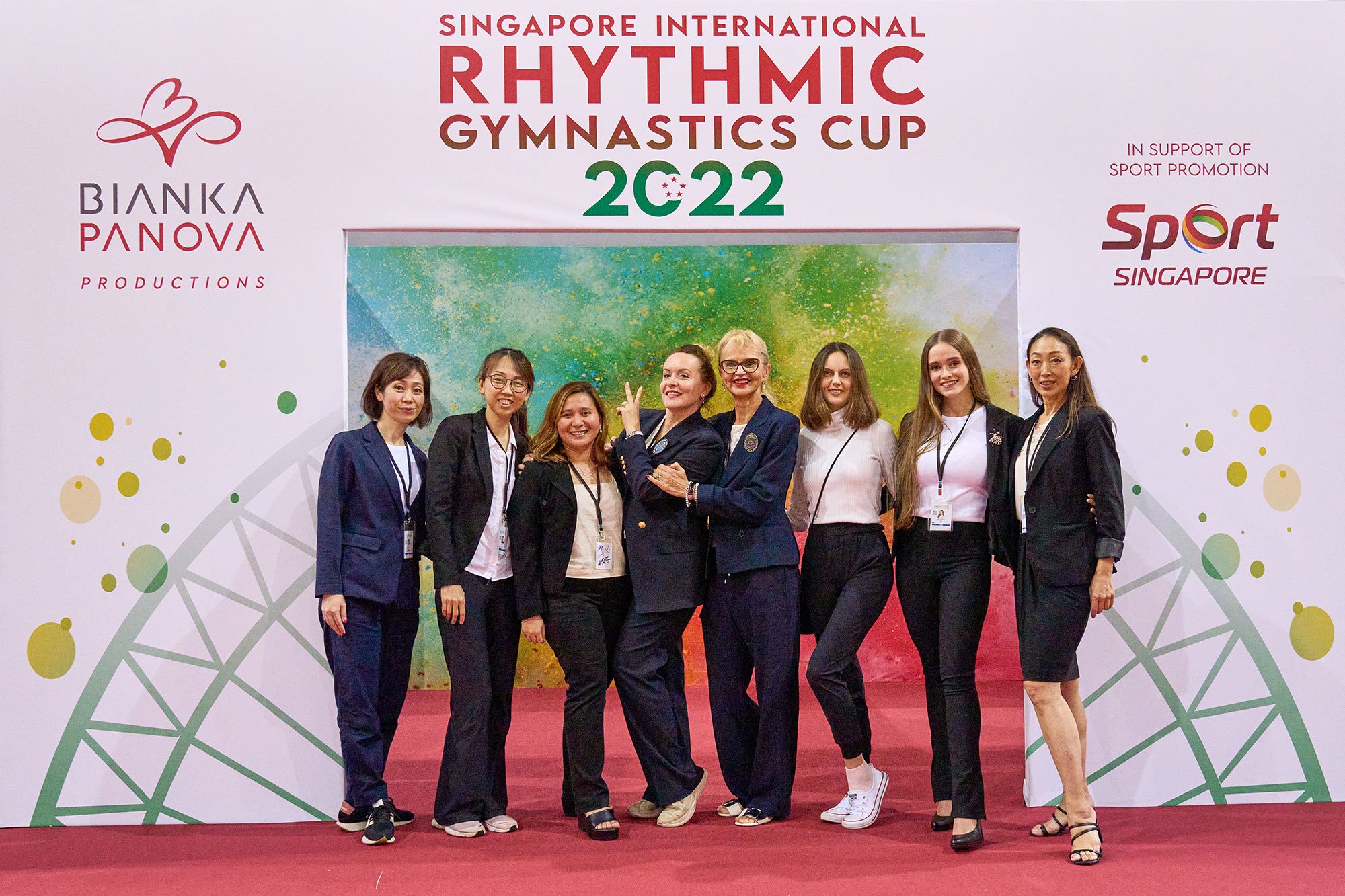 The SIRGC attracted a panel of experienced local and international judges from all over the world, headed by FIG Brevet 1 judge Mdm. Filipa Filipova. Photo Credit : Team Nila Content Producer, Eric Koh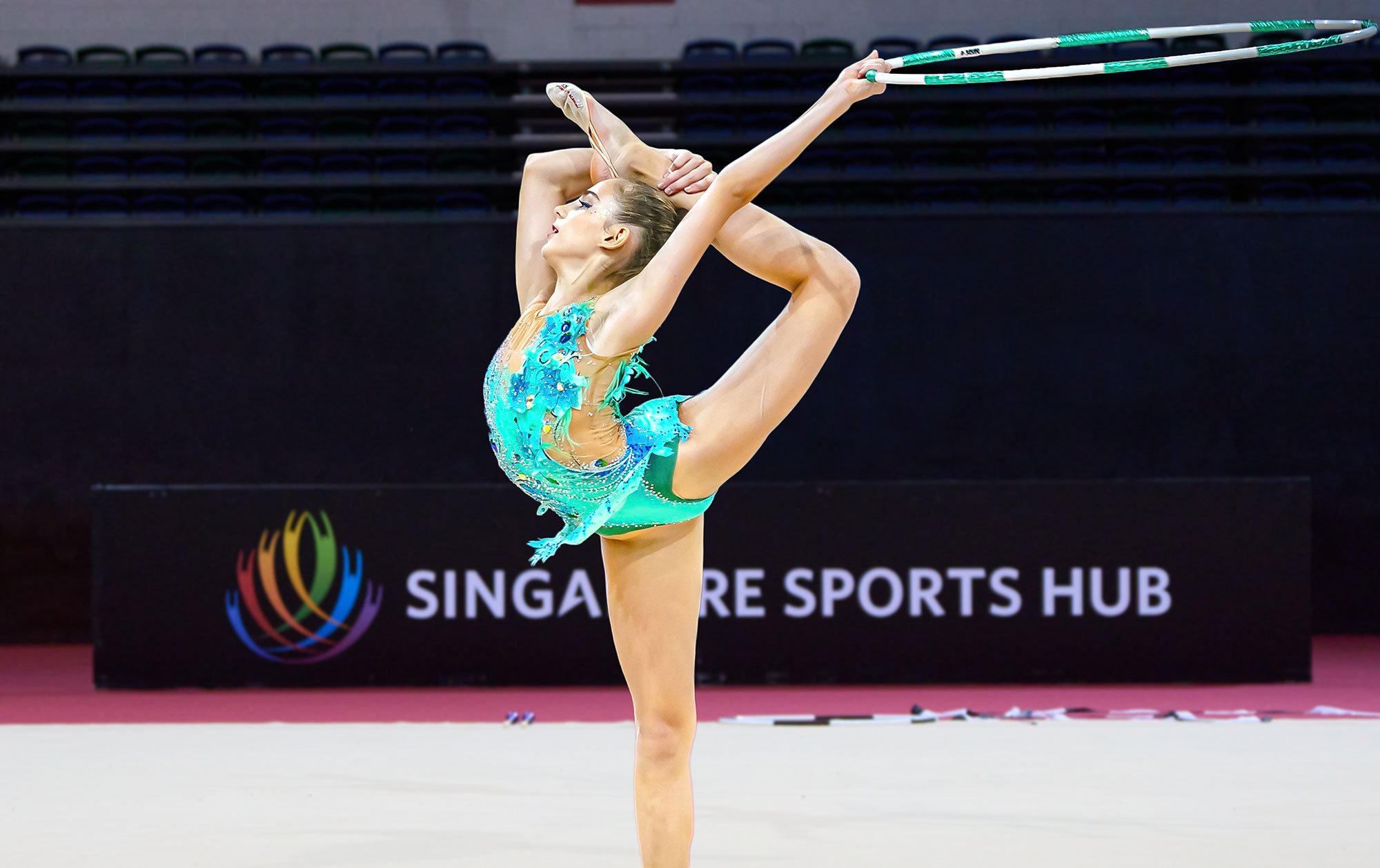 Singapore Sports Hub is the Official Venue Partner of the Singapore Intl. Rhythmic Gymnastics Cup 2022. Photo Credit : Team Nila Content Producer, Abdul Rahman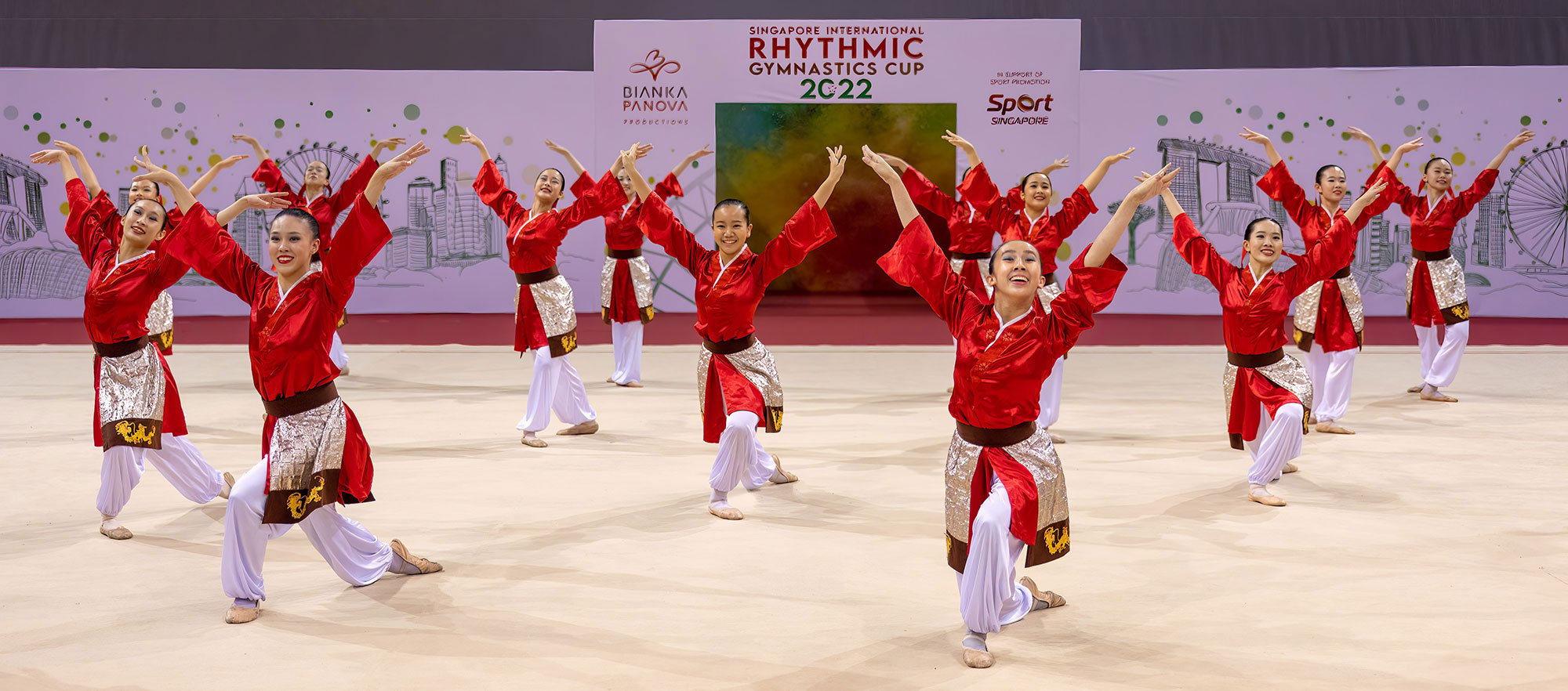 The Academy of Dance (@theacademyofdancesg) executes a modern dance performance at Singapore International Rhythmic Gymnastics Cup. Photo Credit : Team Nila Content Producer, Ken Chia
The Bulgarian Olympians, the Tokyo 2020 Olympic Champions and Bianka Panova 9 time World Champion, sharing words of wisdom and inspiration with local and international gymnasts. Photo Credit : Singapore Gymnastics Association