TeamSG's debut campaign in 3v3 basketball at SEA Games, closes in group stage
by Circle Stories, on May 13, 2022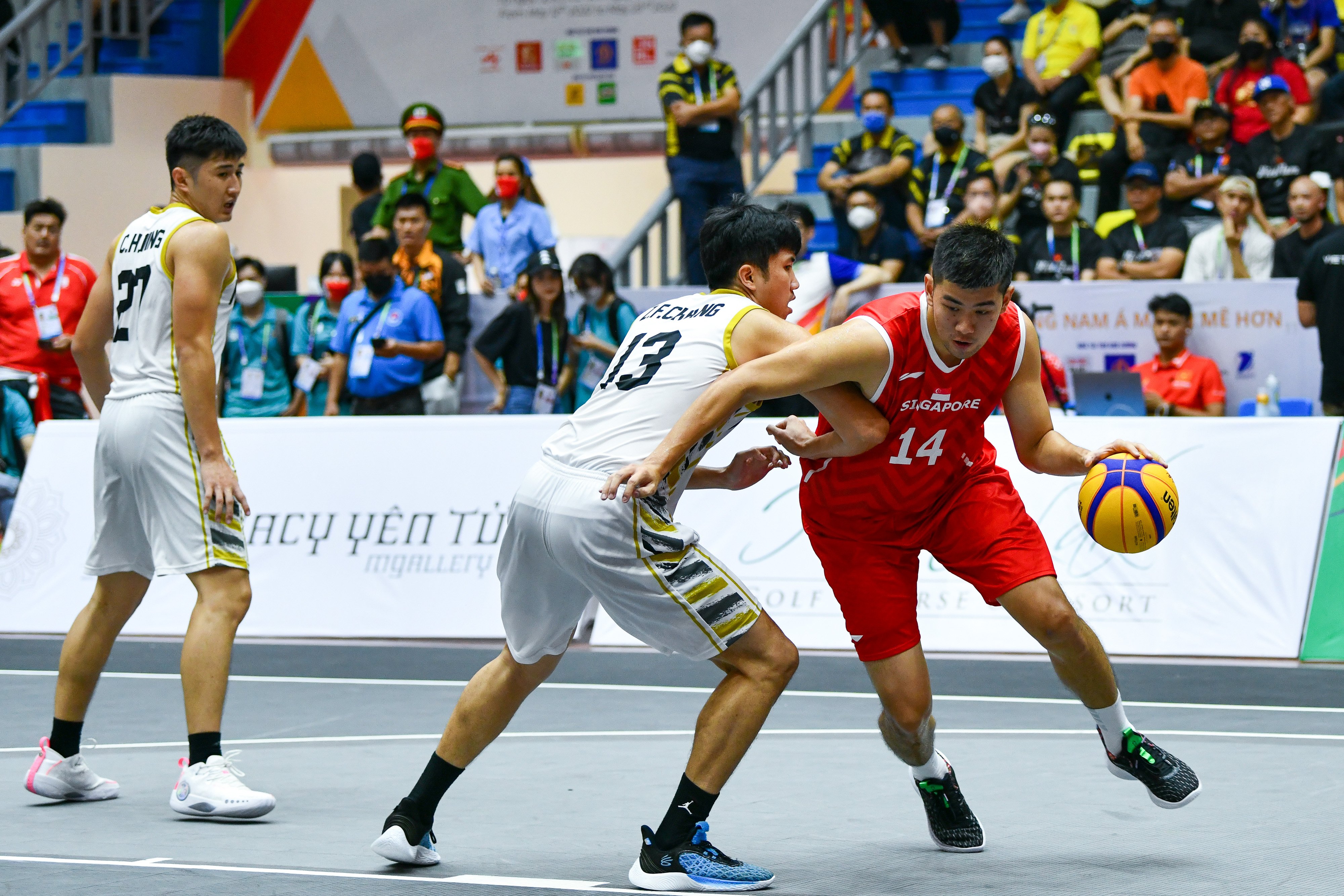 (TeamSG's Delvin Goh with the ball against Malaysia. Photo Credit : Sport Singapore/ Flona Hakim
By Angelina Dass
Singapore's Men's and Women's teams were knocked out of the 3x3 competition when they failed to make it past the qualifying rounds at the Hanoi SEA Games. The women's team ended the preliminary games 5th out of 6 teams, and the men's squad was placed 6th out of 7. Both did not advance to the semi-finals of the 3 v 3 format, which is making its debut at the SEA Games this year.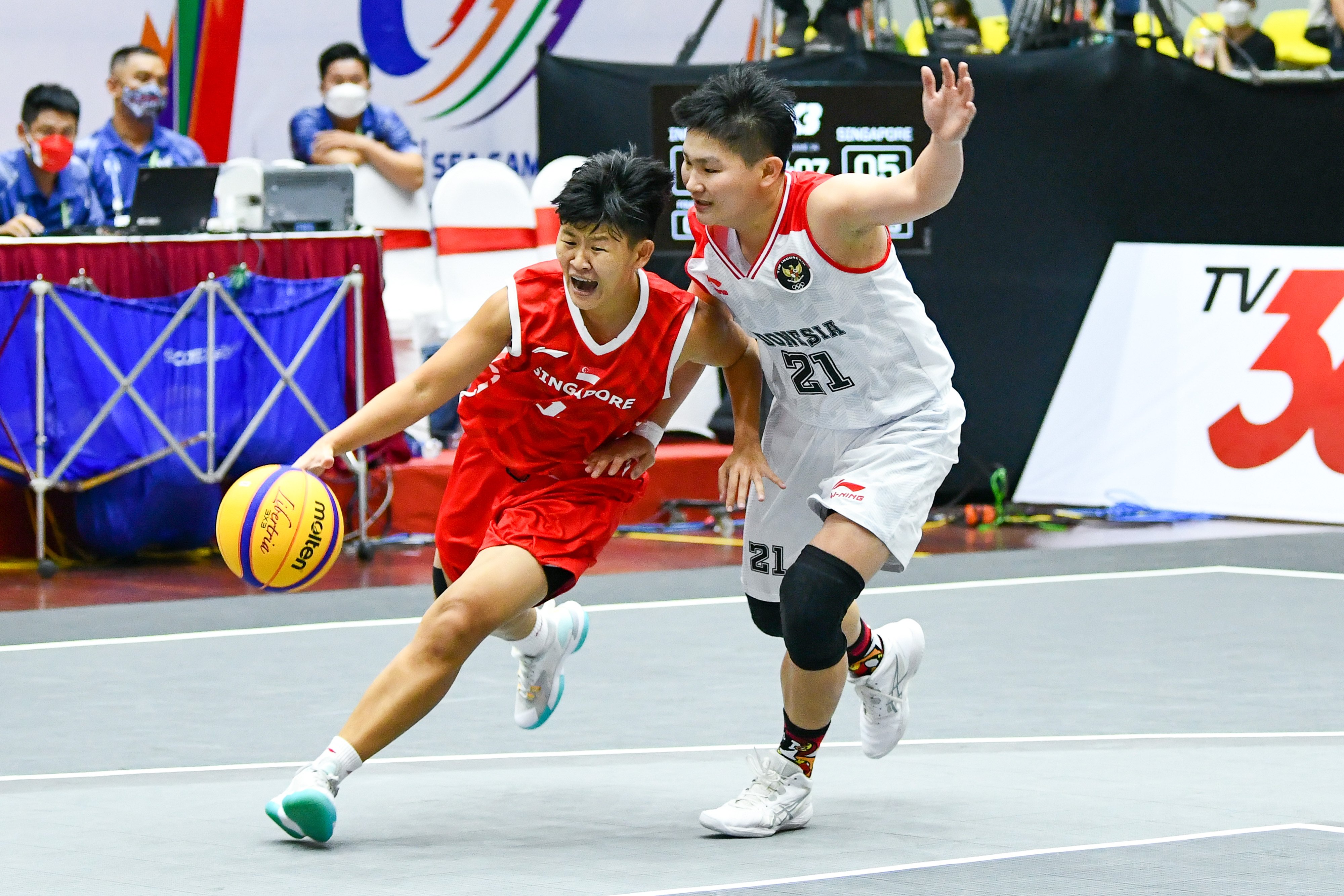 (TeamSG's Jacquline Chu jostling past Indonesia. Photo Credit: Sport Singapore/ Flona Hakim)
Singapore's women suffered 3 straight losses on the first day of competition, 13 May, when they fell 21 - 9 to Thailand, 21 - 8 to Indonesia and 21 - 5 to Malaysia respectively. Coming back strong on the 2nd day of competition, our women put up an admirable performance against defending champions, Philippines. But it wasn't strong enough as TeamSG succumbed to a 20 - 14 defeat. Playing in these 10-minute 3 v 3 formats, the Republic did go on to beat Cambodia 21 - 6 in the next game. But in front of a full arena this afternoon, they just could not keep up with Vietnam's dominance and lost 22 - 11.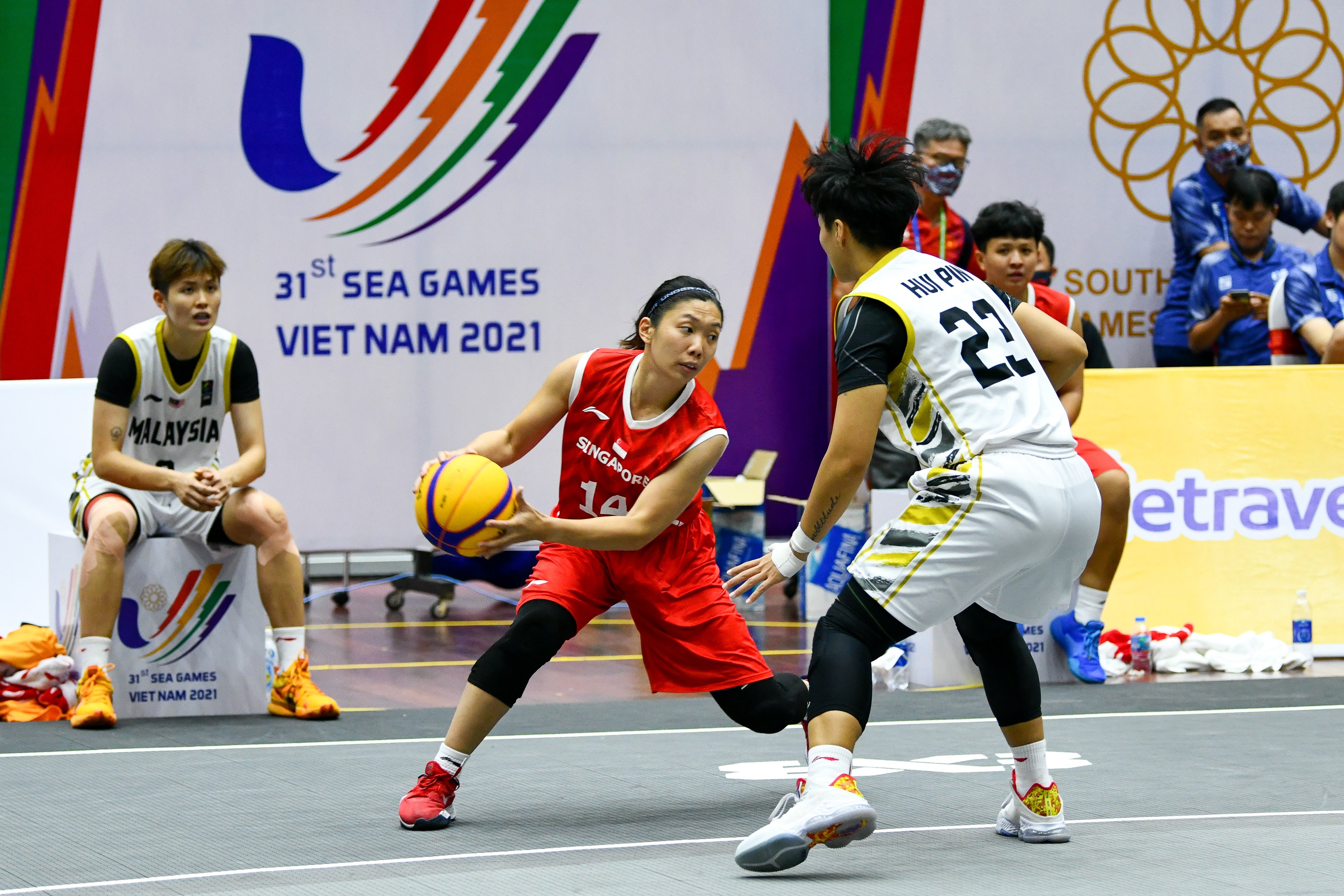 (TeamSG's Amanda Lim in action against Malaysia. Photo Credit: Sport Singapore/ Flona Hakim)
The team, comprising Captain Lim Jia Min, Amanda Lim, Jacqueline Chu, and Alanna Lim, are part of a larger contingent made up of 12 players who will also compete in the 5x5 format commencing on 16 May.
Our women's cagers did not feature in the 2019 SEA Games, and had less than 10 weeks to regroup when they were informed of this year's inclusion in March. In an earlier interview with Sport Singapore though, Jia Min praised her team for the hard work they'd put into getting ready for the Games. With all players holding full-time jobs, the team made an effort to train 5 times a week, with the 3x3 squad coming together for additional sessions.
Also competing at the Thanh Tri Gymnasium in Hanoi, our Singapore men won 2 out of six matches. While they started strong on 13 May by beating 2019 Silver medallists Indonesia 21 - 15, they failed to keep up the momentum and lost their remaining games to Malaysia (21-16), and Vietnam (21-15).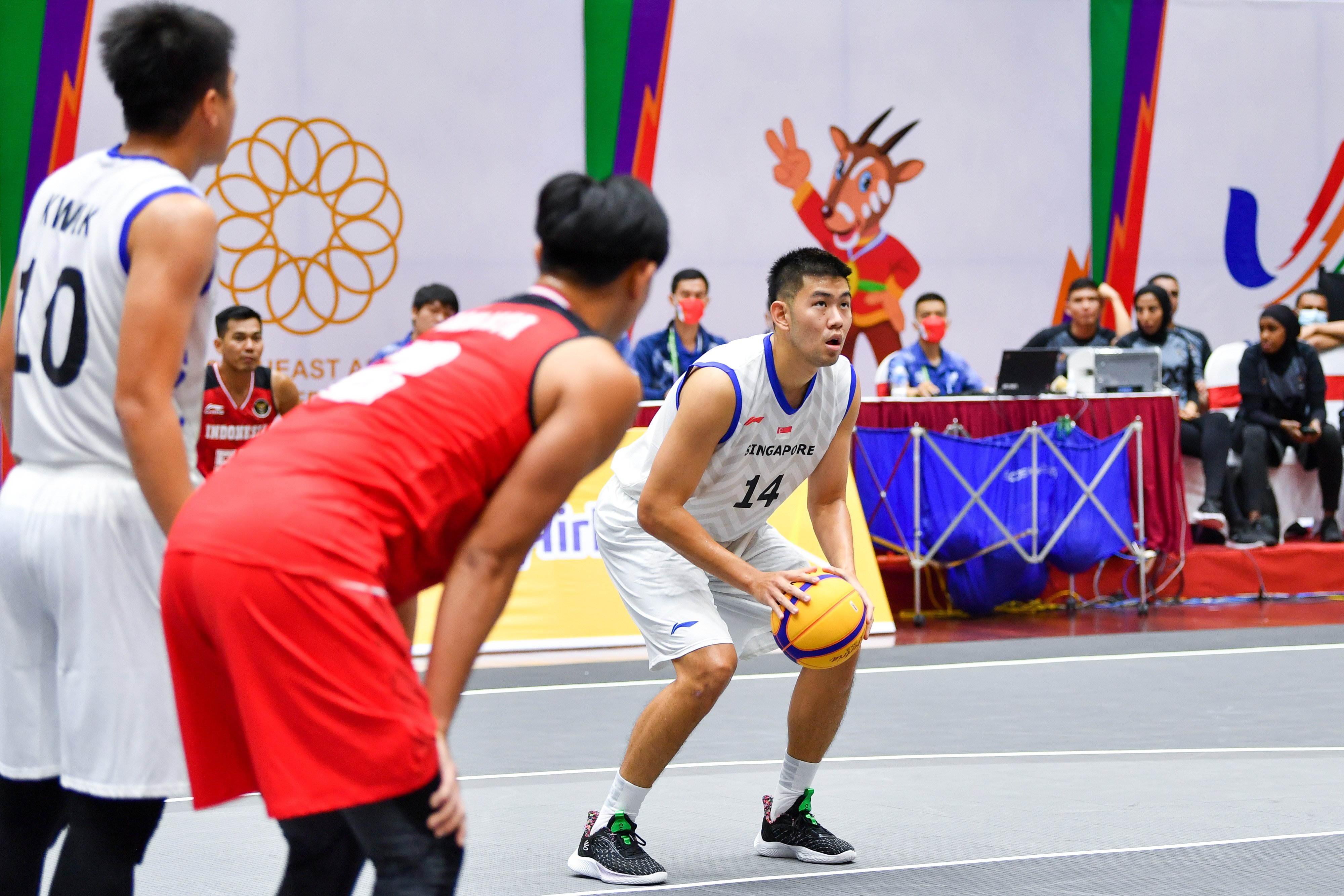 (TeamSG's Delvin Goh gears up to take a free throw. Photo Credit: Sport Singapore/ Flona Hakim)
On the 2nd day of the Games, TeamSG lost to defending champions Philippines and Thailand 21 - 16, and 21 - 11 respectively. But the Republic managed to salvage a win against Cambodia 21 - 13.
Led by Captain Leon Kwek, the 3x3 squad includes co-captain Delvin Goh, Larry Liew and Lim Jun Yuan. While Delvin had aimed for a podium finish, he now has to set his sights on a medal win in the 5x5 games that will also begin on May 16.
Singapore's last Men's basketball medal at the SEA Games was a bronze in 2015 on home soil, while a silver in Hanoi 2003 was the last for the women's team!
Meanwhile, here's a recap of the Women's squad's Pre-Games Zoom interview. Just 2 weeks before the start of the Games, SportSG's Raj Kumar spoke to our Captain Jia Min, Vice-skipper Amanda and senior player, Jacqueline, regarding their training, challenges, coaches, plans after Hanoi, aspirations etc (See Interview Below)
For the latest Team Singapore coverage and news, follow Team Singapore on their social media channels (Facebook, Instagram, TikTok) or visit the official Team Singapore website.