SG Lions suffer 2nd straight defeat in World Cup qualifier against Uzbekistan!
by Circle Stories, on June 7, 2021
(Photo Credit : Uzbekistan Football Association Facebook Page)
By Chia Han Keong
The heavy defeats kept piling up for the Singapore national football team in the Saudi Arabian capital of Riyadh. The Lions will not be advancing to the next stage of the 2022 World Cup qualifiers, after suffering a 0-5 mauling by a superb Uzbekistan side early on Tuesday morning (8 June).
Four days after crumbling 0-4 to Palestine at the same King Fahd International Stadium, it was a sobering reminder of just how much Singapore have to do. to catch up with the top Asian footballing sides, in order to stand any chance of qualifying for future World Cup Finals.
For the Uzbeks - only the second-best team in Group D behind the Saudis - were incisive, inventive and intense, outclassing the Lions in virtually every department. In contrast, Team Singapore were plodding in attack, taking far too long in build-ups to cause any concern to their opponents, while their defence could not match the speed and intensity of the Uzbekistan forward line. And although goalkeeper Izwan Mahbud let in three goals via his near post, he was actually the lone bright spot among the Lions, making several deft saves to prevent an even more embarrassing scoreline.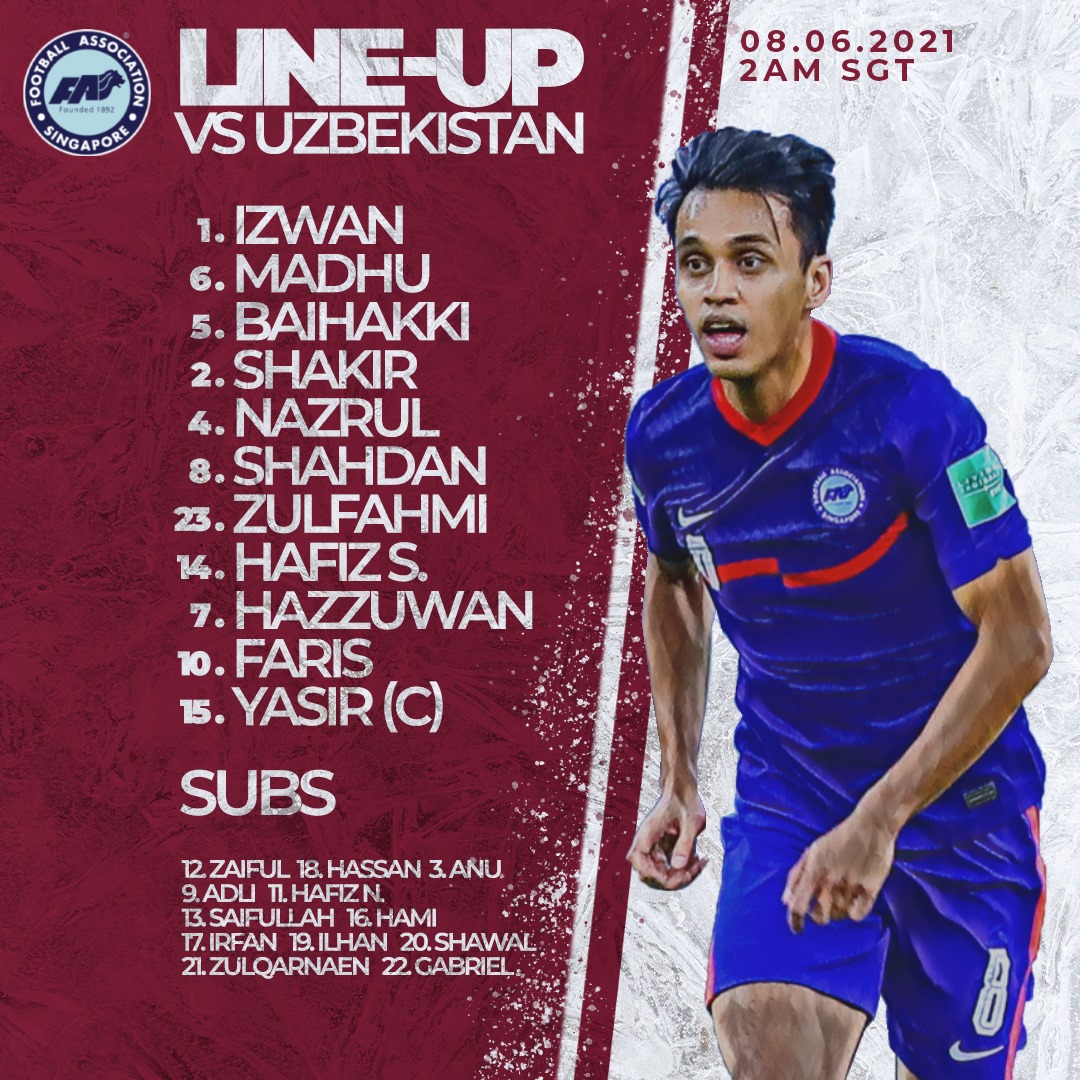 Yoshida rang out a host of changes to the side that started the Palestine match. Veterans Baihakki Khaizan, Faris Ramli, Zulfahmi Arifin and Hafiz Abu Sujad as well as right winger Hazzuwan Halim were picked ahead of Irfan and Ilhan Fandi, Hafiz Nor, Gabriel Quak and Anumanthan Kumar.
Yet, Uzbekistan took just only five minutes to produce their first moment of magic. Ikromjon Alibaev, outstanding in central midfield, looked as if he was shaping up for a long-range shot. Instead, he deftly chipped the ball over the bamboozled Singapore defence, and Jaloliddin Masharipov timed his run perfectly to volley past Izwan.
It was a demoralising blow for the Lions, especially after all their pre-match talk was about regaining their pride after the Palestine loss. Instead, they conceded the first goal against the Uzbeks earlier than against Palestine.
Uzbekistan could have gone further ahead, when their skipper Odil Akhmedov's beautiful curling shot hit the crossbar in the 16th minute. And Izwan had to make a point-blank block from Oleg Zoteev's header in the 25th. But just when the Lions looked to have finally settled down and made inroads in their attack, Uzbekistan struck again in the 35th minute.
A free-kick from deep found Eldor Shomurodov, who had scored twice against Singapore in their 3-1 win at National Stadium in October 2019, saw his shot blocked by Izwan this morning. The deflection fell to Masharipov on the left side of the penalty box, and he looked as if he was aiming for the right corner of goal, but instead directed his shot into the left corner, fooling an unsighted Izwan.
In first-half stoppage time, the Uzbeks made it 3-0 - just like what Palestine did against the Lions four days ago - with a goal that summed up their relentlessness and incisiveness. A move from the right flank looked to have fizzled out as Irfan - brought on in the 29th minute for an injured Hafiz - made a sliding block.
Instead, forward Dostonbek Khamdamov kept the ball from going out of play, swivelled around and played an inch-perfect cross for Shomurodov. The striker chested the ball, then deftly pulled the ball away from an onrushing Nazrul Nazari, before sweeping the ball home from close range.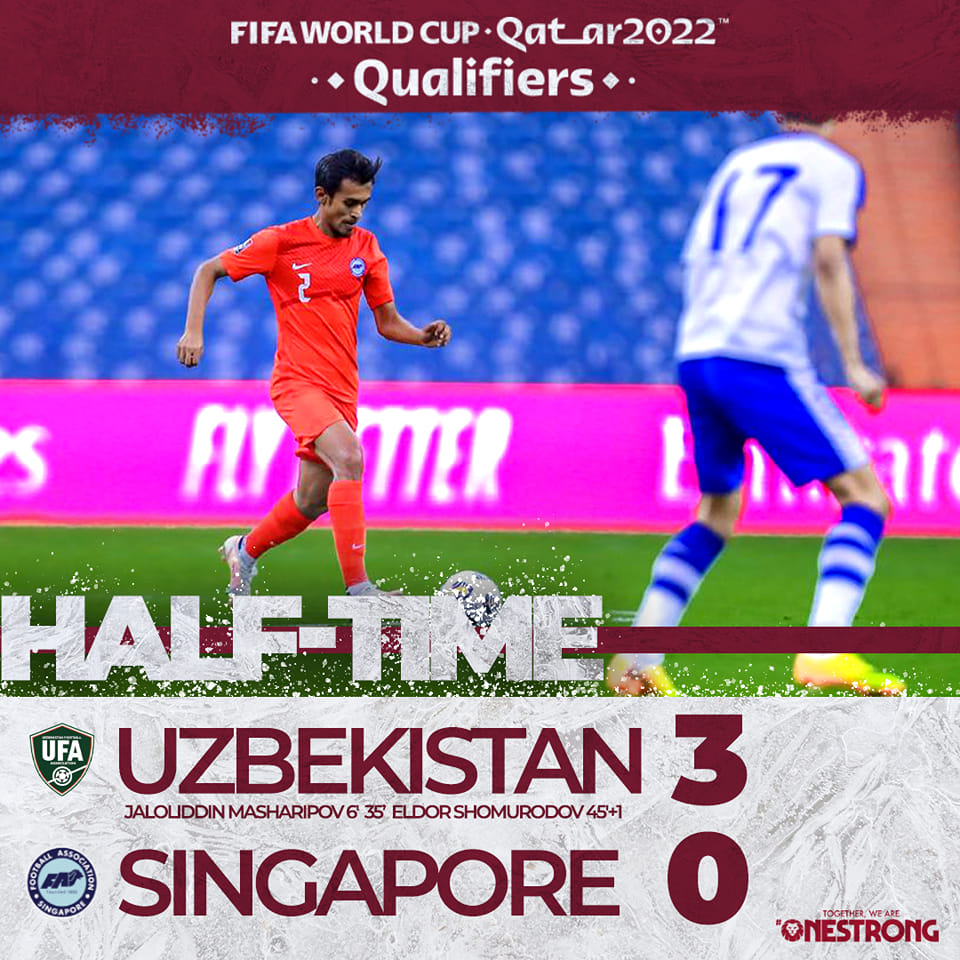 Yoshida brought on forwards Hami Syahin and Shawal Anuar for the second half to try and inject more attacking verve, perhaps even get a consolation goal. Yet, the Uzbeks ruthlessly undid those plans just five minutes after the restart with a stunning counter-attack.
Substitute right-back Khozhiakbar Alidzhanov dribbled almost two-thirds of the length of the pitch before releasing Akhmedov, who slammed home an unstoppable shot just inside the right post. It was the 3rd time in the match, that Singapore's Number 1 custodian (Izwan) had conceded goals from the near-post.
Leading 4-0, the Uzbeks sat back to absorb the Lions' sporadic attacks, while still forcing a couple of saves from Izwan. In the 88th minute, however, they rubbed salt into the Lions' wounds with their fifth goal, as the luckless Irfan deflected Akhmedov's cross unwittingly into his own net.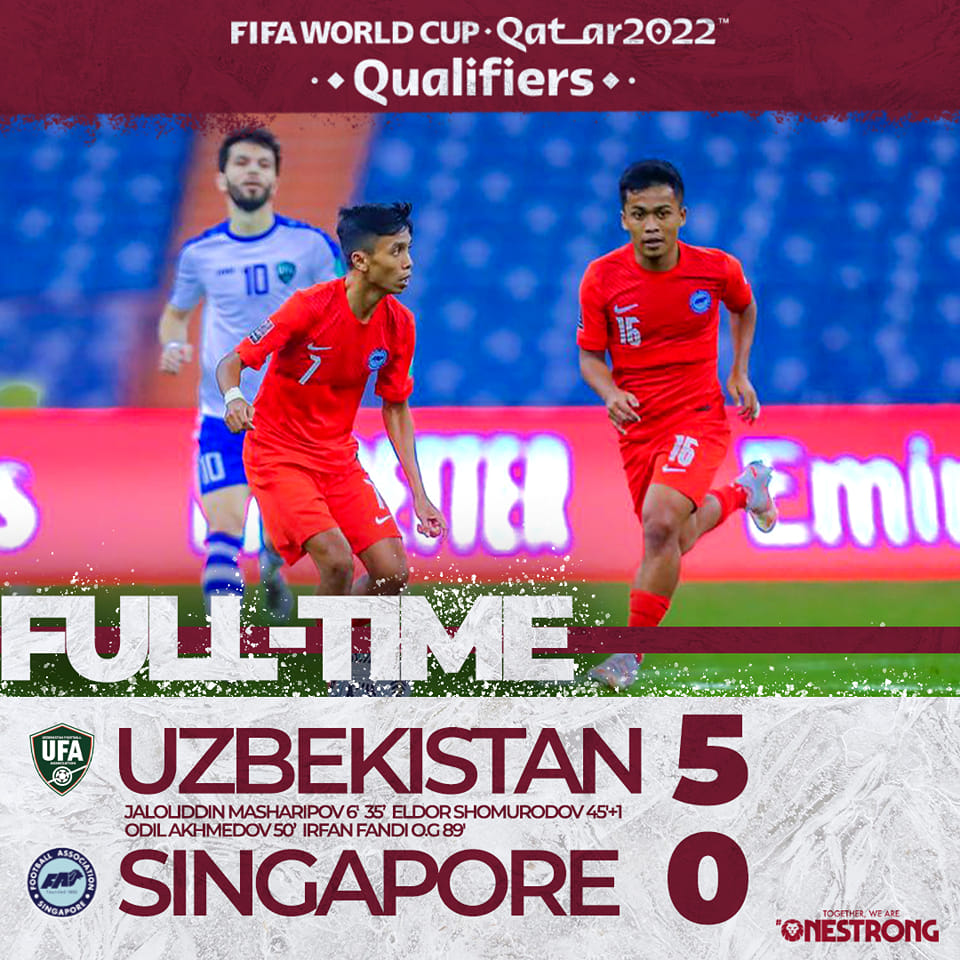 The defeat leaves Singapore fourth in the five-team group on seven points, with one match remaining against Saudi Arabia in four days' time. Uzbekistan sealed the second spot with 12 points, five ahead of third-placed Palestine, who also have one game left to play.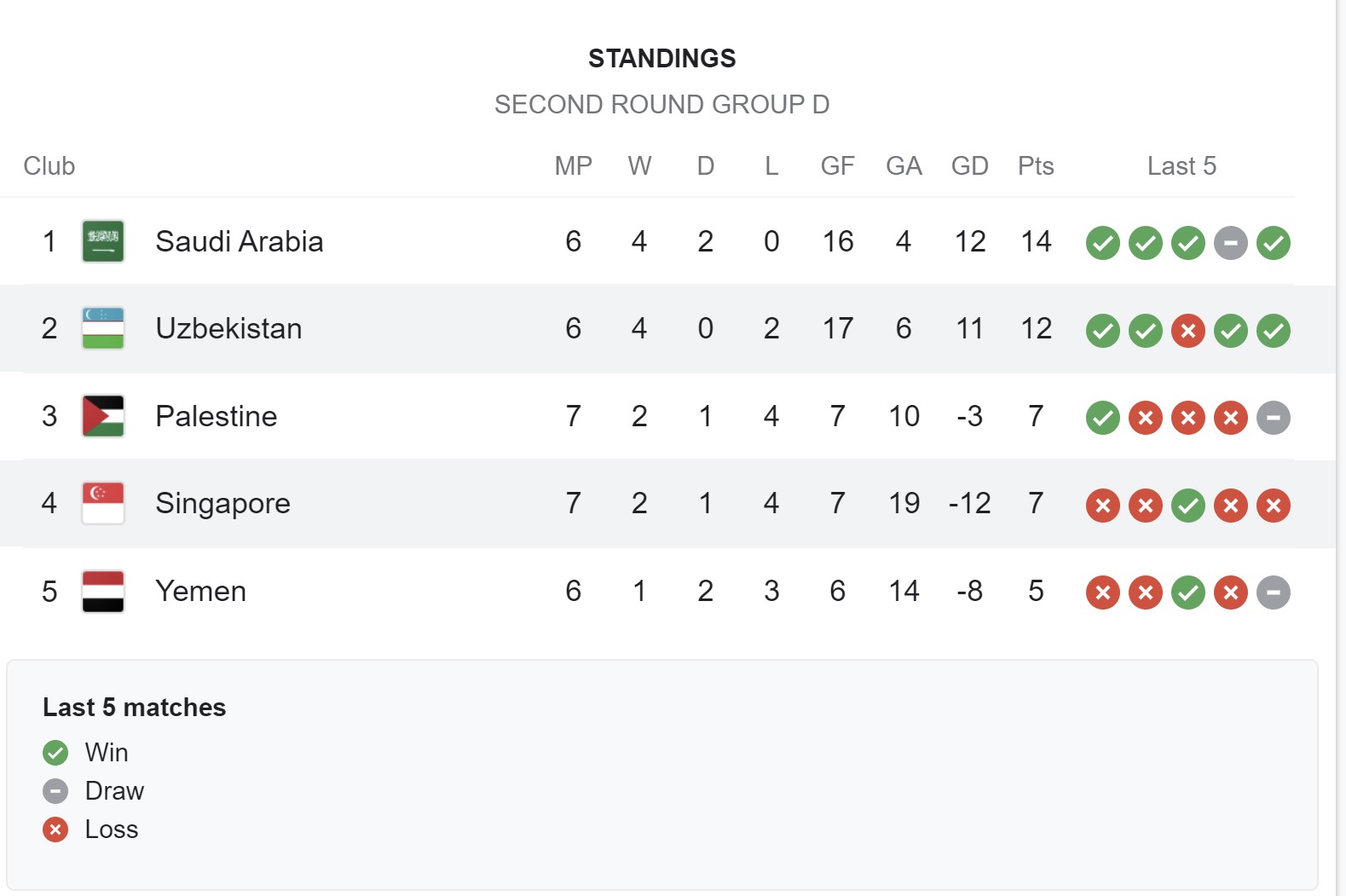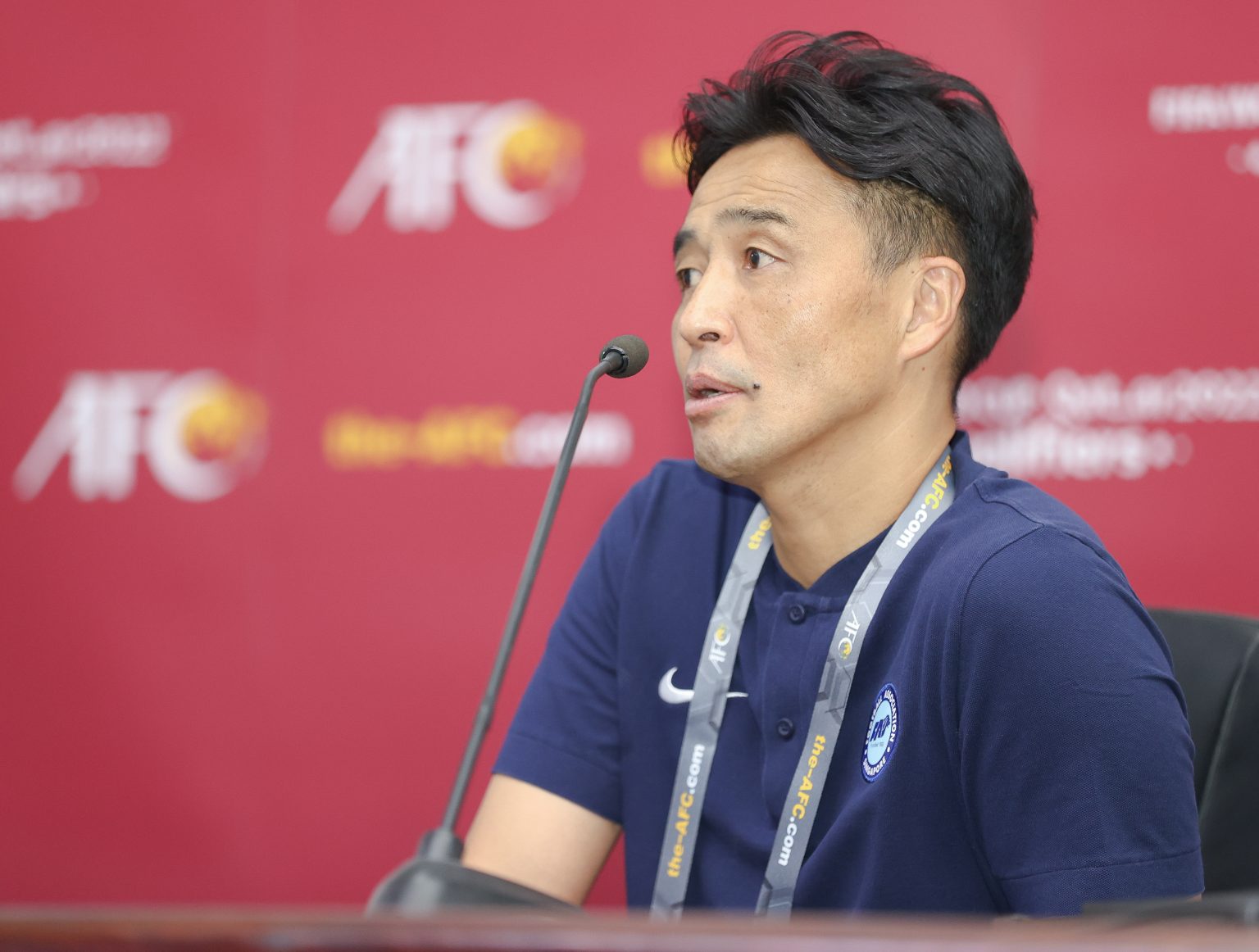 (Photo of Tatsuma Yoshida : Saudi Arabia Football Assn)
Coach Yoshida, who had said he was disappointed with his charges' limp performance against Palestine, will be under no illusions how much work he has in his hands to lift Singapore from their mediocre football, in order to find any form of success.
The only crumb of solace he might find is that, while the Lions conceded soft goals against Palestine, this time they were undone by flashes of sheer brilliance from Uzbekistan, who are ranked 73 spots above the 159th-ranked Lions.
"We just have to play and just try to do our best – that's all," Yoshida said after the match. The Republic will wrap up their campaign in Riyadh (Saturday, 13 June, 2am) against group leaders Saudi Arabia next and he urged his Lions, not to throw in the towel!
In other selected results from 7 June :
Iran defeated hosts Bahrain 3-0 while the Iraqis top Group C, after their 4-1 win over Cambodia. The opening goal against the Cambodians came after only 18 seconds, through Mohanad Ali! Over in Group G, Vietnam hammered Indonesia 4-0 to stay top, as the United Arab Emirates rose to 2nd spot with a 3-1 victory over Thailand.
Australia meanwhile, lead Group B by 5 points after their 5-1 thrashing of Chinese Taipei, while Jordan are 2nd following a 3-0 triumph over Nepal. And China defeated the Philippines 2-0 to keep their hopes strong, in order to progress to the next stage from Group A.
Singapore: Izwan Mahbud (GK), Nazrul Nazari (Hami Syahin 46′), Madhu Mohana (Zulqarnaen Suzliman 67'), Baihakki Khaizan, Shakir Hamzah, Shahdan Sulaiman, Hafiz Abu Sujad (Irfan Fandi 29'), Yasir Hanapi (C), Zulfahmi Arifin (Shawal Anuar 46'), Shahdan Sulaiman, Hazzuwan Halim (Saifullah Akbar 73′), Faris Ramli.
Unused subs: Zaiful Nizam (GK), Hassan Sunny (GK), Amirul Adli, M. Anumanthan, Hafiz Nor, Gabriel Quak, Ilhan Fandi
Additional reporting by Raj Kumar
Chia Han Keong is a freelance journalist who has covered both Singapore and international sports extensively for the past 18 years. He was the sports editor of bilingual tabloid My Paper, and has also worked for The Straits Times and Yahoo News Singapore. He has covered four SEA Games (2009, 2011, 2013, 2019), two Asian Games (2010, 2014) as well as the 2008 Beijing Summer Olympics. He counts himself as a massive Liverpool, LA Lakers and Rafael Nadal fan.ad